Can You Help Us With Photographs Of This Trek?
We are looking to enrich this documentation with more photos. Pictures go a long way in explaining the trail, more than words ever can. If you have done this trek, can you share your photos with us? We will include them on this page, with due credit to you. Click here to contribute.
The Complete Guide to Munnar Top Station Sunrise Trek
With unrealistically breathtaking views, the Munnar Top Station Sunrise Trek takes you to the hills of Munnar also called "The Kashmir of South India", situated at the confluence of three mountain streams - Muthirapuzha, Nallathanni and Kundala- have been one of the most attractive tourist destinations in South India. 
Beginning at the Top Station Starting point, through a short trail, the trek concludes as you are led to the topmost point to witness the most beautiful sunrise as the sun rays fall on a bed of clouds that surround you.
This trek will take you through luscious tea gardens and their heavenly scent elevating your spirits. 
The trek is easy and is the perfect fit for beginners who wish to go on a recreational getaway rewarded by breathtaking views.
We have mentioned here a few details about how one can go about this trek, hope you find it helpful. Leave any comments or doubts you might have in the comments.
Table of Contents
Just like you, we love trekking! And this is a trek we've documented in great detail to help you do it on your own. Drop-in comments at the end of the page if you need any help!  You will get all the information required to do the Munnar Top Station Sunrise Trek on your own.
To navigate through the documentation easily, use this section of the Table of Contents.
What to Watch Out For
1. The Most Spectacular Sunrise up the Peaks of Munnar
While trekking up the trail, as the sun is just about to rise, you can see a slight silhouette of the sun's rays as a veil over the hilltops afar and it is an astounding sight to behold.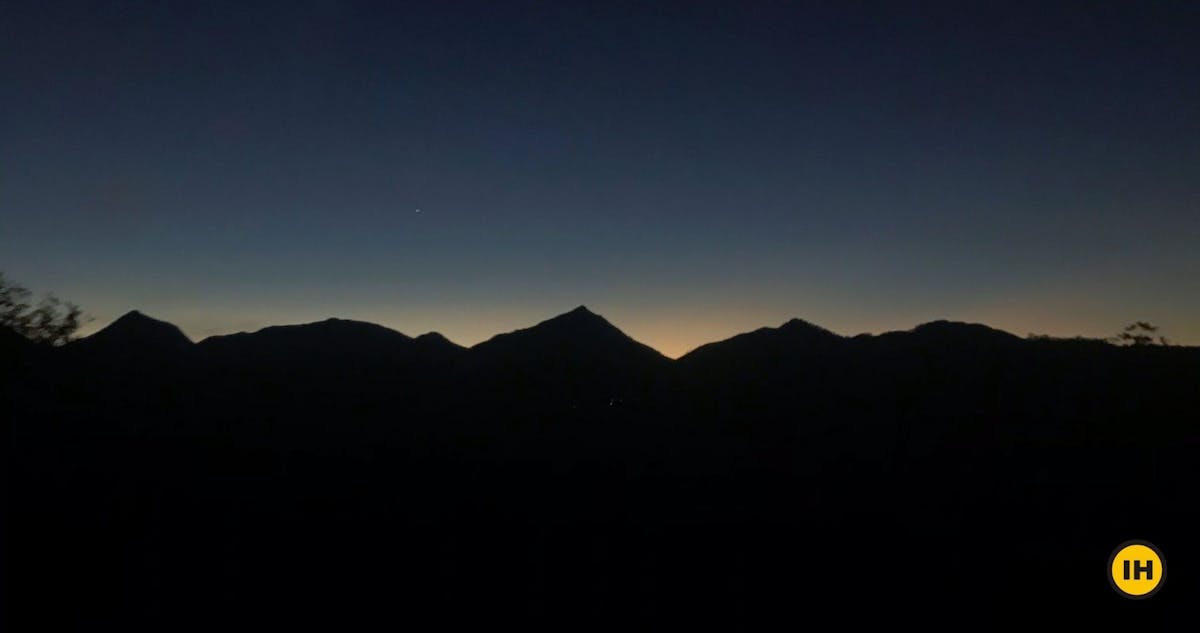 The sunrise silhouette. Picture by Lisha Charly.
As you reach the view- point you will witness a breathtaking sunrise, with a white bed of clouds surrounding you from all around.
2. Walking through the revitalizing fresh tea gardens
Munnar is known for its hillsides adorned with stretches of fresh tea gardens that will run alongside you as you walk up your trail. For a mystifying experience, just pluck one of the tea leaves, rub them between your fingers and indulge in their magical aroma.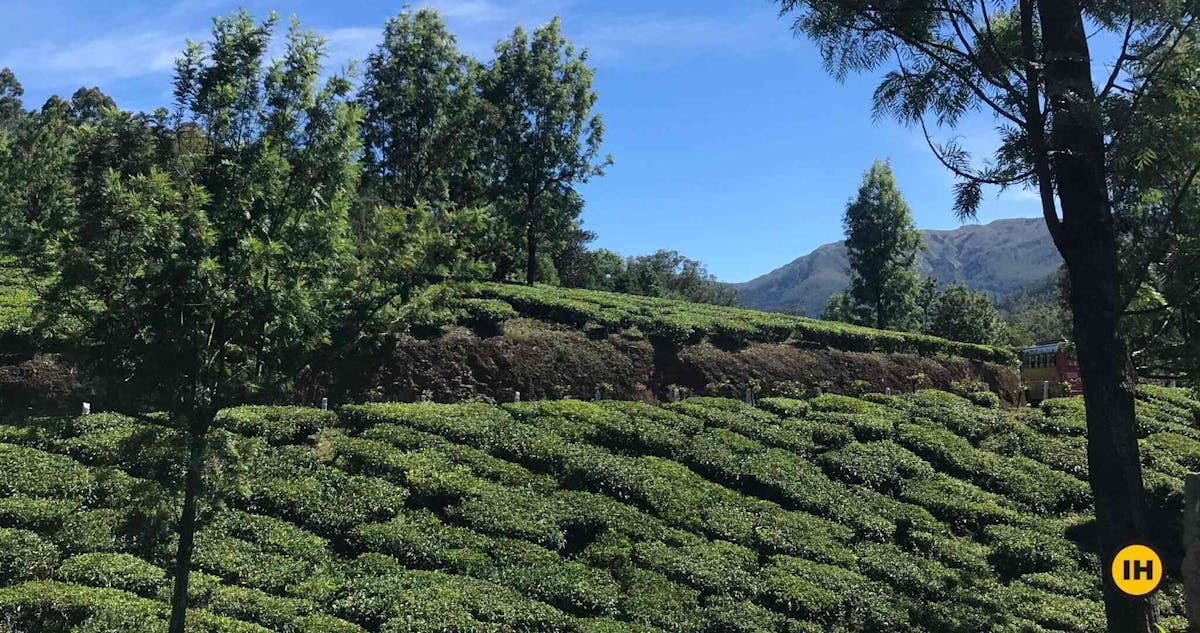 Munnar Tea Gardens. Picture by Lisha Charly.
Trail Information
Munnar Top Station Sunrise Trek can be divided into two sections as mentioned below:
1. Trek from the Top Station to the Tent Camps
2. From the Camping ground to the Viewpoint for the sunrise
Route Map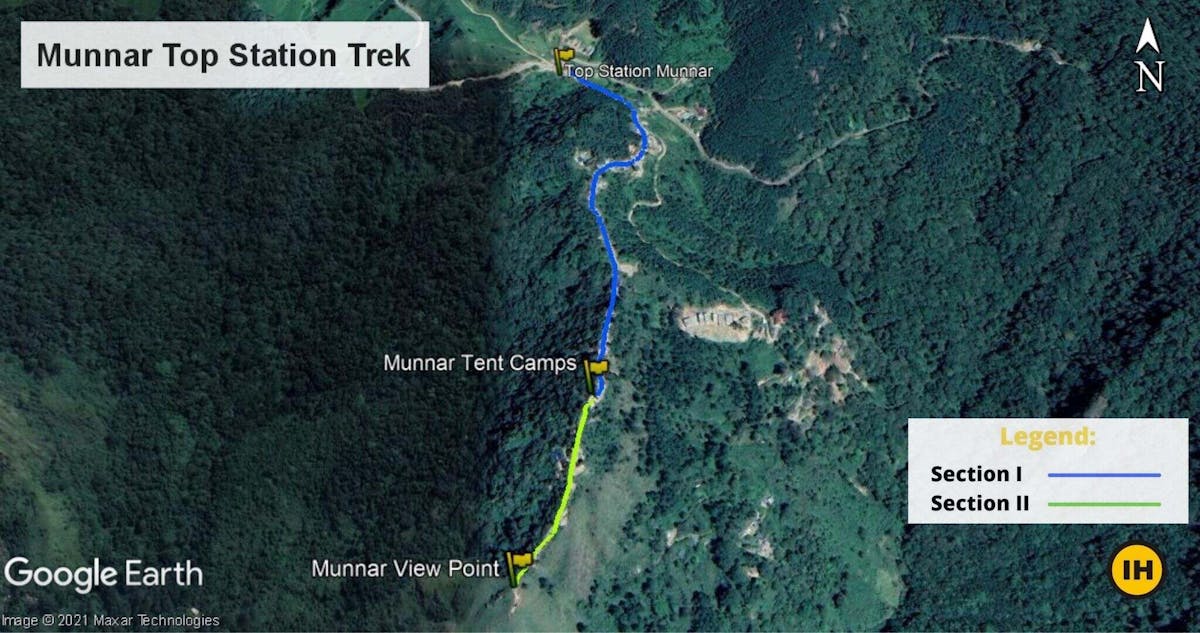 Trail Map of Munnar Trek. Source: Google Earth. Picture by Lisha Charly.
Trek Distance: 1.25 km
Trek Duration: 30 minutes
GPS coordinates for Top Station: 10.1247° N, 77.2444° E
GPS coordinates for the Tent Camps: 10.1193° N, 77.2448° E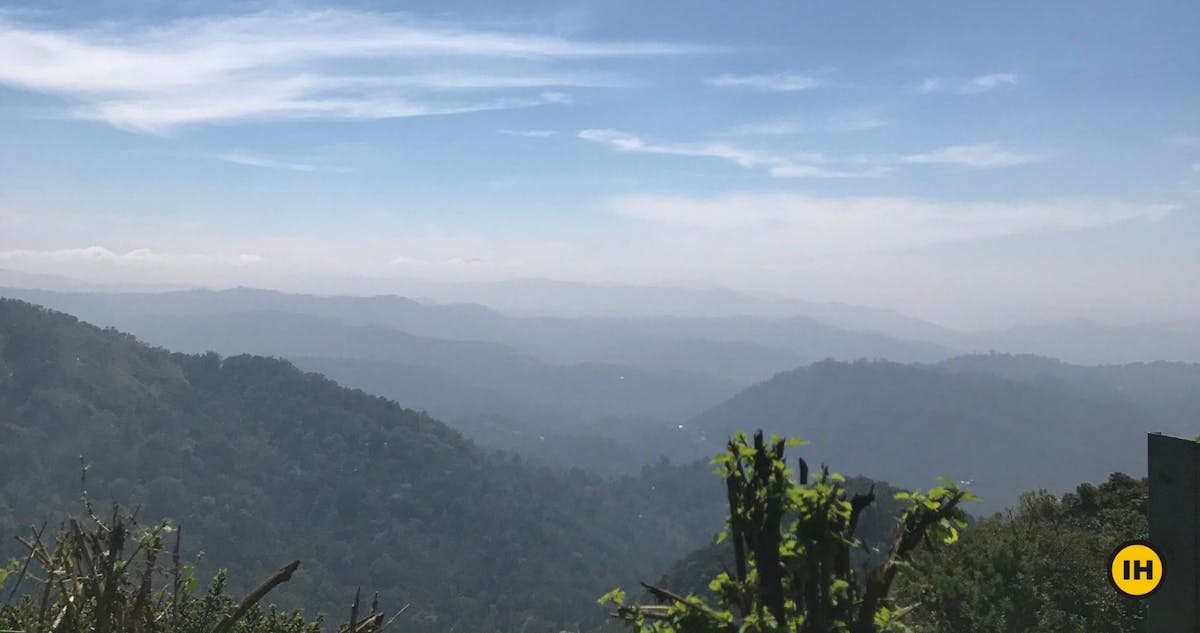 View from Top Station Highway. Picture by Lisha Charly.
Once you reach Top Station whether it be by your own vehicle or public transport, you will see a watch tower after which you are to trek to the top station.
There are tiny shacks on the way up where you can get water and food starting early morning.
After making a short descent from the Top Station Watchtower, within 15 minutes you reach the Tent Campgrounds.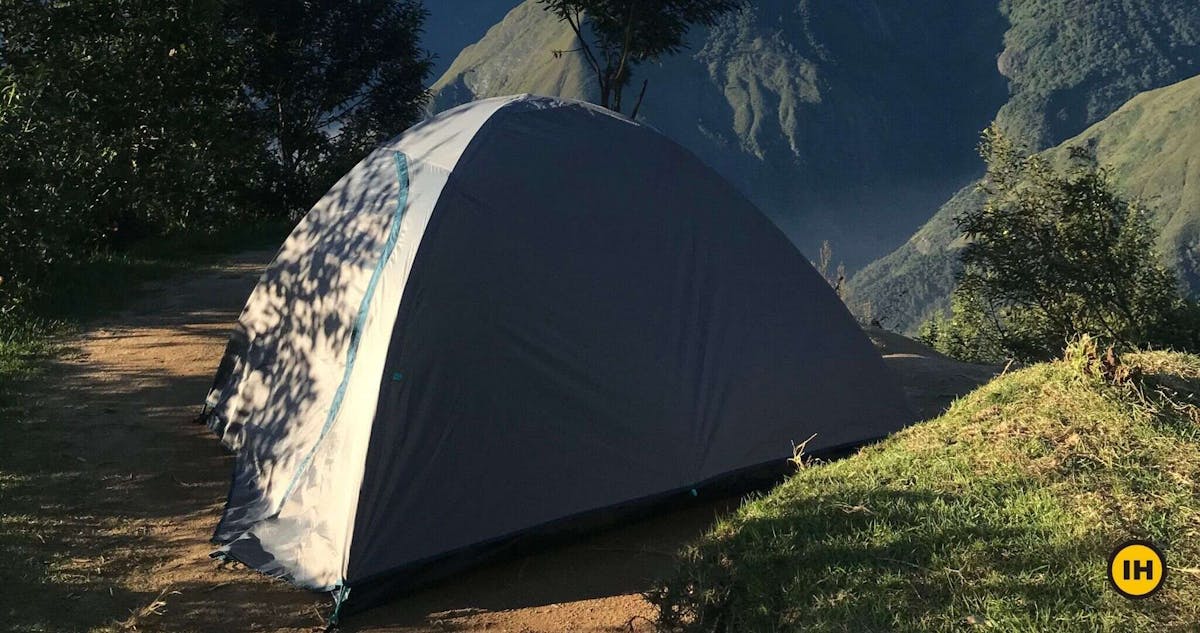 Munnar Tent Camps. Picture by Lisha Charly.
If you are planning to stay overnight and are planning to come by public transport, the last available bus to Munnar is at 6:35 pm.
You can camp at the Tent Camp Grounds and catch the sunrise early morning. There are camps available there and you will be charged a fee of Rs. 400 per tent.
For more information, you can contact them on this number: +9191690 00333
Protip: At night, it gets awfully cold and the winds are strong which will not be favorable while putting up a bonfire. Therefore, carry warm clothes and perhaps a flask to fill in some hot water from the shacks by the watchtower.
If you stay here till early morning for the sunrise, relax and enjoy the night under a canopy of stars. If you're lucky enough, you might see a couple of shooting stars!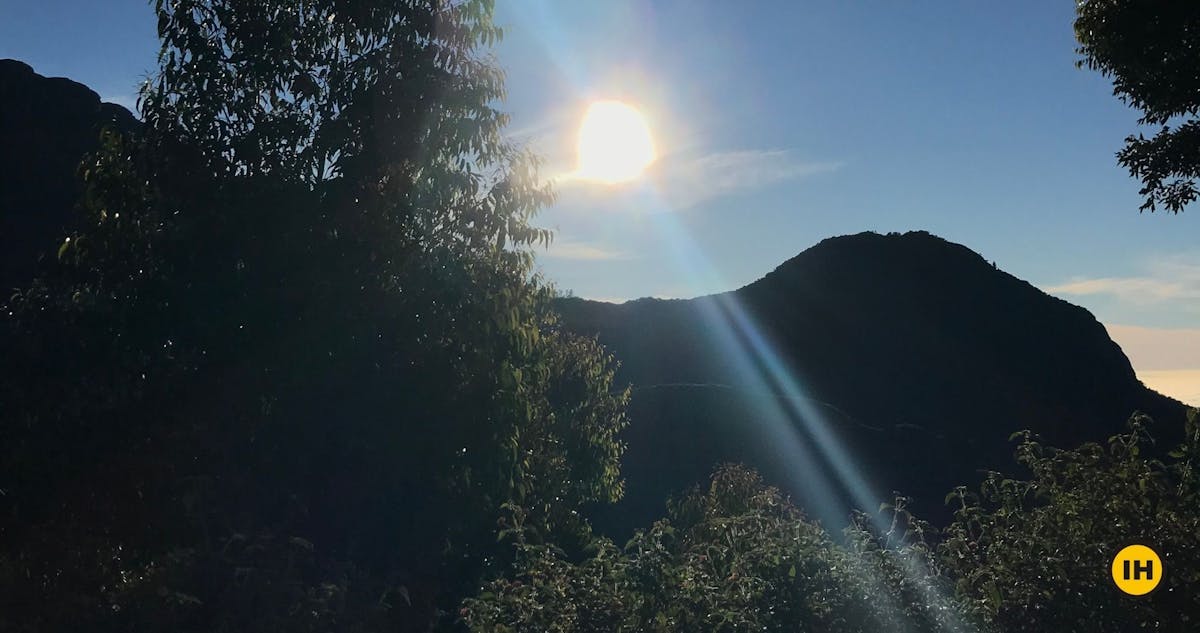 Surrounding View from the Campground. Picture by Lisha Charly.
Trek Distance: 250 m
Trek Duration: 15 minutes
GPS coordinates for the Tent Camps: 10.1193° N, 77.2448° E
GPS coordinates for the View Point: 10.1172° N, 77.2439° E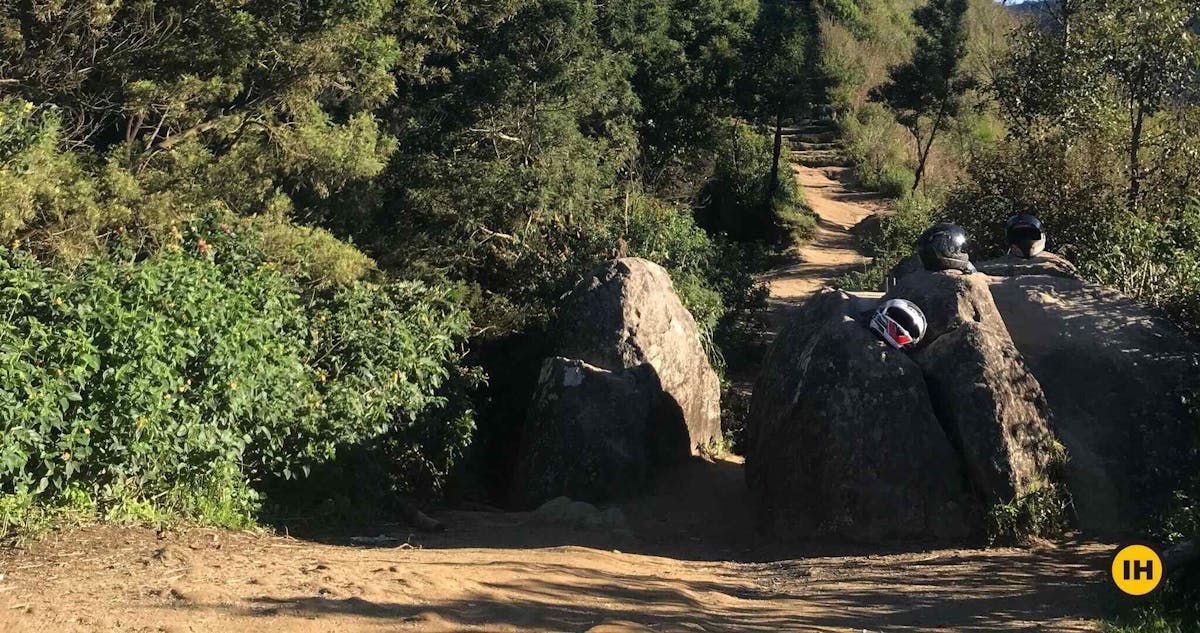 Downhill Trail to the View Point. Picture by Lisha Charly.
It is around 6 in the morning that the sun rises here, you can see a lining of gold along the edge of the hills and have chills up your spine.
Walk about 250m south from the Tent Camps and you will find yourself at the viewpoint.
The sun rises up right in front of you leaving you awestruck. The golden sun rays fall on the bed of clouds all around making the ground disappear like you're floating on the cushion of clouds.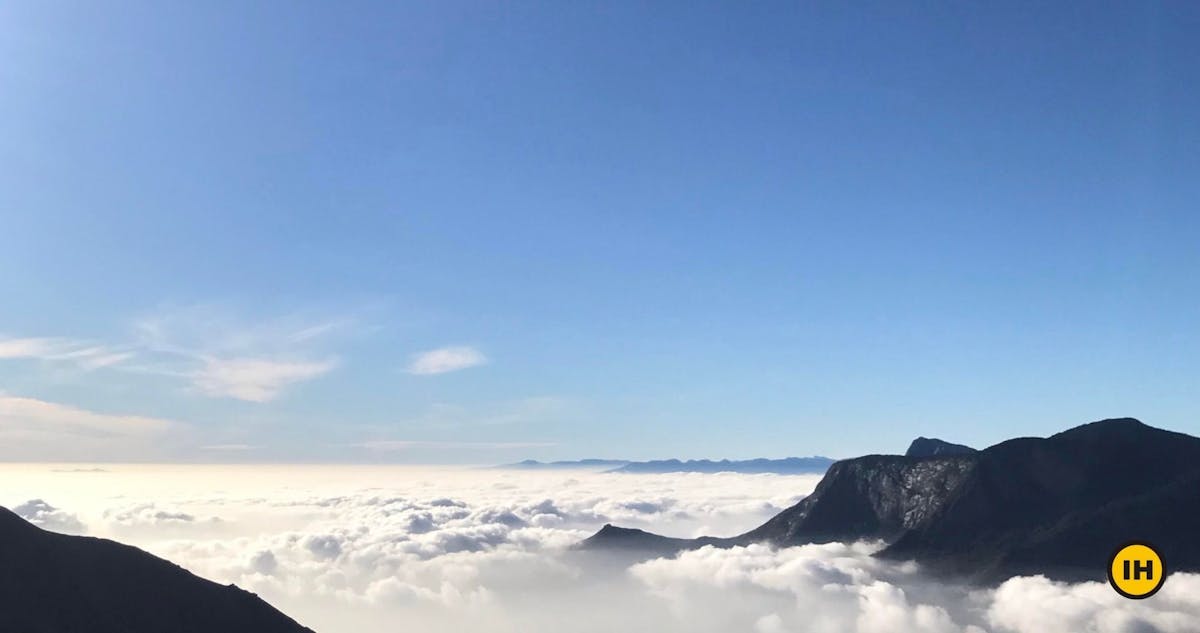 Sunrise View Point Top Station Munnar. Picture by Lisha Charly.
Take your time, breathe in the fresh air, and experience the magnificence of the moment.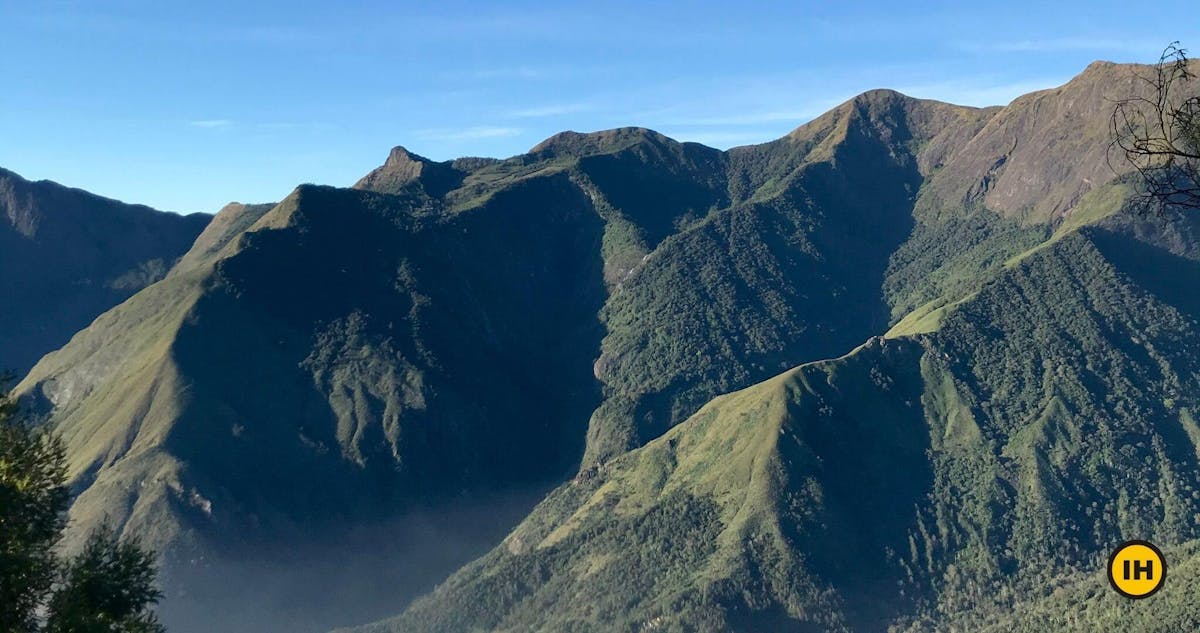 The Magnificent Hills of Munnar. Picture by Lisha Charly.
The way back is the same that you took to get up there. So, just trace back your trail.
You can either continue walking back or you can take autos or jeeps that are available from the Top Station to the KSRTC Bus Stand, Old Am Road, Mankulam where you can get a bus to Aluva or Cochin. You can also board a bus from the Blossom Hydel Park Bus Stand.
Use the Google map to reach the base of the trek.
Best Season to do the Munnar Top Station Sunrise Trek
The best season to do any treks in the Munnar region is from August to May as the months of June and July receive most rainfall and trekking can be difficult.
Thus it would be wise to go after the monsoon season as the fields would be lush green and fresh afterwards.
Difficult Sections on the Munnar Top Station Sunrise Trek
The trek is fairly easy and doable.
If you're taking the trek up in monsoon, the paths might be slippery.
Keep in mind to take necessary precautions like wearing a good pair of trekking shoes or carrying a trekking pole.
Also, the hills of Munnar are known for their wild elephants, but that is something you need not worry about as this particular route will be safe to trek.
How to Reach Munnar Top Station Sunrise Trek
You can get a bus to Top Station from either Silent Valley Bus Stand, Mankulam KSRTC Bus stand or the Blossom Hydel Park Bus Stand.
Jeeps are also available from Mankulam from Off Jeep Safari Munnar, you can also book ahead by contacting them on this number: +919495929211.
Use the Google map to reach the base of the trek. 
Reaching Top Station by your own vehicle
To reach Top Station Munnar by your own vehicle from Cochin it will take around 5 hours.
Here, you can use this link to set up navigation on Google Maps.
This route goes via Aluva and Adimali so if you are starting from either of these places, you can use the same link.
Reaching Top Station by Public Transport System
To reach Munnar by bus, you will have to board the bus to Munnar available from Aluva.
To reach the Aluva Bus Stand from Cochin airport, there are The Kochi Metro Buses that will take you to the Aluva Metro Station which is right opposite to the bus stand.
If you are coming from Ernakulam, you can either take the bus or the metro to Aluva and board a bus. 
Due to the Covid situation, buses to Munnar are scarce, therefore, you can take a KSRTC bus to Idukki from where you can either take a KSRTC or Private bus to Munnar or Adimali.
If you take an Adimali bus, then you will have to board another bus to Munnar.
Regular buses are available from Coimbatore (150 km), Kochi (120 km), Madurai (170 km) and other towns nearby. Cabs are also there for a comfortable ride to Munnar and around.

Go through the details here. There are many buses from Ernakulam to Idukki and Aluva to Munnar that can be booked online at KSRTC website. 
The first KSRTC bus from Ernakulam to Munnar leaves at 02:05am and the last at 06:35pm.
You can get the timings and availability from this link to the Aanavandi website.
The first KSRTC bus from Munnar to Ernakulam leaves at 05:40am and the last is at 06:40pm.
Here is a link to check out the available buses and their timings.
|Tip: Owing to the current Covid scenario and the weekend triple lockdowns, on Saturdays and Sundays, there will be no KSRTC buses running, it is also advised not to go in your vehicle as there will be heavy police checking and fining all along the way.
Nearest Rail Services
Aluva is the nearest railway station. It is about 120 km away from Munnar.
Therefore, there is regular railway connectivity with the nearby towns and cities.
Coimbatore (150 km), Ernakulam (120 km), and Madurai (170 km) are the other railway stations around Munnar with nationwide connectivity.
Nearest International and Domestic Airport
Cochin International and Domestic Airport- 145 km
Coimbatore International Airport- 200 km
Click here to go back to the Table of Contents
Things to Take on Munnar Top Station Sunrise Trek
Basic First Aid kit*
Identity Card
Cap/ Scarf/ Bandana & Sunglasses
Water (Minimum two liters)
Lemon and salt OR Electrolyte Powder/Drink (Electoral/Gatorade/Glucon D, etc.)
High-calorie snacks (Nuts & dry fruits, a home-baked cake, etc.)
Safety Pins, Rubber bands & Whistle (Useful in emergencies.)
Quick Dry T-shirts are preferable over cotton tees.
Poncho, only during monsoons
Plastic sheet to wrap electronic devices, only during monsoons
Sunscreen (SPF 50+)
Optional: Trekking poles
First Aid Kit
Scissor
Band-aids (Regular & Waterproof)
Analgesic spray (Relispray, Volini, etc.)
Antiseptic Liquid (Savlon, Dettol etc.)
Antiseptic powder (Povidone-Iodine based powders like Cipladine, Savlon, etc.)
Cotton roll & Bandage
Crepe Bandage
1-inch wide medical tape (paper or cloth.)
Micropore tape
Tablet for motion sickness (Avomine), Acidity (Gelusil, Digene, etc.).
Mild pain relief tablet (Crocin)
| Note: Always consult a doctor before taking any medicine.
Frequently Asked Questions about Munnar Top Station Sunrise Trek
1. Permission and Camping on the Munnar Top Station Trek
You do not need any permission for the trek.
2.  Stay Options near Munnar Top Station Trek
If you wish to extend your visit or do not prefer camping, there are a number of cottages, hotels and home-stays available all around Munnar and Top Station.
Beautiful Log Houses of Kuttikadu and Neduvarpu near Pampadum National Park are picturesque spots that would make your stay memorable.
Here's the link to the website https://booking.munnarwildlife.com/ where you can get more details about planning your treks and you can also book your stays online.
[protip]Protip[/protip] Combine this trek with the Meesapulimala Peak Trek  which is one of the most famous treks in the Munnar region which is up the second highest peak in the Western Ghats. 
3. Timings on the Munnar Top Station Trek
There are no time restrictions on the Munnar Trek.
4. Food and Water sources on the Munnar Top Station Trek
Food and water is readily available through the Munnar Trek.
However, if you plan on camping, keep in mind the supplies for the overnight camping and prepare accordingly- stock up on food, fill up your water bottles, carry warm clothing etc. 
5. Emergency contacts for Munnar Top Station Trek
Hospital:  Kannan Devan Hills Hospital and Yellapatty Hospital are the nearest hospitals on the Munnar trek. Both hospitals are about 6 km away from Top Station Munnar.
Police Station: Munnar Police station (+914865230321) and Devikulam Police Station (+914865264225) are the nearest police stations to Top Station. 
In case of any emergency, you can contact Wildlife Warden Munnar Office (+914865 231 587) or Forest Range Office Munnar (+914865 233 323)
ERSS: For any kind of emergency help, you can contact the Pan-India Emergency Response Support System (ERSS) number- 112
6. ATMs and Network on the trek
ATMs: While on a trek it is best to carry enough cash. However, you do not need to worry if you run short, the Munnar town, Vattavada and Silent Valley have ample ATMS and banks available.
Mobile Networks: You get good coverage of BSNL and Vi throughout Munnar, however, because of the high elevation, it is doubtful how much reception you will get at Top Station. Airtel and Jio have scarce network coverage.
Do not depend on network coverage during the monsoons.
Places to Visit After the Munnar Top Station Sunrise Trek
1. Echo Point
Situated at a scenic lake bank, when you scream here, it echoes back to you. Placed at an altitude about 600 ft, Echo Point is located 15 km away from Munnar, on the way to Top Station.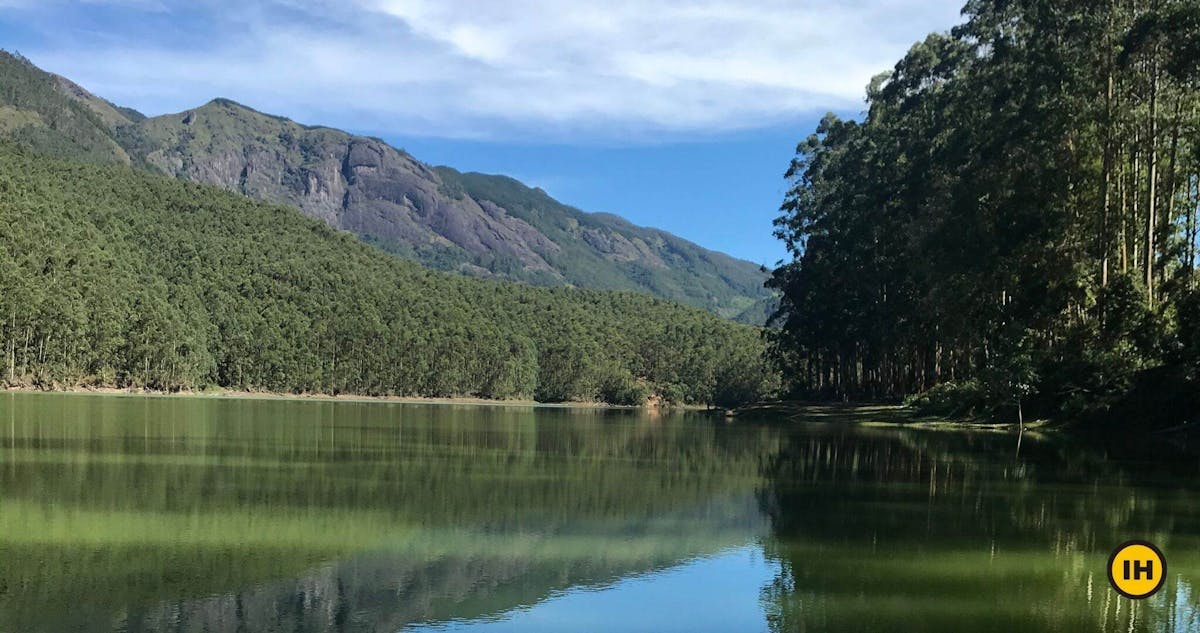 The Magnificent Hills of Munnar. Picture by Lisha Charly.
2. Anamudi Trek
Known as the highest peak in South India as well as the tallest in the entire Western Ghats, Anamudi boasts of a height of 8,842ft. Popular among trekkers, the Anamudi trek boasts of being the most coveted trails in all of Southern India. 
Surrounded on all sides by green valleys, lush meadows, mist-laden hills as well as enchanting rivers, you can ride a boat in the Mattupetty Dam. The lush green tea plantations and forests in and around Mattupetty are ideal for trekking and host a large number of unique bird species.
Trek Contribution
Trek documented by: Lisha Charly
Trek written by: Lisha Charly