The complete guide to Skandagiri Trek
Of the "Panchagiris" (Nandi Giri, Channagiri, Skandagiri, Brahmagiri and Hema Giri), or five hills of Chikballapur district, trek to Skandagiri is one of the prominent ones.
Skandagiri is located in a village called Kalavara Halli, and hence it is also known as Kalavara Durga. At the foothills of Skandagiri lies one of Karnataka's ancient and oldest mutts, the Papagni Mutt.
The trail starts from Papagni Mutt and follows its way to the top, where lie the ruins of a fort which dates back to the 18th Century. Tipu Sultan conquered the fort which belonged to a local ruler and later he used it as a stronghold to fight against the British, but was eventually surrendered in 1791 when Tipu Sultan was defeated.
The top offers a panoramic view of the four neighbouring 'Giris' or hills and it is a sight to behold.
 Skandagiri is located less than 60 km from Bengaluru and just 3 km from Chikballapur and is well connected by road and railways. Therefore, it is an ideal year-round trek for first-time trekkers as well as the seasoned ones and can be completed in 5 hours comfortably (2 hours to ascend and 2 hours to descend, with an hour's break at the summit).
Table of Contents
What To Watch Out For
Trail Information
Route Map
Best Time To Do Skandagiri Trek
How To Reach Skandagiri
How Difficult Is Skandagiri Trek
How To Get Fit For Skandagiri Trek
Things To Take On Skandagiri Trek
Frequently Asked Questions About Skandagiri Trek
Nearby Places To Visit After Skandagiri Trek
What to Watch Out For
1. The massive rock formation which overlooks Nandi Giri
Skandagiri hill has been visited and praised by many famous personalities on their visit to Nandi Hills during the British Rule, including Jawaharlal Nehru and Sir M. Visveswaraya to name a few.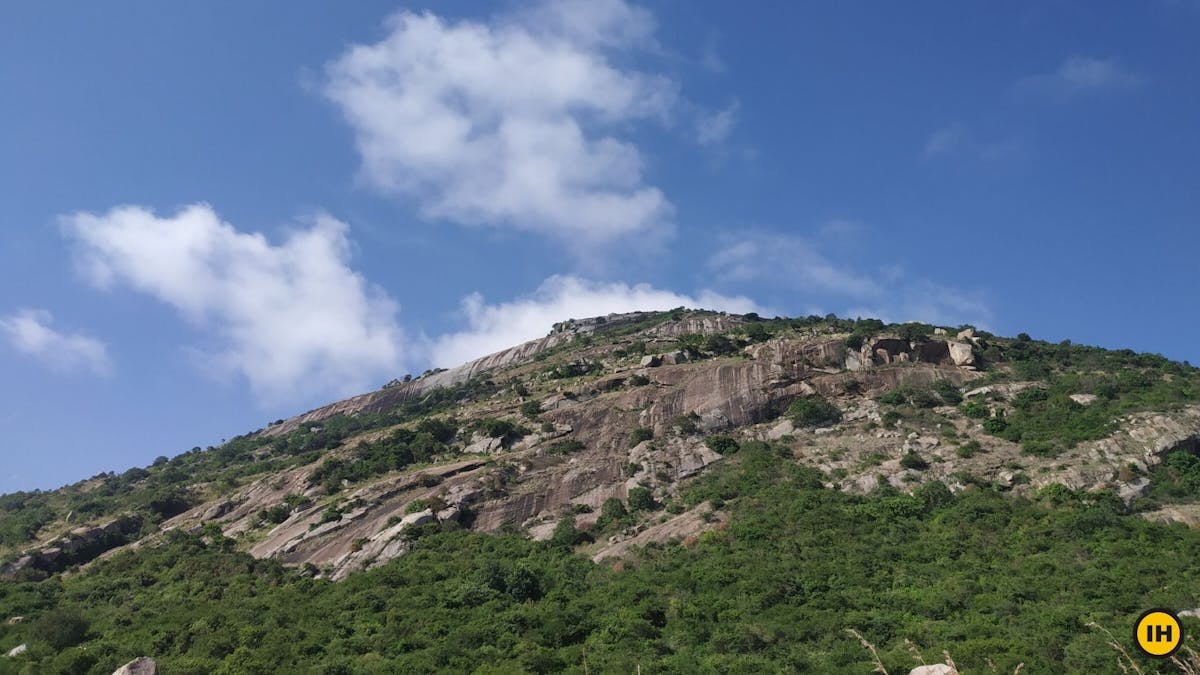 Skandagiri is right behind Nandi Giri, which makes this trek special as it offers close-up views of Nandi giri from the top. Picture by Saurabh Sawant
2. Trail is a unique mix of rocks, boulders and mud with thick vegetation
Very few treks offer the joy of trekking through rocks, hop boulders and also enjoy the muddy trail with shades of trees in between. Skandagiri offers all these for a trek that is so close to our habitat.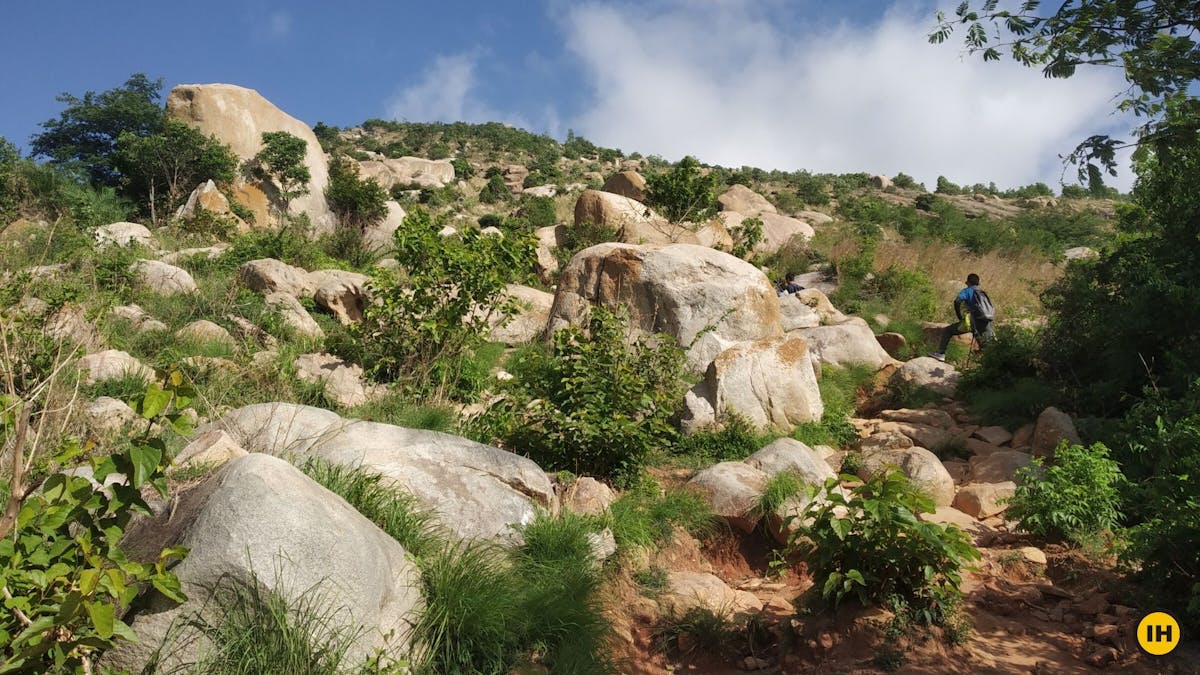 The trail starts as a dirt track, and subsequently turns to rocks and stone with thick vegetation all along. Picture by Saurabh Sawant.
3. Dilapidated fort walls which remind us of life in the 18th century
Closer to the summit, the ruined walls, carved pillars and stones take us back to the time when Skandagiri fort was filled with life and grandeur.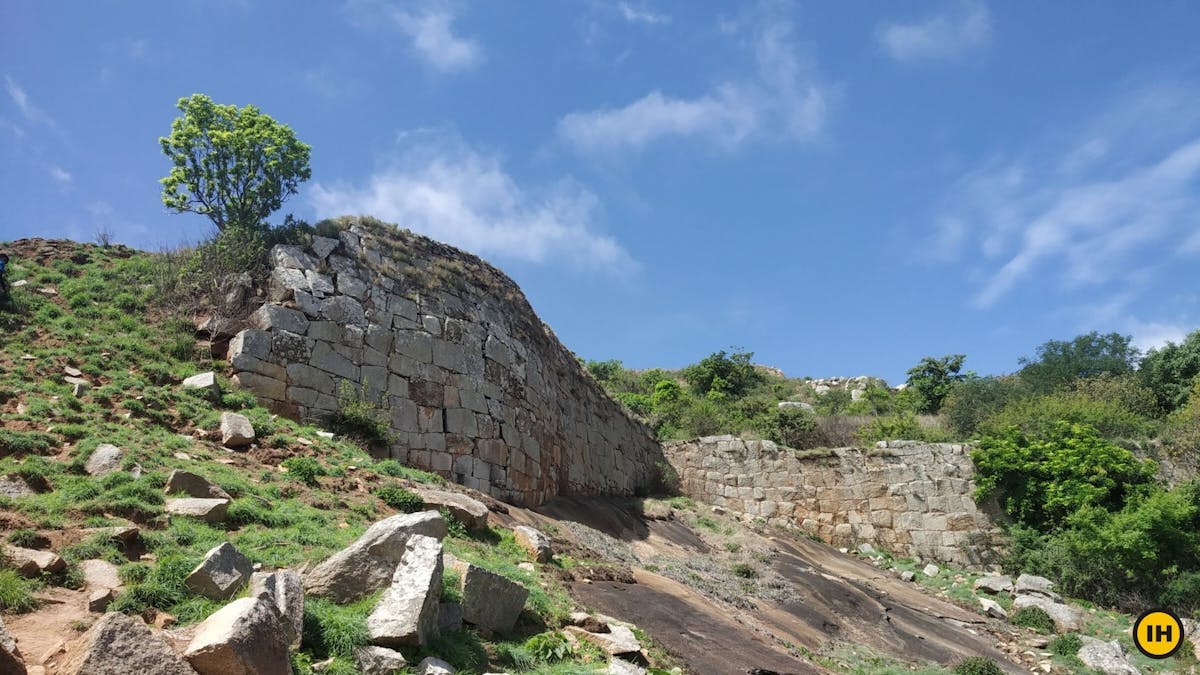 Close to summit lay ruined fort walls, pillars and carved stones from the 18th century. Picture by Saurabh Sawant
4. The Shiva Temple at the summit with the idols still intact is a surprising sight
At the summit, the temple dedicated to Lord Shiva is still worshipped by devotees who climb up all the way to get a glimpse of the idol. This is a rare sight for a fort whose surrounding structures are in ruins.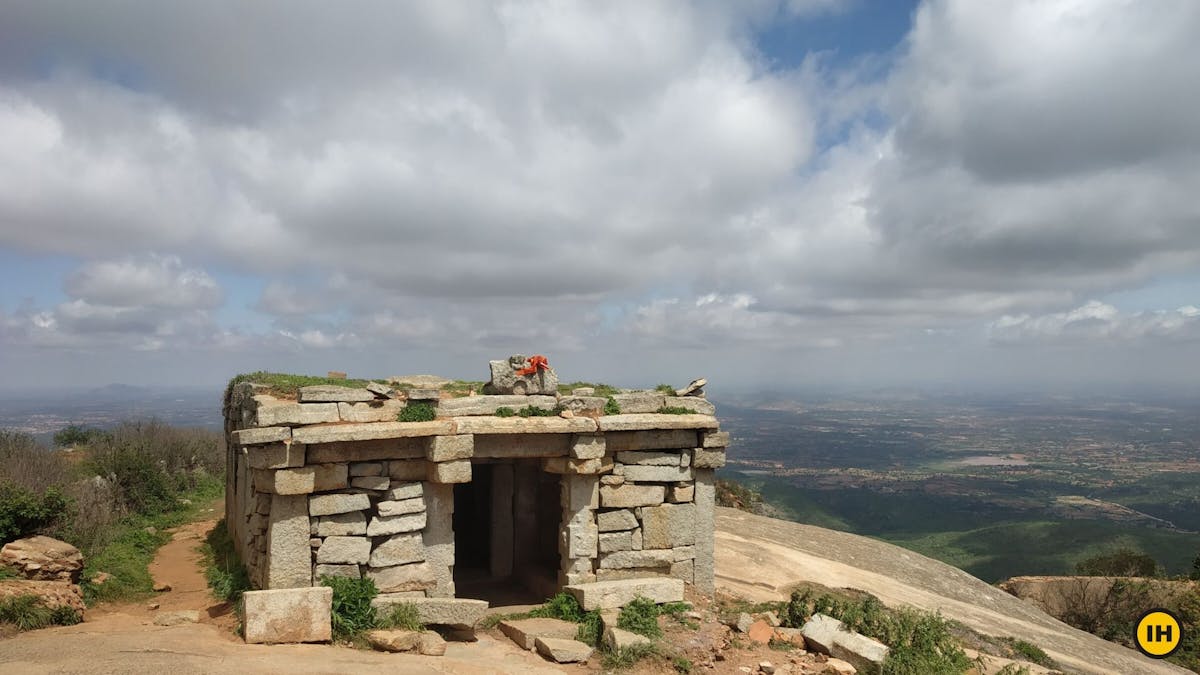 Devotees worship the idols of the ancient Shiva Temple at the summit to this day. Picture by Saurabh Sawant
5. The breathtaking view of the surrounding hills and Chikballapur town from the summit
From the summit, you get a panoramic view of the surrounding hills, even four of the five "Giris" along with forests, villages and the town.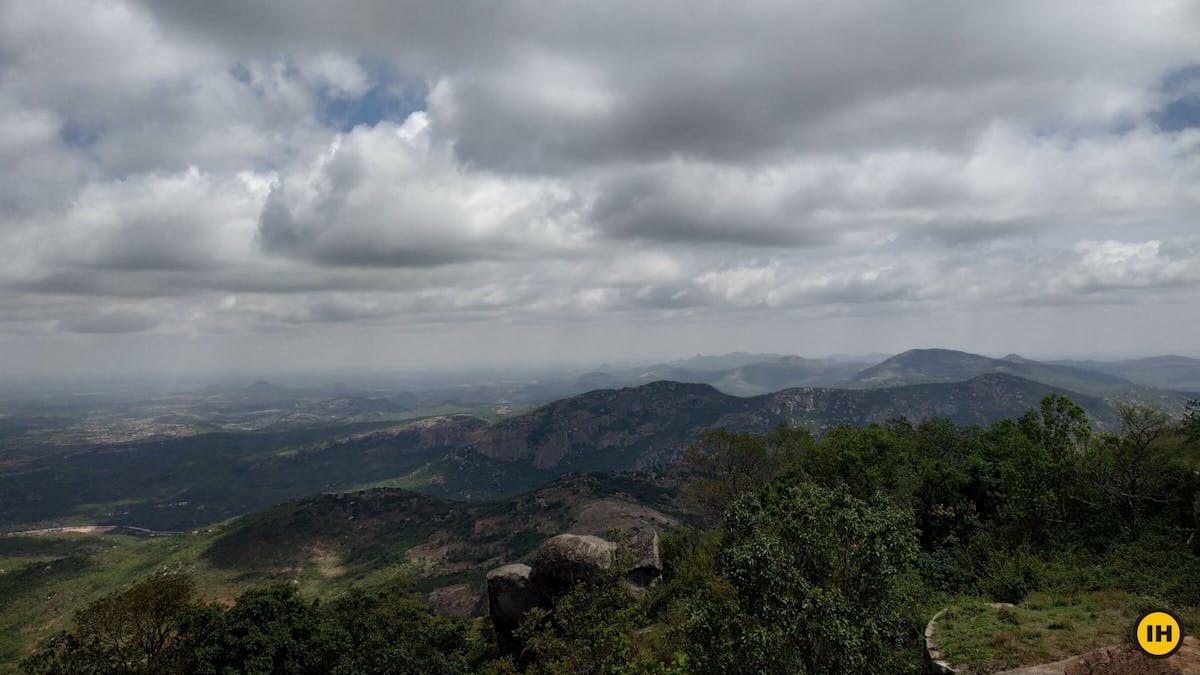 The summit offers a panoramic view of the surrounding hills and Chikballapur and other towns from afar. Picture by Saurabh Sawant
Trail Information
The trail originates from Papagni Mutt, in the Kalavara village. The village is 3 km from Chikballapur.
The trek itself can be divided into three sections - the first stretch is a flat trail walk from Papagni Mutt till the Forest Checkpost where one needs to report before starting the trek. The second stretch climbs up gently and sometimes steeply through dirt trails and rocky sections to the first rest point. The final stretch is a steep ascent to the summit on slippery muddy and rocky terrain.
Trek Distance: 800 metres
Trek Duration: 10 minutes
GPS Coordinates of Papagni Mutt: 13°25'28.0"N 77°41'28.6"E
GPS Coordinates of Forest Check post: 13°25'34.7"N 77°41'06.8"E
Papagni Mutt is an ancient mutt and has a temple close by. There is a decent parking space to park your vehicles and start your trek. There is a water tank too and it is advised to stock up on water here. There is no water source except this, throughout the trek.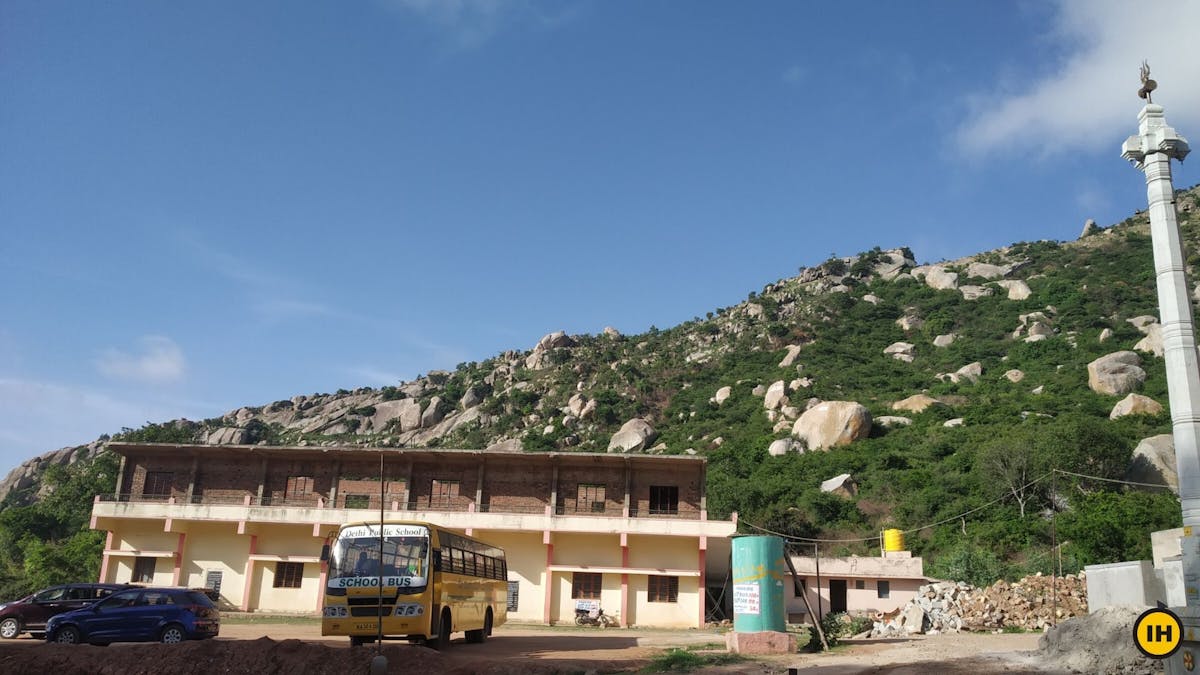 The premises of Papagni Mutt with a temple on the right and the water tank filled with groundwater. Picture by Saurabh Sawant
The initial part of the trek is a flat walk on the dirt trail for 800 metres until you reach the forest check post.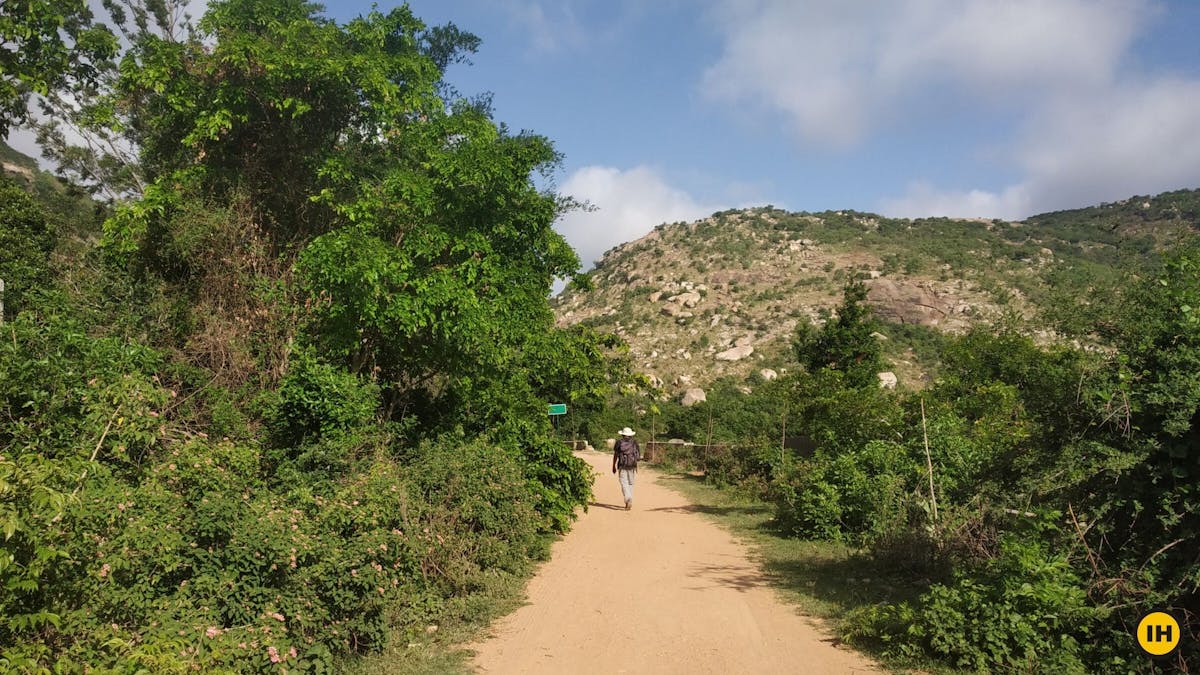 The walk is short and scenic with clear arrows indicating the direction of the trek. Picture by Saurabh Sawant
Once at the check post, present your Government issued ID Card copy to the forest guard who enters your personal details in the register.
The recently constructed Forest check post which resembles a pretty little jungle hut. Picture by Saurabh Sawant
Trek distance: 1100 metres
Trek duration: 50-60 minutes
GPS coordinates of Forest Check post: 13°25'34.7"N 77°41'06.8"E
GPS coordinates of Rest Point I: 13°25'18.8"N 77°40'59.6"E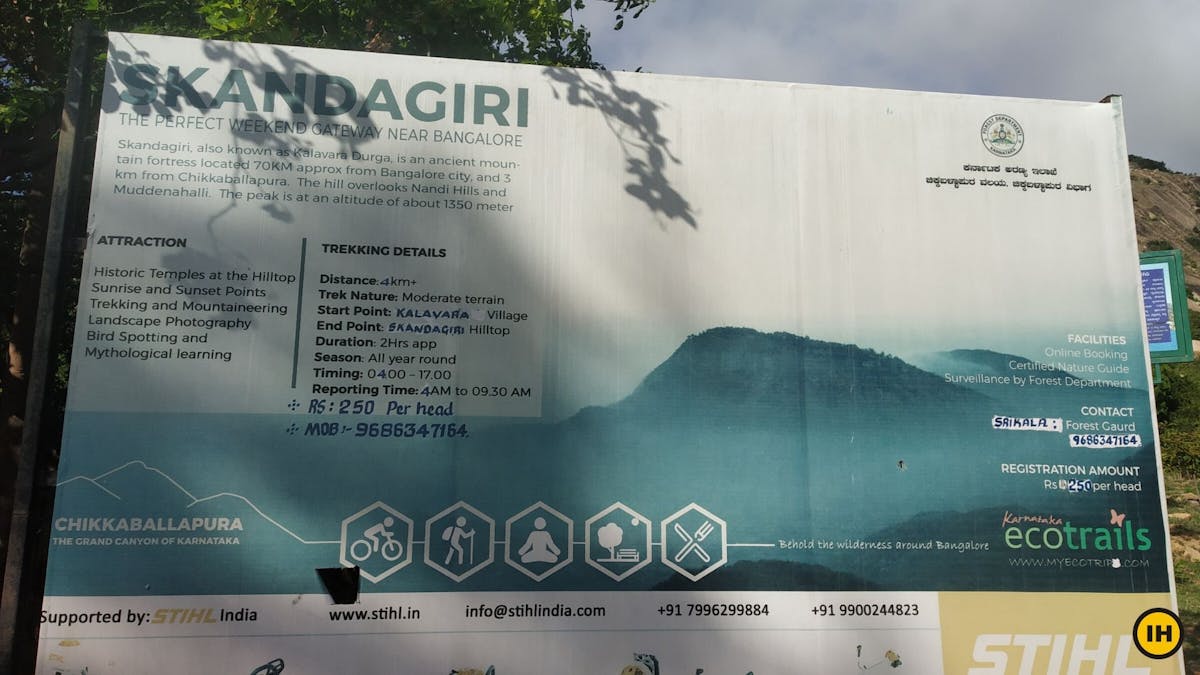 Information put up at the Forest check post by Ecotrails, a division of the Forest Department of Karnataka. Picture by Saurabh Sawant
Continue the trek by following the arrows on signboards and rocks. The actual trek starts from here as you enter the forest area of Skandagiri. It is a fairly easy mud trail until you cover some ground inside the forest.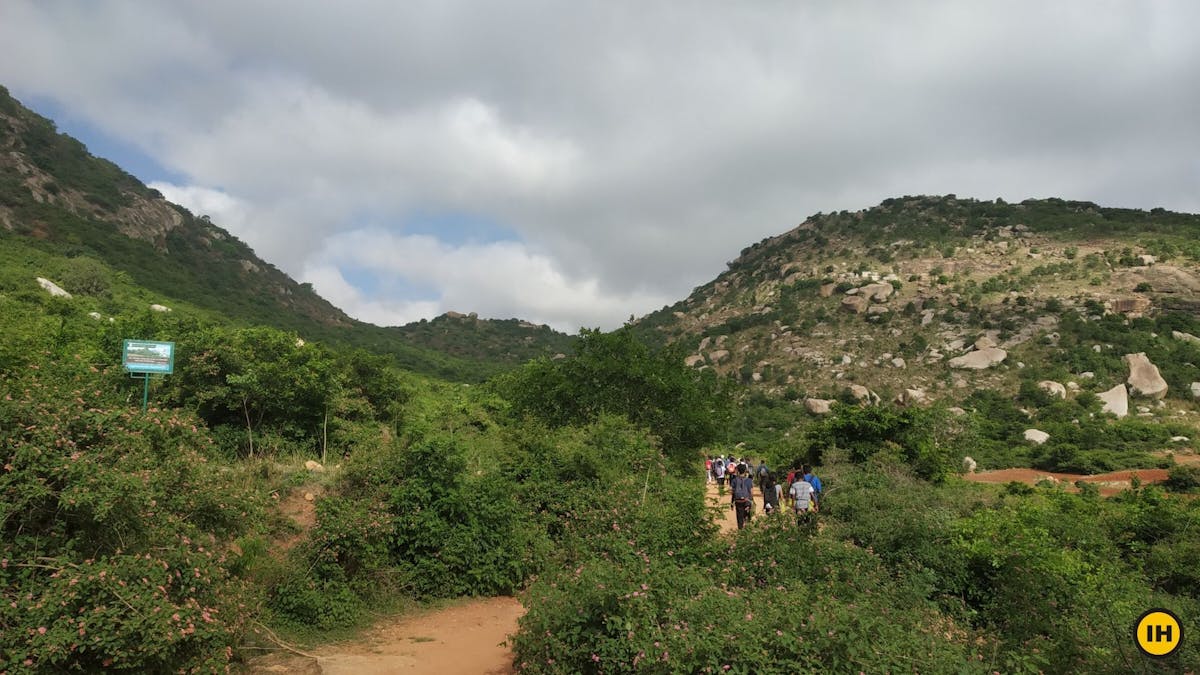 A small hillock is seen on the trail to Skandagiri. Picture by Saurabh Sawant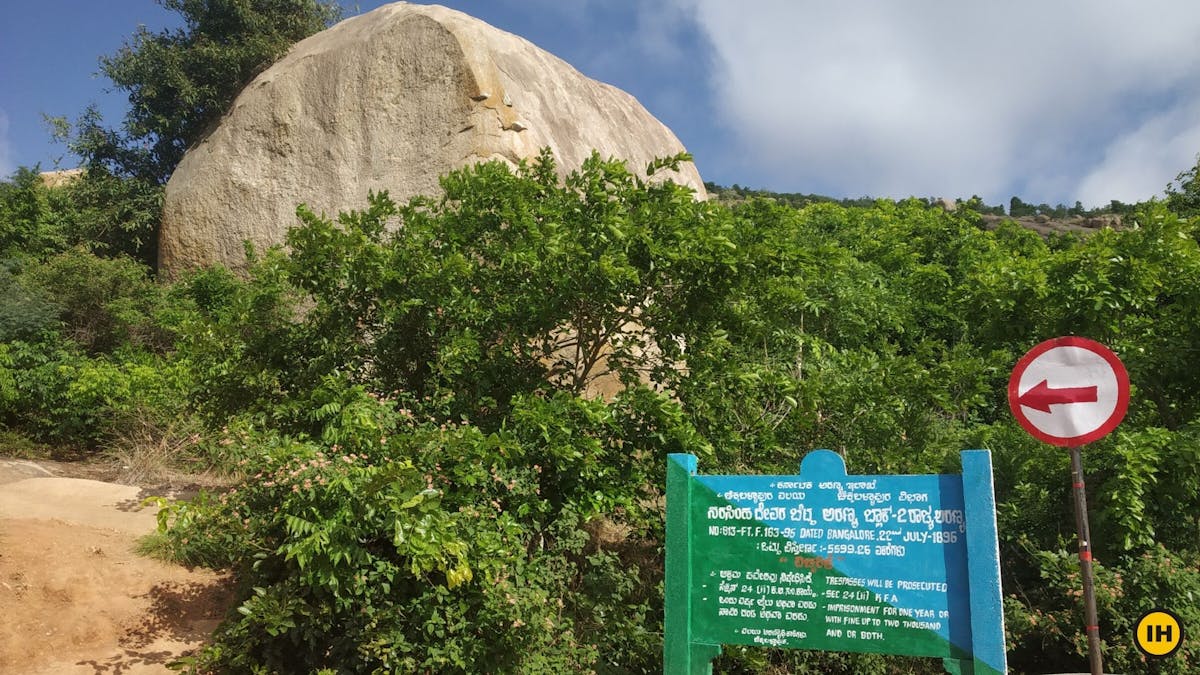 One of many sign boards indicating the proper trail. Picture by Saurabh Sawant
It is impossible to get lost with these sign boards and arrows painted on the rocks which indicate the right way. Just follow these signs to be on the right track.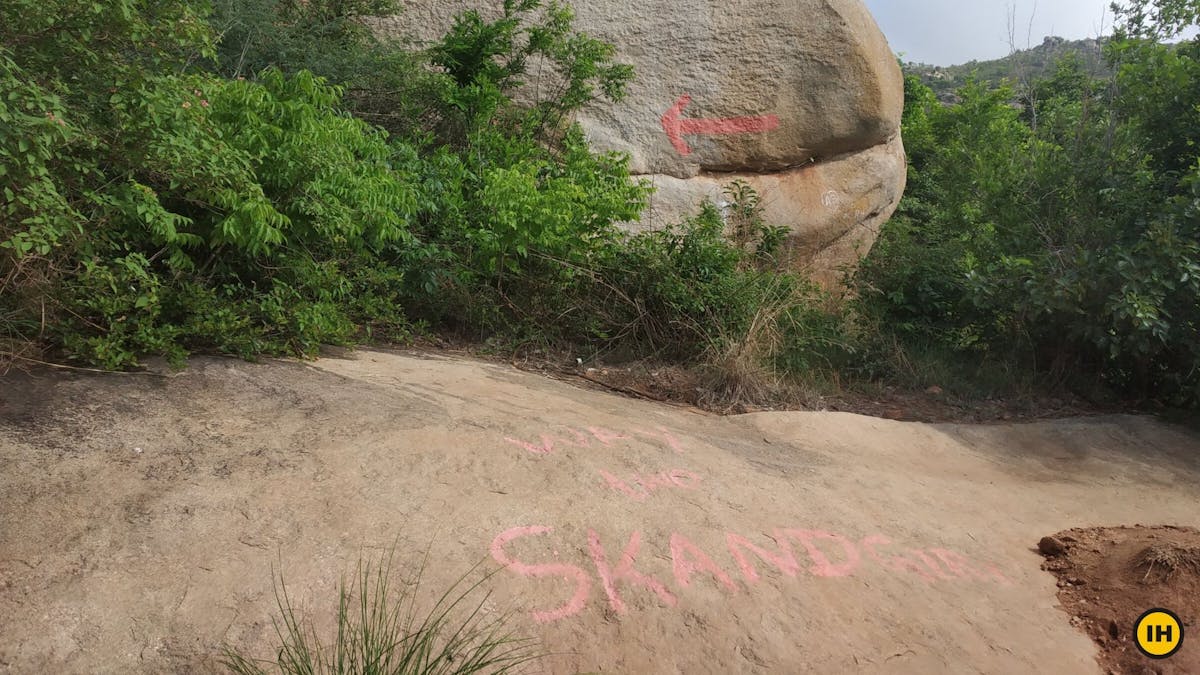 Way markers on the rocks to ensure the correct route is followed. Picture by Saurabh Sawant
From this point, the trail starts to get a bit tricky and it consists of uneven rocks, slippery mud trail and thick vegetation all around. Make sure you find spots to grip your feet firmly.
The naturally formed trail which is quite uneven and requires firm footing. Picture by Saurabh Sawant
The trail starts to ascend gradually here onward and gets quite steep at some places. Maintain proper balance so as to avoid yourself from falling in case there is a slip of foot.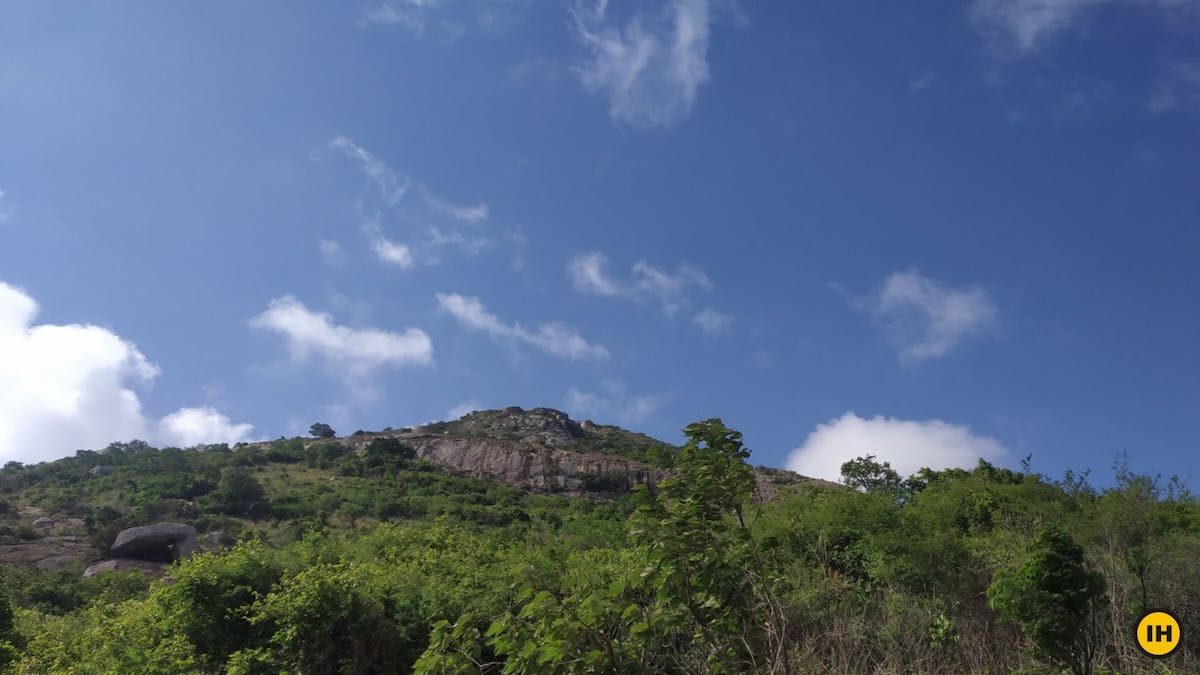 View of the fort on top of Skandagiri from the trail. Picture by Saurabh Sawant
Enjoy the scenery by occasionally looking around. You will be amazed to see the variety of flora and fauna you come across on the trail.
Gautam Singh, Finance Manager at Indiahikes who has done this trek shares his experience here.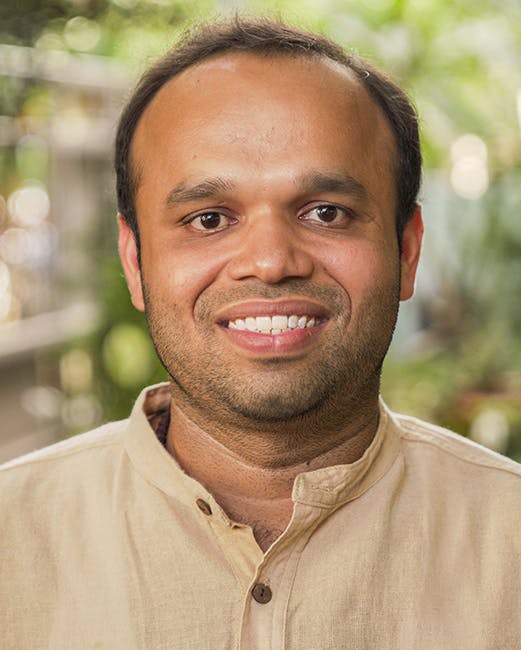 Gautam Singh
Finance Manager
We were quietly walking up the trail and all of a sudden I saw a baby Keelback snake slithering casually right next to me. I was surprised and excited to see a snake for the first time, moving so effortlessly!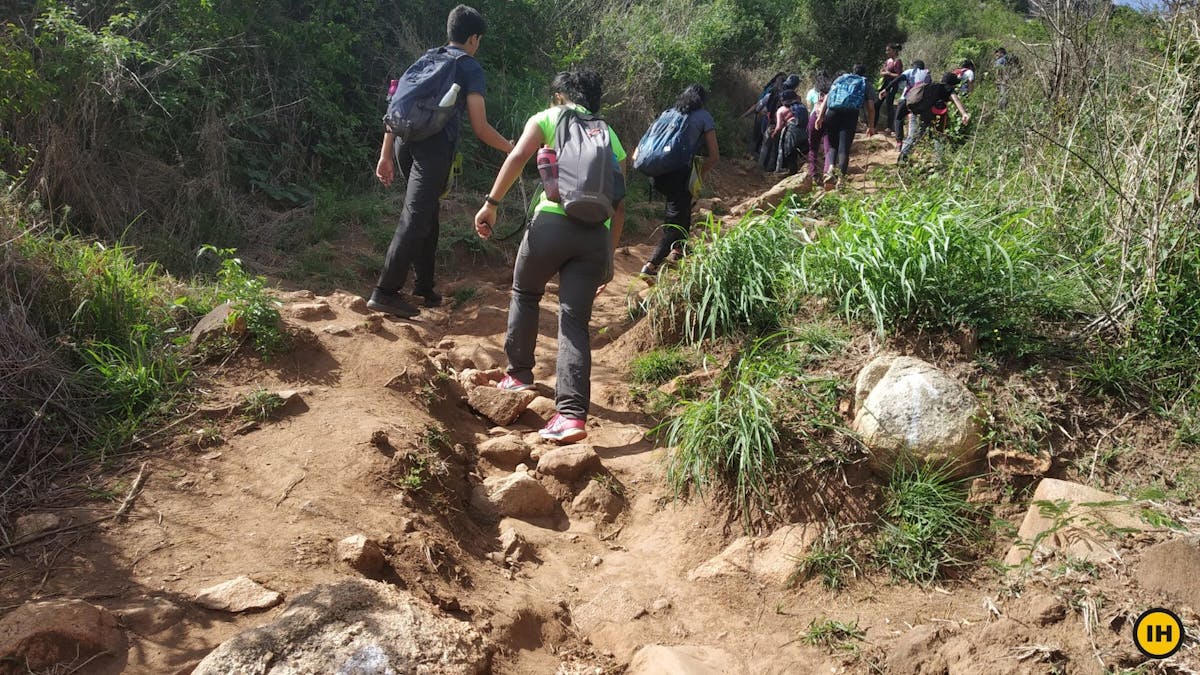 Trekkers traversing cautiously through loose rocks. Picture by Saurabh Sawant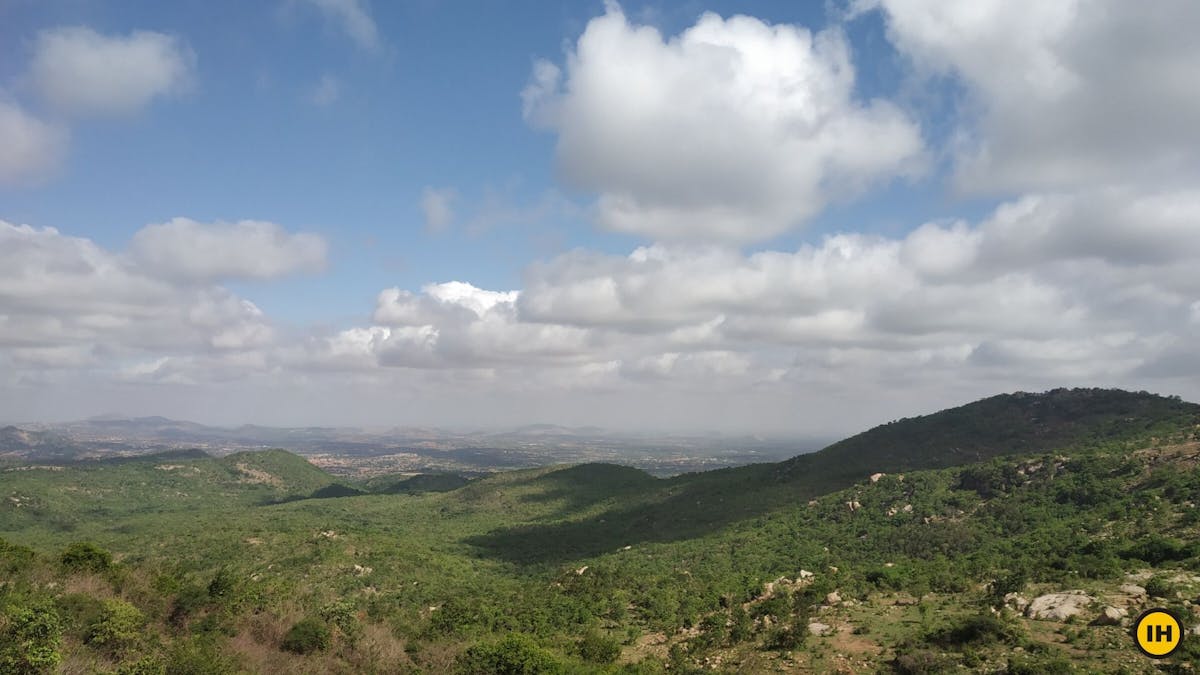 Beautiful hillocks surrounding Skandagiri, as seen from one of the viewpoints on the trail. Picture by Saurabh Sawant
It is a moderate to steep ascent until you reach Rest Point I, with occasional slippery sections and rock-hopping. Once you reach Rest Point I, make sure to rest for 5-10 minutes and enjoy the lush green view right in front of you. It is quite rare to witness such scenery around Bangalore.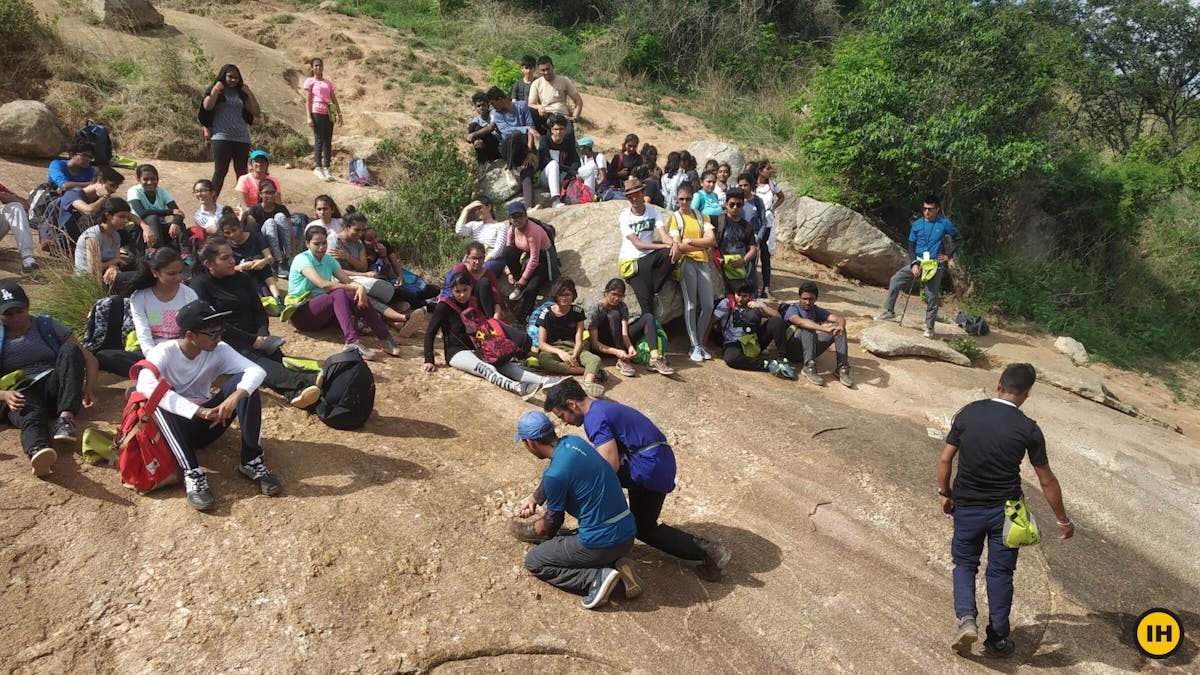 The rocky patch, which is also the rest point. Take a sip of water and have a snack while enjoying the view. Picture by Saurabh Sawant
Trek Distance: 900 metres
Trek Duration: 40-50 minutes
GPS Coordinates of Rest Point I: 13°25'18.8"N 77°40'59.6"E
GPS Coordinates of Skandagiri Summit: 13°25'03.1"N 77°41'01.3"E
The final section of the trek starts to get tricky with steeper ascents than the previous sections. If there are chances of injuring yourself on Skandagiri trek, it is on this section.
Make sure to wear sports or running shoes on this trek which have a good grip on slippery mud surfaces. Trekking shoes with hard soles do not provide good grip on slippery sections.
Our Trek Leader, Tanmay Bain says:
"I do not wear proper trekking shoes for any of my treks in and around Bangalore as they are not suitable for this kind of terrain. So, I only wear sports shoes which are much comfortable and provide excellent traction."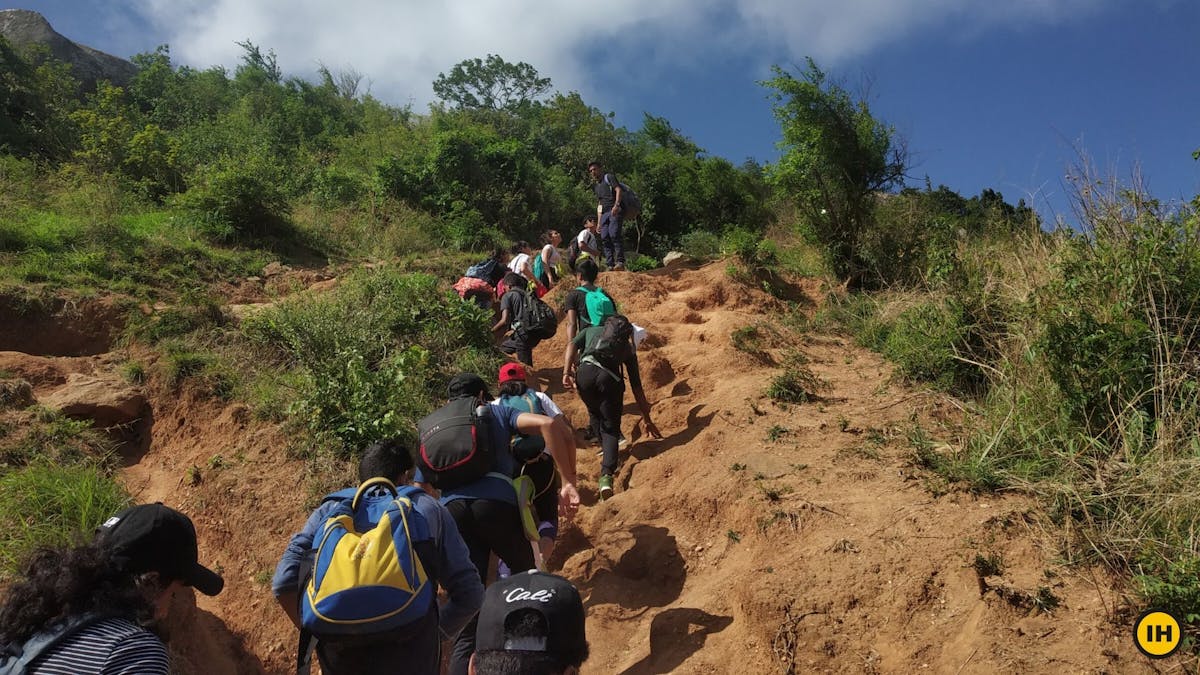 Trekkers balance their way up a steep section cautiously. Picture by Saurabh Sawant
While the section is tricky, do not forget to look around and enjoy vast open landscapes spread across on your right and left.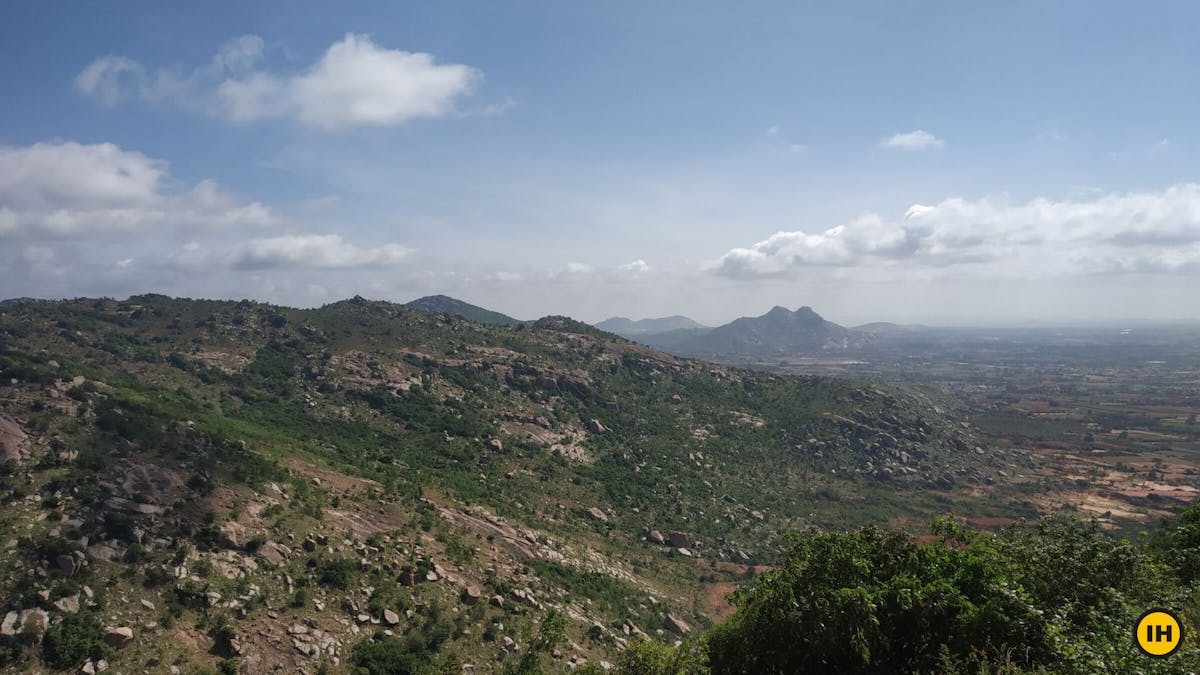 Barren hillocks with a few patches of greenery in contrast to lush green ones seen earlier from a different viewpoint. Picture by Saurabh Sawant
After about 20 minutes of ascent, you will come across ruins of the fort for the first time. There are fort walls, abandoned pillars of what seems to be like a hut, some rock slabs with writings on them… These ruins make us wonder how life would have been sustained here in the 18th century!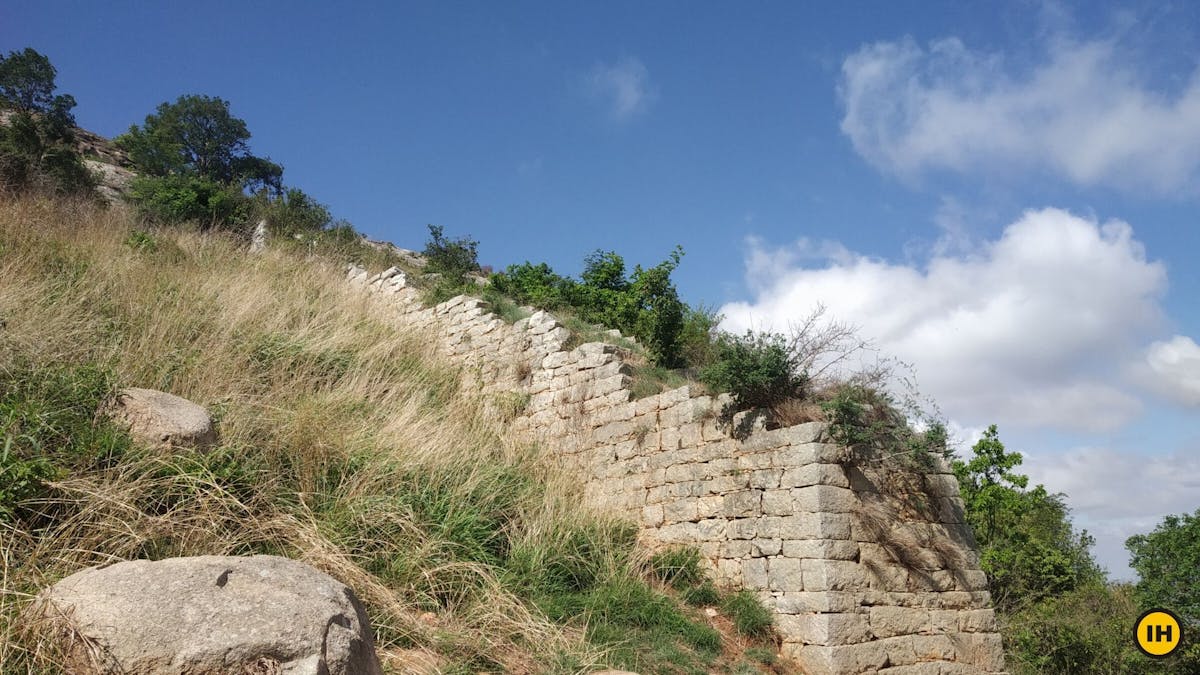 Broken fort walls from the 18th century. Picture by Saurabh Sawant
Traverse your way up by crossing a few narrow sections. Be very careful here, as a slight misstep to your left will lead to a straight 100-foot drop down below.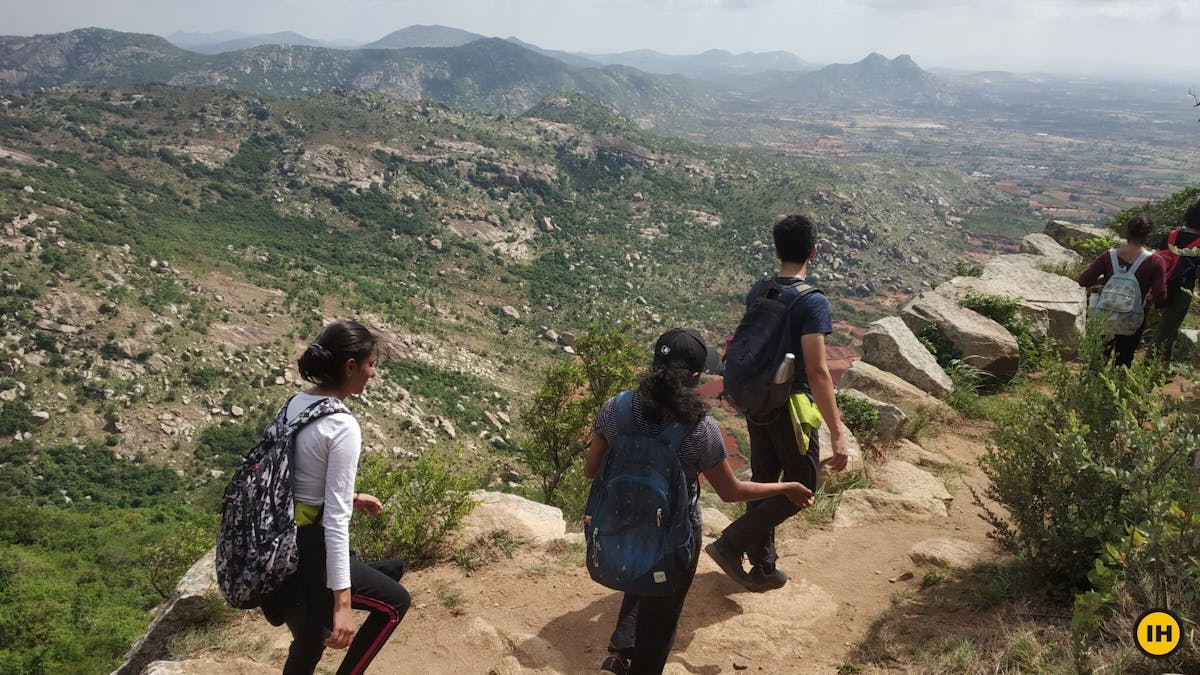 One of the narrow trails with a straight drop on the left. Picture by Saurabh Sawant
Once the narrow section is crossed, there is almost a 50-foot steep ascent on the rock. The rock turns very slippery, especially in the monsoons. Tread cautiously here.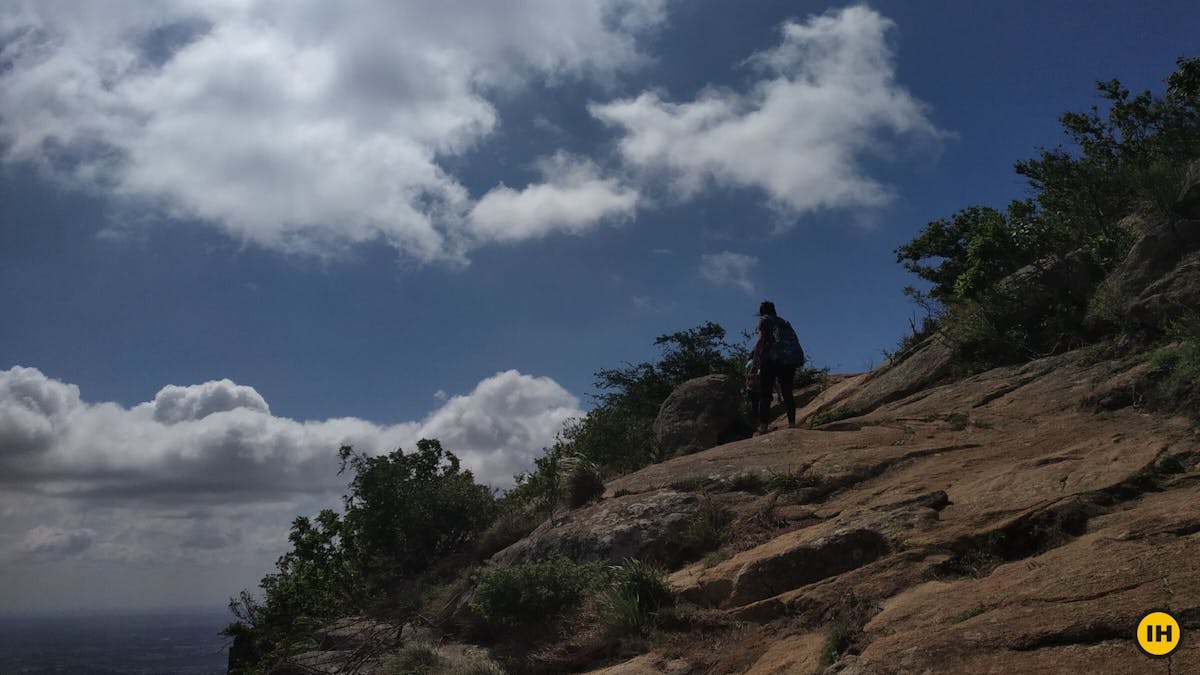 The view of the rocky section before the ascent. Saurabh Sawant
Soon after crossing the rocky section, you will be greeted by ancient shrine-like structures with broad steps made of stones. This provides another glimpse into the 18th century lifestyle.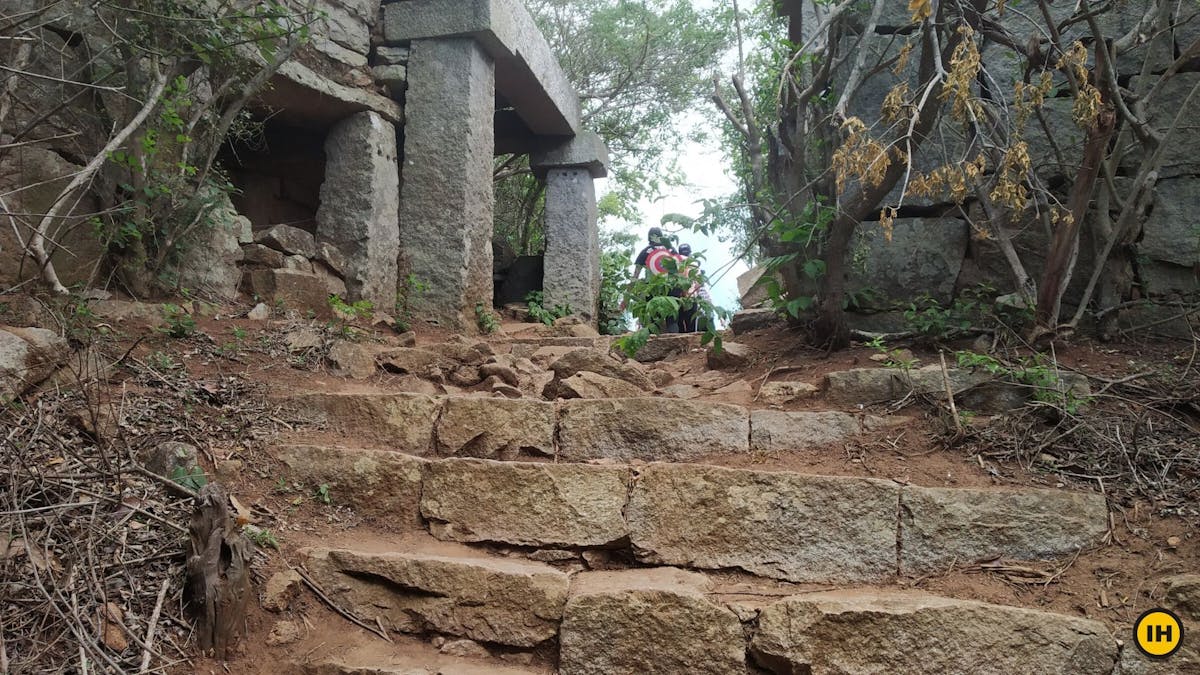 Old steps with ancient huts and shrines on both the sides. Saurabh Sawant
Now is the last of the tricky sections, which is steep and quite slippery. You will have to make your way up carefully.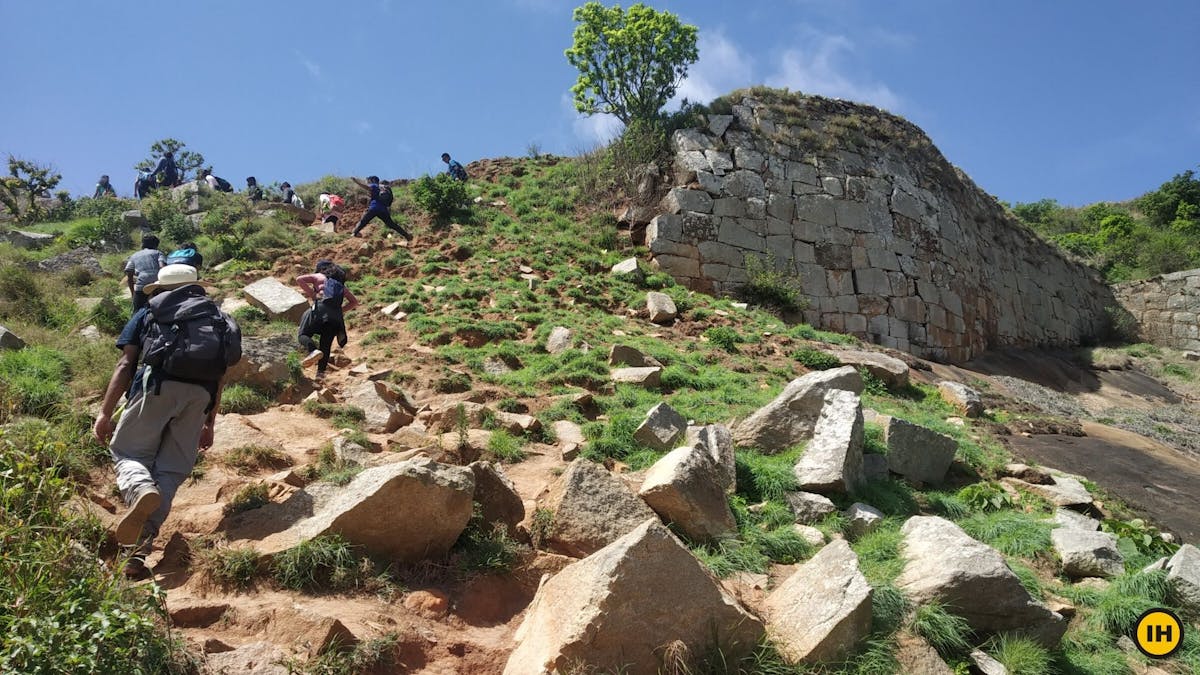 Trekkers hopping their way up the trail. Picture by Saurabh Sawant
This naturally formed steps on the big slab of rock marks the end of your climb. You have reached the summit!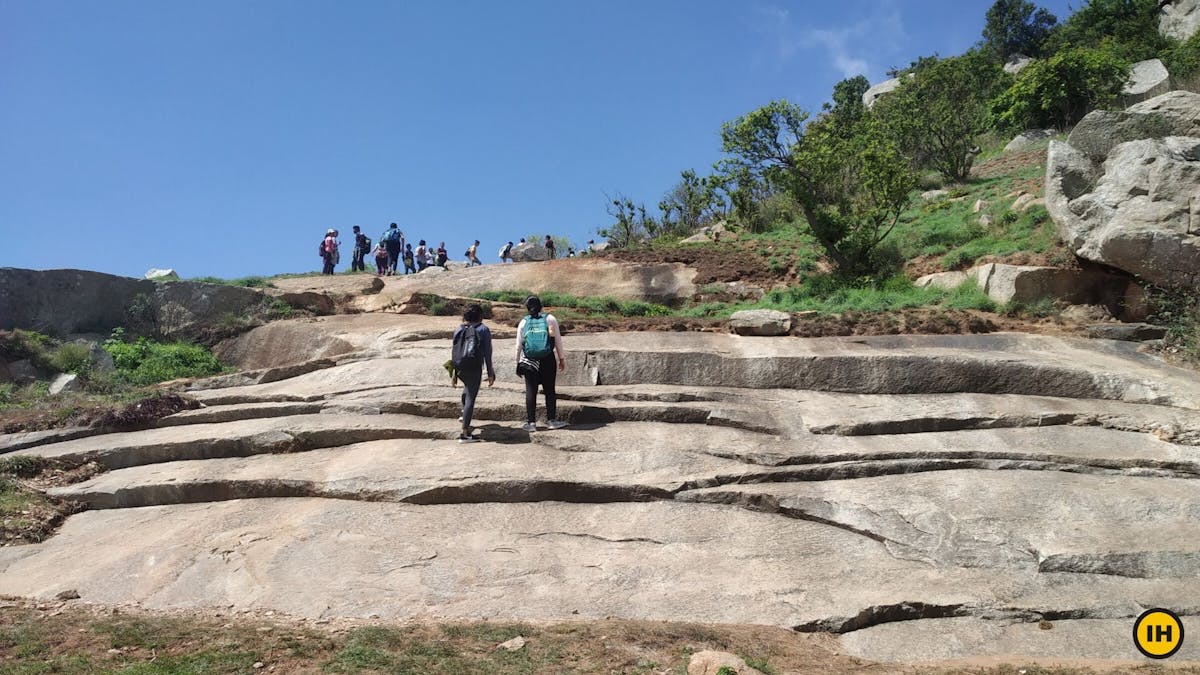 Final push to the top, the Skandagiri summit. Picture by Saurabh Sawant
Make sure to spend at least 30 mins on the top, exploring the ancient temples, taking in 360° view of the surrounding hills and reflecting on your journey till the top and do not forget to have your packed lunch or snack!
Try to be quiet and close your eyes for five minutes. Observe the sounds of nature and feel your body getting comfortable and relaxed, preparing itself to descend down the same way you came up. It is a beautiful way to spend time at the summit.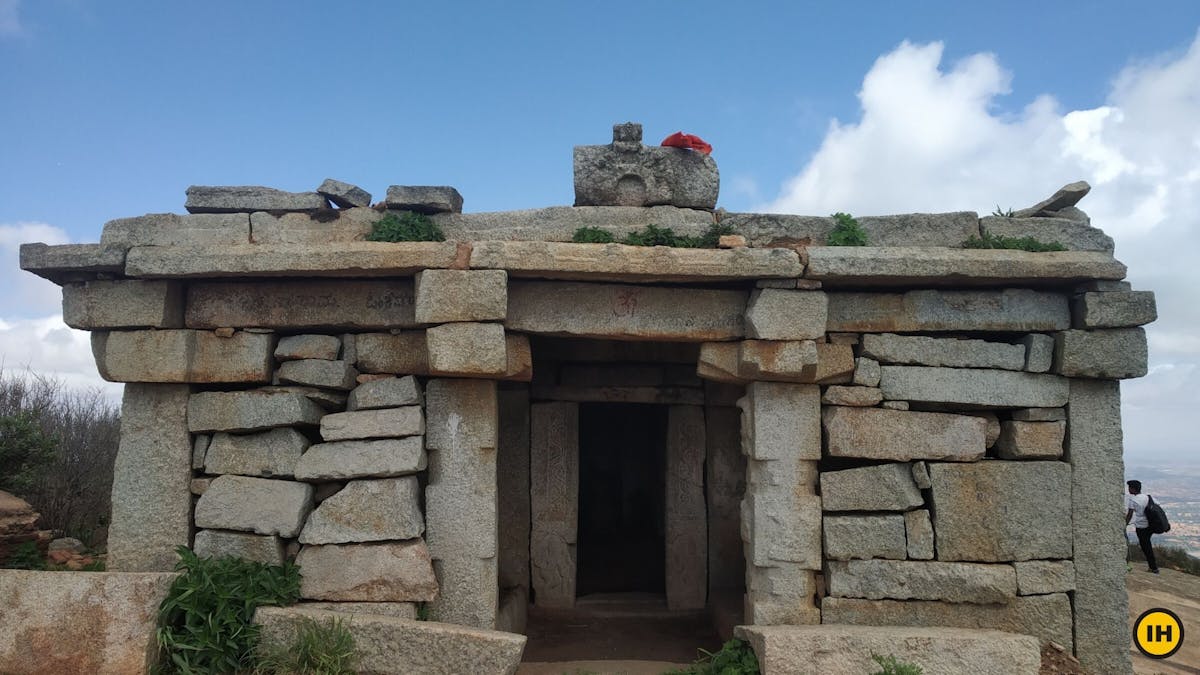 Shiva temple from the 18th century, which all the idols inside intact. Picture by Saurabh Sawant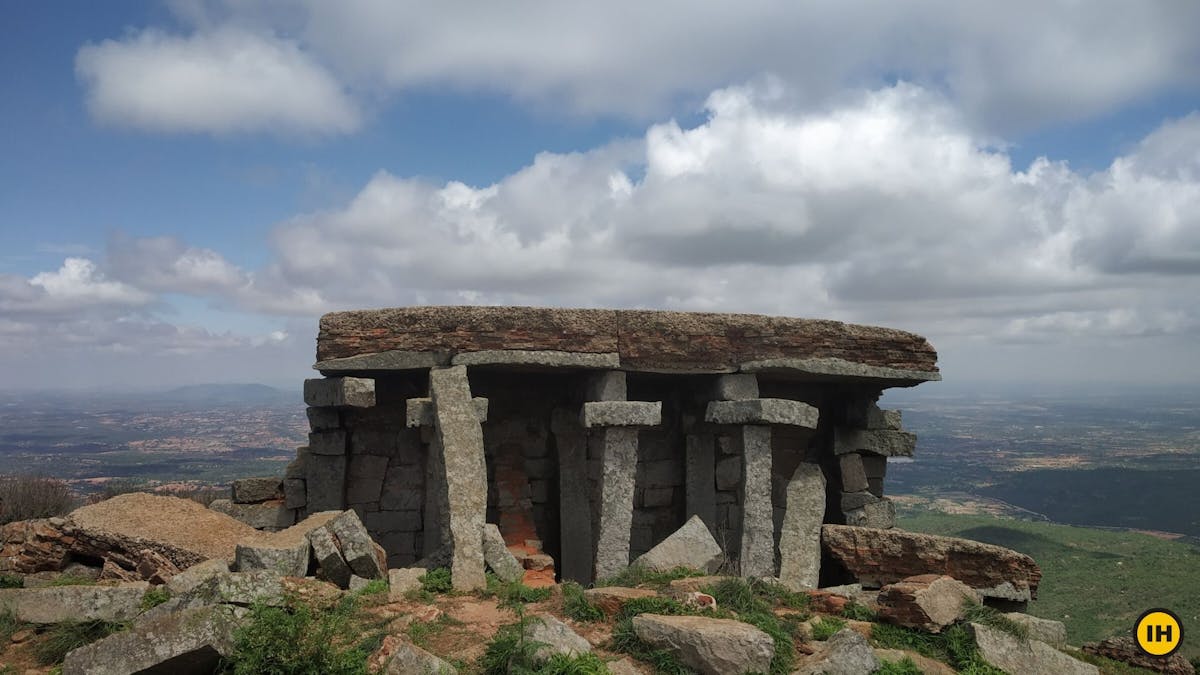 Another temple at the top which is completely abandoned. Picture by Saurabh Sawant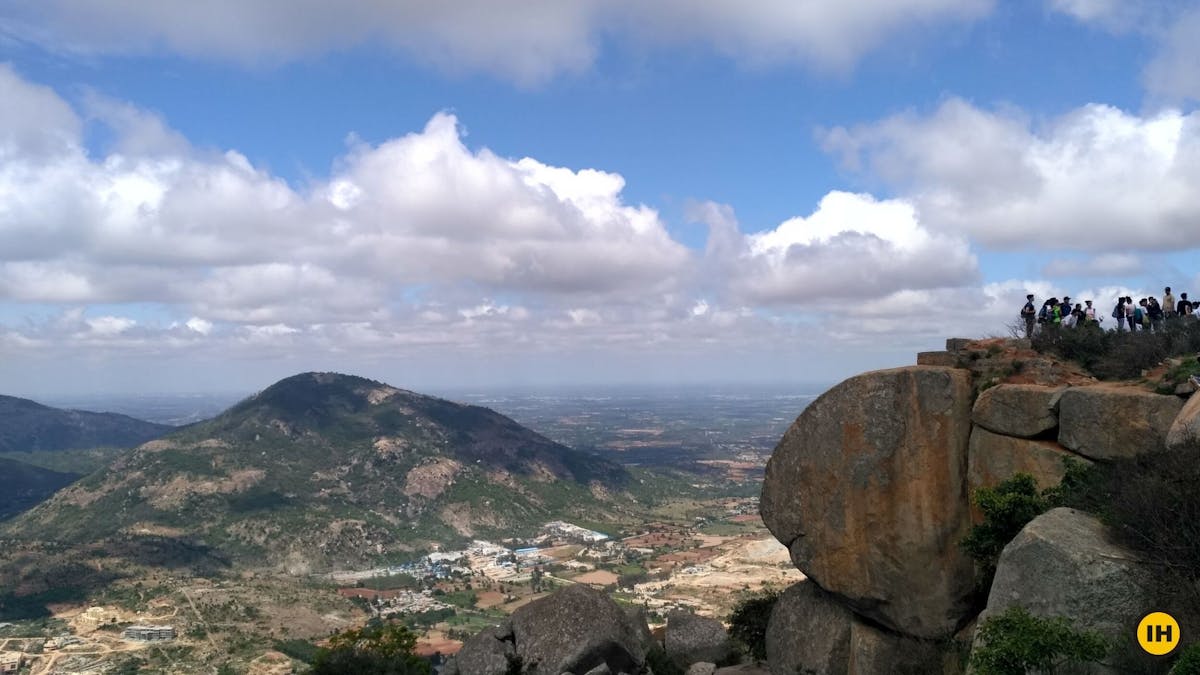 View of Channagiri from the Skandagiri summit. Picture by Suhas Saya
The descent is down the same path. However, you may face new challenges here as it requires a lot of caution to be applied while descending, as you will slip and slide easily on the steep sections if you do not take it slow and place your feet firmly on the ground with proper grip. The mud is loose and slides as soon as you place your foot on it.
Another challenge is, the chances of missing the right path are more while descending. The way markers are not easily visible and you may end up losing your way.
But, do not worry. If you follow the prominent trail you will reach the base without getting lost.
Route Map
Route Map of Skandagiri trek. Screenshot on Google Earth Pro
Best Time To Do Skandagiri Trek
Skandagiri is one of those treks that can be done all year round.
However, due to very little tree cover on the trail, we recommend you wear a cap during summers to avoid exposure to the sun. No wearing a cap or a hat will tire you quickly due to dehydration caused by extreme heat.
During monsoons, carry a poncho or a raincoat along with a rain cover for your backpack to keep yourselves dry on your hike to Skandagiri.
But, we advice not to trek during heavy rain as the trail becomes slippery due to loose rocks and mud. This will hamper your experience of the trek.
How to Reach Skandagiri
• Reaching Skandagiri By Your Vehicle From Bangalore
Skandagiri is in the hill town of Chikballapur. If you are planning to reach Skandagiri using your own vehicle, use this link to help set up navigation in Google maps.
If you do not have access to Google maps, here is how to reach Skandagiri:
Take the National Highway 44 and head towards Chikballapur. Pass Bengaluru Airport Toll Plaza and head straight (if you are in a two-wheeler, the entry is free. For four-wheelers a toll fee must be paid).
After about 40 kilometres, you have two routes to reach Skandagiri:
a. Continue straight on National Highway 44 for 12.7 kilometres from Rani Cross (Nandi Cross) and take the left intersection onto Chikballapur Road. In about 2.7 kilometres, turn left from Chikballapur Road and continue straight for 1.8 kilometres.
At the T-junction, turn left and continue for 550 metres and turn right at Gantiganahalli. Continue straight for 1.4 kilometres and turn right at Muddenahalli Bus Stop.
Continue straight for 2 kilometres and take the left at the T-junction of Kalawara village.  In about 900 metres you will arrive at Papagni Mutt, the start point of Skandagiri trek.
b. Turn left from National Highway 44 to State Highway 104 at Rani Cross and continue to Skandagiri by taking a right at Karahalli Cross via Nandi Grama and turning left at Gantiganahalli. From here, follow the same route as above (this is recommended as the route is scenic and passes through the quaint little town of Nandi Grama).
Note: The distance from Bangalore is measured from Vittal Mallya Road, as it is considered the city center.
• Reaching Skandagiri By Public Transport System From Bangalore
From Majestic Bus Station ---> Chikballapur Bus Station ---> Take an auto rickshaw to Papagni Mutt
From Majestic Railway Station ----> Chikballapur Railway Station ---> Take an auto rickshaw to Papagni Mutt
As an alternative to taking an auto rickshaw, you can also walk from Chikballapur Bus or Train station as Papagni Mutt is about 3 km from the city centre.
Train Timings to reach Chikballapur and back:
Bengaluru to Chikballapur: Train No: 76551 at 08:30 AM, Train No: 76551 at 08:30 AM, Train No: 76526 at 07:55 AM
Chikballapur to Bengaluru: Train No: 76525 at 06:10 PM, Train No: 76552 at 03:55 PM
Bus Timings to reach Chikballapur and back:
There are buses every 10 minutes to Chikballapur from Majestic Bus Station, Bengaluru. The same applies for the buses from Chikballapur as well.
How Difficult Is Skandagiri Trek
Skandagiri is an easy trek. There are no sections on the Skandagiri trek that can be classified as difficult as such. However, a trekker must always anticipate and prepare for every eventuality.
Here are a few things you should keep an eye out for while ascending and descending:
• Slippery trail (Monsoon specific):
The trail becomes more tricky during monsoons as the mud and rocks become very slippery and great caution must be taken while traversing. If  trekking in the monsoons, trekkers should be very careful with their choice of footwear and should check weather charts so as to avoid days with anticipated heavy rains.
• Rocks and Stones:
There are multiple parts of the trek where trekkers will be required to scale small rocks or walk on large stone slabs. While this is an extremely enjoyable part of the trek, one needs to be careful. Slipping or falling from a rock can lead to serious injury and trekkers must exercise caution while navigating these sections.
• Muddy sections:
Since this trail is a mix of rocks and mud, there are some sections of predominantly mud trail which is very slippery even if it has not rained. Chances of slipping and sliding down for a few metres are high in these sections. Hence, firm footing is advised in these sections.
How To Get Fit For Skandagiri Trek
The Skandagiri trek is classified as an Easy grade trek. From Papagni Mutt, you will gain approximately 1,200 feet in altitude. Though the altitude gain is not much, the continuous ascent can be quite demanding for people who lead a sedentary lifestyle.
Training yourself for a low altitude easy grade trek
Here's a guide to help you get fit for the trek in 4 weeks:
Cardiovascular Endurance
In case you're just starting with a fitness routine, start slow and increase your pace everyday in the following manner –
Target completing a jog of 5 km in 45 minutes when you begin.
Gradually increase your pace by running 5 km, 4 times a week.
As you become more comfortable, introduce another day of running in your routine. 
Progressively increase the distance you run in a workout until you can complete 5 km in 40 mins.
If you prefer cycling over running, target covering 15 km in 60 minutes when you begin.
Progressively increase your pace to cover 18 km in one hour.
Strength Training
This is an important area you need to work on.
Strength training is equally important to trek comfortably. Work on your glutes, calves and knees. Additionally, work on strengthening your core.
You must strengthen your core muscles. For strengthening your core muscles, holding a plank and it's variations (elbow, side planks) are the best exercises to go about doing it.
Also, try these exercises for strength:
Target 4 sets of squats with 20 in each set.
– Squats (Mix it up with sumo squats)
– Lunges (Forward, backward and lateral lunges)
– Planks
Flexibility
Flexibility determines the amount of movement your bones can make in any direction around joints such as shoulders, elbows, hips and knees.
It is an aspect that will help you trek comfortably. Carrying a backpack, however light, can become a strain. Stretching your hamstrings, quadriceps, hip flexors and lower back muscles regularly, promotes relaxation in the tissues reducing the strain on your back.
If you can't go out and jog because of time and space constraints, here's a video you can use to work out indoors.
Things To Take On Skandagiri Trek
Basic First Aid kit*
Identity Card
Cap/ Scarf/ Bandana & Sunglasses
Water (Minimum two litres)
Lemon and salt OR Electrolyte Powder/Drink (Electral/Gatorade/Glucon D, etc.)
High-calorie snacks (Nuts & dry fruits, home-baked cake, etc.)
Safety Pins, Rubber bands & Whistle (Useful in emergencies.)
Quick Dry T-shirts are preferable over cotton tees.
Poncho, only during monsoons
Plastic sheet to wrap electronic devices, only during monsoons
Sunscreen (SPF 50+)
Optional: Trekking poles
*First aid kit:
Scissor
Band aids (Regular & Waterproof)
Analgesic spray (Relispray, Volini, etc.)
Antiseptic Liquid (Savlon, Dettol etc.)
Antiseptic powder (Povidone-Iodine based powders like Cipladine, Savlon, etc.)
Cotton roll & Bandage
Crepe Bandage
1 inch wide medical tape (paper or cloth.)
Micropore tape
Tablet for motion sickness (Avomine), Acidity (Gelusil, Digene, etc.).
Mild pain relief tablet (Crocin)
| Note: Always consult a doctor before taking any medicine.
Frequently Asked Questions
1. Can I do this trek if I have never done a trek before?
Yes. A person who follows an active lifestyle, can consider Skandagiri as their first time trek.
For people who lead a relatively sedentary lifestyle, we recommend a bit of preparation before attempting to trek.
2. Can I go to Skandagiri without booking?
No. You need to book for Skandagiri trek online prior to starting your journey for the trek. Skandagiri Hills entry fee is Rs 250 for adults and Rs 125 for children. Here is the website for registration: https://www.karnatakaecotourism.com/treksdetail/TRK130
3. Where can I get food and water during the trek?
The nearest town is called Nandi grama, at the base of Nandi hills. There are a few small eateries in the town. If you want a decent restaurant, then Chikballapur is your option.
Water is available at the base of the trek, Papagni Mutt. A small groundwater tank is your source of water.
4. Whom do I contact in case of an emergency?
• Hospital: The closest hospital is New Government Multi Speciality Hospital which is 12 km away. You can reach them on 081562 72388 for assistance.
• Police station:The police station closest to Skandagiri is the Chikballapur Town Police Station (Contact: 081562 74000).
• ERSS: For any kind of emergency help, you can contact the Pan-India Emergency Response Support System (ERSS) number- 112
5. Is Skandagiri and Nandi hills same?
No. Skandagiri and Nandi hills are different. But they both are part of the Panch Giris of Chikkaballapura region. Skandagiri is about 23 km away from Nandigiri.
6. Does Skandagiri have leeches?
No. Though Skandagiri is a mixture of both forest and rocky terrain, this is very different from the western ghats treks. Hence the probability of finding leeches even during the peak monsoon season is very less.
7. What is Skandagiri famous for?
Skandagiri is one of the prominent hills among the Panch Giris of Chikkaballapur range. It's famous for the sunrise trek and the spectacular views of the sunrise that you get from the peak.
8. Can kids do Skandagiri?
Yes. The difficulty level of Skandagiri is easy and is suitable for beginners. It doesn't have any tricky sections as such, hence is one of the ideal treks to introduce kids above 8 years old to trekking.
9. What about mobile network and connectivity on Skandagiri trek?
Mobile Network:
You will get mobile network for almost all major operators like Airtel, Vodafone & Jio throughout the trek, except for some sections where the network is weak.
Nearest ATM:
Chikballapur town is where you will get an ATM, which is roughly 5 - 6 km away from the base of the trek. So, ensure you carry enough cash with you before starting for the trek.
10. Where can I get a guide for the trek?
The trail to the fort is probably as straightforward as it can get. We do not recommend a guide for this trek. You can download the gpx file from our website. It helps you not get lost on the trek.
Nearby Places To Visit After Skandagiri Trek
1. Nandi Hill - Nandi Hill is very close by and you can either take the trail to the top of Nandi hill or drive all the way up till the view point.
2. Muddenahalli - The birthplace of Sir M. Visvesvaraya, the first Indian engineer. It is also the place where he was buried after his death in 1962.
3. Bhoga Nandeeshwara Temple - An ancient Hindu temple complex dating back to 9th century, with ornately carved pillars and a reflecting pool, located in Nandi grama.
4. Harihara Betta Trek - Harihara Betta is a short but beautiful trek with far reaching views of Chikkaballapura range. Harihara Betta is located around 10 km away from the Skandagiri base. If you plan to do the Skandagiri night trek, you can combine this trek with the Skandagiri.
Go through this article, if you are interested in other day hikes to do around Bangalore.
Trek Contribution
Trek documented by Aditya Pillai, Saurabh Sawant and Suhas Saya
Photos Contributed by Saurabh Sawant
Trek written by Gautam Singh
GPX File Opt in
We go to great lengths to ensure you have a safe trek. So here's a GPX file of the trail to help you navigate without getting lost.