Can You Help Us With Photographs Of This Trek?
We are looking to enrich this documentation with more photos. Pictures go a long way in explaining the trail, more than words ever can. If you have done this trek, can you share your photos with us? We will include them on this page, with due credit to you. Click here to contribute.
The Complete Guide to Srikhand Mahadev Trek
➤ Highlights
The Shrikhand Mahadev trek is a pilgrim trail that leads to the Shrikhand Mahadev peak (5,227 meters/17,150 ft), named after Lord Shiva. The key attraction of this trek is the breathtaking view of the Himalayan ranges from the Parvati valley. You see ranges of Kullu, Jorkandan and Rangrik ranges of Kinnaur and Hansbeshan and other surrounding peaks in the southeast of the Satluj river.
This trek can be done either from the Nirmand side or the Arsu side. The popular and widely travelled route is from the Nirmand – Jaon village side. To reach the base camp, you have to drive from Shimla towards Rampur and cross the Satluj river to enter the Niramand region of the Kullu district and drive till Jaon Village. This trek can be done in 5 – 6 days, (i.e. Delhi to Delhi, involving 3 days of trekking).
Trek Facts
Altitude: 5,227 meters/17,150 ft
Trail Type: Difficult gradients. Steep incline trek going through rough glaciers covers, rocky moraine path. People with no or less High altitude trekking experience should not attempt this trek.
Railhead: Shimla is the nearest railhead to Jaon village – 170 Km. Shimla is connected with a narrow-gauge line with Kalka.
Road Head: Buses are available from Shimla ISBT. Take a cab/ local bus from Shimla to Rampur 130 km, then to Jaun village via Nirmand (Kullu). Finally, the last 8 km from Bagi pul to Jaun is a kuccha road.
Base Camp: Jaon Village or Singhgad.
➤ Short Itinerary
Trek Itinerary: 
Day 1: Drive from Shimla to Jaon. Trek to Singhgad (6,873 ft); 5-6 hours drive + 3 km trek
Day 2: Singhgad (6,873 ft) to Thachru (11,318 ft)
Day 3: Thachru (11,318 ft) to Kaali Ghat (12,500 ft) to Kunsha (12,200 ft)
Day 4: Kunsha (12,200 ft) to Parvati Baag (13,662 ft)
Day 5: Parvati Baag (13,662 ft) to Nain Sarovar (14,527 ft); return to Parvaat Baag (acclimatisation)
Day 6: Parvati Baag (13,662 ft) to summit (17,150 ft); return to Bhimdwaar/Parvati Baag
Day 7: Bhimdwaar/Parvati Baag (13,662 ft) to Thachru (11,318 ft)
Day 8: Thachru (11,318 ft) to Jaon. Drive back to Shimla
Day 9: Buffer day
Author: Hiramani Kashyap
➤ Trail Guide
The Holy Shrikhand Mahadev Trek starts from Jaun village which lies in the Kullu district at 6,397 ft. It is a small village on the right bank of rivulet Kurpan which originates just from the bottom of Shrikhand Mountain Range. This is a fast-flowing rivulet with white water. During the monsoon, this small rivulet Kurpan looks like a treacherous river. 
Jaun is a small village of around 50 houses and a temple dedicated to Mata Katyayni. From Baagi Pul to Jaun there is a Kuccha road of 8 Kms. Jaun is a village amid the great Himalayan range. One can admire the beauty of mother nature sitting amid mountains, rivulets, small houses, temples and most important and pleasant fully developed apple orchards of Jaun.  Jaun provides a clear and beautiful view of Shrikhand Mountain. If the weather is clear you can get a glance of the holy Shrikhand peak from here. Jaun is the last place from where you can buy a few necessary goods for the trek.
Jaun is a place where one can find innocent people with lovely smiles on their faces always. They are the most hospitable people. This is the place where you can spend some time with the locals who can familiarise you with the folklore related to the Shrikhand Yatra and how it has become a source of remuneration for the locals.
Jaon to Singhgad
After spending some time at Jaon started to Singhgad which is at 6,873 ft. Jaun to Singgad is a trek of 3 km beside the right bank of Kurpan. On the way to Singhgad you have to cross several apple orchards, some small streams and a village with old beautiful houses – most of which are two-storied. It takes one hour to reach  Singhgad. It is a paved trek beside Kurpan.  
Singhgad is a place where you can stay for a while or take a rest. It is a holy place; people regularly pay rituals here for the completion of their trek. One can visit temples here at Singhgad. It is a place surrounded by lush green forests. This place is known for its dense forest with Deodar trees.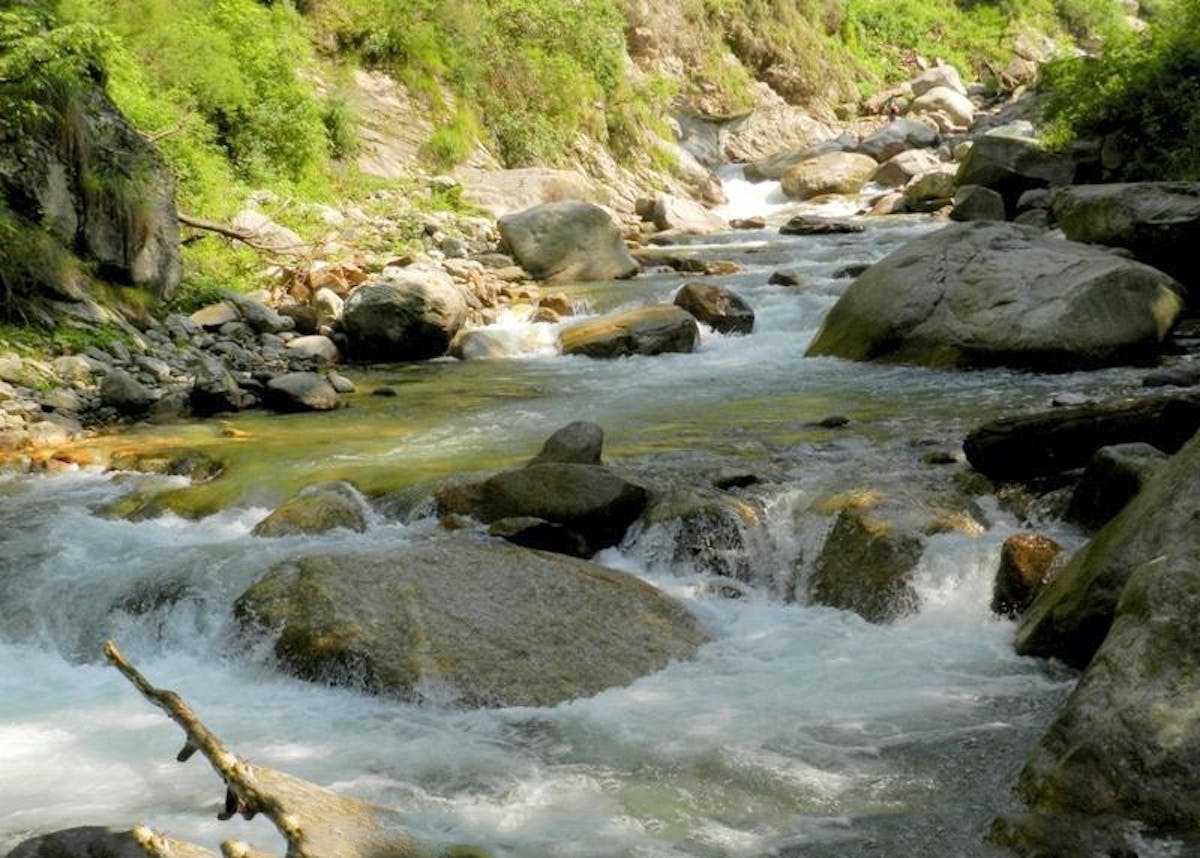 On the way to Barathi Nala with Rivulet Kurpan -Day 1. Image from Indiahikes Archive
Singhgad to Thachru
The next step is towards Barathi Nalah at 7,283 ft, which is the place of the confluence of two small rivulets that make Kurpan. The trek up to Barathi Nalah is breathtaking. This is a trek of 3 km and takes 1.5 hours. On the way to Barathi Nalah sometime you have to cross the Kurpan through a wooden bridge which is just a rip of the Deodar tree.  It creates excitement and thrill among the trekkers for being so near to nature.
You can take a rest at Barathi Nalah. From Barathi Nalah to Thachru there is a vertical climb of 6 Km of Danda Dhaar which takes around 6-8 hours. This climb requires good stamina. You can halt on the way to Thachru. This climb is through the dark forests of deodar where because of the dense nature of the forest nothing is visible. You can hear the sound of rivers, streams and waterfalls clearly from here. There is no source of water on the way to Thachru so it becomes essential to carry more water for the trek up to Thachru.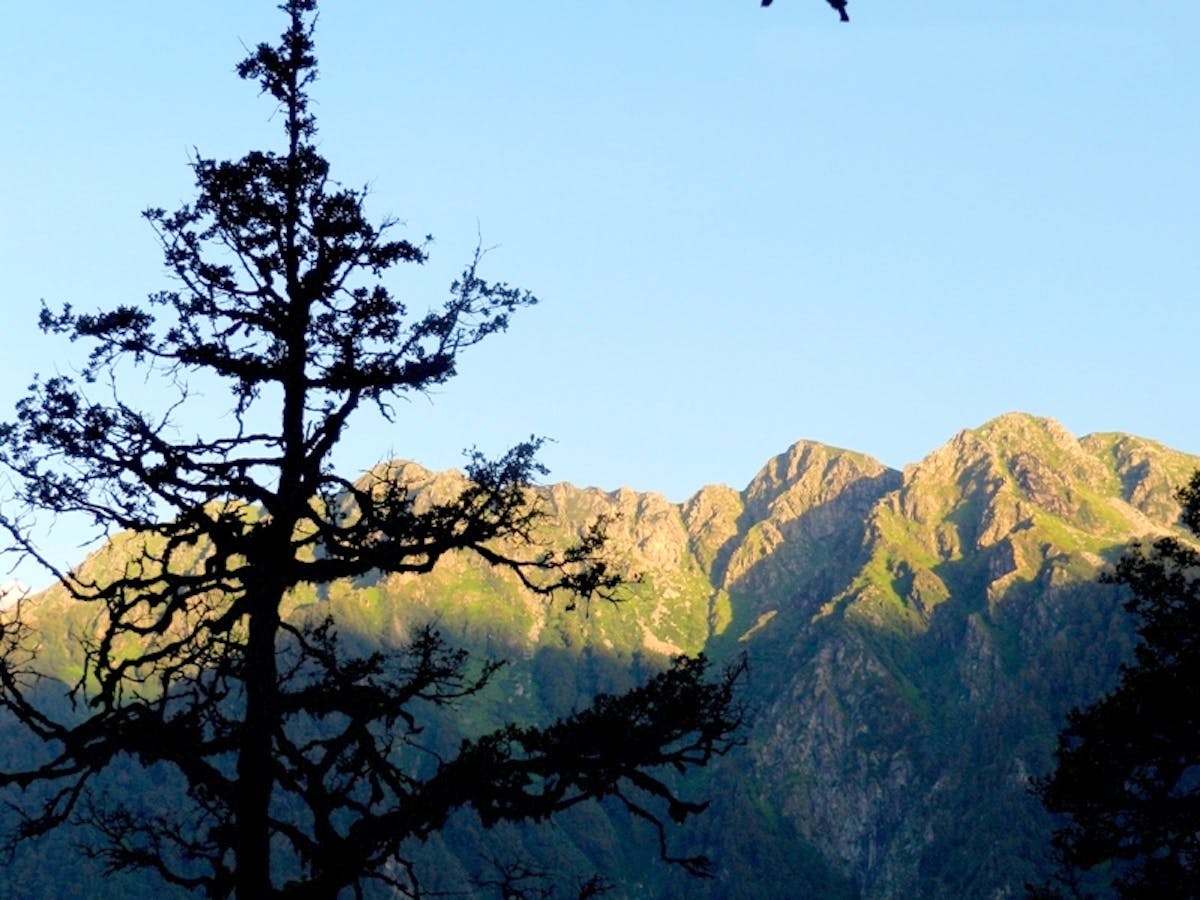 On the way to Taacharu. Image from Indiahikes Archive
As you trek uphill you can experience the change in the vegetation and from several places,s one can get a glimpse of the Kullu Himalayas. On the way, you can find some big Deodar trees which are centuries old. One can find some beautiful birds here on the way to Thachru. On the way, there are some cliffs from where you can admire the beauty of dense forest and rivulets near Danda Dhaar and Surrounded areas of it.
Thachru at 11,318 ft is a place where tree line ends and herbs and shrubs remain for the next patch of the trek. Evenings are very beautiful with views of  Sarahan and Kotgarh region on the Southern side and Shrikhand peak on the Eastern side and Kullu Himalaya on the western side. Taacharu is the best place for a night's stay because this is a place just after the vertical climb of 6-8 Km. From here to Parvati Baag the trek is gentle and not very energy-consuming.
Thachru – Kaali Ghat – Kunsha
From Taacharu to Kaali Ghat there is a straight climb of 3 Kms. It takes 1.5 hours to complete this. On the way to Kaali Ghat, one can find some rare flowers of the Himalayas. The way to Kaali Ghat from Taacharu is straight north facing and one side has a deep ditch.  After spending about 1 hour on the trek you reach an open place full of big rocks.  It provides a close view of the surrounding mountains. From here it takes 15 minutes to Kali Ghat. Kaali Ghat is the top of Danda Dhaar. It is at 12,778 ft. The vertical climb started from Barathi Nala ends here. From Kaali Ghat you can get a 360-degree view of the Himalayas.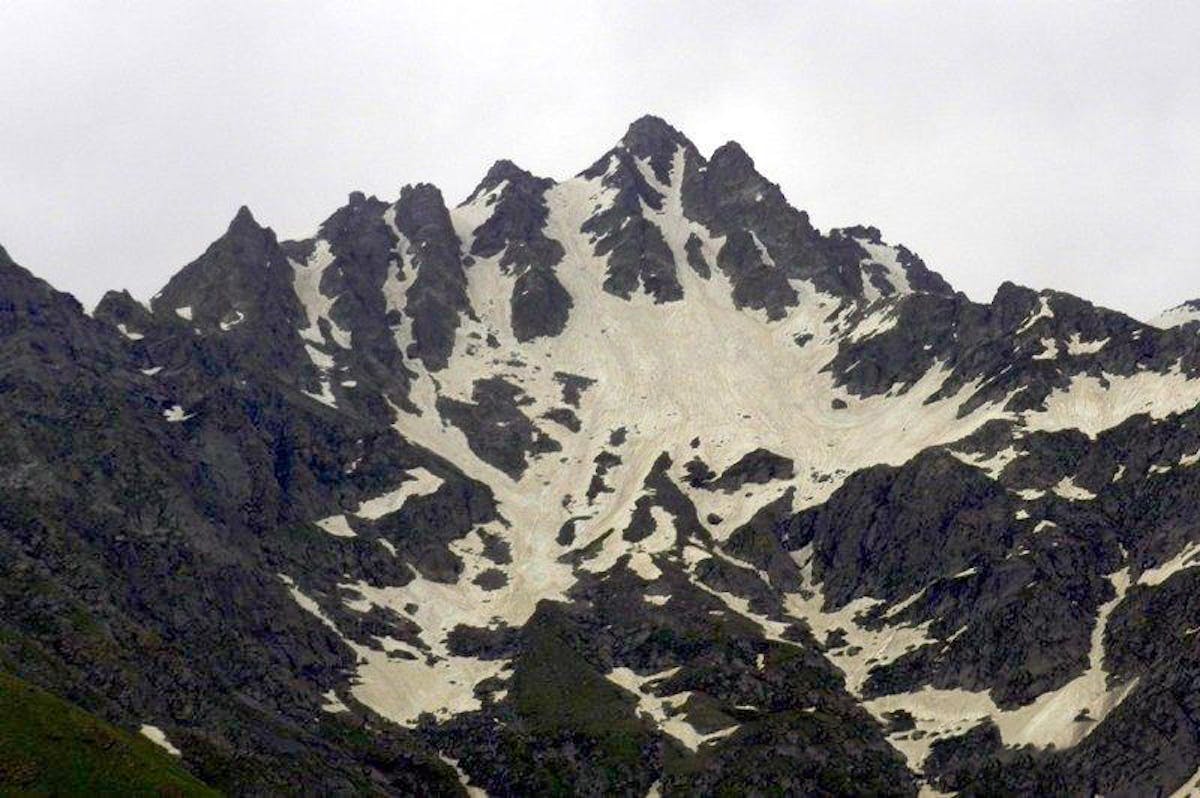 A view of the ranges from Kali Ghati. Image from Indiahikes Archive
A small temple dedicated to Maa Kali is here. The next journey starts here after worshipping Kali. From Kaal Ghati the trek extends towards Bhim Talai which is just 1.5 Kms. It takes only 30 minutes to cover this distance because the trek is gentle. Bhim Talai is a place where according to legends Bhim one of the Pandava brothers used to take bath. This is a place surrounded by high peaks, bugiyal and tiny waterfalls. One can see shepherds here at Bhim Talai. Bheem Talai is at 11,279 ft.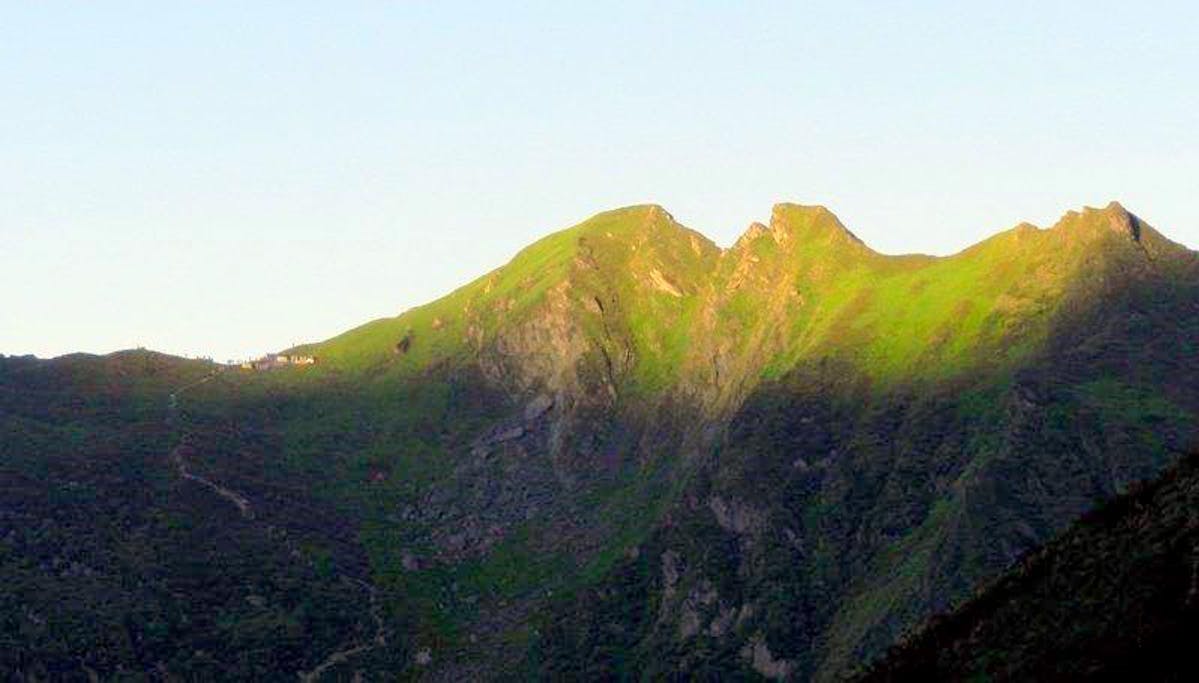 Bheem Talai. Image from Indiahikes Archive
From Bhim Talai to Kunsha which is 3 Kms ahead is a smooth trek. It takes 1.5 hrs to cover this patch. Just after crossing the Big Bugyals (Grass Ground), you have to cross a glacier around 500 meters long and 80 meters wide. From this glacier to Kunsha there is a vertical climb with rocks. Kunhsa at 12,746 ft is a place surrounded by big waterfalls. It is a place of breathtaking scenery. Nature is splendid here. One can spend hours here just admiring nature with waterfalls, clouds, and flowers. This is the best place to take some rest and rejuvenate with nature.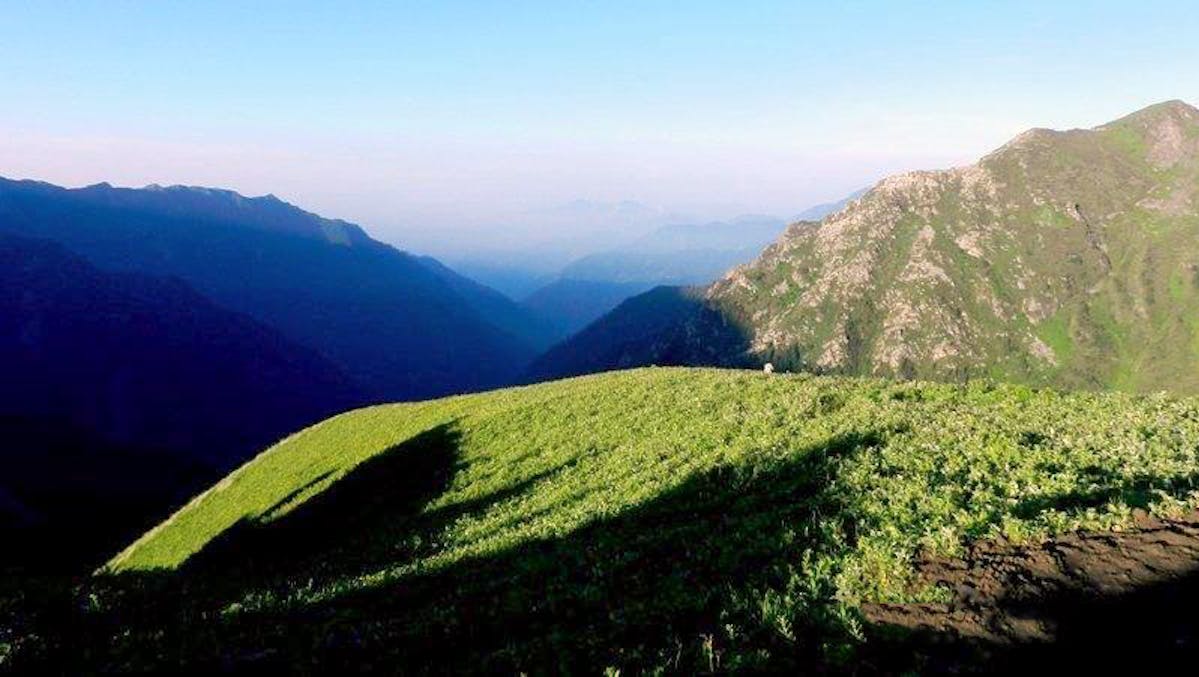 View of the valley from Kunsha. Image from Indiahikes Archive
Kunsha to Parvati Baag
From Kunsha to Bheem Dwar there is a level walk with small ups and downs. It is a trench of 3 Kms which takes 2 hours. The route to Bheem Dwar is filled with rare Himalayan flowers and different shrubs. This place is like the valley of flowers in Uttrakhand. One can find a very rare flower here easily. This place is so wide and it provides a panoramic view of deep valleys, deep gorges, big waterfalls and some small streams flowing on the way. Kunsha valley provides a gorgeous view of clouds, mountains, small patches of snow and the sweet sound of fast flowing streams just one after one. Kunsha valley is like a beautiful scenic dream.
After spending 2 hours in the meadow of nature you reach  Bheem Dwar. This place is at an altitude of 12175 ft. It is said that during Pandavas exile they stayed here. Today this place is known as Bheem Dwar. This is a big Bugyal surrounded by big waterfalls and a number of glaciers. On the way to Parvati Baag, you have to cross the biggest waterfall on this trek.
During the Shrikhand Mahadev Yatra held in every July, this place Bheem Dwar provides the base for the pilgrims. Shepherds' use this place to graze their sheep and goats. One can stay at Bheem Dwar in the natural cave here. Most of the pilgrims use these for rest purpose. The beauty of this place is terrifying. One can easily spend hours here admiring the beauty of mother nature.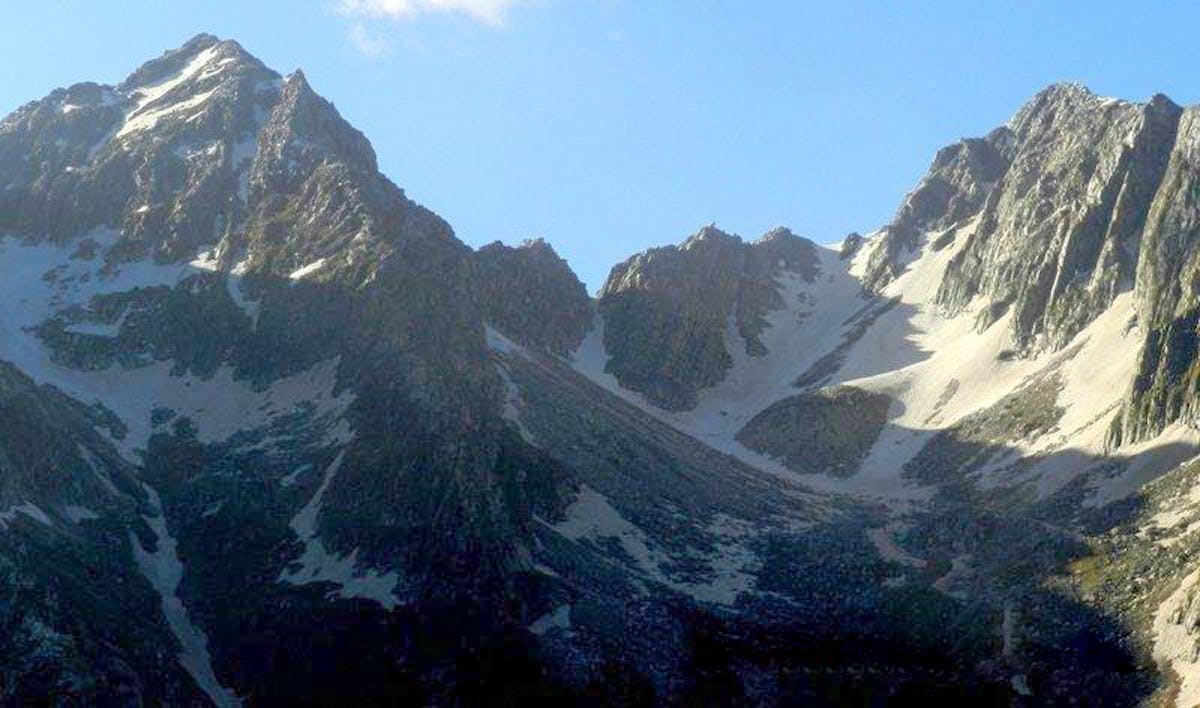 A view of the peaks from Bheem Dwar. Indiahikes Archive
Parvati Baag at 13,622 ft is just 3 Kms from Bheem Dwar. It takes 2 hrs to reach Parvati Baag. Up to the big waterfall, the trek is gentle. Just after crossing the waterfall, there is a vertical climb of 2.5 Kms up to Parvati Baag. Parvati Baag is a beautiful place for night halt. According to legends, it is said that Mata Parvati used this place for their stay. So it is called Parvati Baag. This place is full of rare flowers from the higher Himalayas and is famous for the rarest Brahma Kamal. One can easily find this rarest flower here at Parvati Baag. This place is just below the Holy Shrikhand Mountain. At night it feels like you can touch the sky with your hand.
Parvati Baag to Nain Sarovar and back
Early in the morning, you have to start in the direction of Holy Shrikhand Peak. Parvati Baag is the last place where you can find Grass and some high altitude shrubs and herbs. After Parvati Baag you will trek on only moraines and snow. Shrikhand Peak is just 6 Kms from Parvati Baag. On the way to Shrikhand, you have to cross glaciers, streams and stone tunnels.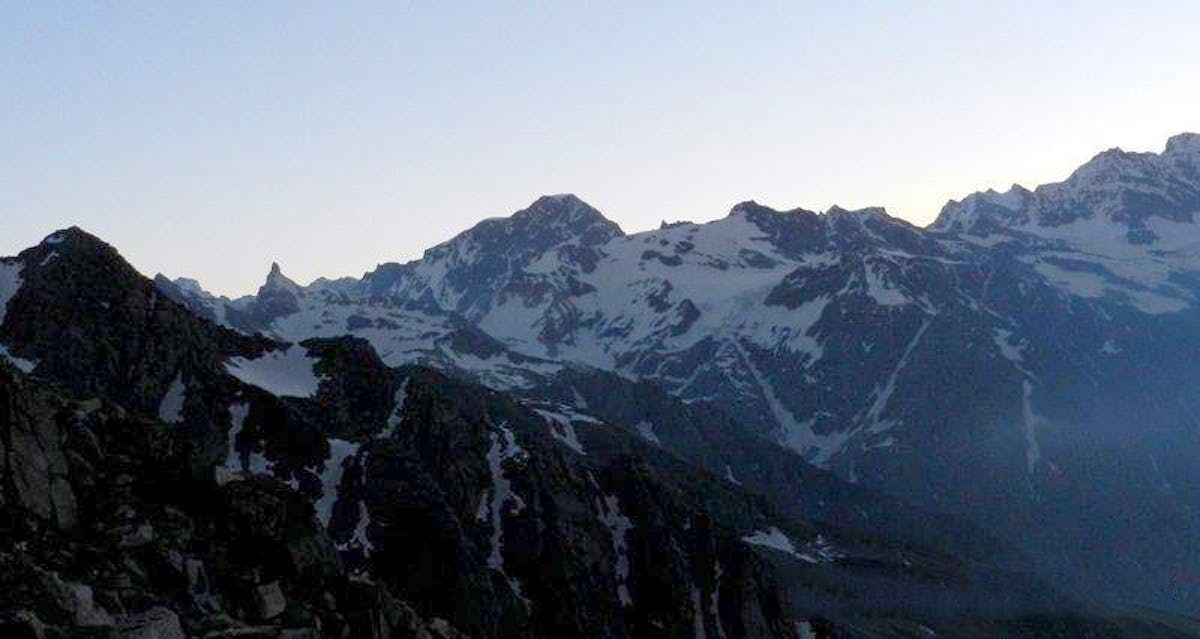 On the way to Shrikhand Mahadev. Image from Indiahikes Archive
The first part of the trek up to Nain Sarovar Lake is gentle with snow and boulders. Nain Sarovar is a high altitude lake at 14,527 ft surrounded by an area of about two football fields. It takes 1.5 hours to reach Nain Sarovar. The whole trek to Shrikhand Mahadev is associated with Lord Shiva and Nain Sarovar Lake, it is said that this lake was created with the tears of Maa Parvati when she was worshipping Lord Shiva. 
Nain Sarovar Lake is dedicated to Maa Parvati as a place of worship. Spend some time here to acclimatise and return to Parvati Baag.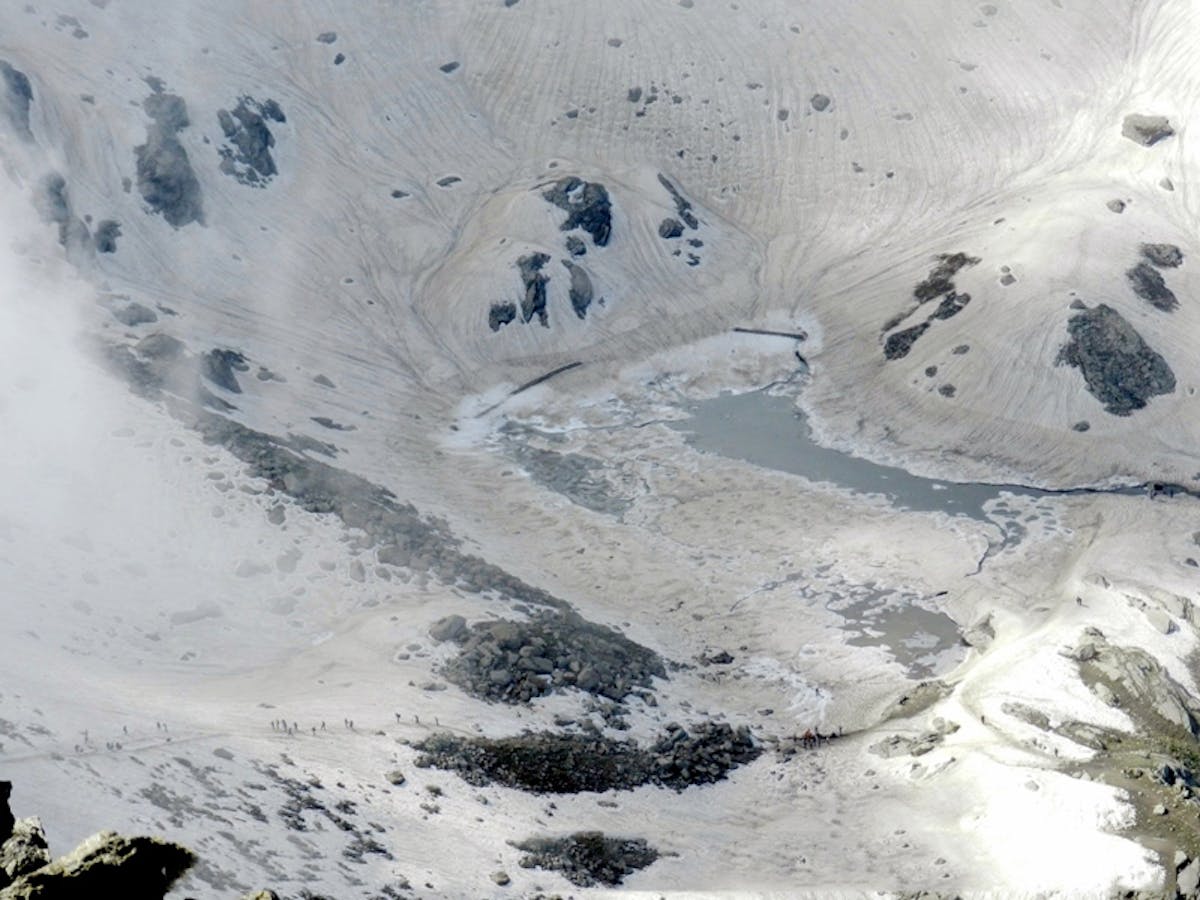 Nain Sarover is seen with trails leading up to Srikhand. Image from Indiahikes Archive
Parvati Baag to Shrikhand Mahadev and back
Retrace your way to Nain Sarovar. The trek to Shrikhand is very steep and vertical from this point on. The first patch of this trek from Nain Sarovar is a glacier of 200 meters. It takes about 45 minutes just to complete this part of only 0.5 kilometres. It requires a lot of endurance to complete this part. After spending 45 minutes you reach the top of a cliff at 14,967 ft. From here you can see the beauty of Nain Sarovar Lake very clearly. Towards Shrikhand one can see the big boulders and glaciers. If you reach early in the morning then you can see the beauty of Kinnaur Mountains from here.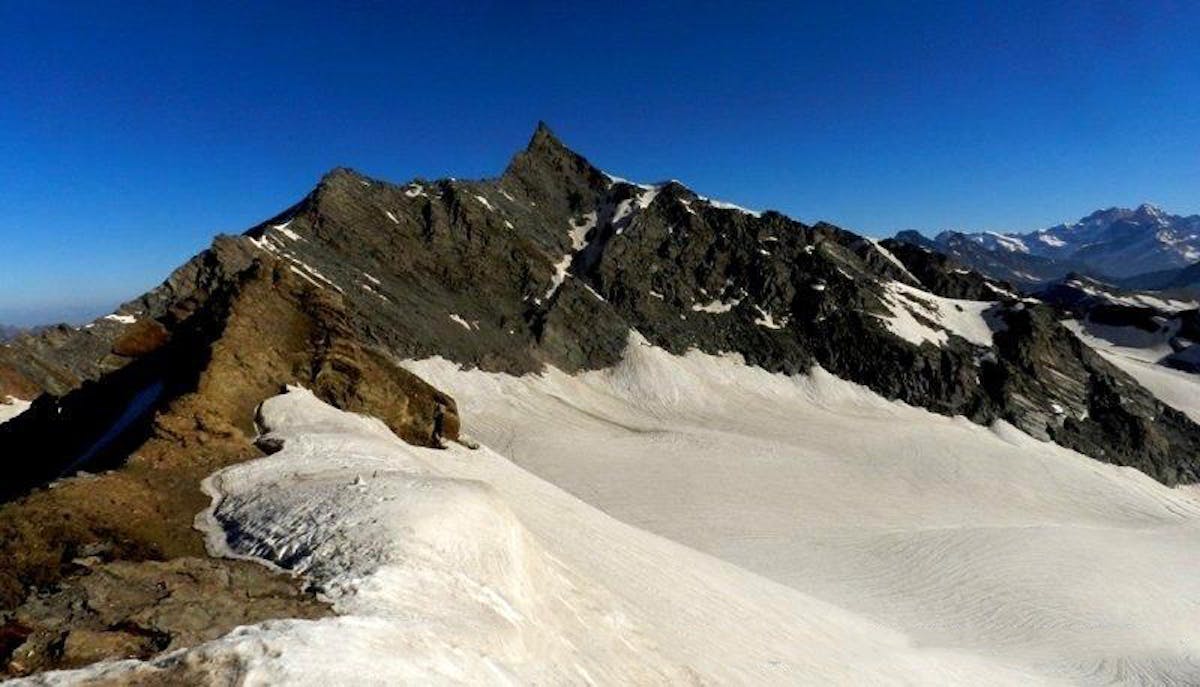 A view of the connected ranges at Shrikhand Mahadev. Image from Indiahikes Archive
After this, the next part on the trek is full of Moraines and snow at very few places. There are seven small peaks which you have to climb to reach Shrikhand. On the way, you can feel that you are above the clouds as the sun rises. On the way to Bheem Bailee you have to cross many small stone tunnels, glaciers and moraines. Bheem Bailee is a sacred place dedicated to Bheem at an altitude 15921 ft.
You can find different marks on stone here. It is said that Bheem once constructing the stairs from here to Heaven, but it was not completed due to lack of time. You will find a number of stones one top of another which appears like a stairway. From Bheem Baiee you can see the holy Shrikhand Shila. It takes a half hour to reach Shrikhand. You have to cross a big glacier to reach Shrikhand.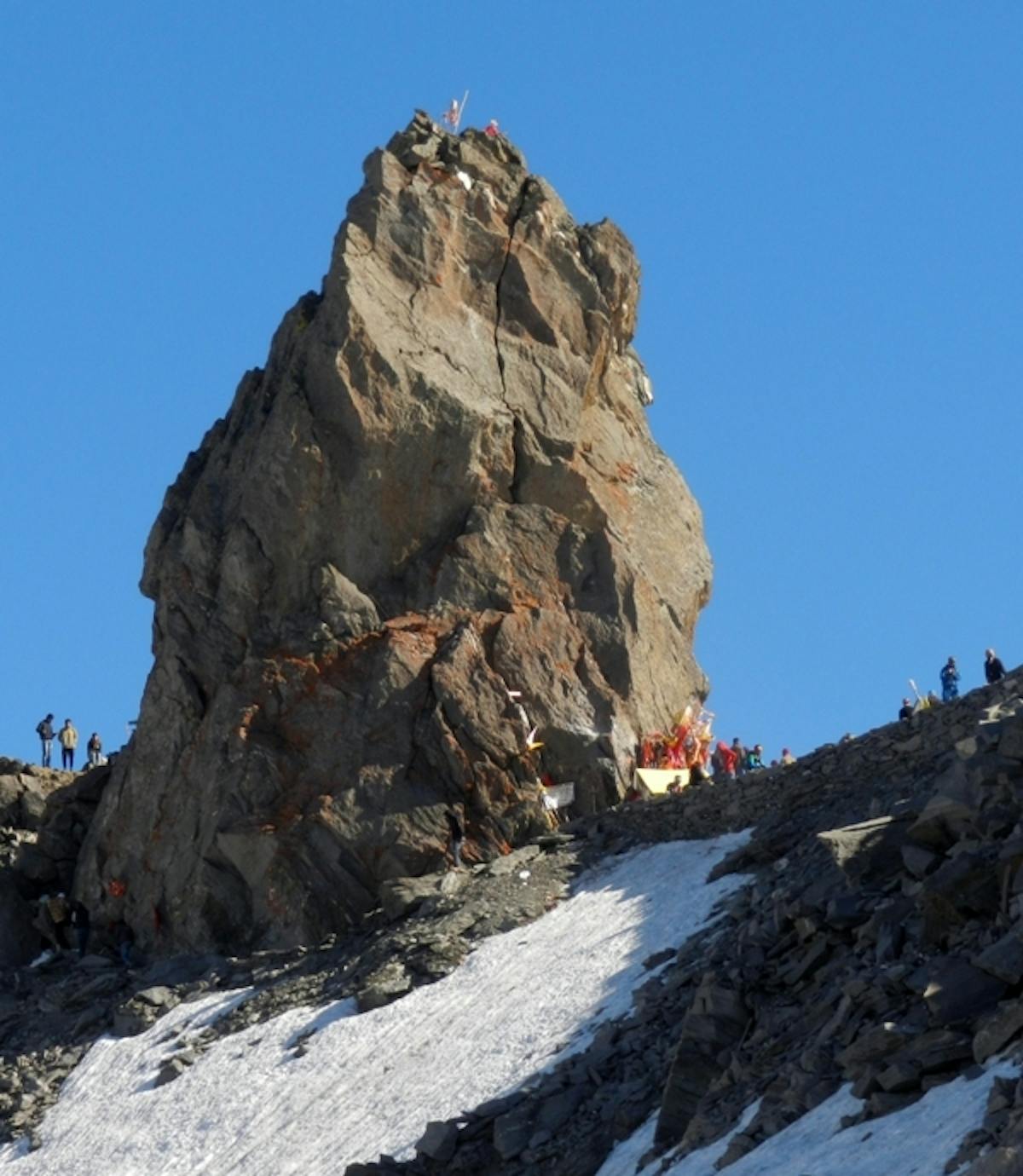 A beautiful pilgrim. Image from Indiahikes Archive
This place provides an endless view of the Himalayas from three sides and one side a magical look towards Rampur Sarahan and Shimla hills. Shrikhand at 17,150 ft is a place where you can feel the fragrance of nature everywhere.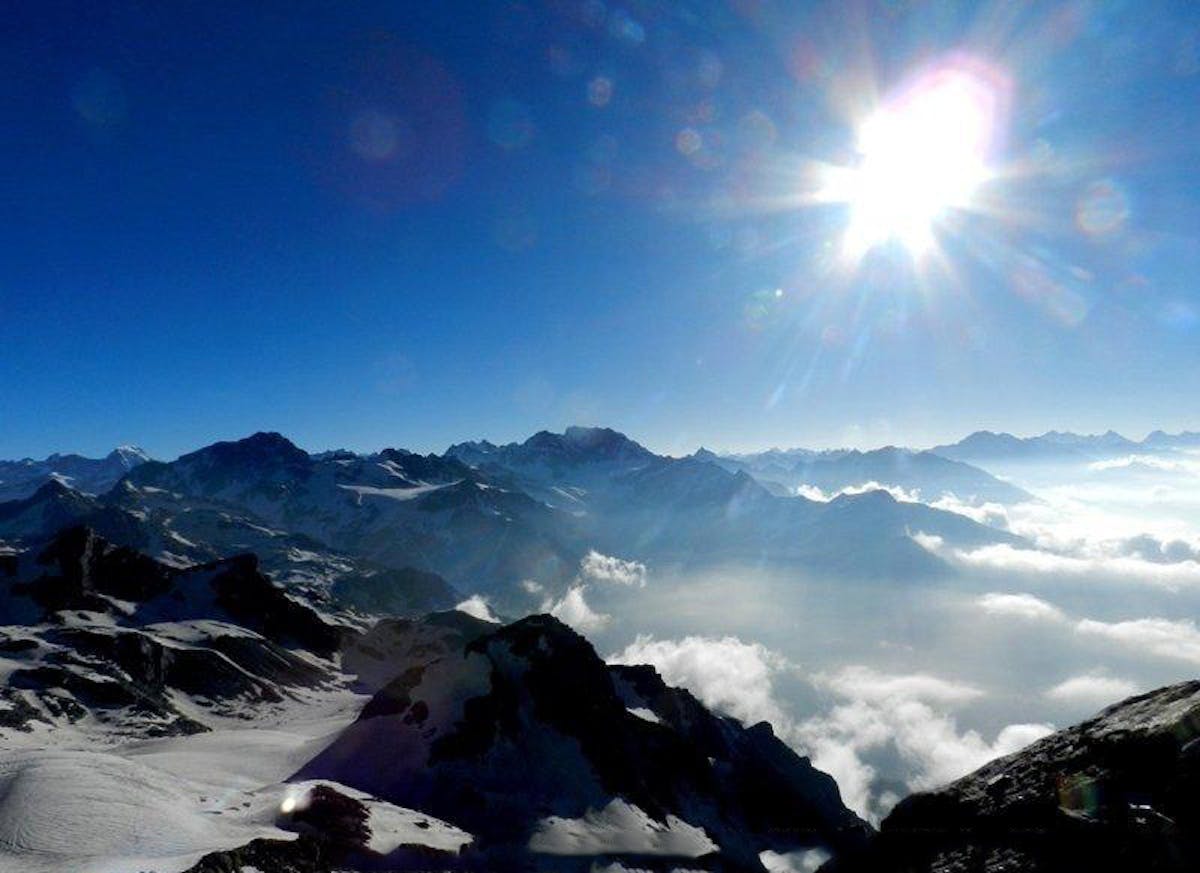 View from the top of Shrikhand Mahadev Peak
This is a place where all things believe to be part of the almighty Lord Shiva. This is a place from where you can see Kinnaur Himalaya from one side, and Kullu and Shimla mountains from the other side.
Return to Parvati Baag.
The trail on the rest of the days till you return to Jaon follows the same path that you took to reach Parvati Baag.
How to do this trek
Getting to/from: Can be attempted for Nirmand in Kullu district, Fancha in Shimla District or from Banjar. The toughest route is from the Fancha side. Most popular and safest is Nirmand, Bagipul, Jaun, Taacharu, Nainser. Guides and Porters: Guides and Porters can be hired from Nirmand of Baagi pul if required. . Total Distance: 32-35 Kms one side. Maximum Elevation: 5162 meters – Shrikhand Peak. Permits: No need for any kind of permits.
Some Important Information
How to reach base camp: Jaon Village in the Kullu district can be reached by bus, cab, and own conveyance by following Delhi, Chandigarh, Shimla, and Rampur routes. From Rampur cross the Satluj River to enter Nirmand district and proceed till Jaon. Jaon is at a distance of 167 km from Shimla. Buses are available from Shimla local bus stand to Jaon, Nirmand, and Rampur. Alternatively, you can also book a cab from Kalka taxi union at old ISBT in Shimla for Jaon. Weather: Cold and windy terrain, the temperature at night can dip to minus. It is advisable to carry sufficient warm clothing. The probability of snowfall at the Shrikhand peak is always there. Best Season: July till August is also the peak time for pilgrims visit to the area. The route is open only in these months due to extreme weather conditions on the Shrikhand peak. Grade: Moderate-Difficult with long steep ridge walks. Trail description: 30 km one-way trek (60 km approx. in total). In June and early July, you will find a lot of firm snow on the trail. In autumn you will have to negotiate and climb some steep sections of rocks. Accommodation & Food: Normally tent accommodation along with food is available (Taacharu and Parvati Bagh) but can be costly. In peak pilgrim season you may find it difficult to get a tent. It is advisable to carry your tent if visiting in Pilgrim season.
➤ How to Get Fit 
How to get fit for the Srikhand Mahadev trek
The Srikhand Mahadev trek is classified as a trek of moderate difficulty. 
Cardiovascular endurance
For two days, you will cover a distance of 26 km and you will be trekking up to an altitude of 16930 feet. The secret to covering this distance comfortably lies in building your cardiovascular endurance. You can begin by jogging every day. Ideally, you should be able to jog 4 km in 20 minutes before the start of the trek. It takes time to be able to cover this distance in the given time. Start slow and increase your pace every day. Swimming, cycling and stair climbing without too many breaks in between can help too. 
Strength
This is another area you should work on. You will need to build strength in your muscles and your core body. You can do some squats to strengthen your leg muscles. Do around 3 sets of squats, with 8 squats in each set. Apart from this, you can add planks and crunches to your workout.
Flexibility
Working out indoors
➤ What to Take on Your Trek
What to take on the Srikhand Mahadev trek
Bare necessities
Trekking shoes: There will be several slippery patches on the trail, and you will need trekking shoes with a good grip. Sports shoes will not be comfortable enough. You can watch this video to learn to choose the right trekking shoes. 
Backpack (40-60 litres): A backpack with sturdy straps and a supporting frame. Rain cover for the backpack is essential.
Clothes
Two warm layers: At the campsites, especially the higher ones, the temperature after sundown will drop to around 2-6 degrees. You will need at least three warm layers (two lights layers such as fleece and woollen and one padded jacket) for this trek.
Two trek pants: One pair of pants should suffice for this trek. But you can carry one spare pair in case the first one gets wet. Wear one pair and carry one pair. 
Two collared t-shirts: Carry light, full sleeved t-shirts that prevent sunburns on the neck and arms. Again, wear one and carry one.
Thermals (Optional): Those who are more susceptible to cold can carry thermals to wear at night.
Accessories
Sunglasses: Sunglasses are to prevent snow blindness. There might be snow closer to the lake, so carry a pair of sunglasses. 
Suncap: The sun is more 
Synthetic hand gloves: One pair of fleece or woollen hand gloves. One pair of waterproof/resistant, windproof gloves.
Balaclava: You may use woollen scarves instead as well.
Socks (2 pairs): Apart from two sports socks, you can take a pair of woollen socks for the night.
Headlamp/LED torch: Mandatory
Trekking pole: Watch this video to understand why you need a trekking pole.
Others
Daypack (20 litres): If you are offloading your backpack, you will need a smaller backpack to carry water, a medical kit and some light snacks. 
Toiletries (Sunscreen, moisturiser, light towel, lip balm, toilet paper, toothbrush, toothpaste)
Cutlery: Carry a spoon, coffee mug and a lunch box. We insist on trekkers getting their cutlery for hygiene reasons. 
Two water bottles: 1 litre each
Plastic covers: While packing, use plastic bags to compartmentalise things and carry a few extra plastic bags for wet clothes.
Mandatory Personal Medical Kit 
Diamox – 10 tablets (to prevent AMS)
Crocin – 6 tablets (fever)
Avomine – 4 tablets (motion sickness)
Avil 25mg – 4 tablets (allergies)
Combiflam – 4 tablets (Pain killer)
Disprin – 6 tablets (headache)
Norflox TZ & Lomofen– 6 tablets each (diarrhoea)
Digene – 10 tablets (acidity)
Omez/ Rantadine – 10 tablets (antacids)
Crepe bandage – 3 to 5 meters
Gauze – 1 small roll
Band-aid – 10 strips
Cotton – 1 small roll
ORS – 10 packets
Betadine or any antiseptic cream
Moov spray (aches, & sprains)
Mandatory Documents
Please carry the below documents. Documents two and three need to be downloaded (PDF), filled in, signed and handed over to the trek leader at the base camp. 
Original and photocopy of government photo identity card- (driving license, voters ID, etc.)
Medical Certificate and Disclaimer (to be filled by the trekker) – Download PDF
Medical certificate (to be filled by a doctor) – Download PDF
If you're shopping or packing for the trek, you can download this quick and simple checklist for offline use.
Alternative Treks by Indiahikes
Shrikhand Mahadev is of course a great trek. But more than that it is a yatra – a pilgrimage. Therefore during September, the trail is full of devotees making their visit to the holy peak. And therefore somewhere along the trail, the feeling of being on a trek gets lost.
It's not an out-and-out trek and you'll miss the wilderness and the solitude that you seek while on a trek. And you'll also miss the camaraderie of fellow trekkers.
Therefore, if that is what you're looking for we have an alternative trek for you.
There aren't many treks that let one experience the raw grandeur of a Himalayan pass crossing. Connecting Har Ki Dun valley with Yamunotri, the Bali Pass is an exhilarating trail. It traverses the confluence of Tons and Ruinsara rivers, the undisturbed serenity of the Ruinsara Valley and the lush meadows of Devsu Thach.
At 16,207 ft, the Bali Pass offers a 360-degree panoramic view of the Bandarpoonch, Kalanag and Swargarohini peaks. This reward doesn't come easy, as this trek is a difficult one, not suitable for beginners.