Can You Help Us With Photographs Of This Trek?
We are looking to enrich this documentation with more photos. Pictures go a long way in explaining the trail, more than words ever can. If you have done this trek, can you share your photos with us? We will include them on this page, with due credit to you.Click here to contribute.
The Complete Guide to Qila Lal Kot Trek
Qila Lal Kot trek allows trekkers to be one with nature and history, in the heart of Delhi
Delhi is a city that is overflowing with history. With its numerous monuments, it takes one back to long-gone eras, something that few other cities can boast of doing. Qila Lal Kot is one of those monuments. Situated in the lovely forests of Sanjay Van in Mehrauli, this 12th century fort offers a refreshing break from the daily grind. It's apt for family picnics, as its fit for people of all ages.
The Qila Lal Kot is a wall that was built around the first city of Delhi when it was established in the 8th century by Tomar Rajputs. Later, the Chauhans added to the fortification in the 12th century, the ruins of which are seen to this date. "Qila" means fort or castle in Persian.
The trail to the fort is well-marked and runs in a circular manner inside the forest. It's a welcome change for nature and history lovers. As you climb up, you can see the tall Qutub Minar towering over the keekar leaves. The feeling of getting away from the dirt and chaos of the city is enormous when you get to the top of the fort. All around you, forests stretch for as far as your eyes can see. The far boundary is speckled with small buildings, and the Qutub Minar stands bang in the middle of the forest. It's solitude like you've never experienced before.
Short Itinerary
A trail that takes you back to the 12th century
A 12th century fort.
Situated in the lovely forests of Sanjay Van in Mehrauli.
A perfect spot for family picnics and treks
Detailed Itinerary
Time taken: 2-3 hours, 6 km
The trek to Qila Lal Kot has multiple entry points. The prominent one starts from Gate No. 5 of Sanjay Van, 100 metres away from Qutub Minar Complex in Mehrauli. After walking for a couple of minutes, spot a pond on the left. Soon after this pond, you'll see a guide map on the right, which indicates different trails in the forest. Locate Qila Lal Kot on this map and follow the marked trail.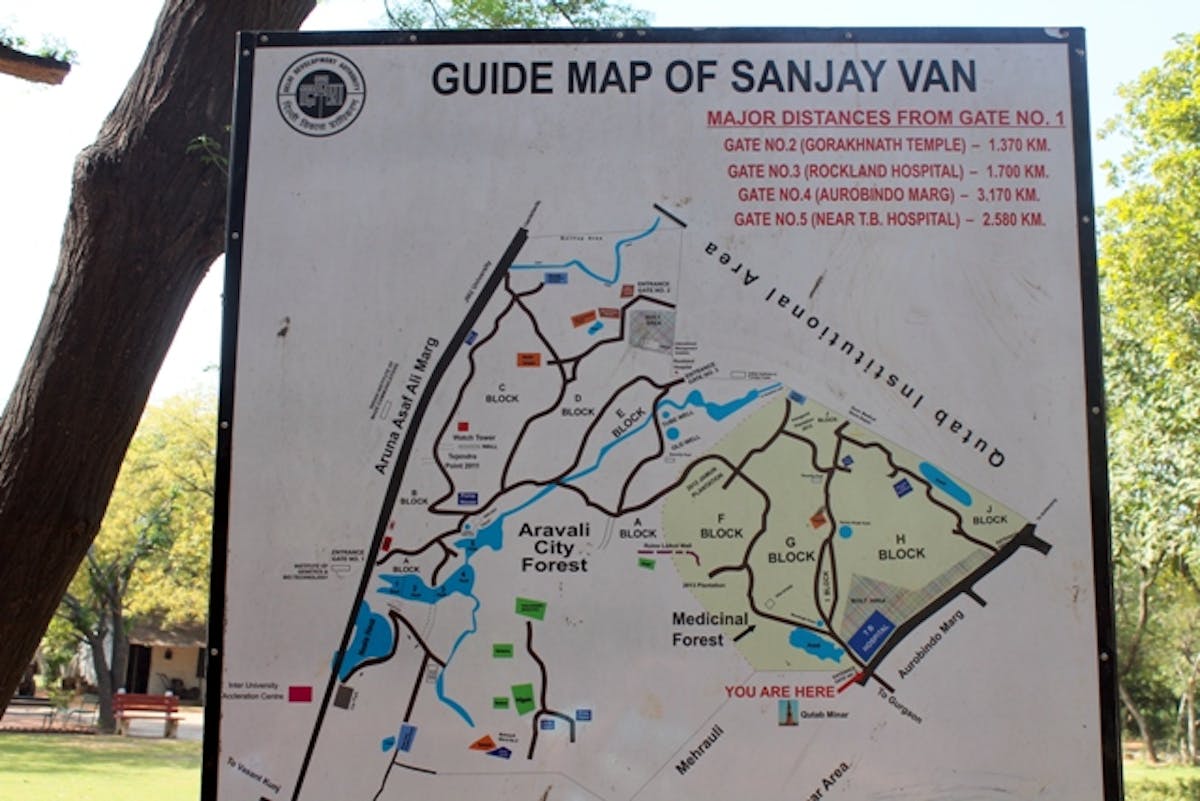 Guide Map
The trail is wide for around 300 meters, after which it bifurcates into two. Take the trail on the left. The right turn is a good turn to take if you want to explore the forest, but it does not lead to Qila Lal Kot. You'll have to come back to the same junction to head to the fort. Throughout the forest, there are medicinal plants, which have signboards describing them.
The narrow pathway now enters the forest. Soon, you'll see a stairway, which marks the beginning of Qila Lal Kot. You'll see ruins of the fort around you for over half a kilometer. You'll reach the top of the fort in no time. Enjoy the other side of Delhi, with fresh air and cool breeze from the forest.
 There are two trails that run from the top of the fort. The one on the right extends to century-old ruins and then enters into dense forests. The left trail is first a neat muddy path, then becomes rocky and ends up inside a part of the forest that is full of thorny shrubs. It takes you to the back of a dargah (Islamic shrine). Take the left trail.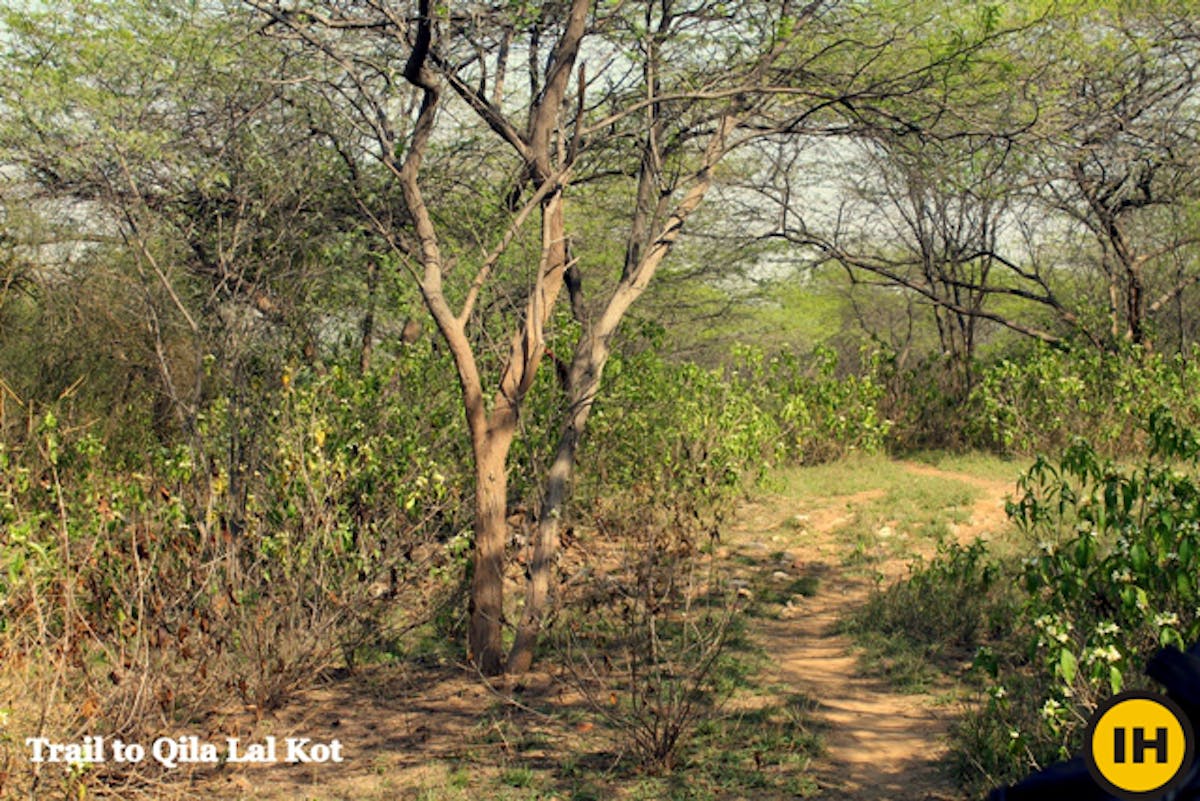 Trail to Qila Lal Kot
Cross the dargah and walk further through the thorny bushes. Look for a trail going inside the forest. It is exactly opposite to a well near the dargah. If you can't spot it, you can ask around for directions to the lakes.
This trail stretches in a straight line, passing through dense forests. After about 15-20 minutes, the trail meets a wider trail. Follow it to reach a park inside the forest. The path to Neela Hauz (pond) from inside the forest is closed, but you can reach the pond by exiting from the ICGEB gate and then turning left and continuing on the road for about 50 metres. Make note that the pond is no more "neela" (blue) because of some construction work going on nearby.
From this pond, you can take an auto to either Qutub Minar or Chhatarpur metro station. Alternatively, you can also trace back the trail to get to the start of Sanjay Van and visit Qutub Minar.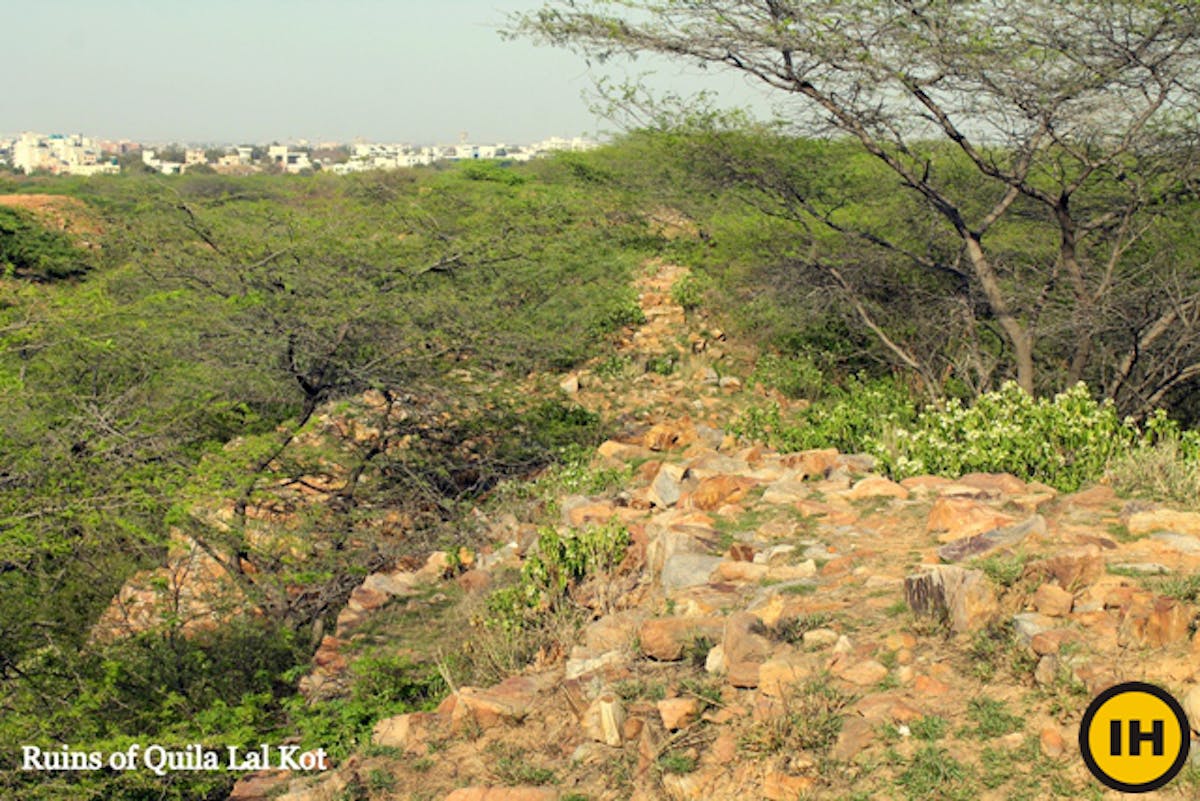 Ruins of Quila Lal Kot
How to Get Fit for the Trek
Cardiovascular endurance
The secret to ascending any trail lies in building your cardiovascular endurance. You can begin by jogging every day. Ideally, you should be able to jog 4 km in 20 minutes before the start of the trek. It takes time to be able to cover this distance in the given time. Start slow and increase your pace every day. Swimming, cycling and stair climbing without too many breaks in between can help too. Strength This is another area you should work on. You will need to build strength in your muscles and in your core body. You can do some squats to strengthen your leg muscles. Do around 3 sets of squats, with 8 squats in each set. Apart from this, you can add planks and crunches to your workout.
Flexibility
Another aspect that will help you trek comfortably is flexibility. For this, you can do some stretching exercises - stretch your hamstrings, quadriceps, hip flexors, lower back muscles and shoulders regularly. Carrying a backpack, however light, can become a strain after a while. These exercises will help you to be in good shape before the trek.
Working out indoors
If you can't go out and jog because of time and space constraints, here's a video you can use to work out indoors.
What to Pack for your Trek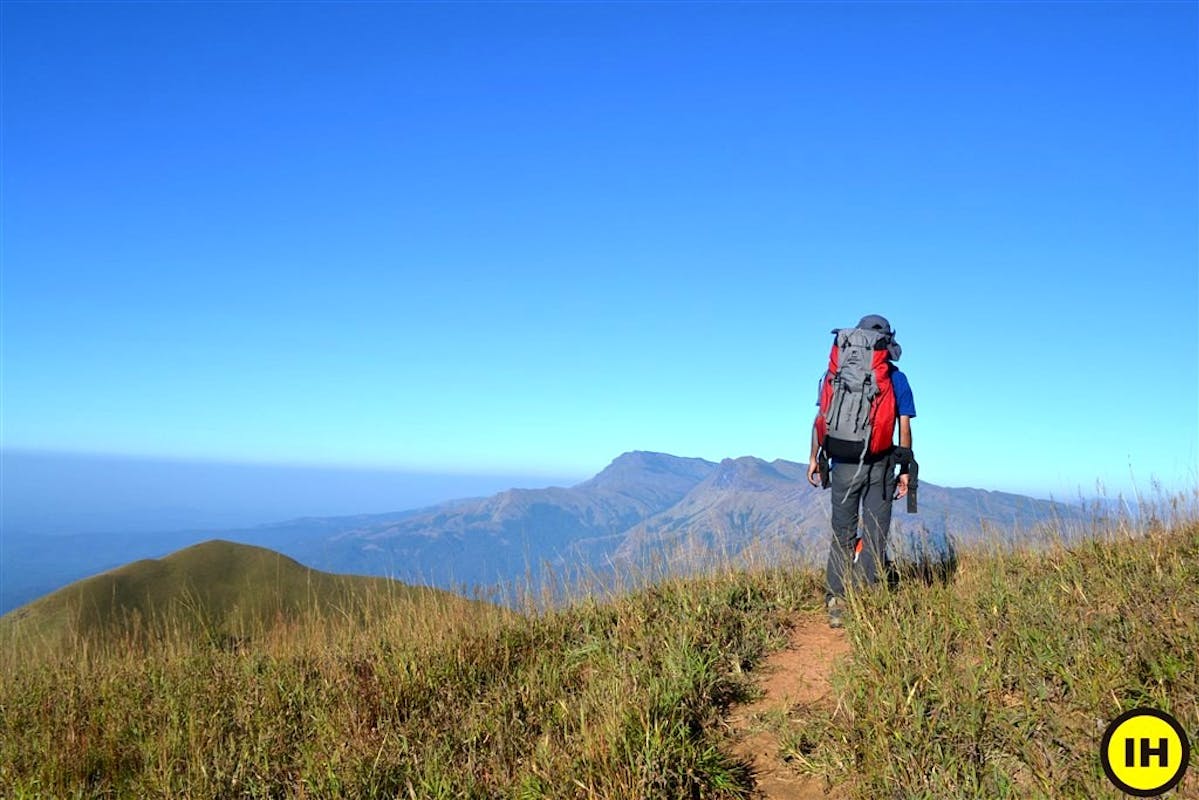 Trek backpack
No, stuffing it all in isn't the right way to do it Packing a backpack correctly saves precious time that you might waste trying to find your things later. It is wise to spend some time on learning what really goes into packing a backpack.
What should I pack?
On a trek, you only get what you take. Something as simple as a forgotten matchbox can cripple your cooking plans throughout the trek. So, it's essential to prepare early and prepare well. To begin with, make a checklist. While shopping, remember this thumb rule - keep it light. "Every item needs to be light. This ensures that your backpack, on the whole, stays light," says Sandhya UC, co-founder of Indiahikes. Balancing out heavy items with light ones isn't going to have the same effect as having all light items. "Always opt for good quality, light items," says Sandhya.
How much should my bag weigh?
"Your backpack for a weekend trek should weigh between 8 and 10 kg," explains Arjun Majumdar, co-founder of Indiahikes, "To break it down, your tent should weigh around 2.5 kg, your sleeping bag, around 1.5 kg, and the ration, stove and clothes should constitute the other 5 kg." The best way to plan is by concentrating on the basic necessities – food, shelter and clothes. Gather only those things that you'll need to survive. Do not pack for 'if' situations. "That's one of the common mistakes that people make – packing for 'if situations'. It only adds to the baggage that you can do without on a trek," says Sandhya.
One good way to go about it is to prepare a list of absolute essentials. Start with the most essential and end with the least essential. That way, when you feel you are overshooting the limit, you can start eliminating from the bottom. Another tip is to be smart while packing clothes. Invest in light. wash and wear fabrics. "Replace a sweater with two t-shirts," adds Sandhya. Layering is the mantra when it comes to trekking. Refer to Sandhya's clothes list to pack smart.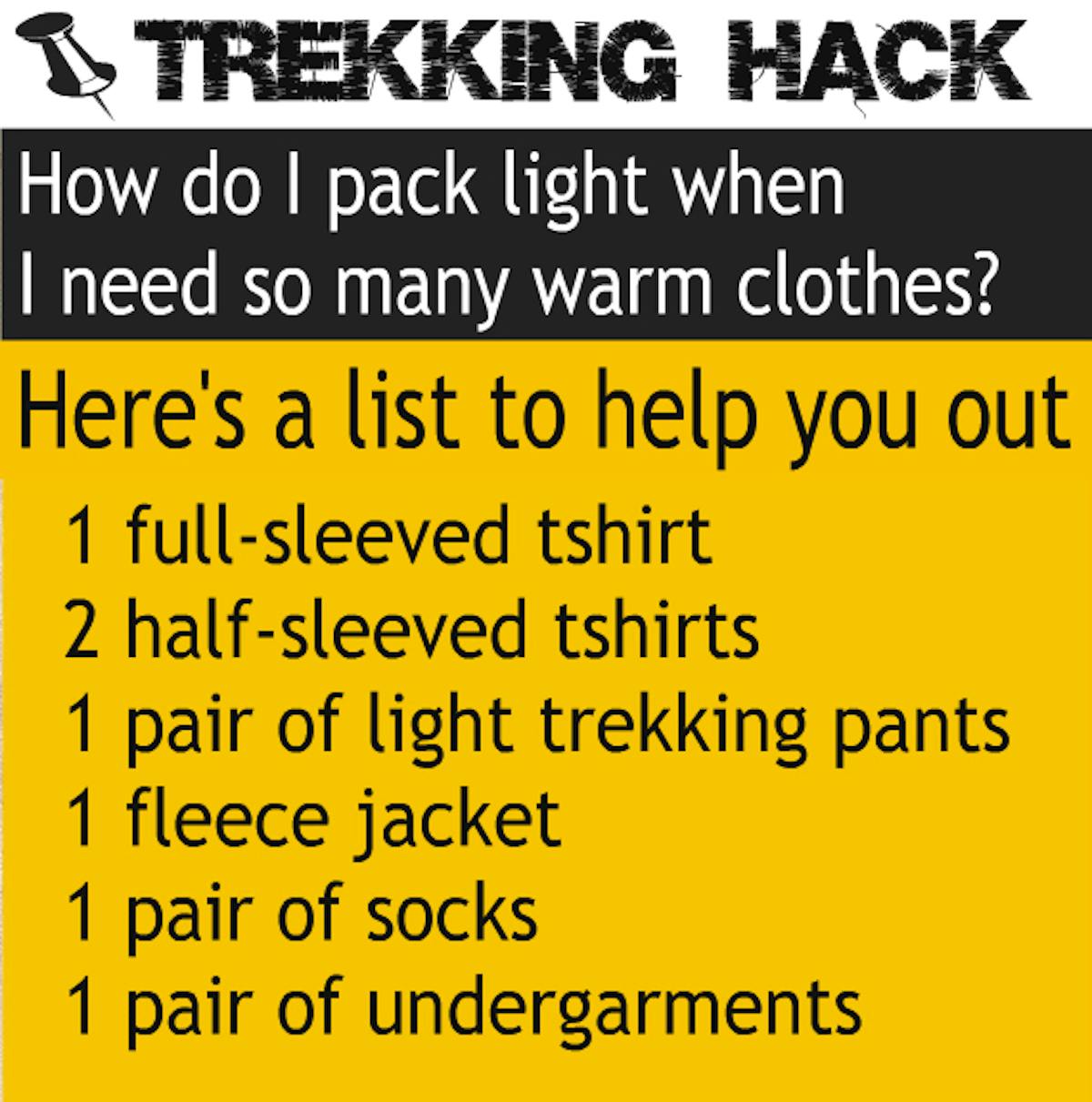 Trekking hack
How to pack
The thumb rule for this one is to eliminate air spaces. Make sure that everything is packed tightly, especially clothes and jackets, as they tend to take up maximum air space. Put in all the large items first. Then squeeze in the smaller ones in the gaps. This ensures minimum air space. A good way to pack clothes is by using the Ranger Roll method.
Where to pack
BottomSleeping bag: Make this your base layer. Sleeping bags tend to be voluminous, but do not weigh much. They're perfect for the bottom of the bag. Tent: Just like the sleeping bag, even tents are voluminous and light. Keep the tent poles separately and place the fabric at the bottom of the backpack.
MiddleHeavy jacket: Roll up the jacket in a tight ball and place it in the middle of the backpack, close to your back. The middle region of the backpack should always have the heaviest items. You can store other things like ration or mini stoves in the middle. Other clothes: Roll other clothes and place them in the remaining space, to fill air gaps.
TopWater: Water, although heavy, needs to be easily accessible. So put it in the top most region of your backpack. Medicine box: This is another component that you wouldn't want to be scavenging for when in need. Poncho: It could rain at any time in the mountains. So, ponchos should be accessible easily. Also, having a waterproof poncho at the top of the backpack provides additional waterproofing to items in the bag.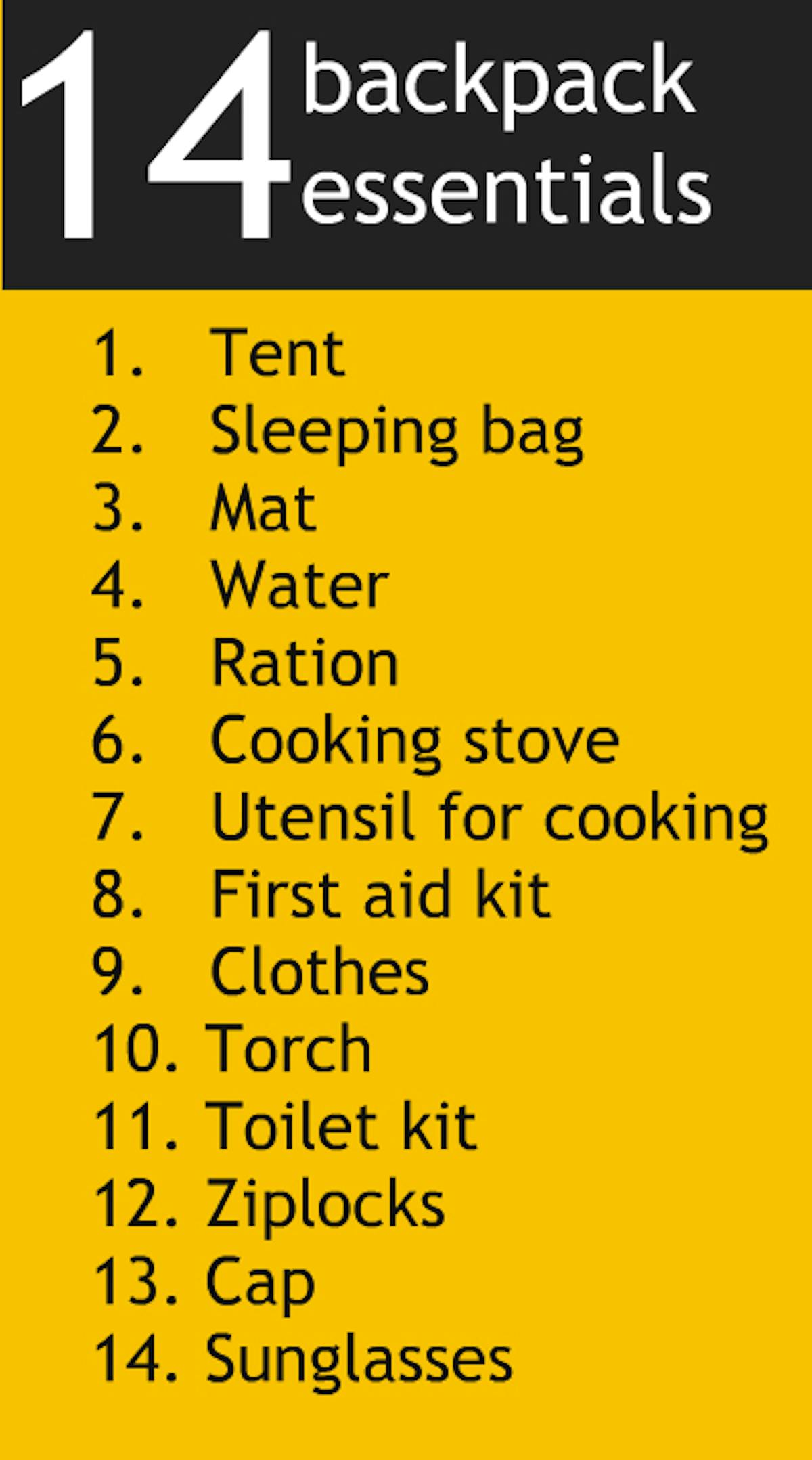 Backpack essentials
Trek Contribution
Author: Vaibhav Chauhan