Many a time, I find trekkers struggling to tackle the cold on a Himalayan winter trek. They're not layered well enough, they don't have the right gear or they are not mentally prepared. 
This completely sucks out the fun of a winter trek, which is usually a once in a lifetime experience for most trekkers.
So I'm writing this email to give you a real picture of what winter is like in the mountains, and how to gear yourself up for it. 
I don't want you to be one of those trekkers not enjoying because of the cold.
---
First, How Cold Does it Get? 
On any of Himalayan winter treks, be it Kedarkantha, Brahmatal, Deoriatal – Chandrashila, Dayara Bugyal, the temperatures drop to negative numbers. 
They can drop as low as -15 °C after sundown. Just after a rain / snowfall, it's coldest (although, interestingly, it isn't as cold during a snowfall). 
But on an average, on a winter trek expect day time temperatures to be roughly between 8 °C and 15 °C. This means during the day, you can usually trek wearing just one, or a maximum of two layers. 
The night time temperatures are likely to be between 3°C to -5°C. Any time after sundown, you need all your layers on. That is at least five warm layers.
---
So let's talk about what gear we recommend for a Himalayan winter trek. I'm going to tell you only about the primary winter gear here, not getting into toilet kits or medical kits. You'll find all those on the "What to take" section of your trek page.
Keep in mind that we've put together this list after a decade of trekking in winter, in deep snow, experiencing temperatures as low as -22°C and still managing to keep warm. So don't miss out on a single section.
---
Here's the Mandatory Gear You Need on a Himalayan Winter Trek
We'll go through this from head to toe. 
Head Gear
– Woolen cap that covers your head and ears
– Woolen / fleece balaclava for your neck, mouth and nose
– Headlamps (For your evenings at the camp and pre-sunrise climb to the summit)
– UV-protected and polarized goggles (use in snow)
– Suncap with flaps (winter sun can be very harsh, so don't forget this)
| If you wear Spectacles: You can get oversized sunglasses that you wear over your regular glasses (available at Decathlon). If that is cumbersome, photochromic lenses work equally well. Here's a quick guide on managing sunglasses with spectacles.
| Contact Lens users: If you use contact lenses, you can use them on the trek too. The lens solution will not freeze. You will also not face any problems in changing your lens in your tent. Just carry enough cleaning solution with you to clean your fingers well. Wear your sunglasses over your contact lens.  
---
 Upper Body (Put these on after your day's trek)
– Basic thermals (use only while sleeping) (Layer 1)
– Full sleeved dry-fit collared t-shirt (Layer 2)
– Woolen/fleece jacket (Layer 3)
– Another woolen/fleece jacket (Layer 4)
– Polyfill Padded jacket (must be wind-proof and water-resistant) (Layer 5)
– Water-proof hand gloves (preferably with fleece lining)
While trekking only
– One dry-fit t-shirt
– One fleece jacket
– One padded jacket
– Rain wear / poncho (use in rain/snowfall)
| Tip: Avoid bringing old grandma-knit woolen jackets. They're usually heavy. You need light woollen and fleece jackets that can fold into compact rolls in your backpack.
| Buying Tip: You can get Dry-fit T-shirts from Decathlon. Also, stores like Reliance Trends, Max have dry-fit T-shirts. They don't usually cost much. Should be below Rs 500.
| Rent Jackets and Rainwear: Padded jackets made by Fort Collins are available on rent at the Indiahikes Store. They are custom-made for Indiahikes and trekkers find them terrific, even in winter. 
---
Cotton or Synthetic T-shirts? As Indians, we love cotton. Down in the plains when the heat is a blistering 40 °C it makes sense to wear cotton. But it takes a long time to dry when it gets wet. In the mountains, where it is cold, wear synthetic clothes. They wick sweat rapidly when you're trekking and keep you dry. (But they do tend to smell quickly, so carry a roll-on deodorant with you.)
Down Jacket or Polyfill Padded Jacket? We would recommend going for a polyfill padded jacket. It's more durable, it's less trouble maintaining it, and it usually comes with a water-resistant layer and a hood. Down jackets rarely come with hoods, and are high-maintenance jackets. Watch this video for more input on these two layers.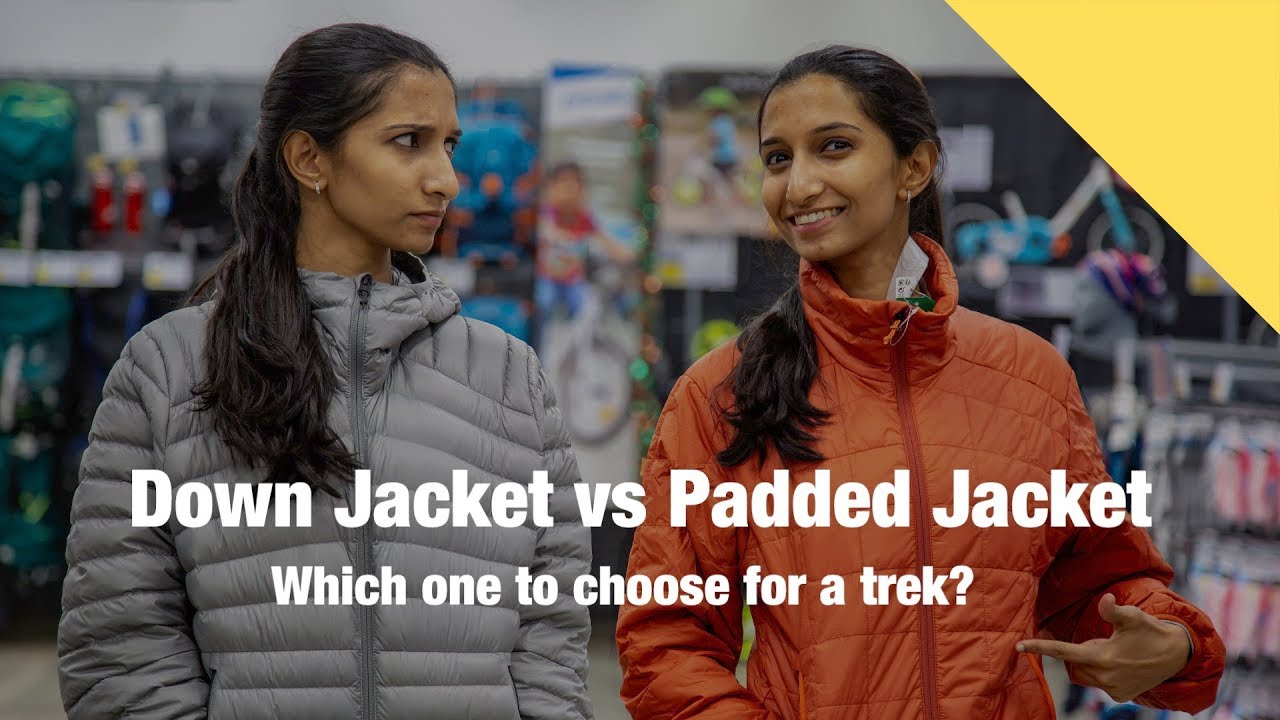 ---
Lower Body (Put all these on after your day's trek)
– Basic thermals (use only while sleeping)
– Trekking trouser 
– Polyester trekking socks 
– Woolen socks (use only while sleeping)
While trekking only
– Trekking trousers 
– Polyester socks
– Trekking shoes 
| Buying Tip for Pants: Go for pants with zippered pockets. They come in handy to keep your phone, handkerchief or pocket snacks, making sure none of these slip out of your pockets while climbing. 
Track Pants or Trek Pants? Stretchable track pants make a good backup and can double up as your thermal bottoms. But track pants are not trek pants — so don't use them as your main outerwear. Keep them only as a backup. 
Synthetic or Cotton Pants? Here, again, avoid cotton pants in winter. You're going to be trekking in snow and perhaps sliding in snow. If your pants get wet, they need to dry quickly. So synthetic materials work best.
---
Trekking Shoes or Snow Boots? A lot of trekkers ask me this question. But normal all-season trekking shoes will do just fine. Your Indiahikes Trek Leader will provide you with microspikes and gaiters to attach to your shoes when there's a lot of snow.
| Rent shoes: We have the Trek series and the MH series by Decathlon available on rent from the Indiahikes store. They are already broken into and in good condition. Our rental shoes are not dirty or unhygienic. This is how they are kept clean.
---
Additional Useful Accessories in Winter
– A thermos flask (To keep your water warm) 
– Steel and not plastic cutlery (steel is easier to wash)
– A raincover for your backpack
– Petroleum jelly to tackle dry skin and lips
| Rent Backpacks: We have a really good 48 litre backpack by Adventure Worx on rent from the Indiahikes store. They are custom-made for our Himalayan treks. Rent them if you don't have a backpack.
---
Conclusion
So those are all the layers and gear that will help you on a winter trek. 
Don't miss out on any of the layers. They're all helpful at some time of the day or the other.
I also have a video here about the layers you need to keep yourself warm on a Himalayan trek.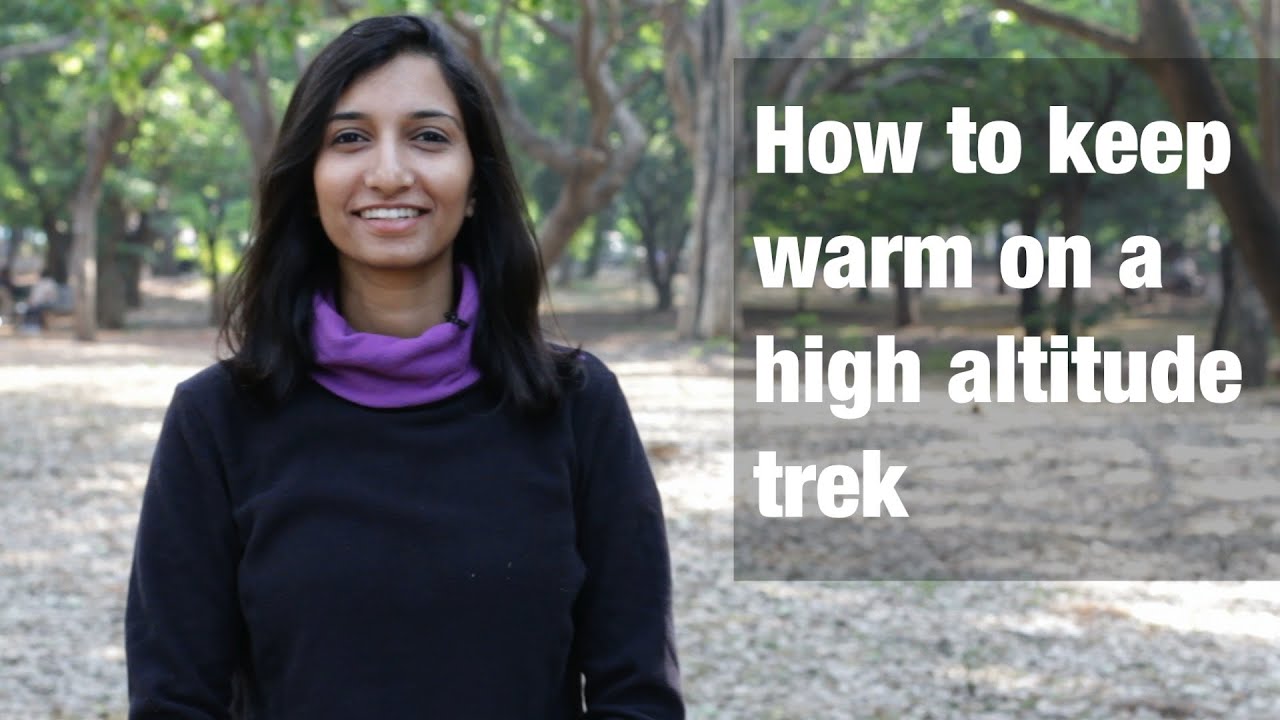 ---
Finally, I had sent you an email last year with some great tips from our Trek Leaders. They shared these specially for trekkers going in winter. I thought they were fantastic tips, rare to come by elsewhere. Many trekkers found it very useful too. Give that article a read here. 
If you have any doubts or additional thoughts, then drop in a comment here. One of us from Indiahikes will get back to you!