7 Tips To Book Cheap Flight Tickets For Your Trek
Share this story
7 Tips To Book Cheap Flight Tickets For Your Trek
Category Travel Tips
I notice that flight tickets are always a cause of worry for trekkers – especially when they book a trek or they are put on the waitlist. After all, flight tickets involve a huge amount of money. So in this post, I'm putting down some hacks that I learnt while booking my flight tickets.
Over the past four years, I have been traveling a lot — not only in India but abroad as well.  Since I took many flights, I learnt some tips to put a check on my budget. The hacks I am putting down are primarily from my experience. I am sure you will find them useful.   
1. Never open a flight search engine on main window
Three years ago, I had to book a flight from Kolkata to Bangkok. On the search engine at night, the flight fare was at  4875 INR. I closed the window, and thought of booking the flight in the morning. When I tried to book in the morning, the same flight showed 5395 INR.
I am sure all of you have experienced this while booking your flight tickets.
This happens because your server keeps record of the search. The next time when you search for the same flight, the fare will show higher.
So when you're booking a flight ticket, or even browsing to check fares, always use an Incognito window (Ctrl + Shift + N). This ensures no data gets recorded and the flight fares appear the same even the next day.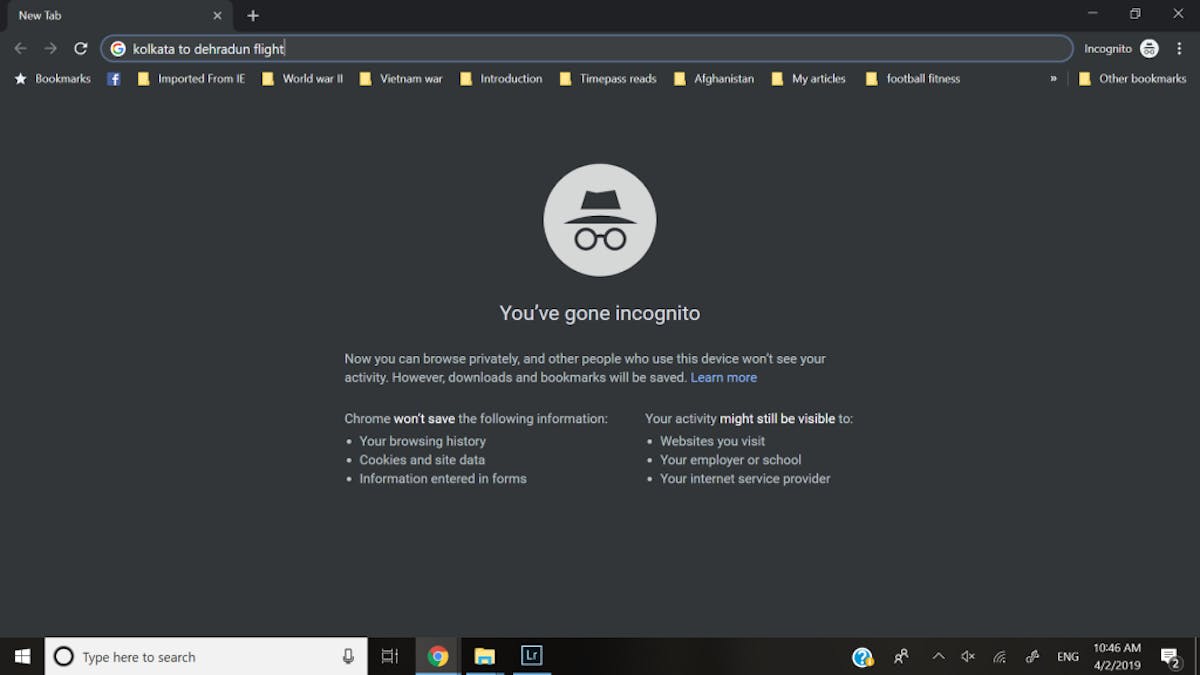 Use an incognito window to look for flights so that the fare doesn't increase the next time you search for the flight
2. Don't book your flight through a digital agent
Never book on or trust third-party agents like MakeMyTrip, Goibibo, Cleartrip, etc.
Almost always, these agents have a mandatory convenience fee that ranges between 249-499 INR. they may call it other names, "service fee", "other services," etc, but it's mandatory nevertheless.
Instead, book directly on the website of the flight you plan to take. Or use search engines that are specifically made for this and don't have a convenience fee. I'll get to that next.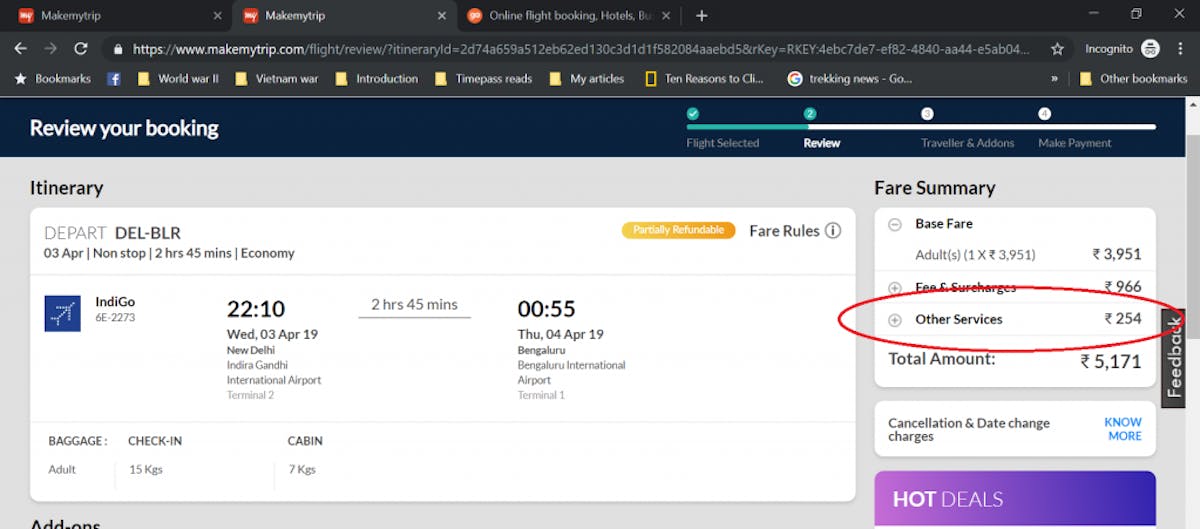 Most third person websites add a mandatory convenience fee to your fare.
3. . Look for flights through these specific search engines
The websites I'm about to recommend are easy on your pocket. They are not agents. They are search engines that give you a cumulative result out of all agents like Makemytrip, Goibibo, etc. They don't charge a convenience fee either.
I generally search on three search engines — Skyscanner, Kayak and Google Flight.
Out of these, Skyscanner is my personal favourite.
Happyeasygo is also very popular and budget friendly in India amongst travellers. I would recommend choosing these over the more popular search engines.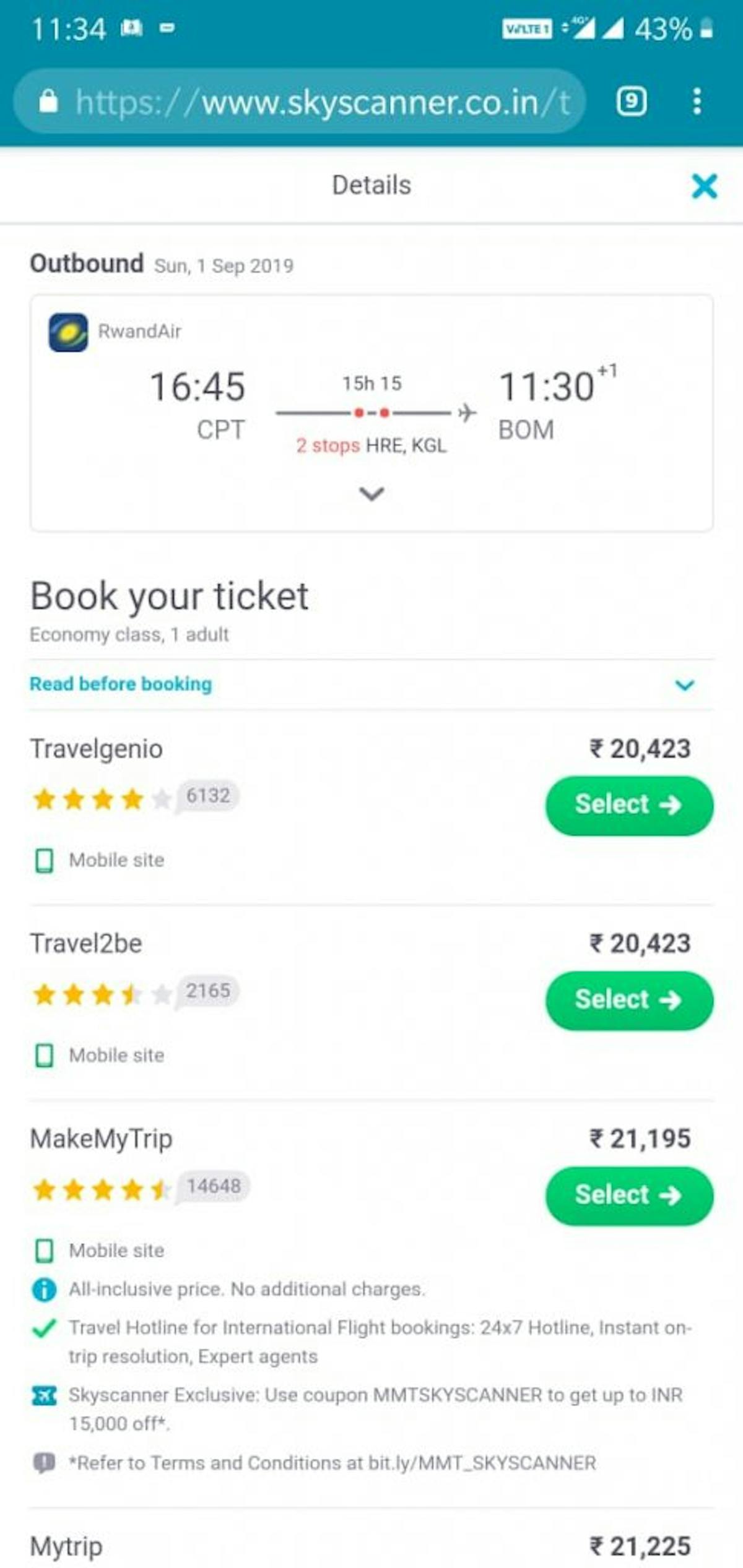 Skyscanner is a tool that shows you the best fares from all agents. You can book here without paying a convenience fee.
4. Before booking, get a fare prediction
This is a very important step. Any time between 4 to 12 weeks before your travel is a good time to book your flight. But before booking, get a flight prediction through a Play Store app called Hopper.
This app tells you when exactly, on what day and at what time, you should book to get the best flight fares.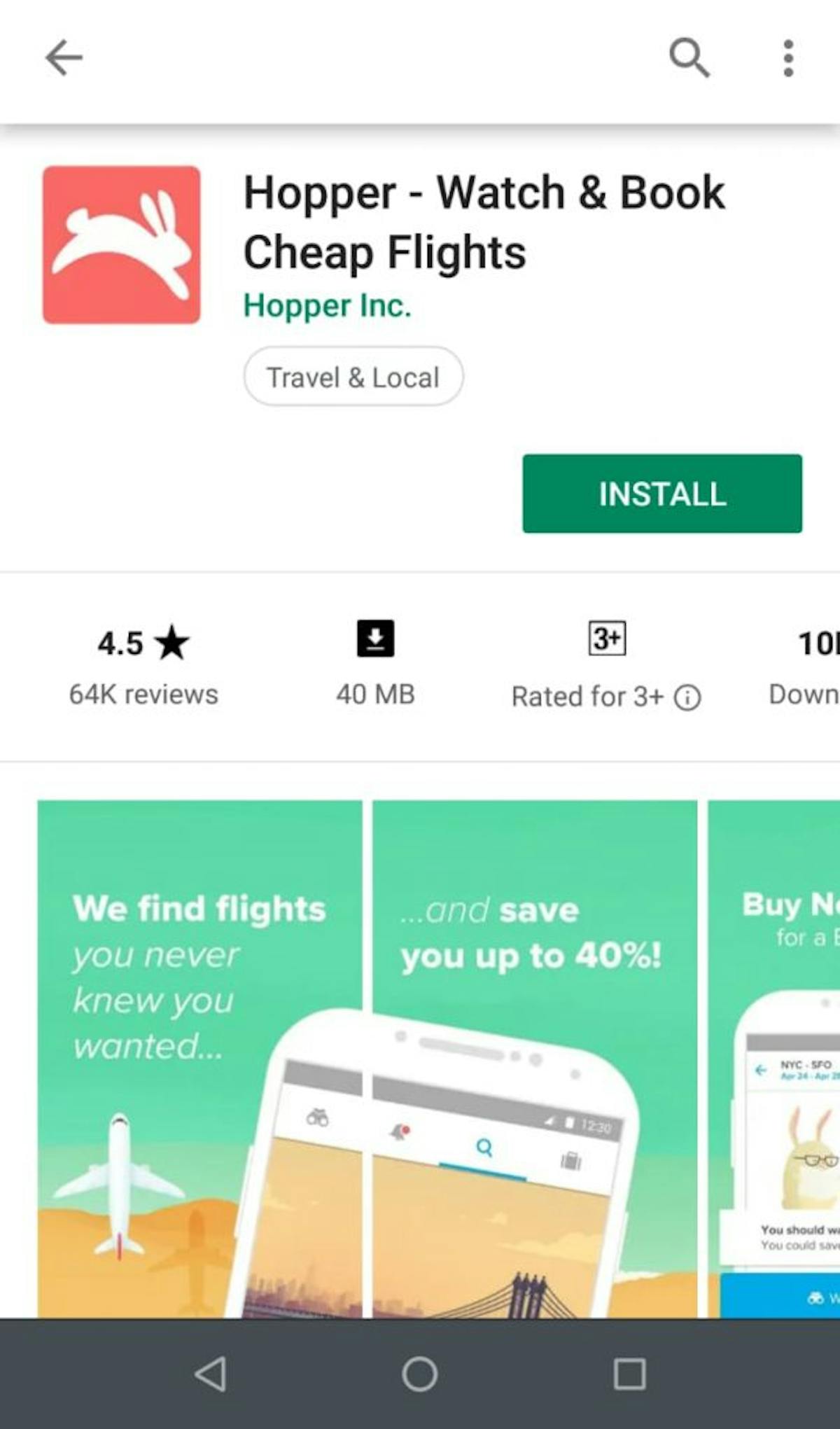 Hopper is a good app that tells you when would be a good time to book your ticket.
When I'm booking a flight ticket, I follow a 2 step process.
I search for flights on Skyscanner first, select a flight and then track that particular flight on Hopper to get an idea of when should I book. That way, I know the best flight fares and I know when to book my ticket too. 
5. . Avoid direct flights to obscure airports
As a trek leader, I have to constantly move one place to another. I am from Kolkata. So when I need to go to Dehradun, I generally take a flight to Delhi from Kolkata. It costs me around 2300-2700 INR and then I take train to Dehradun from Delhi,  which costs 600 INR. However, If I take a direct flight from Dehradun to Kolkata, it costs around 3700-4200 INR. So you can imagine how much money I save by not taking a direct flight to an obscure airport.
In our country, airports like Bagdogra, Bhuntar and Dehradun are not very big. Unlike larger airports in New Delhi or Kolkata, very few flights run in a day in these obscure airports. If you take a direct flight to these airports, the fare will naturally be very high.
Instead, split your journey. Take a flight to Delhi and take a train from there. That way, you can save nearly 2000 INR and have a comfortable journey on a train. Most of our trekkers do this. It works well for most treks in Uttarakhand.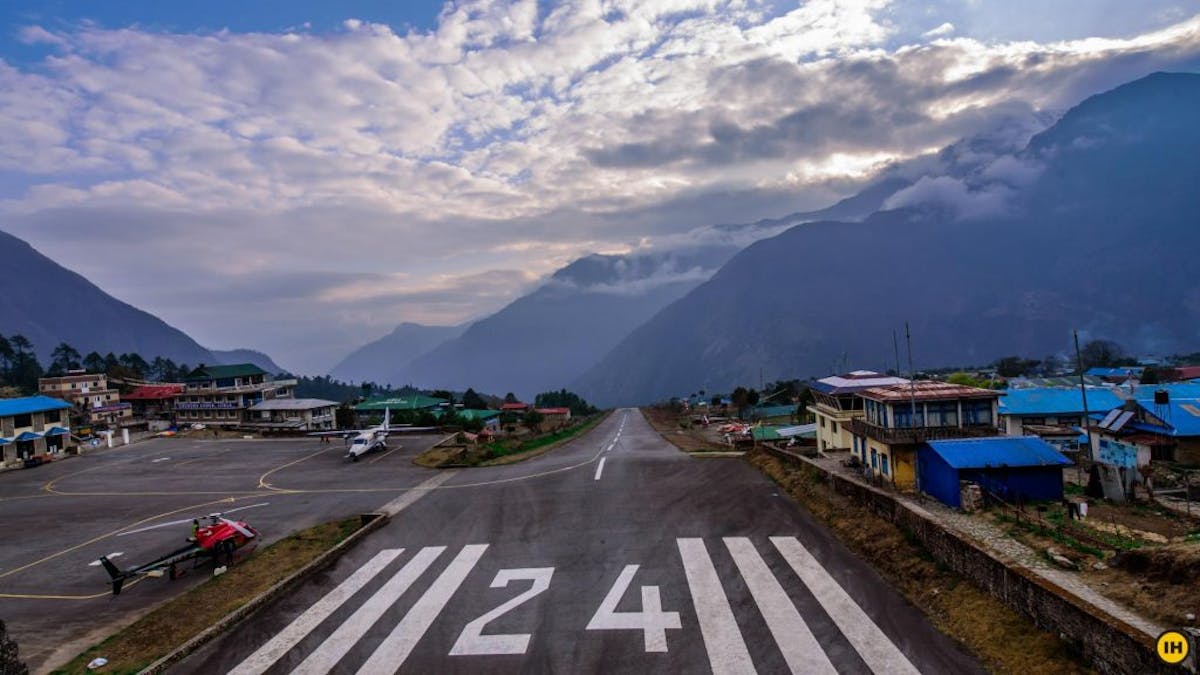 Avoid direct flights to faraway airports. Break your journey in between and take a train for the second leg. Picture by Santhosh Govindarajulu
6. Try and be flexible with your dates
This is a no brainer. Flights are more expensive on some days (weekends), cheaper on some days (mid-week). If you're flexible with dates, you can choose a flight 2 days before the reporting date of your trek and explore regions around the base camp. If you are worried about accomodation, your trek coordinator usually has a list of hotels that are good and cheap, close to your pick up point.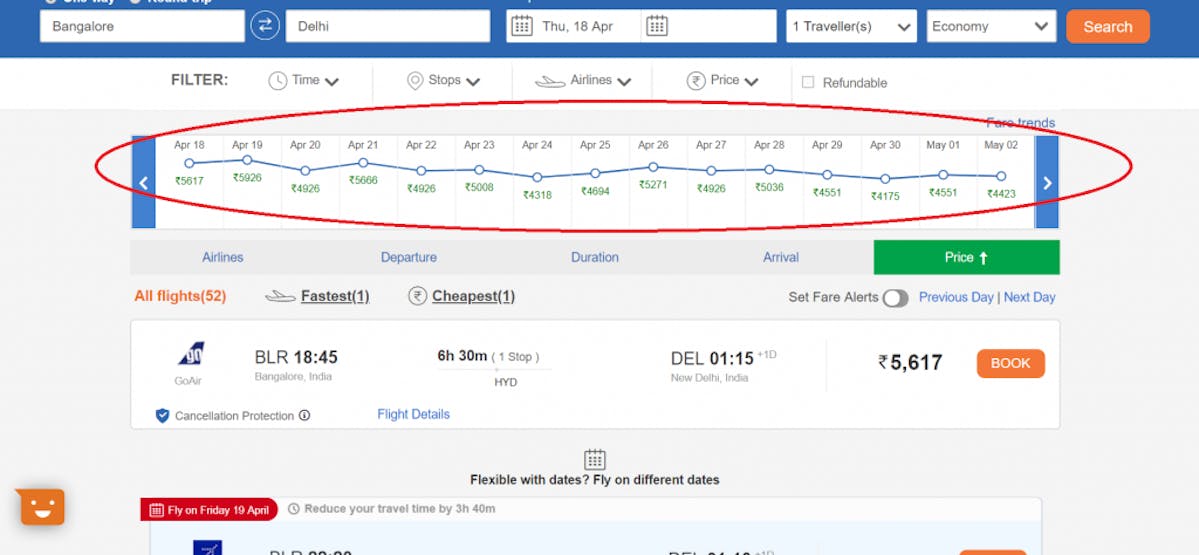 Keep your dates flexible so that you can choose a day when the flight fares are lowest
7. Avoid booking any flight through IOS mobile & MacBook
It might sound unbelievable but it is true. If you search through your iPhone or MacBook,  the flight fares will show little higher price. 
I have no understanding of why it happens, however if you book through IOS or MacBook you will find the fare is 50-170 INR more expensive than booking through Android or other Laptop. I never experienced it as I am not very fond of iPhone. However, my friends and colleagues have. 
So if you're booking a flight, try using a less "elite" gadget.
I'm sure there are many more ways to reduce your flight costs.
If you have hacks you follow to book the best possible flight for your trek, drop in a comment below! It's a learning that we all can take from you.
LEAVE A REPLY
Your email address will not be published. Required fields are marked
Sign up for our much loved Weekly Mailer
We have terrific trekking tips, trek updates and trek talks to look forward to