Difficulty
?
Difficult treks have challenging, uneven trails. These can go over 16,000 ft and trekking hours can go upto 9 hours a day. Require excellent cardiovascular fitness and prior high-altitude trek experience. Few exit options.
Difficult
Maximum Altitude
16,207 ft
Pickup point
Dehradun/Mussoorie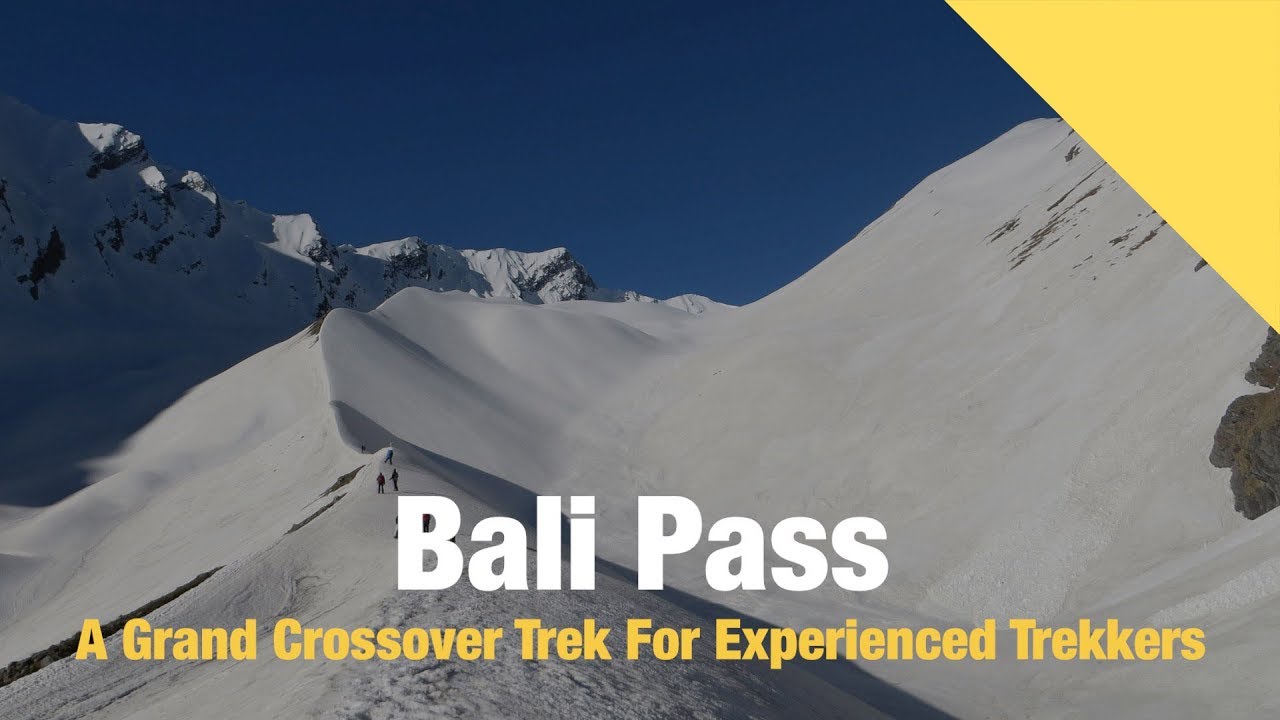 A challenging pass-crossing from Har Ki Dun Valley to Yamunotri
There aren't many treks that let one experience the raw grandeur of a Himalayan pass crossing. Connecting Har Ki Dun valley with Yamunotri, the Bali Pass is an exhilarating trail. It traverses the confluence of Tons and Ruinsara rivers, the undisturbed serenity of the Ruinsara Valley and the lush meadows of Devsu Thach.
Soon, greenery paves way for an alpine zone. At 16,207 ft, the Bali Pass offers a 360 degree panoramic view of the Bandarpoonch, Kalanag and Swargarohini peaks. This reward doesn't come easy, as this trek is a difficult one, not suitable for beginners.
5 Highlights On The Bali Pass Trek
1. The ancient villages of Osla and Gangad take you back in time.
On day one, the ancient villages of Gangad and Osla strike a chord with unique village cultures and folklore. The ancient temples at Osla have riveting Himachali architecture that can keep you absorbed for a long time.
2.The alpine meadows of Devsu Thach in middle of the Ruinsara Forest are a grand surprise of the trek.
The setting of Dev Thach is picture perfect. A thriving meadow surrounded by tall trees with Swargarohini and Kalanag looming in the background makes for a perfect setting. It makes for a very tempting spot to camp.
3.The trail from Devsu Thach to Ruinsara Lake, meandering next to the Ruinsara River
This is a beautiful and tricky stretch. The valley is narrow and one can be excused for comparing it with Rishi Gorge from Nanda Devi Sanctuary, although it isn't as difficult as the latter. The array of alpine flowers across the river bank is astonishing.
4. The Ruinsara Lake is a special glacial lake
Resting amidst beautiful mountain ranges of Swaragrohini, the lake is serene and calming. The meadows around are neat and untouched. One can experience a sense of tranquility all around the lakeside.
5. The challenging approach to Bali Pass
Like most Himalayan pass crossings, it is best done in either pre or post monsoon seasons. In the month of June and July, the higher regions of the pass are covered in snow while in post monsoon season, it is a drier, rockier approach. Trekkers who enjoy high altitude pass traverses will find themselves totally at home.
<!–- -–>
SHORT ITINERARY
Day 1 (Pick-up Day): Drive from Dehradun/Mussouri (Library Chowk) to Kotgaon. Approx. 8 hour drive. The cab costs Rs.6,000 per vehicle, shared by 5 trekkers. Pick up time: 6.30 am.
Day 2: Kotgaon to Taluka drive then Taluka to Chilurgad trek – 11 km trek
Day 3: Chilurgad to Devsu Thach – 6 km trek
Day 4: Devsu Thach to Ruinsara Tal – 10 km trek
Day 5: Ruinsara Tal to Thanga  – 3 km trek
Day 6: Thanga to Advance Base Camp – 4.5 km trek
Day 7: Advance Base Camp to Lower Damini via Bali Pass- 16 km trek
Day 8 (Drive-back Day): Lower Damini to Janakichatti to Dehradun – 6 km trek and then 8 hour drive.
Day 9: Buffer Day. If this day is used, trekkers will have to pay Rs 2100 +5% GST.
If the buffer day is used,  you have to pay us Rs. 2,100 per day (INR) +5% GST. The money will be collected by the Trek Leader only if we use the buffer day. This depends completely on the weather conditions on the trek and the call will be taken by the trek leader.
You'll be back in Dehradun by 8 pm. Please factor in the buffer day in your travel plans – book your onward journey from Dehradun only after 9 pm on Day 9.
What this itinerary means:
This Short Itinerary offers a quick glance at the Indiahikes route, the campsites, the altitudes, distances and time taken everyday.

We have chosen this route to give you the best experience of Bali Pass Trek. We've arrived at this one after many explorations and experiments on other routes. (We still continue to explore more trails in the region.)

This is part of why you trek with Indiahikes.

When you sign up for a trek with Indiahikes, you are signing for an experience beyond the trek. Our team works tirelessly to design an itinerary that gives you a transformative experience. We also focus on the safety aspect of the trail, the environmental impact and the information we have on the trail, which we share with you transparently.

Screenshot the itinerary and save it on your phone. It comes handy while planning your travel too.
Day 1: Drive from Dehradun to Kotgaon
Altitude of Kotgaon: 6,398 ft
Drive duration: 10-11 hours
Kotgaon is a charming village with a few dhabas and some shops. Stay at the GMVN guest house slightly up the road. Most trekkers get to Kotgaon in the evening, which is a good time to look out for the sun setting on the Greater Himalayan mountain ranges. The peaks of Swargarohini shimmer in the evening sun, standing tall over the ridges beyond Kotgaon.
Day 2: Kotgaon to Chilurgad via Taluka
Altitude: 6,398 ft to 8,159 ft
Distance: 12 km drive, 11 km trek
Duration: 1-hour drive, 7-8 hours trek
GPS Coordinates of Chilurgad: N 31°06.720, E 078 °19.965
There is a road that connects Kotgaon with Taluka. This 12 kilometre-long journey may be covered by hiring a local jeep (subject to the condition of the road as this is a landslide-prone route, often closed during monsoon). The trail is almost a level-walk going through 10 to 11 mountain bends.
On the way, there are three major streams gushing down the road, almost submerging certain sections of the road. The hike is scenic, going past a series of wild roses, irises and bamboo, chestnut and deodar trees. Around 2 km before Taluka, there is a campsite beside a stream. Camp here in case there is not enough time to trek till Seema. 
Taluka village is a small one, centred on concrete houses that look out of sync with the village architecture seen at Kotgaon, Osla, Gangad etc. There is a GMVN Guest House for accommodation. The dhaba food here is very basic.
From Taluka, next to Forest Guest House, the trail descends to the river valley of Supin and continues through a series of forests on your left as the river remains on your right. This shepherd trail goes along the river on a level walk. Around 10 minutes into the hike, you will see the first cemented bridge on a small stream. Another 15 minutes of level walk will have you reach another bridge, this time a wooden one. These two spots are conducive to fill up drinking water.

From here, walk by a series of gradual descends for 15 minutes, until you see a small clearing next to the river. This is an option for setting up an emergency camp if need be. Another 10-15 minutes later, you see a section where you climb down, meeting the Supin's tributary that flows on your right side. Look for a wooden bridge that can be used in crossing this river, just below Datmir village.
After crossing the tributary, there is a short climb of less than a minute until you reach a camping ground. From here, facing the inside of the valley, locate two trails, one moving up and the other going straight ahead. Take the one that goes straight ahead.
The trail will now deteriorate, owing to a series of landslide-prone sections adjacent to the Supin River. Around 15 minutes of level walking later, you reach a land cleared by shepherds to setup temporary night shelters. The trail moves up with a series of gradual climbs followed with level walks. Around 10 minutes into the hike, look out for your first landslide-prone section. You may have to come down the river and cross the section that has caved in.
After 20 minutes of similar walking, spot a river crossing option via a wooden bridge over Supin River. Ignore it and proceed straight ahead. After five minutes, there will be the first section of steep incline trail in a zig-zag formation. This section will take about 15-20 minutes to cover. During the rainy season, expect this trail to be completely in covered in mud. The trail now will relax with a series of level walks till you see a big stream coming down the hill on your right, over a wooden bridge crossing.
The trail picks up a little altitude as you once again enter the forested cover with a series of ascents and level walks. After 30-40 minutes of easy walk, look for an old village setting across the river on your left. This is Gangad village. After another 20 minutes of level walk, take a diversion towards the right side, till you reach a dhaba next to a wooden bridge crossing.
Behind the dhaba is a small hut where locals use the momentum of water to run a mechanical turbine that grinds cereal into flour. Those who want to camp at Osla may cross a wooden bridge to get to the other side of the mountain, left of Supin River and then trek straight along the river till they reach Osla. To reach Seema, one has to trek straight up by remaining at the true right of the river, all the way till Seema. There are a few steep ascents but are not in continuity, as the trail relaxes giving certain sections of level walks.
The landscape and condition of terrain will remain like this for an hour and a half. Look for cemented houses built across a series of barley and wheat fields towards your right. The ground next to the cemented house is Chilurgad. One can camp here for the night as there is no spot available in Seema for camping.
Day 3: Chilurgad to Devsu Thach 
Altitude: 8,159 ft to 

10,016 feet

Distance: 6 km
Duration: 4-5 hours
GPS Coordinates for Devsu Thatch: N 31°07.442, E 078 °23.042
Start early in the morning, taking the trail going ahead from the campsite. Pass a cemented bridge and take the trail going ahead. Observe Osla wooden bridge towards your right over Supin River, which goes to Osla village. The trail is a well-defined levelled one, with few gradual ascents.
After 20 minutes of trekking, you will reach Seema. Pass a series of dhabas and GMVN and Forest Guest Houses in Seema. A 200 metre-long brisk walk will have you pass another bridge, crossing over River Supin. Do not cross over.
Take the trail going down, with River Supin on your left as you by-pass the bridge. Ensure you do not take the trail ascending from here. Note that from here onwards, the trail gradually ascends as you near the entry point of Ruinsara Valley. Pass by a series of streams and landslide zones.
Around 30 minutes into the hike, you will cross a series of huge boulders as you enter Ruinsara Forest. The trail from here ascends sharply over the boulders. Leaving the river below you, climb up briskly as you near the point from where the trail takes a right. This is the point from where you will be able to see Osla village behind you for the last time, as you enter the Ruinsara Valley.
Another 30 minutes of a level walk later, you will enter the meadows of Devsu Thach. Follow the trail going from the centre of the meadow surrounded by tall trees all around. Devsu Thach is approximately 2 km in length and is a delightful walk.
On your left, observe Har Ki Dun Valley, below which is the confluence of Har Ki Dun and Ruinsara rivers. Walk for another 15 minutes till you reach the last section of the pasture land.
Day 4: Devsu Thach to Ruinsara Tal

Altitude: 10,016 ft to 

11,450 ft

Distance: 10 km
Duration: 4-5 hours
GPS Coordinates of Ruinsara Tal: N 31° 04.831, E 78° 27.499
From Devsu Thatch, look for a forest trail descending sharply towards the Ruinsara river below. The descent is rapid and steep. Around 15 minutes and 100 meters of careful descent later, you reach a wooden bridge that crosses over River Ruinsara. Observe the Ruinsara Valley towards your right. Cross the bridge and take the trail going inside the valley, with the river on your right.

The next 45 minutes of the trail is a series of level and gradual ascents over boulders and patches of pasture land next to the river. Observe a cemented hut ahead of you. This is a good spot of camping or taking a break for lunch.
The condition of the trail deteriorates rapidly from here forth as you trek towards the interiors of the valley. Pass through three mountain bends, after which you'll pass through a series of landslide zones. The trails have been completely or partially broken in these sections. Take great care in crossing these sections.
Depending upon the conditions, one may have to use ropes for crossing over the broken bends. These sections are consistent for another hour and a half till you reach a waterfall at your left side. Descend down the trail and pass the waterfall section. Once crossed, the trail again ascends sharply as you leave the last bend and enter a series of meadows covered with glacial snow and scree. Walk over this ridge carefully.
In a few minutes, you'll come across a vast meadow with birch forests forming a background. The Untigad campsite is another 30 minutes' walk from here. There is a small river-crossing over a tributary of Ruinsara here. The crossing is fairly simple. Once crossed, walk straight and re-join the trail that is next to River Ruinsara. Look for a makeshift bridge over the river. The ground towards the left of this bridge is Untigad.
From here a  45 min hike takes you to Ruinsara Tal. The trail to the lake goes inside the birch forest towards the true left of the river. Ensure you do not meander towards the right. Once you leave the forest behind, cross a boulder zone till you see a hut on your right ahead. Walk towards the hut. Observe Ruinsara Lake below you towards the left. The lake is surrounded by meadows where one can camp. Swargarohini ranges are behind the mountain ridge next to the lake and are not visible from here.
Day 5: Ruinsara Tal and further to Thanga
Altitude: Approximately 

12,000 ft 

Distance: 3 km
Duration: 3 hours
GPS Coordinates of Ruinsara Tal:

N 31° 04.831, E 78° 27.499
The day starts with a 10 minute descent to reach the riverbed.  Once at the river  cross it  by making human chain . Mind you, the water would be ice cold.
Some rest, therefore is a must to warm-up your body. And also to prepare yourself  for next 40-50 minutes of steep ascent. Once at the top, take another breather.
Have some water while gazing at the mountains full of rhododendrons to you right. While the river, you crossed earlier gushes down. Also look out for some more view of Swargarohini 2 and 3.
From here it is another hour of hike to the campsite. You will  reach the campsite by 11:30 after that you will have whole day to relax your muscles and mind so that you can be ready for the next two most difficult days of this trek.
Day 6: Thanga to Advanced base camp via Odari (Bali Pass Base Camp)
Altitude of Odari: 13,287 ft, ABC: 15,154 ft
Distance: 5 km
Duration: 5-6 hours
GPS Coordinates of Bali Pass A.B.C: N 31°02.482, E 078 °26.837
Today is a light day with a promise of great views of the entire Ruinsara and Kyarkoti Valley. Cross the bridge from your campsite and take the landslide-prone trail on your left. The mountain ridge is completely broken as you ascend through a maze of boulders. It takes 20 minutes to cross this till you reach the level ground and are able to see a tributary of Ruinsara River passing on your left.
Look for a suitable spot for the river crossing. It is advisable to start early so that the depth of water is not high. There is no makeshift bridge and one may have to boulder hop across this tributary. A rope can be handy as well, though not necessary. Once you've crossed, take the trail going straight towards the snow moraine that lies ahead, keeping Ruinsara River on the left.
Treat yourself to the beautiful Swargarohini ranges that are completely visible for the first time. You'll see the first patches of snow in the meadows ahead. Cross over these meadows and move to the right side of the valley as you start gaining considerable altitude. The steepness of the climb gradually increases as you enter the snow line. The snow is slippery here and a micro spike/crampon is very handy in this section.
The route to Odari swerves to the right. You now enter a funnel valley. In an hour or two (depending upon the pace of the ascent), you will reach the top of the first ridge. From here, you can see a small snow ridge. Behind that ridge are the ice fields of Odari.

The views of Kyarkoti towards the left and Swargarohini massif behind you are outstanding. The trek from here to the B.C. is another 20-30 minutes of gradual ascent over slippery snow. Observe a level ice field with a few semi-frozen small glacial ponds in between. This is Bali Base Camp. Look for level ground for pitching the tents. In the month of June and July tents will be pitched on hard snow.
If one wants to trek further, one can proceed ahead to the Advance Base Camp of Bali, which is another 2-3 hours on a snow ridge away.


Today is a short day but involves a steep climb as you gain nearly 2000 ft of altitude in a 1.5 km distance.
Start very early in the morning, preferably around 4 or 5 am. One can start much earlier, depending upon prevailing weather conditions. Micro-spikes are required for today. There is also a section where ropes need to be fixed. Carry plenty of water as there are no water points for a long section of the trek.
Looking ahead, observe a series of five snow ridges that need to be traversed. Bali Pass summit is not visible from this section for the moment. It takes around 30-45 minutes to climb to the top of the third snow ridge as you gain an altitude of 200 meters.
From this spot, you will be able to see a snow ridgeline that connects to a steep climb over a series of snow ridges. The initial walk is a gradual walk over a level ridge. There is a huge accumulation of snow all around. It is wise to remain on top of the ridge and climb up via that route. No ropes are required here.
These sections are not technical but are long and tiring. After an hour or two (depending upon your pace) you will reach the top of the fifth ridge. From here, you can see Bali Pass Col towards your left ahead. Below the pass is the camping spot of A.B.C. Walk towards the left side, crossing as many as three snow dunes to reach the spot, from where the true ascent of Bali Col begins.
Day 7: Bali Pass Advanced Base Camp to Bali Pass and further to Lower Damini
Altitude: 15,147 ft to 

16,207 feet to 11,076 feet 

Distance: 14 km
Duration: 9-10 hours
GPS Coordinates of Bali Pass: 

N 31°01.909, E 078 °26.392

GPS Coordinates of Lower Damini: 

N 30°59.919, E 078 °27.218
The climb to Bali Pass is steep and you might require an expert guide to find the route. There are no crevasses here, but there's a lot of snow. An ice axe is useful here, to ensure sure footing. It is advisable not to take a straight line ascent route. Making scissor-bend trails is more practical.
The climb can take anything from 45 minutes to one and a half hours. As you reach the top of the mountain col, you will be able to see the Yamunotri side of the valley for the first time.
The Bali Pass summit is another 10 minutes of ascent towards the connecting ridge on your left. The last climb is again steep, but doable. The summit of Bali pass has enough space for a large group of 30-40 people to assemble.

Once you're reached the Bali Pass summit, enjoy a clear 360-degree view of the Ruinsara and Yamuntori side. One can see Bandarpoonch (White peak) and Kalanag (Black Peak) and also the logical route to Saptarishikund.
Look down towards the Yamunotri side for a connecting snow ridge that descends. This is from where you will descend. Fixed ropes need to be placed in the initial 60-70 metres. Care must be taken while descending. The second section of descent can be done by merely sliding down towards the A.B.C. site on the Yamunotri side.
Once down, observe snowfields descending on your right. There are multiple routes that one can take to descend from here. Moving down on soft snow can be done swiftly. After 15 minutes, you will reach the last point of the A.B.C. ridge. From here, there is another sharp descent down to base camp. Let an experienced team member find a best possible descent route from here. You will cross a few boulders over snow. Once this section is crossed, one can slide down till the B.C. From here, move briskly as you lose altitude. Another 30 minutes of brisk descent later, you will be required to traverse to the right side of the mountain ridge till you reach the pinnacle.
From here, you will be able to see the upper and lower Damini forest ridge below you. The descent from here is tricky, especially if there is snow. If the accumulation of snow is large, you may need to place ropes. The trails here are nonexistent and one has to descend sharply over huge boulders and snow. Look for land clearing 500 meters below you. This section is like a maze and the team must do this with extreme caution. It may take an hour or two to cross this section safely.
Once you enter the upper forest of Damini, rejoin a well-laid trail that now descends rapidly. There is no water source at Upper Damini camping ground anymore. Hence, it is advisable to trek down to lower catchment area inside the forest. The trek down is another 2-3 km, till you reach a small camping spot next to a stream. You have now reached lower Damini camping spot. (One can also camp at the Base Camp location in the Yamunotri side of Bali Col, depending upon weather conditions.)
Day 8: Lower Damini to Janakichatti and back to Dehradun
Altitude: 11,076 ft to 10,797 ft
Distance: 6 km trek
Duration: 1-hour trek, followed by 8-hour drive
Today is an easy day. Take the trail descending the lower Damini forest. The trail is well-defined and after 30 minutes of a steep descent, you will connect with the old Yamunotri trail. Here you'll have to make a detour if you want to visit the Yamunotri temple. Otherwise, take a right and follow the trail that descends and connects with the new Yamunotri to Janakichatti pilgrim trail.
The trail from here is cemented and one can reach Janakchatti in a couple of hours. From Janakchatti, board a bus or a shared jeep to Dehradun or Barkot.
How to get to the basecamp – Kotgaon
Delhi → Dehradun → Kotgaon
The Bali Pass trek starts from Kotgaon, 186 km from Dehradun. 
Click here to setup Google navigation
Indiahikes organises transport from Dehradun to Kotgaon. The pick up is at 6.30 am from Dehradun Railway Station on Day 1. It costs Rs.6000 per cab one way. This is not included in the fee. It is to be shared amongst trekkers and paid directly to the driver. 
To reach Dehradun

The best way to reach Dehradun is to take an overnight train from Delhi. There are two trains available from Delhi to Dehradun.
12205 Nandadevi Express – 23.50 – 5.40
12055 DDN Jan Shatabdi – 15.20 – 21.10 (reach the previous night)
If you cannot find a train, then take a bus. To stay on the safe side, book buses online in advance. Book such that you have some buffer time to make it to Dehradun on time for the pick-up; buses usually get delayed.
Getting back
Yamunotri → Dehradun→ Delhi
The Bali Pass treks ends at Yamunotri. From Yamunotri, you'll be driving all the way to Dehradun. It takes 8-9 hours to drive back to Dehradun. Indiahikes organises this transport for a fare of Rs.5,500 per cab. This is to be shared amongst trekkers and paid to the driver directly.  You will reach Dehradun by 8.00 pm. 
If you are travelling further from Dehradun, keep a couple of hours as buffer time in case of delay. Book your onward travel from Dehradun post 9.00 pm.  If you are travelling to Delhi, you can choose to go back by Mussoorie Express (21.20) or Nanda Devi Express (23.30).
If you want to get to the base camp by yourself
There are direct buses from Dehradun to Kotgaon. They leave at 6.00 am, 7 am and 8 am respectively from Dehradun Railway station.
If you are reaching Dehradun late, you can take a bus to Purola/Naugaon and then a connecting bus to Kotgaon. The last bus leaves from Dehradun Railway Station at 12.00 noon. If you reach Purola late, you can stay there overnight.
If you are taking a hired taxi, the route is pretty straightforward. First, head to Mussoorie, then move down to Yamuna Bridge via Kempty falls. Then follow the Yamuna on your left until you reach Damta and further on to Naugaon. Cross the Yamuna at Naugaon and head towards Purola. The route immediately turns scenic, with pine trees overlooking the road.
At Purola break for lunch. From Purola, the route gets mesmerising with the road climbing up and descending through thick pine forests until you get to Mori along the Tons River. 5 km out of Purola try to locate the south face of the Kedarkantha peak on your left. The highest peak, it is not difficult to spot.
From Mori, follow the Tons to Naitwar, again through some breathtaking mountain scenery. At Naitwar, the road branches off to the right along the Supin, until you get to Kotgaon few hours later.
Network Connectivity
There is no network conncetivity on this trek. If you are lucky you may get sparse BSNL connectivity in some areas.
How to prepare for the Bali Pass trek
Bali Pass is a Difficult trek. Every day, you cover around 7-8 km on an average and gain a good amount of altitude. Over 5 days, you climb from 5,100 ft to a highest point of 16,207 ft. You gain 10,000 ft over five days of trekking. If you want to do this trek comfortably and enjoy all the surprises it offers, you will need to prepare well.
Cardiovascular endurance – Target 10 km in 70 minutes before the start of the trek
The Bali Pass trek requires a good amount of endurance and stamina. You can begin by jogging everyday. Start slow and increase your pace everyday. Swimming, cycling and stair climbing without too many breaks in between can help too.
In order to be prepared for a high altitude trek, you should have a combination of distance and speed targets.
Here's a fitness routine that works:

In case you're just starting with a regular fitness routine, phase out your distance targets in the following manner –

–>Target completing 5 km in 30 minutes when you begin.
–> Gradually increase your pace by running 4 times a week and bring it down to 5 km in less than 30 mins.
–>If you are above 45 years and comfortable with brisk walking, then target covering 10 km in 75 minutes.

If you are somebody you prefers cycling over running, then target covering 25 km in 60 minutes.

How to send us a proof of your fitness routine?

Record your run on an app like Nike Run or Strava. Start recording your run when you start running. At the end of your run, hit the stop button.

Take a screenshot of the summary of your run. We will need a detailed split of each kilometre of your run. This is usually integrated in all running apps.

Note: Make sure your GPS is on when you record your run. If the GPS is off, we will not accept the screenshot.

Upload two screenshots 10 days prior to the start of the trek — one of you covering 5km in less than 30 mins along with your picture and the other with splits of your run.
Strength – Target 4 sets of squats with 20 in each

This is another area you should work on. There is a lot of trekking distance that you will cover in high altitude carrying your backpacks.  You have to walk on uneven terrain during the trek. It could be taxing for your legs. For this, strengthening your legs will help. You can do some squats to strengthen them. Start with 3 sets of squats, with 8 squats in each set and work towards reaching your target in 3 weeks.
Flexibility
Another aspect that will help you trek comfortably is flexibility. For this, you can do some stretching exercises – stretch your hamstrings, quadriceps, hip flexors, lower back muscles and shoulders regularly. On your trek, it is important that you arrive on the slopes with your muscles relaxed. Carrying a backpack, however light, can become a strain after a while. These exercises will help you to be in good shape before the trek.
Here is a chart that you can follow to get fit for your trek.

Working out indoors
If you can't go out and jog because of time and space constraints, here's a video you can use to work out indoors.
Things to get for the Bali Pass Trek
Bali Pass is a very high altitude trek. The trekking gear you need to carry for this trek is different from regular treks. So pay careful attention to this entire section.
First, The Essentials. You cannot do the trek without these.
1. Trekking Shoes
Bali Pass requires trekking shoes that are sturdy, have good grip, have ankle support and can handle snow. Here is a quick video on how to choose your trekking shoes.
| Buying Tip: The Trek series and MH series are good options by Decathlon. They are tried and tested. There really isn't any necessity to buy the higher priced models. Here is a list of other budget shoes that trekkers are using.
| Rental: We have the Trek series and the MH series by Decathlon available on rent from the Indiahikes store. They are already broken into and in good condition. Rental shoes are not dirty or unhygienic. This is how they are kept clean.
2. Backpack
For a trek like Bali Pass, you need a 50-60 litre backpack. Make sure your backpack has good hip support, shoulder support and quick access pockets. Here is a guide on how to choose a backpack.
| Buying Tip: Wildcraft, Decathlon and Adventure Worx usually make good backpacks. While Wildcraft has more expensive ones, the other two brands have budget-friendly backpacks to choose from.
| Rental: The 48 litre backpack by Adventure Worx is available on rent from the Indiahikes store. They are custom-made for our Himalayan treks. Rent them if you don't have a backpack.
3. Clothes
Wearing layers is the mantra in the mountains. Layers give you maximum protection from all elements. And when the weather changes in the mountains (as it happens every few hours), you take take off or put on layers as required.
Base layer:
3 T-shirts: Wear one T-shirt and carry two. Carry full sleeve dry-fit T-shirts (preferably collared). These prevent your arms and neck from getting sunburnt. In the rarified air on the trek, especially at high altitudes, UV rays can burn you in no time.
Dry-fit T-shirts quickly dry your sweat, they are easy to wash and in case of a rainy day, they dry quicker. Round neck T-shirts are ok, but collared ones are better.
| Buying tip: You can get dry-fit T-shirts from Decathlon. Also, stores like Reliance Trends, Max have dry-fit T-shirts. They don't usually cost much.
| Cotton or Synthetic? As Indians, we love cotton. Down in the plains when the heat is a blistering 40°C it makes sense to wear cotton. But it takes a long time to dry when it gets wet. In the mountains, where it is cooler, synthetic is what you wear. They wick sweat rapidly and keep you dry. (But they do tend to smell quickly, so carry a roll-on deodorant with you.)
| Pro Tip: If you are extra susceptible to cold, you could get a set of thermal inners. In our experience, wearing two T-shirts over another works as a better thermal. And they save you weight and space, since you're already carrying them.
3 insulation layers
The highest altitude you reach on this trek is 16,200 ft. At these altitudes it can get freezing cold even in the middle of summer.
You will need at least 3 insulation layers for this trek.
You will need 2 light fleece layers, 1 full-sleeve light sweater. Do not get your grandma stitched sweaters, which can be very heavy. You need sweaters and fleece jackets that can fold into compact rolls.
1 Outer layer: A padded jacket serves the purpose here. You don't really need a water resistant material. But you need an outer padded jacket that keeps the wind and cold out. Ensure your padded jacket has a hood as well.
| Do you need a down/feather jacket? Not really. A regular padded/shell jacket will do. This video here will help you to learn more about the difference.
| Note: Down/feather jackets are really not available these days. Many jackets masquerade as down/feather jackets. They are essentially fine polyester-filled jackets. They mimic the function of a down jacket but are usually expensive.
| Rental: Padded jackets made by Fort Collins are available on rent at the Indiahikes store. They are custom made for Indiahikes and trekkers find them terrific, even in winter.
Two trek pants
Two pairs of trek pants should suffice for this trek. Wear one pair and carry one just in case it rains. Trek pants with zippered cut offs at the thighs are very suitable for treks. Also, choose quick-dry pants over cotton. They dry up soon in case of small stream crossings / rain.
| Buying tip: Go for pants with zippered pockets. They come in handy to keep your phone, handkerchief or pocket snacks.
| Track pants or trek pants? Stretchable track pants make a good backup and can double up as your thermal bottoms. But track pants are not trek pants — so don't use them as your main outerwear. Keep them only as a backup.
Mandatory Accessories, without these too you won't be able to do the trek.
These accessories are mandatory. Don't go to Bali Pass without them. Trekkers generally put off purchasing / borrowing the accessories for the last minute. We suggest the opposite. Start gathering these accessories first.
1. Sunglasses
Sunglasses are to prevent snow blindness. On a trek like Bali Pass, you are in a permafrost region (there's snow all around the year). Expect to walk on long stretches of snow. A small overexposure to direct sunlight on snow can lead to snow blindness (about a half hour's exposure). That's because fallen snow is like thousands of mirrors that reflect direct UV rays. So you need sunglasses with UV protection.
| Buying Tip: Try getting sunglasses that wrap around instead of those that have openings on the side. Even peripheral UV ray exposure is not a good idea.
| Wearing Tip: Wear sunglasses if the trekking day is bright and sunny (on open sections, meadows). On a snowy section you must absolutely never take off your sunglasses until the section has been fully crossed.
| If you wear spectacles: If you wear spectacles, you can get oversized sunglasses that you wear over your regular glasses (available at Decathlon). If that is cumbersome, photochromic lenses work equally well. Here's a quick guide on managing sunglasses with spectacles.
| Contact lens users: If you use contact lenses, you can use them on the trek too. The lens solution will not freeze. You will also not face any problems in changing your lens in your tent. Just carry enough cleaning solution with you to clean your fingers well. Wear your sunglasses over your contact lens.
2. Suncap
A sun cap is mandatory. Trekking without a sun cap can lead to headaches, sun strokes, quick dehydration and a sharp drop in trekking performance.
| Tip: In the mountains, the general rule is to keep your head covered at all times. During the day a sun cap protects you from the harsh rays of the sun (it is doubly stronger with naked UV rays). A sun cap keeps your body temperature in balance. In the evening/early morning, the reverse is true. Your head loses your body heat quickly. A woolen cap prevents heat from dissipating from your head.
| Pro Tip: Sun caps with flaps are a blessing for trekkers. They cut out almost all UV leaks. They prevent sun burns in every possible way. They are a lot more effective than sunscreen lotion. A wide brimmed sports hat also helps to prevent sunburn in a big way.
3. Synthetic hand gloves
On a trek like Bali Pass you are going to be handling snow quite a bit. You'll need gloves to grip something or to steady yourself in snow. You also want the gloves to keep you warm. Get synthetic hand gloves that have waterproofing on the outside and a padded lining on the inside. If you find the combination difficult to get (not likely), wear a tight fitting fleece hand glove inside a synthetic hand glove. Hand gloves are mandatory on this trek.
4. Woollen cap or Balaclava
Ensure these cover your ears. In the cold mountains, you lose maximum heat from your head, not from your hands, feet or the rest of your body. Which is why you need to keep your head protected, especially when the sun is down. Early mornings, late evenings, a cold trekking day are when you must use your woollen cap.
Your ears are sensitive too, so a woollen head cap that covers your ears is absolutely essential. A balaclava is a modern version of the woolen cap. It covers your ears, neck and parts of your face as well. Do not get a woollen cap that only covers your head.
5. Socks (3 pairs)
Apart from two sports socks, take a pair of woollen socks. Sports socks give you cushioning plus warmth. Again the mantra is to wear synthetic socks or at least a synthetic blend. Cotton socks soak in water and sweat. They are very hard to dry. As for woollen socks, they help you to keep warm and snug in the night. If you cannot get woolen socks, wearing two sports socks serves the purpose as well.
6. Headlamp
Trekkers are often confused about whether they need to get a headlamp or a handheld torch. You need to get a headlamp because it leaves your hands free to do other activities. On the Bali Pass trek you'll need your hands free to wash dishes, pitch tents and hold your trek poles.
| Buying Tip: Ensure your headlamp covers a wider area and is not too focused as a single beam. On a trek, your headlamp must help you see around you as much as ahead of you.
| Rental: Headlamps are available on rent on the Indiahikes store. Rent here.
7. Trekking pole (a pair)
Trekking poles give you stability and balance. They reduce your energy consumption by almost 40%. On the Bali Pass trek there are steep ascents and descents. A pair of trekking poles will make the difference between a comfortable and a strenuous trek. In India we tend to use a single trekking pole. However, two trekking poles give you greater stability and balance. They also increase your walking pace.
| Rental: Imported side-locking trekking poles are available on rent on the Indiahikes store.
8. Rainwear
On a trek, the weather can change quickly. A bright sunny day can turn into a downpour in a matter of minutes. Carry a poncho or a rain jacket to tackle this. A poncho is a big rain cover with openings for your arms and your head. It is extremely effective because it covers both you and your backpack. It is extremely light and weighs next to nothing.
| Pro Tip: Rain jackets are more streamlined and less cumbersome but weigh more. Rain pants are really not required. Dry fit trek pants dry quickly even if soaking wet.
| Rental: High grade ponchos are available on rent on the Indiahikes store.
9. Rain cover for your backpack
Backpacks are your life. You carry all your dry clothes, your warm gear in your backpack. It is important that your backpack stays dry at all times. Modern backpacks usually come with built in rain-covers. If your back pack does not have a rain-cover, ensure you get a rain cover by either (a) buying a rain cover (b) or cutting a large plastic sheet to the size of your backpack. You can roll the plastic sheet around your backpack and keep it in place with a string or elastic.
| Pro tip: It's good practice to compartmentalise your clothes, accessories and other things in plastic covers inside your backpack. That way, even if it rains and your backpack gets wet, your things are water-proof inside the backpack.
10. Daypack (20-30 ltrs, optional)
Some trekkers opt to offload their bags to a porter on the Bali Pass trek. While we do not encourage this practice, in case you opt for offloading, then carrying a daypack is mandatory. In your daypack you carry essentials like water bottles, rainwear, emergency medicines, headlamp, some snacks and a warm layer. Your main backpack that carries most of your equipment is accessible only at the campsites.
A daypack is a smaller backpack that is usually of 20-30 ltr capacity. Laptop bags are not daypacks. Do not get them.
Other mandatory requirements
1. A toilet kit
Keep your toilet kit light. Carry just the basics — toothbrush, toothpaste, small soap, toilet tissue roll, a small moisturiser, lip balm, and a roll-on deodorant. You will not be able to have a bath on the trek, so don't overload on soaps and shampoos.
| Pro tip: Carry miniature-sized items. You will not need more than that. If you're travelling in a group, share one toothpaste for all. 
| Pro tip: Avoid getting large toilet rolls. The smallest size roll is more than enough for a trek like Bali Pass.  
| For women: If you are likely to have your periods on your trek date, don't worry about it. You can use your pads, tampons or menstrual cups on the trek. There will be toilet tents where you can get changed. Make sure you carry ziplock bags to bring back your menstrual waste. Don't leave behind any waste in the mountains. Watch this video to learn how to dispose your sanitary waste.
2. Cutlery
Carry a lunch box, a mug and a spoon. Your lunch box must be leak proof. You are expected to wash your own cutlery. Trekkers often expect Indiahikes to wash their cutlery. When you allow Indiahikes to wash your cutlery, your cutlery becomes part of a mass washing system. You immediately invite germs, bacteria to settle on your cutlery. Incidence of stomach disorders rises exponentially.
| Pro tip: Carry stainless steel cutlery. Avoid fancy high grade plastic cutlery. Stainless steel cutlery is infinitely easier to wash in cold water. Grease is easier to remove and hygiene is at the highest.
| Two 1 litre bottles or a 2 litre hydration pack: Bali pass has long walking days. You need to carry two one litre water bottles to keep yourself hydrated over the distance. If you are used to a hydration pack, then that is ok too. If one among the two bottles is a lightweight thermos, then that helps you to store warm water on a really cold day or for late evenings and early mornings.
| Rental: You could rent lightweight thermos flasks from the Indiahikes store.
3. Plastic covers
Carry 3-4 old plastic covers to keep your used clothes. You could use them even for wet clothes. Re-use old plastic bags for this and do not buy new ones.


Useful videos to help you with your gear:
Personal medical kit
Carry these medicines with you, easily accessible at all times. Do not take any medicine unless you have consulted your trek leader.
Diamox (1 Strip): Be on a course of a half tablet Diamox starting from Delhi every 12 hours (125 mg). Carry on the medication until you descend down to Yamunotri. Being on a preventive course of Diamox greatly reduces the chances of Acute Mountain Sickness on the Bali Pass trek.
Dolo 650 (5 tablets): This is a paracetamol. It helps to tackle fever, mild pain
Avomine (4 tablets): Carry this especially if you are prone to motion sickness. Pop one half hour before the start of your road journey.
Combiflam (5 tablets): Take a combiflam if you get a sudden twist of the leg or a muscle strain. It is a pain reliever. It also contains paracetamol.
Digene (4 tablets): Take it if you feel the food that you've taken is undigested. Alert your trek leader immediately. It could be a sign of AMS.
ORS (6 packs): Consume a pack of ORS water at least once a day, usually mid day when you are in the middle of your trek. It replenishes essential salts lost while trekking.  Tip: It also makes cold water easier to drink.
Knee Brace (optional): Carry this if you are prone to knee injury or have known issues of knee pain.
Our trek leaders carry a high altitude medical kit with them which also consist of Life Saving Drugs. If there is an emergency our trek leaders know how to tackle it. Meanwhile, contact your trek leader before consuming any of these medicines listed here.
| Pro tip: We find that these medicines by trekkers are rarely used. But you cannot do away with them. At the end of the trek please donate unused medicines to your trek leader. Some of these medicines get distributed to villages on the trek and some are added to the Indiahikes medical kit.
Mandatory Documents to carry
These are documents required for legal purposes by Indiahikes and the forest department. Without any of these, you will not be allowed to trek.
Original and photocopy of government photo identity card. Anything such as a driver's license, Aadhar card, passport will do. This is required by the forest department for your identification.
Disclaimer certificate. This is a legal requirement. Download the PDF, read carefully and sign it. This must be handed over to your Trek Leader during registration at the base camp – Download PDF
Medical certificate. There are two sections in this. The first part must be filled by a practising doctor. The second part must be filled by you. Without the medical certificate the forest department will not issue permissions for your trek. It is also a requirement by Indiahikes – Download PDF
| Pro tip: Keep important documents in a clear plastic cover and slide them into the inner pocket at the back of your backpack. This keeps them from getting wet.
How safe is the Bali Pass trek?
The Bali Pass trek is a difficult one. The most difficult part of the trek is the crossing of the pass itself. There's usually excessive snow pre-monsoon, and the ridge is narrow. You also climb to 1,207 ft, which is very high altitude. There are chances of being hit by Acute Mountain Sickness though the trail is designed such that your body has enough time to acclimatise to the surroundings.
If you have registered for this trek, then here is some information that you must know in order to have a safe trek. At Indiahikes, we believe that as long as you are well-informed and well-prepared, you can survive easily at high altitudes.
What Indiahikes does to ensure your safety
Our philosophy is simple. We ingrain safety aspects in the people we work with, in the processes that we follow, and in the equipment we carry. All our trek leaders are trained repeatedly on safety issues and protocols. Most issues are resolved with their intervention.
Right from the time you decide to register for the trek till the last day of the trek, these safety procedures will be running in the background. We have listed a few of them below:
1. Fitness criteria before registration
Over years of organising high altitude treks, we have found that safety issues thrive amongst those who are unfit and unprepared for the trek. So we have an eligibility criteria for the Bali Pass trek. Anyone who wants to register for the Bali Pass trek has to meet the fitness requirements. We ask you for proof of your fitness and guide you to get fit enough for the trek.
2. Monitoring health on a trek
Any abnormal reading will be paid special attention to and action will be taken immediately.
On the Bali Pass trek, your Trek Leader will be monitoring two aspects thrice a day.
Your Blood Pressure levels will be checked once a day.
This will help us ensure that your body is acclimatising as required.
Every trekker will be given a Health Card at the beginning of the trek. The Health Card is issued to monitor the trekker's daily health, wherein they will be entering details about their health everyday. It also contains details of what symptoms one should look out for and what action should be taken during emergencies. These Health Cards will be collected back at the end of the trek.
3. High Altitude Medical Kit
Your trek leader will be carrying a full-fledged high altitude medical kit. This will include basic medicines and specific medicines catering to altitude sickness – Diamox, Dexamethasone (tablets and injections) and Nifedipine. Your Trek Leader will also be carrying a portable oxygen cylinder throughout the trek. In addition to that, there are oxygen cylinders installed at all high altitude campsites for any emergency situations.
4. High Altitude Trek Equipment
To ensure safe trekking on snowy terrain, Indiahikes will provide you with micro-spikes to attach to your shoes. This will give you good traction on hard snow. To avoid snow from entering your shoes, Indiahikes will provide you with gaiters that you can put on over your shoes. You will have qualified technical guides with you, who will lead the way on difficult terrain.
All our sleeping bags and tents are custom-made for high altitude. If it is cold outside, it will be around 10 degrees warmer inside the tent. The sleeping bags can withstand temperatures up to -10 degree Celsius.
5. Being hydrated and well nourished on the trek
You need to drink a minimum of 4 litres of water every day during the trek to ensure that you're well hydrated. De-hydration on a trek can make you lose energy very quickly and intensify the effects of AMS. Your trek leader will brief you about the amount of water that you need to carry with you at the start of each day as well as water sources on the trail.
We provide trekkers with nutritious meals to ensure that they are energized to complete the trail each day. Apart from this, snacks or packed lunch is provided wherever the trail before a meal break is likely to be long. Make sure that you do not skip any meal as this can lead to serious health emergencies on high altitudes.
With all these processes and equipment in place, you can be rest assured that you will have a safe trek with Indiahikes.
Nevertheless, you will need to be cautious and report the slightest of symptoms to your trek leader as soon as you feel them.
What you compulsorily need to know if you're going on the Bali Pass trek
Acute Mountain Sickness:
On the Bali Pass trek, the trail is designed such that your body has enough time to acclimatise to the surroundings. So probabilities of Acute Mountain Sickness are low, even though you hit a maximum altitude of 15,380 ft.
However, at the Odari Thatch camp or the Advanced Base Camp, AMS can hit anyone since these are all at very high altitudes. Hence, it is imperative that you take necessary precautions.
At any campsite, inform your trek leader about your condition immediately if you identify any symptom of AMS. If the symptoms don't alleviate it is best to head down to a lower campsite.
This risk can be avoided by going on a course of Diamox. Even while on Diamox, the risk of AMS still prevails. While AMS can be treated with rest and medicines for the most part, the symptoms must be recognised before it can go to advanced stages – High Altitude Pulmonary Edema (HAPE) and High Altitude Cerebral Edema (HACE).
HAPE and HACE are critical conditions that can be fatal within hours.And they can occur without AMS preceding them. So it's doubly important to recognise any symptoms and nip them in the bud.
Take this specific precaution – Go on a preventive course of Diamox
We strongly advise you to go on a preventive course of Diamox. Diamox is a blood thinner and helps you acclimatise much faster and reduces the chance of AMS by around 80%. Take half a tablet twice a day from one day before your trek.
What to do if you have symptoms of AMS?
If you feel any symptoms of AMS on the trek, you must report to the Trek Leader immediately. Do not wait till the end of the day's trek. Do not try to handle it yourself either. Our Trek Leaders are well-trained and experienced to handle any cases and they will be the decision makers in any such cases.
Watch the below video to understand the symptoms of Acute Mountain Sickness. In this video, Arjun Majumdar, the founder of Indiahikes will also tell you the protocol to follow when you see someone showing symptoms of AMS.
Exit points on the Bali Pass trek
The closest exit on this trek is at the base camp, Taluka, where there is a road head. After crossing the pass, the closest exit is at Janki Chatti in Yamunotri. Evacuation can take time, even 1-2 days, especially from high camps. Medical expenses, if required, at the medical centre are to be borne by the participant.
Closest hospital
Depending on where in the trek a medical emergency occurs, there are different hospitals that you can access. On the Kotgaon side, Purola has the closest hospital. Towards the end of the trek, your best option would be to reach Yamunotri, where you will find a seasonal hospital.
Why you should personally know about the risks and precautions of high altitude treks
If ever you find yourself alone at high altitude, either while trekking independently or with another organisation, there are some life -saving steps you can take. Firstly, you should be able to recognise symptoms of altitude sickness. So acquaint yourself with the symptoms.
Secondly, there might be instances when you have to administer medicines to yourself or to a fellow trekker. There are three life-saving medicines that we suggest you always carry on you – Diamox, Dexamethasone and Nifedipine.
If you are trekking with Indiahikes, do not administer these to anyone without consulting your Trek Leader. If you are trekking independently then you need to know when exactly to administer these medicines and in what dosage.
Also ensure that you are well hydrated throughout the trek and do not skip any meal.
You can watch the video below to learn about HAPE and HACE and how to tackle them. In the video, Sandhya UC, partner at Indiahikes, explains in detail about High Altitude Pulmonary and Cerebral Edema, what the symptoms are and how to tackle them.
We cannot stress enough on how important it is for you to communicate any symptom to your Trek Leader. Only then your trek leader will be able to take steps at the right time.
Acute Mountain Sickness — Good reads
If you're of the opinion that fit people don't get AMS, please get rid of that notion right away. AMS can affect anyone without paying heed to their fitness and prior experience at high altitude! Altitude sickness does not distinguish between a first timer and an experienced trekker.
What Is Acute Mountain Sickness? A Quick Look At AMS, HAPE And HACE
For more detailed information about Acute Mountain Sickness, you can download and study the manual below.
The Indiahikes Special Covid Cancellation Policy
We understand the pain of cancelling a trek. As trekkers, we always look forward to treks, and after months of training and planning, if we have to cancel our trek, there's no greater disappointment than that. 
This is why we have one of the most trekker-friendly cancellation policies.
This policy is effective for registrations starting August 12, 2021.
1. Cancellation 30 days before the starting date of the trek — Get your full trek fee back in an Indiahikes Trek Voucher OR get a monetary refund with 15% cancellation charges.
2. Cancellation between 30 days and 20 days before the starting date of the trek — Get 80% of the trek fee in an Indiahikes Trek Voucher OR get a monetary refund with 50% cancellation charges.
3. Cancellation less than 20 days before the starting date of the trek — No monetary refund, get 50% of your fees in an Indiahikes Trek Voucher
Important note: The Trek Insurance amount is not refundable. 
|
In the rare event that we cancel a trek, this is the policy we follow:
We almost never cancel our treks. But in case we cancel a trek because of natural calamities (snowstorms, thunderstorms, floods, landslides, earthquakes) or unexpected political unrest, curfews, local riots, or government orders, Indiahikes will issue a voucher for the full amount of your trek fee (minus the trek insurance). You can redeem the Trek Voucher on any of our treks over the next one year.
Important note: The Trek Insurance amount is not refundable. 
|

The Indiahikes "Repeat My Trek" Policy (trekkers love this!)
There are some thoughts and ideologies that we hold close to our hearts.
1. As trekkers, there are times when we have to let go of a trek midway. Sometimes we fall ill, or get hit by AMS or at times simply fatigue pulls us down. At other times bad weather plays spoilsport, or the trail is blocked. It can happen that your Trek Leader sends you down due to a safety or health issue.
At Indiahikes we feel terrible when such an event happens.
Should such a situation occur that you have to drop out from this trek, we want you to know that we feel as bad as you do. You can always come back another time and finish your adventure. For this you do not have to pay Indiahikes any money.
2. On the other hand, there are times when you fall in love with a trek. So much so that you want to do it again, perhaps see it in another season. If you ever desire to do a trek again, please do so. You don't have to pay Indiahikes any money for repeating this trek. Just inform your Experience Coordinator who will guide you through a special internal process. 
Our only request: Just register for your trek in advance – you know how it is with our groups – they get booked in advance.
Note: The Indiahikes "Repeat My Trek" policy does not apply to our international treks.
If you cancel any rental gear from our store:
Cancellation of rental gear 7 days before the start date of the trek

— Get a full refund minus 4% transaction charges.

Cancellation of rental gear less than 7 days before the start date of the trek

— Get a voucher for the whole amount. This voucher is applicable on all our future treks.
If you cancel the offloading of your backpack:
The offloading fee will be refunded to your account with a 4% transaction charge. 
If you choose to cancel your backpack offloading AFTER reaching the base camp, you will get a voucher of the offloading fee. 
|
How to cancel your trek: 
In case, you wish to cancel your trek, follow these steps. 
Login to your Indiahikes Trek Dashboard

using this link

. 

Find your upcoming trek on your home page. 

Click on "Cancel Trek" 

Mention why you're cancelling your trek on the form that appears.

Choose either a voucher or a refund (where applicable). 

Click on "Cancel Booking" 
How long does the refund process take?
After you have cancelled your trek, if you have opted for a refund, the refund amount will land in the same account that you have made the payment from. It will take 4-5 working days.
If you have chosen a trek voucher, it will land in your inbox within an hour. You will also be able to see it on your Trek Dashboard.
What is a Trek Voucher?
Trek Vouchers are credit amounts added to your Indiahikes account. You can redeem these on any of your future treks with Indiahikes. Every Trek Voucher has a validity of one year.
Important note: Indiahikes Trek Vouchers are non-refundable, not transferable to others or extendable. 
How to use an Indiahikes Trek Voucher?
If you have received an Indiahikes Trek Voucher, you will automatically see it when you are making a payment for your next trek. 
Once you click on the voucher and apply it, the system will deduct the voucher amount from your payable amount. 
If you have any questions, don't hesitate to get in touch with your Experience Coordinator. 
Your trek fee includes –
Accommodation – Stay is included from Day 1 to Day 8 (Kotgaon to Lower Damini). You will be staying at a lodge in Kotgaon and camping on remaining days of the trek (3 per tent).
Meals – All meals from dinner at Kotgaon on Day 1 to breakfast at Lower Daminin on Day 8 are included. We provide simple, nutritious vegetarian food on all days of the trek.
Camping charges – All trekking permits and forest camping charges are included.
Trekking equipment – You will stay in high quality tents and sleeping bags in all the camps. Our high altitude sleeping bags can withstand temperatures as low as -10 ºC. We provide ice axes, ropes, micro spikes, gaiters etc. as required.
Safety equipment – First aid, medical kit, oxygen cylinders, stretchers etc. will be available at all campsites to deal with emergencies.
Your trek fee does not include –
Transport to and from the base camp – We will arrange shared taxis for trekkers to pick you up from Dehradun and drop you back from Kotgaon. This will cost approx. Rs. 5,500 per 5-6 seater vehicle one way. You will have to share this cost with the other trekkers. During the return, the cost comes to Rs 6000 on the return journey.
Food during transit to and from the base camp – The trek fee does not include meals purchased during the journey to Kotgaon and back.
Backpack offloading charges – If you wish to offload your backpack, there will be an additional charge of Rs. 2,475 + 5% GST. The backpack cannot weigh more than 9 kgs. Suitcases/strolleys/duffel bags will not be allowed. Please note that charges will vary for last minute offloading in case you decide to offload your bag after reaching Kotgaon (Rs.375 per day inclusive of taxes).
Stay at Dehradun on the last day 
Personal expenses of any kind
Anything apart from inclusions
Cancellation Policy
In case, you wish to cancel your trek, please login to your account and cancel.
Cancellation requests will not be taken over phone or email.
The cancellation charges are as under.
Cancellations prior to 30 days from the start of the trek — full refund.
Cancellation between 30 days and 20 days to the start of the trek — 50% refund.
Cancellation less than 20 days to the start of the trek — no refund.
Please note: In case of refund, there will be a deduction of 4% (cancellation charges) from the total fee you have paid. Also, if you have opted for a trek insurance, the amount will not be refunded.
If a trek is called off at the last moment due to a natural calamity/unforeseen circumstances (like rains, earthquake, landslides, strike, bandh, unexpected global health issue etc), Indiahikes will issue a trek voucher for the full amount. The voucher can be redeemed for the same trek or another trek in the next one year.
Here is what trekkers have to say about their experience at Bali Pass Trek
Pranav recounts his Bali Pass in minute details with spectacular details. Read on to know more about his experience on this beautiful trek.
Read full blog
Available dates
What the colours mean

Registration is on.

The group is full, but cancellations are likely to happen. We have 5 waitlist slots for every group. You may register for the group. Waitlist slots confirmation chances are high if booked more than 30 days in advance.

Indicates the number of slots available in a group.

Indicates the group is full. No further slots are likely.
Dates not suiting you? Click here to see other similar treks.