Top 6 Budget Shoes Trekkers Swear By - Trek Shoes At Less Than Rs 4000
Share this story
Today I'm sharing with you some of the best budget shoes trekkers are using. I've put this post together because we get umpteen mails asking for shoe recommendations. Hopefully, by the end of the post, that doubt will be gone.
A few weeks ago, I sent trekkers an email asking them if they have used budget trekking shoes (below Rs 3000). And what an insightful response I got! I was quite surprised to find so many good budget shoes!
I studied most of these shoes, the specifications, the reviews, and have arrived at these 6 best shoes.
Before I get into models and brands, please keep in mind two things
These are shoes that have been recommended by trekkers who have used them. They are not sponsored products.
Most of these shoes are perfectly suited for local treks and easy-moderate Himalayan treks like Kedarkantha and Dayara Bugyal. But for a very long, difficult Himalayan trek, I would choose wisely only for a few of them.
Alright, let's get started.
1. Quechua's NH100 Hiking / Trekking Shoes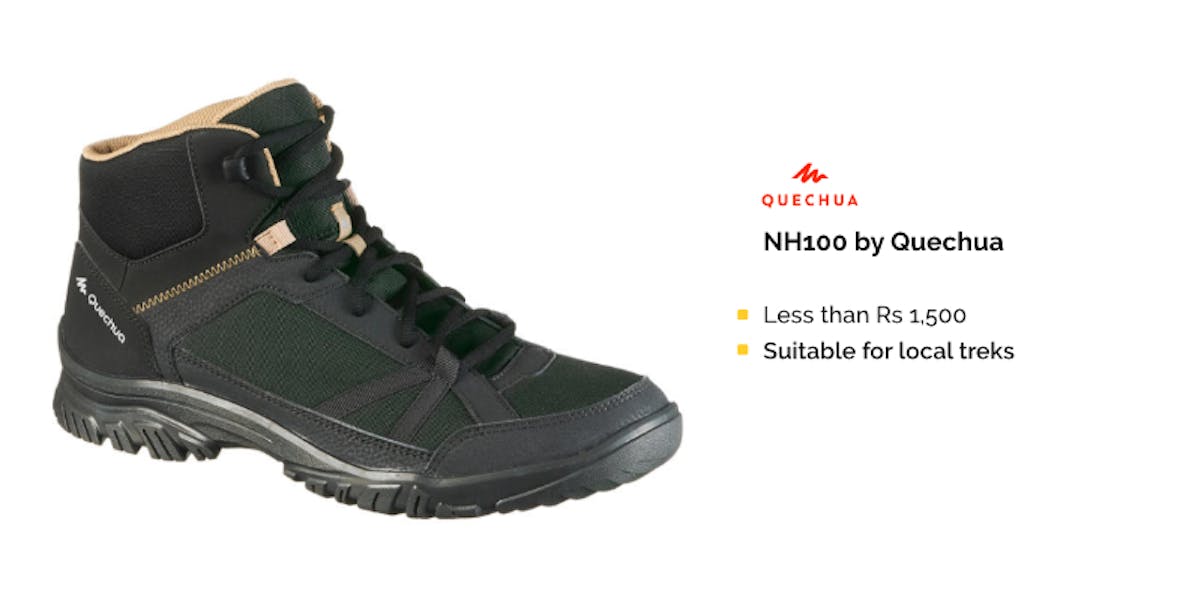 NH100 shoes by Quechua
Many trekkers ask me if NH100 are good enough for Himalayan treks. But even though they cost well below Rs 1500, I wouldn't recommend them for a Himalayan trek.
They're perfectly fine for trekking in the Western Ghats though. They have ankle support and are pretty sturdy. But they don't have any water resistance. So you cannot use them for trekking in snow or rain. They are good shoes for light and mostly dry hikes.
Trekker review: "Pros: (1) High quality build. (2) Abuse friendly, can take rough usage with a lot of ease. (2) Good traction/grip. (3) Pocket friendly price. (4) Comfortable wear. Cons: (1) Not water resistant. (2) Not suitable slippery ice-trek trails." – Zulfi
2. Quechua's NH150 trekking shoes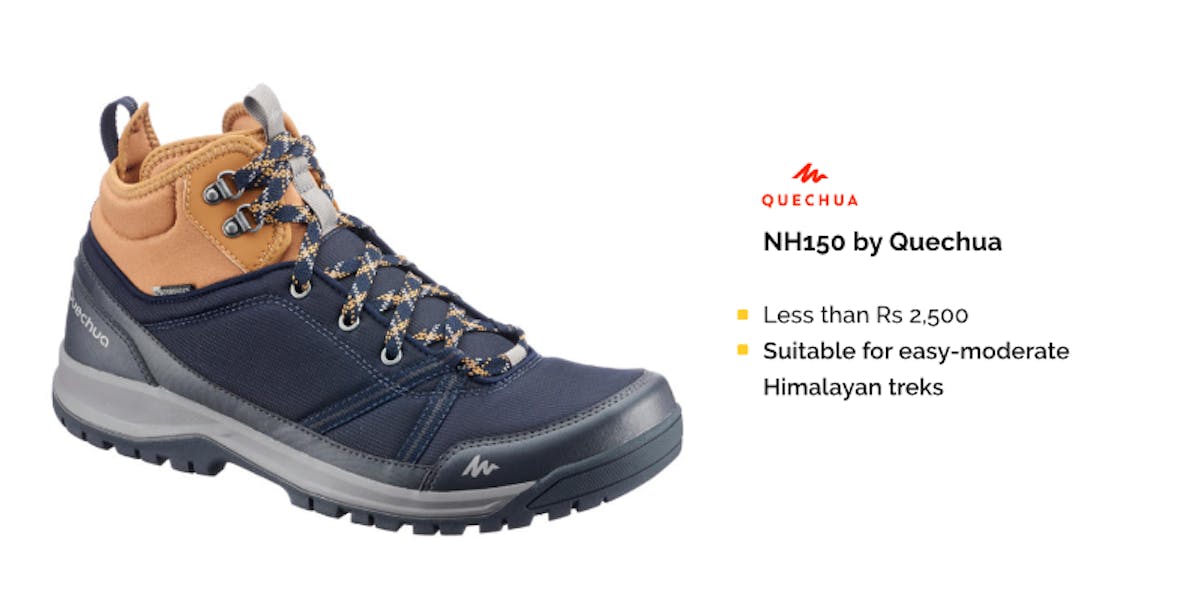 NH150 shoes by Quechua
The NH150 shoes are a grade higher than the NH100 thanks to its water resistance. It can last up to 2 hours in water as it as a water-resistant coating and a water-proof membrane. It has a good Cross Contact sole with mid-ankle support. This one is suitable even for Himalayan treks, but not for very difficult terrain like Pin Bhaba Pass or Kedartal
See our review of the NH150 here
Trekker review: "The shoes are comfortable, dry off easily and provide great grip even on wet, slippery stones. Great shoes for the given price point" – Vashisht
3. Quechua's MH100 trekking shoes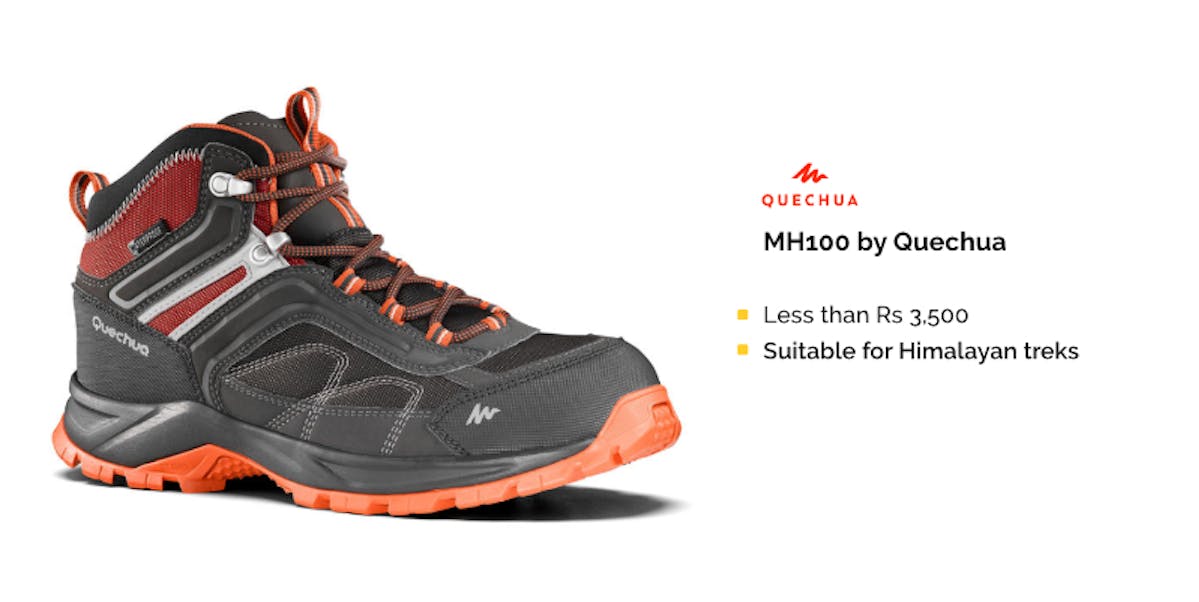 MH100 shoes by Quechua
This is another shoe that is branded as a hiking shoe. But I've seen many trekkers opt for it because it falls within a good budget and ticks all the right boxes — the sole has good grip, it has ankle support, a flexible sole and water resistance.
For most of our easy, moderate and even moderate-difficult Himalayan treks like Rupin Pass, these shoes will work. They are slightly on the higher end of budget trekking shoes though, costing around Rs 3,500.
You can also rent these shoes on our website for Rs 100 per day
Trekker Review: "I have used the shoes on several Sahyadri treks in winters and rainy as well and also used them at Buran Ghati in snow as well. It;s been almost a year since I have bought it, and these shoes are in great condition. They are helpful in all kind of terrain, also they are zero maintenance, and easily washable." – Raj Shah
4. Wildcraft's Hypagrip trekking shoes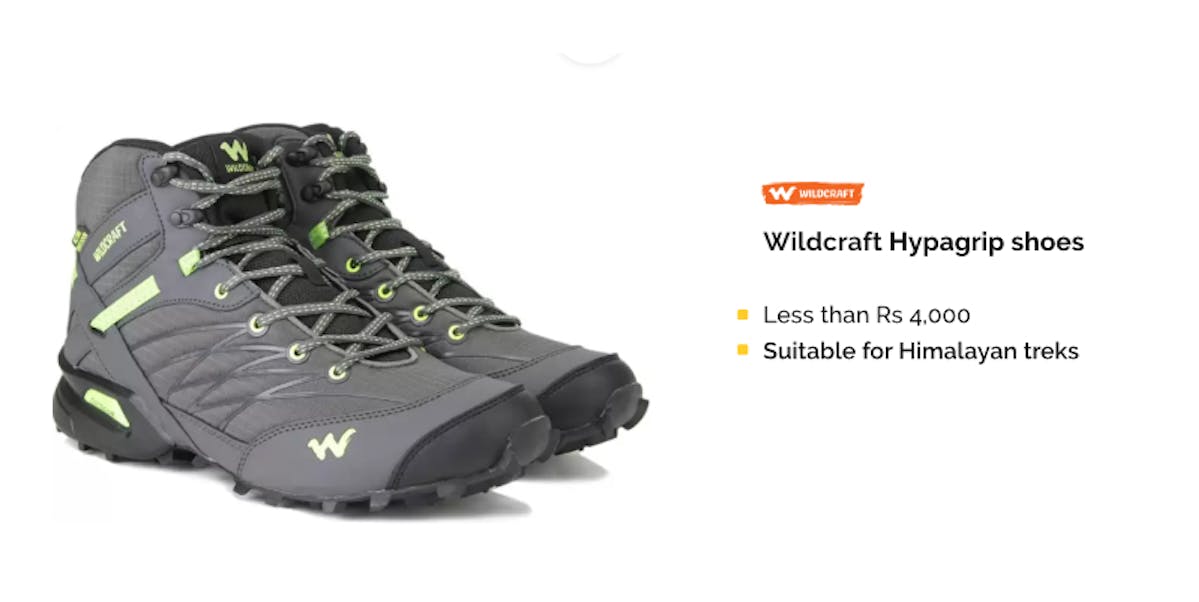 Wildcraft hypagrip shoes
I was surprised to see Wildcraft in a list of "budget" trekking shoes. They are never known to be "budget" anything. And there is a loophole too. These shoes cost Rs 2,500 on portals like Flipkart, but they are well over that (~ Rs 4,000) on the official site. So getting this at a budget price depends on your luck.
The shoes, on the other hand, are pretty decent for Himalayan treks. They score high in the traction department. But I've read reviews of the water resistance being very basic. So for a monsoon trek, I wouldn't recommend it. If you're an occasional trekker, these shoes would suit you.
Trekker review: "It worked pretty well during my Sandakphu trek!! But I cant say whether it will last long or not as I used that only for one trek and also havent used it in snow." – Utpal Gogoi
5. Campus Sports Hiking Shoes by Action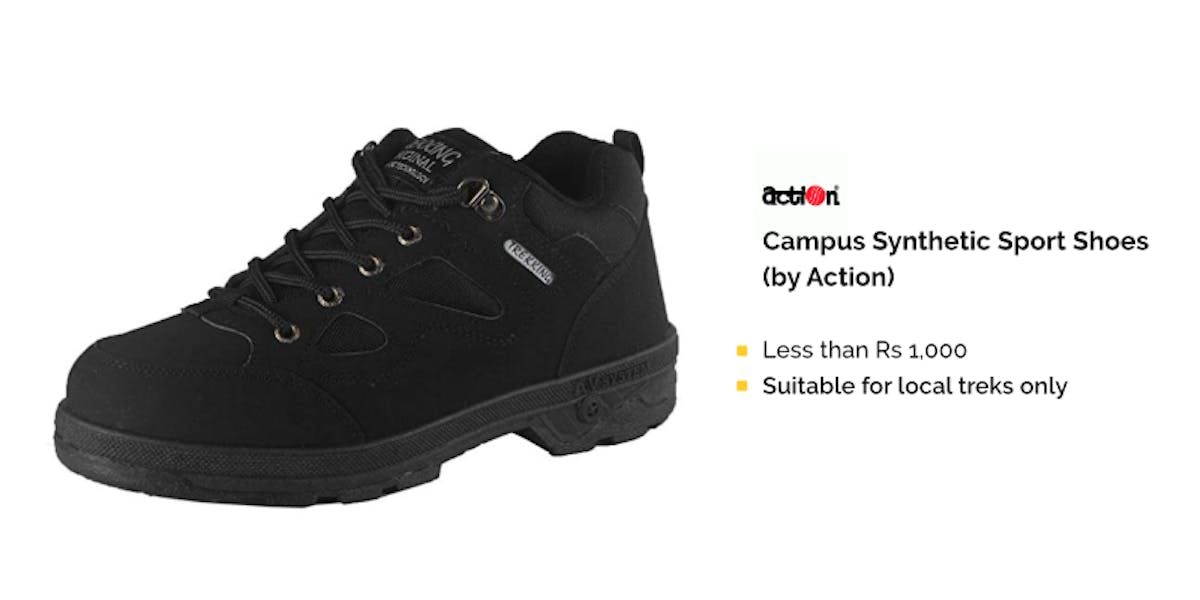 Campus synthetic sport shoes
When I saw that 20% of our trekkers recommended this shoe and it costs less than Rs 1000, I thought "What an absolute steal!" Diving further into this shoe, I figured the trick is to buy this offline, or you may have to spend a long time finding the right shoe online.
This is not your ideal shoe for Himalayan treks. It has no ankle support, and is not meant for rough terrain with long hours of trekking everyday.
But it works beautifully for treks in the Western Ghats, and can even survive a light shower. My colleague, Saurabh, who treks extensively in the Sahyadris and has been using it for a long time, even in rain. His only issue is that it gets a bit heavy when it gets wet and takes a long time to dry.
Trekker review: "These are the perfect budget trekking shoes. Used them in rock, scree, snow, rain, grass. They have both low and high ankle versions, and I use the high ankle one. Their only pitfall is they're not waterproof, but it doesn't get more value for money in terms of trekking shoes than this." – Saini Krishnamurthy
6. Woodland Trekking Shoes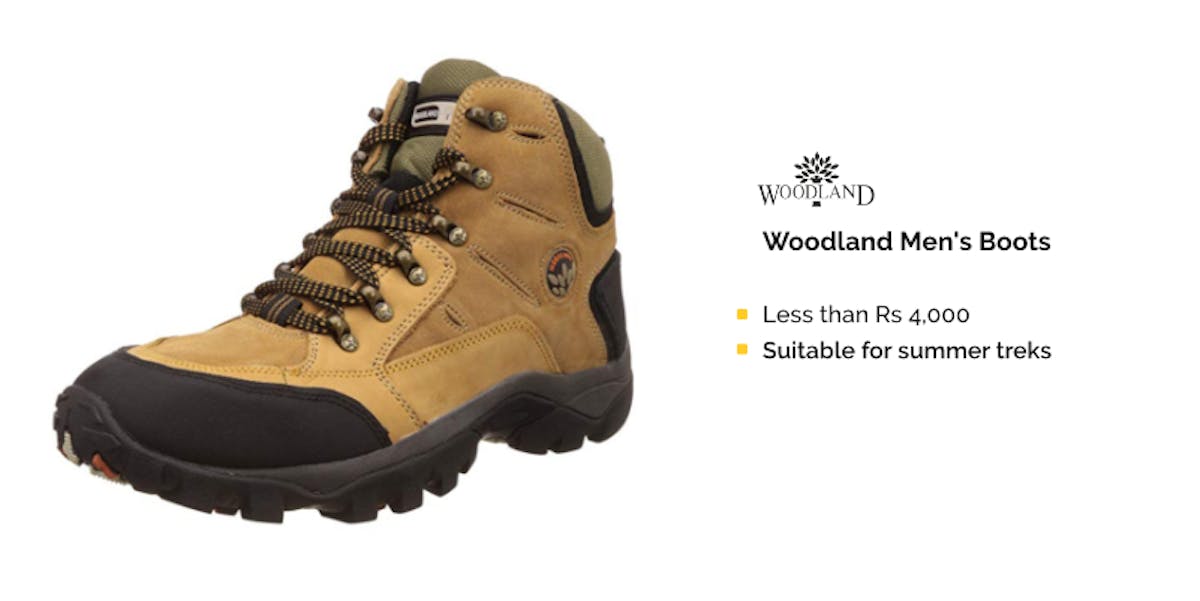 Woodland Men's Boots
I've noticed that trekkers have very strong opinions on Woodland shoes. They either love them, or they really dislike them. And this shoe might bring about those strong emotions too.
These are sturdy and durable as any trekking shoe, but have the same issue as most Woodland shoes — they are heavier than other brands' trekking shoes, and also don't work well in rain. And at around Rs 3,500, they aren't too budget-friendly.
But I came across this review, which is what made me feature this shoe in my mail.
Trekker review: "Contrary to popular opinion about woodland shoes, I found these shoes to be an excellent fit, utility and buy and they are affordable too. These shoes give an excellent grip on snow, gravel and boulders..they are light weight, have good ankle support and are pretty durable as well..I have been using them for last 3 years, though I have done only about 6 treks, I have used them extensively for my workouts including running." – Abhishek Vaddadi
Know any more budget shoes?
That wraps up the 6 budget trekking shoes being used by trekkers. The rest of the shoes that trekkers have mentioned are either not easily available, out of production, or have too few recommendations to consider seriously.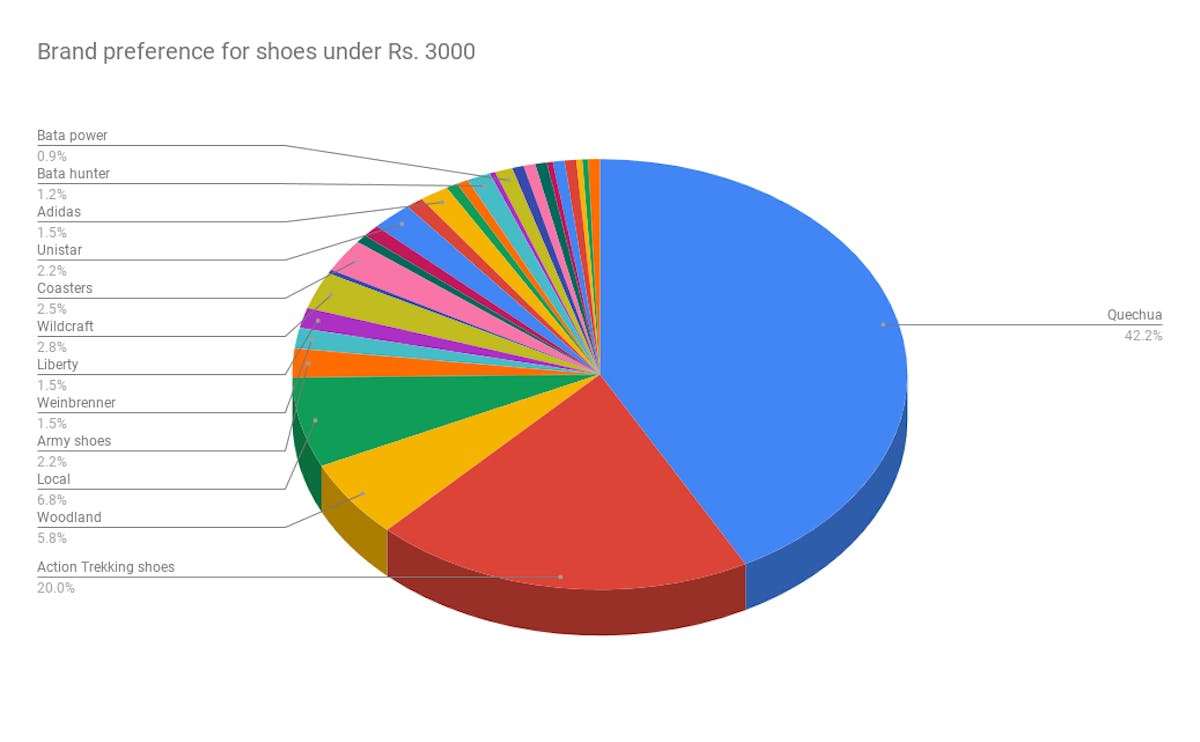 This chart gives you an overall idea of what trekkers are opting for.
If you have any more shoes that you would recommend, ideally within Rs 3,500, then drop in a comment on this page –
It will greatly help trekkers! 🙂
Rent trekking shoes instead of buying
Having assessed all these shoes, I would still recommend renting shoes instead of buying them. You can rent a shoe worth Rs 4,000 for hardly Rs 690 for a Himalayan trek.
You could spend the saved money on more travel or more treks!
If you're trekking with Indiahikes, you can rent gear from here.
Some bonus resources
1. I recently made a video on how to differentiate between a good trekking shoe and a sports shoe. Watch it here.
2. If you'd like to know how to choose the right trekking shoes, click here.
That's all from me today.
I'll speak to you next week!
Related Videos
4 Tips To Choose Trekking Shoes
Quechua NH150 Hiking Trekking Shoe Review
Trekking Shoes vs Sports Shoes -- Which To Choose For Your Trek
3 Shoelace Hacks For Your Trek
Sign up for our much loved Weekly Mailer
We have terrific trekking tips, trek updates and trek talks to look forward to