3 of India's Best Treks Reopened
Share this story
We have reopened 3 of India's most awaited treks today! 
I'm writing to you in a bit of a hurry because we're running these treks in March and April, and the batches are not likely to remain open too long, given the popularity of these treks. 
I'm talking about the Ali Bedni Bugyal trek, the Kuari Pass trek and the Pangarchulla Peak trek. 
None of these treks need an introduction! 
But we had dearly missed them for the past year and a half. 
Why were these treks closed?
If you are not aware, the High Court has banned camping in the alpine meadows of Uttarakhand since August 2018. And these 3 treks have few of the most splendid meadows of our country, which also happen to be crucial campsites on the treks. 
However, the government has taken a much-required step to distinguish between alpine meadows, clearings and grasslands. We have closely been working with the government, helping them make these classifications. 
So Khullara on the Kuari Pass trek is open again for camping, because it has been established that it is a clearing and not an alpine meadow. Similarly, we are camping at Abin Kharak, which is within the treeline on the Ali Bedni Bugyal trek, and not an alpine meadow. 
Now, we have reopened these wonderful treks, and if these treks don't excite you to pack your backpacks and run off to the mountains, I don't know what will! 
Let me give you some insight on each of these treks.
┃1. Ali Bedni Bugyal Trek
Ask any trekker which are the grandest meadows in our country, and there's only one answer — Ali and Bedni Bugyal. 
We have seen many meadows in our country (and outside our country), but I'll tell you this — the Ali and Bedni meadows will rank right up with the best of them. 
It's hard to spot a flaw on these meadows. Just before you get to the Ali meadows, the forest is a thick jungle of oaks. They are the densest around this part of Uttarakhand. You climb through a trail of crunchy brown leaves fallen on the forest floor, the sunlight streaming in beautiful angles through the oak trees. 
Then suddenly, as if someone's opened a gate, there's Ali Bugyal in front of you, the biggest, widest rolling meadows that you've ever seen. The meadows are so smooth that you can take off your shoes and walk on them. You spot wild horses running around in gay abandon! And as the meadows crest in the distance, the summits of Mt Trishul and Mt Nanda Ghunti tower over the meadows, as if the meadows were its own playground. 
In a quiet moment I have seen trekkers stop in their tracks, somehow perplexed and taken aback at this unexpected view, and then in almost incomprehensible way, a wave of emotion rides up on them. They cannot imagine that such gifts from nature are possible. Some just collapse and cry. Our new campsite near Ali Bugyal has excited all of us at Indiahikes. On the edges of the forest, just on the fringes of Ali Bugyal, it gives us to be at Ali Bugyal when the sun is setting and when the first light of dawn breaks out. We have never been so close to Ali Bugyal as from our new camp at Abin Kharak.
When are we running this trek: Mid-April onwards till the end of June
What to expect in this season:
Difficulty:
Duration:
 Click here to view the Ali Bedni Bugyal trek itinerary, details, and dates. 
Note: This is going to be a popular choice amongst trekkers. If you want the slots that suit you, plan your trek in the next two weeks.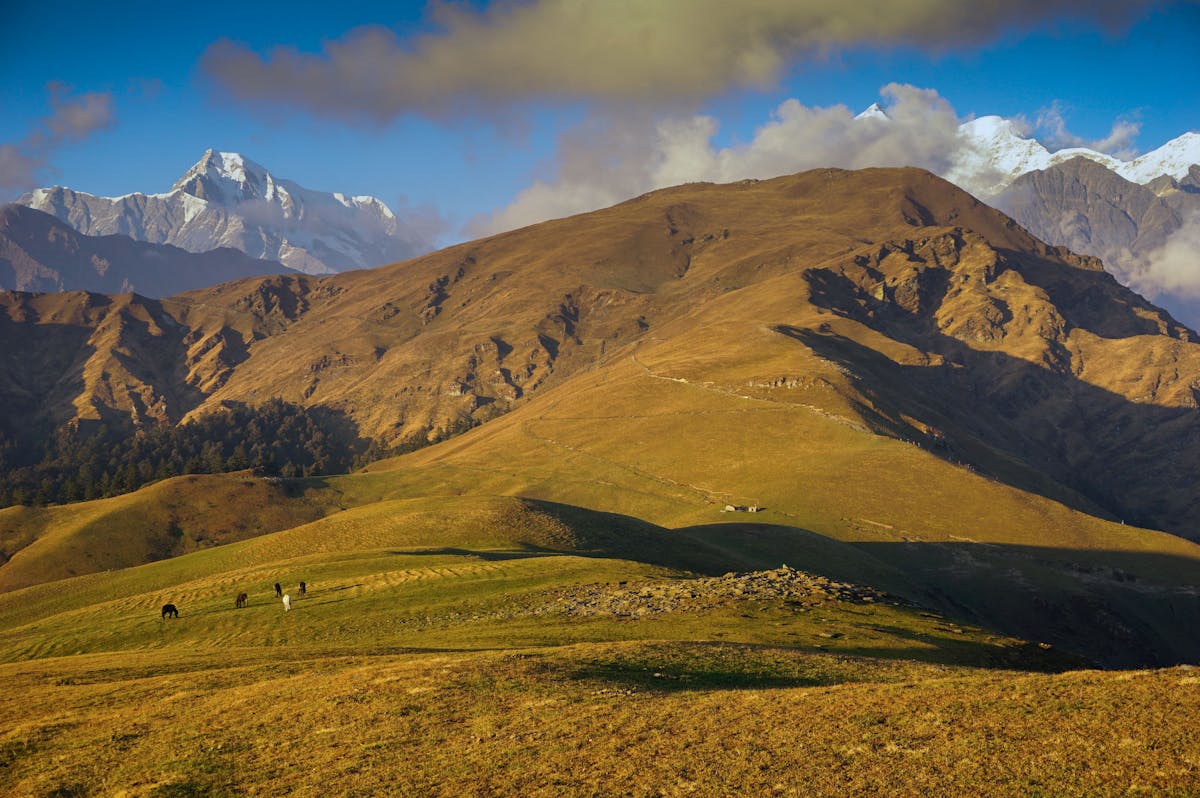 Sunset over Ali Bugyal. Picture by Sandhya UC
┃ 2. Kuari Pass Trek
Kuari Pass is another trek that needs no introduction. It is one of the oldest treks in India. And I have to admit, one of the prettiest too. 
Then the fact that it falls on the famous Lord Curzon trail makes it extremely historic. Incidentally, I have not seen any other trek that gives you such great isolated views of Mt Nanda Devi, India's tallest summit. You see the entire south slope of the mountain! The whole trek falls in the Nanda Devi Wildlife Sanctuary. 
In 2017-18, it was at its peak in terms of popularity. But the trek suddenly went off the grid because we couldn't camp in the meadows of Gorson Bugyal any more. 
Now this trek is back! And what's thrilling is that we have special permission to camp in Khullara! This is one of those campsites trekkers go gaga over. It's a wide open camp, with Mt Dronagiri and Hathi Ghoda Parbat towering over the camp. It's a dreamland for photographers! 
This photo story takes you through all the other mountains you see on this trek. I would highly recommend watching this video of our co-founder Sandhya UC talking about this trek as well. We shot it just after she returned from the trek. 
When are we running this trek: March end onwards till the end of May
What to expect in this season:
Difficulty:
Duration:
Click here to view the Kuari Pass trek itinerary, details, and dates.
Note: This is a good trek for beginners. If you have good fitness levels or work up to them, then don't miss out on it.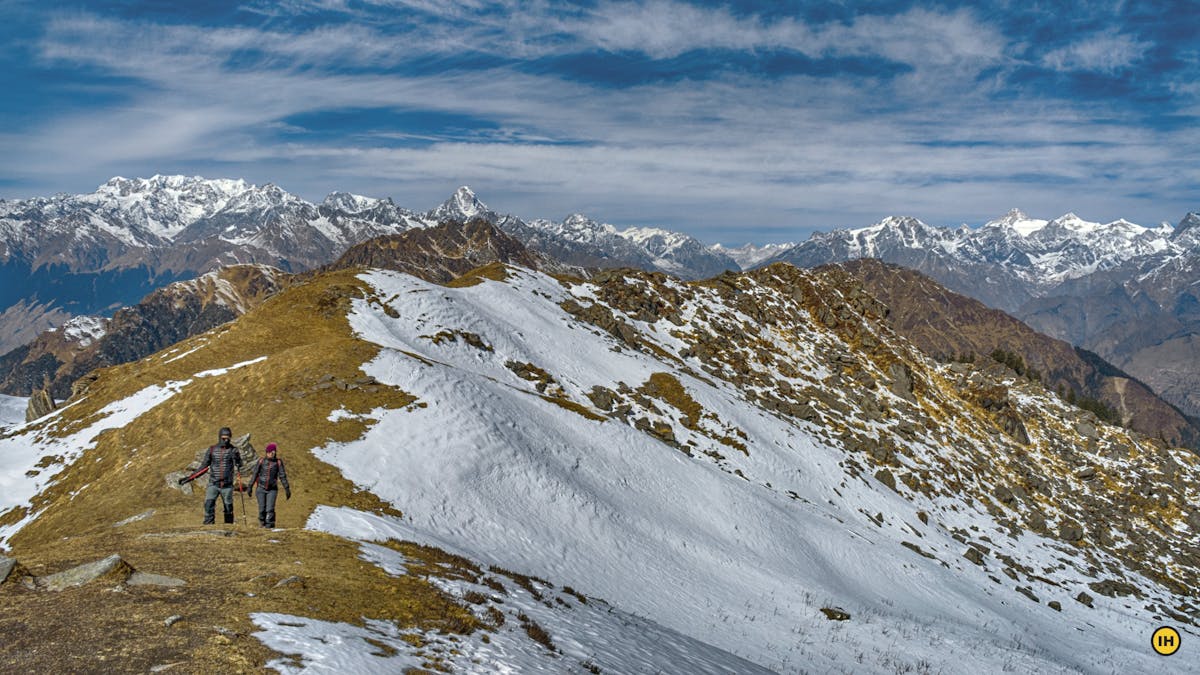 The thrilling ridge walk on the Kuari Pass Trek. Picture by Arindam Seth
┃ 3. Pangarchulla Peak Trek
This is one of our most coveted summit climbs. If timed right, the summit climb to Pangarchulla is out of the world! You make your way to 15,069 ft up a summit ridge which gives a very high feeling of adventure.  
Having said that, this is a difficult trek. The climb to the summit takes the wind out of you. Which is why it needs proper training for at least a month and a half before you attempt it. But if you're fit and well-prepared, I don't think anything would match up to the high you get when you climb the Pangarchulla summit. 
It is one of those rare trekkable summits in India. But it's open only in April. After April, the snow melts away, leaving large boulders on the trail exposed. The trek becomes very difficult to navigate. 
I would highly recommend checking this photo story on the summit climb to Pangarchulla. You must also watch this video of our founder, Arjun Majumdar, taking you through the trek. We shot this video back in 2017, when Pangarchulla was still new in the trekking circles. It has shot up in terms of popularity over the past two years.
When are we running this trek: End of March till the end of April
What to expect in this season:
Difficulty:
Duration:
Click here to view the Pangarchulla Trek itinerary, details, and dates.
Note: This trek has a very small window when it's accessible. After this, we will open it again only in 2021. If you want to attempt this summit climb this year, plan now.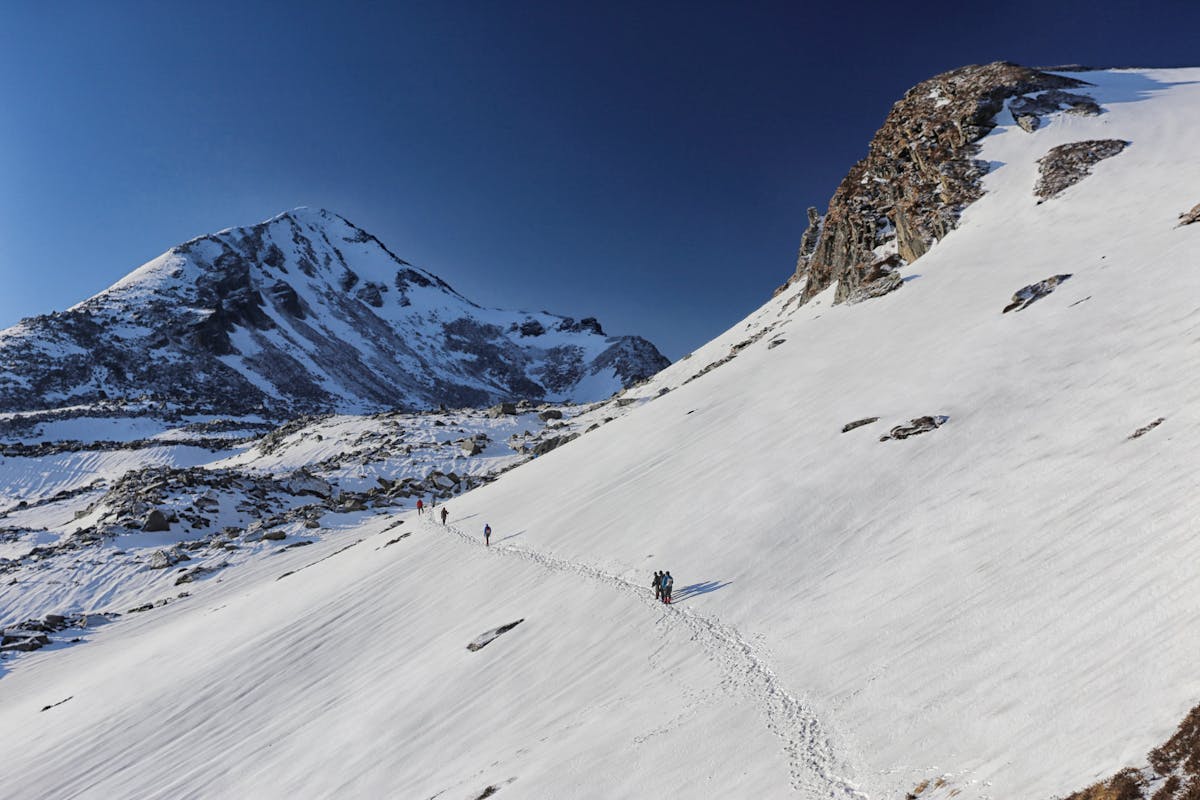 Trekkers making their way to the Pangarchulla Summit. Picture by Satyen Dasgupta
So those are three of India's most awaited treks that we have reopened this summer. If you have any questions, drop in a comment below, and we will get back to you.
Sign up for our much loved Weekly Mailer
We have terrific trekking tips, trek updates and trek talks to look forward to