Latest Update: Bad Weather Forces Us To Pause/Retreat From Treks
Share this story
Latest Update: Bad Weather Forces Us To Pause/Retreat From Treks
Category News
By Aditya Shankar
2018-05-07
Latest Update: 10-05-2018 : 15:20:00
Roopkund: Few trek groups are returning back from their respective campsites. After clear weather yesterday they had hoped of completing the trek, but the trails were covered under 4-5 feet of snow. Trek Leader Venkat spoke to us in the morning and took the decision to call off the trek. All trekkers are making their way back to the basecamp Lohajung.
Latest Update: 09-05-2018 : 18:30:00
Gaumukh Tapovan and Kedartal: In light of recent IMD forecast that states bad weather post May 13th, we have suspended both these treks for the next week. The forest department has also issued notices prohibiting any treks in the Gangotri region. The weather continues to be rainy and prone to avalanches for the next week. All trekkers are being intimated by calls and emails.
Are you heading out to these 2 treks in the next week with us?
1. Yes, I am there in the Gaumukh Tapovan group for the next week: Read this article, now.
2. I am there in the Kedartal group for the next week: Read this article, now.

All other treks have good weather and will run as per their scheduled timelines.
Latest Update: 09-05-2018 : 15:17:00
Gaumukh Tapovan: Both the trekking teams have safely reached the basecamp Gangotri. All trekkers are safe.
Latest Update: 09-05-2018 : 11:30:00
Rupin Pass, Har Ki Dun, Kedarkantha: All trekkers are safely proceeding with their treks. They had paused at their respective campsites yesterday because of bad weather. But the weather in this region is stable with mild showers now. They will be continuing their trek.
Pangarchulla: As per latest update from our trek leaders, the weather is clear and sunny. The groups are given a green signal to proceed to the next campsite of Khullara.
Roopkund: All groups have resumed their trekking to Roopkund. As many as 4 groups on this trek had stayed back at their campsites yesterday. Based on current safe weather patterns they have decided to move on.
Gaumukh Tapovan: Trek Leader Dushyant called us now and informed of his decision to head back with the team. The group had been staying at Chirbasa for the entire day yesterday. Further ahead another group with Trek Leader Tanmay started early morning on their descent back to Chirbasa from Bhojbasa. The 2 groups are hardly separated by 10-15 minutes and expect to reach basecamp Gangotri around the same time. We expect them to reach in another 3 hours.
Kedartal: All trekkers safely reached Dharali last night, where they had food and rested. Our rescue teams are still on the slope looking to retrieve the porter-Akash. Our next group departure for May 12th for this trek is cancelled due to heavy snowfall on the trails. Read this article to know more about our cancellation decision and the complete story as it unfolded.
Latest Update: 08-05-2018 : 23:00:00
Roopkund, Rupin Pass, Deoriatal, Gaumukh-Tapovan: With the ongoing snowstorms and hailstorms in the mountains, all our trekkers have stayed put at their campsites today so they are all safe.
Kedartal: On the Kedartal trek, however, the trekking team was trying to return to Gangotri from the first campsite, when an avalanche blocked the trail. None of the trekkers was hurt, but they were stuck on the other side of the avalanche.
So earlier this evening, a rescue team of 13 went to their aid. Even the State Disaster Response Force (SDRF) and the forest department has joined the rescue team.
They have met with the trekking team and all of them are on their way down to Gangotri. We had a word with the rescue team just a few minutes ago. The entire team will be back in Gangotri in the next hour.
The weather is slowly clearing up too, and we hope the worst is over.
Because of the storm, almost all communications in these regions have shut down. We're receiving news and updating you as promptly as possible.
However, we have some bad news to report. Two of our porters who left much before the team and strayed away from everyone else were caught in the avalanche. While one of them was immediately rescued, the second porter, Akash, remained buried in the avalanche. He is yet to be found. The rescue teams will conduct further searches tomorrow for him.
Kuari Pass: All trekkers who were on the trek have returned to Lata, the base camp, and will be staying the night there.
Kedarkantha, Har Ki Dun: We received reports that the weather has not been too bad on this side of the mountains. Trekkers are on the trek and not at the base camp. They are all safe.
Latest Update: 08-05-2018 : 15:30:00
Gaumukh Tapovan: Fresh snowfall at Gangotri and rains at Dharali. All trekkers are still on hold inside the first 2 campsites of the trek – Chirbasa and Bhojbasa.
Latest Update: 08-05-2018 : 09:30:00
Roopkund Trek: All 4 groups are on hold and waiting for the weather to clear. Trekking teams are staying at Lohajung, Ghairoli, Bedni, and Bhagwabhasa campsites respectively. There is a drastic drop in temperatures – with fresh snowfall reported at Bedni campsite and rainfall at others. Although it's super snowy and freezing cold at these campsites, all trekkers are safe and sound inside their camps.
Kuari Pass: Heavy snowfall at Khullara campsite has forced our trekkers to retreat to lower heights from the campsite. All 3 batches are now returning back to the basecamp Lata
Deoriatal Chandrashila: Due to heavy rains, our group is not going for the summit climb to Chandrashila. They are staying back at Chopta campsite.
Gaumukh Tapovan: Trekkers are staying put at the first campsite of the trek – Chirbasa. The weather there is really windy and rainy. Another group further ahead is on hold at the Bhojbasa campsite.
Latest Update: 07-05-2018 : 17:08:00
Rupin Pass Trek: Trekkers have made their way to Sewa (second campsite) from Dhaula. They encountered mild rains for 2 hours, but nothing extraordinary. Trekkers will be camping at Sewa for the night.
Latest Update: 07-05-2018 : 12:37:00
We've paused all our treks following IMD's notice on bad weather warning.
All trekking teams will be staying at their respective campsites until further notice.
Last night India Meteorological Department (IMD) issued a fresh warning about thunderstorms and hailstones over isolated places in Jammu and Kashmir, Himachal Pradesh, Uttarakhand, and Punjab. The western Himalayan region in the northern plains is likely to have thunderstorms with squalls and hails from Sunday until Wednesday.
Here's the official notice by Department of Revenue & Disaster Management in accordance with IMD's notice.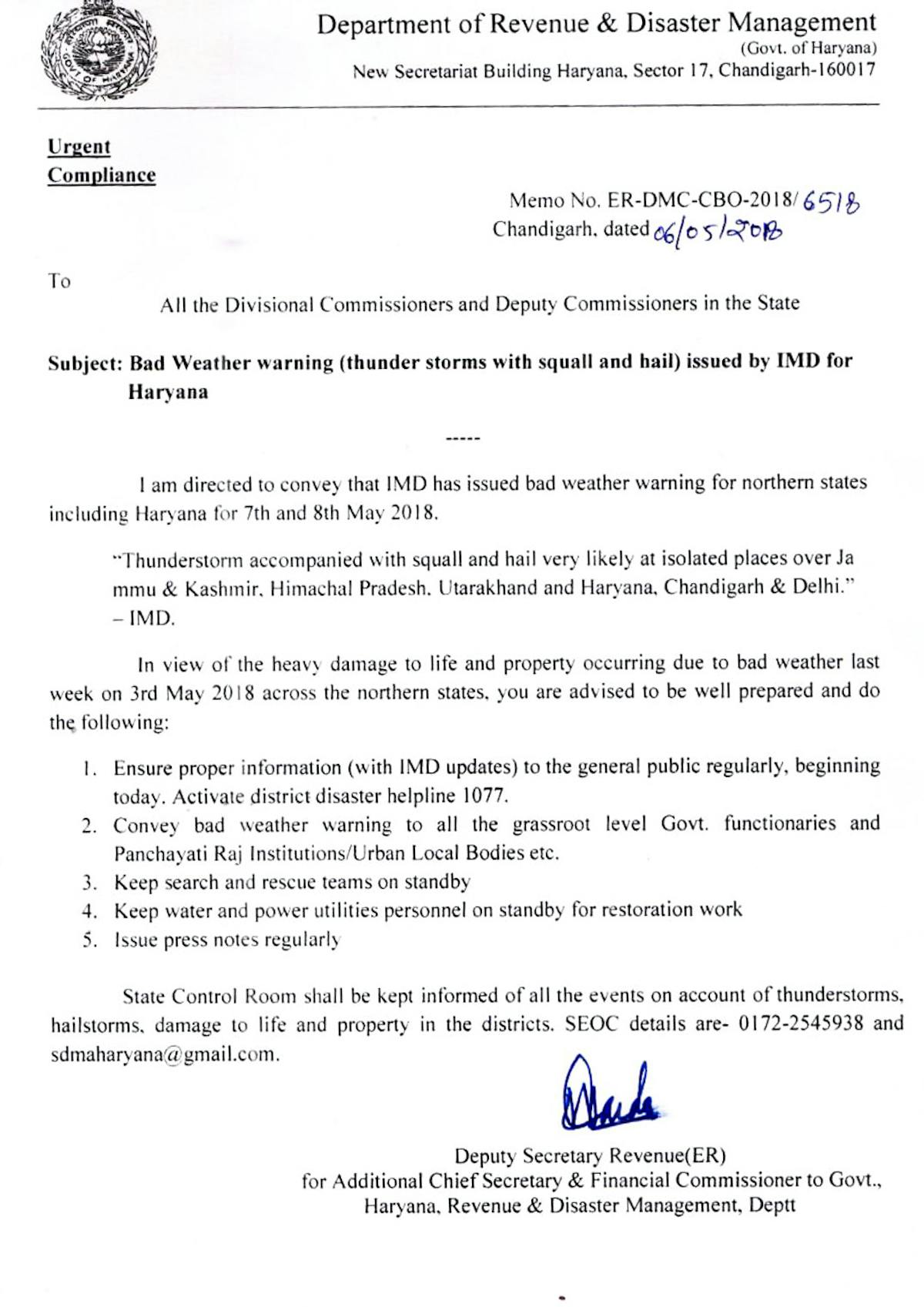 The notice sent in by Department of Revenue & Disaster Management.
What does this mean?
Due to the expected heavy rainfall in the next 2 days, all trek teams will be staying at their current campsites. These teams will either utilise their buffer days or return back to the basecamp if the weather takes a downturn.
Our on-slope operations team is keeping a close watch on the local weather.
All paused trekking teams will only proceed to the next campsite if the local weather is absolutely fine.
What is the current condition?
As of now, most of our treks have clear weather conditions.
The weather patterns differ greatly with distance and altitude.
Local conditions such as humidity, wind speed and precipitation affect the weather. For example, a thunderstorm at Dayara Bugyal doesn't mean that the same is applicable at Roopkund.
We are in constant touch with all our trek leaders and guides communicating the latest on weather conditions. We will report any mild change in the weather patterns.
"My trek starts in the next week, do I need to worry?"
No. At high altitude, change in weather is a regular thing.
None of the upcoming treks is cancelled. We are closely observing this situation and will issue regular updates.
Don't forget to carry your ponchos and trek poles. Buy/Rent a trekking shoe now, if you haven't done already. Double check all your gear before heading for a Himalayan trek.
We assure a safe trek to all our trekkers.
At Indiahikes, we understand that high-altitude trekking is vulnerable to uncontrollable weather factors. In case we cancel the trek, we assure a free of cost re-attempt at the trek for our trekkers.
If you still have questions, drop in a comment below and my team will reply back.
Sign up for our much loved Weekly Mailer
We have terrific trekking tips, trek updates and trek talks to look forward to