Best Trek Poles You Can Buy From Decathlon: 6 Trek Poles Reviewed
Share this story
A trek pole is a wonderful piece of trekking gear everyone must have on a Himalayan Trek. Those of us who have used it know of its benefits — it saves nearly 40% of our energy, it gives us the much-required agility while ascending, and life-saving balance and support while descending. It also acts as a third leg, so we have that much more energy and speed.
Today we're sharing with you some of the best trek poles trekkers are using. We've put this post together because there is a certain confusion among trekkers on which pole to use for a trek.
We conducted a survey asking trekkers about the trek poles they have found particularly good on a trek. And we got quite a lot of responses. 
We studied the trek poles, the specifications, and the reviews. As expected, most of the trekkers' picks turned out to be from Decathlon. Trekking poles from Decathlon seem to be the most popular among trekkers, especially for their wide range, quality, convenience and relatively reasonable prices. 
Which is why this article focuses on trekking Poles to buy from Decathlon. 
In fact, despite this list of trekking poles to buy, we would still recommend renting trekking poles. You'll get high quality poles at hardly Rs 25 per day from our store.  
Before we get into the models, please keep one thing in mind - These poles have been recommended by trekkers who have used them. We have not personally tried and tested them at Indiahikes. This is not a sponsored post.
Let's get started. 
Which trekking Poles to buy from Decathlon?
1. Hiking Pole MT100 Blue
The MT100 pole meets all the proper criteria for a reliable trek pole - It's lightweight at 200 grams and sturdy. The blue colour also makes it a good-looking pole!
However, we felt that the grip on the trekking pole wasn't too ergonomic. Holding it for an extended period isn't comfortable. It's all-metal body design also makes the trekking pole clunky and shocks your hands as you extensively use it. The biggest drawback of this pole is its button locking design, which does not make the pole easily adjustable. 
Given its drawbacks, we wouldn't recommend this trek pole to trekkers. At Rs 600, however, they are one of the more affordable trek pole options to consider, especially if you are buying 2 trekking poles for your trek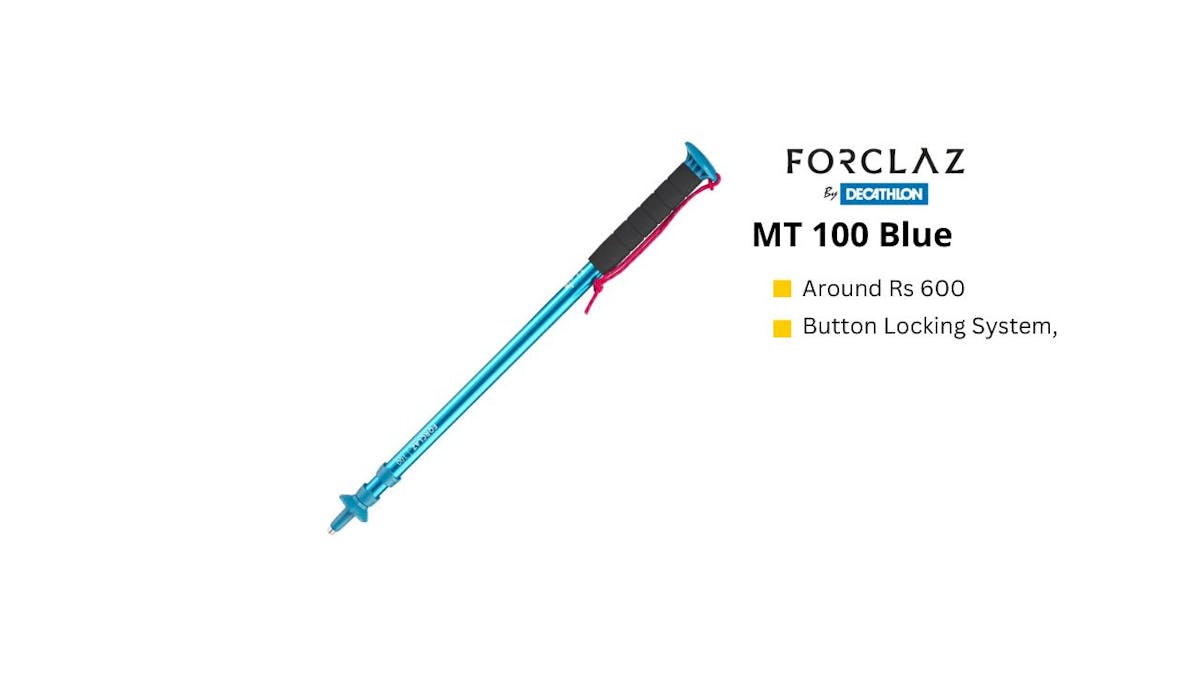 Trekker Review: "(1) Was very Sturdy (2) Does not corrode easily with use in rain/snow (3) Has lasted me many treks/years" – Ganesh
2. Forclaz Easy Adjust Hiking Pole - MT100 Comfort 
 The MT100 comfort pole is a popular trek pole among Trekkers. It is lightweight, compact, comfortable with great grip and sturdy.
The trek pole however does have reliability issues. "A trekker usually puts a lot of their body weight on the pole. We noticed that sometimes these trek poles came bent because of it. The trek pole in itself isn't extremely reliable. Also its button locking system makes the trek pole hard to maintain," says Akshay, Head of Rentals at Indiahikes.
Apart from this drawback, at Rs 900, they are an affordable and durable trek pole to buy.
Trekker Review: "(1) Was very sturdy (2) Does not corrode easily with use in rain/snow" – Prateek 
3. Forclaz Hiking Pole A300 Green
The Forclaz Hiking A300 pole is completely similar to the MT100 comfort in all aspects bar one - The Handle. 
The handle on this pole is similar to a walking stick. Trekkers usually get this for support when they stand. We wouldn't recommend this pole over the MT100 comfort. However, if you like the design, this is a good trek pole to have.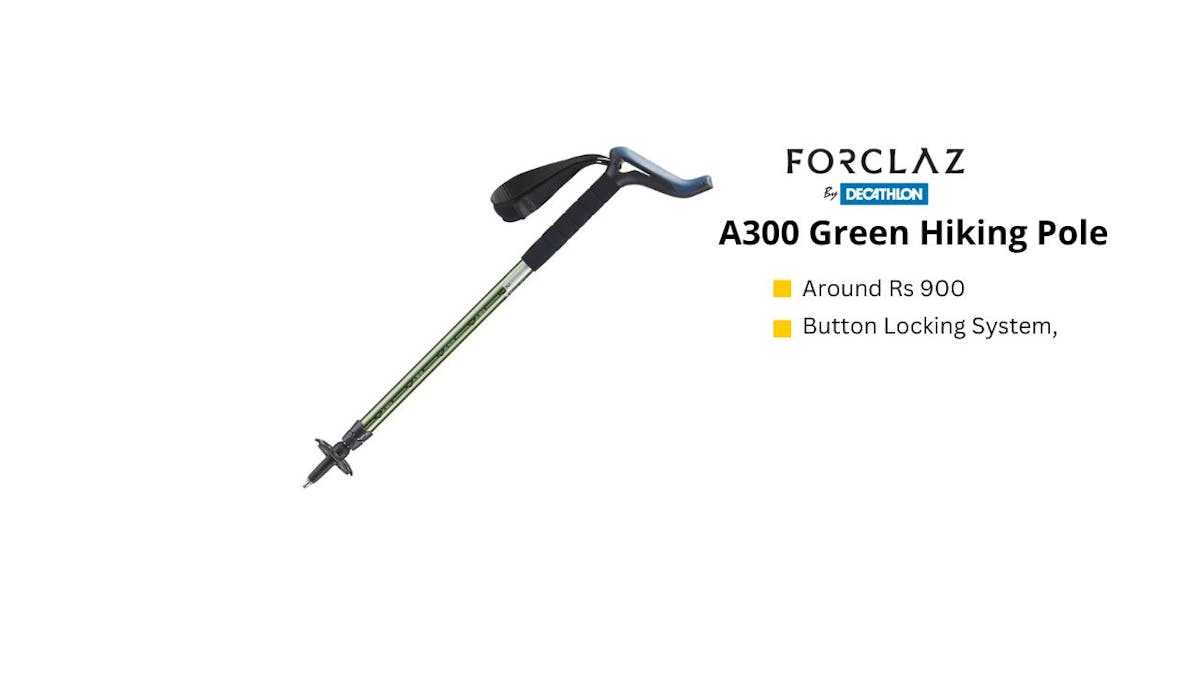 4. Forclaz Hiking Pole Fast Adjustment
The Forclaz Hiking Pole is one most used trek poles among trekkers. And for good reason. It is lightweight, comfortable, reliable and extremely sturdy. It is one of the few trek poles that has a push pin locking system making the pole robust and highly adjustable.
At Rs 1300, it might be on the higher side of the budget. But If you are going to use your trek pole extensively, it is a great investment to make.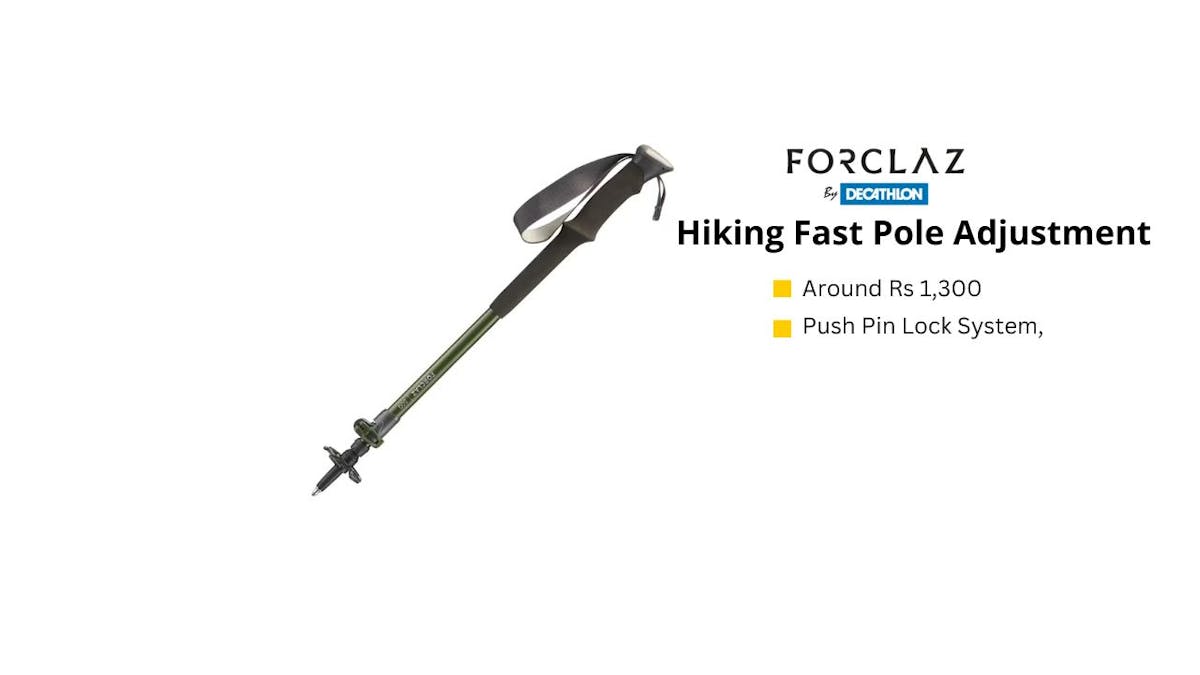 Trekker Review: "(1) Was very sturdy (2) Good locking mechanisms, (3) Does not corrode easily with use in rain/snow (4) Has lasted me many treks/years" – Arpita
5. Forclaz Anti-Shock Mountain Hiking Pole 500
As the name says, the Anti Shock Hiking pole contains a spring adjustment system absorbing all the shock as you trek on rough terrain. The trekking pole is extremely reliable, sturdy and long-lasting. 
At Rs 2000, it is an expensive pole. You can get them if you wish to have the Anti-shock technology. Otherwise, we would recommend other more affordable options above.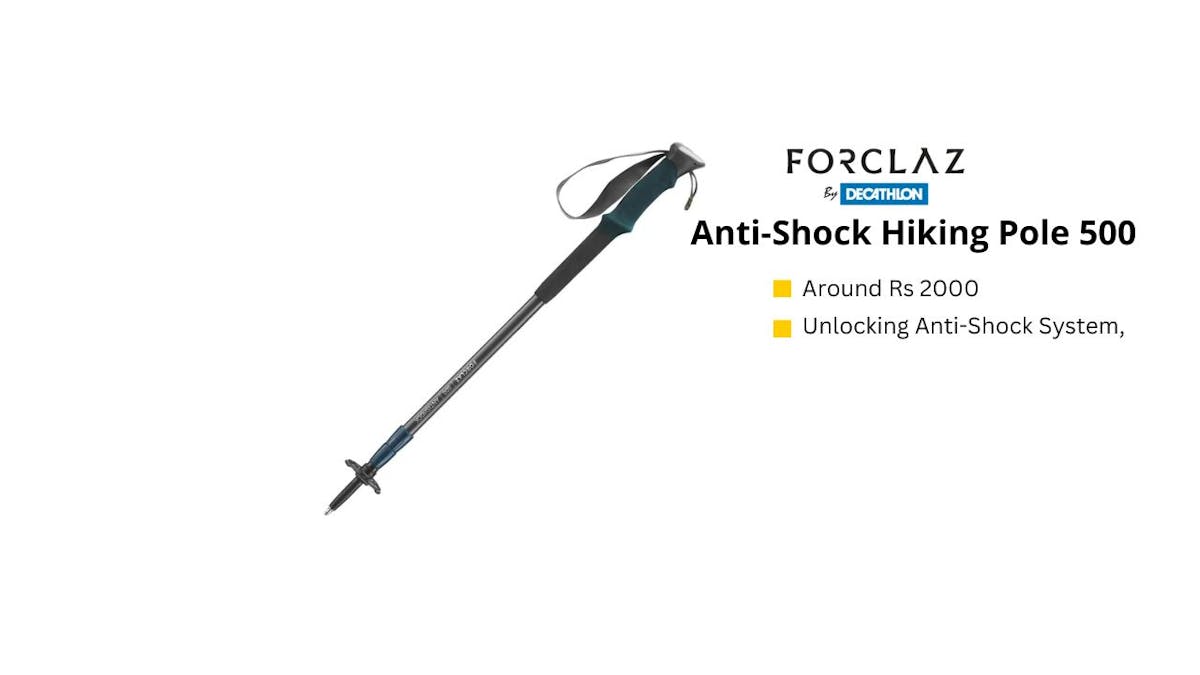 Trekker Review: " (1) Was very sturdy (2) Good locking mechanisms (3) Does not corrode easily with use in rain/snow" – Harshil
6. FORCLAZ MT900 Ultra Compact Trekking Pole
 The MT900 Trekking pole is a unique Trekking pole although on the pricey side. It has an extremely compact design with 5 folding points and fits easily into your backpack. Despite the compactness, it is extremely strong, sturdy and reliable.
If you are going to trek extensively, this trek pole is a good investment to make.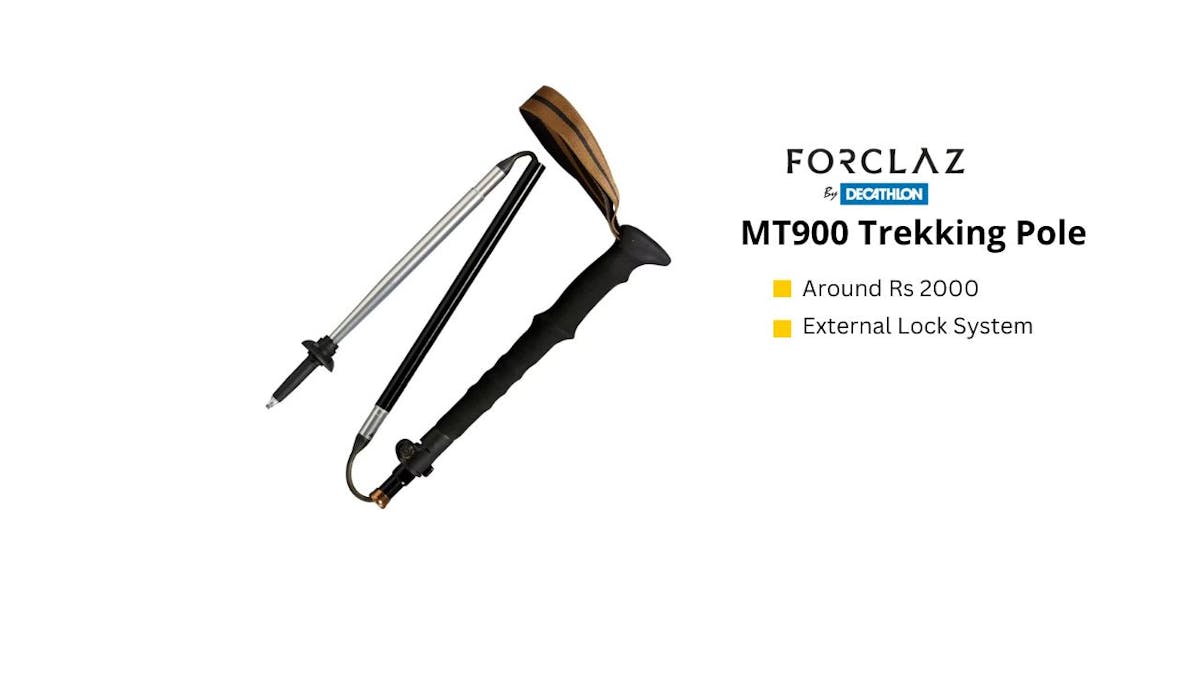 Conclusion
That brings us to the end of this buying guide on which trekking poles to buy in India.
As you saw, most of the trekking poles were from Decathlon. But we would love to hear about more brands and models that you have used. If you have used any trekking jackets and loved using them, please share your experience in the form below.
Sign up for our much loved Weekly Mailer
We have terrific trekking tips, trek updates and trek talks to look forward to