Forclaz 500 Warm: Pocket-friendly Hiking Shoes for all Weather Conditions
Share this story
| Editor's Note: Forclaz 500 Warm is renamed as Quechua SH520 X-Warm Mid by Decathlon.
A few months ago, I decided to go on the Rupin Pass trek.
The preparation for the trek began as usual, with a lot of focus on cardio. Being an avid runner and a cyclist, maintaining an active fitness regime was not an issue. But when it came to the technical part of the climb, I had some concerns regarding the choice of my trekking shoes. I knew my running shoes were not a good fit. I had to find the right pair to negotiate the terrain and the weather comfortably.
While skimming through numerous reviews and opinions, I read statements like "trekking shoes are as important a gear as an oxygen tank in SCUBA" or scarier ones like "if you get the shoes wrong you may have to return half way." I was determined to get it right.
At first, I was drawn towards the Woodland ones. They looked the part. But I was not sure how long they would last or if they were apt for high altitude treks.
My research did not lead me to any conclusions. Realizing that the reviews available on the internet would not help me in zeroing in on a pair, I reached out to my friends who had done a few high altitude treks. All of them had one resounding piece of advice, "Head to a Decathlon store and everything will work out just fine".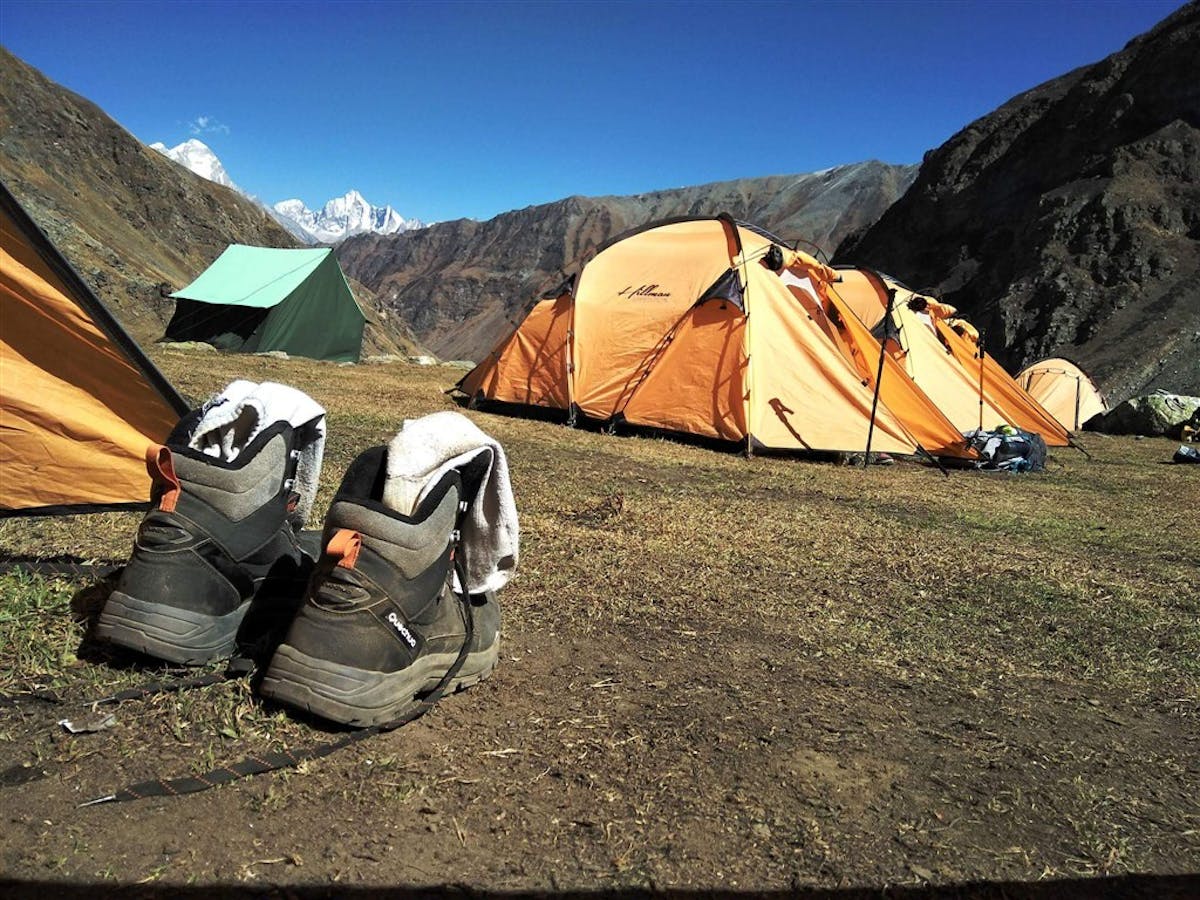 Forclaz 500 Warm -A shot from my trek to Rupin Pass
These stores are usually far from the city and such was the case with the Shamshabad Decathlon store. Though I had to pick up my hiking pole, balaclavas and trekking tees, I was looking forward to only one thing; to find a pair of hiking boots that fit perfectly.
I walked over to the Quechua section. I tried everything on display; the Forclaz Trek 100 (previously known as the Forclaz 500) and Forclaz 600 High.
Forclaz Trek 100 is the most popular one as it is the cheapest and sturdiest of them all. But none of them were a good fit for me. It was because of the shape of my foot.
Anatomy of my foot:
The front portion of my foot is quite broad and all the Forclaz XXX mentioned above are shoes that are pretty narrow at the front.
When the foot was comfortable in the front, the size ended up being a notch bigger. Or when it fit reasonably well, there was hardly any space to accommodate my toes.
Forclaz 600 High was sturdy and reasonably comfortable but it was well over my budget.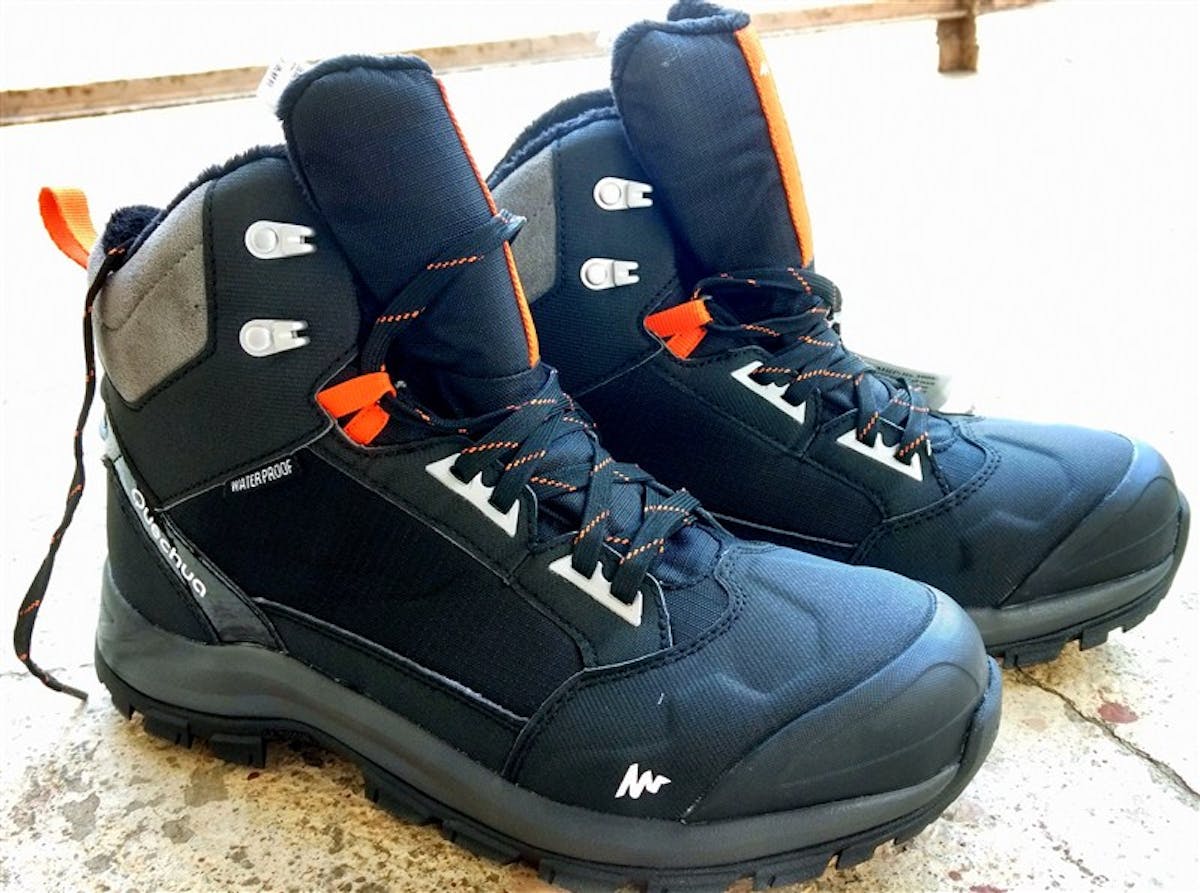 Forclaz 500 Warm-Waterproof Men's Hiking Boots
Then I tried on the Forclaz 500 Warm. I recollected a comment posted by a fellow trekker in the Trekkers Hangout with Indiahikes group on Facebook about these shoes.
They fit me perfectly. They had a broad front portion, a water proofing of 8000 steps compared to 4000 steps of Forclaz Trek 100 and convincingly priced below all the other shoes.
The inner portion was lined with a soft fur-like layer. The shoes could take a resting temperature of -5 degrees and it is sustain up to -18 degrees while walking.
They had all the ingredients I needed for my trek! They were the perfect pair!
How the Forclaz 500 Warm fared on the Rupin Pass trek
My shoes took all that Rupin had to throw at them; moraine, mountain streams, slush, tree roots and big boulders. Whenever I negotiated a tricky section, the boots always felt well-balanced. The ankle-support gave me extra confidence.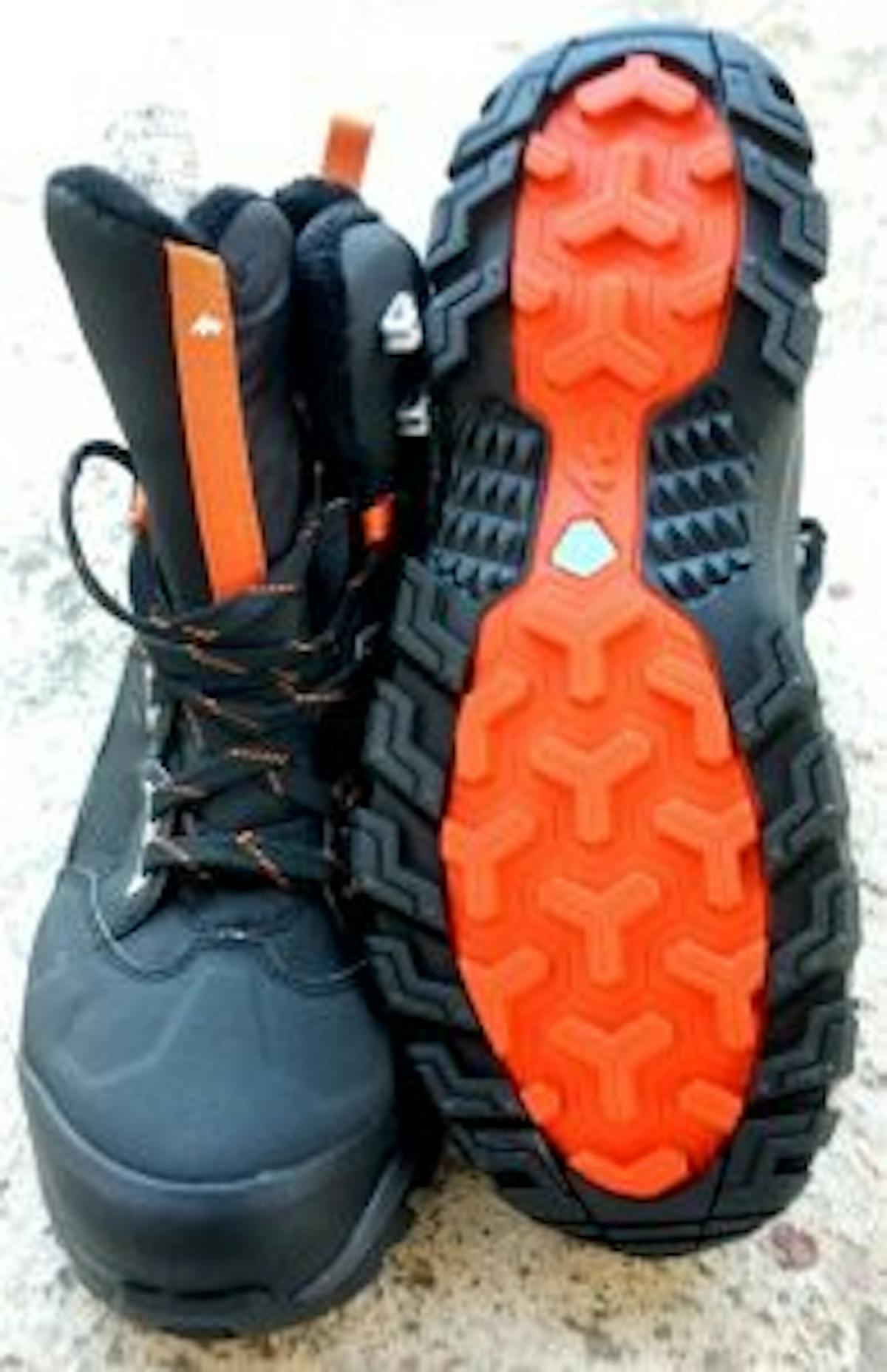 Y Shaped Ridges offer solid grip
Y-shaped
snow contact grip
Waterproof: I was confident when I used them to cross mountain streams, with the insides of the shoes remaining dry at all times.
Breathability: This was one thing I feared when I bought the shoes – whether they would smell after a long day's trek, considering they are covered well for insulation. But I did not find any issues with breathability at all.
Strength: In fact, you can comfortably do technical climbs with these shoes. During my trek, a fellow trekker back tracked his steps and stepped on my toes by mistake. Thanks to the protective layering in the front, I was not badly injured.
Warmth: Full marks to the makers with regards to the sole and the fleece lining. It was comfortable throughout the trek.
Cons
The only place where I felt a bit of discomfort was when I walked on paved surfaces with slush on it. These shoes really become slippery on these surfaces. Also, being black they tend to show a lot of dust and turn brown quickly. But a quick wipe takes care of that. After the trek, I used black shoe polish for the side sole and Colin glass cleaner for the body (it worked well as the shoe is water resistant).
The Verdict
I would say Forclaz 500 Warm is the safest pair of hiking boots if the front portion of your foot is broad.
They score big in terms of comfort, fit, warmth and waterproofing.  Not just that, it is also cheaper in comparison to many other shoes but as comfortable and sturdy as Forclaz Trek 100.
At Rs.2,499/-, these shoes are a steal.
If you have used any better shoes, do let me know in the comments. I'd love to give them a shot.
Sign up for our much loved Weekly Mailer
We have terrific trekking tips, trek updates and trek talks to look forward to