How Difficult Is The Brahmatal Trek In Uttarakhand
Share this story
The Brahmatal Trek is an Easy-Moderate Trek of Level 2 (What does this mean?). This means that the trek has some long days, some difficulty when it comes to snow and trekking in winter. We lay out further details of the Brahmatal trek difficulty in this article.
An Overview of the Brahmatal Trek:
The Brahmatal lake trek is considered to be a slightly easier trek as compared to some of the other ones in the in the same region, including Roopkund and Ali Bedni Bugyal.
Brahmatal is known for the majestic views that it offers from the summit, especially of Mt. Trishul and Nanda Ghunti. Every time I plan on going there, the only thing that keeps me motivated is the high reward to effort ratio, in the sense, the feeling of rewards and satisfaction easily outweigh the efforts you put in the trek.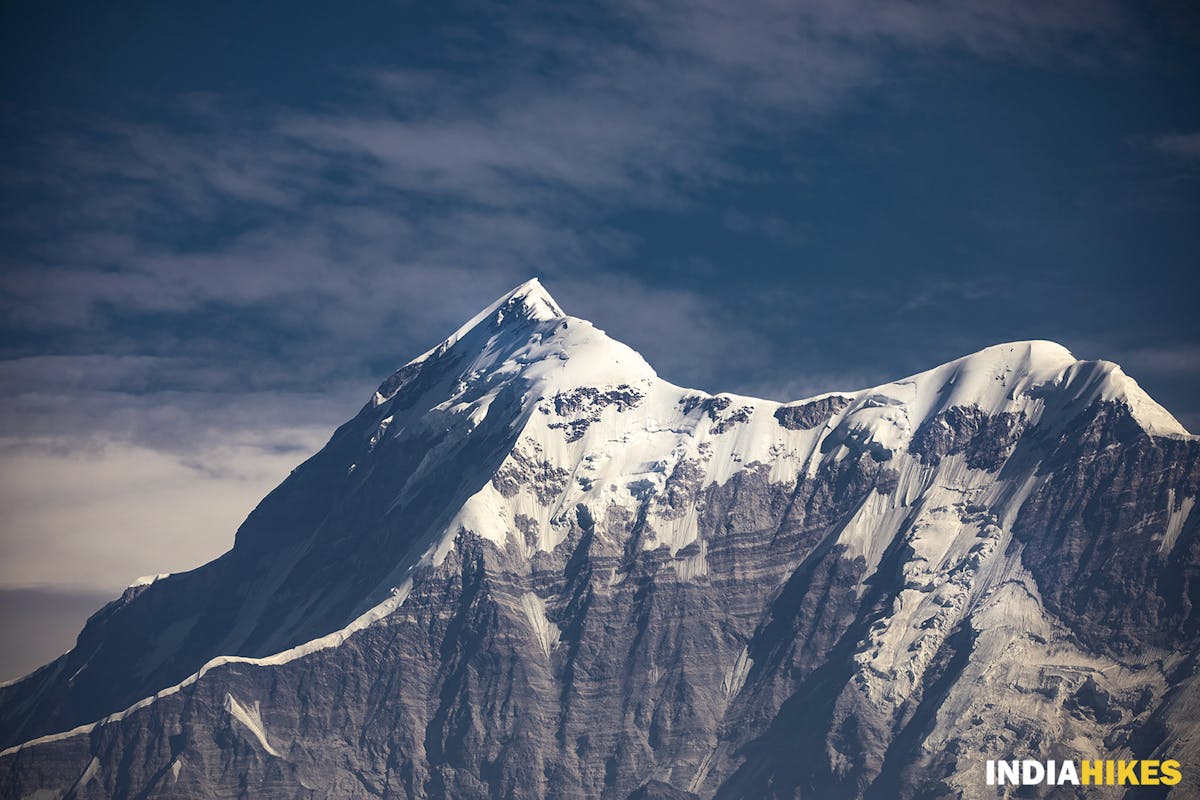 A view of Mt Trishul from Brahmatal Top. Picture by Indiahikes Photographer Jothiranjan
Is the Brahmatal Trek for beginners?
Brahmatal is a very good trek for beginners, but you need to have a good fitness level to complete the trek. It's not advisable for a complete beginner with no preparation to undertake such a high-altitude trek. The reason is that the initial ascent itself from the base at Lohajung at the start of the trek till the first campsite at Bekaltal is more than 2000 feet. 
Climbing such a distance is sure to get the air out of your legs and is considered the most difficult part as this is when your legs and body aren't warmed up as opposed to the coming days. And the trail only gets higher from there. Each successive day you'll be required to climb upwards of 1,500 feet and this is where it gets challenging. 
Therefore, it's important you make sure that your body is in the right physical shape.
For this, I would recommend that you start running at least a month in advance from when you plan to undertake the trek. This is the best form of exercise that you can do on a continuous basis before every trek, especially Brahmatal. You should aim to finish a 5km run in 40 minutes or less. And doing so 3-4 times a week consistently for the next 30 days will bring your body up to the right conditions.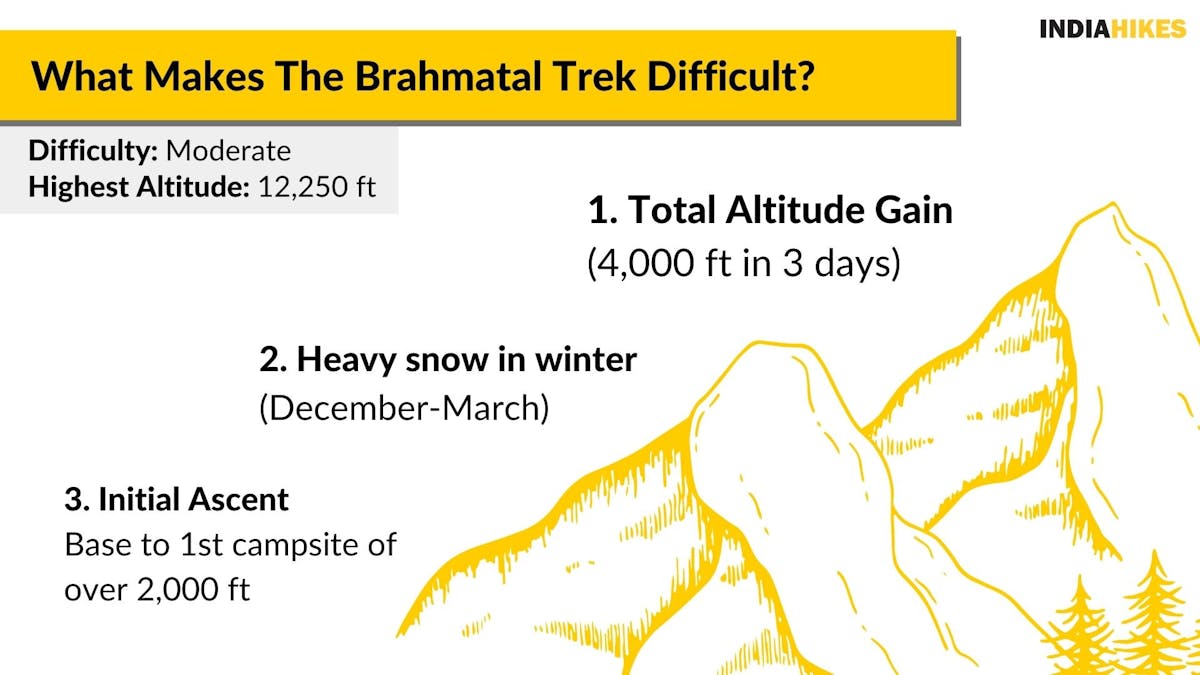 Difficulty chart of the Brahmatal trek
What is the highest altitude on the Brahmatal trek?
Brahmatal Lake is situated at an altitude of 12,000 feet or roughly 3,600 meters. While it may not be much in comparison to some of the other treks, it does pose difficulties, especially to beginners. 
Trekkers start from Lohajung which is located at a height of 7,800 feet, so in all, you'll need to make an ascent of 4,000 feet up and then back, spread over 3 days. So far in my expeditions to Brahmatal, I've never come across any serious cases of trekkers suffering from altitude sickness. 
Still, it's always advised to be on the lookout for symptoms and catch them when they are in their milder stages, especially during the colder months. 
Find out more in detail about Acute Mountain Sickness (AMS), how to treat and prevent it, and other altitude illnesses.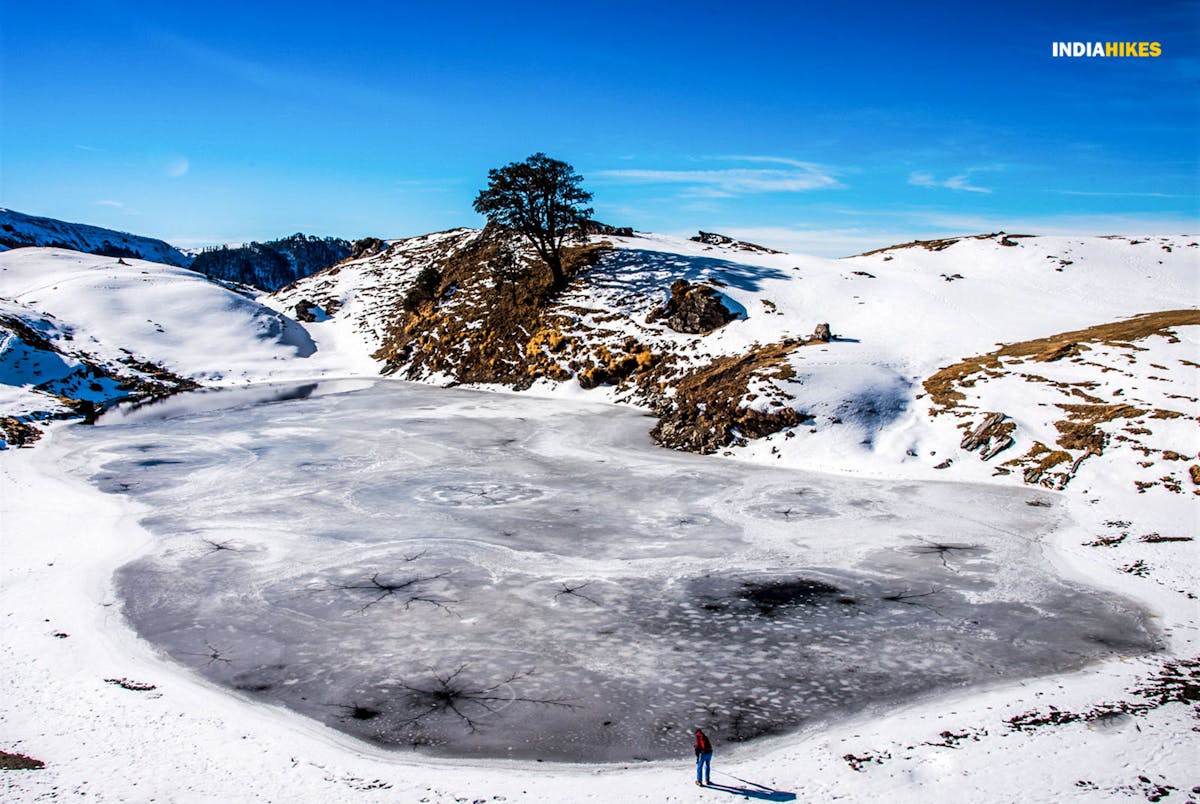 The Brahmatal Lake is at around 12,000 ft. It's a challenging climb all the way to the top, especially in winter snow. Picture by Gajendra Kumar
Challenges of Brahmatal trek in winter:
The Brahmatal trek is bound to be more challenging during winters, in the months of December to end of March, not because of the terrain, but due to snowfall and snow-covered trail routes. This is also the most preferred time period for trekkers to visit. 
Walking in snow becomes difficult and taxing. It requires practice and also the right equipment in some of the harder sections of the trail.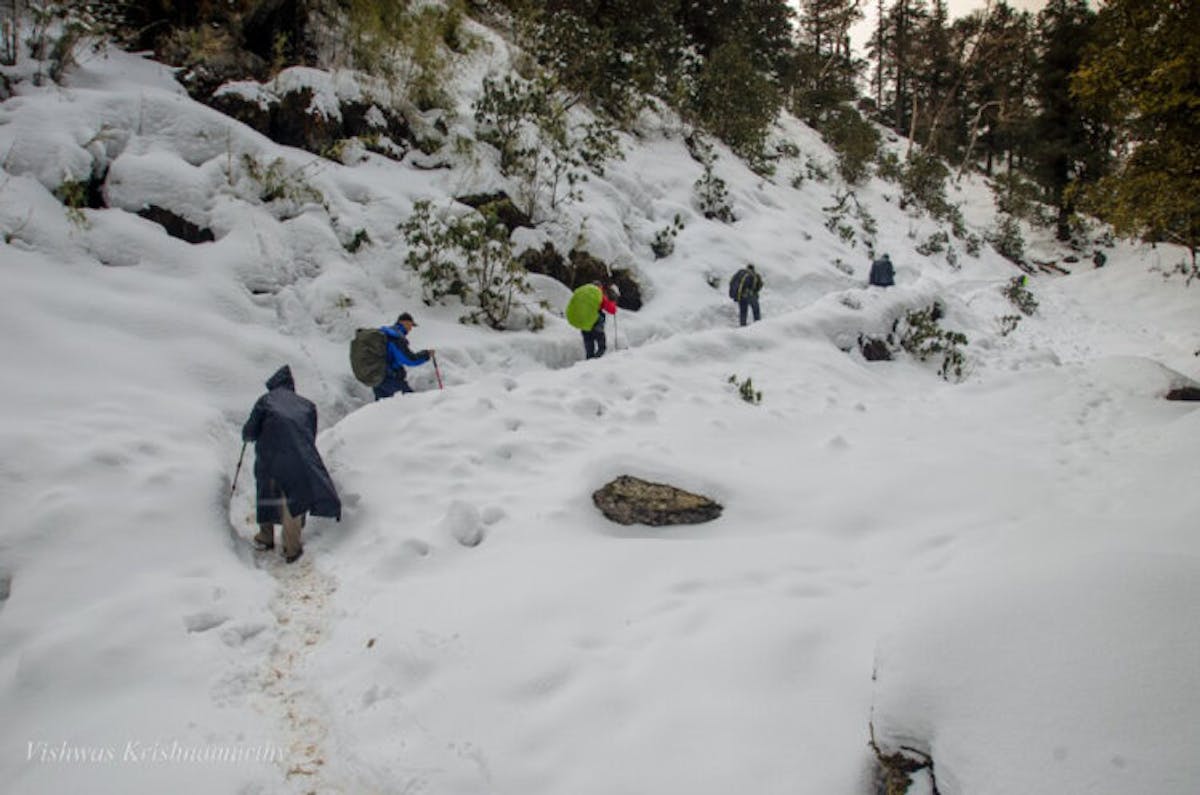 Heavy snowfall and snow on trails increases the difficulty of Brahmatal in winter. Picture by Vishwas Kishnamurthy
Is the Brahmatal Trek worth it?
To summarise, the Brahmatal Lake is perfect for beginners, family, and a group of friends looking to get away from the hustles of city life. But being fit is a prerequisite that's non-negotiable, especially during winters. Therefore if you're a fit beginner, Brahmatal offers everything from views to the overall experience, that you're looking for in a short trek. For more information on this and other such treks in the Himalayas, you can research further on our website.  
Drop in a comment if you have any questions and we will get back to you!
Banner image by Anurag Singh
Related Videos
How Difficult Is The Brahmatal Trek
Best Time To Do The Brahmatal Trek
How The Brahmatal Trek Changed My Life
Sign up for our much loved Weekly Mailer
We have terrific trekking tips, trek updates and trek talks to look forward to