How To Choose Good Camping Tents For Your Himalayan Trek
Share this story
Out in the mountains, as you go about experiencing some of the most incredible sights on our planet, your tent is your home. It is a safe spot that allows you to rest your legs and recharge your batteries. When faced with the vagaries of weather, your tent is a cocoon that shields you from the harshest of conditions.
This was something I was made acutely aware of when we went trekking in Kuari Pass during the first week of April this year. On the last night of our trek, at the Tali campsite, we received an unexpected amount of snow. We woke up to the most wondrous winter wonderland but sleeping soundly in our Hillman tents, we had little idea of how much it had snowed throughout the night.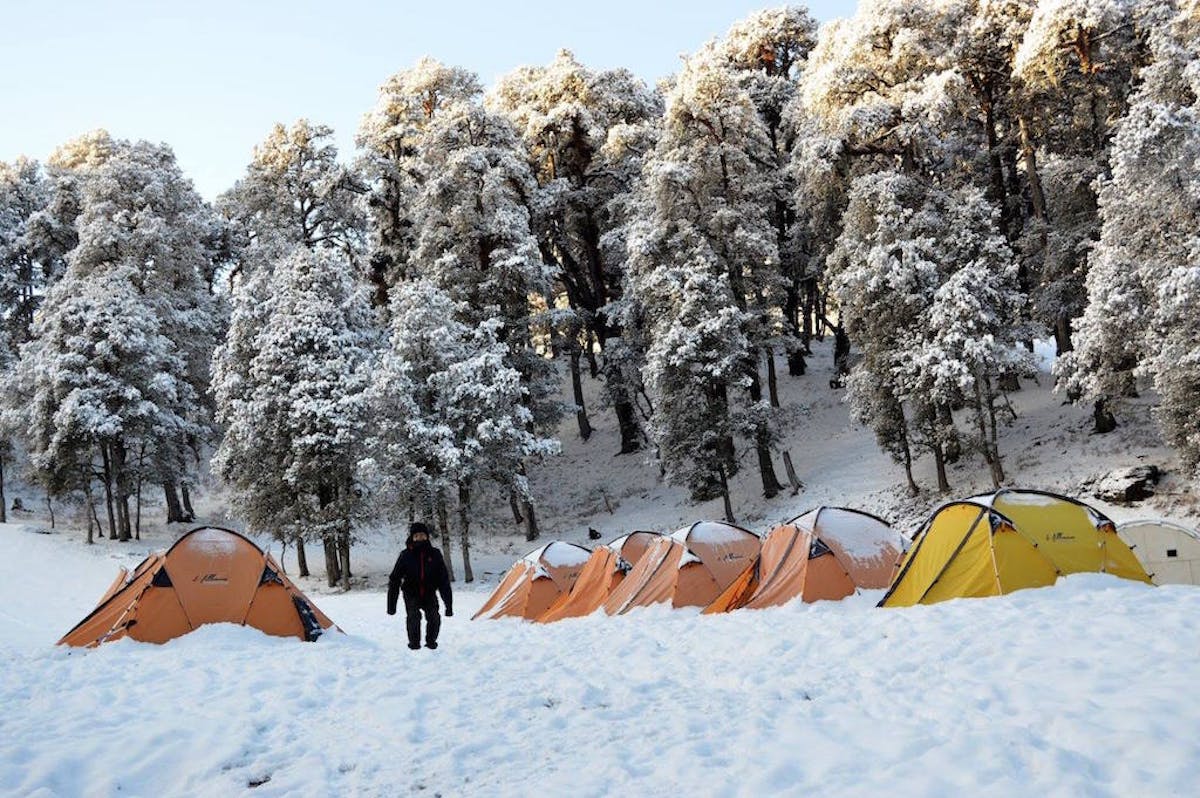 Enjoying a Himalayan setting like this is possible only if you have the basic shelter and warmth that you need, which a good tent can give you.
Looking back, I realize that it seemed like a magical scene only because we had been protected from it. Had there been a tear or worse, if the tent had collapsed from the weight of the snow, I would, probably, be singing a different tune about the whole experience.
Choosing the right tent for a high altitude trek can get a little overwhelming. There are umpteen things to learn, yet so little time to understand everything. To simplify things, we went straight to the experts.
We chatted with Apaar Mahajan, founder of Gipfel tents and manufacturers of the Indiahikes' Hillman tents, and Ravindra Charan, a Demand Planner with the Trekking and Hiking Department at Decathlon, both avid trekkers with years of solo trekking experience behind them.
We also reached out to Syama Krishna and Vijeet Shaw, Senior Trek Leaders with Indiahikes, who have ventured out on mountaineering expeditions many times.
We also spoke to Arjun Majumdar, founder of Indiahikes, who has been at the forefront of Indian trekking for decades now and has been the primary mind behind designing our all-weather Hillman tent. 
What is the Right Tent Design For You?
Over the past 5-10 years, the market has evolved beyond the quintessential A-frame tent. Dome tents have become popular even as specialized designs meant for serious trekkers have started making an appearance in the Indian market.
Each tent design has its own set of advantages and disadvantages, and a little know-how will help you figure out which one is right for you.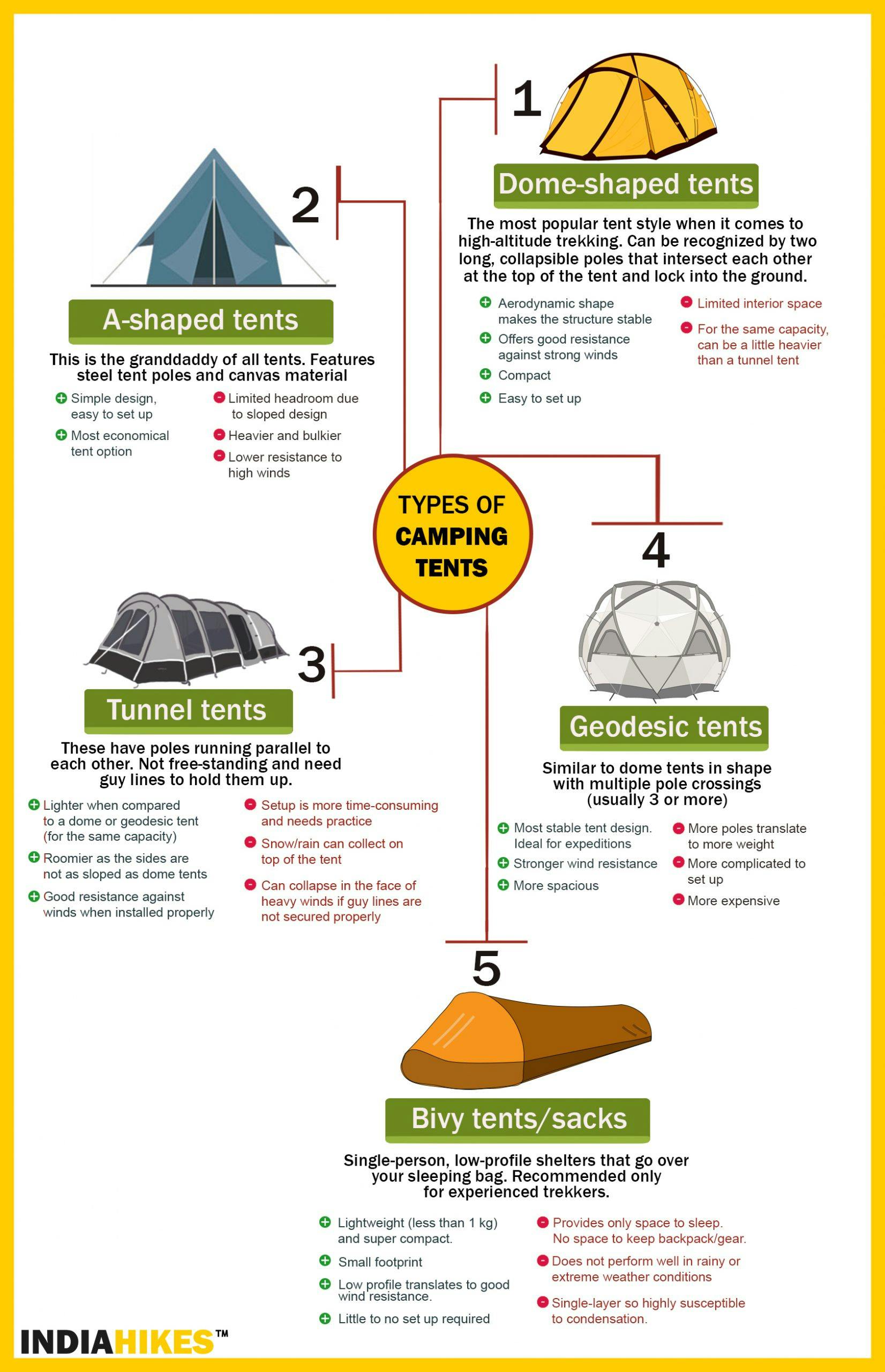 What To Look For While Choosing A Camping Tent For Your Himalayan Trek? 
There are just 6 main factors for you to keep in mind when you're buying a tent for high altitude treks. We'll elaborate each of the points below. 
Seasonality
Capacity
Tent poles
Fabric
Weight of tent
Price of tent
1. What kind of seasons are you going to trek in? 
The seasonality of a tent refers to the number of seasons that the tent has been designed for. In practical terms, this translates to the amount of precipitation/rain, the severity of winds, and the range of temperatures the tent is built to withstand. 
While you will find 1, 2, 3, and 4-season tents in the market, only 3 and 4 season tents are suitable for a high-altitude trek.
3-season tents are designed to tolerate fairly strong winds, moderate amounts of rain, and even some amount of snow. They have a good balance of insulation and ventilation and feature mesh walls and vents that aid in air circulation. 
3 season tents are perfect for treks such as Kedarkantha, Dayara Bugyal, Ali Bedni Bugyal and Brahmatal. 
4-season tents are designed to handle the toughest of weather conditions, including hail, high winds, and heavy snow. You will notice that they feature heavy-duty wind and water-resistant fabrics and thicker frames. They also tend to be bigger with larger vestibules designed to accommodate trekking gear. Airflow in these tents is lesser than that of 3-season tents as the primary aim is protection from the elements. They are also, naturally, heavier and more expensive than 3-season tents.
You will need a 4-season tent if you are trekking to Rupin Pass, Buran Ghati, or heading to any of the high altitude Himalayan treks during winter.
Did you know that Indiahikes introduced dome tents in 2009 to Indian trekking? After years of experimentation and research, we introduced custom-made, expedition-quality, 4-season Hillman tents on all  treks in 2013.
Till date, with every order, we tweak the design of the tents to better three factors — reduce the weight, increase the life of the tents to make it more environmentally friendly and make it more and more weather-proof.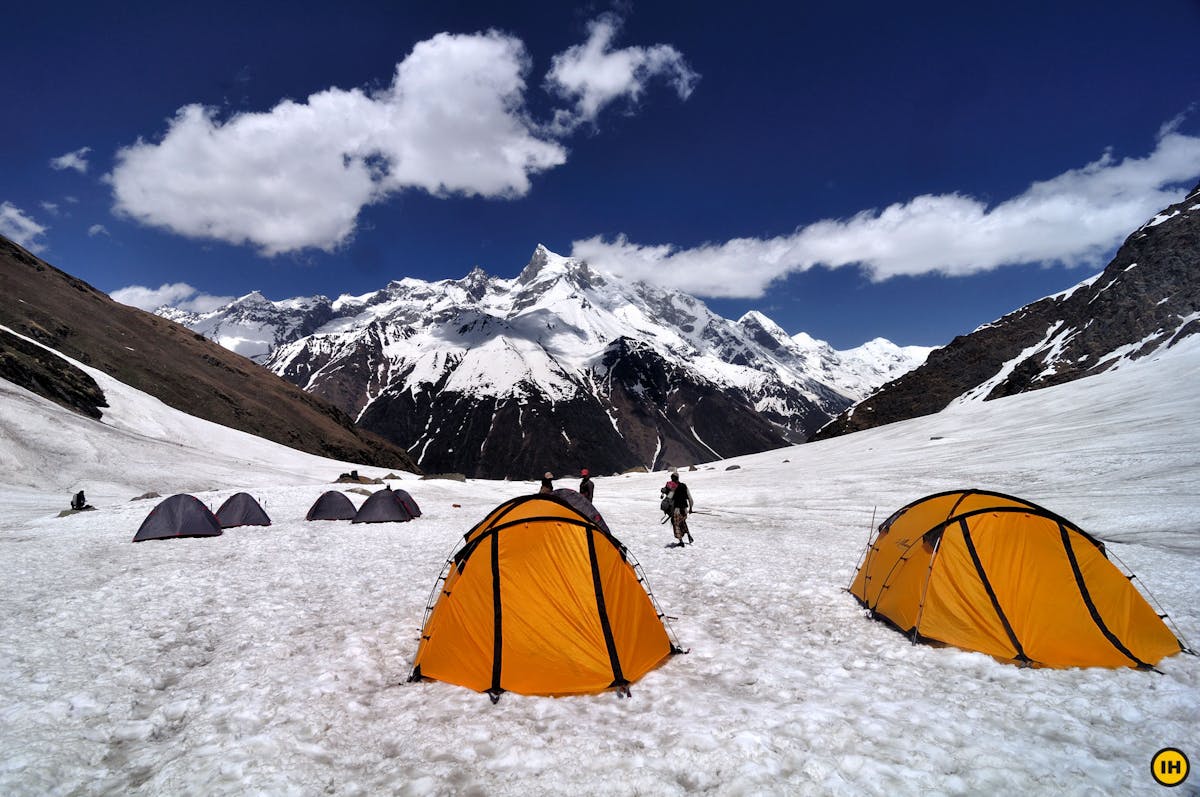 4-season tents are a basic necessity for high altitude treks climbing above 13,000 ft in the Indian Himalayas, where you're likely to encounter permafrost regions. Picture by Akhlesh Tomar
2. How many people are you going to trek with?
The capacity of a tent refers to how large a tent is and how many people it can accommodate. You will see this translated into a 1-person, 2-person, 4-person tent, or more in the market. 
Before you decide on how big your tent should be, you need to ask yourself whether you see yourself trekking primarily alone or along with a partner or group. You also need to know how much weight you can carry comfortably (we will deal with the tent's weight in just a bit).
A good practice is to buy a tent that has a capacity of +1 of what you need. So, if you are trekking solo, buy a two-person tent.
"This is so that you have space to keep your backpack and your boots, and have a little wiggle space for that added comfort factor," adds Ravindra of Decathlon.
So, does that mean it is better to buy a bigger tent if more people are trekking together?
Not necessarily! 
Instead of getting a single higher capacity tent, it might be better to get multiple smaller tents. That way, when you trek with a group of people, you can distribute the weight of the tents amongst more people. It also affords you more flexibility when it comes to space for sleeping and luggage.
However, if you are planning to get porter or animal support, you can consider buying a larger tent too. 
The best way to figure out if the size of the tent is right for you is to go to a store and test out various models. If you are shopping online, it's best to open the tent and pitch it as soon as you get it and exchange it if the size doesn't suit you. You don't want to be surprised in the mountains!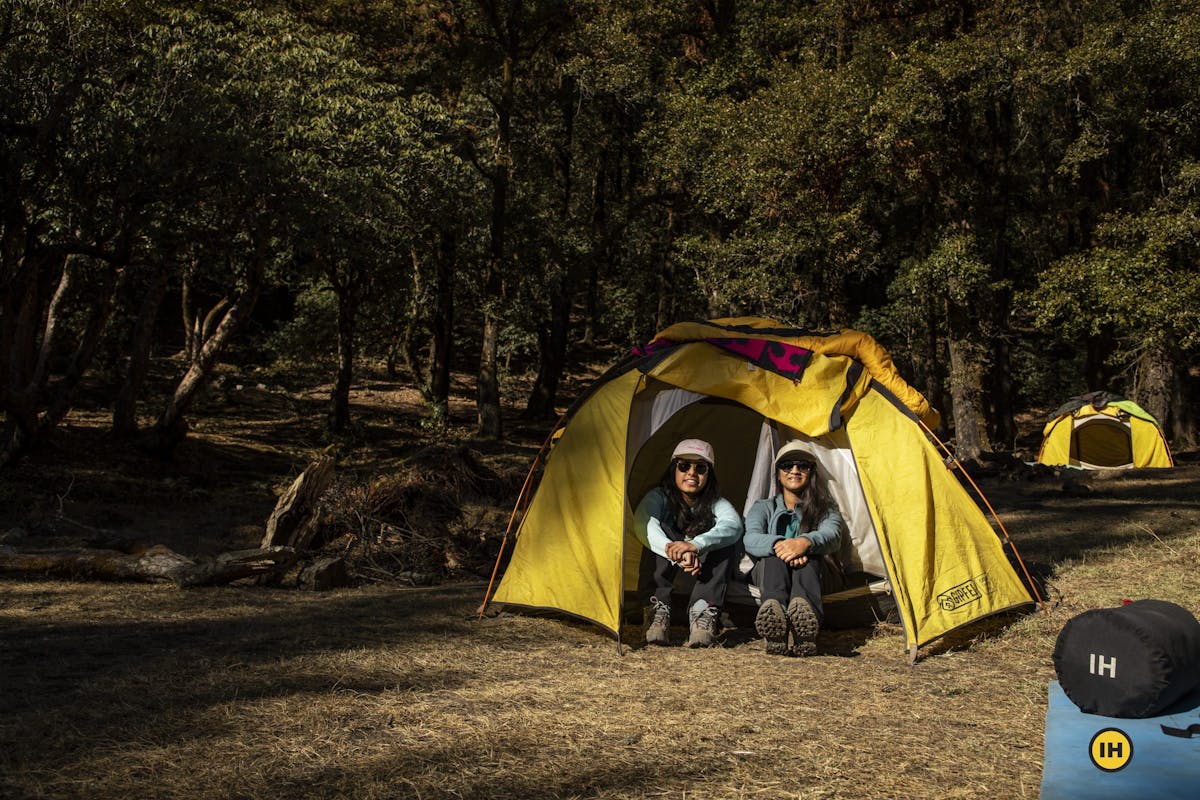 At Indiahikes, we have always had 3-man tents designed to accommodate 3 full grown adults comfortably in a tent. Most of the times on our internal treks, we end up staying 4 members in it. It's still spacious enough, since it has balcony space on both sides. Photo by Indiahikes photographer Jothiranjan
3. Choosing the right tent poles
Simply put, tent poles provide structure and stability. Without it, your tent would just be a mass of fabric or worse, taking off with the wind. 
In recent years, aluminum alloy poles have become very popular. These poles are lightweight, pliable, and able to withstand high winds and sub-zero temperatures. Based on our experience, these are the best choice for high-altitude trekking.
A more budget-friendly option is fiberglass poles. The downside is that they don't perform as well in lower temperatures and high winds. 
Steel and carbon poles are available too but steel is heavy and used only in larger-sized tents while carbon is expensive and found only in high-end, expedition-style tents. 
Aluminum alloy poles are lightweight, pliable and able to withstand high winds and negative temperatures.
4. What kind of fabric should you opt for?
The fabric of your tent plays an important role in protecting you from rain and snow. There are a few factors to consider when it comes to the tent fabric itself.
1. Polyester vs. Nylon – Most modern tents are made of polyester, nylon, or a blend of both. 
Nylon is lighter, stronger, and very compact when compared to polyester. 
Polyester, while heavier than Nylon, is durable, has good stretch capacity, and behaves better under wet conditions. Also, in terms of price, polyester is a lot more pocket-friendly. 
Looking at it from a cost vs. benefit angle, polyester fabric provides the best value-for-money.
Where canvas comes in: Nylon and polyester are both highly inflammable. So any cooking that you do must be done outside the tent. At Indiahikes, we choose to have canvas tents for our kitchens as they are the safest to cook in.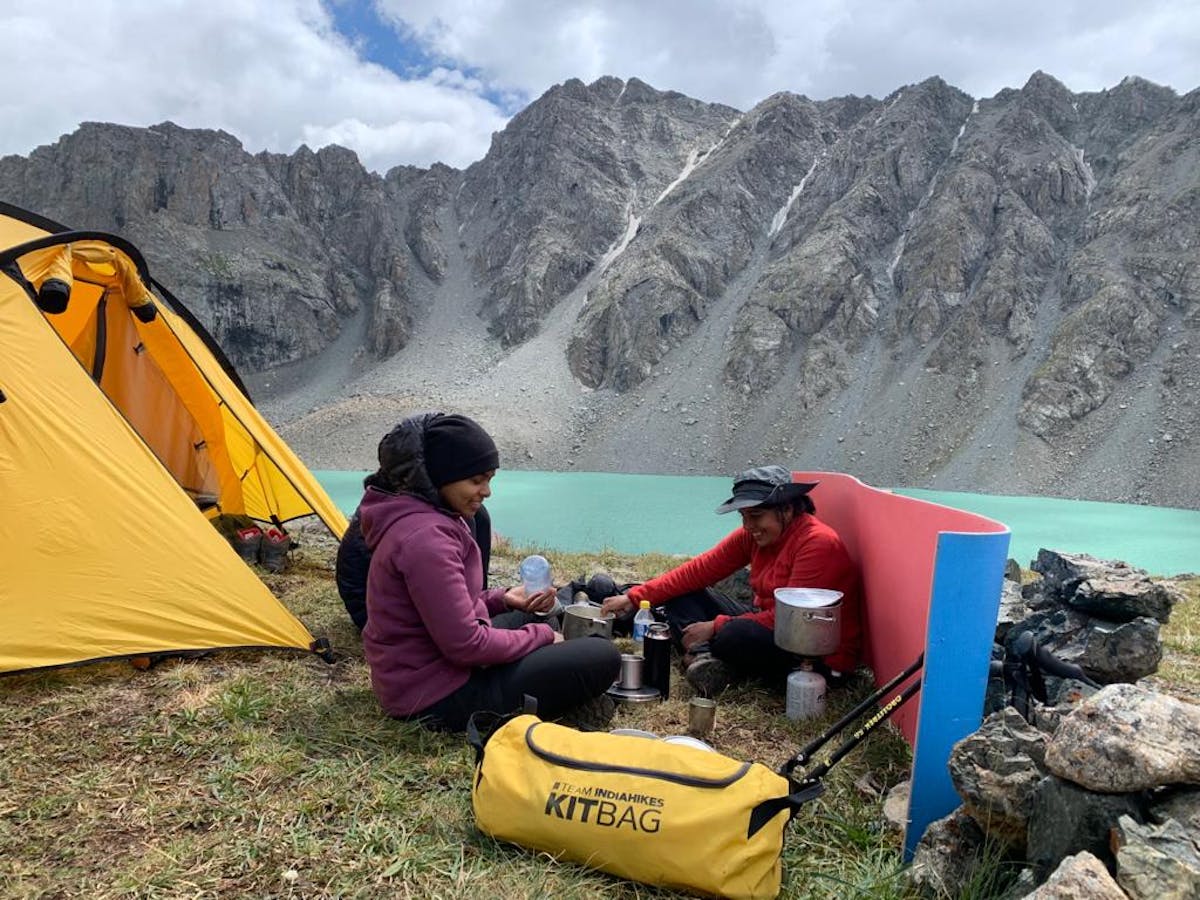 Any cooking is best done outside a nylon / polyester tent. Picture by Gerrit Onstein
2. Find out how water resistant your tent is – This refers to the ability of the fabric to keep rain/water from penetrating the inside of the tent. 
Tent manufacturers achieve this by either giving a PU coating or a silicone coating to the outer layer of the tent and the groundsheet. 
Talking about the differences between the two coatings, Apaar of Gipfel explains, "PU coating is heavy but also cost-effective. Silicone coating is lighter and doesn't get ruined by cold or moisture easily."
How water-resistant your tent fabric is, depends on the number of coatings it gets. This is measured in mm. The higher the number of layers, the better the water resistance. 
However, high levels of PU or silicone coatings also affect the weight and breathability of the fabric. 
Anything in the range of 3000 – 5000 mm PU coating is considered good waterproofing.
The rain fly of a tent is often given a DWR (Durable Water Repellant) coating that makes water droplets bead up and slide off without affecting the fabric.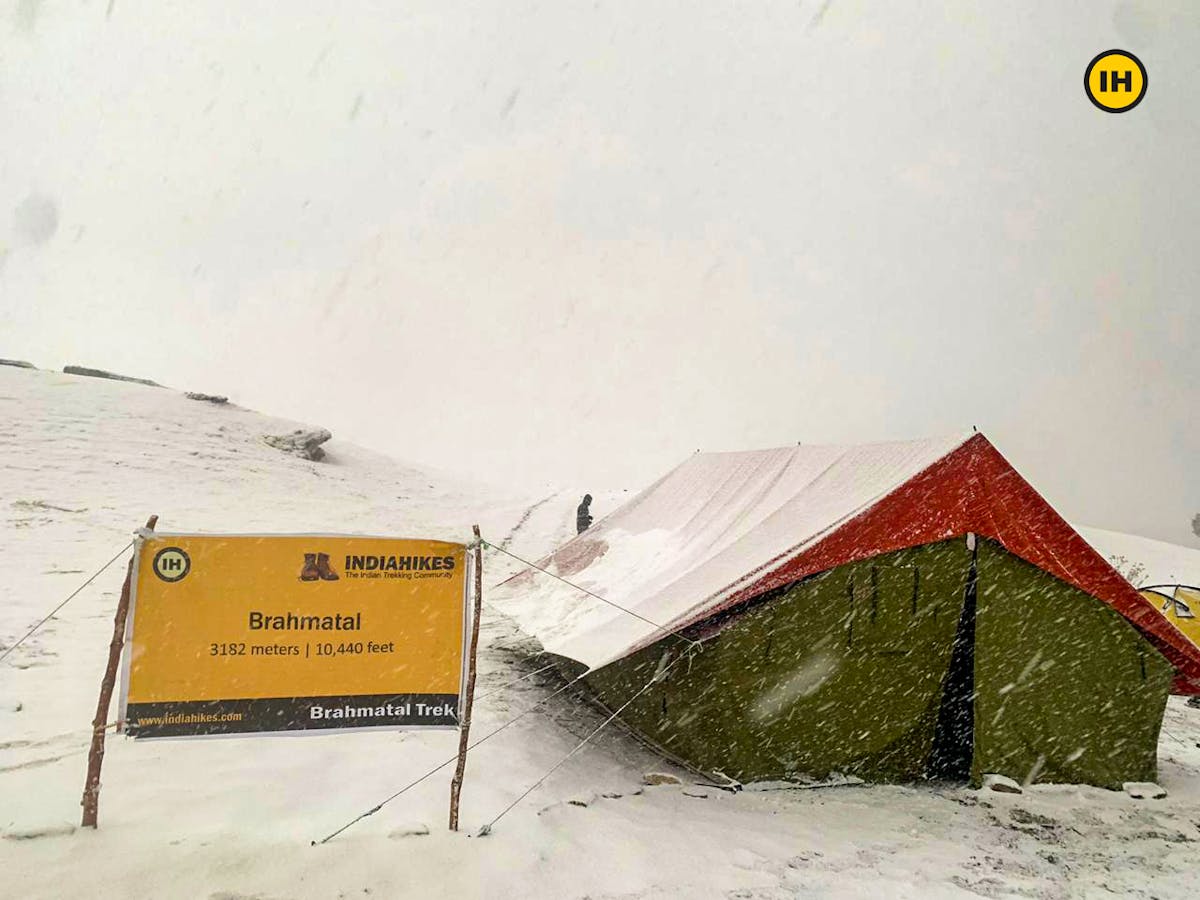 Rain and snow are your biggest obstacles while camping at high altitudes. It's important to ensure your tent can handle the harshest weather conditions of the Himalayas.
3. Groundsheets see the most action – This refers to the floor of your tent. As you can imagine, this surface is susceptible to a lot of wear and tear. 
We recommend you get a tent with a thicker Nylon or Polyethylene sheet that is puncture-resistant and has more waterproofing (5,000 mm onwards for a 3-season tent).
4. Plain vs. ripstop weave – The weave of the fabric can either be plain or ripstop. A ripstop weave does precisely what its name suggests, i.e., limits the spread of a rip or tear. If your tent has a ripstop weave, the fabric will feature a mesh design with small squares in the material. It is, however, more expensive than a tent with a plain weave fabric. 
While ripstop fabric is great to have, good quality tents with plain weave fabric can be long-lasting too, as long as you handle them the right way.
5. Outer-first vs. inner-first design – All modern high-altitude tents have two layers. The outer layer is usually water-resistant, and the inner layer is breathable. 
Tents can either have an inner first or an outer first design. 
In an outer first tent, the inner fabric or layer is already attached to the outer layer, and you only have to connect your poles to the outer fabric to set it up. 
In an inner-first design, the poles are attached to the inner layer, and you will have to drape an outer cover on top. 
This is NOT a deal-breaker. An outer first design can prevent the inner layer from getting wet in case it rains during setup. An inner first layer, on the other hand, provides more flexibility to remove the outer layer during warmer seasons.
5. How much should your tent weigh?
If there was one sentiment that I heard from all our experts, it was the fact that every gram counts when you are out there trekking in the mountains.
A one-person tent should weigh less than 2 kg, preferably around 1.5 kg. A 2-person tent should be around 2-3 kg.
The weight of a tent should not be viewed in isolation and has to be balanced against other important factors such as stability, resistance to the elements, and price. 
You also have to decide if you will be carrying all of your luggage or be offloading some to a porter or animal.
6. Finally, how much should you pay?
The price of a tent varies greatly depending on the seasonality, capacity, and materials used.
One of the main factors to be considered while deciding upon a budget is to estimate the frequency of usage. 
If you are planning on using the tent sparingly, it does not make sense to buy one that is top-of-the-line. However, if your usage frequency will be high, you might be better off investing in a slightly higher-priced tent that can hold up to repeated wear and tear. 
Another point that needs to be factored into the price of a tent is the after-sales service and the availability of parts. 
For most new to intermediate level trekkers, a trekking tent that costs between 4k to 8k will hold up in most conditions and with good maintenance, for a good number of years too.
12 Best Camping Tents For High Altitude Treks
We have put together a list of some of the most popular tent models for different specifications and at different price points. We highly encourage you to do your research, read reviews, and explore different brands and models before picking one. Forclaz, Gipfel, Jaqana Tents, Quechua, Gypsy Tents, and Coleman are well-known brands that deal with good quality trekking and hiking tents in India. 
Please note that we do not endorse these brands, but they come highly recommended from our most-experienced team members:
2-person 3-season tent:
Lightweight tents:
Budget tents:
2-person 3-season tents that can be used for high AND low altitude trekking:
2-person 4-season tent:
Expedition tent:
How to choose tents for treks at lower altitudes 
While camping at lower altitudes and places like the Western Ghats don't require tents that are too specialized, they do present a different set of challenges. To understand this, we spoke to Saini Krishnamurthy, who has done over 300 treks in Maharashtra, primarily in the Sahyadris.
"Winds and wind chill play a major factor in the Sahyadris, especially in the upper ghats and during the winter season," says Saini. "If you are trekking during summer, mosquitoes are a big concern," she continues. 
Arjun adds to this. "If I am trekking in the Western Ghats, I am going to need a tent that has a lot of air coming in as I am going to be in humid conditions. I am also going to be dealing with insects, so I will need a tent that has netting," he points out. 
While most camping happens during winter, if you are heading out into the ghats during the rainy season or just outside the rainy season, it's a good idea to invest in a dome tent that has a thick groundsheet with high waterproofing. 
Our tent picks for lower altitudes: 
For summer camping
Budget tent for 2
Easy assembly, pop up tent
For tropical, rainy weather
Conclusion
A 3-season, 2-person dome tent is an ideal pick for most trekkers who are thinking of heading into the Himalayas. With weight being one of the most important factors on a multi-day trek, we strongly recommend a tent that weighs less than 3 kg (for a 2-person tent).
If this is the first time you are buying a tent, we recommend you go for a good quality, mid-priced trekking tent from a well-known brand and NOT necessarily the most expensive model in that segment. This is so that you can test the tent in real-life conditions and figure out, for yourself, its pros and cons. That will help you become a more informed and intelligent buyer.
Related Videos
"AdventureWorx XPlore 55 Backpack Review | Thoughtfully Designed for Himalayan Treks"
"4 Tips To Choose Trekking Shoes"
"How To Use A Sleeping Bag"
Sign up for our much loved Weekly Mailer
We have terrific trekking tips, trek updates and trek talks to look forward to