Why Jan-Feb '23 treks are better than '22
Share this story
Why Jan-Feb '23 treks are better than '22
Indiahikes Insight
Category
Let me first give you the bad news. All our winter treks have experienced a 'dry winter' this December 2022. It has not snowed at all! This is in stark contrast to the white winter of last year.
Take a look at this photo from last year.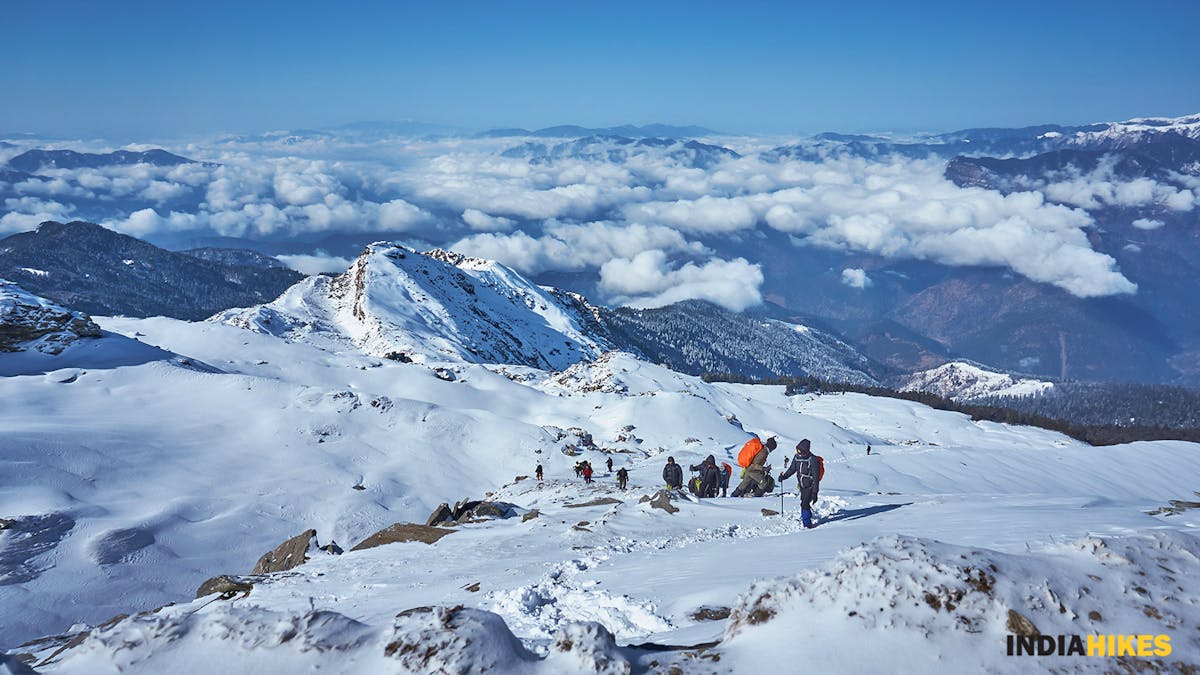 Final summit push to Kedarkantha summit. Photo by Abdul Raoof.
Compare it with this photo from this year.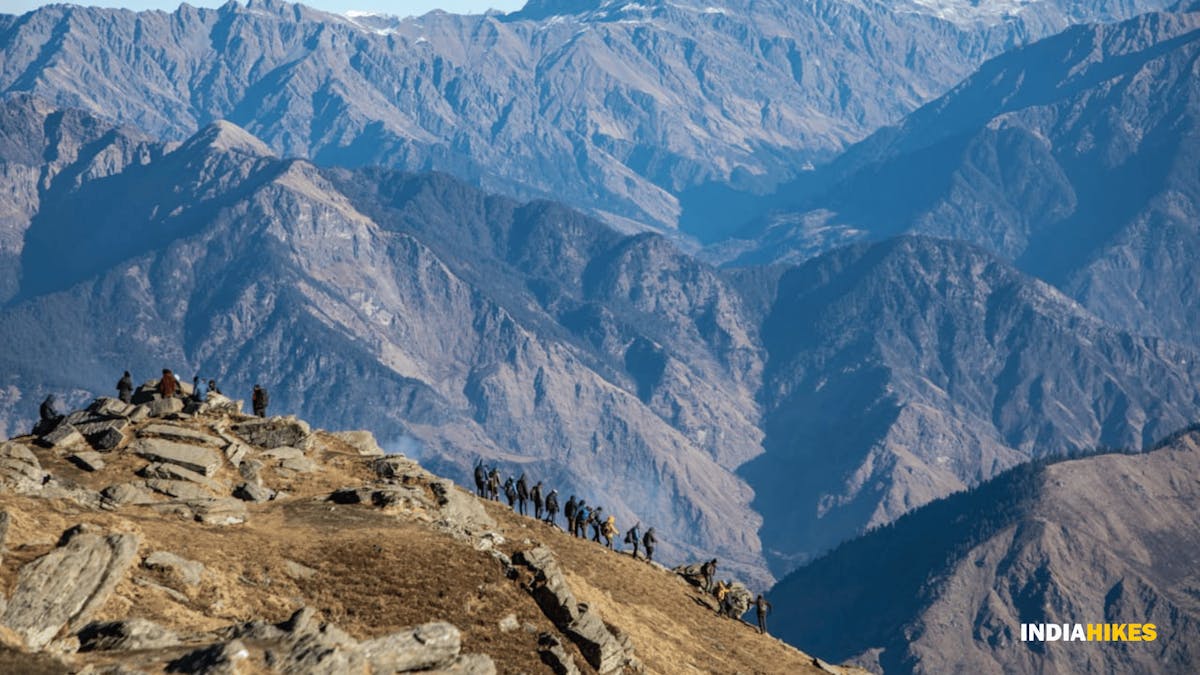 Climbing a snow-less Kedarkantha. This is the latest photo by our lead photographer Jothiranjan taken last week.
Trekkers are missing out on the white snow experiences this year.
But there is good news as well.
There is prediction of snowfall soon!
A moderate Western Disturbance is building up. "Snowfall may begin during the end of December as per models," shared Mahesh Palawat, Vice President of Climate and Meteorology, Skymet Weather in an interview with The Mint.
As predicted, skies have begun to turn overcast in the mountains. It could start snowing any time now. There are a few more western disturbances expected for the rest of January and February, making the winter experience Jan-Feb 2023 something to look forward to!
There are two big reasons why Jan-Feb is better for Winter Treks than December:
Many trekkers believe that December is synonymous with winter. It's not! December is the mere beginning of winter. In this month, snowfall is sporadic and snow cover (if any) is scanty.
Things begin to change only by the end of December; for two reasons:
1. You witness stronger waves of Western Distrurbances after December.
Jan-Feb usually experiences 2-3 waves of Western Disturbances. These are usually stronger waves. They leave behind more significant deposits of snow — so much so that this snow lasts all the way to the end of April.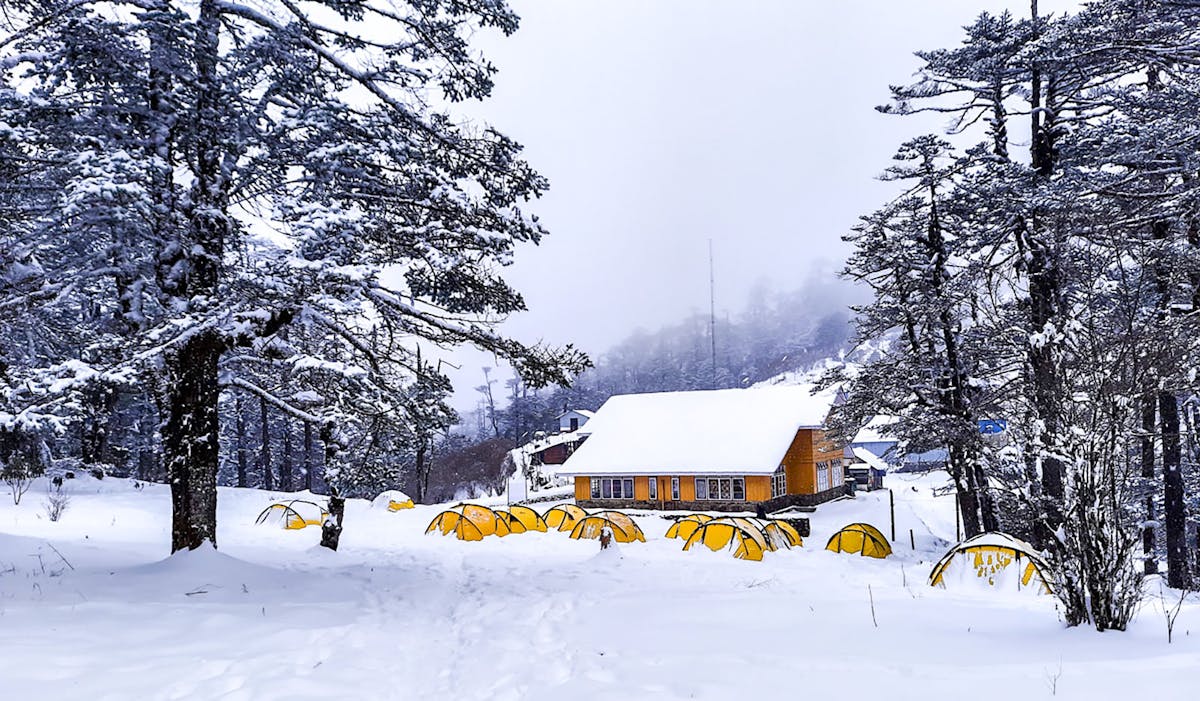 Even on a trek likeSandakphu, you're more likely to have a big snow experience in January and February. Picture of the Molley camp by Dwaipayan Purkait
This is why in these months you see the boughs of trees are beautifully laden with snow. There's a handsome drizzle of frost on the tree tops. As you climb higher, you see meadows and clearings covered in a vast white blanket. The ground below you is a soft powdery carpet. Our camps are usually in the heart of this snow deposit.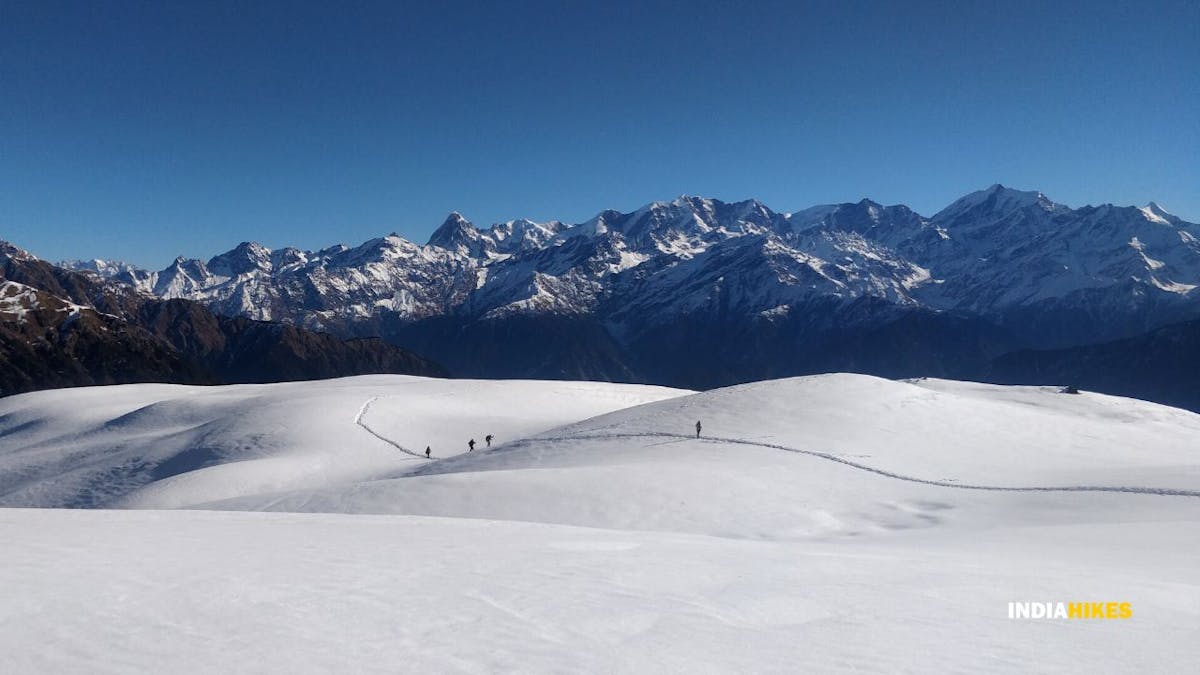 The snow deposit on all treks is the highest in the months of Jan and Feb, the Big Snow Season. Picture by Dhaval Jajal shot on the Dayara Bugyal trek
Most of our winter photos of Himalayan treks are taken in this Big Snow Season.
2. There are greater chances of experiencing snowfall in the Big Snow Season.
More WDs = more probability of snowfall. Many trekkers dream of witnessing snowfall when in the Himalayas! So if you want to have an adventurous experience with high chances of snowfall, the Big Snow Season is your best chance at it.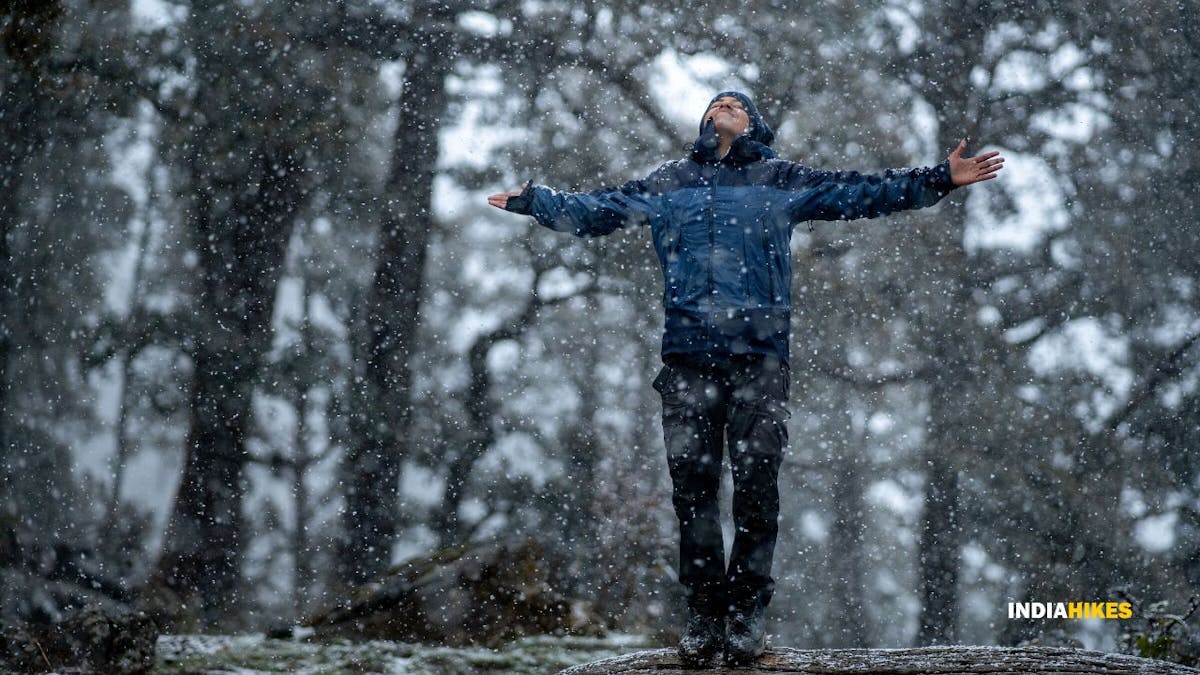 With more western disturbances, there are much higher chances of snowfall in Jan and Feb. Picture by Vishnu Sivanandan
With December behind us, our Jan-Feb dates are filling fast. Most of our January groups have filled up. February is still open. Now is the time to register. So consider this mail as a reminder if you want to trek in the snow.
We have more than 8 winter treks to choose from. But I'll help you to narrow things down. If you have to choose, here are two treks that are must-dos!
Kuari pass is a mountain lovers' delight during the winter season. You have an unending vista of the biggest mountains in India opening up right from day one. You even get to see the clearest view of the full face of Mt Nanda Devi, India's highest mountain.
But what trekkers love is trekking to the pass, right after they have climbed out of the Khullara campsite. Trekkers walk along extraordinary ridges — that curve in and out of the folds of the mountain. Then, when they discover hidden mountain views from these folds, they find themselves on an adventurous climb on snow to the Kuari Pass.
Trekkers experience moments of high adventure as they make their way to the pass. It is not a straightforward climb, but a trail that takes you to the foot of gullies, narrow valleys and the flanks of mountainsides.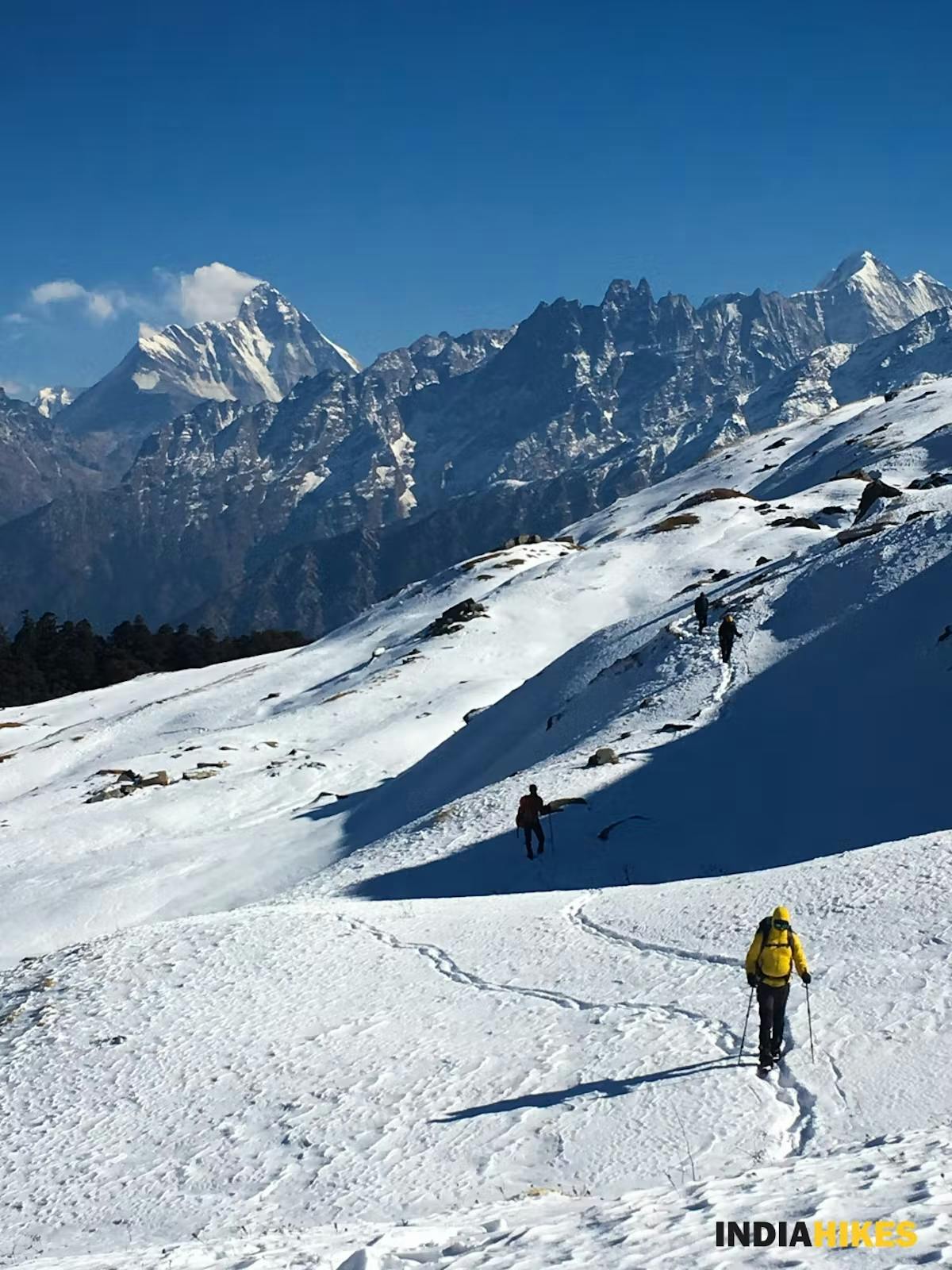 Mt. Nanda Devi looms over trekkers as they descend from Gorson Bugyal. Photo by Dushyant Sharma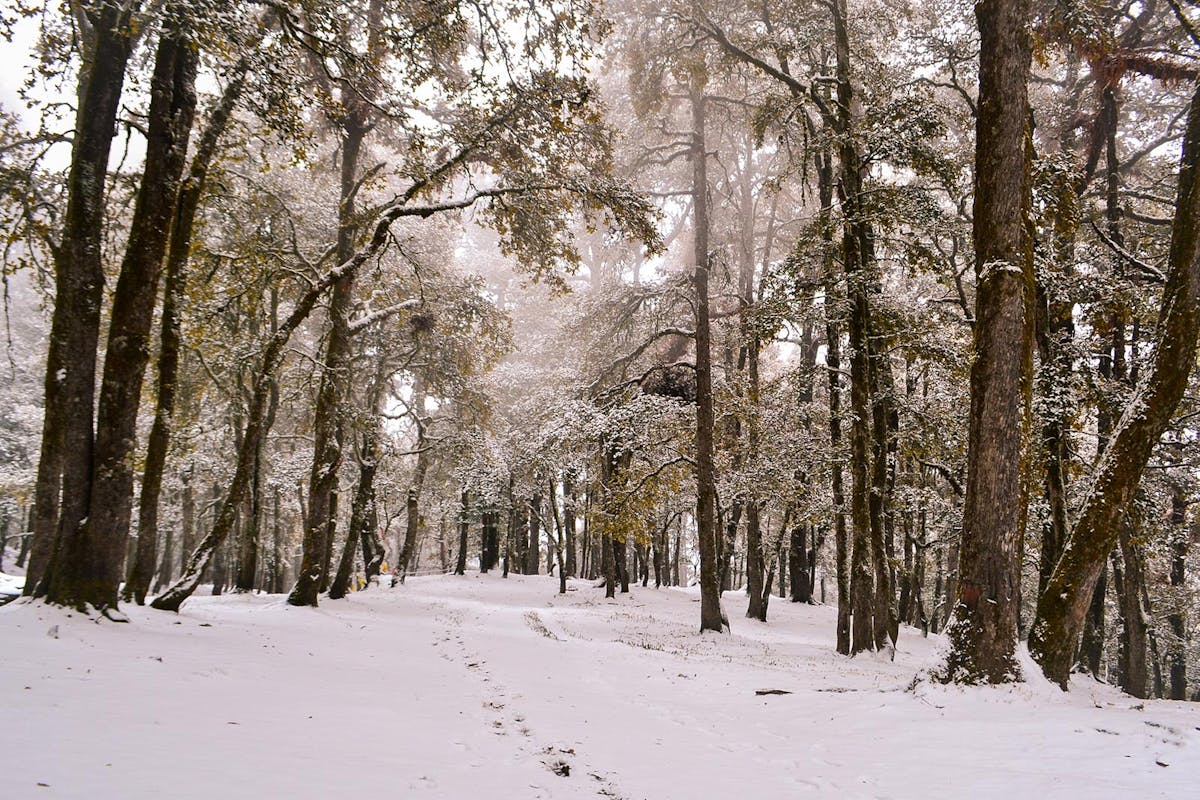 The well-placed oak forest after you get down from Gorson Bugyal. Photo by Sandhya UC
Deoriatal Chandrashila has the greatest mountains views that any of our winter trek has to offer. In one grand sweep over 200 degrees, you see the entire greater Himalayan range. These are not just great mountain views, you are witnessing the grandest mountains of our Indian Himalayas.
From Mt Thalesagar, to Mt Kedarnatha and Kedardome, to Mt Chaukhamba and Mt Neelkanth.
Then on the other side, Mt Haathi Ghoda, Mt Dronagiri, Gauri Parbat, Mt Nanda Devi -- India's highest mountain, Mt Trishul and Nanda Ghunti.
It is a buffet of India's greatest mountains.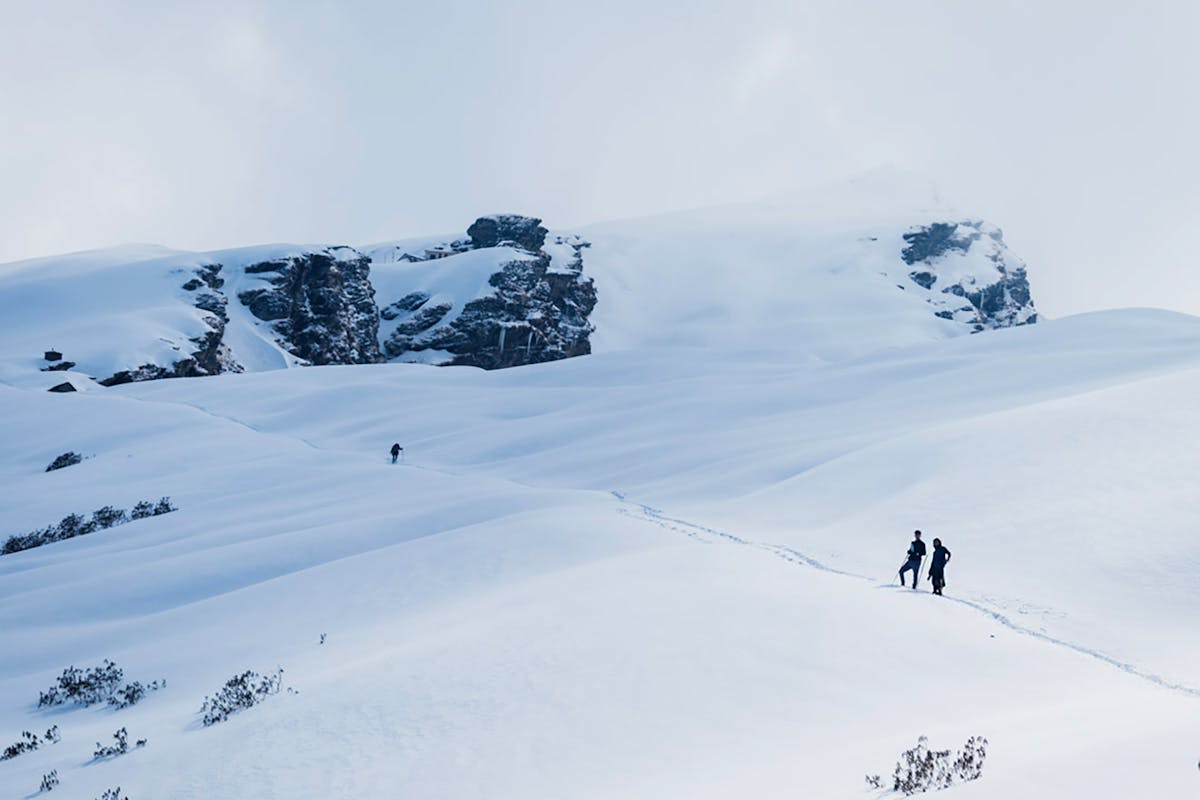 In winters, the entire face of the Chandrashila summit is covered in deep, white snow. Photo from Indiahikes Archives
This is why at Indiahikes we treasure the Deoriatal Chandrashila trek so much.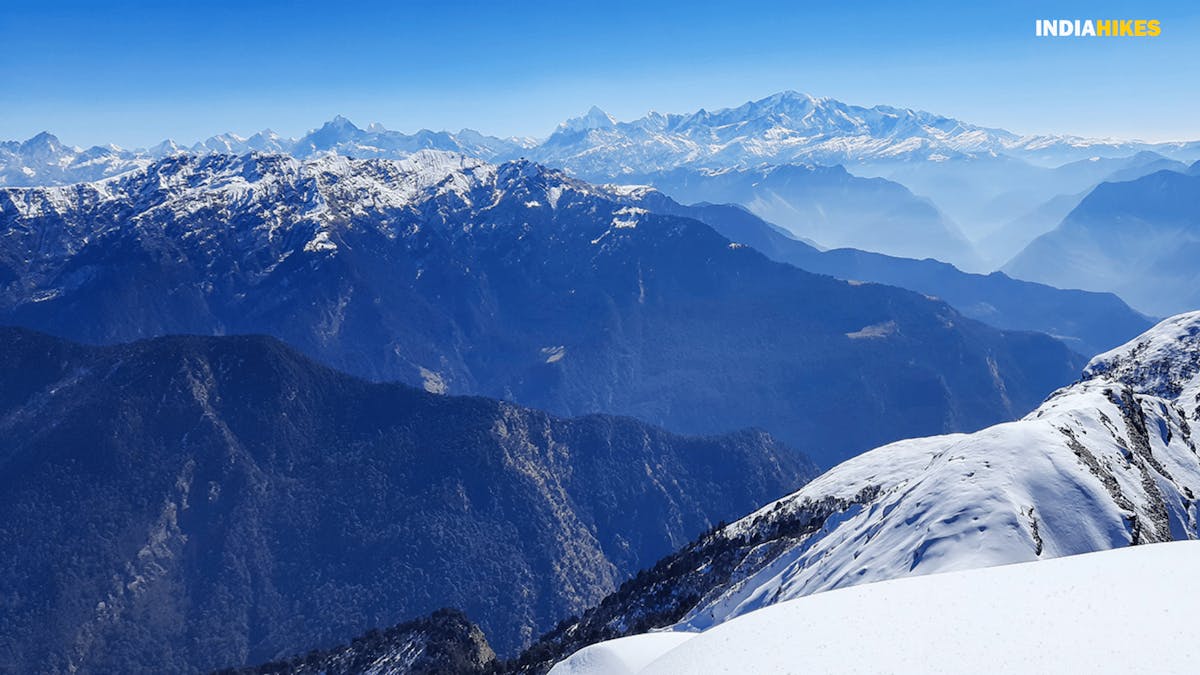 As you climb you can see the entire range of Garhwal Himalayas. The views are stunning. Photo by Avijit Jamloki.
It is not just the grand views. In winter, the trek in itself is special. For example, sitting by the shores of the Deoriatal, and witnessing the sun setting on the massif of Mt Chaukhamba is a surreal experience. In fact the first view of Mt Chaukhamba from Deoriatal is in itself a moment that trekkers cherish. Rarely have they observed a 7000 meter mountain summit, hanging over the landscape.
In the forests of the trek near Rohini Bugyal and the Akash Kamini river the presence of birds and wildlife is palpable. The forests are silent, and the trail snaking through these forests with a canopy of trees over your head are moments that trekkers rarely get.
Register for Deoriatal-Chandrashila Trek
If you plan now, you'll have the luxury of choosing dates that suit you. Very soon, you'll have to adjust your schedule to the leftover dates.
I hope you make use of this reminder.
Sign up for our much loved Weekly Mailer
We have terrific trekking tips, trek updates and trek talks to look forward to