How Our Youngest Trekker Prepared for his Kedarkantha Trek
Share this story
We often get calls from anxious parents, wondering what they can do to help prepare a child for a Himalayan trek. How do they make sure he is fit? Will he/she handle the terrain, the cold, hours of trekking? We hope the story of our youngest trekker, who climbed to Kedarkantha, would ease some of those concerns.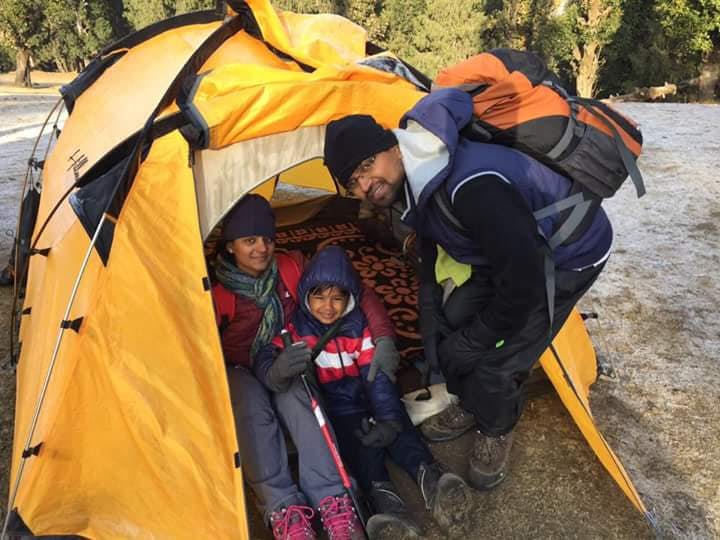 Much before our young boy got there, the news of Indiahikes' youngest trekker had made its rounds around the Swargarohini Palace Hotel in Sankri. Our staff waited eagerly to greet him. As the hours flew by, their apprehensions about this 7-year-old were growing. Hailing from Bangalore, would he be able to bear the winter? How will he acclimatise? Will he have the energy to climb?
Meanwhile, away from the doubters, Aditya Reddy, was enjoying his ride on winding mountain roads. In between his naps, he woke up to the faraway foothills speckled with villages. His parents sat beside him, constantly fueling his confidence. This was their first Himalayan trek and they were determined to do it together. After the 9 hour drive from Dehradun to Sankri, Aditya's morale was soaring.
Aditya greeted his fellow trekkers with a firm handshake. They were all very excited to meet him. Everybody wanted to have a chat with this little adventurer. They were curious to know his story. By the end of Day 1, Aditya was already bored of his age. Soon the next question arose, how did he prepare?
Aditya's Prep
Aditya is an active child. When his parents booked the trek, they were already confident that Aditya's fitness would not be a problem. He has been learning Karate for almost four years. And he took tennis classes occasionally.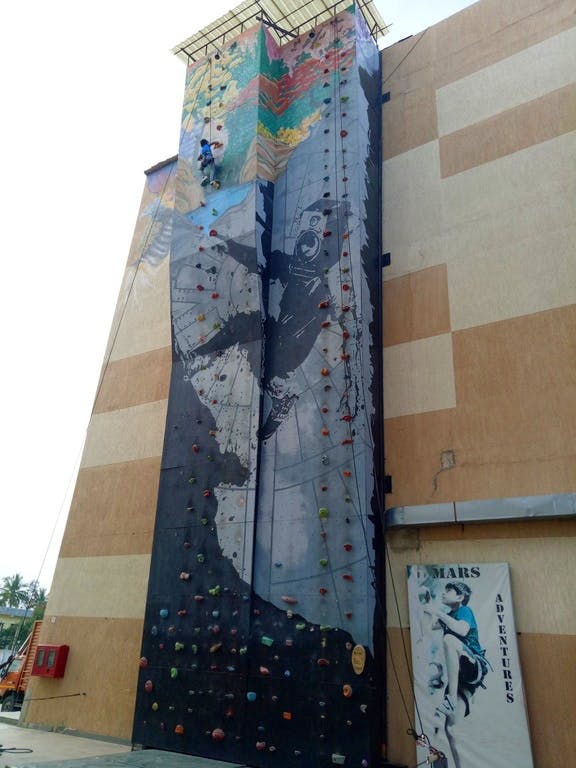 He also enrolled in wall climbing classes at the Phoenix Marketcity in Whitefield, Bangalore. Starting from the bottom, in the course of one month, Aditya could complete the entire 52 feet wall. Doing almost 10 climbs in one hour.  
To add to that, Aditya had done a number of treks around Bangalore. Starting with Nandi hills, he proceeded to Shivgange, Saavandurga and Madhugiri.
A great way to prep your child for a trek is to take them on shorter local treks. Around Bangalore, Bombay and Pune there are unlimited options to take your children trekking. We have listed a few below.
Around Bangalore: Makalidurga, Nandi One, Handi Gundi, Kopatty
Around Pune and Bombay: Mahuli Trek, Sudhagad Fort Trek, Balwantgad Trek, Chandan Vandan Trek
Around Delhi: Prashar Lake, Nag Tibba
Parent's Prep
"This was our first Himalayan trek. We didn't know about the challenges of high altitude trekking. Once we started researching, we realised there was a lot for us to learn. Before the trek, we gradually got Aditya to increase his water intake. He was spending more time outdoors in the sun. We read through the entire AMS manual. In a way, it made us more confident about the trek," says Vaaruni, Aditya's mother.
As parents, Vaaruni and Ravi had done their part. They had made sure that Aditya would be at his fittest for the trek. To fight the cold, he had a good quality down jacket and good shoes for the climb.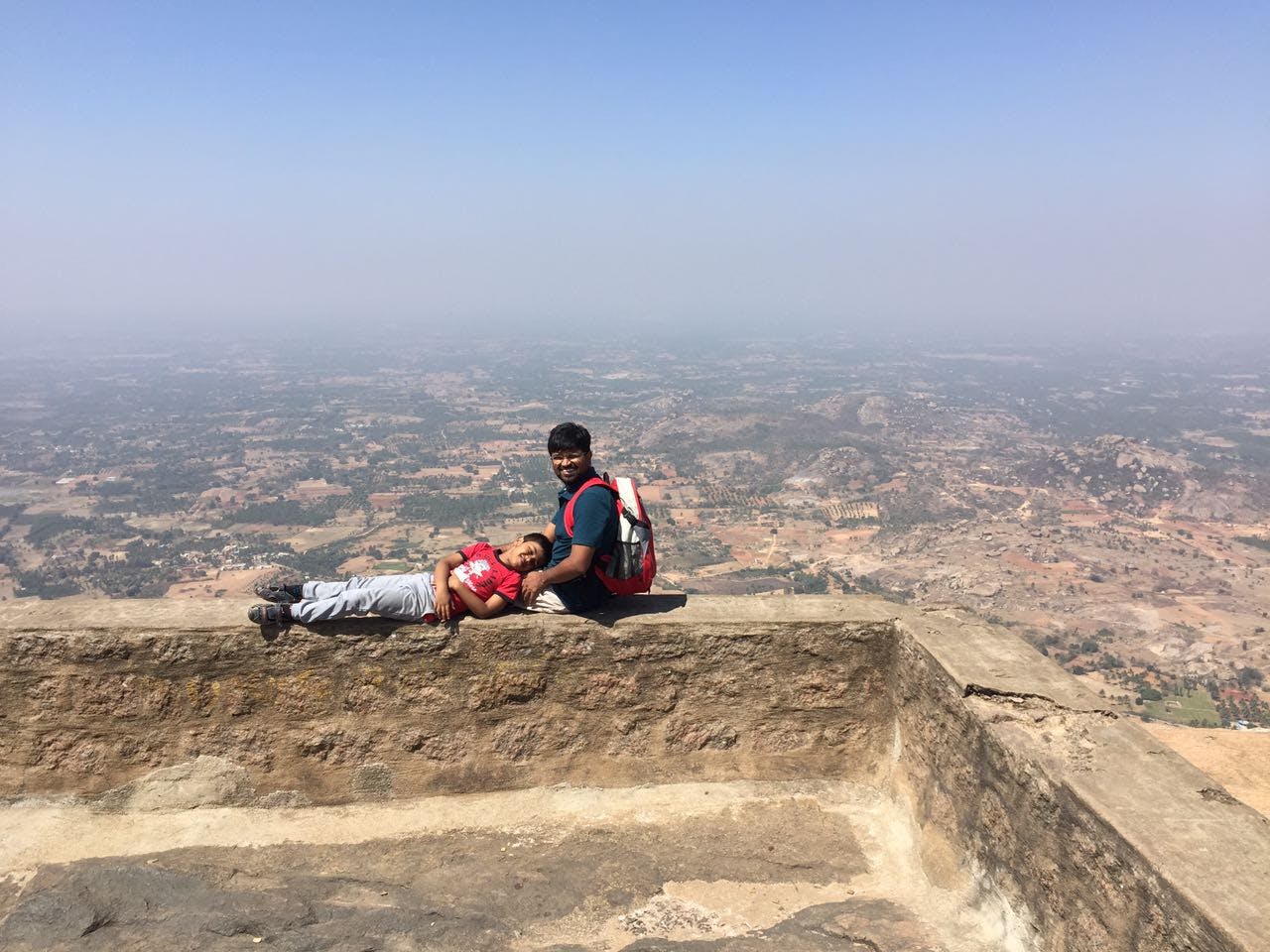 While his father handled most of his fitness regime, Vaaruni was in constant contact with the Indiahikes team. Our team helped her out with the attitude with which parents should go on the trek. The aim must not be to reach the summit but to enjoy the trek. If your child is not feeling well, it is alright to skip the day and take it easy. He must not feel pressured to perform. This is something all parents must take note of.
You can read more about how to enrich your child's trek here.
As the sun rose on Day 2 of the trek, an unusual friendship began to sprout. Aditya's knowledge of Hindi just about covered the words nahi and pata. Our Guide, Mahaveer's English matched Aditya's proficiency in Hindi. Overcoming the language barrier, they both seemed to get along great. Aditya raced ahead, keeping up with Mahaveer (who could be as fast as Road Runner!). He left his parents trailing and confused. What were these two chatting about?
It really didn't matter. They spoke about school, treks and microspikes. Anything that their eyes could catch a glimpse of.  "Mahaveer uncle told me about all of the treks that he has done. He also warned me to not walk on the rocks with microspikes because the spikes will break," says Aditya.
Mahaveer and Aditya reached the summit long before the rest. They enjoyed the solitude. He was very excited to be the first one to reach. He had enough time to go around and explore. "Mahaveer uncle told me about all the surrounding peaks. I remember the Swargarohini peak and he mentioned many others from the Gangotri range," says Aditya.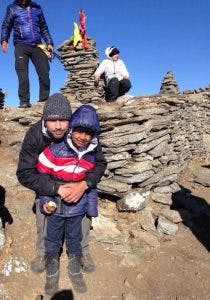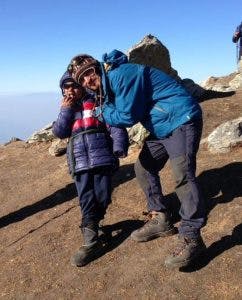 For most of the trek, our youngest trekker Aditya did not need any special attention. He raced ahead of the pack effortlessly.
"Adi took great interest in the Green Trails initiative. He was very firm about not throwing away plastic. For someone who doesn't quite understand decomposition, I think that earned him a pat on the back," says Vaaruni.
Challenges
Aditya is a fussy eater. This is the one thing his parents worried about. On a trek, skipping meals is not an option. But come dinner time at Sankri, Aditya made no sound. He enjoyed the dal, sabzi and chapathi. With a content tummy, he headed to bed.
Another challenge that Aditya and most other children face is sustaining their energy levels. Children usually have bursts of high energy, after which they tire easily. Aditya was usually asleep in his tent by 7.30pm every evening.
And that is why treks like Kedarkantha and Kuari Pass are tailor-made for children. Since the days are short, they still have enough time to explore the campsite before their battery drains.
Aditya did explore his campsites well enough. "At Juda Ka Talab a lot of people were standing on the other side of the lake. There was a lot of snow there. I was about to go there too. But then Vishal (Trek Leader) told me that they were standing on ice. He called them back too. He said the snow had fallen on top of the frozen lake. It is very dangerous to stand there," says Aditya, as he spoke about his favourite campsite.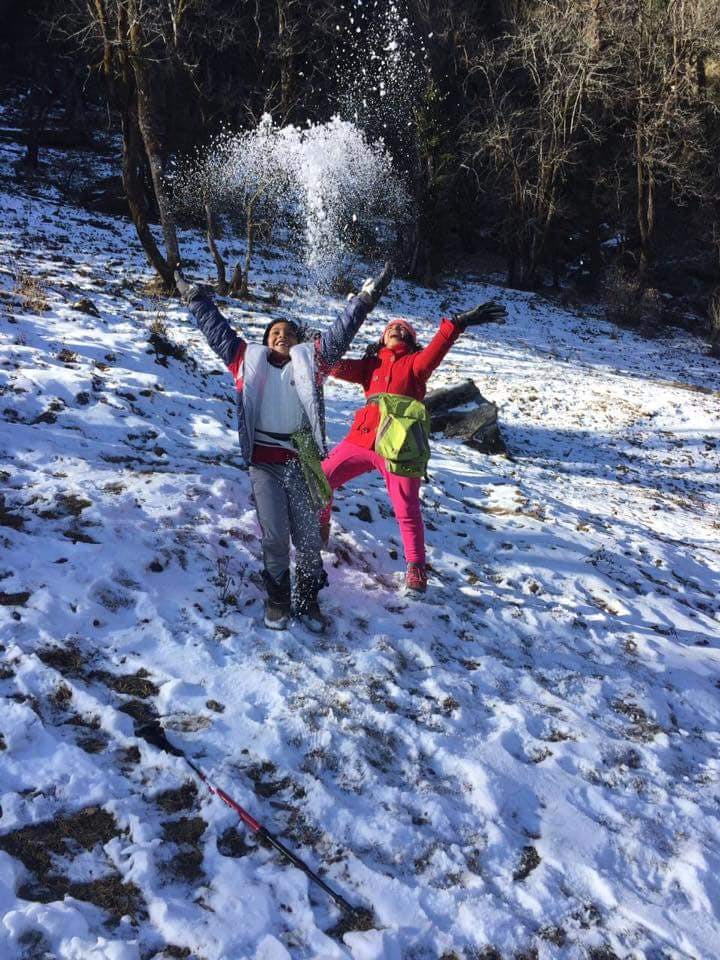 Another challenge was the weather. Aditya did the Kedarkantha trek in December, when night time temperatures were nearing -7°C. "When we reached Sankri, we couldn't bear the cold. The next morning, my husband was doubting our decision to bring Adi on the trek. After a while, Vishal came out wishing "good morning guys" to everyone. The very next second, Adi was awake and his first words were – "Come on..let's go!!" If Vishal and Mahaveer were an inspiration to Aditya, then Aditya himself was an inspiration to us!" says Vaaruni.  
The Kedarkantha basecamp is the coldest campsite on the trek. As the temperature dipped, Aditya's hands went numb. At this point, he was a little uncomfortable and complained about the cold. His Trek Leader, Vishal, handed him his hand warmers. In no time, Aditya was back to his cheerful self.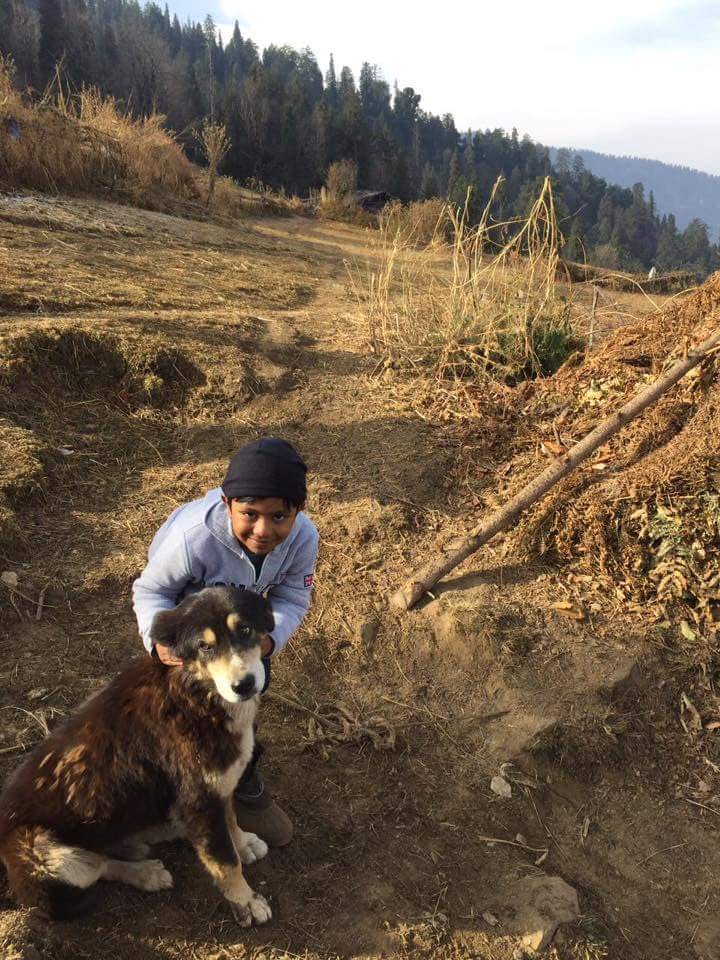 "He was all smiles on the trek. There was never a moment when he complained of tiredness or became disinterested. He became great friends with Mahaveer. They used to lead the way and reach ahead of time and rest. I constantly used to say drink water and rest. Mahaveer would reply – we reached 20min back and he has already had enough rest.  Aditya wants to go back to Kedarkantha trek again just to cuddle with the mountain dogs once again," says Vaaruni.
With the right amount of preparation, this family had a grand Himalayan trek. Aditya says this was one of his favourite weeks in his life. The family has already planned their next trek to the Pangarchulla Peak. It is a challenging trek for adults and children alike, but Vaaruni and her husband know how to handle their son on a trek – not to push him, but enjoy the trek together.
In case you have any questions, queries or doubts regarding trekking with children, feel free to drop in a comment below and someone from the Indiahikes team will help you out!
What you should do now
1. If you want to read more about the Kedarkantha trek, see the dates and itinerary, head over to this page.
2. If you liked this post and want to read more such posts: Go to this page – You'll find many such Expert Opinions here.
3. If you're looking for treks to do: Then head over to our upcoming treks page. You'll find all our Himalayan treks there.
4. If you want to work with us: Head over to our careers page. We have lots of positions open. We also have lots of applications coming in. So the sooner you apply, the better.
5. If you want to see the 29 best treks in 2020: Then click here.
Sign up for our much loved Weekly Mailer
We have terrific trekking tips, trek updates and trek talks to look forward to