Indiahikes Team Set To Explore A New Trek To Devkiyara
Share this story
Indiahikes Team Set To Explore A New Trek To Devkiyara
Category News
By Aditya Shankar
2018-04-20
O ur Indiahikes team is all set to explore the Devkiyara trek near Sankri, Uttarakhand, starting tomorrow. Our exploratory team comprises of Arjun and Sandhya, our founders, our trek coordinator Suhas Saya and Trek Manager Jagadeesh Rawat. A tiny explorer is tagging along with them — Arjun's 9-year-old daughter. Honestly, all of us at Indiahikes are really excited to put this trek on the map. If all goes well, we will soon upload the documentation for this trek on our website.
Among all the team members, little Mini is the most enthusiastic one. She has been running 3 km every day without fail with Arjun.
We wish the entire team clear weather, less of snow and loads of luck. I will share photos and news from their exploratory trek in my next update.
What else you'll find in this week's updates:
1. A successful season end for Everest and Annapurna Base Camp treks
2. Snowfall on most of our treks – Scroll down to find out which treks had snowfall this last week.
3. Photos from all our current treks.
4. Shreya's story, a 10-year-old Green Getter who went on the Kheerganga Buni Buni Pass trek
5. Bonus: Trek Pick of the Week – Learn about a lesser known Kashmir trek that could easily be the best trek in India.
Perhaps our fittest team till date
Our second group of trekkers made it to the Everest Base Camp with Trek Leader Geet Tryambake and Trek Manager Mukesh Panwar. They sent us these pictures yesterday.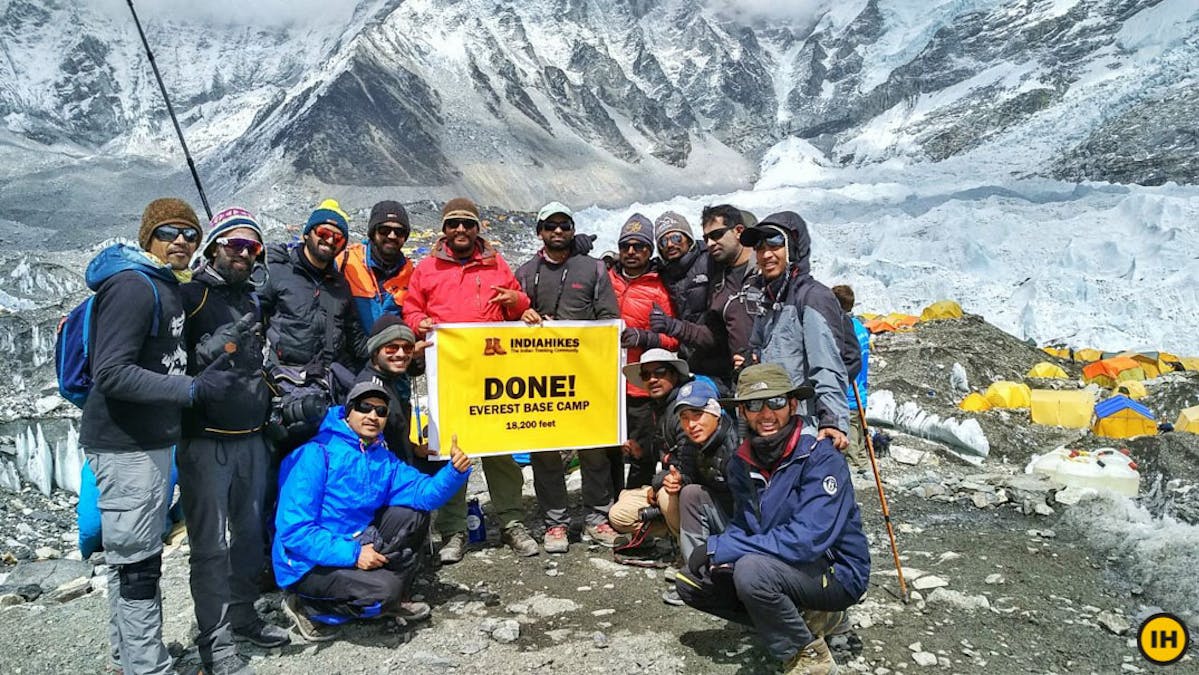 Our second group of EBC trekkers pose proudly with their Trek Leader Geet and the 'Done' flag.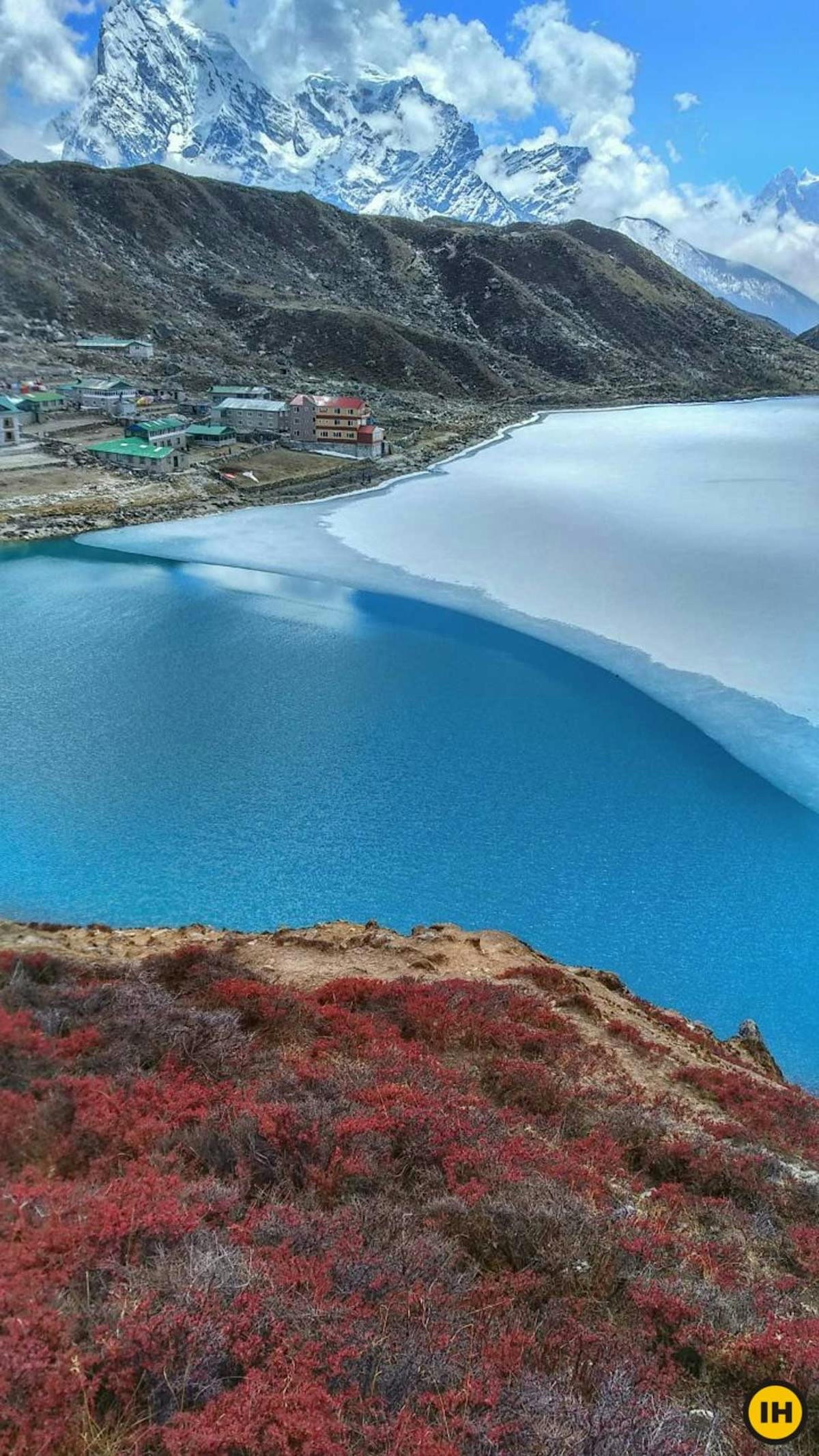 The aquamarine waters of Gokyo Lake on the Everest Base Camp trail. Picture By: Geet Tryambake
Trek Leader Geet was very happy with the trek and his extremely fit batch of trekkers. To give you an idea, the group reached most of their campsites on the trail at least 2-3 hours ahead of time. Not only this, none of the 15 trekkers opted to offload their backpacks – for a strenuous trek like Everest Base Camp, this in itself is an amazing feat.
"We reached 3 hours before average time, on the most difficult day of EBC! These trekkers are super awesome," exclaims Geet over the phone.
The team witnessed good weather conditions and crystal clear mountain views throughout the trek. Such successful groups of trekkers reaffirm the importance of a good fitness regime before the start of the trek. We congratulate them on this achievement. As you read this now, our trekkers are already on their way to climb Kala Patthar at 18,510 ft. We wish them luck!
However, there was one picture from Everest Base Camp that let us down.
This picture.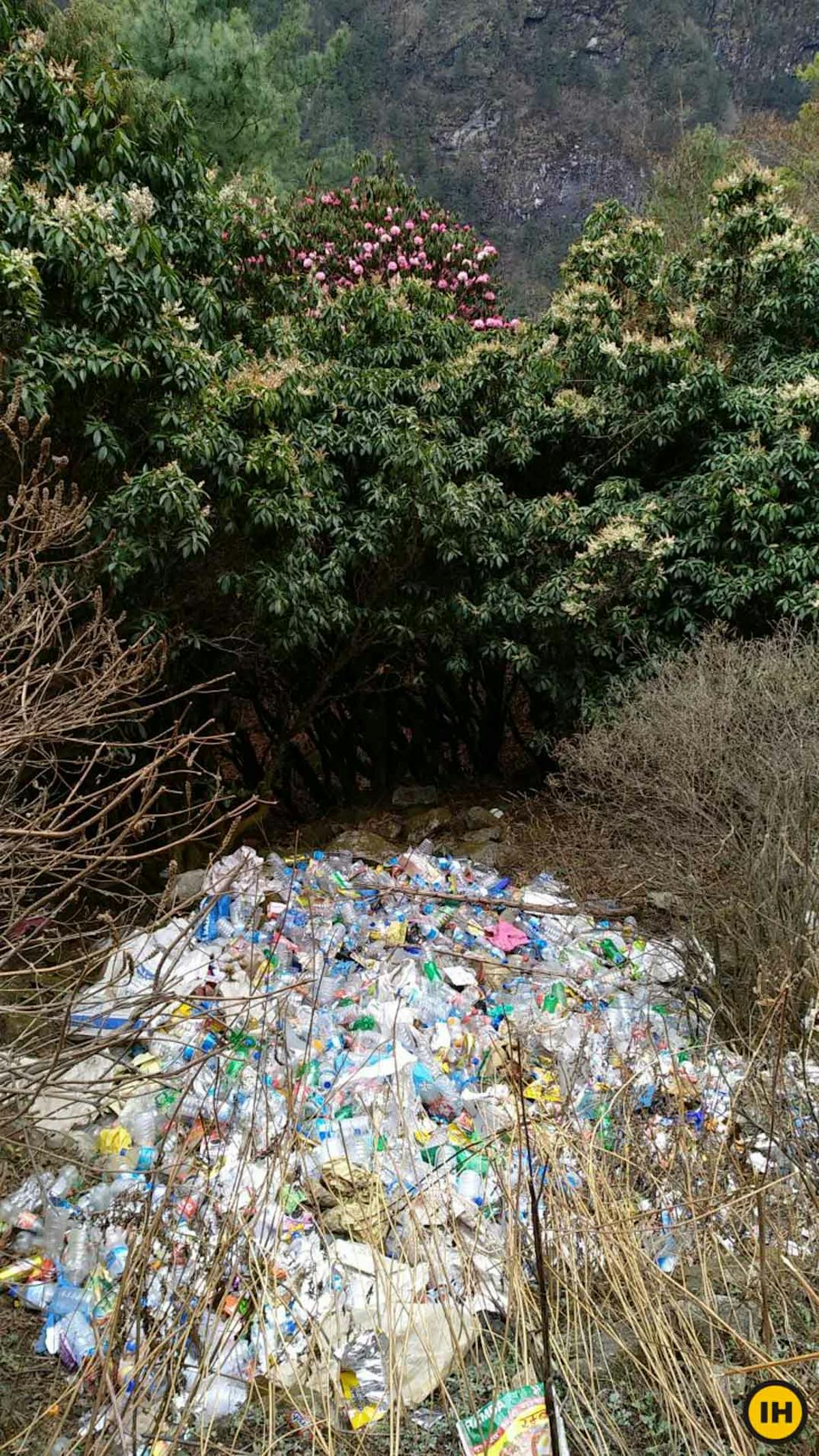 Open waste dumping is a common scene on EBC trek. Picture By: Geet Tryambake.
The picture speaks for itself. The most frequented and famous trek in the world has open dumpsites such as these. This just goes on to show the level of human carelessness these mountains are exposed to. It is time that we did our part in controlling this rampant waste production. Plastic on a trek should be a strict NO.
Trekkers Fight Bad Weather to Reach the Base Camp
Meanwhile, our other trek in Nepal has had a downturn in terms of weather conditions. Trek Leader Himanshu Thapa informed us that it was raining the entire day, yesterday until they reached Dovan in the evening. This dampened the mood of our trekkers.
Surprisingly, they woke up to a bright, sunny morning today and made their way to the base camp. Here's the photo of the group, with the Annapurna range in the backdrop.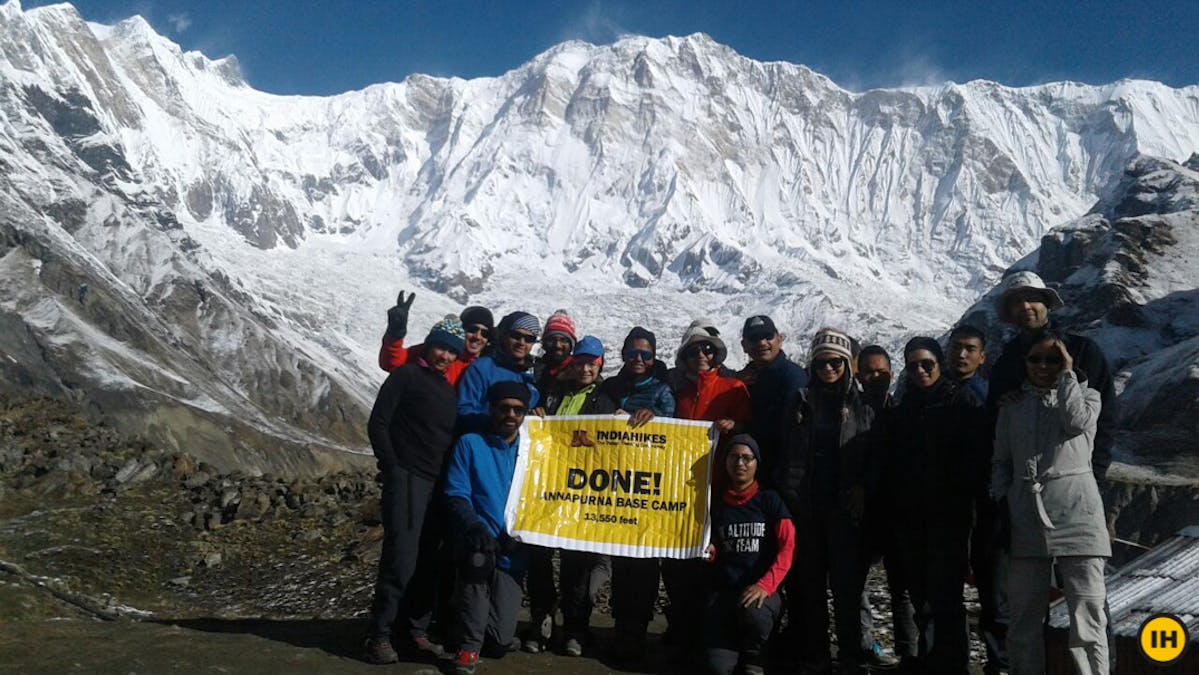 The successful group of trekkers at the Annapurna Base Camp.
The completion of this trek also marks the completion of our trekking campaign in Nepal for this season. A big shout-out to our trekkers, local staff, trek managers and trek leaders for making this a success.
Snowfall all the way from Kalkatiyadhar
This Uttarakhand trek is back to being the snow capital. After last week's sunny weather the trek saw heavy snowfall this week. Most of the campsites are back to being buried in snow. Trekkers meanwhile couldn't have asked for anything better as they played to their heart's content. Check out this video and photo from the trek:
#HarKiDun last week. This trek doesn't want to let go of winter. What a lovely spot for a campsite though! 🙂 . Video by Sarwash.
A post shared by Indiahikes (@indiahikes) on Apr 17, 2018 at 9:30am PDT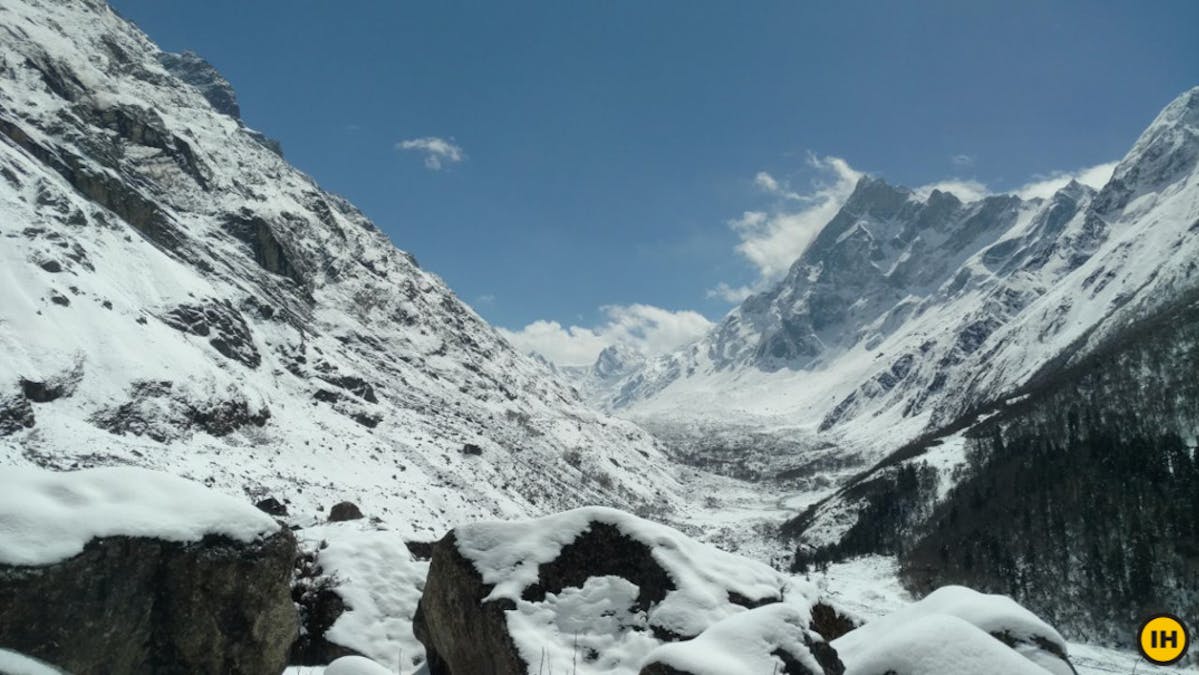 Snow covered ranges on the Har Ki Dun trek.Picture By: Asfaq
Unexpected Snowfall At the Summit
It snowed again on this trek last week. After having a dry spell for the past few weeks, it snowed much to our trekkers' delight. Check out this video we shared on our Facebook page below:
It's actually a very good time to visit this trek. Reasons – first, the surprise element of snow. Second, amazing mountain views. With the advent spring, mountain views on this trek are a sight to behold.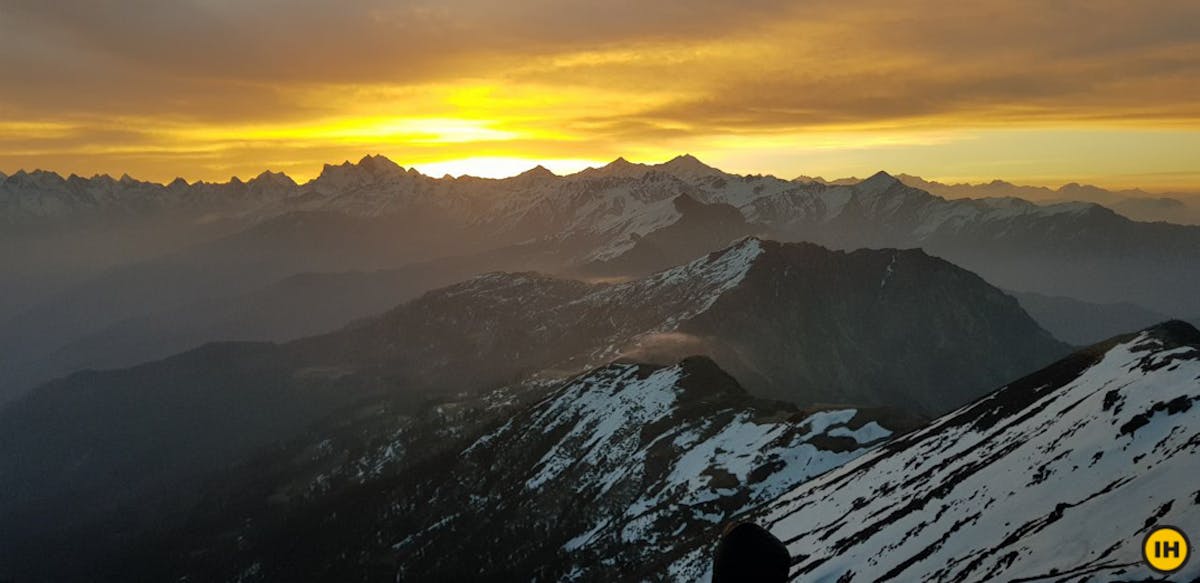 Sunrise behind the mountains as seen from Kedarkantha summit. Picture By: Sumit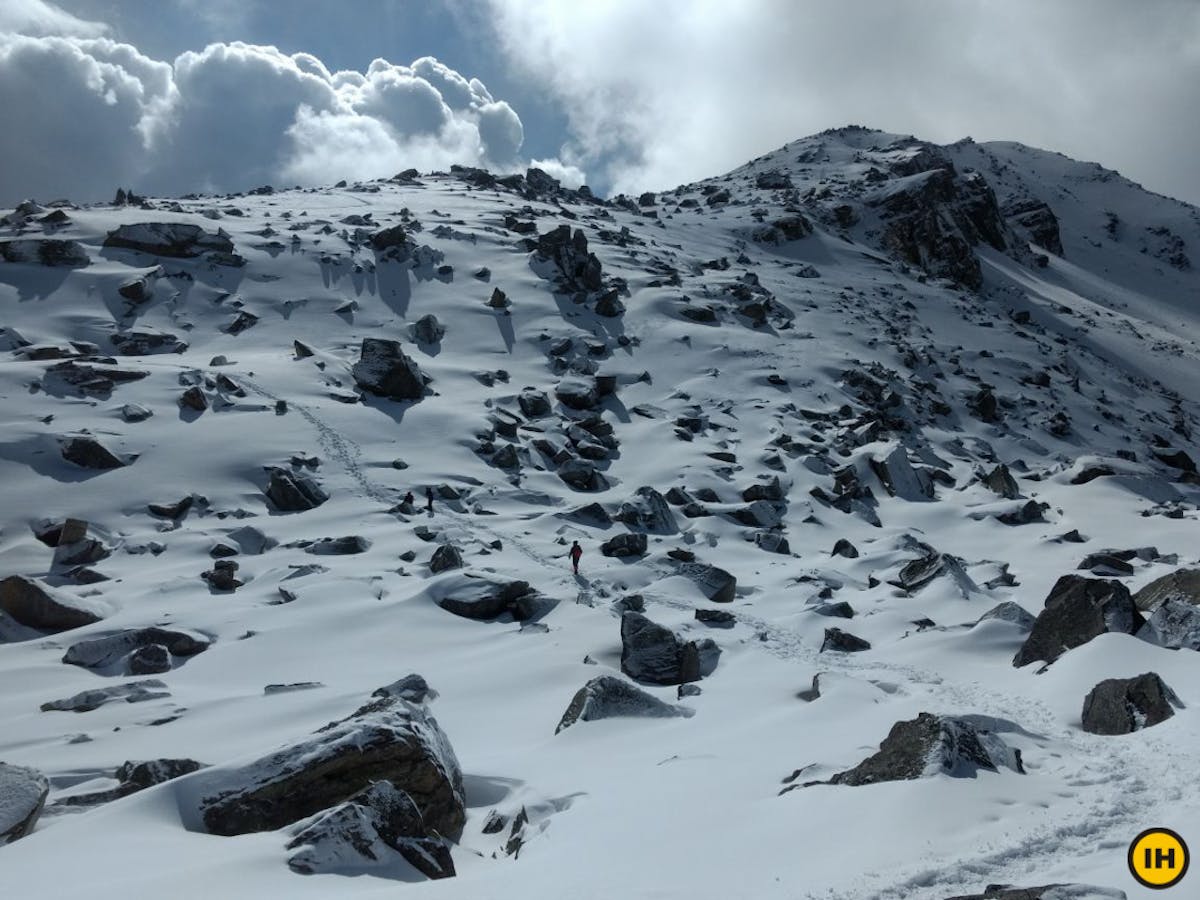 Spot the trekkers in this picture. This terrain makes Pangarchulla one of the most challenging summit climbs. Picture By:
The thrill of this trek is unparalleled. For a lot of professional trekkers, Pangarchulla is the holy grail of Indian treks.
Clear Views With Snow Covered Trails
This trek still has most of its snow cover intact all the way from Khullara to the Pass. Trekkers get the best of both worlds – clear mountain views and vast stretches of snow. Here's a picture from the trek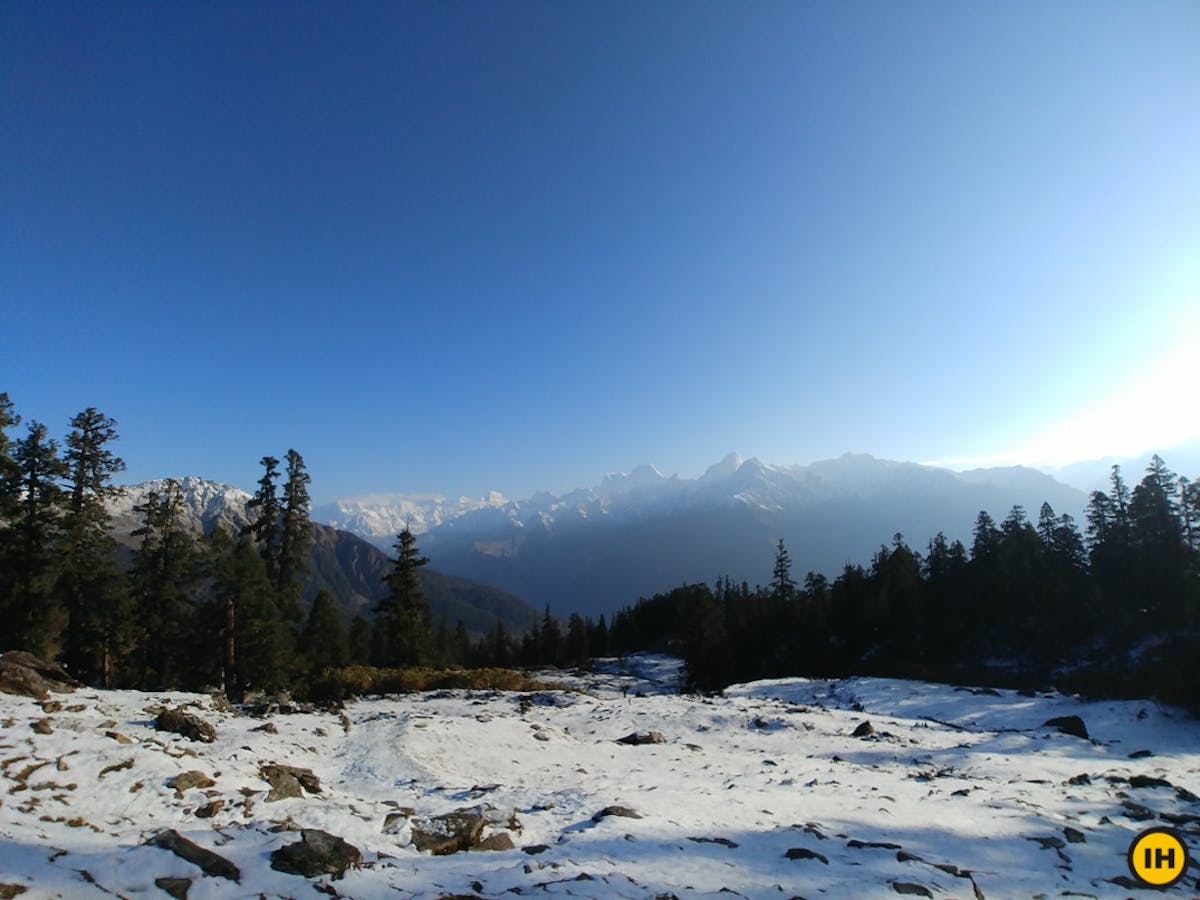 The Khullara campsite of Kuari Pass. Picture By: Shravan
We opened gates to this popular Himachal Pradesh trek this year. The trek starts from Kheerganga, a popular picnic spot.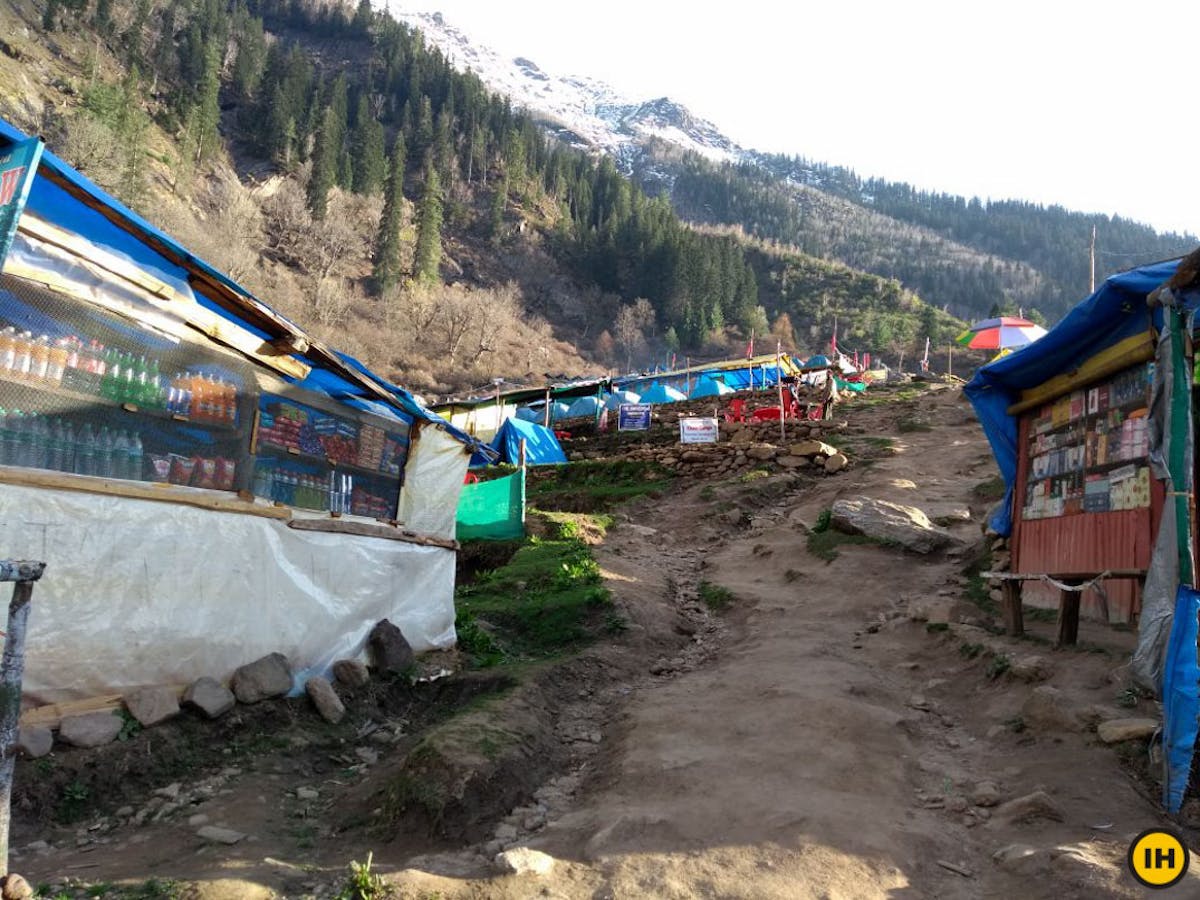 The commercial hotspot for tourists and picnickers – Kheerganga. Picture by : Trek Leader Samkit Jain
The views on this trek are awe-inspiring. As trekkers climb up from Kheerganga to Kungti Thatch, they see the snow-capped mountain ranges as the superb Parvati valley stretches underneath.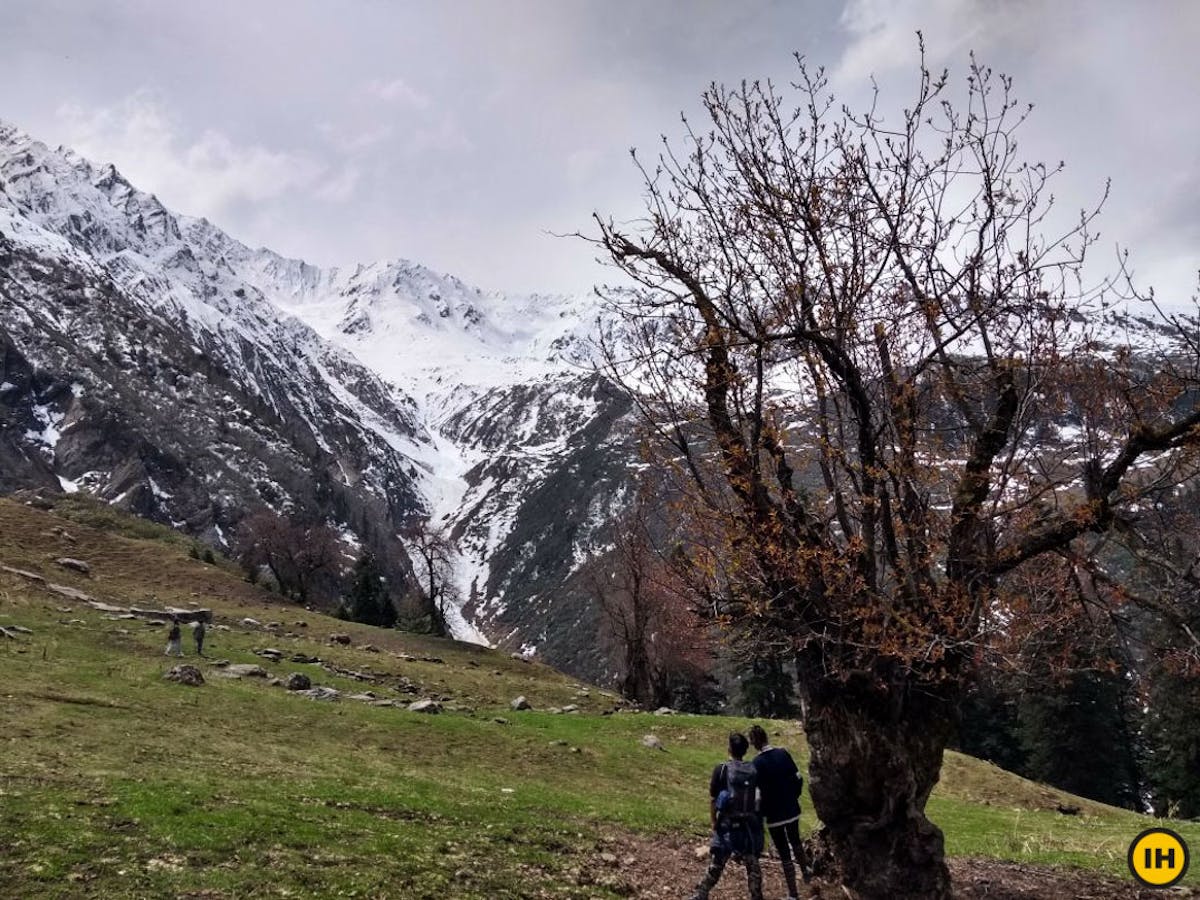 The beautiful campsite of Kungti Thatch on the Kheerganga Buni-Buni Pass trail. Due to the higher altitude, this scenic place is untouched by tourists. Picture By: trek Leader Samkit Jain
Trek Pick of The Week:
A trek that blows you away with its beauty.
When it comes to beauty, there are very few places on Earth that can compete against Kashmir. The Tarsar Marsar lake in Kashmir is no different – with 3 huge spectacular alpine lakes and 2 mountain passes, there are very few treks in India that can match to its magnificence. This trek is an absolute must do in this upcoming monsoon season. Read more about it here.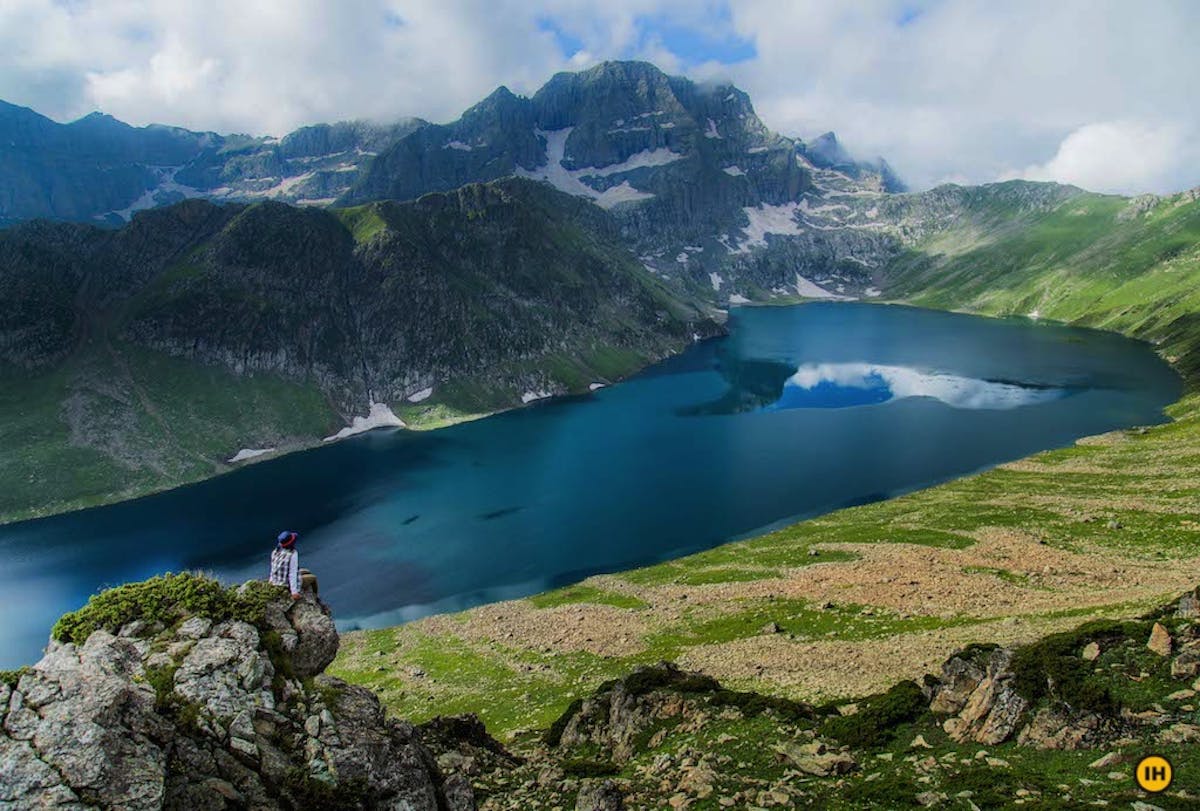 The majestic alpine lakes on the Tarsar Marsar trek. Picture By: Kishan Harwalkar
Sign up for our much loved Weekly Mailer
We have terrific trekking tips, trek updates and trek talks to look forward to