Once A Backpacker Always A Backpacker
Share this story
A year ago, I bought my first travel backpack. I initially bought it for a trek. But with every trip I've taken since then, I've learnt a little more about the science and art that is backpacking.
It helps that I work at an adventure company, one that focuses primarily on trekking.
Travelling light, anywhere & everywhere 
One of my colleagues, Swathi, taught me the ABCD of packing a backpack – Accessibility, Balance, Compactness and well,
Done the Above! You can read more about that here.
That ABCD lesson on packing made me realise how convenient a backpack is compared to suitcases.
I notice this especially at railway stations. With a suitcase, I invariably find myself fumbling while entering the train, lugging it awkwardly and causing people to verbally honk at me. Not to mention the people tripping over the suitcase on the ever so crowded platform!
Why would you want to lug around something so bulky when you could have your hands free – free to fish out that map from your pocket, to eat a Mars bar, sip some water, snap a picture or to simply walk like a boss!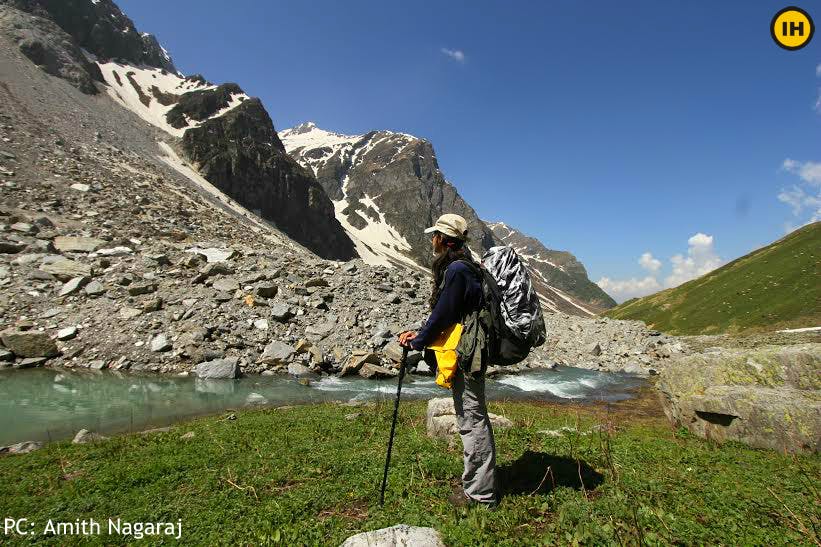 Backpacking is not just for trekking
Come to think about it, after my first trek, my backpack became a part of me.
The fact that it is so comfortable and easy to carry makes me want to carry it myself, and it gives me a deep sense of satisfaction. I don't need porters to assist me on any trek and that makes me feel extremely self reliant!
It even throws off those who think women aren't built for carrying weight, making the feminist in me very very proud.
Speaking of proud, there was this one time, I didn't even have to check in my 40 litre Quechua pack because it fit the dimensions of carry-on baggage and weighed less than 7 kilos! What a triumphant feeling it was to walk past all those co-passengers headed for an indefinite wait at the baggage carousel. Hah!
I often think that Hermione Granger, wearing the Invisibility Cloak, walks around at airports placing the Undetectable Extension charm on backpacks. Remember her purple beaded handbag that was like a bottomless pit holding absolutely everything she needed?
Backpacks are like that. You can pack all the things you need and feel like you've carried your whole world with you on your back. It's liberating to know that a backpack is all one really needs to conquer the world and oneself!
So, on your next trip what are you going to carry? A suitcase or a backpack?
If you choose the latter, I can safely say, "once a backpacker, always a backpacker."
Sign up for our much loved Weekly Mailer
We have terrific trekking tips, trek updates and trek talks to look forward to