Teton Scout 3400: A high comfort backpack for long treks
Share this story
One of the many perks of working at Indiahikes is that I rarely have to buy trekking gear. I beg, borrow and steal (ok, not really steal) trekking accessories from my colleagues. I take Arjun's backpack, Sandhya's jacket, Komal's headlamp and so on. This setup has been on ever since I joined Indiahikes and has been so convenient that for a long long time, I did not have to buy any gear.
So a couple of months ago when I finally decided to buy a backpack it was after having tried and tested several backpacks. I had tried a Teton Scout 3400, a Quechua Forclaz 50, a High Sierra Titan 55 and a few others. I was lucky enough to try these backpacks not just for a few hours, but on long Himalayan treks!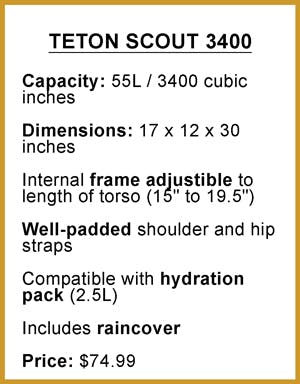 First impression
When I first saw the Teton Scout 3400 backpack, I immediately liked its long and narrow structure. It looked comfortable even for a skinny trekker like me. When I put it on, it sat snugly on my back. After adjusting the straps, it felt like an extension of my body. I loved it!
Highlights of Teton Scout 3400
The next thing that struck me about the Teton Scout 3400 is that it is a very well-balanced backpack. Despite the long and narrow structure, the backpack is engineered so well that it never topples over. It distributes the weight evenly on your back. On my Rupin Pass trek I carried the backpack for 10 hours straight and never felt a single pang of pain in my shoulders.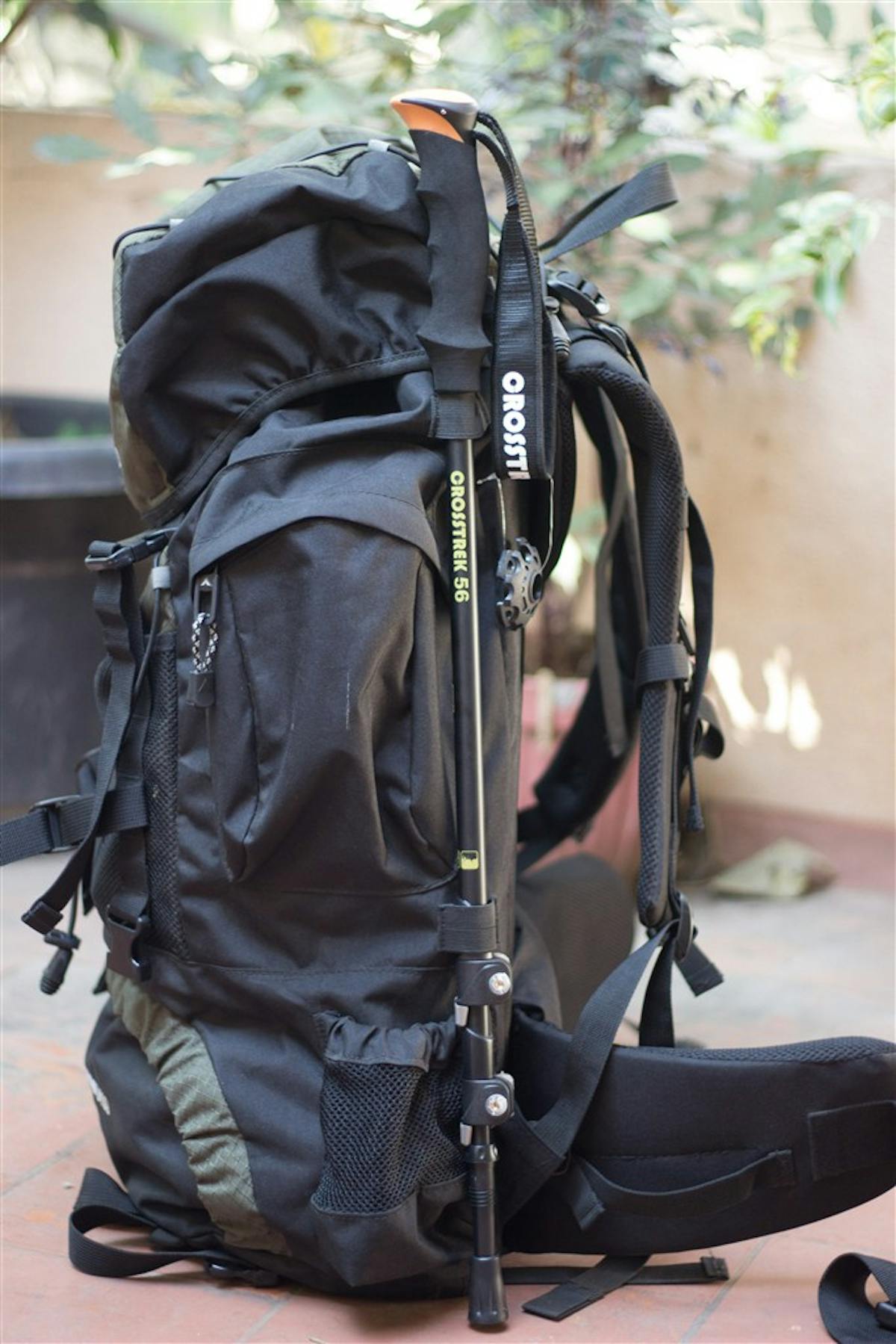 Loops on the side hold the trekking pole in place
Another big highlight is the blackhole-like space in the backpack. It really is like Hermione's bottomless bag. I could fit everything I need for an 8 day trek and still have space remaining. It is so spacious. I usually end up putting my big camera bag with a DSLR into it.
I've seen that most backpacks are either well-balanced or roomy – just one of the two. Usually, when you fill them up, they get bulky and tip over to the side. But this one has the best of both worlds. It never loses its shape no matter how much you put in it. And that's a blessing on long treks!
There's another addition that is a boon to trekkers – the Ice Axe loops on the sides! How convenient they are for trek poles! I usually see trek poles hanging very awkwardly from inside backpacks. These tiny loops solve that problem completely!
In fact, I remember Arjun using the word "thoughtful" to describe this backpack. And indeed it is. The high comfort level using this backpack is its biggest highlight.
Look and feel
The design of the backpack is very practical. There are no added frills, no unrequired straps. Just the basic, necessary straps and cords to adjust the backpack.
The colours are classy – I especially like the military-style olive green. It blends into the surroundings while you're trekking – and it makes you look like a seasoned trekker in pictures! The other two colours (orange and peach) show wear and tear too easily.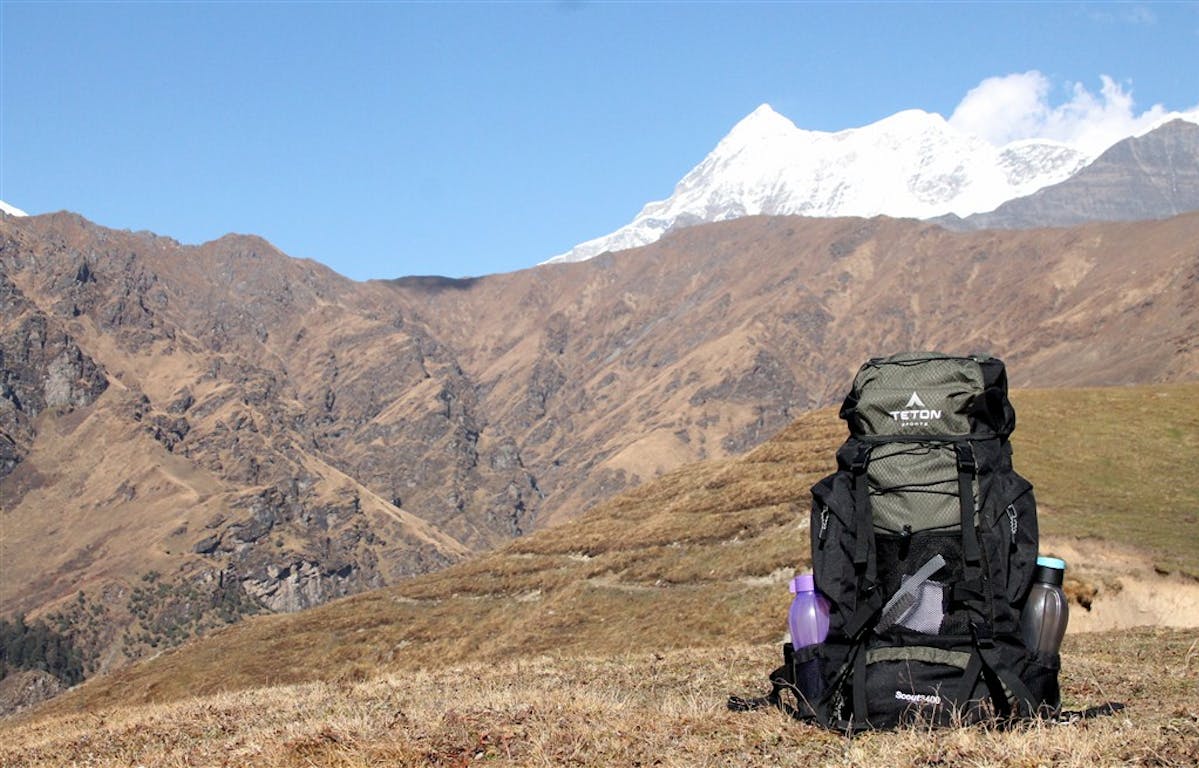 Teton Scout 3400 shot on the Roopkund trek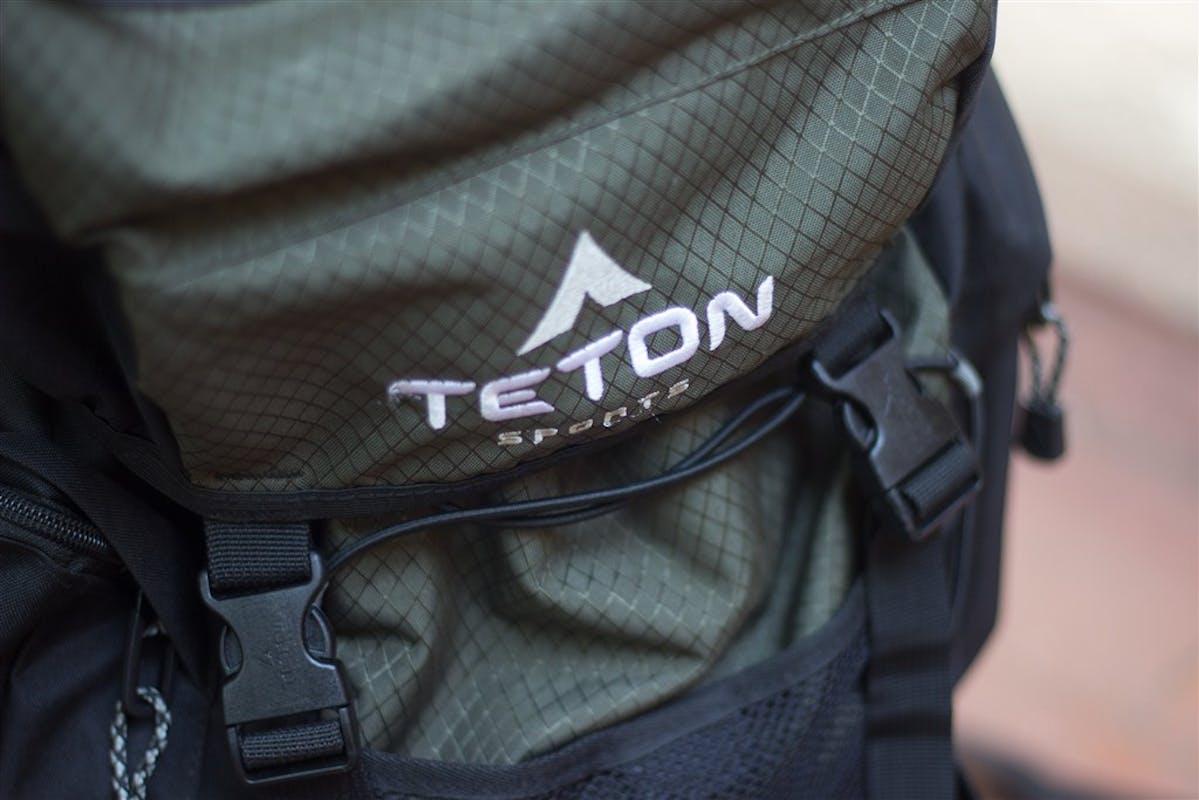 Lightweight ripstop construction minimizes wear and tear
The above picture you see was shot on my trek to Bedni Bugyal last month. I put the backpack through some rough use on the trek. What with checking it in at the airport, shoving it under the seat in trains, tying it on top of a jeep on muddy mountain roads and of course, trekking with it in the wilderness – the backpack went through a lot. But it shows no signs of it. It's a resilient backpack put together for rough use. 
The fabric is tough – the outer ripstop construction doesn't let the backpack get damaged easily. It performed very well, and still looks new as it did when it came from USA two months ago.
Compartments
If you want to get a good look at the compartments in this backpack, you can take a look at this video – How To Pack Your Backpack. While I'm not reviewing the backpack in the video, I'm actually packing it, so you can see the compartments.
My favourite compartments are the Top Flap and the two side zippered pockets. Oh how useful they are! I always keep the most important things there – my medical kit, torch, cap, sunglasses, etc. I've seen several backpacks with the Top Flaps but they're usually very flimsily attached to the main body, with delicate-looking straps. This flap is solid and you can keep things in it without risking damage.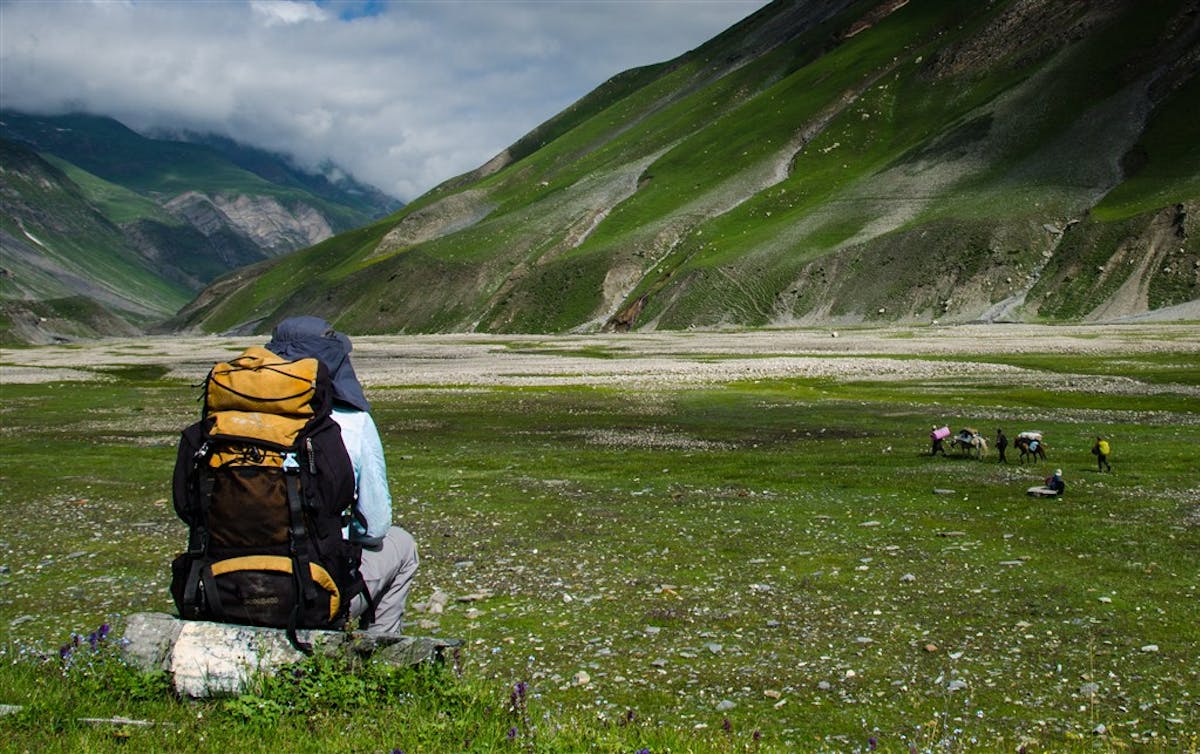 A picture from the Warwan Valley exploration where Sandhya used a Teton Scout 3400
There is a sleeping bag compartment at the bottom, which is spacious. I have tried fitting in a thick High Altitude Hillman Sleeping Bag in it and it fits to the T. If not a sleeping bag, it is also a great compartment for your padded jacket and other warm layers.
Cons
The only thing that makes me go hmpf is the Hip Pocket on the sides – I usually keep my water bottles there, but they're far too low and not easily accessible. I end up asking someone else to pick my water bottle out for me. Another hiccup is that the backpack is on the heavier side, weighing 2 kg. But I think it's worth the weight.
Sadly, this backpack is not yet easily available in India. You will find it in Indian online marketplaces, but it is more than twice the original price – $74.99. It's better to have someone from the USA bring it over for you. 
The verdict
For the comfort level this backpack provides I'd easily give it a 4.5 on 5. I doubt you'll get such a robust and dependable backpack at such a low price anywhere else. 
If you have any good backpacks that you've used and would recommend, do let me know in the comments!
Sign up for our much loved Weekly Mailer
We have terrific trekking tips, trek updates and trek talks to look forward to