Trek News Jun 11 To Jun 16: Indiahikes Launches A New Trek
Share this story
Trek News Jun 11 To Jun 16: Indiahikes Launches A New Trek
Category News
By Aditya Shankar
2018-06-11
W e launched a new trek this week – the Phulara Ridge Trek. Apart from this in the past week, most Himalayan treks witnessed rainfall. Whether it's the treks in Uttarakhand or Himachal Pradesh, rains painted the entire landscape in a refreshing shade of green. This also means that the temperatures have dropped further. If you're heading to the Himalayas in the coming days don't forget to pack extra warm layers and a poncho.
Apart from that, the last week was pretty eventful for us. Here's a sneak peek of what happened:
1. We started our 3 treks in Himachal Pradesh.
2. Arjun Majumdar, our founder gave a TEDx talk in Baroda, Gujarat.
3. Our Green Trails team made a bottle brick bench in Kuling, Uttarakhand.
Watch this video below or scroll down to read detailed and latest updates from all currently running treks.
Latest Updates 15-06-2018 17:08:00
Dayara Bugyal
Some photos from this dreamy trek
This enchanting trek in Uttarakhand is giving really good time to all its trekkers. We saw some latest photos of this trek and went completely wide-eyed at the magical beauty of it. We will let you see the photos and pass your judgement.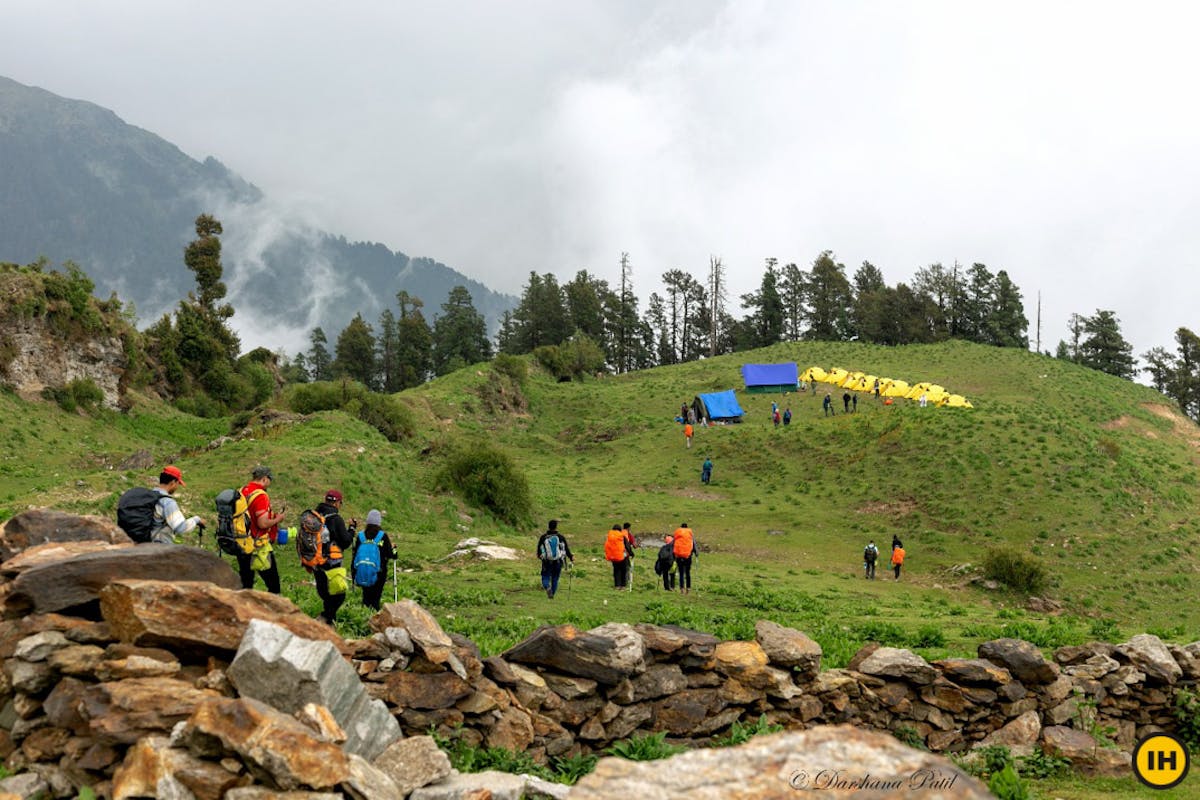 Trekkers making their way to one of the most beautiful campsites in the Himalayas – Dayara.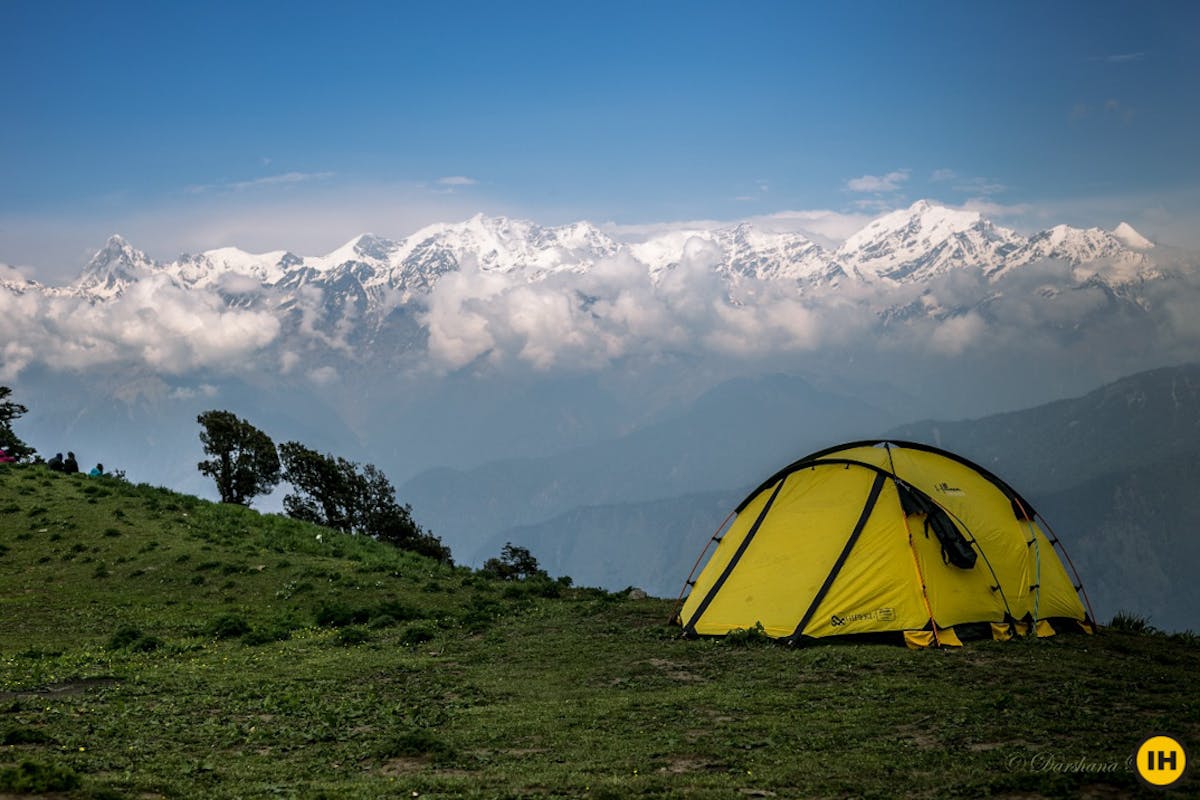 The picturesque views from the campsite.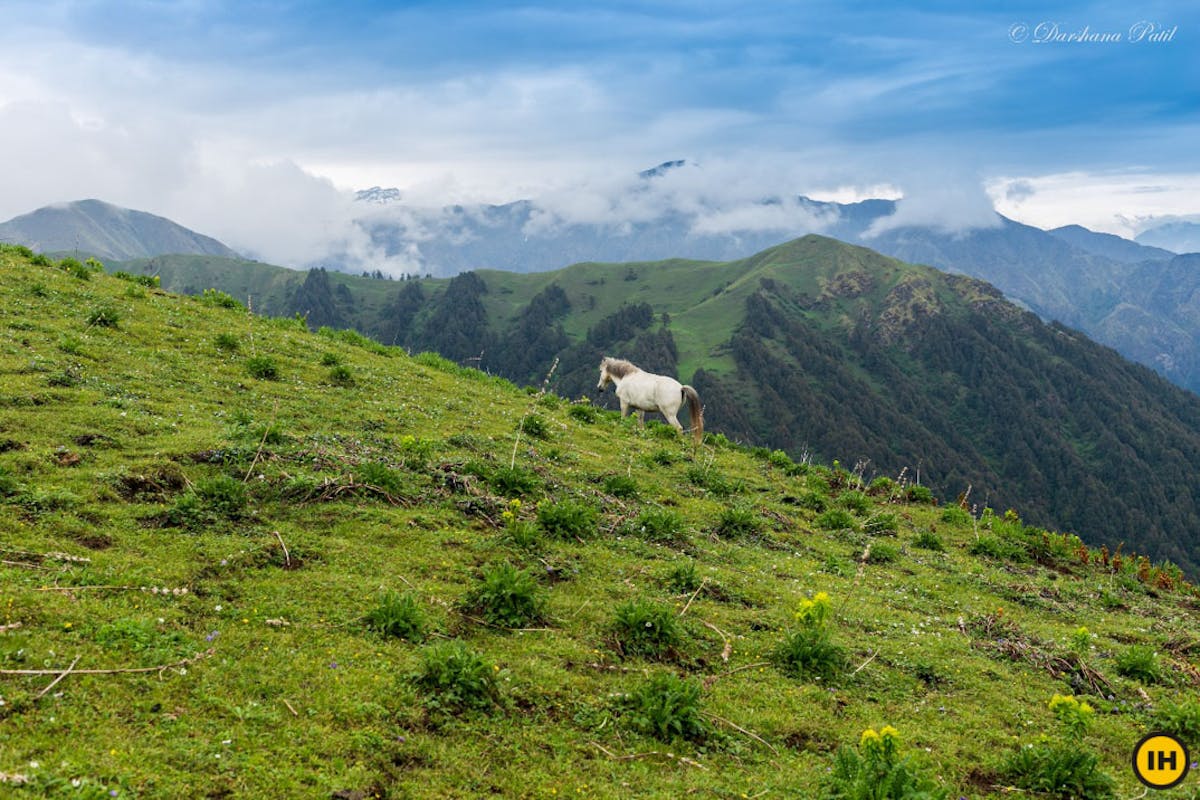 A wild horse grazes on the meadows of Dayara.
Latest Updates 15-06-2018 12:08:00
Roopkund
Transport Strike in Dehradun as trekkers stay at Lohajung base camp
Last Sunday the transport organisers in Dehradun called for a transport strike against Supreme Court's ruling of fitting speed tracker devices in all vehicles.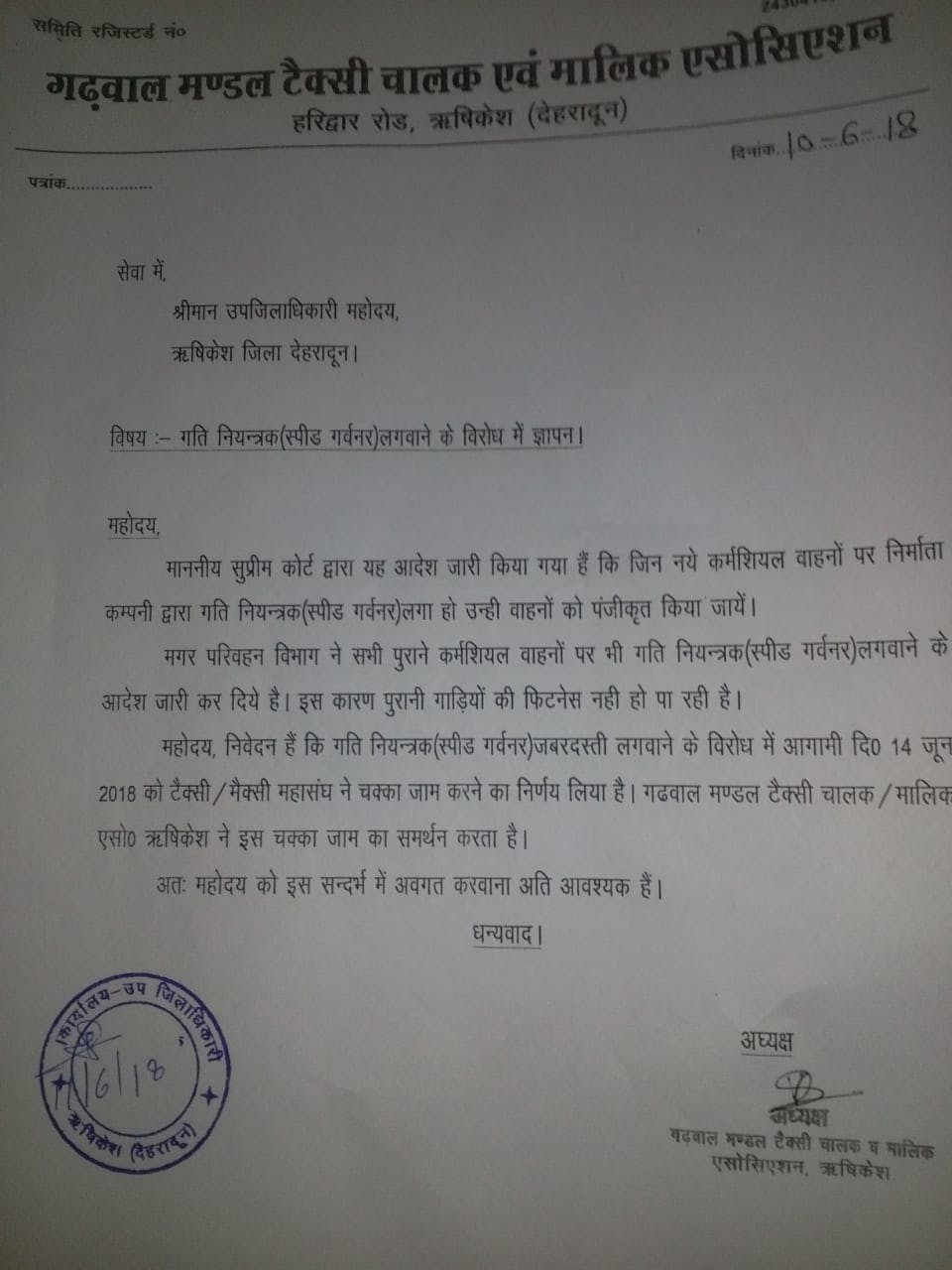 We were already prepared for this strike and had arranged bus pick-ups for our trekkers safely from the Kathgodam railway station. However, the transport from Lohajung to Wan is severely hit. To avoid this conflict all our trekkers stayed at the Lohajung base camp and did an acclimatisation walk to Ajan Top Hill nearby.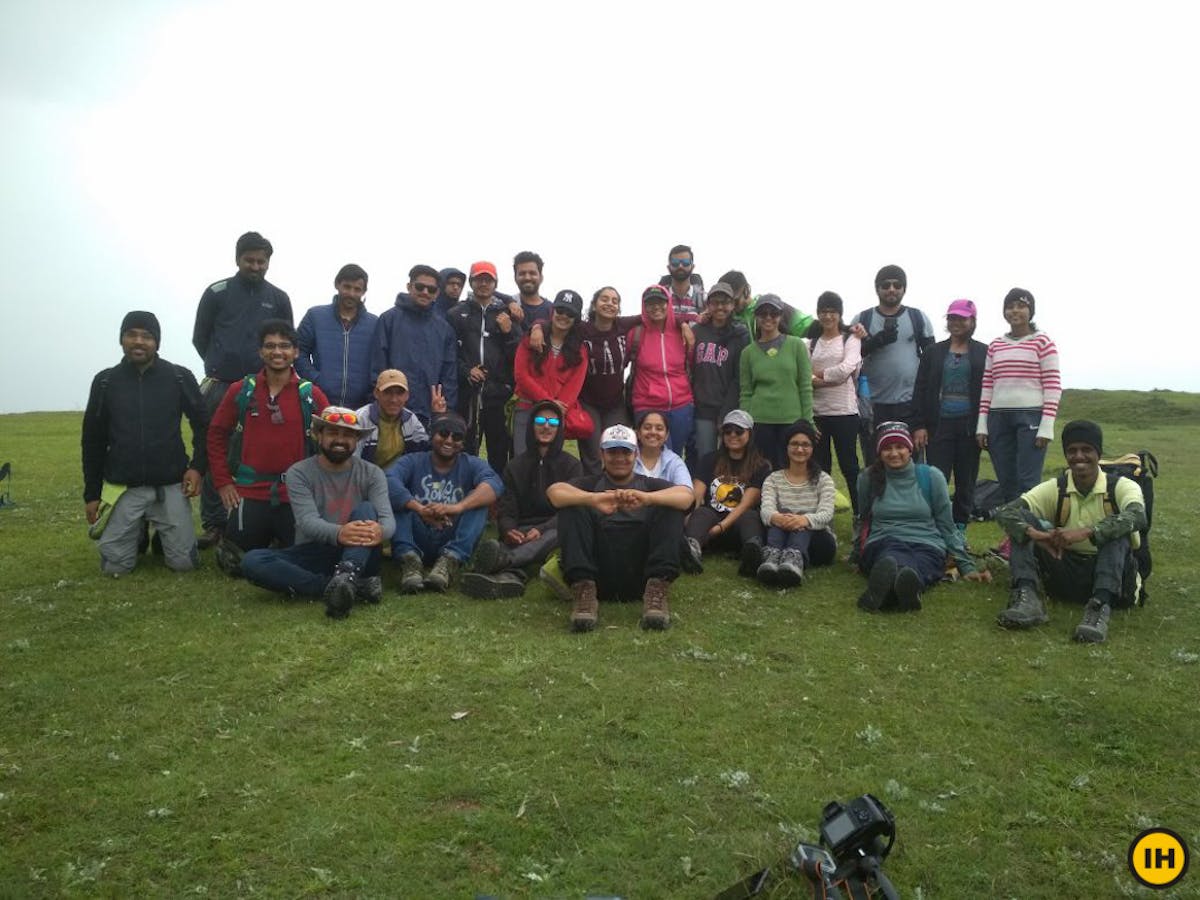 The 13th June group of trekkers climbed up to Ajan Top from the Lohajung base camp.
We intend to resume on the original itinerary for them starting tomorrow. The trek will run as per schedule and end on the same date (21 June). We will make use of the extra buffer day kept for this trek. Till the strike is called off Indiahikes will take responsibility of the trekker's pick-up and drop off at Kathgodam Railway Station.
Latest Updates 13-06-2018 13:08:00
Bhrigu Lake
Season start to a wonderful Himachal trek
Trek Leader Naman sent us few photos in the morning today, and we were blown away by the pictures. There's still a good amount of snow on the trails. The climb from Gulaba to Rola Khuli across lush green meadows is filled with wild flowers of different colours. Trekkers are absolutely in love with this trek.
A post shared by Indiahikes (@indiahikes) on Jun 13, 2018 at 12:26am PDT
Latest Updates 12-06-2018 12:08:00
Buran Ghati
First few groups complete the trek successfully
Last week saw the start of the Buran Ghati trek season. As many as 3 groups of trekkers have come down from the trek after successfully completing it. The weather on this trek has been clear on most days. There have been few rain spells in between but nothing has hindered the smooth execution of the trek. The temperatures are still very low and we suggest you carry adequate layers before heading to the trek.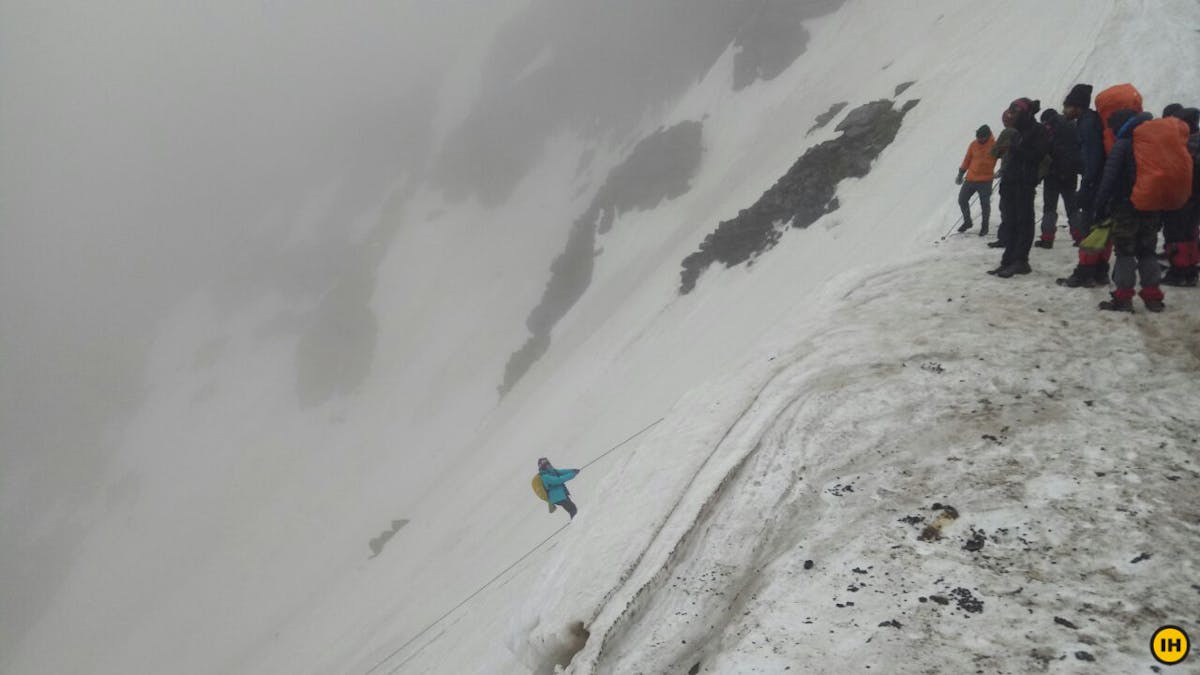 A trekker rappels down the ice wall from 15,000 feet at Buran Ghati Trek. Picture By: trek Leader Devang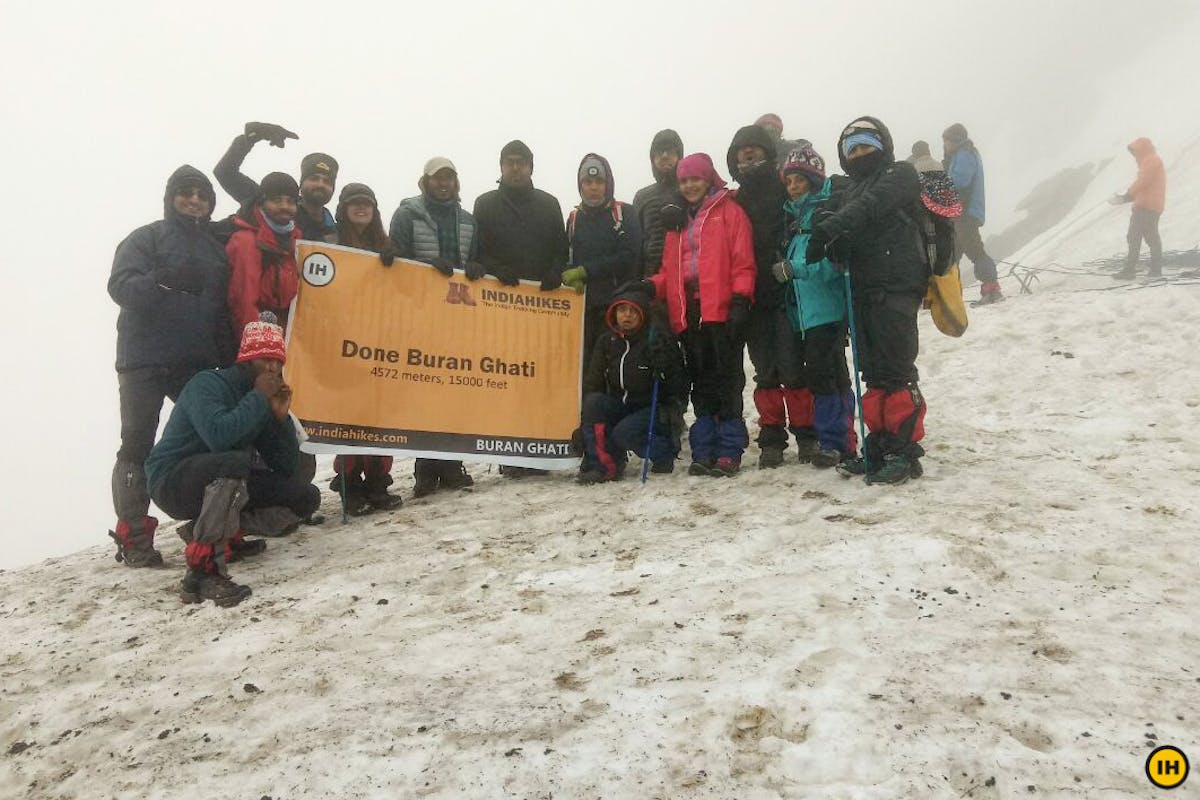 Trekkers pose with the 'Done' flag as they complete their climb. Picture By: Trek Leader Devang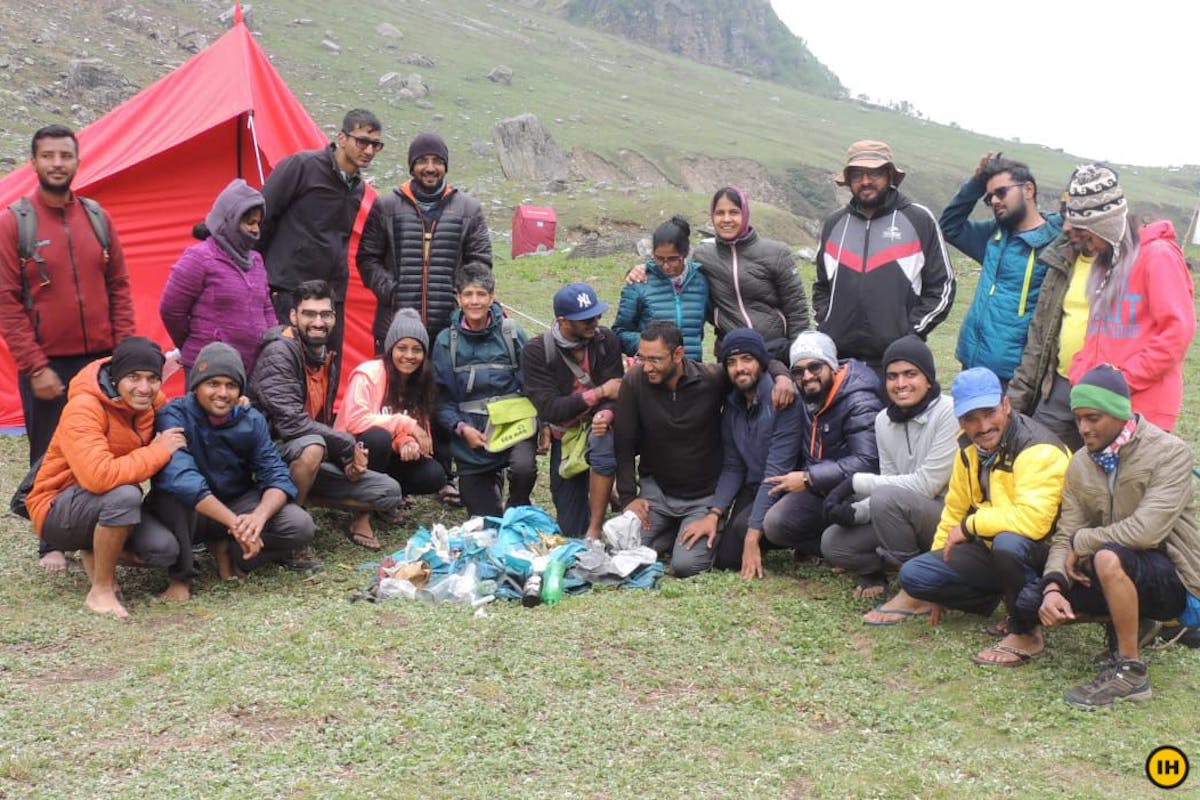 Excited and environmentally conscious, our trekkers brought down plenty of waste from the mountains. Picture By: Trek Leader Varun
Furthermore, our colleague from the Bangalore office, Vishnu, returned from his trek yesterday. We were amazed to hear his trek story. He also shared few photos from the trek which we have posted below. The beautiful green valleys of Dhunda, interspersed with flowers of different colours, was the highlight of the trek for him.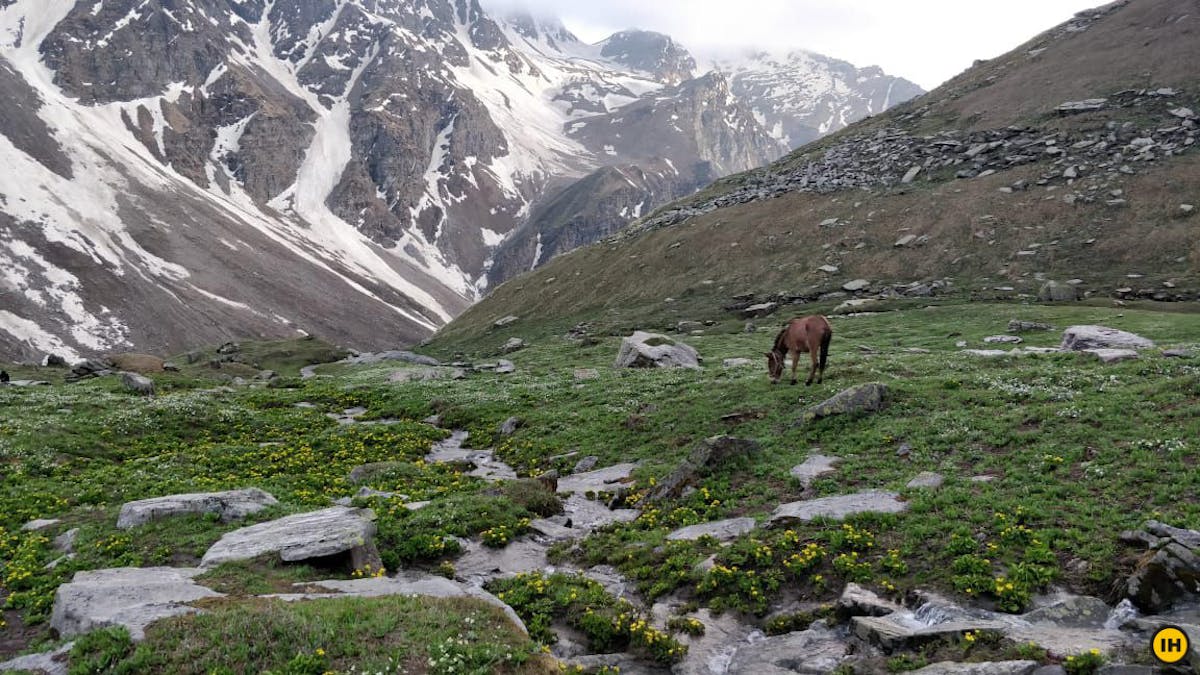 The Dhunda campsite covered with multi coloured flowers. Picture By: Vishnu Benne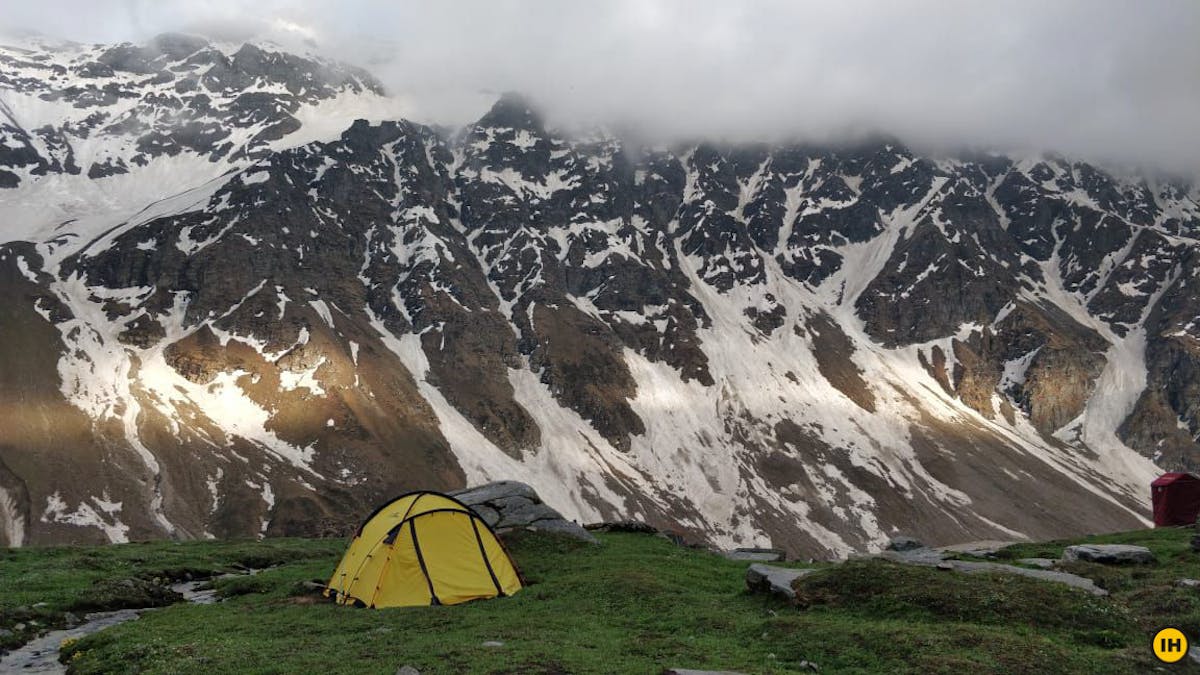 A late evening glow on the alpine peaks visible from the Dhunda campsite. Picture by: Vishnu Benne
Roopkund
Frequent bouts of rainfall as the temperature drops further
At Roopkund, it has been raining on most days since the last week. Trekkers are instructed to carry an extra pair of trek pants apart from the usual two pairs. Due to the rain, temperatures have dropped much more than usual. Layer up properly as soon as you reach the campsite.
The post-rain scenes have been jaw-dropping. During the day, the views suddenly open up from amidst the clouds. Check out few pictures from the trek below: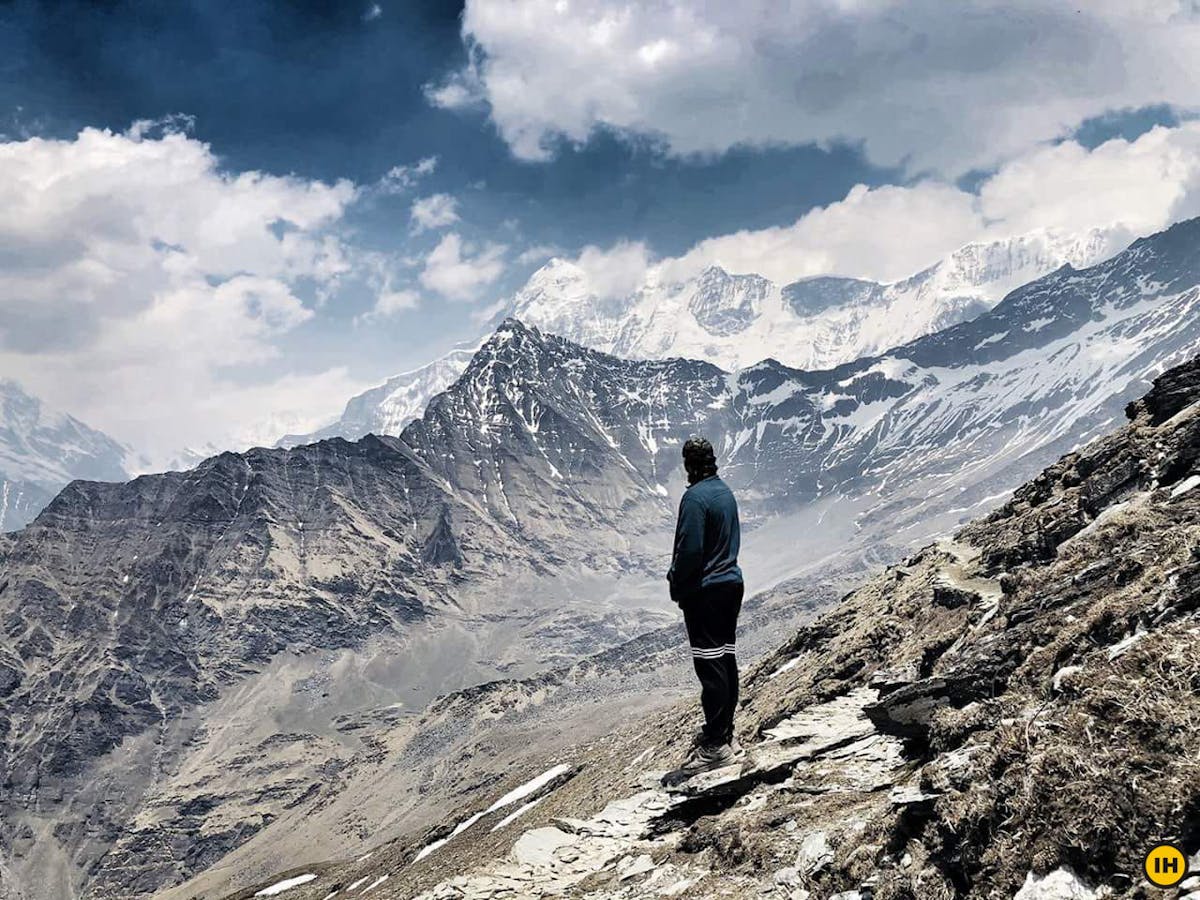 A trekker takes in the view from the Bhagwabasa campsite. Picture by: Harsh Gada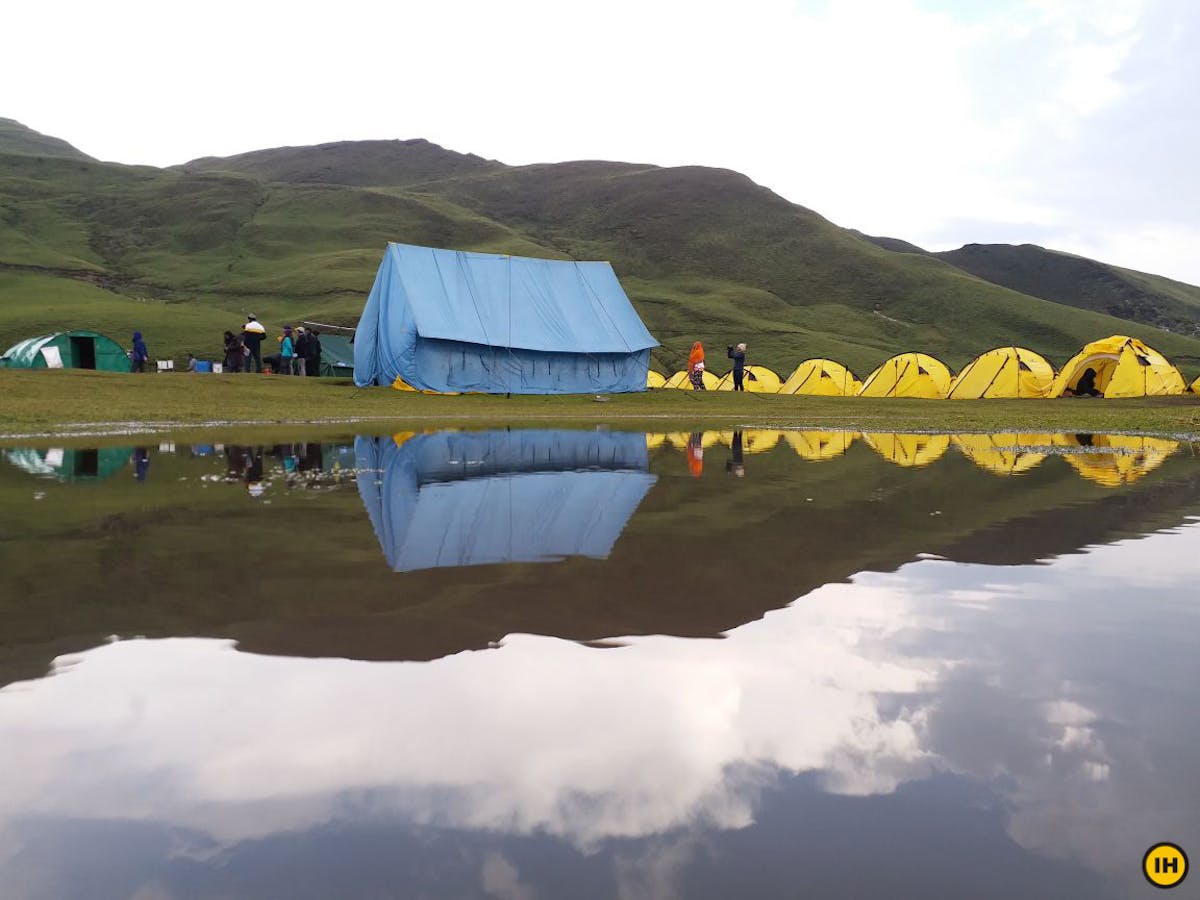 The Bedni Bugyal campsite on the Roopkund trek after a fresh spell of rainfall. Picture by: Ashvini Goyal
Rupin Pass
Rains make the valley greener
The weather at Rupin Pass has been pleasant on most days last month except for last week, when it started raining. The blue, cascading waters of Rupin have made the valleys greener than ever. At high altitude regions close to the pass, the snow cover is still intact, providing trekkers best of both worlds.
Temperatures in the evening and night time are still pretty low with frequent rain showers.
Last week, due to an IMD weather forecast, we had to cut short the route for a group of trekkers. We are back to the original route now. Check out few photos sent in by our trekkers: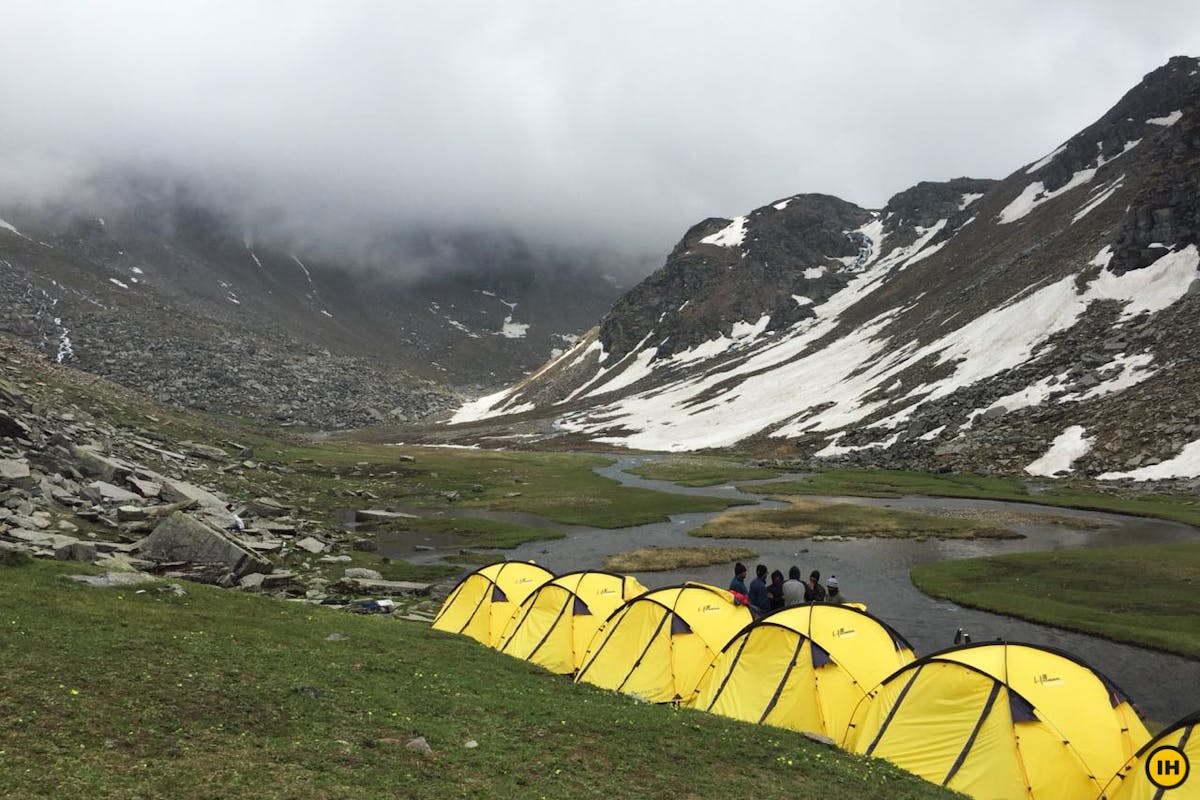 The lower waterfall campsite on the Rupin Pass trek. Picture by: Satya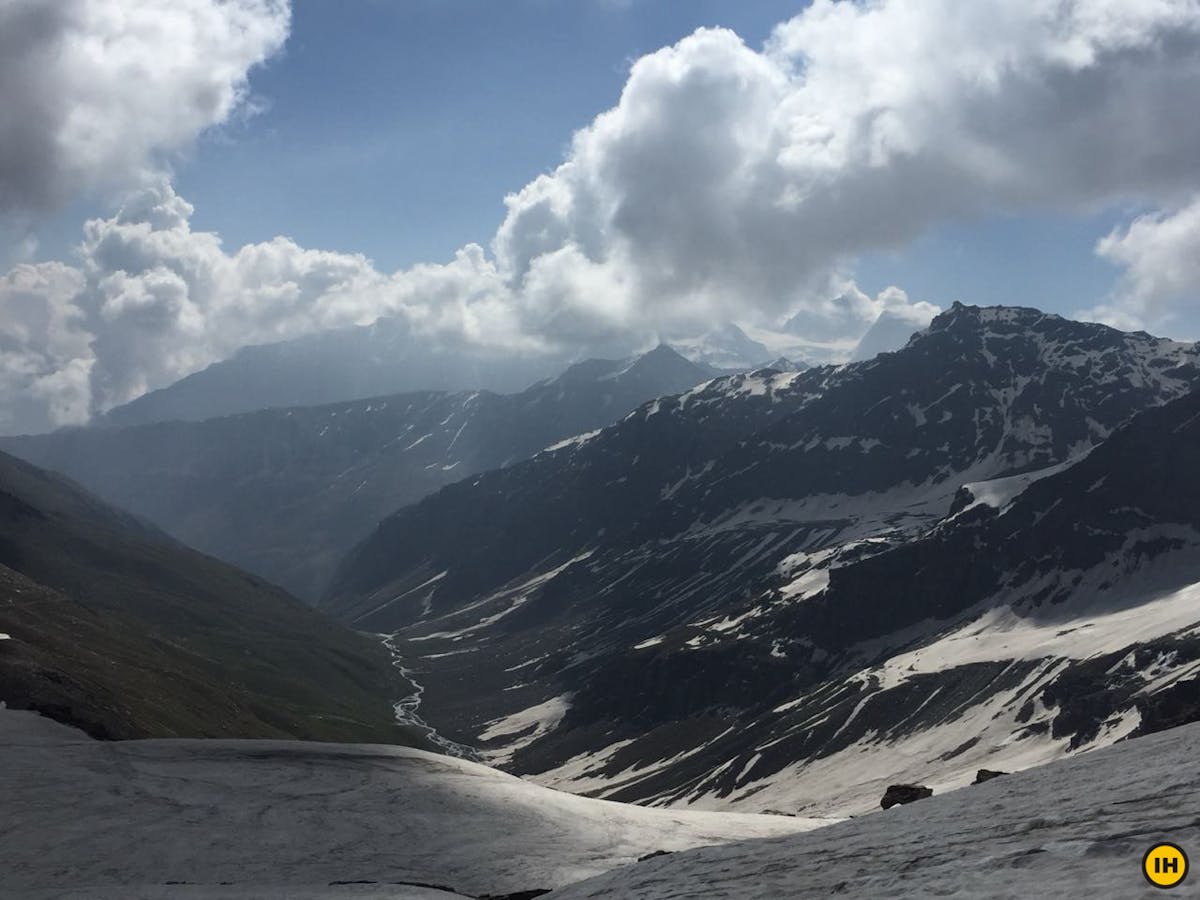 View from the Upper Waterfall campsite. Picture by: Satya
Hampta Pass and Bhrigu Lake
Both these treks in Himachal Pradesh started last week, on 9th June. Last we spoke to our trek leader Vignesh, it was raining slightly. But the groups are proceeding as per schedule. All trekkers heading towards the monsoon treks of Hampta Pass and Bhrigu Lake are advised to double check their gear, including ponchos and trek shoes.
Indian Meteorological Department (IMD) has predicted isolated and scattered rainfall in the region around Manali in the next 3-5 days.
We will upload photos from both these treks as we get them.
Deoriatal Chandrashila
Government bans camping at Deoriatal and Chopta campsites
Last week, the government stopped camping at both Deoriatal and Chopta campsites. The reason – human-wildlife conflict. Most of the forest areas around Deoriatal, until Chopta, are very rich in flora and fauna. Many varieties of birds are found here as well. The forest department has made this decision to protect the area. We're trying to follow up with them but as per the latest notice, no form of camping is allowed at both these places.
As we speak now our Operations Head, Manish Pasad, is heading to Sari to find an alternative route to do this trek.
Phulara Ridge Trek
Bookings now open for this enthralling new trek
Last month we had promised you a new trek for the upcoming season, and here it is. This newest entry into the Indian trekking circuit promises a journey of a lifetime.
You trek on a ridge as views of mountains of Garhwal Himalayas open up all around you. And mind you the ridge walk lasts for a full 5 hours. The path leading up to the ridge is covered with dense forests and lush green meadows.
This is an easy-moderate trek and begins from Sankri, at the same point as the Kedarkantha trek.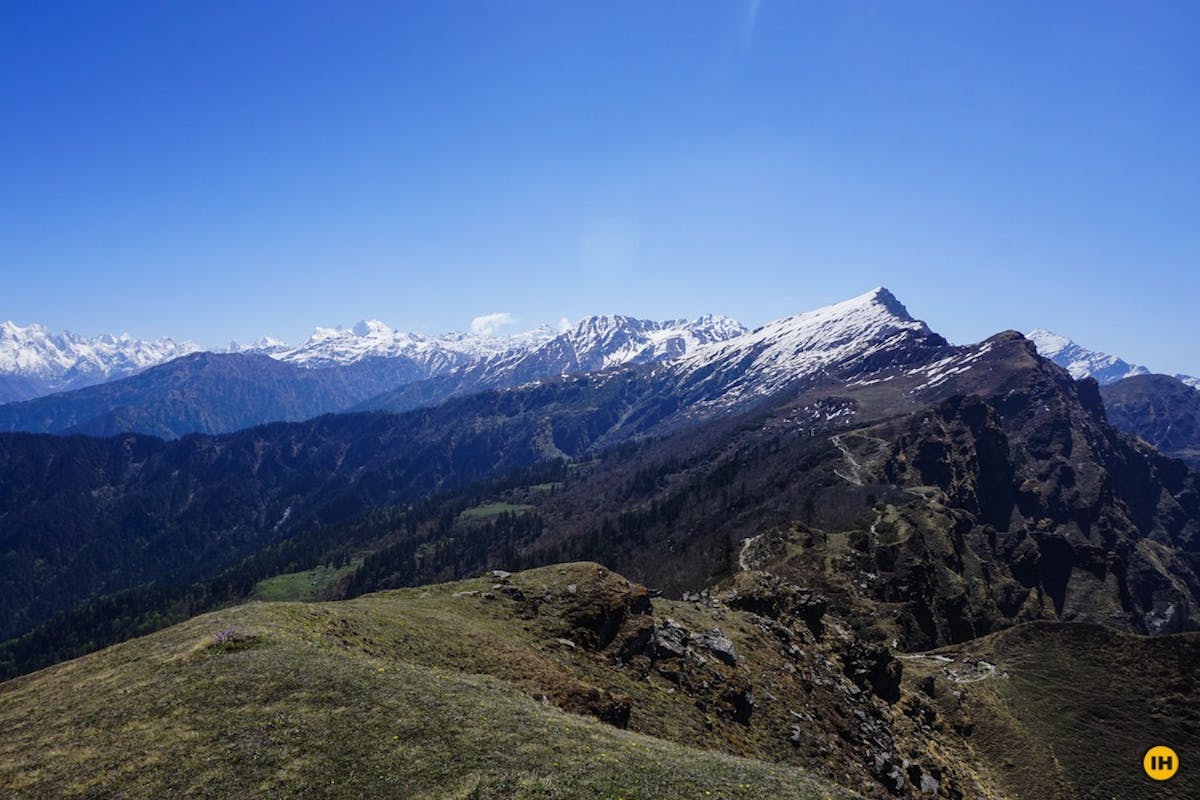 A panoramic view while walking along the Phulara ridge. Picture by Suhas Saya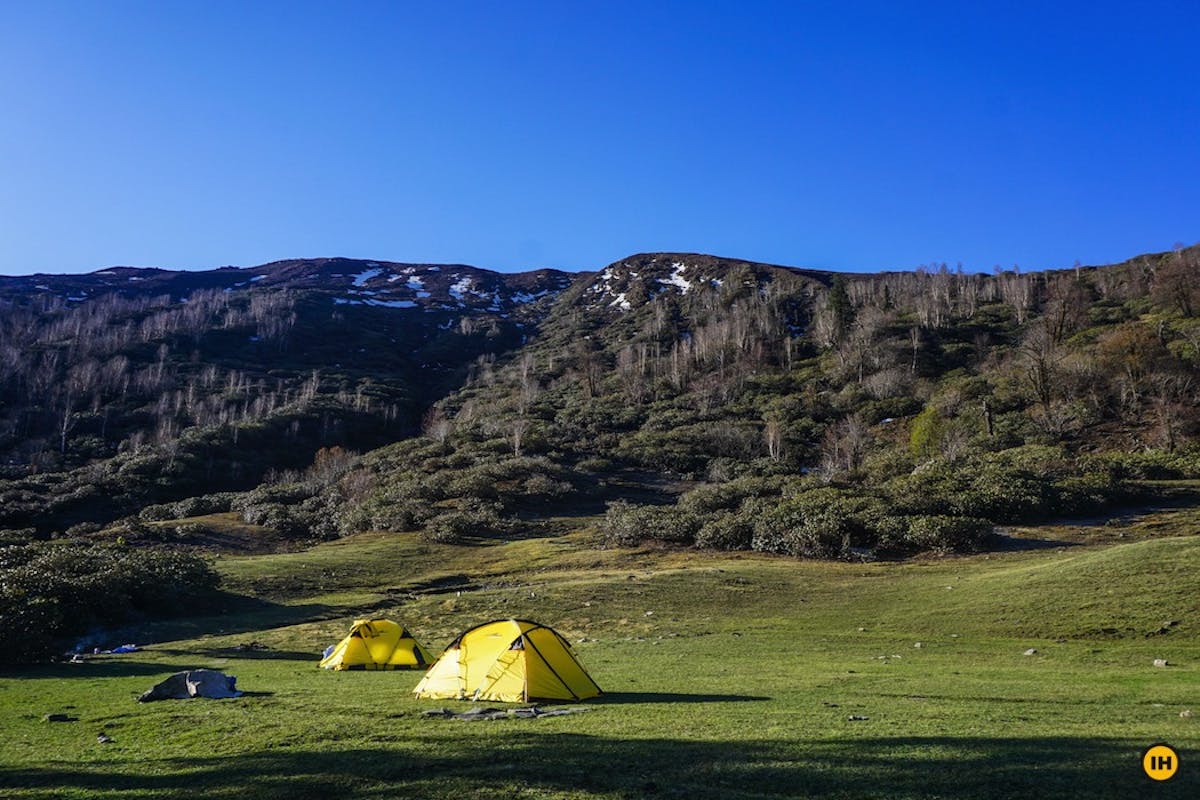 The picture-perfect Bhoj Gadi campsite at 11,600 ft on the Phulara Ridge trek. Picture by: Suhas Says
In Other News
1. Arjun Majumdar, our founder, delivers a TEDx talk at Sayajigunj, Baroda, Gujarat
Last Sunday at Laxmi Vilas Palace in Baroda, Arjun spoke about the holistic effects of trekking on the mind, body, and spirit of trekkers. He was joined by 8 other industry stalwarts who spoke on their field of expertise. We're very excited to see and share the complete video coverage of his talk, which will be available in few days.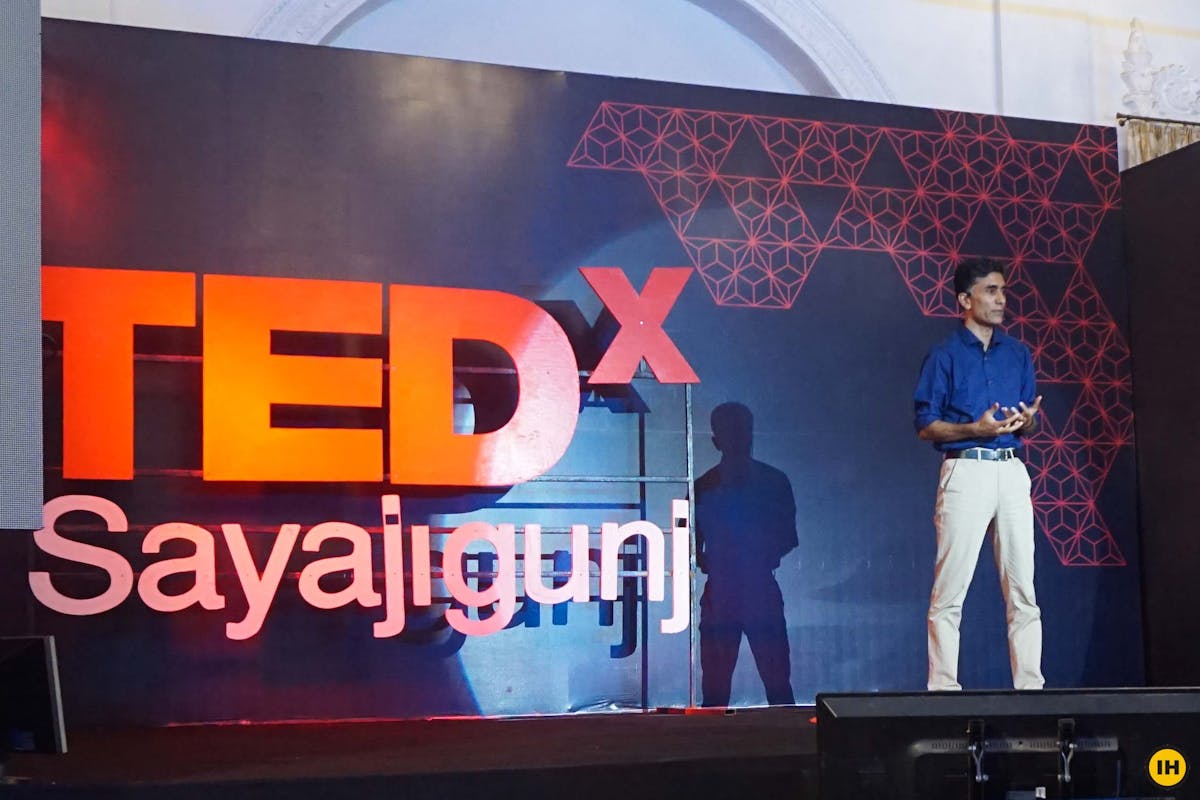 "How trekking changes your mind, body, and spirit" – The topic of Arjun's TEDx talk.
Such a noble way of upcycling tonnes of plastic from the mountains. We couldn't be any happier at this feat of achievement.
Keep a tab on this page for all the news coming down from the Himalayas, this week. Scroll down to the Comments section and drop in your ideas/questions to get in touch with us.
What you should do now
1. If you want to work with us: Head over to our careers page. We have lots of positions open. So the sooner you apply, the better.
2. If you ended up here by chance and were actually looking for treks to do: Then head over to our upcoming treks page. You'll find all our Himalayan treks there.
3. If you want to see the 13 best treks of India: Then get our free guide book here.
Sign up for our much loved Weekly Mailer
We have terrific trekking tips, trek updates and trek talks to look forward to