Tightening Safety protocols for treks and other updates!
Share this story
Tightening Safety protocols for treks and other updates!
Category News
By Seersha Nambiar
2016-11-10
We at Indiahikes have always been particular about safety protocols. We are now tightening it further. We have added an acclimatization day to certain treks. These include treks to Roopkund, Buran Ghati, Rupin Pass, Goechala, Hampta Pass and Pangarchulla summit.
Why add a day to the itinerary leaving everyone struggling to get holidays? Because that extra day on your trek will help you acclimatize.
Acclimatization explained
Most of us live in cities and urban centers. These spots are at relatively low altitudes. The capital city of Delhi stands at 708 feet, Mumbai at 46 feet, Bangalore at 3018 feet, Chennai at 21 feet and so on. High altitude treks go up to thousands of feet. For instance, Junargali the highest point on the Roopkund trek is at 16,000 feet.
Acclimatization and fitness are two of the most important requirements on any high altitude trek. Soon we will have a selection criteria to ensure that fitness levels needed for trekking are met with. Details will be up on our website in a day or two.
Here are some updates from past week's treks.
Photos from the Deoriatal trek
Weather on the Deoriatal to Chandrashila peak trek is sunny and pleasant. Prabhat Kumar Gupta took some wonderful night shots on his trek.
[soliloquy id="37863″]
What about weather on the other slopes?
Temperatures are falling
The average temperature in the Himalayas are dropping. And they are dropping quickly. Uttarakhand is getting cold. As per latest updates the Har Ki Dun trek is free of snow and rain. But that won't be for long. Night time temperatures have been in the negative.
The temperature at Dzongri (Goechala trek) falls to -7°C at night. At Sabargram on the Sandakphu trek temperature hovers around -2°C after sunset. So if you are heading to any of these treks, make sure you carry at least 5 layers of warm clothes.
Speaking of the Goechala trek, here is some feedback we got from one of our trekkers today:
Personally speaking I won't be doing any justification if I just say that the trek was the most amazing experience that I have had in past few years. I am a Pilot working with Indigo airlines. I've always wanted to go on trek. But I never had the initiative plan one until one of my colleagues told me about Indiahikes. I went through the website and chose the Goechala trek.
I have immense respect for our Trek Leader Karthik. He was really professional during the trek, be it in leading the trek, helping others, motivating those who were lagging behind and carrying extra bags. A big applause for Karthik for making our trek so comfortable and amazing. He is a gem of guy, very patient and intellectual person who exactly know what he wants from his life. I look forward to trekking with him.
I don't remember the last time I was without my phone and talking to random people (now good friends) about random topics. This was the second best part of my trek.
I cannot describe the trek in one word because you have got be there and it's all together a different kind of feeling. Lucky for us the sky was always clear and we got some amazing views. Everything was well organised by Indiahikes. The food was delicious (third best part). I mean we never imagined we will be getting pasta, noodles and gulab jamun at such remote places. I was ready to survive on protein bars and Maggie but then this was big surprise.
The green trail initiative was amazing! Bravo! We ourselves picked lot of plastic wrappers on our way. Thank you Indiahikes for such an amazing trek, for such good friends, conversations and views and that's all matters to me most in my life. Will be looking forward for some more treks with you.-Naveen Kumar Bharti , October batch of Goechala
As for back in Bangalore, we have been trekking around quite a bit.
Hiking Club students go to Brahmagiri and Handi Gundi
This week, students from Daffodils school in Bangalore went on the Brahmagiri peak trek. They had a great time running up the slopes and posing at "the" Boulder. The very next day 77 students from Delhi Public School (Electronic City) went on a trek to Handi Gundi which is approximately 60 km from Bangalore.
Students from Delhi Public School ready to go on the Handi Gundi trek
We have a surprise for you! Mountain Lovers Gold Calendar 2017
The Mountain Lovers Gold Calendar for  2017 is on its way to the printing press! Be sure to keep some empty space on your wall. These calendars will be available for order on our website soon!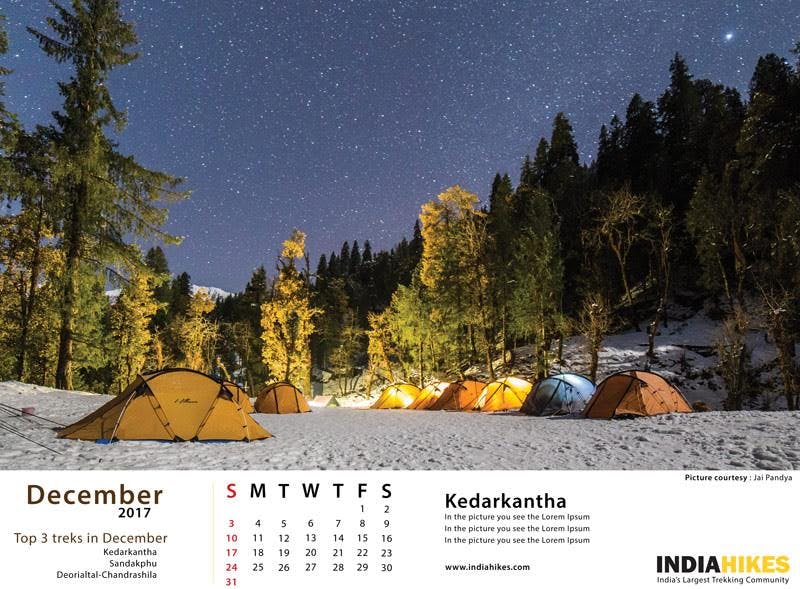 Trek Leaders meeting at Rishikesh
Last week some of our trek leaders got together at Rishikesh for a team meeting. A lot of work was discussed. Ideas and experiences shared. These "mountain men" rarely meet as they are often on different mountains leading trekkers to their destinations. Next week there will be another meeting at Rishikesh with the whole team!

Watch this space for next week's updates from the mountains.
Sign up for our much loved Weekly Mailer
We have terrific trekking tips, trek updates and trek talks to look forward to