Can You Help Us With Photographs Of This Trek?
We are looking to enrich this documentation with more photos. Pictures go a long way in explaining the trail, more than words ever can. If you have done this trek, can you share your photos with us? We will include them on this page, with due credit to you. Click here to contribute.
The Complete Guide to Sainj Valley trek
Now, trekking inside Great Himalayan National Park is a privilege. Let us tell you why. It is one of the most pristine and uniquely rich ecosystem in the world. So much so, it is a UNESCO World Heritage Site. And because of its unique protected status, not only are the rich flora and fauna of the park undisturbed, so are the communities living inside it. And the Sainj Valley trek takes you right to the heart of this!
The trek starts at the magnificent meadows of Shangarh. Hemmed in by pine trees, these landscaped grasslands with mountains overlooking it will remind you of Kashmir. This is a comparison we do not make lightly. The grasslands of Kashmir are the very cream of the crop. And there are more meadows to come. Then, the trail takes you through dense forests, ringing with different bird cries. When the trail finally opens out of the forest, you get remarkable views of the Sainj valley and the mighty peaks surrounding the Raktisar glacier. The trail continues into ancient villages, apple orchards, and then finally, the Pundrik lake which is shrouded in the local mythos.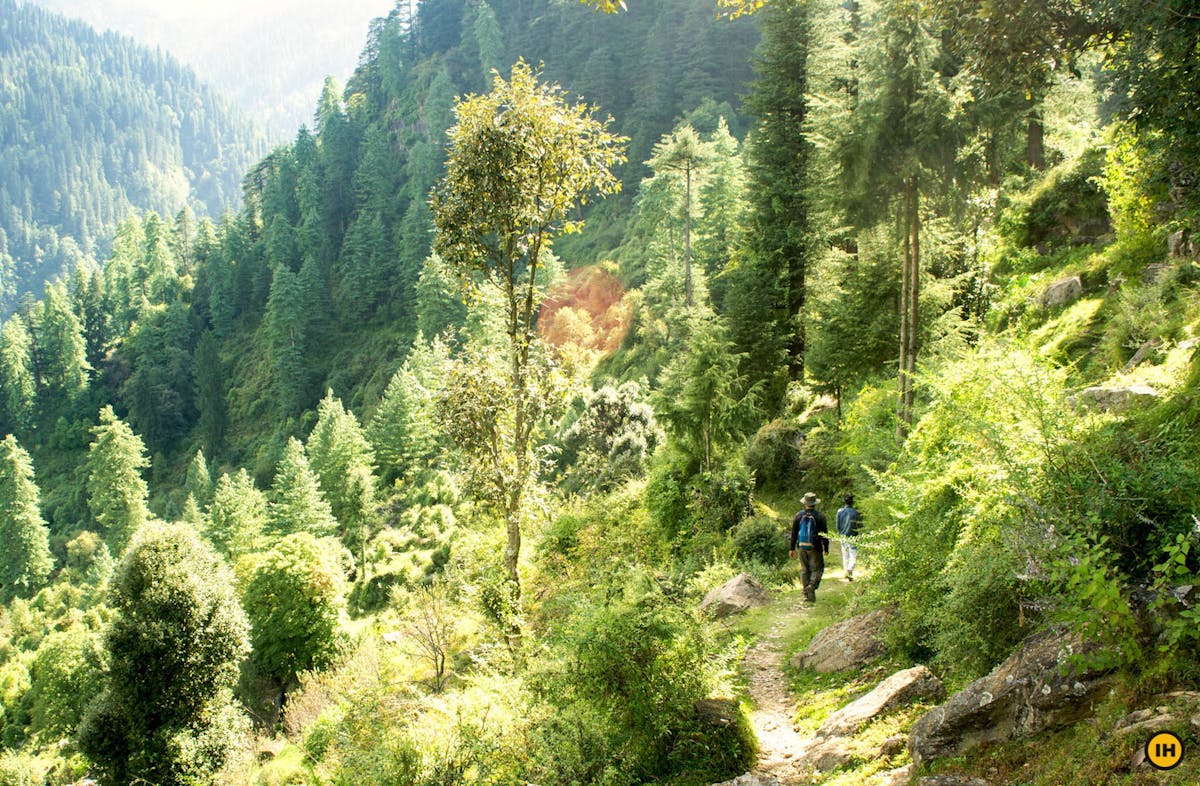 The dense forests on this trek are filled with pine, fir, spruce and a variety of other trees. Picture by Ravi Ranjan
You get all of this in a weekend trek! Frankly, we feel this is far too rewarding especially from a place that is so close to the unfortunately urbanised Kullu. This is the trek where you will get to see villages and their unique temples that are from an era gone by.
The Sainj Valley is part of four valleys that comprise the Great Himalayan National Park. That is, the Tirthan Valley, Parvati Valley and Jiwa Nala valley. Most treks in Parvati or Jiwa Nala valley are inaccessible for beginners. Tirthan, Sainj's twin valley, is far more well known and therefore, more crowded. That is why, we believe the Sainj Valley serves as a perfect, undisturbed introduction to the wonders of trekking inside the rich ecosystem of the Great Himalayan National Park. All over two days!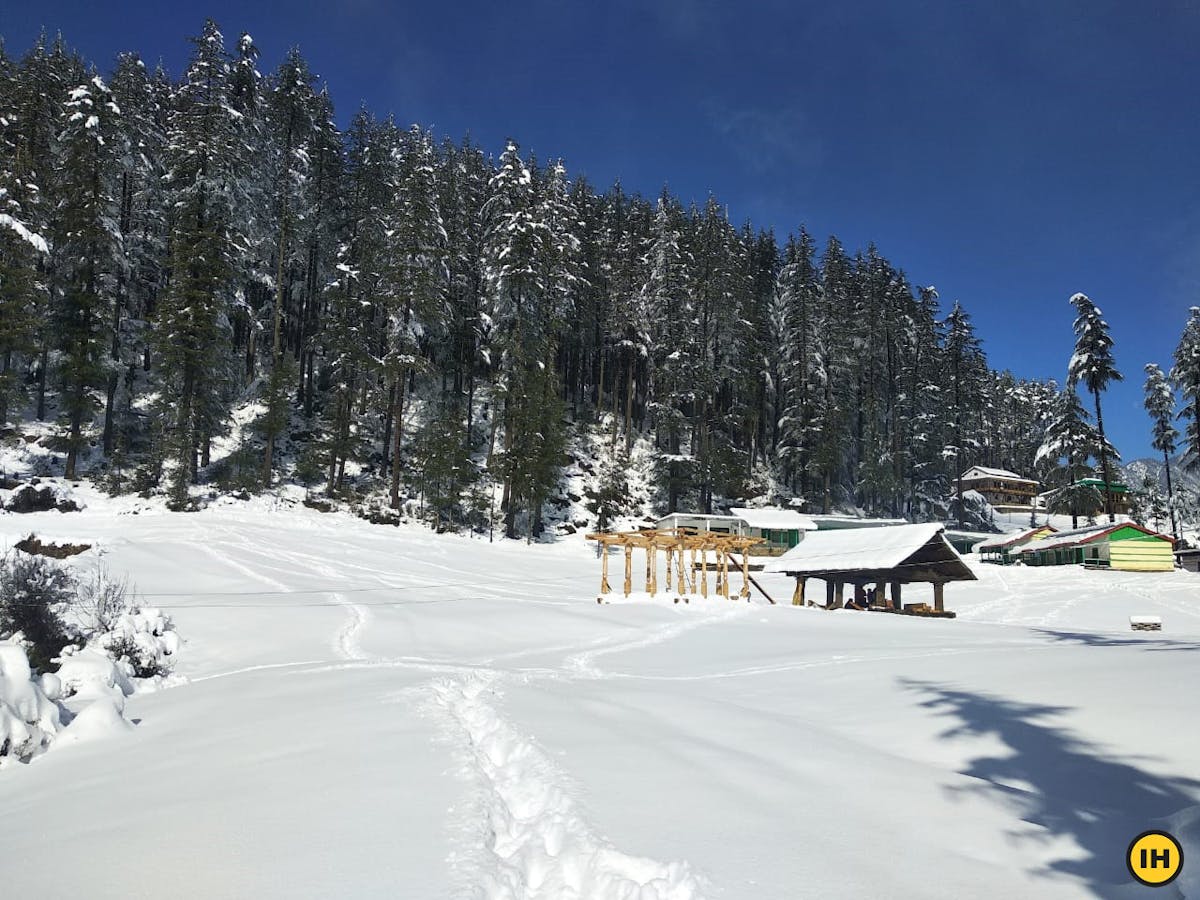 The Sainj Valley in Himachal gets blanketed in snow in winter, giving you a terrific winter experience over just a weekend. Picture by Yash Thakur
Highlights from Sainj Valley Trek
The Meadows
The meadows of this trek are large, textured and can give the much famed Khajjiar grasslands a run for it's money. The greatest part of the meadows on this trek are is that it is so easily accessible. On most treks, getting to grasslands is a two day affair through forests. On this trek, the meadows are where it all begins!

Pundrik Lake
It takes you a while to realise you are approaching the Pundrik lake from the trail. After all, all you see on the surface is a thick layer of grass and leaves, with tree trunks floating absently in the middle. The stories surrounding the lake say that there used to be a paddy field there, until the local deities from nearby valleys fought, effectively stopping the cultivation. The lake is named after Pundrik rishi, who is said to have blessed the land with his spiritual knowledge years ago.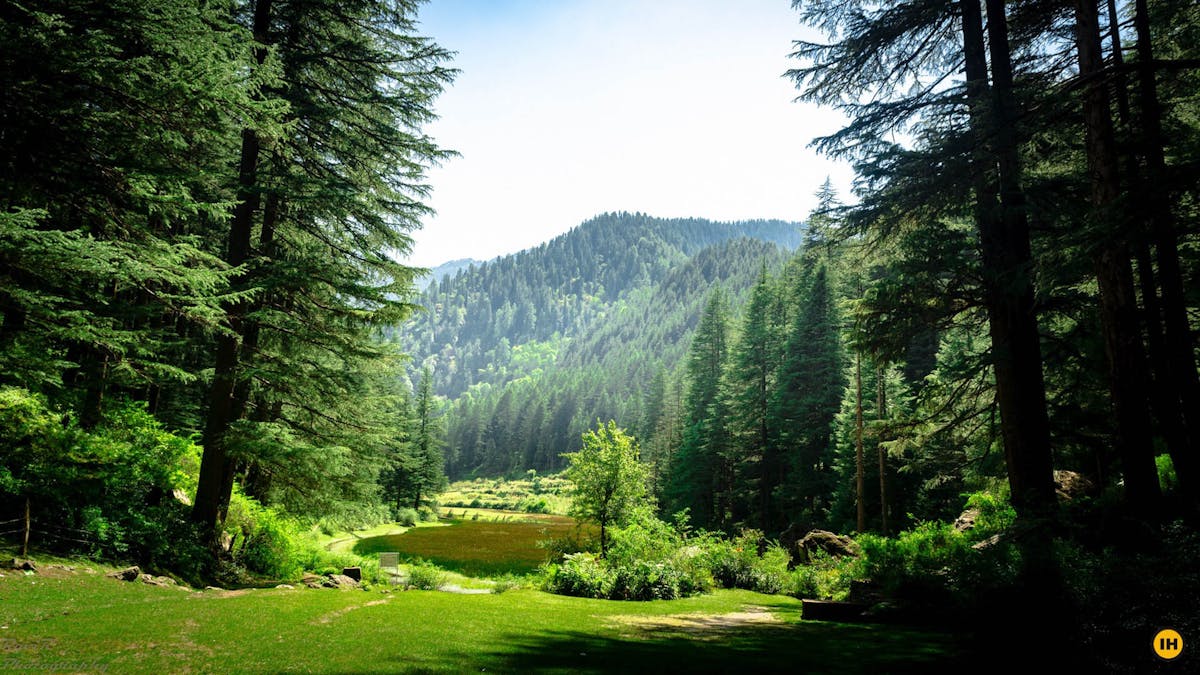 Pundrik lake, covered by tall grasses runs for 400 metres and is surrounded by forests on three sides. Picture by Ravi Ranjan
The Birds
Since the trail goes through the Great Himalayan National park and its rich forests, expect to spot (if not spot, at least hear their cries) a wide variety of birds. Our explorers found the Blue Magpie, Western Tragopan, Himalayan Griffon, Yellow billed Chough, Himalayan whistling Thrush, Little Forktail, Great hill Barbet, Verditer flycatcher, black/white cheeked/red vented and red whiskered Bulbuls, Brown fronted pied Woodpecker.
The Traditional Villages
The villages inside the great Himalayan National Park are largely untouched. Which means the architecture, the Kulluvi culture of the inhabitants are insulated from the modern world. You see homes made from dead deodar found in the national park, old temples built for local deities, a single government school and gaarats (grind stone). These mechanical grindstones, run by water, grind flour for these villages. This makes for a unique cultural experience.
Short Itinerary
Day 1: Assemble at Aut at 8.30 am. Drive to Shangarh.
Shangarh (6,900 ft) to Tindadhar (6,365 ft); 4-5 hours.
Day 2: Tindadhar (6,365 ft) to Pundrik lake (6,875 ft) and return to Ropa (4,987 ft); 4 hours.
Drive to Aut from Ropa.
Trail Information
Day 1: Drive from Aut to Shangarh. Trek to Tindadhar.
Altitude: 3,231ft (985 m) to 6,365 ft (1940 m) via 6,900 ft (2104 m)
Time taken: 2 hours drive from Aut (25 km); 4 hours trek (6 km)
Trek gradient: Easy-moderate. Gradual ascent throughout
Water sources: Carry two litres of water. There are waterfall enroute for a refill anytime you want.
GPS coordinates: Lat 31° 44'39" N, long 77° 12' 31''E (Aut); Lat 31° 45'57" N, long 77° 21' 20''E (Ropa); 
Reach Aut on your own from Delhi. Aut is a town on the Delhi-Manali highway, 40 km ahead of Mandi.
On the bank of the Beas river in Aut is the famous Markandey Rishi temple. The river is surprisingly quiet here and widens at the confluence with Sainj and Tirthan rivers.
We will pick you up at Aut (before crossing the tunnel if you are coming from New Delhi, Chandigarh etc) and drive to Shangarh, which is around 25 km away. The road to Shangarh heads North West, going through the 3 km long Aut tunnel. On the way, you see the huge lake formed by Larji dam at the confluence of Beas, Tirthan and Sainj rivers. This lake is home to several species of migratory birds in winter.
The trail begins next to the forest guest house at Ropa. It ascends gradually. After about 1 km, you see a stream flowing along the trail. You hear the musical tone of its waters more often than you see it.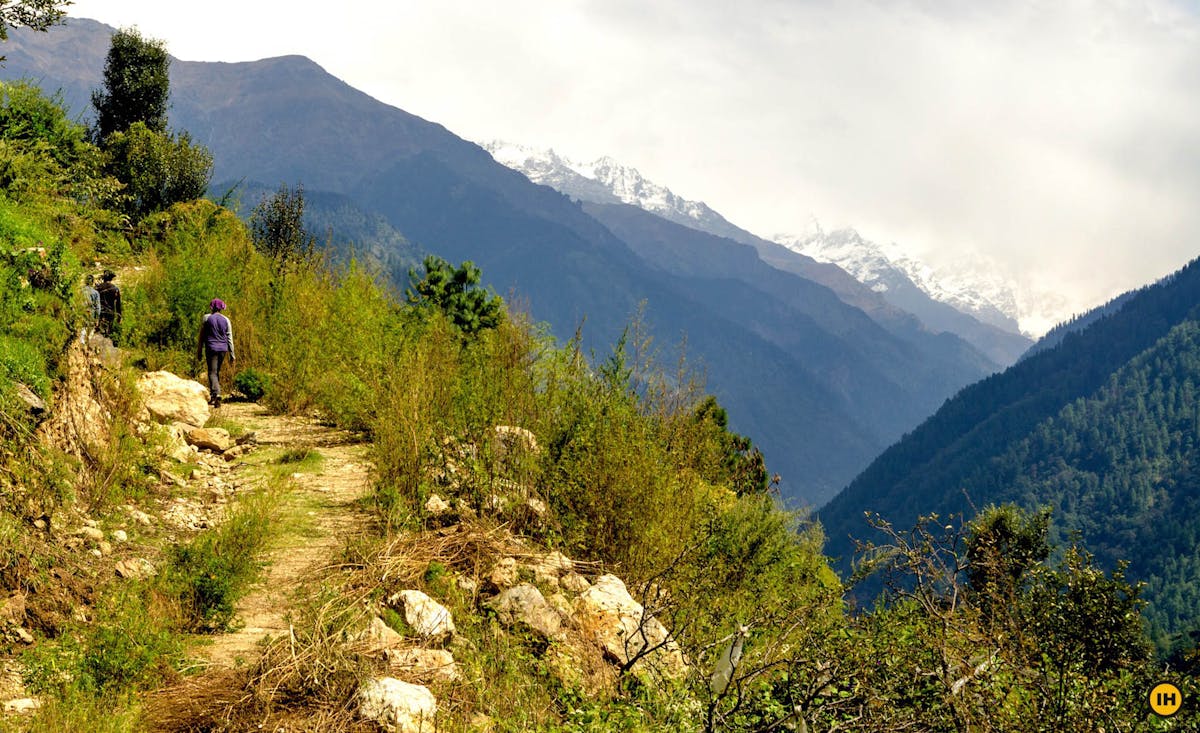 Trekking with views of snow capped mountains and forested slopes on the way to Tindadhar. Picture by Ravi Ranjan
The trail here is rich in flora and fauna. You are surrounded by thick vegetation. Spruce, fir, deodar and rhododendron are the prominent trees here. You hear several bird cries - some of the noteworthy species found here are the blue magpie, western tragopan, Himalayan griffon, yellow billed chough, Himalayan whistling thrush, little forktail, great hill barbet, verditer flycatcher, black/white-cheeked/red vented and red-whiskered bulbuls, brown fronted pied woodpecker.  A variety of butterflies also cross your path here.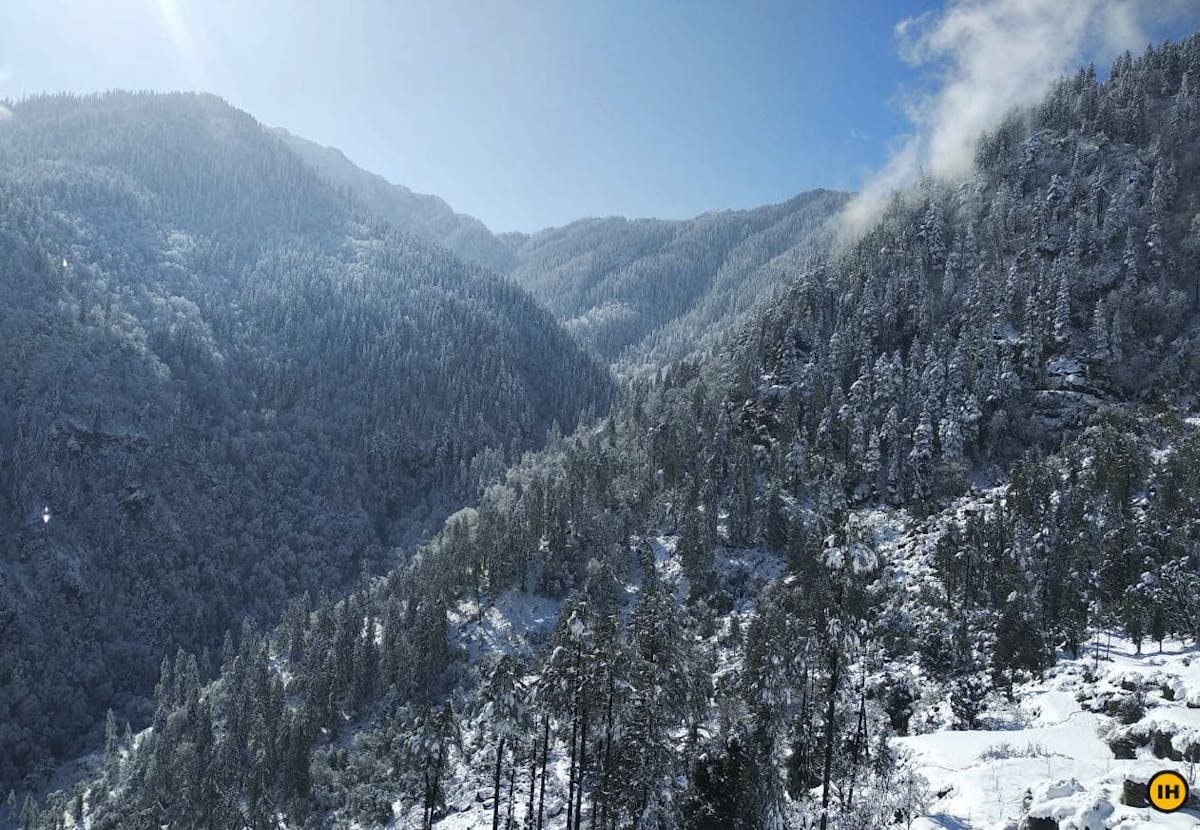 In winter, these slopes are carpeted by a thick layer of snow. Picture by Yash Thakur
As you climb, you will pass a number of dams on the Sainj river, built by the Himachal Power Corporation Limited. After a series of hairpin bends for about an hour of trekking, the trail opens into a valley. You get remarkable views of the Sainj valley and the mighty peaks of the Raktisar glacier. Continue on this trail for another two hours. You pass the villages of Lower Nai and Dalogi before reaching the campsite Tindadhar.
Take the trail that goes uphill into the valley from the campsite. This takes you through dense forests. In thirty minutes, you reach a waterfall, almost hidden by thick vegetation. It is massive. The water slides down in 3 steps over a height of 12-15 metres. Locals call this place Nuhada. Spend some time here before heading back to the campsite.
Day 2: Trek from Tindadhar to Pundrik Lake and back to Ropa. Drive to Aut.
Altitude: 6,365 ft (1940 m) to 6,875 ft (2,095 m) to 3,231 ft (985 m)
Time taken: 4.5 hours trek; 1.5 hours drive to Aut
Trek gradient: Easy-moderate. Gradual ascent to Pundrik Lake. Continuous descent to Ropa.
Water sources: Carry one litre of water. You can refill your water bottles at Sarahan.
GPS Coordinates: Lat 31045'30" N , long 770 20' 42''E (Upper Nai)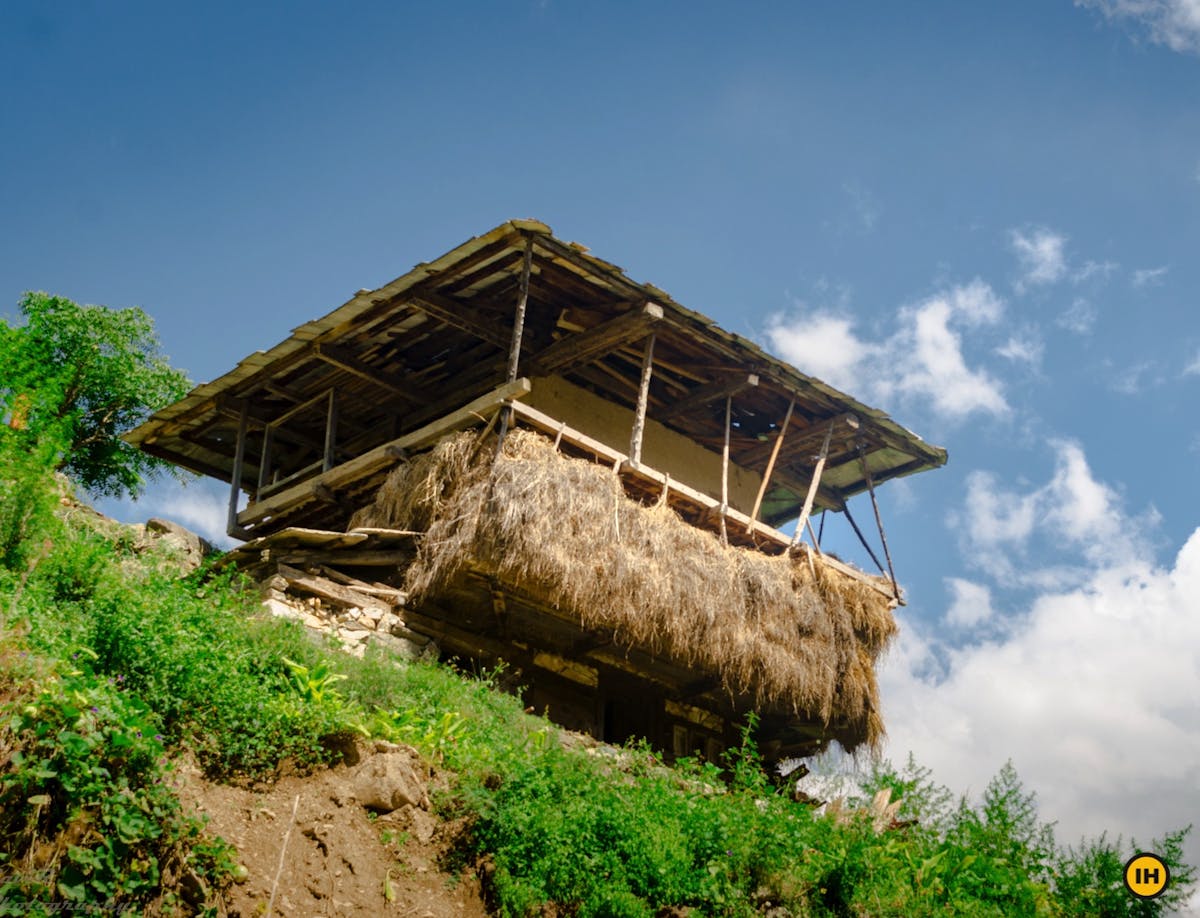 A typical village house on the trail, where animals are kept on the ground floor and people live on the first floor. Picture by Ravi Ranjan
Head out on the trek today after breakfast. Take the same trail that you took to go to the waterfall on day 1. This goes through thick vegetation.
The trail continues through the forest for about 40 minutes, till you reach the village of Sarahan. Here, you get to see the uniquely constructed homes of this region - animals are kept at the ground floor and human occupants live on the first floor. The children of Sarahan are warm and welcoming.
Just beyond the village, the trail is lined with pine trees on either side. The village deity, Jehar devta, is placed at the end of this trail. It is surrounded by a number of iron tridents/trishuls and red flags.
After this, the trail opens into a clearing. This is surrounded by pine and deodar trees on three sides and farms on the fourth side. You also see a variety of flowers and hear the chirps of birds. Spend some time here taking in the views.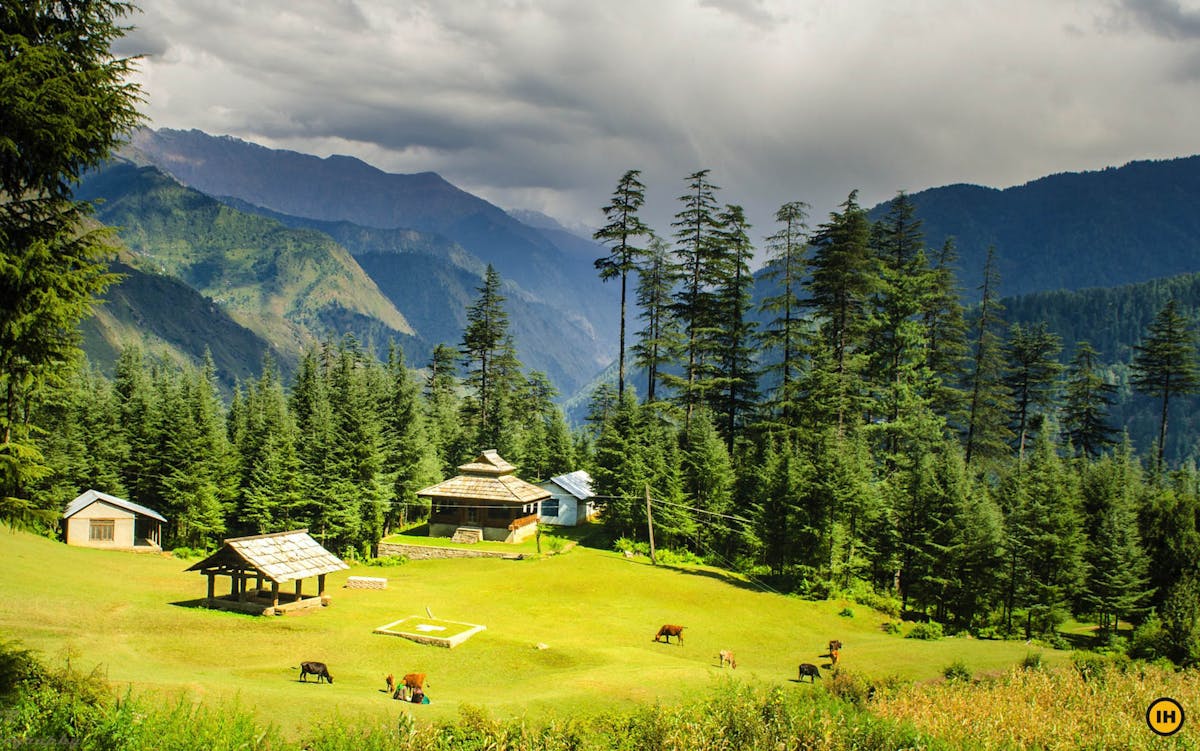 The meadow outside Sarahan, with the temple and the village school. Picture by Ravi Ranjan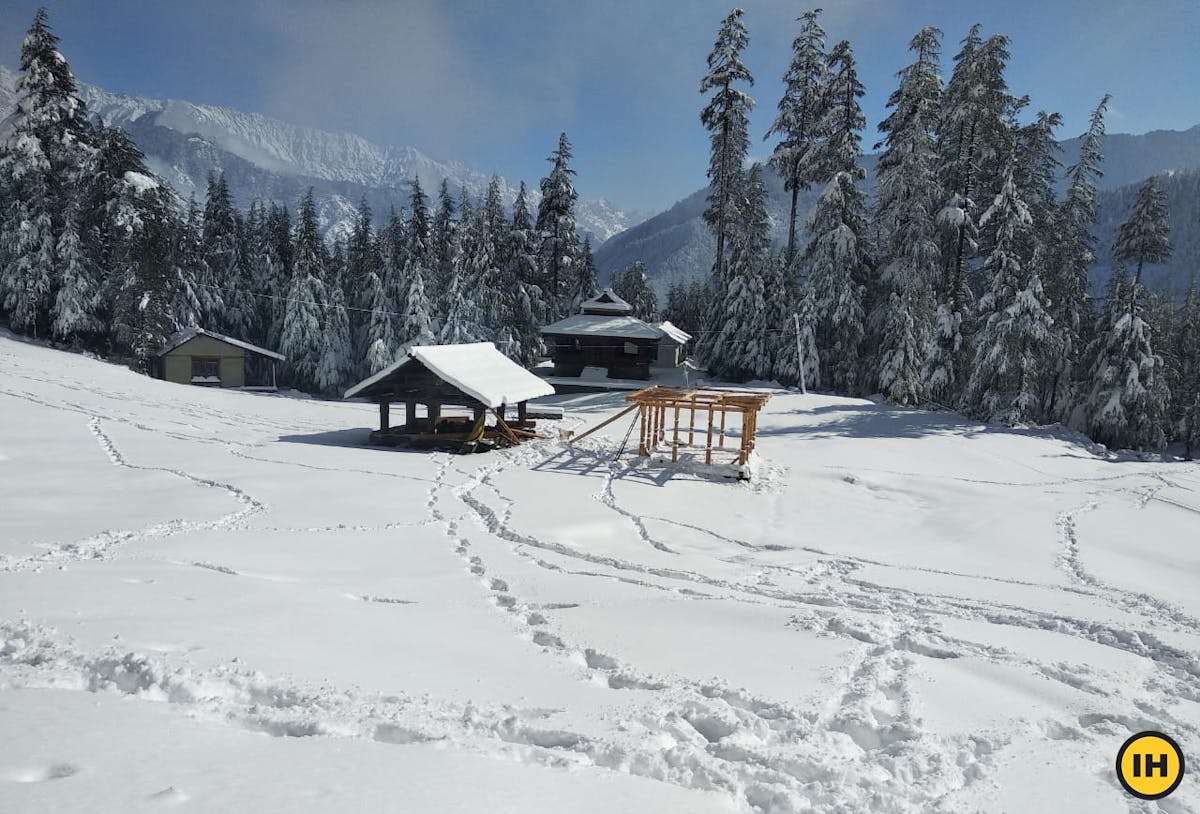 The meadow, temple and the village school covered in snow. Picture by Yash Thakur
Want to see the same setting in winters? Here you go-
There are two beautiful man-made structures in this clearing - one is a carved wooden temple dedicated to Pundrik rishi and the other is a government school. The temple has some fine craftsmanship on deodar wood. The school serves students from surrounding villages up to class 8.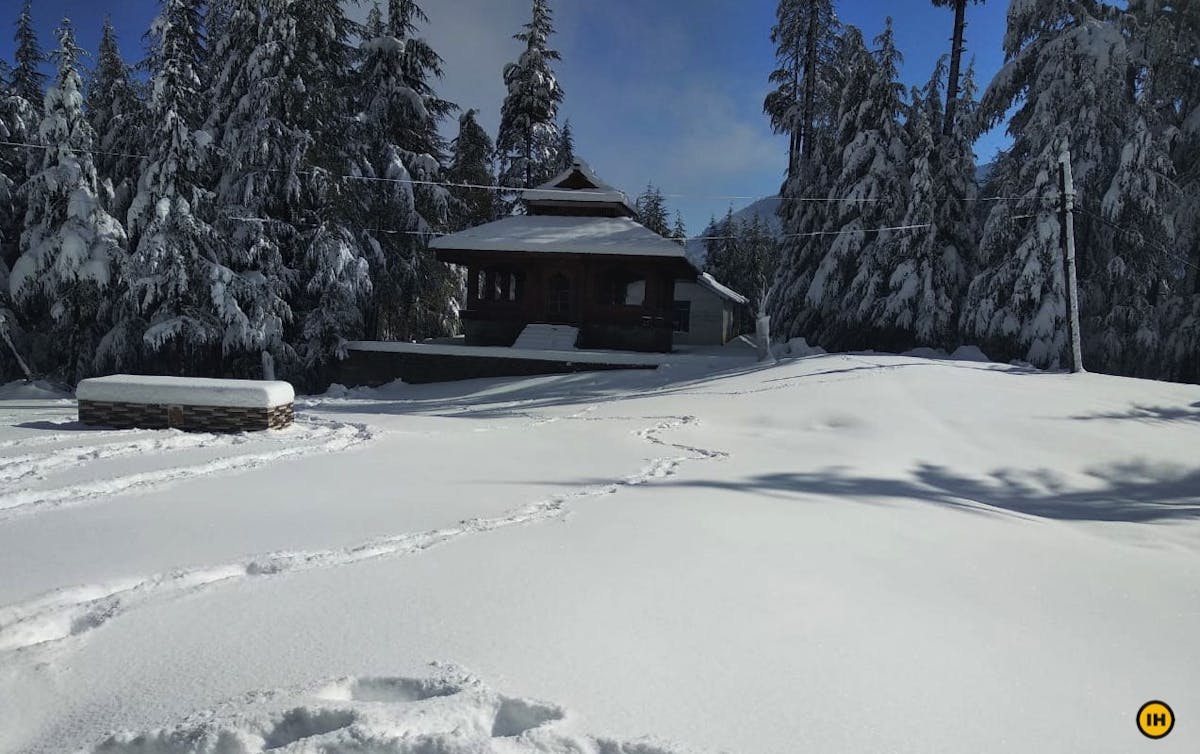 A view of the temple in winter. Picture by Yash Thakur
Continue beyond this clearing for about 20 minutes till to reach another meadow. There are different routes to reach this meadow but they are all easily approachable. You find knee length grass growing here. It takes you a while to realize that it is actually floating above water. This is the Pundrik lake.
The lake runs for about 400 metres and the trail goes alongside. It is surrounded by giant pine and fir trees. Thousands of people from the valley visit the lake every year in October to celebrate the birth anniversary of Pundrik rishi.
Spend some time here but do not enter the water. Drinking alcohol or consuming non vegetarian food are also strictly forbidden here. All of these attract a fine of Rs.5,000.
To return, trace your way back on the same trail to Sarahan. From Sarahan, take the road trail to Ropa. This is a straightforward, descending road. It will take you around 2.5 hours to reach Ropa.
Plan Your Travel for the Sainj Valley Trek
It is great to see you going on the Sainj Valley Trek, An Enchanting Forest Trek In Himachal Pradesh. While it is a great trek to do, you need to get your travel plan worked out perfectly. Here is a step-by-step guide on what to do next. Use this guide and nothing else to plan your travel.  
Here's a quick view on how to plan your travel. 
Day 0: Book your air ticket to Chandigarh or Delhi. If Chandigarh, proceed to Sector 43 and take a bus to Manali, get down on the way at Aut (40 km after Mandi, get down before the Aut Tunnel, this is the exact location).  If Delhi, book an overnight bus to Manali, get down on the way at Aut.
Day 1: Drive Aut to Shangarh; 26 km 2 hour
Trek Shangarh (6,725 ft) to Tindadhar (~6,000 ft); 4-5 hours, 6 km
A sumo vehicle costs Rs 2,500
Day 2: Trek Tindadhar (~6,000 ft) to Pundrik lake (6,980 ft) and return to Ropa (4,987 ft); 4 hours
Drive Ropa to Aut; 1.5 hours. You are expected to reach back to Aut by 3:30 pm.
Book your return bus ticket (Manali to Chandigarh/Delhi bus). Catch your bus at Aut. Coordinate with the bus conductors for your pick up from Aut. Buses usually pass Aut between 4 - 6 pm.
Day 3: Book return flight/train ticket from Chandigarh or Delhi. Do not book plane tickets to your hometown from Delhi on Day 2. Click here for more explanation.  
Planning your hotel/stay
Hotel options at Aut
➤ Shalimar Guest House, A decent hotel to spend a night in Manali.
The cost is around Rs 2500 for a double bedroom.
Location: https://goo.gl/maps/MG3WCTNiFnnU9UVKA
➤ Gateway Homestay It's right net to Beas River, Rooms are descent. The food here is delicious. The cost is Rs 800-900 for a one-night stay.
Book online at least before 2 days.
Contact Number: 086793 75454
Location: https://goo.gl/maps/hwGZXAaWKAcU6wat5
➤  Hotel YS Triple Nine It's in the middle of Aut, a 3 star hotel with a price range of Rs 2500-3000. You can get on the spot rooms availability here.
Contact Number: 098160 04999
Location: https://goo.gl/maps/Cdq43KBqCJaE2vv58
How to Get Fit for the Sainj Valley Trek
The Sainj Valley trek is classified as an easy trek. From Ropa at 4,987 feet, you will gain about 2,000 feet to Pundrik Lake. Though the altitude gain is not much, the continuous ascent can be quite demanding.
Cardiovascular endurance
This trek requires a good amount of cardiovascular endurance. You can begin by jogging everyday. Start jogging at a slow pace and then keep increasing your pace day by day. In order to be prepared for high altitude trek, you should have a combination of distance and speed targets.
Here's a fitness routine that works:
In case you're just starting with a regular fitness routine, phase out your distance targets in the following manner –
–>Target completing 5 km in 45 minutes when you begin.
–> Gradually increase your pace by running 4 times a week and bring it down to 5 km in 40 mins.
–>If you are 45 years or above, try to cover 5km in less than 47 minutes.
If you are somebody you prefers cycling over running, then try to cover 18 km in 60 minutes.
How to send us proof of your fitness routine? It is not mandatory on this trek, but you can still send us.
Record your run on an app like Nike Run. Start recording your run when you start running. At the end of your run, hit the stop button.
Working out indoors
If you can't go out and jog because of time and space constraints, here's a video you can use to work out indoors.
What to Pack for the Sainj Valley Trek
Sainj Valley high altitude trek. The trekking gear you need to carry for this trek is different from regular treks. So pay careful attention to this entire section.
First, the Essentials. You cannot do the trek without these.
1. Trekking Shoes
Sainj Valley requires trekking shoes that are sturdy, have good grip, have ankle support, and can handle snow. Here is a quick video on how to choose your trekking shoes.  
| Buying Tip: The Trek series and MH series are good options by Decathlon. They are tried and tested. There really isn't any necessity to buy the higher priced models. Here is a list of other budget shoes that trekkers are using.
2. Backpack
For a trek like Sainj Valley, you need a 20-30 litre backpack. Make sure your backpack has good hip support, shoulder support and quick access pockets. Here is a guide on how to choose a backpack. 
| Buying Tip: Wildcraft, Decathlon and Adventure Worx usually make good backpacks. While Wildcraft has more expensive ones, the other two brands have budget-friendly backpacks to choose from.
3. Clothes
Wearing layers is the mantra in the mountains. Layers give you maximum protection from all elements. And when the weather changes in the mountains (as it happens every few hours), you take take off or put on layers as required. 
Base layer:
3 T-shirts:
Wear one T-shirt and carry two. Carry full sleeve dry-fit T-shirts (preferably collared). These prevent your arms and neck from getting sunburnt. In the rarified air on the trek, especially at high altitudes, UV rays can burn you in no time.
Dry-fit T-shirts quickly dry your sweat, they are easy to wash and in case of a rainy day, they dry quicker. Round neck T-shirts are ok, but collared ones are better.
Cotton or Synthetic? As Indians, we love cotton. Down in the plains when the heat is a blistering 40°C it makes sense to wear cotton. But it takes a long time to dry when it gets wet. In the mountains, where it is cooler, synthetic is what you wear. They wick sweat rapidly and keep you dry. (But they do tend to smell quickly, so carry a roll-on deodorant with you.)
| Pro Tip: If you are extra susceptible to cold, you could get a set of thermal inners. In our experience, wearing two T-shirts over another works as a better thermal. And they save you weight and space, since you're already carrying them. 
3 insulation layers:
The highest altitude you reach on this trek is 15,000 ft. At these altitudes it can get freezing cold even in the middle of summer. You will need at least 3 insulation layers for this trek.
You will need 2 light fleece layers, 1 full-sleeve light sweater. Do not get your grandma stitched sweaters, which can be very heavy. You need sweaters and fleece jackets that can fold into compact rolls.
1 Outer layer:
A padded jacket serves the purpose here. You don't really need a water resistant material. But you need an outer padded jacket that keeps the wind and cold out. Ensure your padded jacket has a hood as well.
| Do you need a down/feather jacket? Not really. A regular padded/shell jacket will do. This video here will help you to learn more about the difference.
Note: Down/feather jackets are really not available these days. Many jackets masquerade as down/feather jackets. They are essentially fine polyester-filled jackets. They mimic the function of a down jacket but are usually expensive.
Two trek pants:
Two pairs of trek pants should suffice for this trek. Wear one pair and carry two just in case it rains. Trek pants with zippered cut-offs at the thighs are very suitable for treks. Also, choose quick-dry pants over cotton. They dry up soon in case of small stream crossings/rain.
Buying tip: Go for pants with zippered pockets. They come in handy to keep your phone, handkerchief or pocket snacks.
Track pants or trek pants? Stretchable track pants make a good backup and can double up as your thermal bottoms. But track pants are not trek pants -- so don't use them as your main outerwear. Keep them only as a backup.
Mandatory Accessories:
These accessories are mandatory. Don't go to Sainj Valley without them. Trekkers generally put off purchasing / borrowing the accessories for the last minute. We suggest the opposite. Start gathering these accessories first. 
1. Sunglasses:
Sunglasses are to prevent snow blindness. On a trek like Sainj Valley, you are in a permafrost region (there's snow all around the year). Expect to walk on long stretches of snow. A small overexposure to direct sunlight on snow can lead to snow blindness (about a half hour's exposure). That's because fallen snow is like thousands of mirrors that reflect direct UV rays. So you need sunglasses with UV protection.
| Tip: Try getting sunglasses that wrap around instead of those that have openings on the side. Even peripheral UV ray exposure is not a good idea.
Wear sunglasses if the trekking day is bright and sunny (on open sections, meadows). On a snowy section you must absolutely never take off your sunglasses until the section has been fully crossed.
| If you wear spectacles: If you wear spectacles, you can get oversized sunglasses that you wear over your regular glasses (available at Decathlon). If that is cumbersome, photochromic lenses work equally well. Here's a quick guide on managing sunglasses with spectacles.
| Contact lens users: If you use contact lenses, you can use them on the trek too. The lens solution will not freeze. You will also not face any problems in changing your lens in your tent. Just carry enough cleaning solution with you to clean your fingers well. Wear your sunglasses over your contact lens.   
 2. Suncap:
A sun cap is mandatory. Trekking without a sun cap can lead to headaches, sun strokes, quick dehydration and a sharp drop in trekking performance.
| Tip: In the mountains, the general rule is to keep your head covered at all times. During the day a sun cap protects you from the harsh rays of the sun (it is doubly stronger with naked UV rays). A sun cap keeps your body temperature in balance. In the evening/early morning, the reverse is true. Your head loses your body heat quickly. A woolen cap prevents heat from dissipating from your head.
| Pro Tip: Sun caps with flaps are a blessing for trekkers. They cut out almost all UV leaks. They prevent sun burns in every possible way. They are a lot more effective than sunscreen lotion. A wide brimmed sports hat also helps to prevent sunburn in a big way. 
3. Synthetic hand gloves:
On a trek like Sainj Valley you are going to be handling snow quite a bit. You'll need gloves to grip something or to steady yourself in snow. You also want the gloves to keep you warm. Get synthetic hand gloves that have waterproofing on the outside and a padded lining on the inside. If you find the combination difficult to get (not likely), wear a tight fitting fleece hand glove inside a synthetic hand glove. Hand gloves are mandatory on this trek.
4. Woollen cap or Balaclava:
Ensure these cover your ears. In the cold mountains, you lose maximum heat from your head, not from your hands, feet or the rest of your body. Which is why you need to keep your head protected, especially when the sun is down. Early mornings, late evenings, a cold trekking day are when you must use your woollen cap.
Your ears are sensitive too, so a woollen head cap that covers your ears is absolutely essential. A balaclava is a modern version of the woolen cap. It covers your ears, neck and parts of your face as well. Do not get a woollen cap that only covers your head. 
5. Socks (3 pairs):
Apart from two sports socks, take a pair of woollen socks. Sports socks give you cushioning plus warmth. Again the mantra is to wear synthetic socks or at least a synthetic blend. Cotton socks soak in water and sweat. They are very hard to dry. As for woollen socks, they help you to keep warm and snug in the night. If you cannot get woolen socks, wearing two sports socks serves the purpose as well. 
6. Headlamp:
Trekkers are often confused about whether they need to get a headlamp or a handheld torch. You need to get a headlamp because it leaves your hands free to do other activities. On the Sainj Valley trek you'll need your hands free to wash dishes, pitch tents and hold your trek poles.
| Buying tip: Ensure your headlamp covers a wider area and is not too focused as a single beam. On a trek, your headlamp must help you see around you as much as ahead of you. 
7. Trekking pole (a pair):
Trekking poles give you stability and balance. They reduce your energy consumption by almost 40%. On the Sainj Valley trek there are steep ascents and descents. A pair of trekking poles will make the difference between a comfortable and a strenuous trek. In India we tend to use a single trekking pole. However, two trekking poles give you greater stability and balance. They also increase your walking pace.   
8. Rainwear:
On a trek, the weather can change quickly. A bright sunny day can turn into a downpour in a matter of minutes. Carry a poncho or a rain jacket to tackle this. A poncho is a big rain cover with openings for your arms and your head. It is extremely effective because it covers both you and your backpack. It is extremely light and weighs next to nothing.
Rain jackets are more streamlined and less cumbersome but weigh more. Rain pants are really not required. Dry fit trek pants dry quickly even if soaking wet.
9. Rain cover for your backpack:
Backpacks are your life. You carry all your dry clothes, your warm gear in your backpack. It is important that your backpack stays dry at all times. Modern backpacks usually come with built in rain-covers. If your back pack does not have a rain-cover, ensure you get a rain cover by either (a) buying a rain cover (b) or cutting a large plastic sheet to the size of your backpack. You can roll the plastic sheet around your backpack and keep it in place with a string or elastic. 
| Pro tip: It's good practice to compartmentalise your clothes, accessories and other things in plastic covers inside your backpack. That way, even if it rains and your backpack gets wet, your things are water-proof inside the backpack.
10. Daypack (20-30 ltrs, optional):
Some trekkers opt to offload their bags to a porter on the Sainj Valley trek. While we do not encourage this practice, in case you opt for offloading, then carrying a daypack is mandatory. In your daypack you carry essentials like water bottles, rainwear, emergency medicines, headlamp, some snacks and a warm layer. Your main backpack that carries most of your equipment is accessible only at the campsites. 
A daypack is a smaller backpack that is usually of 20-30 ltr capacity. Laptop bags are not daypacks. Do not get them. 
Other mandatory requirement
1. A toilet kit:
Keep your toilet kit light. Carry just the basics -- toothbrush, toothpaste, small soap, toilet tissue roll, a small moisturiser, lip balm, and a roll-on deodorant. You will not be able to have a bath on the trek, so don't overload on soaps and shampoos.
| Pro tip: Carry miniature-sized items. You will not need more than that. If you're traveling in a group, share one toothpaste for all.
Avoid getting large toilet rolls. The smallest size roll is more than enough for a trek like Sainj Valley.
| For women: If you are likely to have your periods on your trek date, don't worry about it. You can use your pads, tampons or menstrual cups on the trek. Make sure you carry ziplock bags to bring back your menstrual waste. Don't leave behind any waste in the mountains. Watch this video to learn how to dispose your sanitary waste.
2. Cutlery:
Carry a lunch box, a mug and a spoon. Your lunch box must be leak proof. You are expected to wash your own cutlery. Trekkers often expect Indiahikes to wash their cutlery. When you allow Indiahikes to wash your cutlery, your cutlery becomes part of a mass washing system. You immediately invite germs, bacteria to settle on your cutlery. Incidence of stomach disorders rises exponentially.
| Pro tip: Carry stainless steel cutlery. Avoid fancy high grade plastic cutlery. Stainless steel cutlery is infinitely easier to wash in cold water. Grease is easier to remove and hygiene is at the highest. Watch this video on why steel cutlery is better than plastic.
3. Two 1 litre bottles or a 2 litre hydration pack:
Sainj Valley has long walking days. You need to carry two one-liter water bottles to keep yourself hydrated over the distance. If you are used to a hydration pack, then that is ok too. If one among the two bottles is a lightweight thermos, then that helps you to store warm water on a really cold day or for late evenings and early mornings.
4. Plastic covers:
Carry 3-4 old plastic covers to keep your used clothes. You could use them even for wet clothes. Re-use old plastic bags for this and do not buy new ones.
Useful videos to help you with your gear:
Personal medical kit
Carry these medicines with you, easily accessible at all times. Do not take any medicine unless you have consulted your trek leader. 
Diamox (1 Strip): Be on a course of a half tablet Diamox starting from Delhi every 12 hours (125 mg). Carry on the medication until you descend down to Barua. Being on a preventive course of Diamox greatly reduces the chances of Acute Mountain Sickness on the Sainj Valley trek.    
Dolo 650 (5 tablets): This is a paracetamol. It helps to tackle fever, mild pain
Avomine (4 tablets): Carry this especially if you are prone to motion sickness. Pop one half hour before the start of your road journey.
Combiflam (5 tablets): Take a combiflam if you get a sudden twist of the leg or a muscle strain. It is a pain reliever. It also contains paracetamol. 
Digene (4 tablets): Take it if you feel the food that you've taken is undigested. Alert your trek leader immediately. It could be a sign of AMS. 
ORS (6 packs): Consume a pack of ORS water at least once a day, usually mid day when you are in the middle of your trek. It replenishes essential salts lost while trekking.  Tip: It also makes cold water easier to drink.
Knee Brace (optional): Carry this if you are prone to knee injury or have known issues of knee pain.
Our trek leaders carry a high altitude medical kit with them which also consist of Life Saving Drugs. If there is an emergency our trek leaders know how to tackle it. Meanwhile, contact your trek leader before consuming any of these medicines listed here.
| Pro tip: We find that these medicines by trekkers are rarely used. But you cannot do away with them. At the end of the trek please donate unused medicines to your trek leader. Some of these medicines get distributed to villages on the trek and some are added to the Indiahikes medical kit. 
Frequently Asked Questions
❖ How can I go to Shangarh in Sainj Valley?
Shangarh is located inside the Great Himalayan National Park. It is also the starting point of Sainj Valley trek. Located at an altitude of 6,900 ft above MSL, the GPS coordinates of Shangarh are
If you are travelling from Manali, the best way to reach Shangarh is by private transport. Shangarh is just 97 km from Manali and takes about 3 hours by road.
If you are coming from Delhi on the other hand, then travelling by public transport is preferable. The distance from Delhi to Shangarh is 549km.
Board any bus before 6pm from ISBT Kashmiri Gate to the Manali Bus Stand. It is a 11-12 hour bus journey from Delhi to Aut. Alight at Aut bus stand and board a bus to Neuli via Sainj. From Neuli, you can get a shared cab towards the Shangarh village or you can also hike up the 10 km road.
To read more about planning your travel to Shangarh from the major metro cities of India, click here.
❖ What is the best time to visit Sainj Valley?
Sainj Valley trek is the perfect weekend trek near Manali. Sainj Valley can be accessed all year round but the best time is the summer season-- late February to April.
The region receives heavy snowfall over the winter season. With the increase in temperatures aided by the transition to spring, the snow starts melting and the region takes on a green hue. The clear skies during this period are the perfect background setting for pictures of the unique temples in the valley.
❖ How safe is the Sainj Valley trek?
The Sainj Valley trek is an easy trek. However, there is one thing that you must be aware of - this trek has continuous climbs over a short period of time. You climb an altitude of over 2,000 ft, the safety of a trekker comes first. You will experience it firsthand on the slope.