Can You Help Us With Photographs Of This Trek?
We are looking to enrich this documentation with more photos. Pictures go a long way in explaining the trail, more than words ever can. If you have done this trek, can you share your photos with us? We will include them on this page, with due credit to you. Click here to contribute.
Satopanth Tal Trek
Satopanth Tal is an untouched glacier lake at an altitude of 15100 ft. With the shape of a triangle, it is hidden amidst the majestic Garhwal region. 
Satopanth Lake has a very rich history. It is considered to be a religious place for the locals. It is believed that the trimurthis(triple deity of the divinity in Hinduism), Brahma, Vishnu, Maheswara meditated on its three corners. 
Some articles say that at the end of the Mahabharata, Pandavas took the route from Mana village to reach the steps to heaven which is on the Swargarohini glacier via Satopanth Tal. 
The trail to Satopanth lake is one of the beautiful trails in the Garhwal region. You cross Mana, India's last village, the famous Vasundhara waterfall. Sahastradhara which has more than 100 waterfalls can be spotted on the trail. Trekking on the bank of Alaknanda and camping in the Lakshmi van forest and Chakratirtha meadow are the best part of the trek.
The lake is surrounded by Mount Chaukhamba, Mount Neelkantha, Mount Swargarohini and Mount Balakun. All these snow-capped mighty mountains will be standing next to you. 
This triangular Satopanth lake in Garhwal Himalaya remains clean throughout the year even though locals throw the ashes of the dead in the lake. There is also an extensive study which shows the water quality of the lake is being categorised as "Excellent" following the standards of WHOand Bureau of Indian Standards(BIS). Here is the link to the article. 
➤Table of Contents
Just like you, we love trekking! And this is a trek we've documented in great detail to help you do it on your own. Drop-in comments at the end of the page if you need any help!  You will get all the information required to do the Satopanth Tal trek on your own.
To navigate through the documentation easily, use this section of Table of Contents
➤What to watch out for
The Majestic view of the Mount Neelkanth 
The trail to the Satopanth lake is at the foot of the Mount Neelkanth. It is the major peak of the Garhwal division of the Himalayas. 
If the weather is clear you can constantly see this mountain once you cross the Lakshmi van forest region. 
Chaukhama Peak. Picture by Saurav Sinha
The view of the beautiful Vasundhara waterfall
After a 3 km trek from the Mana Village, you start to hear the burbling sound of the Vasundhara falls. It will be on your right side on the other bank of the Alaknanda river. 
There are many tourists and locals who trek only to the Vasundhara falls from the Mana village and return back. The trail from the village is tricky and takes almost 2 hours.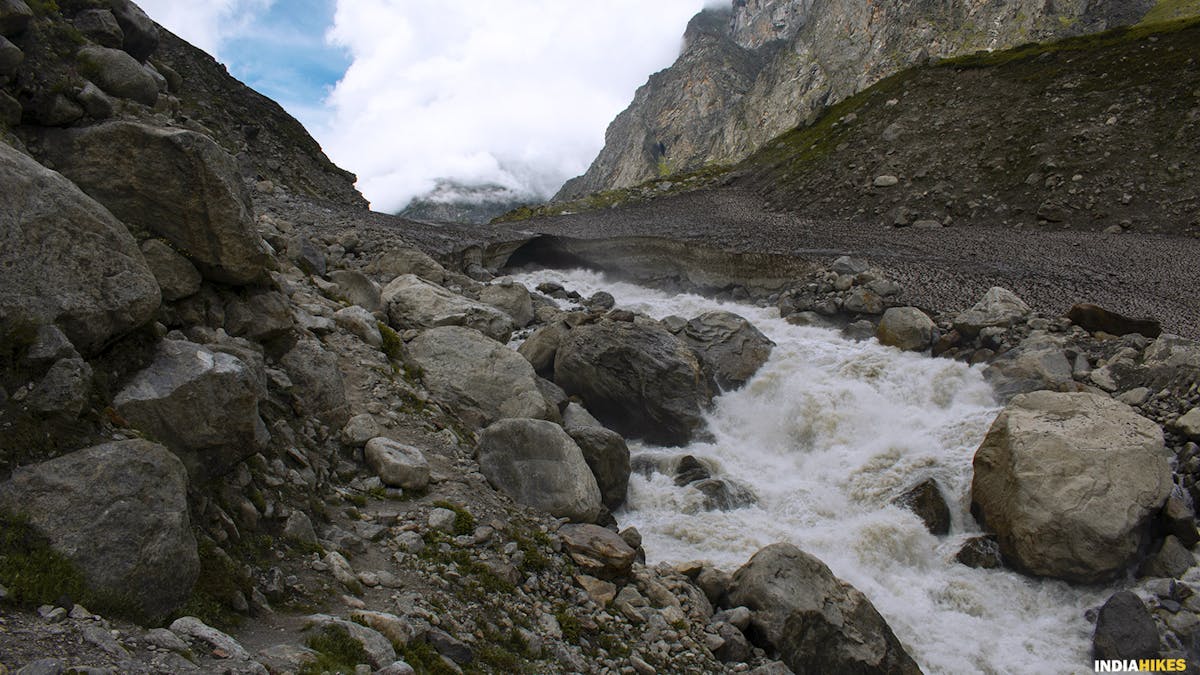 Glacier of Alaknanda River. Picture by Saurav Sinha
Crystal clear Satopanth Tal
Pristine Satopanth Tal is situated in the midst of snow-capped mountains. Some of the famous mountains like Swargarohini, Chawkamba, Neelkanth and Balakun can be seen from here. 
This triangular lake has a perimeter of over 1 km and has a soothing evergreen colour. It remains clean throughout the year.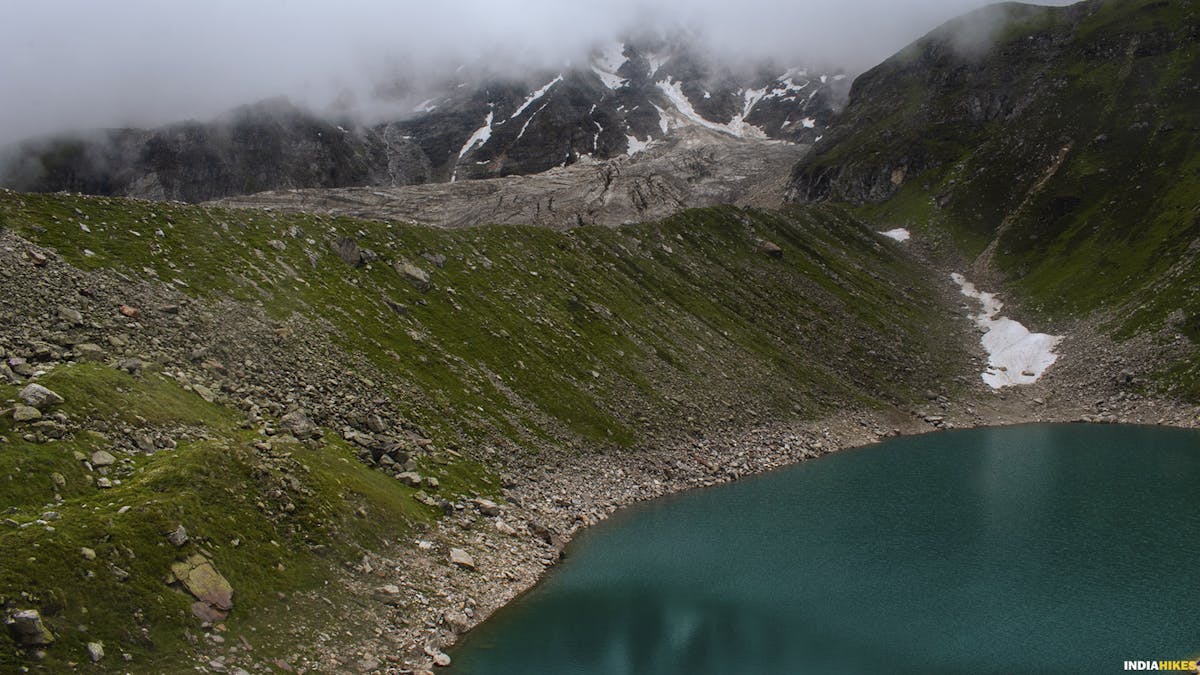 Satopanth Tal, seen from the Ridge. Picture by Saurav Sinha
Click here to go back to the Table of Contents
➤Trail Information
Satopanth Tal trek can be done in 4 days from Badrinath to Badrinath. The trail can be divided as:

Day 1: Acclimatisation Day
Day 2: Badrinath to Lakshmi van via Mana Village and Vasundhara falls
Day 3: Lakshmi van to Chakrateertha
Day 4: Chakrateertha to Satopanth Tal and back
Day 5: Chakrateertha to Badrinath
Badrinath is at an altitude of 10,830 ft which is quite high to start any trek. So it is recommended to stay one extra night at Badrinath and start the trek. 
It is recommended to go on a preventive course of Diamox for this trek. It will help your body to acclimatize faster. You will have higher chances of completing the trek. 
Here is an article that tells you how to prevent Altitude sickness. It will help you prepare for the trek with the required precautions.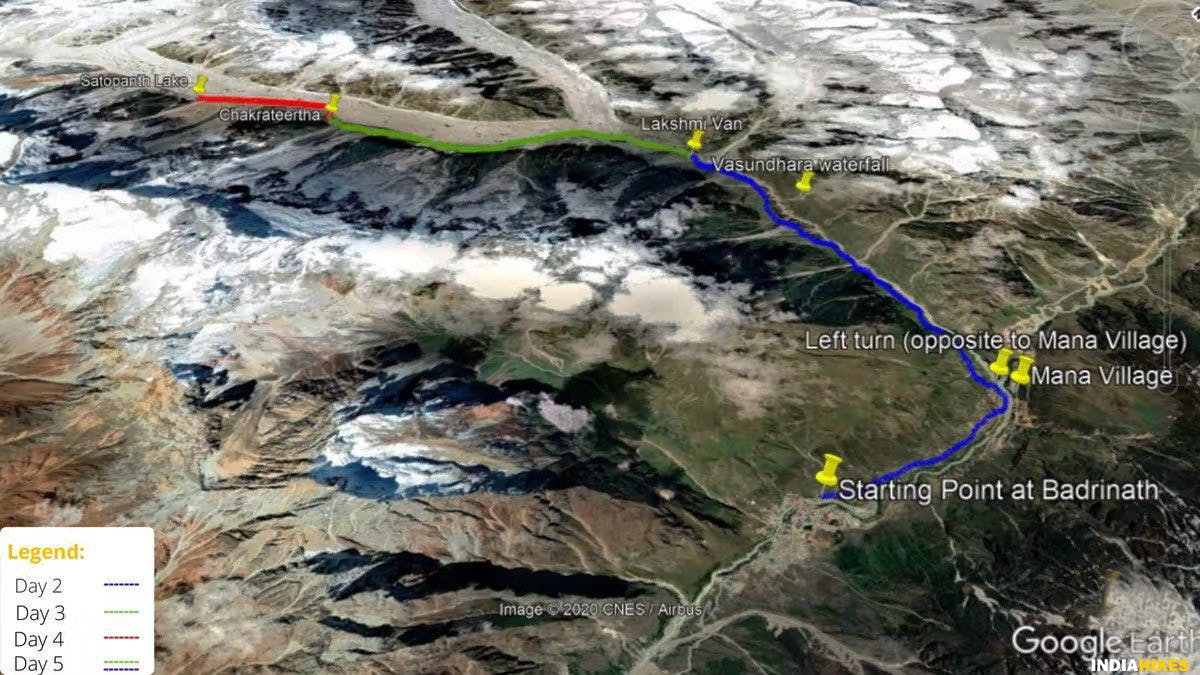 Trail Map of Satopanth Tal Trek. Source: Google Earth. Picture Courtesy Nayana Jambhe
Day 1: Acclimatisation day at Badrinath
Since the trek starts at a high altitude of 10,830 ft, a buffer day is a must. On day 1, you can go to Mana village, explore a bit there and come back to Badrinath. 
Since the Inner Line Permit(ILP) is compulsory, you can also get it done from Joshimath if you do not have it.
Rest well on that night and prepare yourself for a long trek ahead. 
Trek Distance: 9 km 
Trek Duration: 4 – 5 hours
GPS coordinates of the starting point at Badrinath: 30°44'47.98″N 79°29'33.07″E
GPS coordinates of the Lakshmi van:   30°47'0.68″N 79°25'58.64″E
Start the trek early in the morning from Badrinath. The trek distance to be covered is 9 km. 
You walk on the Badrinath to Mana road all the way to the Mana village 
Tip: You can also get a taxi from Badrinath to Mana village and then start the trek from there. It will reduce 3 km from the overall trekking distance on that day. A taxi would charge you around Rs 300 to 400.  
After a 3 km trek in the same trail, on your right side, you can see the Mana village. This is India's last village to the China border. Mana is just 26 km away from the India China border. 
You can also see the road that goes to the border. But the entry is restricted only to people in the army.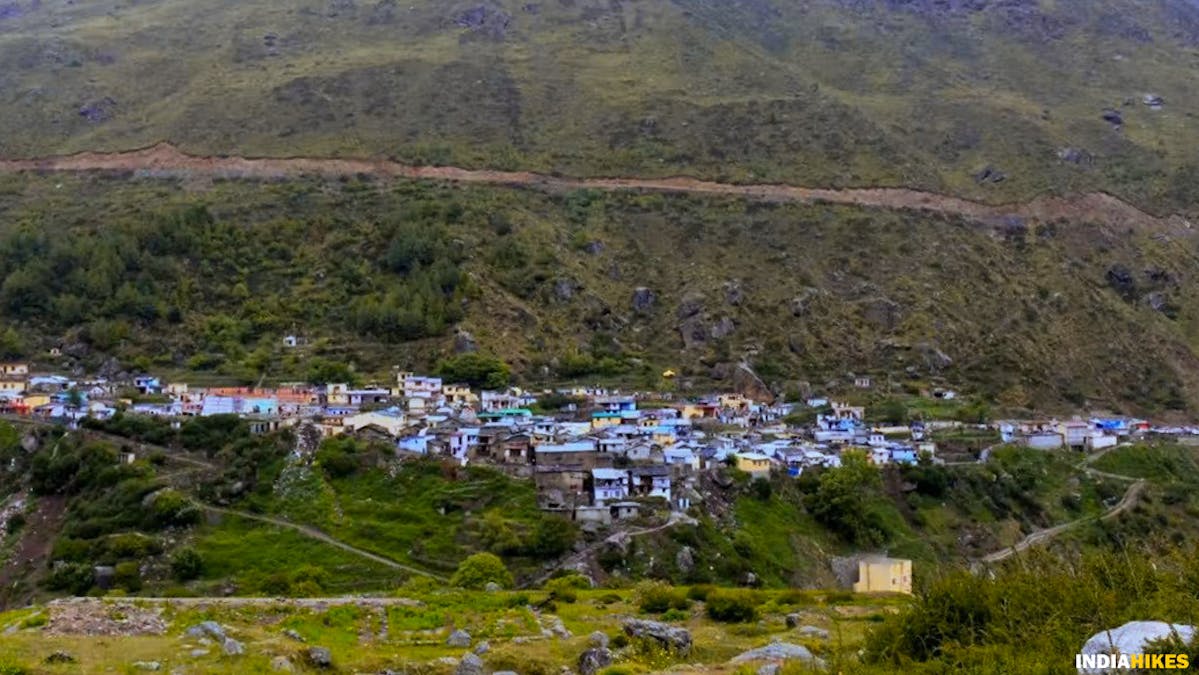 Mana village, captured from the other bank of Alaknanda river. The road above the village leads to the India-China border. Picture by Puttaraj Alige
From this village, the trail deviates towards the left side (towards Eastern side) of the Alaknanda River. There is a proper man-made trail from here for a few kilometres.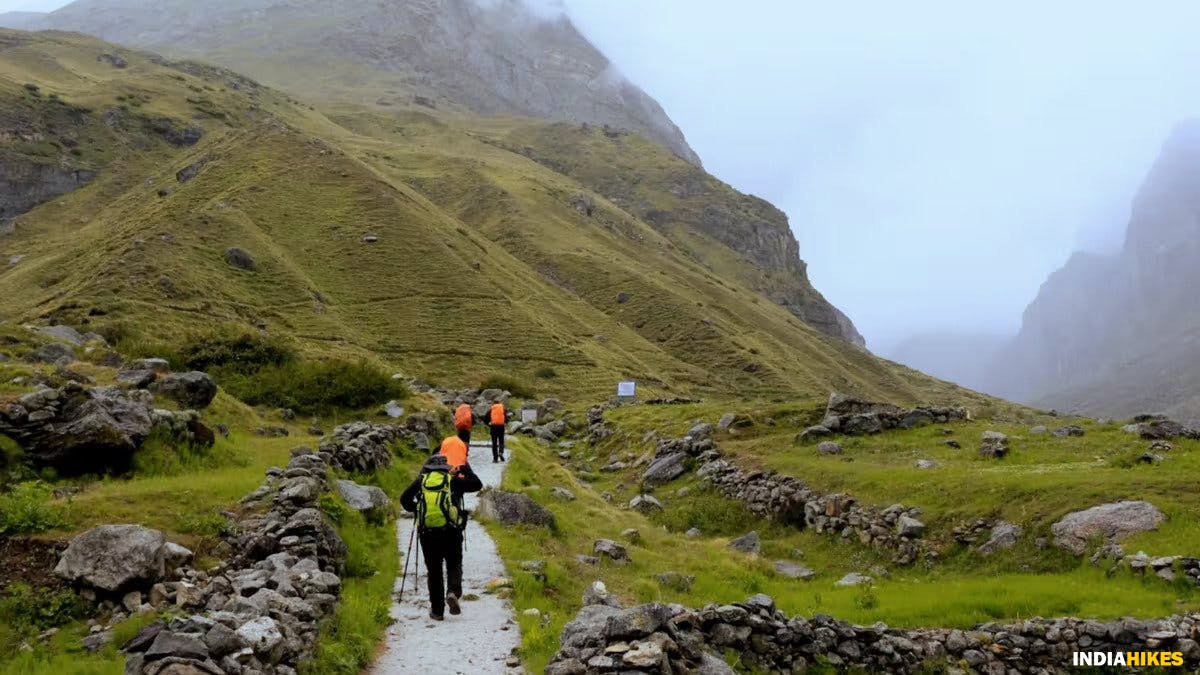 The trail from Mana village towards Vasundhara falls on the left bank of the Alaknanda river. Picture by Puttaraj Alige
After 2 to 3 km from the village, you start to hear the sound of water plunging down from almost 400 ft. Soon, you see the graceful Vasundhara fall on your right. 
There is another route to reach Vasundhara falls from Mana village. It is from the right side of the Alaknanda river. Tourists and villagers visit the waterfall and return back to the village from that side. 
It is proven that the water of Vasundhara falls as well as the Alaknanda river holds medicinal value. Hence, many people carry the water in a bottle and store it. 
Take a quick break here. Drink some water. Since you are gaining altitude as you are covering the distance, you need to keep yourself hydrated throughout the trek. Make sure you fill your water bottle here.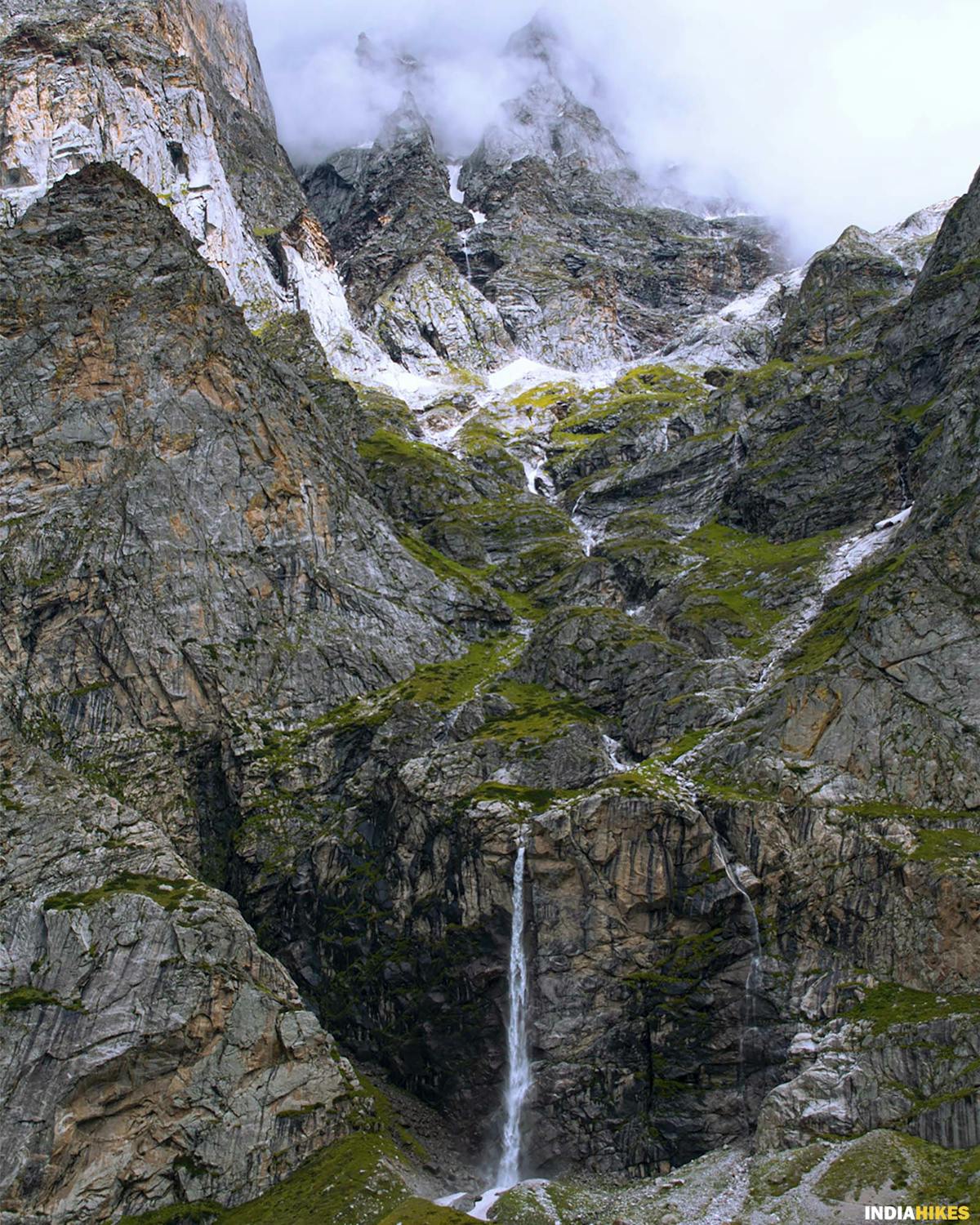 Vasundhara waterfall as seen from Laxmivan. Picture by Saurav Sinha
As you cross the falls and continue towards Lakshmi van campsite, the valley opens up into two. Stay on the left bank throughout the trek. 
After 3 km of moraine walk on the left bank of the Alaknanda river, you reach the Lakshmi van campsite. 
Now you are at an altitude of 11,900 ft. Take the oximeter reading. It should be above 90. If it is below 90, start descending down immediately. 
This campsite is on the green grassland. You find a lot of Bhoj-Patra trees in this campsite.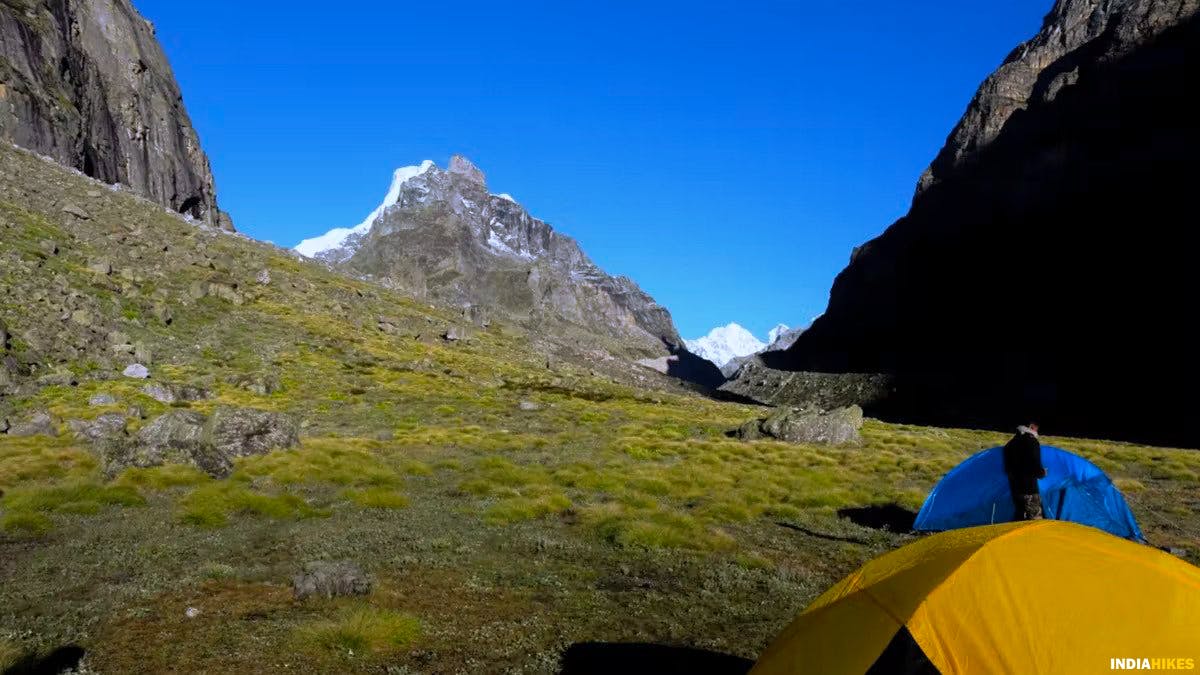 Laxmivan campsite. Picture by Puttaraj Alige
Trek Distance: 7 km 
Trek Duration:  3 – 4 hours 
GPS coordinates of the Lakshmi van: 30°47'0.68″N 79°25'58.64″E
GPS coordinates of the Chakrateertha: 30°45'5.12″N 79°22'54.45″E
Today's trek is slightly difficult as the altitude gain is more than 2000 ft. But, it is a scenic route as you enter Satopanth valley.  
PROTIPBefore starting the trek make sure you have a healthy breakfast and pack some snacks to eat on the way. Keep drinking water the entire day. 
The trail continues to be on the bank of the Alaknanda river. You trek on the grassland in the middle of the terminal moraine of Dhano glacier. 
Keep your eyes open for some of the most beautiful alpine flowers on the trail. Once you cross this patch you start to see the 3 peaks of Bhagirathi in front of you(Only if the weather is clear).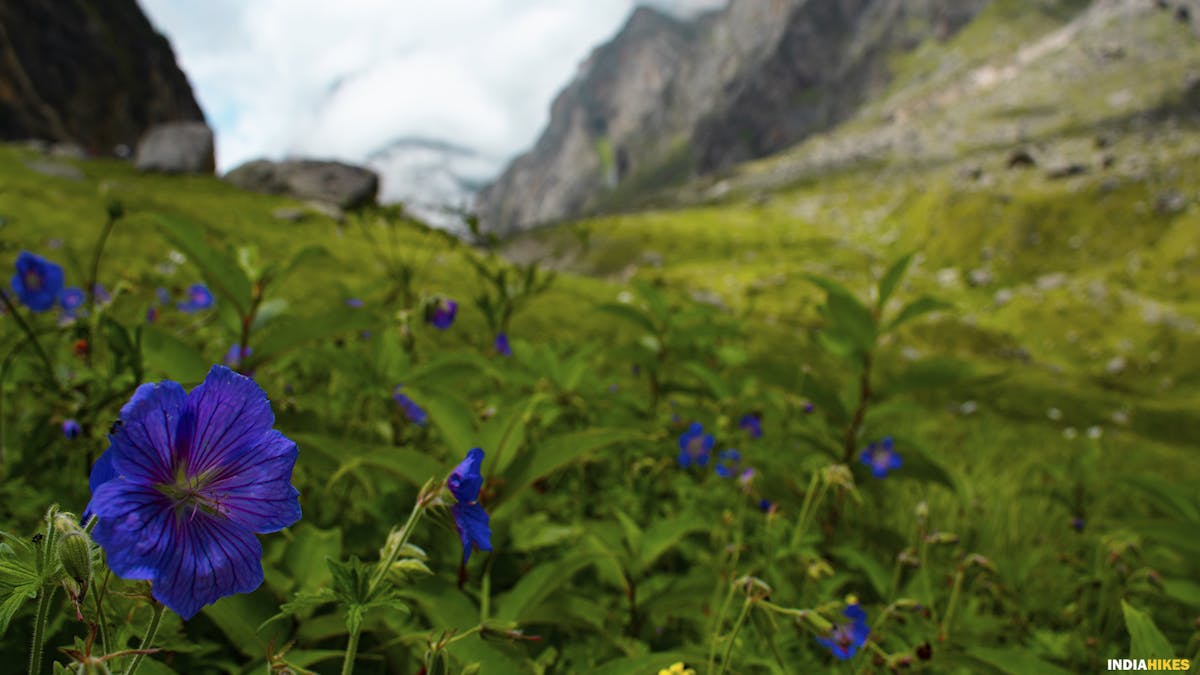 Alpine Flowers, seen on the way to Chakrateertha campsite. Picture by Saurav Sinha
After around 5 km of a trek, you reach the Sahastradhara. From here you can see Mount Neelkanth on the left side. 
You also spot more than 100 of small waterfalls on the huge monolithic rock in front of the mountain.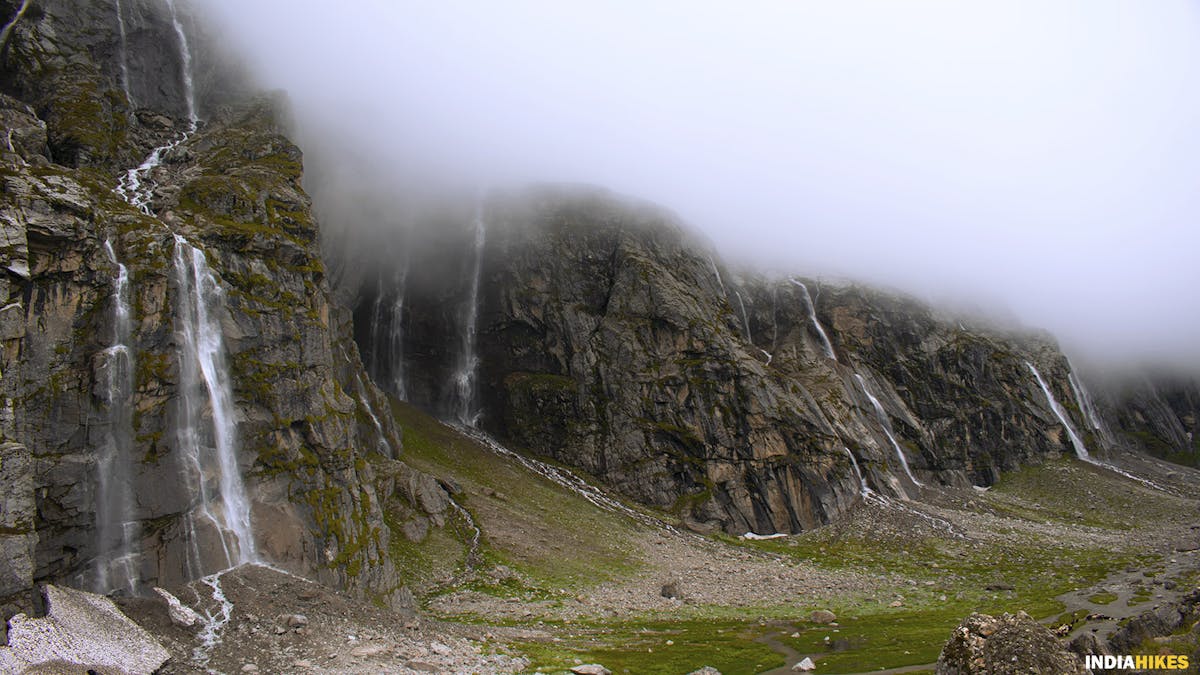 Sahastradhara( 100 waterfalls) feels like you have reached Heaven. Mount Neelkanth is hidden in the clouds behind. Picture by Saurav Sinha
The weather here changes drastically post noon. You are at an altitude of 14,000 ft. At higher altitude weather becomes unpredictable post noon. Make sure you reach the campsite as early as possible. 
From here Chakrateertha campsite is around half an hour. It is a flat grassland where you can pitch your tent for the night.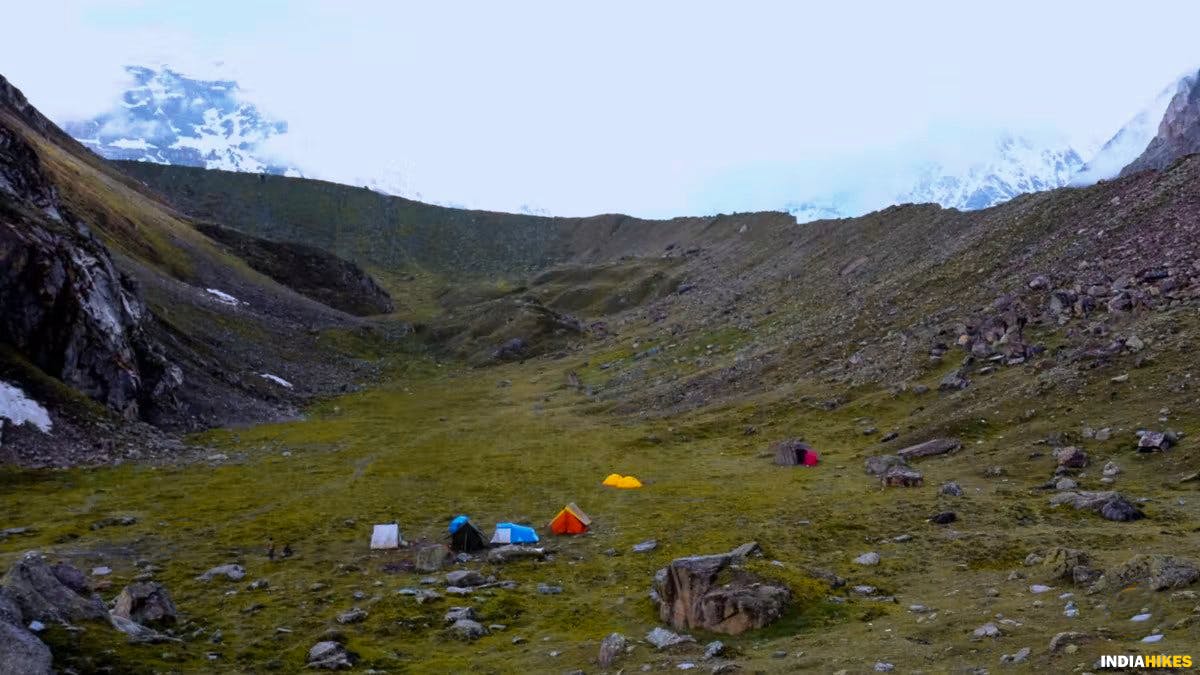 Chakrateertha campsite. Picture by Puttaraj Alige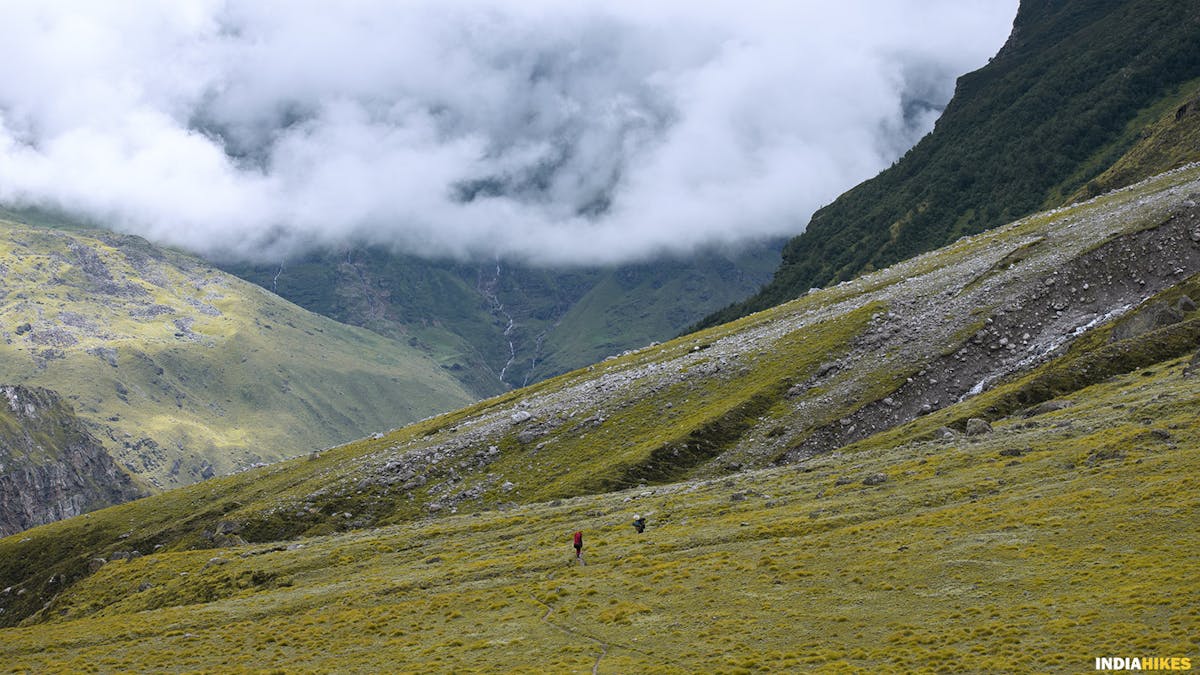 Vast Meadows after Laxmivan. Picture by Saurav Sinha
Once you reach the campsite, make sure you cover your head and wear a fleece jacket. do not expose yourself too much to the cold. The temperature here can be 5 to 10 degree day time and -5 to 0 degree during night. 
Here is an article that explains how to layer up yourself for any Himalayan treks. 
Check the oximeter reading. If the reading is below 90 or you are showing any symptoms of headache, nausea, fatigue, loss of appetite or dizziness, you need to descend down immediately.  These are signs of Altitude sickness. It can lead to deadlier conditions of HAPE and HACE if not recognized on time.
Here is an article that gives you how to recognise the altitude sickness quickly and treat it before it gets worse. 
If you want to read a true story of a trekker how she saved her husband's life on the Satopanth Tal, go through this article. 
Trek Distance: 10 km (5+5)
Trek Duration: 8 hours
GPS coordinates of the Chakrateertha:  30°45'5.12″N 79°22'54.45″E
GPS coordinates of the Satopanth Tal:  30°44'42.37″N 79°21'28.04″E
Prepare yourself for a jaw-dropping view next day early in the morning. With Mount Neelkanth on your left, Chaukanmba at the centre, Balakun range on your right, you can not forget this sight soon. Keeping the view in mind, get ready for a difficult day of the trek.
The initial trail from Chakrateertha is pretty flat and you trek on the grassland.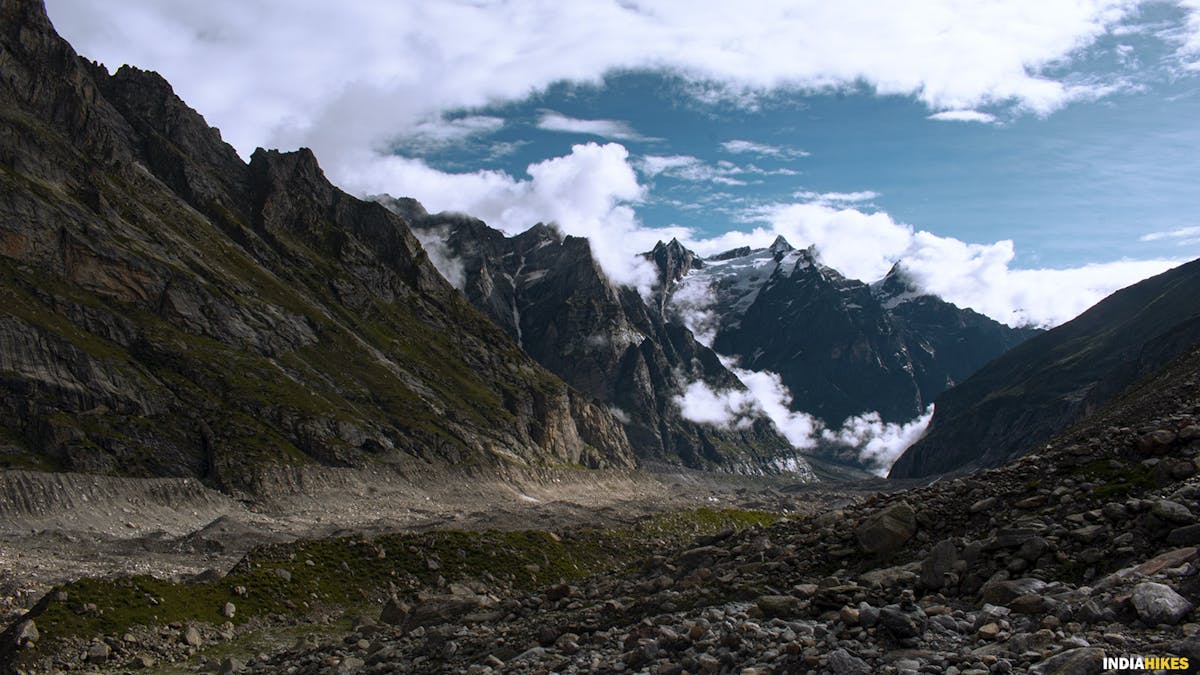 Satopanth Glacier with Kuber Parvata. Picture by Saurav Sinha
After 2 km of the trek, the trail mazes through boulders and moraine. You need to trek very carefully. Take the help of a trekking pole here. 
PROTIP Carry 2 trekking poles if you have. It is more comfortable than using one. It also helps in ascending steep sections. This article explains the benefits of using 2 trekking poles.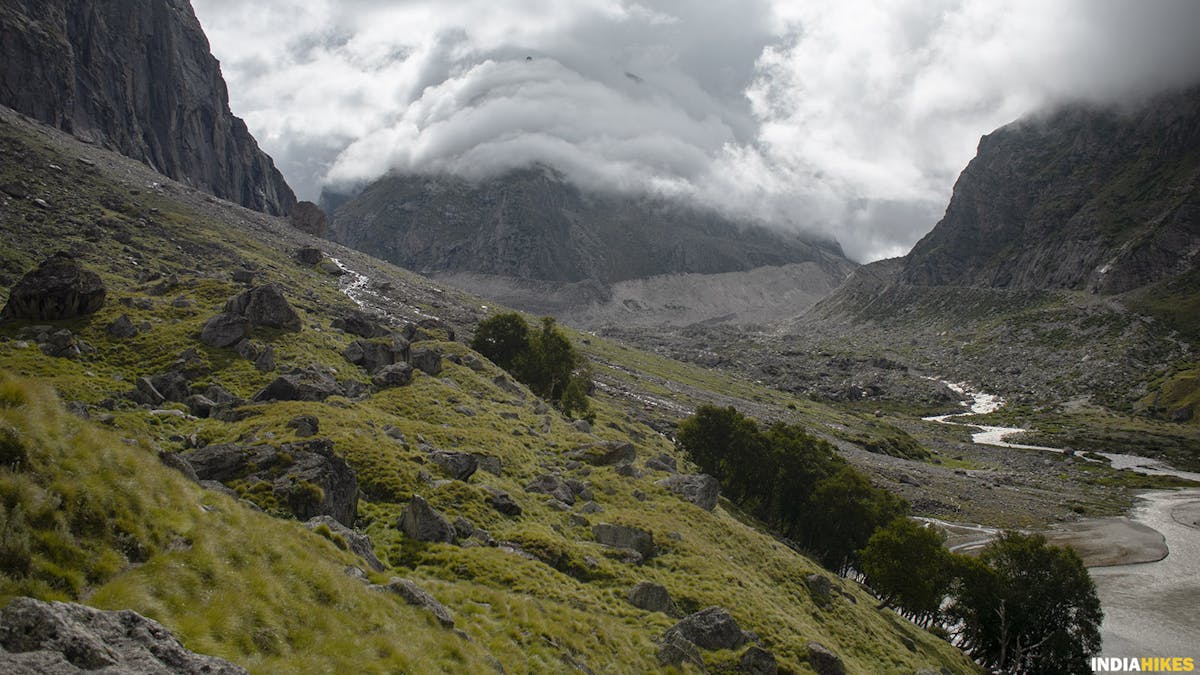 Laxmivan with Bhojpatra trees. Picture by Saurav Sinha
Satopanth Tal is still hidden. You get the first view of the Tal only when you reach the top of the ridge. From there you can see the triangular Satopanth Lake. 
The lake looks very small in the picture but when you stand in front of it, it is huge. It has a perimeter of over 1 km.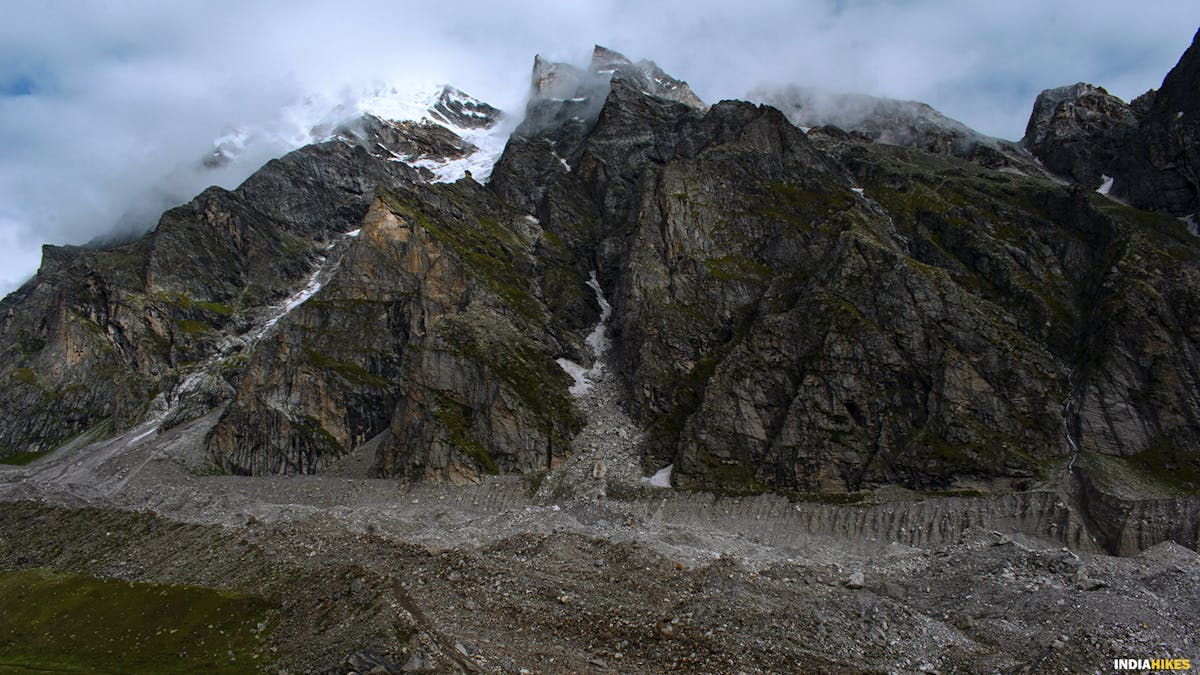 Satopanth Tal glacier. Picture by Saurav Sinha
There is a small room constructed as a temporary shelter here using stones. A Local sage Mauni Baba is known to live near the lake.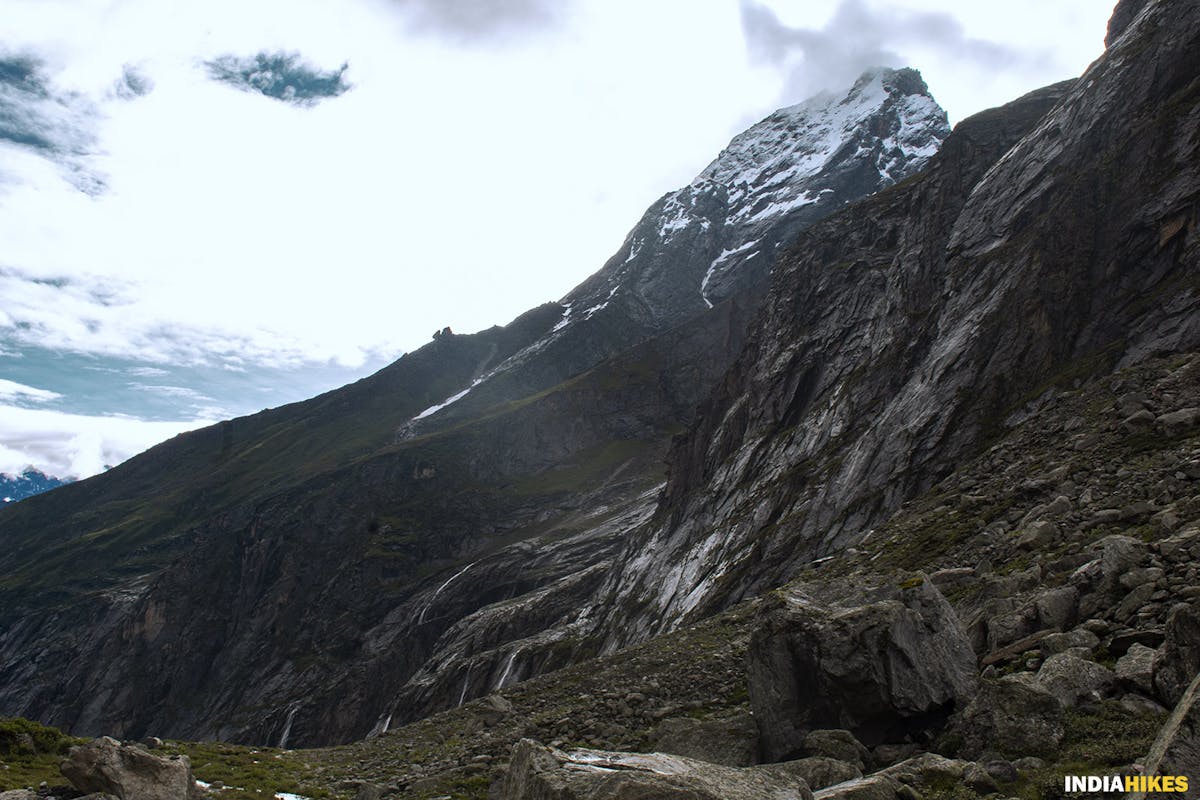 Neelkanth Peak from chakrateertha. Picture by Saurav Sinha
The views from here are spectacular. Spot the Mount Chaukhamba at the centre, Balakun on the right, Swargarohini towards left and Neelkanth standing behind you towards left. 
The water quality of the Lake is excellent. It stays clean throughout the year. There are stories and beliefs that few rare birds keep the lake clean all the time. But nobody has spotted those birds till now. You might be that rare person who spots on the trek! 
There is also one more interesting thing to see from here. If the weather is clear, you can also see the 3 steps out of 7 on the Swargarohini glacier which is believed to be the steps to heaven that Pandavas took.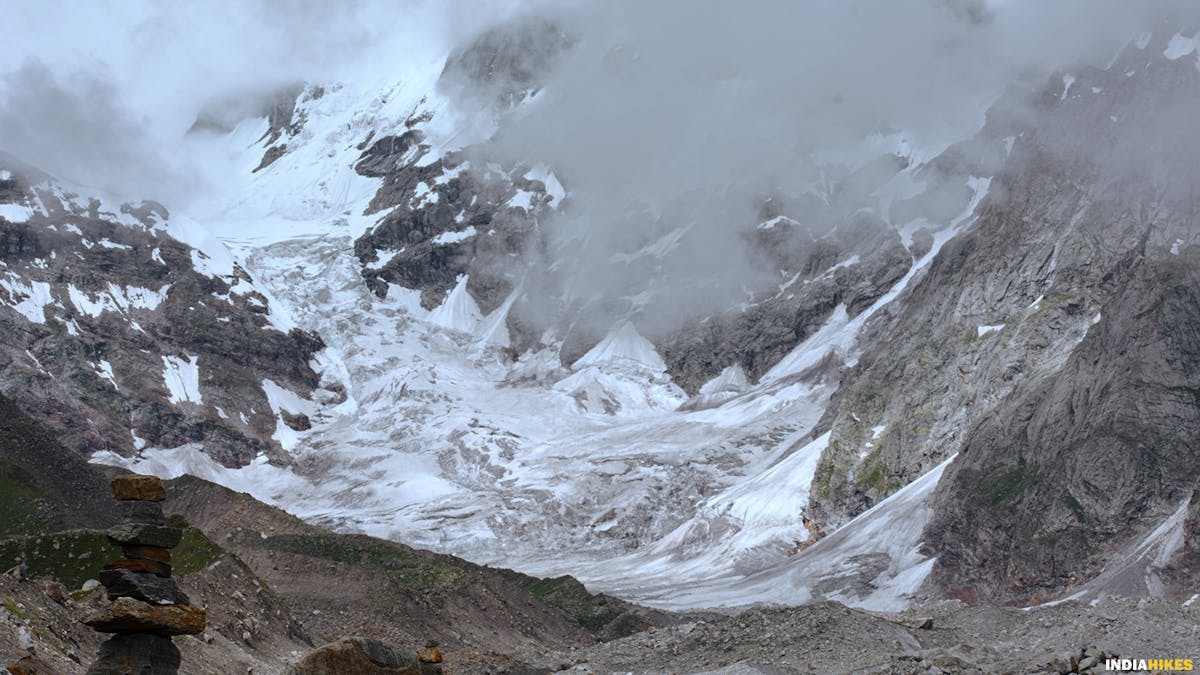 Swargarohini glacier. Picture by Saurav Sinha
Enjoy the calmness around the lake for half an hour. This is the perfect setting to reflect on your long journey. 
After having packed lunch or snacks, start the return journey to Chakrateertha. It will take around 2 to 3 hours to reach back to the campsite. 
Trek Distance: 15 km
Trek Duration: 5 – 6 hours
GPS coordinates of the Chakrateertha: 19°23'35.91″N,  73°47'42.45″E
GPS coordinates of the Badrinath: 30°44'47.98″N 79°29'33.07″E
Take the same trail taken to reach Chakrateertha from Lakshmi van and again from mana to Lakshmi van. This will take around 5 to 6 hours to reach Mana village.
If you are too tired to walk up to Badrinath, you can take a jeep or taxi from Mana village.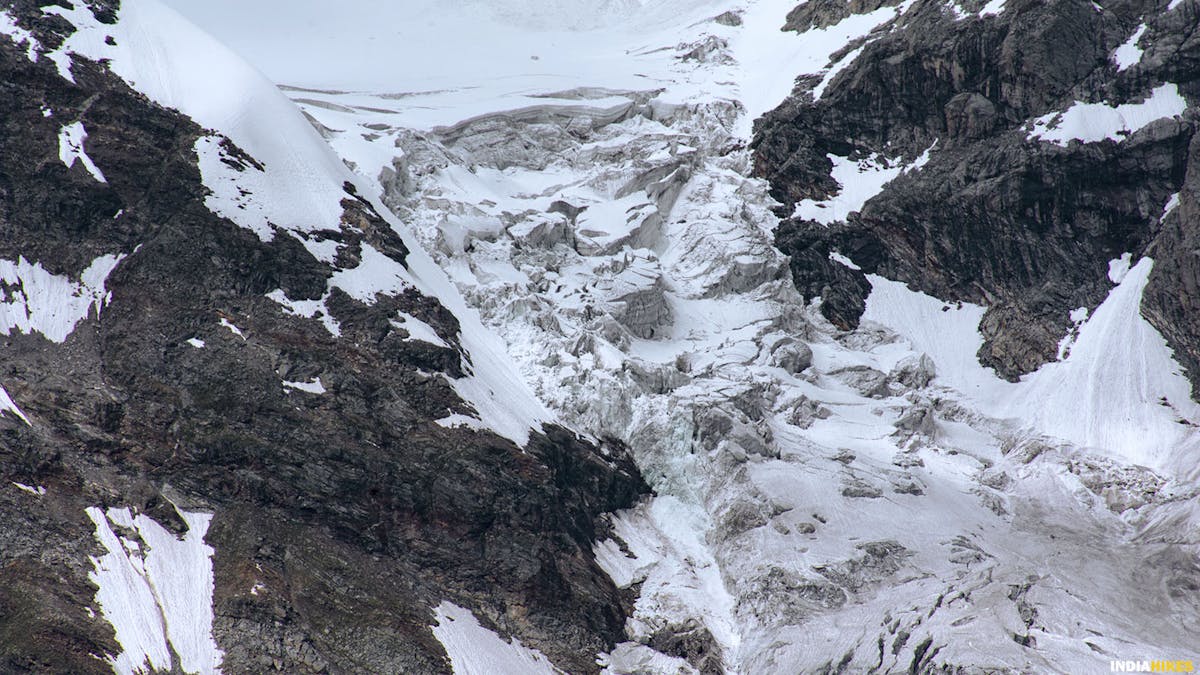 Swargarohini Steps. It is believed that Pandavas found their way to heaven from here. Picture by Saurav Sinha
Click here to go back to the Table of Contents
➤Best Season to do the Satopanth Tal Trek
Satopanth Tal trek is best if you do it in the month of May to mid-July and September to October. 
In the month of May to mid-July, you get to see the lush green meadows, beautiful wildflowers and crystal clear Satopanth Tal. 
If you are trekking post-monsoon, you can see the Alaknanda river at its best and graceful Vasundhara waterfalls joining the Alaknanda river aggressively.
Since this trek goes up to 15100 ft, you can expect a lot of snow during winter. So trekking in the winter season is not possible.
During the monsoon season, the trail becomes extremely dangerous making it difficult to access the lake. 
Click here to go back to the Table of Contents
➤Difficult sections on the Satopanth Tal Trek
Satopanth Tal trek is of Moderate-Difficult level. You need to have prior Himalayan trekking experience and high fitness level to do this trek. 
This trek is categorized based on the steep sections on the trail, overall altitude gained. And the total distance covered every day. 
The trail of this trek passes through a maze of loose rocks, boulders and moraine. Trekking on them is not as easy as trekking in any other places. 
Apart from the terrain, there are a few sections that are steep and need to be negotiated carefully. They are:
Forced ascent: Chakrateertha campsite is at an altitude of 14,500 ft and Lakshmi van is at 11,900 ft. Which means you will be gaining almost 2,500 ft in a day. This makes you more susceptible to altitude sickness. If you are trekking on your own, having the knowledge of AMS is a must.
You can prevent this by starting the preventive course of Diamox from Badrinath and preparing your body to function well at higher altitudes (with less oxygen). To know how to prepare yourself for the high altitude trek, go to "How to get fit" section. 
Steep section: The final stretch to Satopanth Tal is quite steep and has loose soil over the glacial moraine. There are also scree slopes that make it more difficult to climb. You need to be very careful while climbing. 
Click here to go back to the Table of Contents
➤How to prepare for the Satopanth Tal Trek
The Satopanth Tal trek is of the moderate-Difficult level. You start at an altitude of 10,830 feet and reach an altitude of 15,100 feet in 3 days. Ideally, you should be only gaining 1000 ft a day. However, the Indian Himalayas climb very quickly. This is called a forced ascent.
Cardiovascular endurance – Target 10 km in 60-70 minutes before the start of the trek
On the Satopanth Tal Trek, you have to cover an average of 8 km each day. This requires a good amount of endurance. You can begin by jogging every day. Start slow and increase your pace every day. Swimming, cycling and stair climbing without too many breaks in between can help too.
In order to be prepared for a high altitude trek, you should have a combination of distance and speed targets.
Here's a fitness routine that works:
In case you're just starting with a regular fitness routine, phase out your distance targets in the following manner –
–>Target completing 5 km in 40 minutes when you begin.
–> Gradually increase your pace by running 4 times a week and bring it down to 5 km in less than 35 mins.
–>If you are above 45 years and is comfortable with brisk walking, then target covering 10km in 90 minutes.
If you are somebody who prefers cycling over running, then try to cover 25 km in 60 minutes.
Strength – Target 4 sets of squats with 20 in each
This is another area you should work on. There is a lot of trekking distance that you will cover in high altitude carrying your backpacks.  You have to walk on uneven terrain during the trek. It could be taxing for your legs. For this, strengthening your legs will help. You can do some squats to strengthen them. Start with 3 sets of squats, with 8 squats in each set and work towards reaching your target in 3 weeks.
Flexibility
Another aspect that will help you trek comfortably is flexibility. For this, you can do some stretching exercises – stretch your hamstrings, quadriceps, hip flexors, lower back muscles and shoulders regularly. On your trek, it is important that you arrive on the slopes with your muscles relaxed. Carrying a backpack, however light, can become a strain after a while. These exercises will help you to be in good shape before the trek.
Here is a guide to help you get fit for the trek.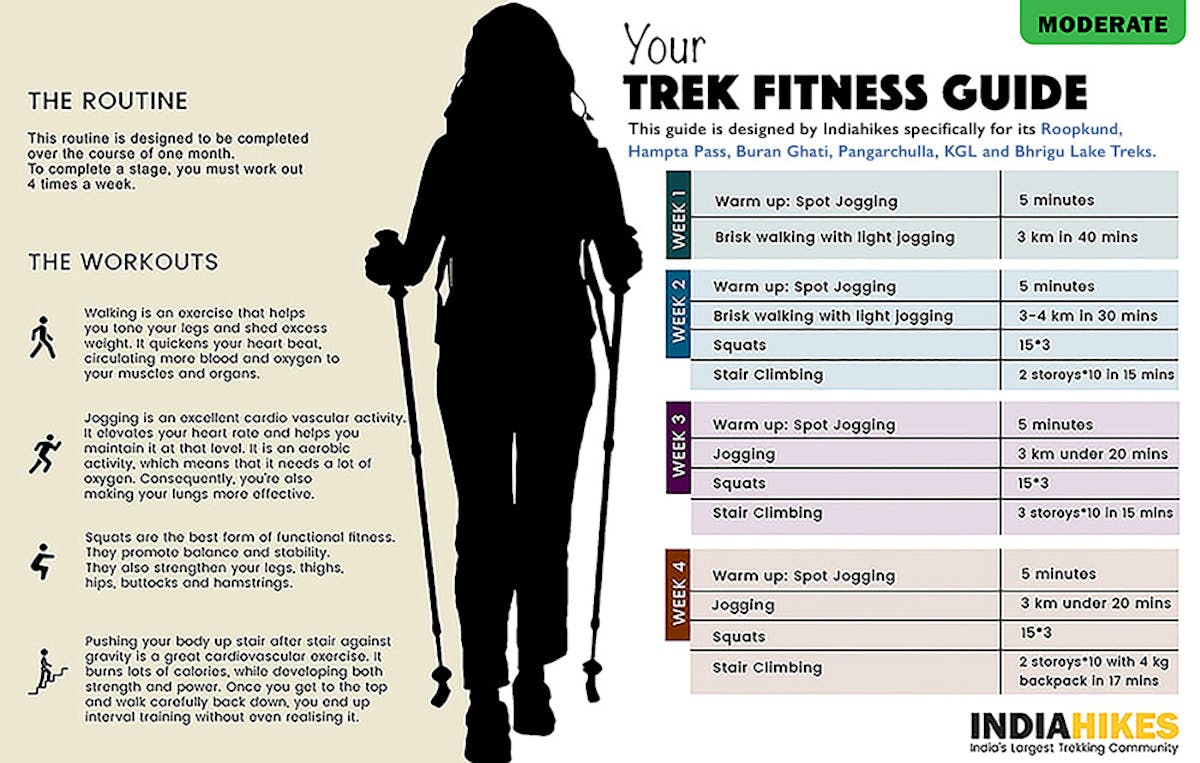 One-month trek fitness routine for a moderate-difficult trek
Working out indoors
If you can't go out and jog because of time and space constraints, here's a video you can use to work out indoors.
Click here to go back to the Table of Contents.
➤How to reach Satopanth Tal
Satopanth Tal trek starts from Mana village, India's last village. To help you with your travel plans, a detailed step by step guide is given. 
The Mana village can be accessed easily from Haridwar/Rishikesh. There are multiple options to reach both places. 
Option 1: Fly directly to Dehradun → Rishikesh → Badrinath → Mana village
If you are travelling from cities like Bangalore, Chennai or Mumbai, we recommend you to fly directly to Dehradun. 
Rishikesh is just 20 km from Dehradun Airport.
Here is an article that tells you how to reach Rishikesh. 
There are 3 options to reach Rishikesh:
A shared taxi directly to Rishikesh: 1000 Rs per vehicle(Recommended only if you are in a group).
An auto directly to Rishikesh: 300 Rs.
A bus from the bus stop which is 1.5 km from the airport: 50 Rs(Cheapest and recommended option).
Tip: Make sure you reach Rishikesh by 6 pm so that you get enough rest before the long journey.
The distance from Rishikesh to Badrinath is around 301 km. There are buses every hour that charge you around Rs 650. Take a bus from Rishikesh that leaves very early in the morning to Badrinath. It will take 10 to 12 hours to reach Badrinath depending upon the road condition.
Tip: Leave Rishikesh before dawn. This is because there is a travel restriction after 6 PM from Joshimath. If you have not crossed Joshimath before 6 pm, you will have to halt there for the night and start again the next morning. 
You can stay at Badrinath that day. Next day, you can either hire a cab to the starting point at Mana or directly start the trek from Badrinath.
Option 2: Fly to Delhi → Haridwar → Badrinath → Mana village
Another option is flying to Delhi. This is cheaper than getting to Dehradun. Make sure you reach Delhi by 1 pm.
Tip: If you notice the difference in air ticket prices between Delhi and Dehradun less than Rs 1000 then book directly to Dehradun. The rest and shorter travel time are worth the difference.   
There are 2 options to reach Haridwar from Delhi:
From New Delhi railway station(NDLS), take the afternoon Jan Shatabdi express (leaves at 15.20 pm) to arrive at Haridwar by 8.00 pm. 
There are regular AC buses available from Delhi's ISBT Kashmiri Gate. They are very frequent and not very crowded. It takes around 7 to 8 hours to reach Haridwar. They will charge you around Rs 700. 
Stay overnight at Haridwar. Next day, take the 3 am bus that leaves to Badrinath. They will charge you around Rs 625. Leave Haridwar at max by 5 AM. In case, if you can not take any buses before dawn, travel to Joshimath and stay there (you get buses to Badrinath in the morning). 
You reach Badrinath by 4 pm if you have taken the 3 am bus. Stay there for the night. Next day, you can either hire a cab to the starting point at Mana or directly start the trek from Badrinath.
Nearest Railway Station
Haridwar Railway Station – 314 km
Nearest International and Domestic Airport
Jolly Grant Airport, Dehradun – 314 km
Click here to go back to the Table of Contents.
Satopanth Tal is a high altitude trek. The trekking gear you need to carry for this trek is different from regular treks. So pay careful attention to this entire section.

First, The Essentials. You cannot do the trek without these.
1. Trekking Shoes: 
Satopanth Tal requires trekking shoes that are sturdy, have a good grip, have ankle support and can handle snow. Here is a quick video on how to choose your trekking shoes.  
| Buying Tip: The Trek series and MH series are good options by Decathlon. They are tried and tested. There really isn't any necessity to buy the higher-priced models. Here is a list of other budget shoes that trekkers are using.
2. Backpack: 
For a trek like Satopanth Tal, you need a 50-60 litre backpack. Make sure your backpack has good hip support, shoulder support and quick access pockets. Here is a guide on how to choose a backpack. 
| Buying Tip: Wildcraft, Decathlon and Adventure Worx usually make good backpacks. While Wildcraft has more expensive ones, the other two brands have budget-friendly backpacks to choose from.
3. Clothes: 

Wearing layers is the mantra in the mountains. Layers give you maximum protection from all elements. And when the weather changes in the mountains (as it happens every few hours), you take off or put on layers as required. 
Base layer:
3 T-shirts:
Wear one T-shirt and carry two. Carry full sleeve dry-fit T-shirts (preferably collared). These prevent your arms and neck from getting sunburnt. In the rarified air on the trek, especially at high altitudes, UV rays can burn you in no time. 
Dry-fit T-shirts quickly dry your sweat, they are easy to wash and in case of a rainy day, they dry quicker. Round neck T-shirts are ok, but collared ones are better. 
3 insulation layers: 
The highest altitude you reach on this trek is 15, 100 ft. At these altitudes, it can get freezing cold even in the middle of summer. You will need at least 3 insulation layers for this trek.
You will need 2 light fleece layers, 1 full-sleeve light sweater. Do not get your grandma stitched sweaters, which can be very heavy. You need sweaters and fleece jackets that can fold into compact rolls.
1 Outer layer: 
A padded jacket serves the purpose here. You don't really need a water-resistant material. But you need an outer padded jacket that keeps the wind and cold out. Ensure your padded jacket has a hood as well.
| Do you need a down/feather jacket? Not really. A regular padded/shell jacket will do. This video here will help you to learn more about the difference. 
Two trek pants:
Two pairs of trek pants should suffice for this trek. Wear one pair and carry two just in case it rains. Trek pants with zippered cut-offs at the thighs are very suitable for treks. Also, choose quick-dry pants over cotton. They dry up soon in case of small stream crossings/rain.
Mandatory Accessories, without these too you won't be able to do the trek. 
These accessories are mandatory. Don't go to Satopanth Tal trek without them. Trekkers generally put off purchasing / borrowing the accessories for the last minute. We suggest the opposite. Start gathering these accessories first. 
1. Sunglasses:
Sunglasses are to prevent snow blindness. Especially in the month of May and October on a trek like Satopanth Tal, expect to walk on long stretches of snow from Chakrateertha to Satopanth Tal.A small overexposure to direct sunlight on snow can lead to snow blindness (about a half hour's exposure). That's because fallen snow is like thousands of mirrors that reflect direct UV rays. So you need sunglasses with UV protection. 
| Tip: Try getting sunglasses that wrap around instead of those that have openings on the side. Even peripheral UV ray exposure is not a good idea.
Wear sunglasses if the trekking day is bright and sunny (on open sections, meadows). On a snowy section, you must absolutely never take off your sunglasses until the section has been fully crossed.
| If you wear spectacles: If you wear spectacles, you can get oversized sunglasses that you wear over your regular glasses (available at Decathlon). If that is cumbersome, photochromic lenses work equally well. Here's a quick guide on managing sunglasses with spectacles.
| Contact lens users: If you use contact lenses, you can use them on the trek too. The lens solution will not freeze. You will also not face any problems in changing your lens in your tent. Just carry enough cleaning solution with you to clean your fingers well. Wear your sunglasses over your contact lens.   
 2. Suncap:

A sun cap is mandatory. Trekking without a sun cap can lead to headaches, sunstrokes, quick dehydration and a sharp drop in trekking performance.
| Tip: In the mountains, the general rule is to keep your head covered at all times. During the day a sun cap protects you from the harsh rays of the sun (it is doubly stronger with naked UV rays). A sun cap keeps your body temperature in balance. In the evening/early morning, the reverse is true. Your head loses your body heat quickly. A woollen cap prevents heat from dissipating from your head.
| Pro Tip: Sun caps with flaps are a blessing for trekkers. They cut out almost all UV leaks, prevent sunburns in every possible way and also they are a lot more effective than sunscreen lotion. A wide-brimmed sports hat also helps to prevent sunburn in a big way. 
  3. Synthetic hand gloves:

On a trek like Satopanth Tal you are going to be handling snow quite a bit especially in the month of May and October, You'll need gloves to grip something or to steady yourself in snow. You also want the gloves to keep you warm. Get synthetic hand gloves that have waterproofing on the outside and a padded lining on the inside. If you find the combination difficult to get (not likely), wear a tight-fitting fleece hand glove inside a synthetic hand glove. Hand gloves are mandatory on this trek.   
4. Woollen cap or Balaclava:
Ensure these cover your ears. In the cold mountains, you lose maximum heat from your head, not from your hands, feet or the rest of your body. Which is why you need to keep your head protected, especially when the sun is down. Early mornings, late evenings, a cold trekking day are when you must use your woollen cap.
Your ears are sensitive too, so a woollen head cap that covers your ears is absolutely essential. A balaclava is a modern version of the woollen cap. It covers your ears, neck and parts of your face as well. Do not get a woollen cap that only covers your head. 
5. Socks (3 pairs):
Apart from two sports socks, take a pair of woollen socks. Sports socks give you cushioning plus warmth. Again the mantra is to wear synthetic socks or at least a synthetic blend. Cotton socks soak in water and sweat. They are very hard to dry. As for woollen socks, they help you to keep warm and snug in the night. If you cannot get woollen socks, wearing two sports socks serves the purpose as well. 
6. Headlamp:
Trekkers are often confused about whether they need to get a headlamp or a handheld torch. You need to get a headlamp because it leaves your hands free to do other activities. On the Satopanth Tal trek, you'll need your hands free to wash dishes, pitch tents and hold your trek poles.
Ensure your headlamp covers a wider area and is not too focused as a single beam. On a trek, your headlamp must help you see around you as much as ahead of you. 
7. Trekking pole (a pair):
Trekking poles give you stability and balance. They reduce your energy consumption by almost 40%. On the Satopanth Tal trek, there are steep ascents and descents. The trek up to the Satopanth Tal is pretty steep.  A pair of trekking poles will make the difference between a comfortable and a strenuous trek. In India, we tend to use a single trekking pole. However, two trekking poles give you greater stability and balance. They also increase your walking pace. 
8. Rainwear:
On a trek, the weather can change quickly. A bright sunny day can turn into a downpour in a matter of minutes. Carry a poncho or a rain jacket to tackle this. A poncho is a big rain cover with openings for your arms and your head. It is extremely effective because it covers both you and your backpack. It is extremely light and weighs next to nothing.
Rain jackets are more streamlined and less cumbersome but weigh more. Rain pants are really not required. Dry fit trek pants dry quickly even if soaking wet.
9. Rain cover for your backpack: 
Backpacks are your life. You carry all your dry clothes, your warm gear in your backpack. It is important that your backpack stays dry at all times. Modern backpacks usually come with built-in rain-covers. If your backpack does not have a rain-cover, ensure you get a rain cover by either (a) buying a rain cover (b) or cutting a large plastic sheet to the size of your backpack. You can roll the plastic sheet around your backpack and keep it in place with a string or elastic. 
| Pro tip: It's good practice to compartmentalise your clothes, accessories and other things in plastic covers inside your backpack. That way, even if it rains and your backpack gets wet, your things are water-proof inside the backpack.
10. Daypack (20-30 ltrs, optional): 
On day 4, you will be coming back to Chakrateertha. So carrying a daypack is mandatory. In your daypack, you carry essentials like water bottles, rainwear, emergency medicines, headlamp, some snacks and a warm layer.
A daypack is a smaller backpack that is usually of 20-30 ltr capacity. Laptop bags are not daypacks. Do not get them. 
Other mandatory requirements
1. A toilet kit: 
Keep your toilet kit light. Carry just the basics — toothbrush, toothpaste, small soap, toilet tissue roll, a small moisturiser, lip balm, and a roll-on deodorant. You will not be able to have a bath on the trek, so don't overload on soaps and shampoos.
| Pro tip: Carry miniature-sized items. You will not need more than that. If you're travelling in a group, share one toothpaste for all.
Avoid getting large toilet rolls. The smallest size roll is more than enough for a trek like Satopanth Tal.
| For women: If you are likely to have your periods on your trek date, don't worry about it. You can use your pads, tampons or menstrual cups on the trek. There will be toilet tents where you can get changed. Make sure you carry ziplock bags to bring back your menstrual waste. Don't leave behind any waste in the mountains. Watch this video to learn how to dispose your sanitary waste.
2. Cutlery:
Carry a lunch box, a mug and a spoon. Your lunch box must be leakproof. You will need this to have lunch, dinner and breakfast. 
| Pro tip: Carry stainless steel cutlery. Avoid fancy high-grade plastic cutlery. Stainless steel cutlery is infinitely easier to wash in cold water. Grease is easier to remove and hygiene is at the highest. Watch this video on why steel cutlery is better than plastic.
3. Two 1 litre bottles or a 2-litre hydration pack: 
Satopanth Tal has long walking days. You need to carry two one-litre water bottles to keep yourself hydrated over the distance. If you are used to a hydration pack, then that is ok too. If one among the two bottles is a lightweight thermos, then that helps you to store warm water on a really cold day or for late evenings and early mornings.
4. Plastic covers:
Carry 3-4 old plastic covers to keep your used clothes. You could use them even for wet clothes. Re-use old plastic bags for this and do not buy new ones.
Useful videos to help you with your gear:
Personal medical kit
Carry these medicines with you, easily accessible at all times. 
Diamox (1 Strip): Be on a course of a half tablet Diamox starting from Delhi every 12 hours (125 mg). Carry on the medication until you descend down to Badrinath. Being on a preventive course of Diamox greatly reduces the chances of Acute Mountain Sickness on the Satopanth Tal trek.    
Dolo 650 (5 tablets): This is paracetamol. It helps to tackle fever, mild pain
Avomine (4 tablets): Carry this especially if you are prone to motion sickness. Pop one-half hour before the start of your road journey.
Combiflam (5 tablets): Take a combiflam if you get a sudden twist of the leg or a muscle strain. It is a pain reliever. It also contains paracetamol. 
Digene (4 tablets): Take it if you feel the food that you've taken is undigested. 
ORS (6 packs): Consume a pack of ORS water at least once a day, usually mid-day when you are in the middle of your trek. It replenishes essential salts lost while trekking.  Tip: It also makes cold water easier to drink.
Knee Brace (optional): Carry this if you are prone to knee injury or have known issues of knee pain.
Click here to go back to the Table of Contents.
➤Frequently asked questions about Satopanth Tal Trek
Who can do the Satopanth Tal Trek? 
Only an experienced trekker can attempt the Satopanth Tal Trek on their own.
Satopanth Tal trek has a difficulty level of moderate to difficult. You need to have good stamina and endurance to do this trek. 
There is also a good amount of altitude gain. Hence, you need to have prior Himalayan trekking experience and also have the knowledge of trekking in higher altitudes. Acute Mountain Sickness can be deadly without having the proper knowledge. 
Is it compulsory to take a guide on the Satopanth Tal Trek?
The Satopanth Tal trek goes along the Alaknanda River. You can easily navigate up till Lakshmi van campsite. However, after that trail becomes difficult and you need a guide's help in choosing the right trail. You can take local guides from Mana village or Badrinath. They usually charge Rs 1500 per day in May to mid-July and Rs 1000 per day from September to October.

So it is better to go with a reliable guide to help you navigate the trail and also share some local stories that will be interesting to know about. 
At Indiahikes, we take great detail to make sure you get this information. Here is one such contact number of reliable guides that we know of: Yashpal Singh – 9458949621,  Ankit Nenwal – 9458366959
How to manage food and water sources on the trek?
There is not a single tea house or food stall on the trail. You will have to cook your own food. So carry all the utensils and gas stove to cook your own food. 
If you are taking a guide along with you, you can ask them to arrange it for you. They charge Rs 1000 per day for cooks and Rs 800 for porters.
You can take water from the Alaknanda river as well as small streams you get on the way. 
Tip: If you are not comfortable with having water from the river or streams carry purification tablets or life straw bottles to purify the water.
Where do we have to take permission for Satopanth Tal Trek?
Inner line permit has to be taken from Joshimath. Divisional Forest Office of Nanda Devi Biosphere Reserve, Joshimath is the place where you have to get the permission. Ph. No: 91-1389-222179.
If you are hiring a guide they will help you with the permission. You just need to inform them in advance.
Is there any place to rent camping and trekking equipment?
There are shops at Badrinath where you can rent camping equipment. However, there is no guarantee that they are of good quality. 
It is recommended to carry all the camping equipment from your place of residence if there are any. Later you can rent utensils and other equipment from Badrinath. 
If you are looking to buy any equipment, here is the link.
Emergency contact for Satopanth Tal Trek
Hospital: Government Hospital is the nearest hospital in the case of an emergency. It is 4 km from Mana village and closer to Badrinath. 
Police Station: Badrinath police station is the nearest police station to Mana village. It is 4.6 km away from the village. 
National Disaster Response Force: In case of an emergency, you can contact either police or NDRF. They will send a rescue team to help you with.
ERSS: For any kind of emergency help, you can contact the Pan-India Emergency Response Support System (ERSS) number- 112
Click here to go back to the Table of Contents.
➤Places to visit after the Satopanth Tal Trek
Badrinath is the holy town from where the trek starts. Once you complete the trek, you can visit all the temples in and around Badrinath.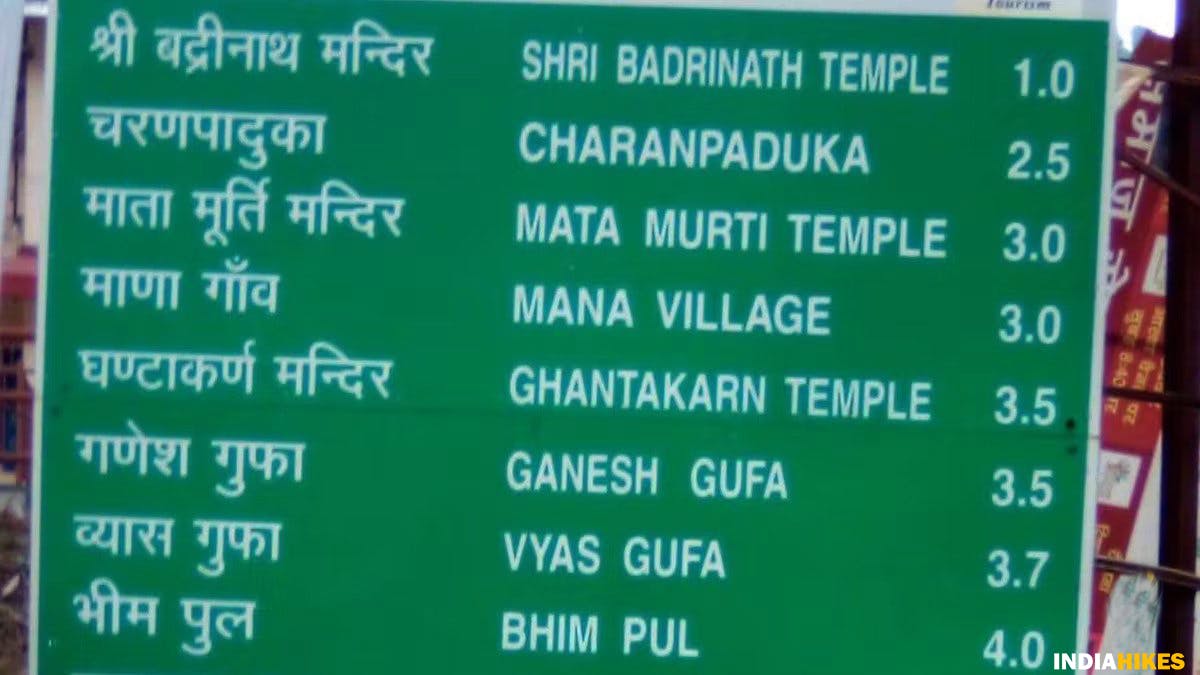 Some of the places to visit in and around Badrinath. Picture by Mahipal Bisht
Pandukeshwar Temple: This is a sacred place located between Joshimath and Badrinath. It is 18 km from Joshimath and 23 km from Badrinath.
It is believed that the King Pandu, the father of great Pandavas of Mahabharata worshipped Lord Shiva here.  
Special thanks to Puttaraj Alige & Saurav Sinha for contributing and helping in documenting the trek
Banner Image by Saurav Sinha
Photos Edited by Sneha.G.Iyer
The trek was written by Nayana Jambhe