15 Best Himalayan Treks to do in Autumn 2021 (September, October, November)
Share this story
15 Best Himalayan Treks to do in Autumn 2021 (September, October, November)
By Swathi Chatrapathy
2021-09-09
I'm noticing an interesting trekking trend in India. At first, I thought it was a one-off observation. But I'm noticing it year after year now.
Every year, once the monsoons are over, trekkers rush to register for our winter treks. Even now, many of our December dates are already full. 
What baffles me is that trekkers don't seem to know the goodness of trekking in between — the autumn season. 
Even though most of our autumn groups are full, I notice that it's the experienced trekkers who choose to trek in autumn. Most trekkers new to trekking (75% of our trekkers) seem to choose the traditional summer or winter months to trek. 
Which is why we put this post together.
Autumn is one of the best trekking seasons, if not THE best. And I don't want you to miss out on the charm of this season.
To tell you why, I requested our founder, Arjun Majumdar, to make a quick candid video and share the grandeur of trekking in autumn.
He shares some of his personal stories, and also his favourite reason to trek in autumn — something you'll not see in any other season.

If that's not enough, our co-founder Sandhya UC pens down her thoughts on trekking in autumn.
Summer has traditionally been the most popular season for trekking in the Himalayas. But few people know about the charms of trekking in autumn, and why it is perhaps the perfect season for a himalayan trek.
I list below four reasons that make autumn my favourite season to trek.
1. Crystal clear skies 
The monsoons wash the skies of all hanging dust and haze. The air in the mountains becomes crisp and squeaky clear, making Autumn the best time for mountain views. Big mountain views are at their best. Every fold, every crack is seen with full clarity.
Long distance views are also at their best. You see mountains that you never knew existed if you were trekking in spring or summer.
Some of my favorites from autumn are, Tapovan with Mt Shivling towering over, Dayara and Gidara Bugyals with their 270 degree mountain panorama and the Phulara ridge walk and Sandakphu with long distance views.
2. Very little chance of weather disrupting your trek
I have also noticed that we get very little weather disruptions on our treks in the months of October and November. Summer sees afternoon showers every day while winter and spring tend to get sporadic snowfall. Autumn weather disruptions are almost unheard of. Again an after effect of the clear skies. If you want a guarantee of great weather on your trek, choose autumn.
3. The colors of Autumn
If spring is the time for flowers, autumn is for the colors of leaves, grass and the skies. The forests are colorful, teeming with yellow and red foliage. The grassy vegetation at higher altitudes turn red before turning into gold. The skies are also at their colorful best especially at sunset. If you wish to see the colors of the mountains, trek in Autumn. My favorites for colours are Har Ki Dun valley, Goechala, Buran and Rupin valleys.
4. Lower crowds
Being the non-traditional season for trekking, most trails are rather empty in Autumn in our country. You are likely to have the entire campsite to yourself even on popular trails. 
Some of these treks, which climb above 13,000 ft, have tight windows and close down by mid-October. Some others have longer seasons that stretch well into November. Click on the trek to check the dates.
The ideal time to start registering for these treks is in July. Most of our September and October groups fill out by late July, so plan soon!
View All Autumn Treks
Best Autumn Treks in the Himalayas (Sept, Oct, Nov)

1. Dayara Bugyal
Difficulty: Easy – Moderate
Duration: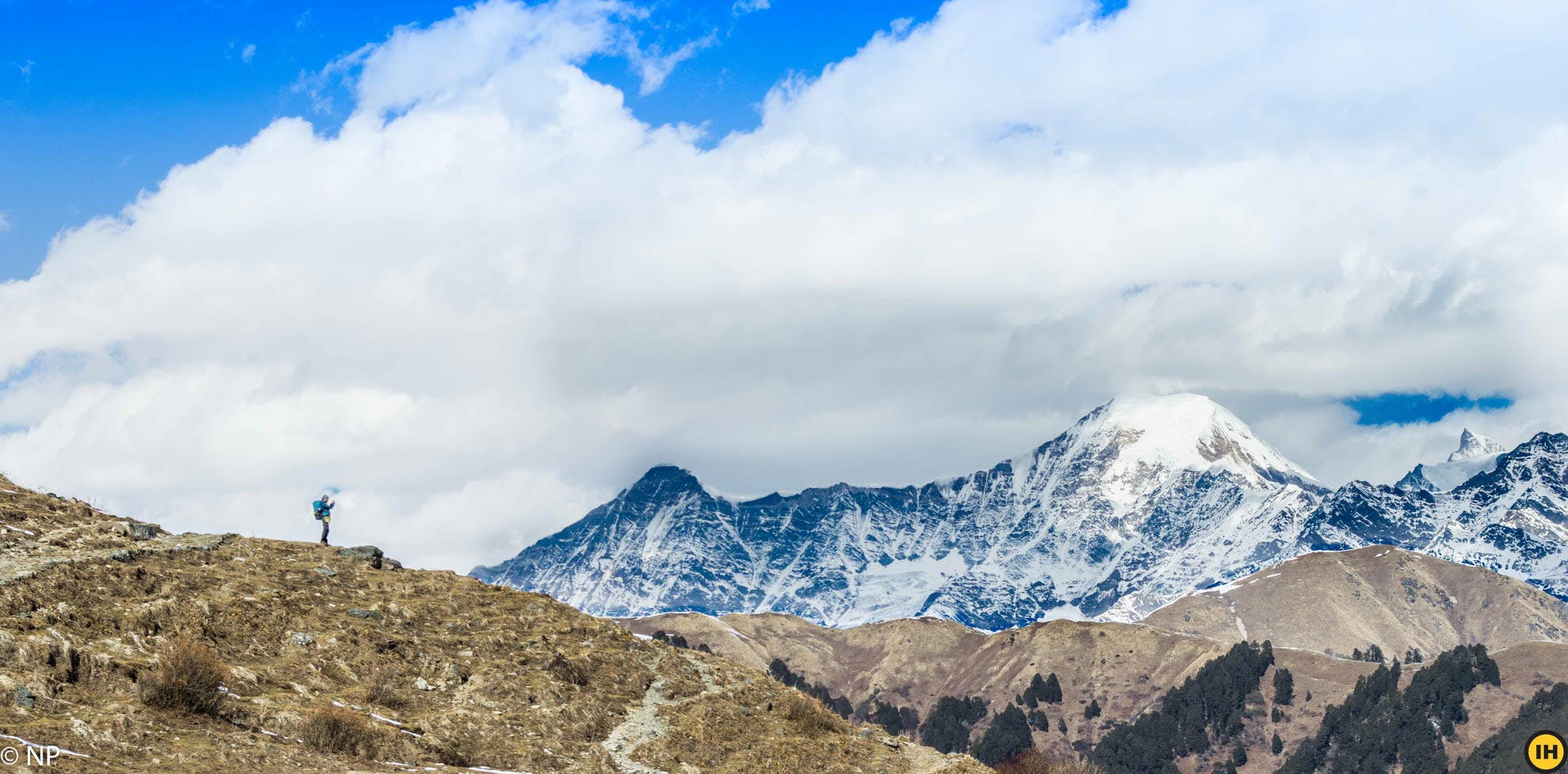 Very few trekkers have set foot on the Dayara Bugyal trek, even though it lies very close to the Gangotri region.
Dayara Bugyal is one of those off-beat treks which takes your breath away! It is so rewarding for very little effort.
The vast meadows, beautiful campsites and stunning mountain views make Dayara Bugyal an ideal summer trek. Especially if there are kids aged 7 years and above, because it makes for a perfect family trek, just like the Phulara Ridge trek above.
2. Deoriatal – Chandrashila
Difficulty: Easy – Moderate
Duration: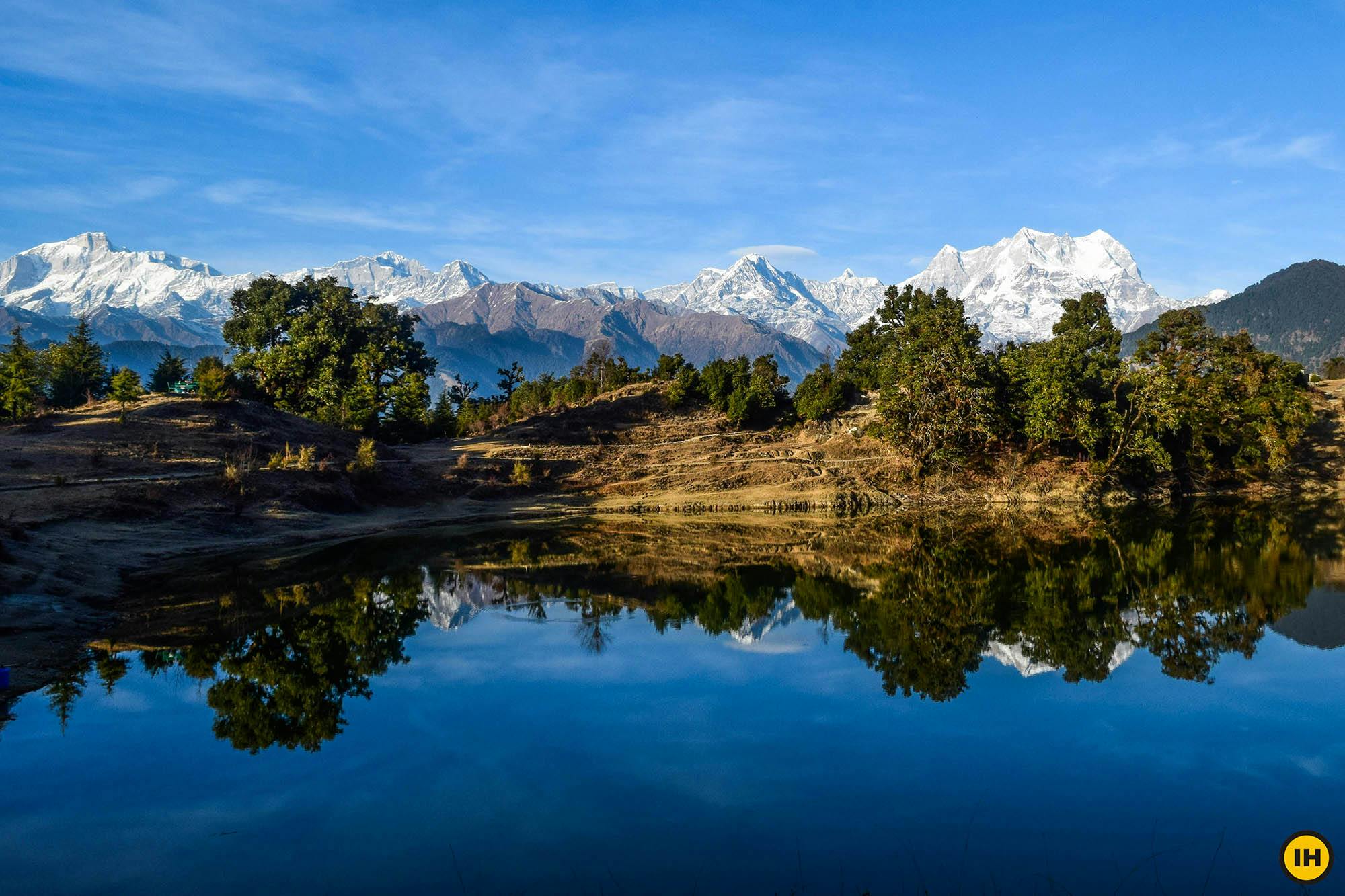 Set in the Kedarnath Wildlife Sanctuary in Uttarakhand, the Deoriatal Chandrashila trek is a treat for wildlife lovers. And it is also a great summit climb (12,083 ft)  for those who are beginning to start trekking in the Himalayas.
You see, summit climbs are rewarding, and trudge up a mountain for hours during the wee hours. You reach its highest point like the rays of the sun lighten the sky. Everything is below you — the clouds, the hills, the tiny specks of civilization. On a Himalayan trek, you usually see mountain ranges in the distance.
This is where Deoriatal Chandrashila is special. It is not a section of Himalayan ranges that you see. You see all the major summits of Western and Eastern Uttarakhand from the summit. By all, we mean all.
Explore Deoriatal – Chandrashila
3. Kuari Pass
Difficulty: Easy – Moderate
Duration: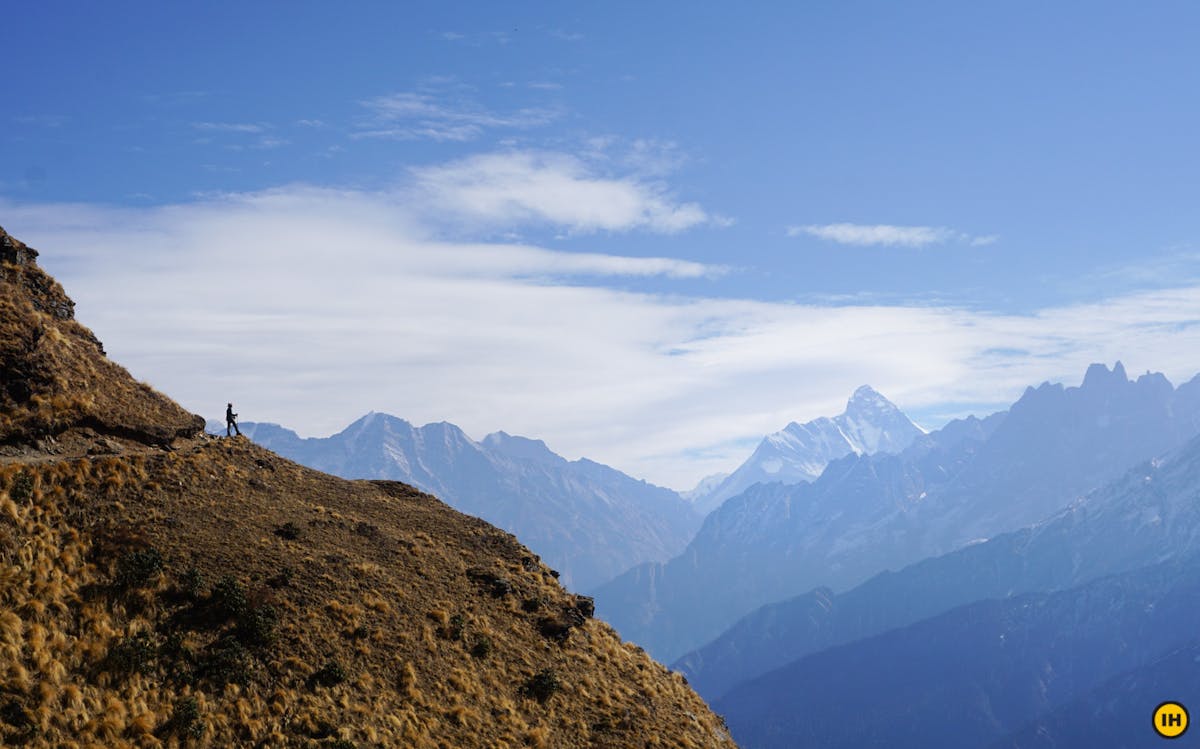 A trekker takes in the view of Mt Nanda Devi on the Kuari Pass trek. Picture by Suhas Saya
Not many treks allow you very close to India's tallest mountain (with its base completely in India), Mt Nanda Devi. But here's a trek that not only takes you close, but allows you to trek beside Mt Nanda Devi for days together! If that's not enough, you have Mt Dronagiri and Mt Hathi Parbat keeping you company throughout the trek.
That's just one of the reasons to do the Kuari Pass trek. This trek also has some of the best forests compared to all other Himalayan treks, and you camp in the middle of one of them. As you climb higher, you reach Gorson Bugyal, a vast stretch of meadows opening up to the mountain views. In the autumn season, you see the best of the views from these meadows.
Given that it's suited to beginners, it's one of our easier treks, with extremely high rewards!
4. Kedarkantha
Difficulty: Easy – Moderate
Duration: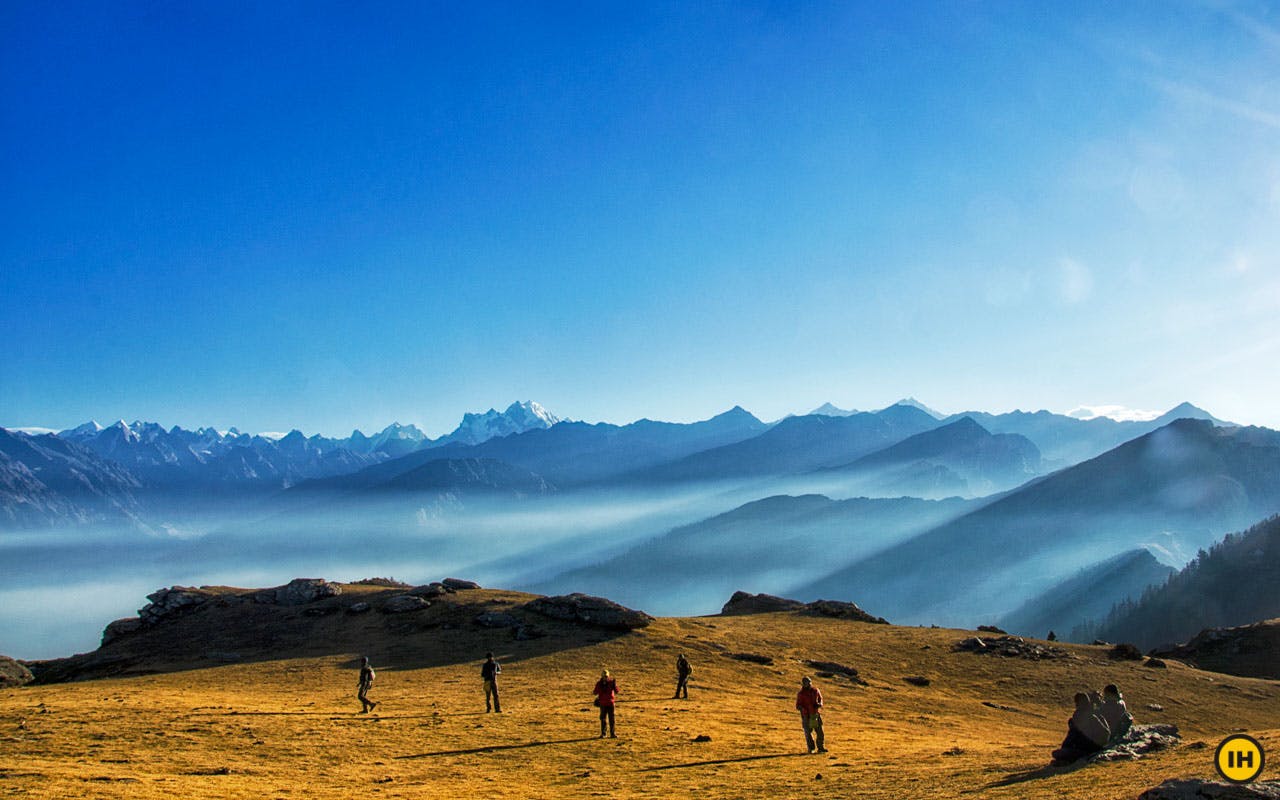 The Kedarkantha trek is one of the most popular winter treks we have, and rightly so. In the winters, the trail is completely covered in snow and it's a joy to trek. However, the downside of this popularity is the fact that it does tend to get pretty crowded in the winter months. But if you want to experience the same Kedarkantha trail, without the crowd, then it is an ideal autumn trek.
Not only does the trail boast of glorious snow-clad mountains, but also of some of the most pristine views of the Himalayan range. In-fact the 360-degree view from the summit is unmatched in the Autumn months.
Adding the cherry on the cake, the trek becomes a notch easier than I the winter too! So if you're planning on trekking in Autumn, look out for the Kedarkantha trek, especially if you're planning to take your children along (this is your best chance).

5. Phulara Ridge
Difficulty: Moderate
Duration: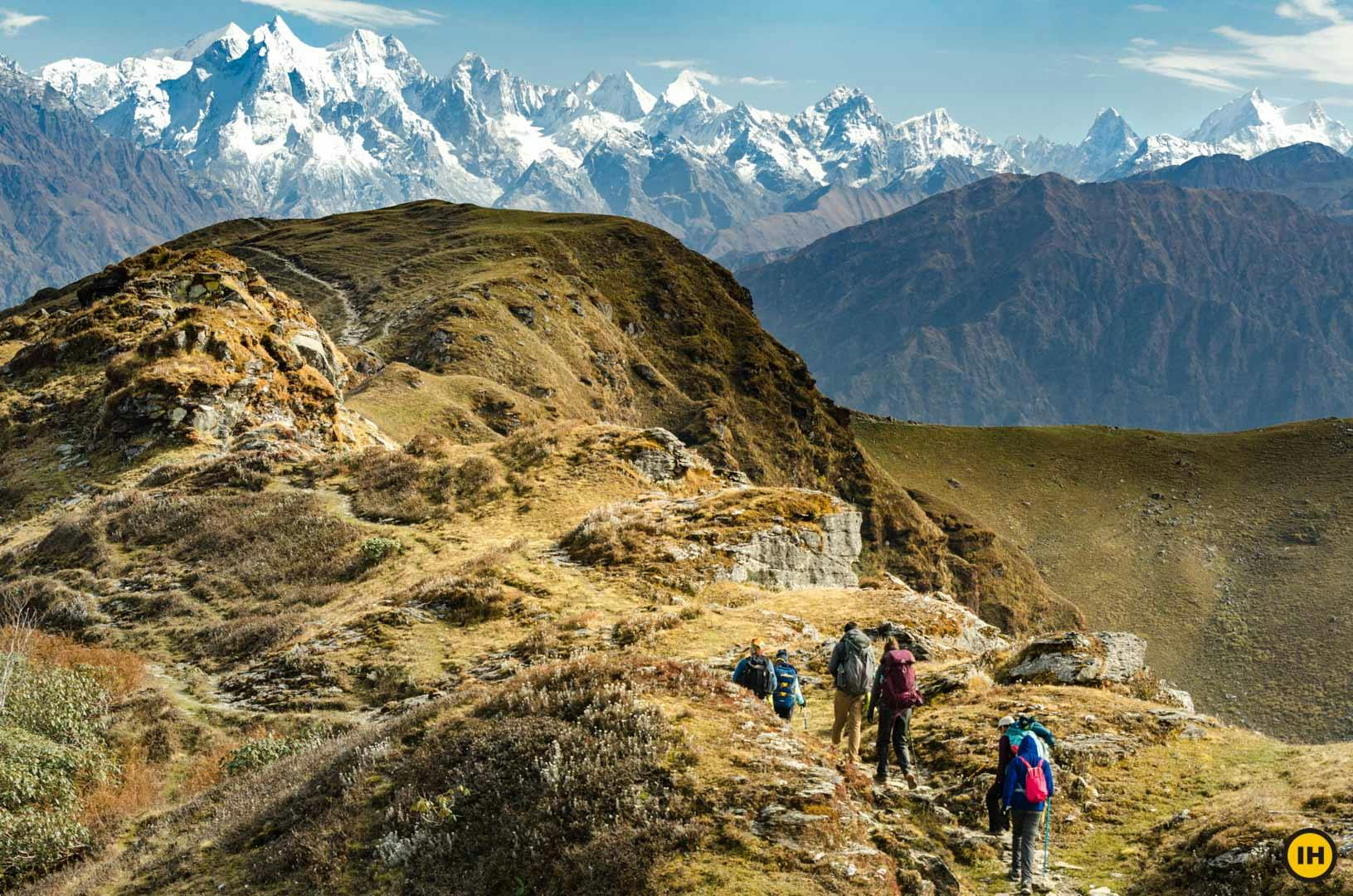 To start the list of the best autumn treks, here we are with surprisingly an Indian ridge trek. Ridge treks in India are an absolute rarity, maybe just a handful of such treks exist in India.
A ridge is a place where two sides of the mountain meet. So a walk on a ridge is almost like one on a knife-edge, where there are just flanks of the mountain sloping down from either side of you. There are small ridge sections on a few Himalayan treks. However, to have an entire's day trek on a ridge is unparalleled.
If you have done a summit climb, you would know that you stand at the highest point for perhaps 20-30 minutes. This is where you get great views of the mountains around. On this trek though, you're at a high point of 12,000 ft for day's worth of trek (4-5 hours!).
The 250-degree panorama of snow-capped mountains stays with you throughout! It almost gives you the feeling that these mountains are trekking along with you, as you traverse the ridge that curves its way into the landscape.
Below you, the ground sweeps down on either side – one into a meadow, one into a valley. These dramatic views and ever-changing landscapes are what makes Phulara Ridge Trek a unique experience.
6. Brahmatal
Difficulty: Moderate
Duration: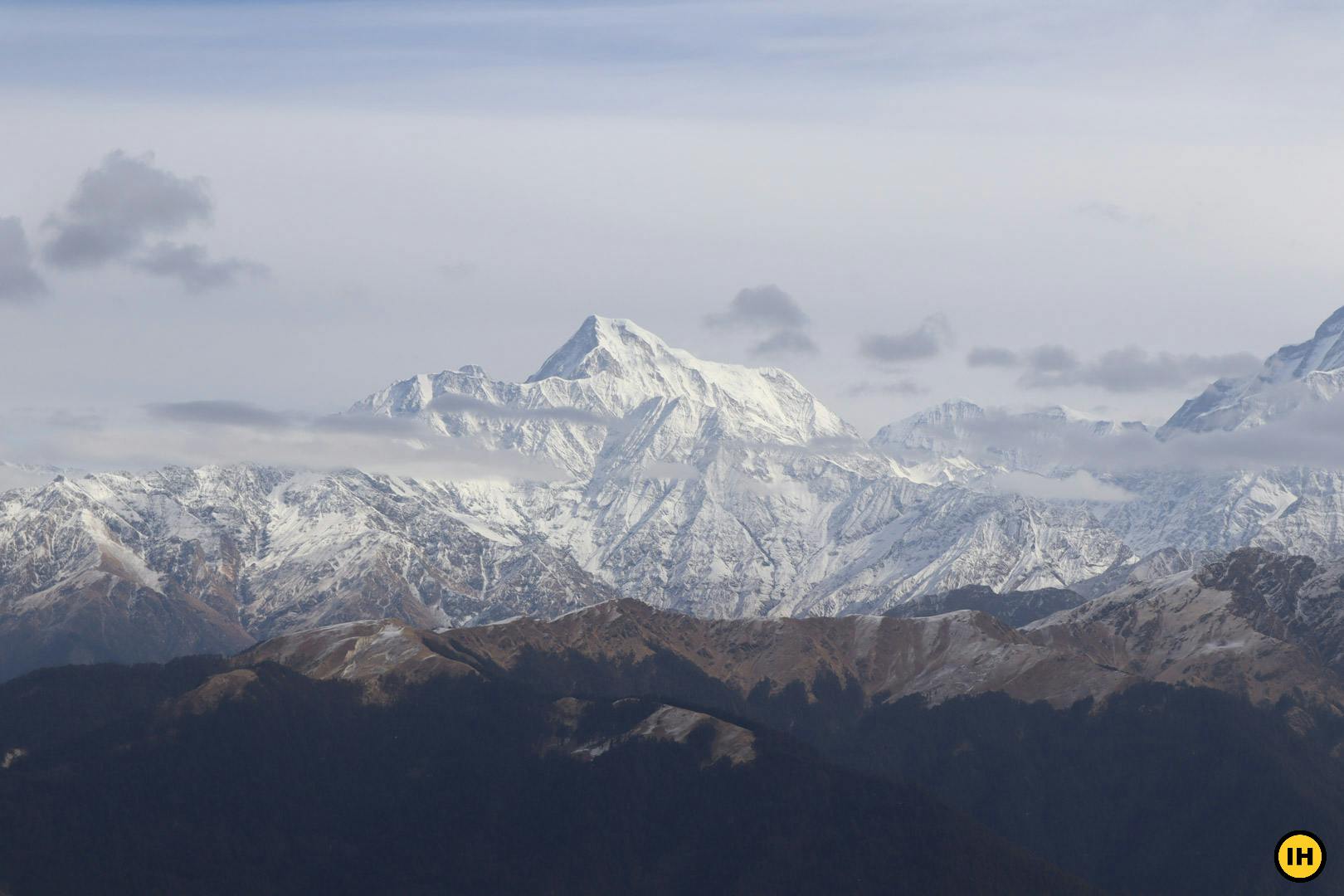 On the Brahmatal trek, you walk on a high-point with the mountain dropping on either side. This is called a ridgeline. A ridgeline often gives the feeling of an extended summit.
What's delightful is that you also get to camp on the ridge – at Tilandi. From here, you get to see the Himalayan landscape rolling out on both sides.
As you are on a high point at Tilandi, you get to witness the sunset and sunrise from the same campsite. And being at the high-point also makes it the windiest campsite of the trek.
To top it all, you get to see Mt Trishul and Mt Nanda Ghunti up close from Brahmatal Top!
7. Har Ki Dun – Ruinsara Tal
Difficulty: Moderate
Duration: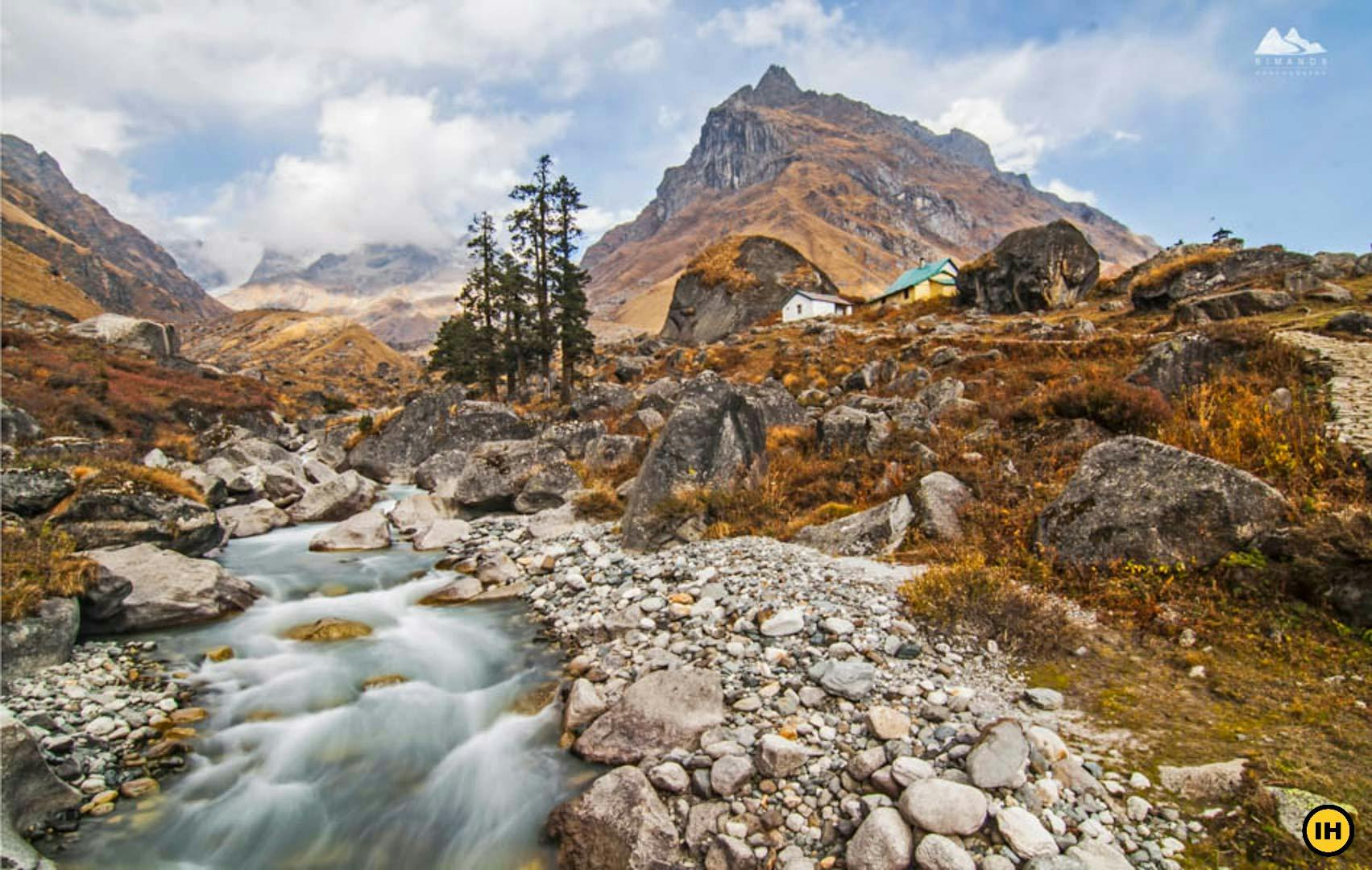 The Har Ki Dun – Ruinsara Tal trek hasn't seen much human footprint, leaving many birds and animals to thrive in this region. You can spot Langoor families near Puani Garaat. Chances are, that you might even spot Black bears, wild boars and Barasingha amongst other animals owing to the good weather and complete absence of haze.
The trail lets you enjoy their habitat of pine forest at its colourful best.
It's probably the only valley from which you can see Swargarohini – I, II, III, Bandarpoonch and Black peak, all together. Getting such a clear view of Swargarohini, makes you feel like a Pandava ascending to the heavens. You can also see the Ruinsara Peaks.
Often you are accompanied by swollen streams that flow mellifluously down the hills. The Har Ki Dun trek is definitely one of the best autumn treks and it is at its colourful best in the months of September, October and November.
Explore Har Ki Dun – Ruinsara Tal
8. Sandakphu – Phalut
Difficulty: Moderate
Duration: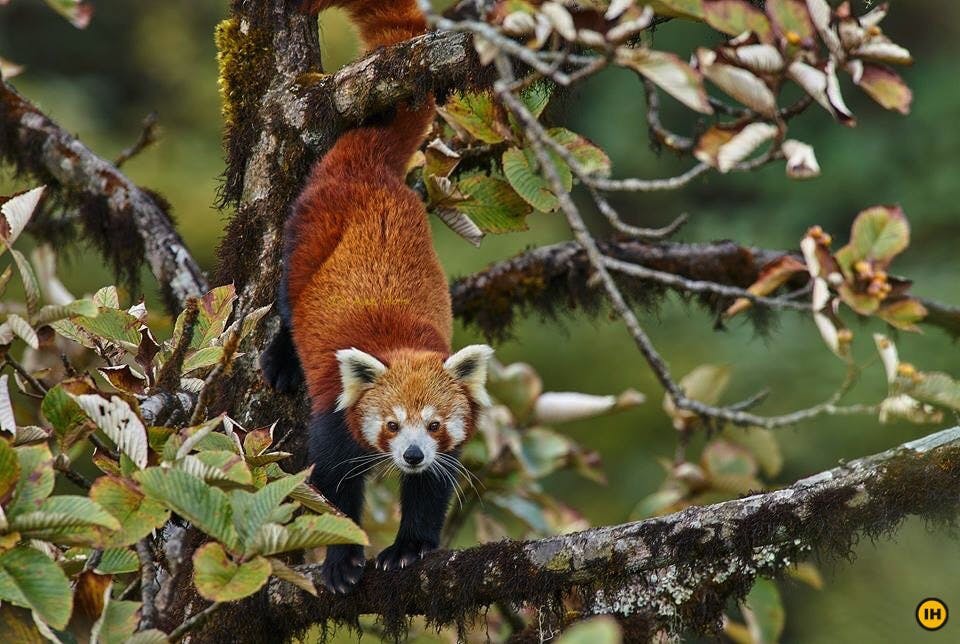 Putting the Sandakphu – Phalut trek towards the end of this list tells you that there's no particular order in this list. Because this is one of our best autumn treks. With views of four of the tallest mountains in the world – Mt Everest, Mt Lhotse, Mt Makalu and Mt Kanchenjunga, this is one trek to keep a tab on if you're going in autumn.
Not only do you get crisp views, but you also trek through wonderful forests of the Singalila National Park. The colours in these rhododendron, bamboo and pine forests are stunning!
Also, you could get a chance to spot the elusive red panda in these forests in autumn. One of our experienced wildlife photographers, Ajit Hota, says autumn is a great season to spot the red panda and hundreds of birds too. He even spotted a bear on this trek! So if you plan this trek, keep your eyes peeled for wildlife.
Being up in the mountains in such clear, clean air is a blessing. Everything seems more enhanced – the colours, the smells, the scale… They say an uncluttered home can bring clarity to the mind; an uncluttered trek in the Himalayas can do just that a 1000 times over.

9. Gidara Bugyal
Difficulty: Moderate – Difficult
Duration: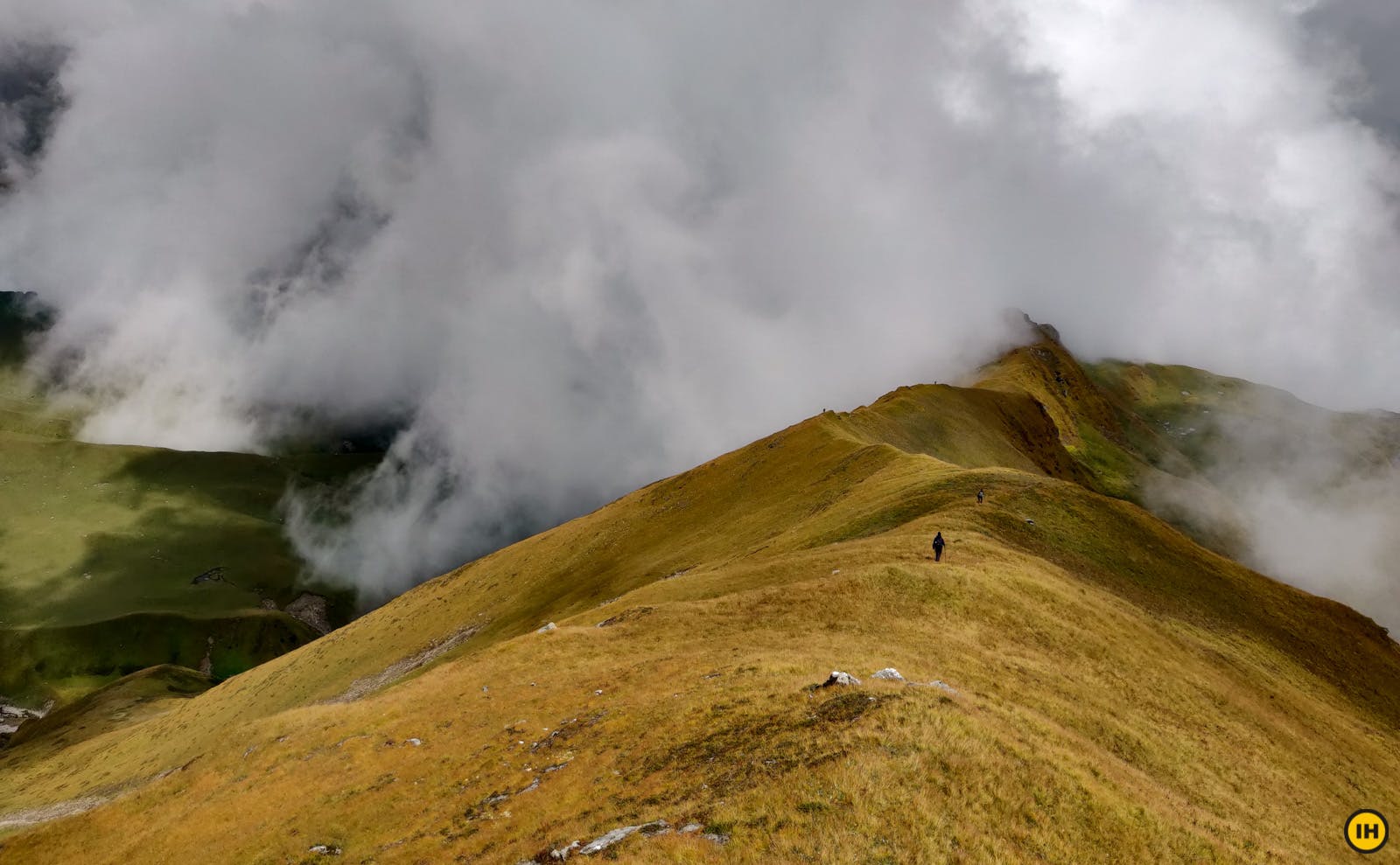 Gidara Bugyal is an ancient, pristine meadow that is known in the hardcore trekking circles. It is one of the largest high altitude meadows you will set foot on. It is larger than its twin Dayara Bugyal. Possibly larger than the twin meadows of Ali and Bedni Bugyal as well. It takes at least two days to traverse!
Even though it is known in the trekking circles, Gidara is extremely secluded. There are very few people that actually trek in these meadows. The only signs of civilisation you are likely to spot are the shepherds and their settlements around your first campsite, Rikoda. You may see a mountain dog or two. But you are likely to be the only group trekking and camping in these meadows.
10. Gaumukh Tapovan
Difficulty: Moderate – Difficult
Duration: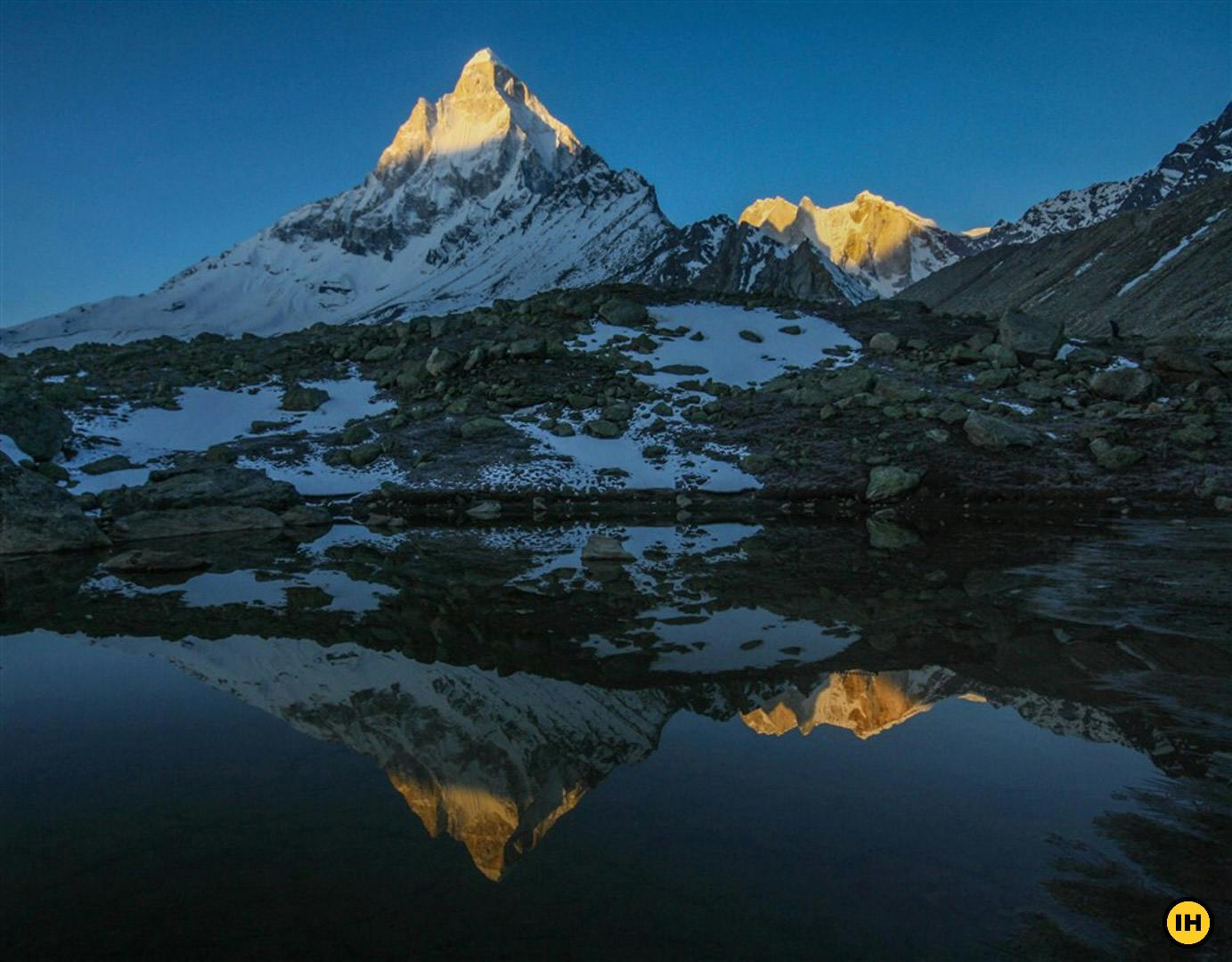 The trek that takes you to the source of river Ganga, the Gaumukh glacier. Not only that, it is the only trek in the country that takes you closer to Mt Shivling where you see it from the base to the summit, in one gigantic frame!
Along with Mt Shivling, Mt Meru and the Bhagirathi sisters keep close company at Tapovan.
11. Rupin Pass
Difficulty: Moderate – Difficult
Duration: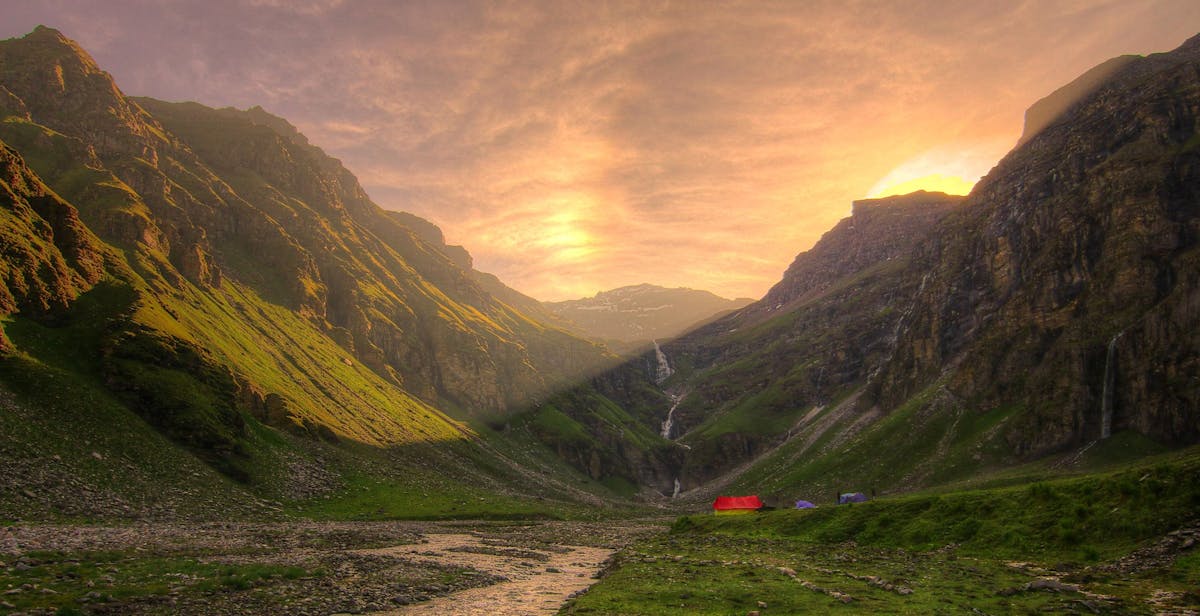 The Lower Waterfall campsite of the Rupin Pass trek at dusk. Picture by Sushrut Sardesai
If there is a classic trek in India, it has to be the Rupin Pass. This trek is like an orchestra, building up momentum with surprises in scenery every hour or so. With every step, the trek throws up a new vista to see, a new scenery to unfold. Quite suddenly too!
The surprises begin right from your first day of trekking. When, around 20 minutes into the trail,  you see the Rupin River make an appearance, fanning out into a wide bed below you. And it doesn't stop here.
From here, the trail takes you through hanging villages and then quite suddenly, it plunges into a deep pine forest!  That's not all. The trail then meanders through glacial meadows, snow bridges, glacial valleys, snow fields and hundreds of waterfalls!
12. Buran Ghati
Difficulty: Moderate – Difficult
Duration: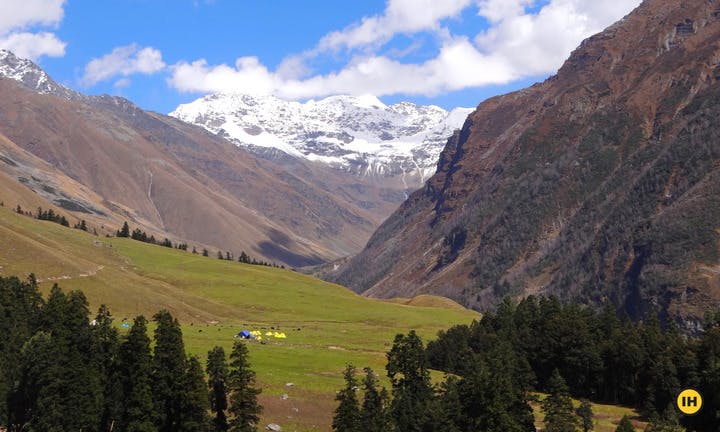 Most trekkers head over to the Buran Ghati trek to rappel down the snow wall in June. But if you think this is not one of the best autumn treks, then you are making a huge mistake.
Any nature lover will go weak at the knees on this trek. As the weather changes, the colours of the forests take on an orange tinge. There are pines, maples, oaks, and for good long hours! You'll not want to step out of the forests.
But how can you resist, because, at the edge of the forest, you get a glimpse of the gorgeous Dayara meadows. We call this place where you enter the meadows the "Wow Point." Try not to say wow when you stand here!
In autumn, bright blue skies drop down behind the honey-tinged meadows. And you get to camp here. It's an experience you'll not get anywhere else at any other time of the year.
I'd strongly recommend doing it in October. It's early winter, you might experience the first winter snow (just a little bit).
Just one thing to keep in mind if you're going here in October, the temperatures will drop to negative numbers. So carry at least 4-5 warm layers. Thermals are a must too! There won't be a snow wall, but everything else is worth every step you take!

13. Bali Pass – Ruinsara Tal
Difficulty: Difficult
Duration: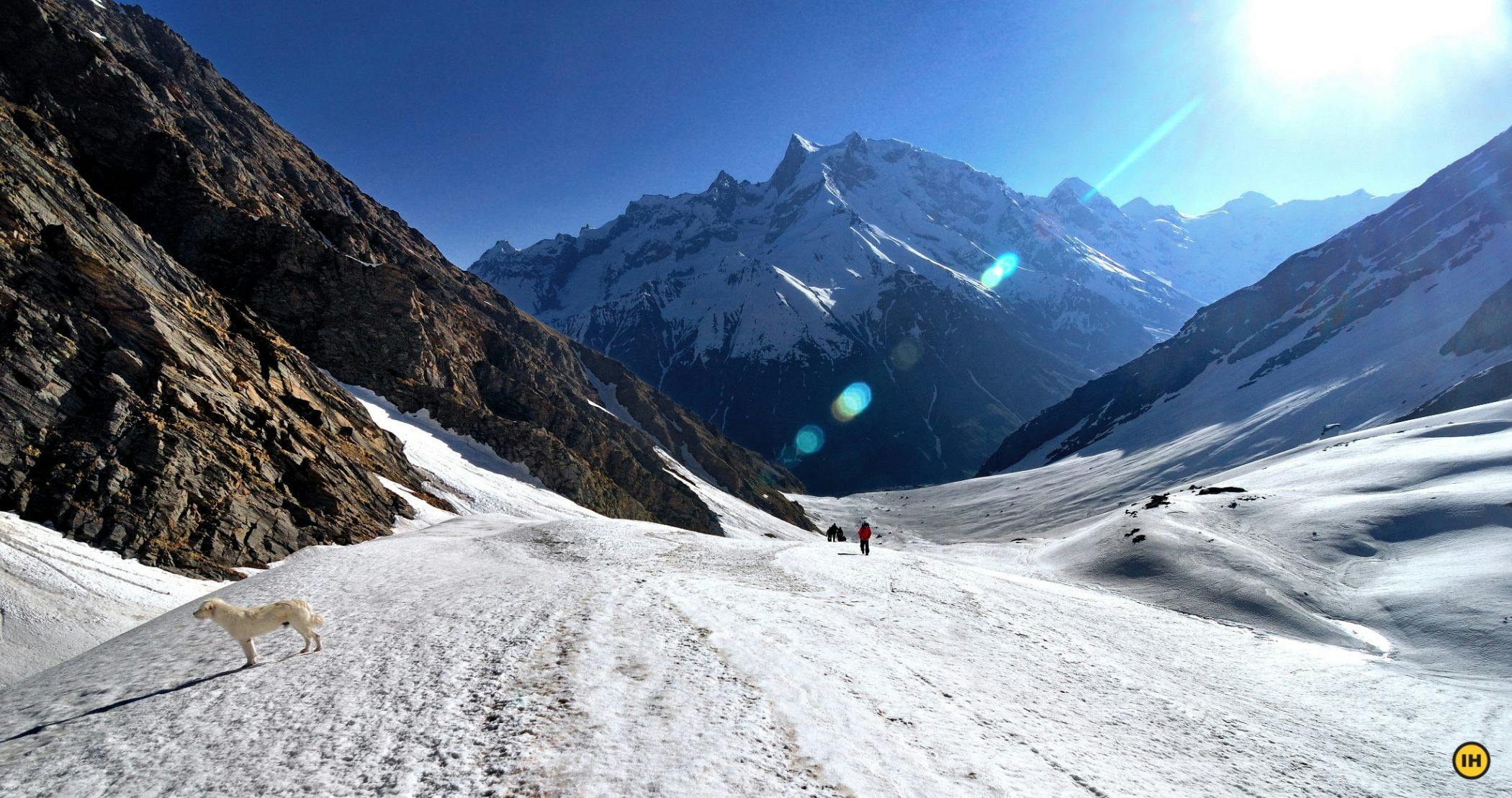 There aren't many treks that let one experience the raw grandeur of a Himalayan pass crossing, that too in the autumn season. Connecting Har Ki Dun valley with Yamunotri, the Bali Pass is an exhilarating trail. It traverses the confluence of Tons and Ruinsara rivers, the undisturbed serenity of the Ruinsara Valley and the lush meadows of Devsu Thach.
Soon, golden-brown grass on the trek of autumn paves way for an alpine zone. At 16,207 ft, the Bali Pass trek offers a 360 degree panoramic view of the Bandarpoonch, Kalanag and Swargarohini peaks. This reward doesn't come easy, as this trek is a difficult one, not suitable for beginners.
Explore Bali Pass – Ruinsara Tal
14.Goechala
Difficulty: Difficult
Duration: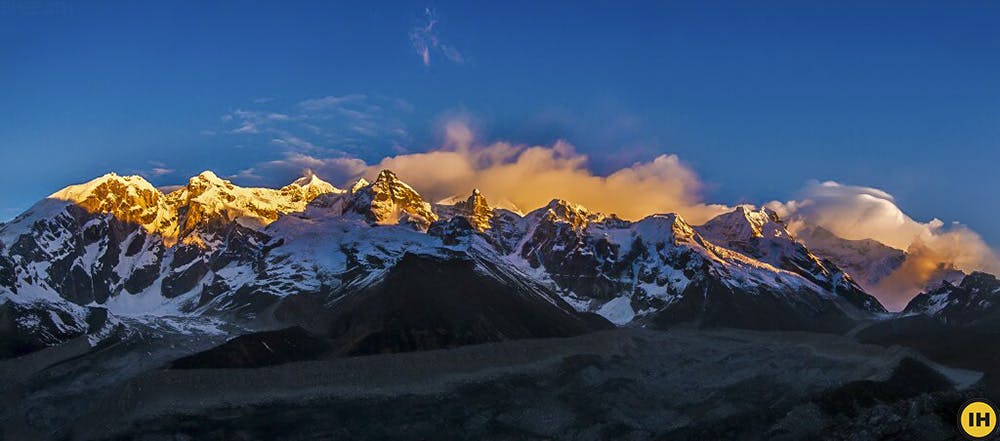 The biggest reason to do the Goechala trek is the grand views of big mountains that you see. You don't just see one summit — the Kanchenjunga — but 14 other big summits. That's a lot for any trek — especially as close to the eyes as on the Goechala trek. It is no wonder that trekkers consider Goechala to be the closest to the big mountain treks of Nepal.
The trail to Goechala is blessed with rhododendron forests. And come spring-summer months of April and May, they burst to life with pink and red flowers! It's an enormously pleasing walk through the wooden-log trails of these jungles!
The Samiti Lake is another big attraction on the Goechala trek. The view of the still waters, and the reflection of Mt Pandim in the lake, especially in the early hours, is a visual treat.
15. Kedartal
Difficulty: Difficult
Duration: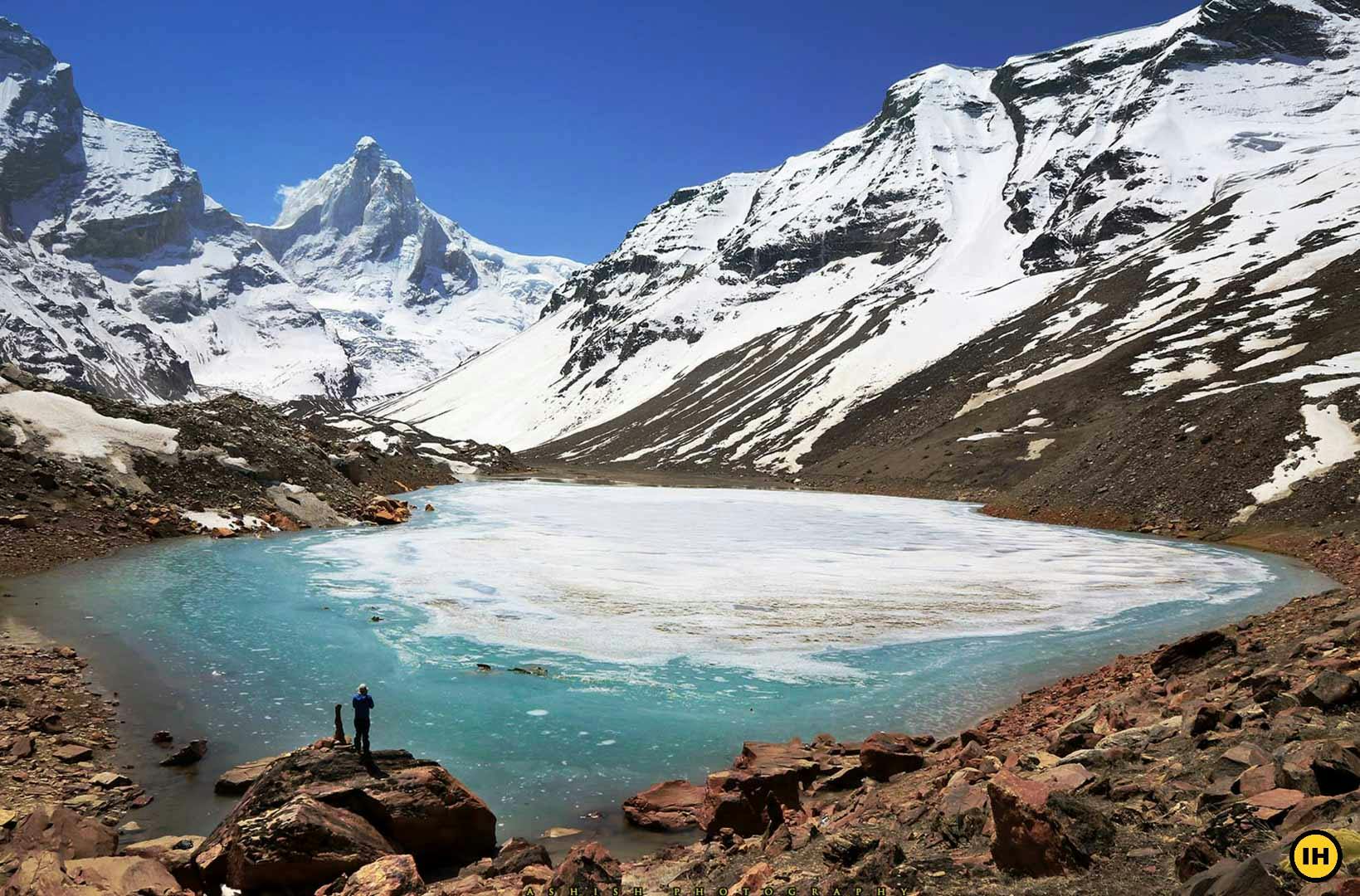 One of our tougher treks, definitely not for beginners. It climbs up to 16,000 ft to the Kedartal Lake. You get up close to big mountains Mt Thalaysagar and Mt Bhrigupanth.
This trek rates high on adventure. It is also an endurance test of sorts, since it has long days, tough terrain and climbs to a very high altitude. If you want to avoid treks like Rupin Pass and Gaumukh Tapovan, and yet experience the same adventure, then choose this trek.
Choose this trek only if you are very fit and have some prior high altitude trek experience.
We hope you use this guide to plan your trek well. 
Most of these groups will be full by the end of July. Don't leave your planning for later and feel stranded with no dates left.
If you need help, drop in a comment below. We'll write back to you.
LEAVE A REPLY
Your email address will not be published. Required fields are marked
Latest Videos

"Top 6 Himalayan Winter Treks You Must Do"

"Top 5 Himalayan Spring Treks You Must Do"
Latest Updates
Our Second International Trek is Here!
We've Opened Groups for 4-Day Treks Near Manali
Warwan Valley Dates Announced
We Are Looking For Remote Trek Documenters
New Video On How To Do The Sandakphu Trek On Your Own
Sign up for our much loved Weekly Mailer
We have terrific trekking tips, trek updates and trek talks to look forward to