12 Best Treks to do this Summer in the Himalayas (May, June)
Share this story
You know, I have an issue with trekkers. Most of them want to go to the mountains to experience solitude and nature. And yet, they call and ask us about the most popular (and crowded) treks. Kedarkantha, Har Ki Dun, Rupin Pass as their options for Summer treks…
Don't get me wrong. These treks are beautiful! It's not without reason that people sing praises about them. But they don't give you that feeling of seclusion, at least not any more.
These are treks that have gotten popular by virtue of being around for a long time.
But, there are also newer treks that are as beautiful as the well-known ones. And it bothers me that trekkers don't know about these treks.
Which is why I'm putting down a list of the best lesser-known treks along with the popular ones to do this summer. If any of these treks don't take your breath away, let me know.
I've sorted them out by order of their difficulty. We'll go from easy to difficult treks.
Table of Contents
12 Best Himalayan Treks in Summer
1. Phulara Ridge
Difficulty: Moderate
Duration: 6 days
Best Months: May , June, September, October, November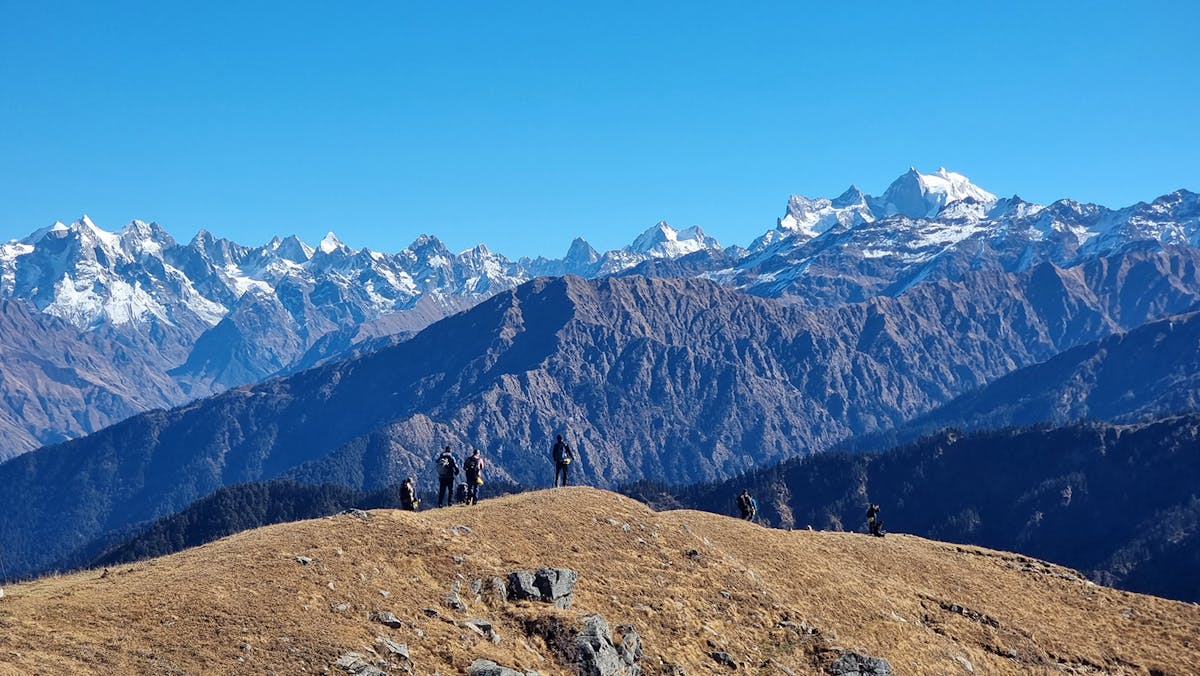 The iconic walk on the Phulara Ridge. Picture by Dhaval Jajal
This is a trek hidden in plain sight. It starts from Kotgoan, the same base camp as the popular Kedarkantha. While Kedarkantha sees massive crowds, this trek silently watches on.
"It is the loveliest ridge trek in India. When you stand on top of the Phulara ridge, snow capped mountains stretch in a 270 degree arc in front of you. On the other arc, rolling hills stretch into the horizon. Below you, mountain slopes fall on either side. This ridge walk lasts three hours, but every minute, you feel you are on top of a summit," writes Arjun Majumdar, our founder.
If you're looking to trek with your family, this is a good option! Time it from mid-April onwards till mid-May for a safe amount of snow!
2. Dayara Bugyal
Difficulty: Easy-Moderate
Duration: 6 days
Best Months: January, February, march, April, May, June, September, October, November, December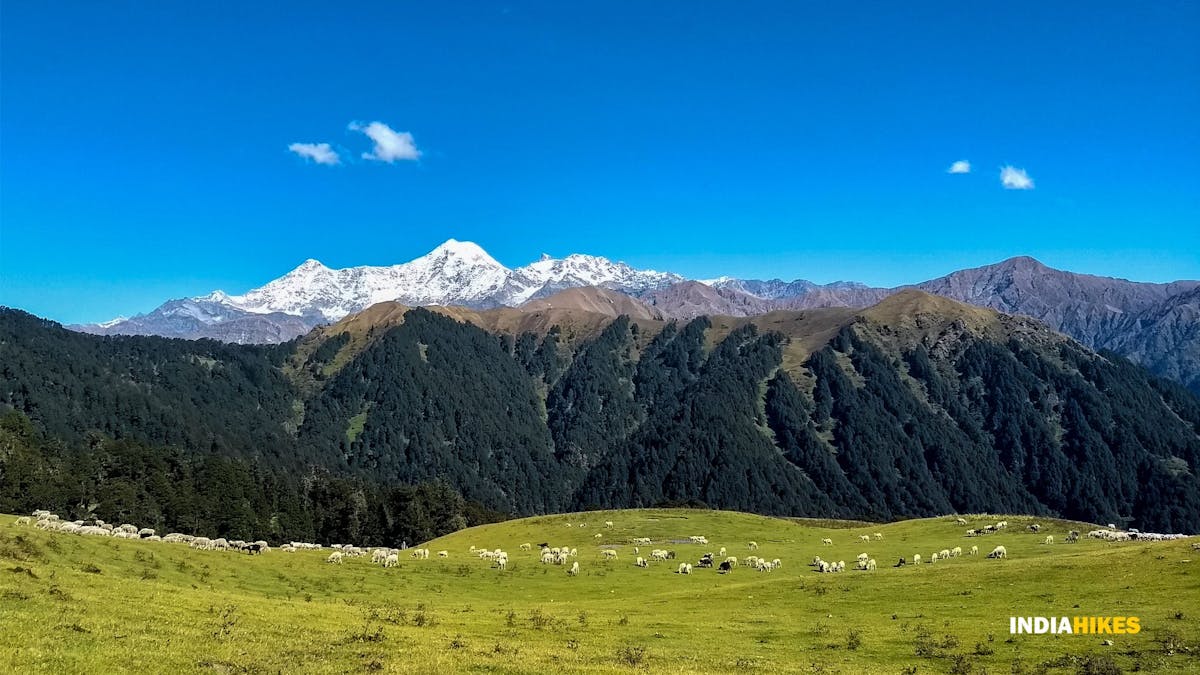 Sheeps grazing on the meadows of Dayara. Picture by Swathi Chatrapathy
Very few trekkers have set foot on the Dayara Bugyal trek, even though it lies very close to the Gangotri region.
Dayara Bugyal is one of those off-beat treks which takes your breath away! It is so rewarding for very little effort.
The vast meadows, beautiful campsites and stunning mountain views make Dayara Bugyal an ideal summer trek. Especially if there are kids aged 7 years and above, because it makes for a perfect family trek, just like the Phulara Ridge trek above.
3. Ali Bedni Bugyal
Difficulty: Moderate
Duration: 6 days
Best Months: January, February, march, April, May, June, September, October, November, December
The vastness of the Ali meadows blow your mind. Picture by Sandhya UC
Out of all the meadow treks in our country, Ali Bedni Bugyal has the grandest mountain views. Mt Trishul and Mt Nanda Ghunti are an arm's distance away from Bedni Bugyal.
The Ali and Bedni meadows are themselves an attraction, as they span as far and wide as your eyes can see. They are one of the largest high altitude meadows of our country!
Not just that, the unforgettable sunrises and sunsets while camping at Abin Kharak and a unique experience of trekking through ancient and dense forests makes this trek a treasure in itself.
4. Kedarkantha
Difficulty: Easy – Moderate
Duration: 6 days
Best Months: January, February, march, April, May, June, September, October, November, December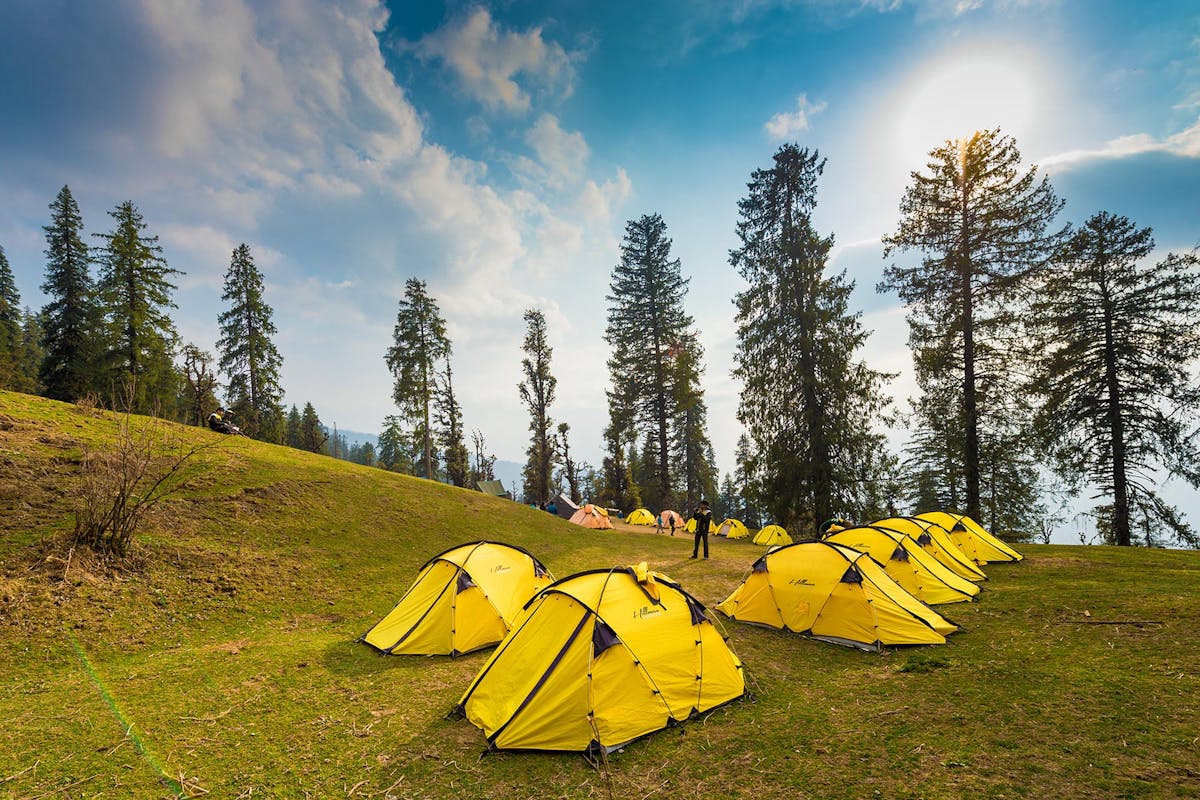 A view of Julota campsite on the Kedarkantha trek. Picture by Harish NN
There are many reasons why it is a very popular trek to do in the Indian Himalayas.  The most important of them is this — the summit climb.
The summit climb of Kedarkantha is a very rewarding one.  Right from the base camp of the trek, the summit looms large.  As you start your trek in the early hours of the morning and steadily climb up the steep slope, the world opens up around you.
The climb is not easy.  The entire stretch is steadily steep.  As you get closer to the summit, it gets tricky as well.  But the big mountains of the upper Himalayas keep you company until you finally reach the summit.
As you stretch yourself and take in the views of the Himalayas from the summit, you feel a strong sense of satisfaction and accomplishment. This is an unparalleled feeling.
Very few treks offer the same adventure, making it popular among beginners for its finest summit climb.
5. Har Ki Dun – Ruinsara Tal
Difficulty: Moderate
Duration: 8 days
Best Months: March, April, May, June, September, October, November, December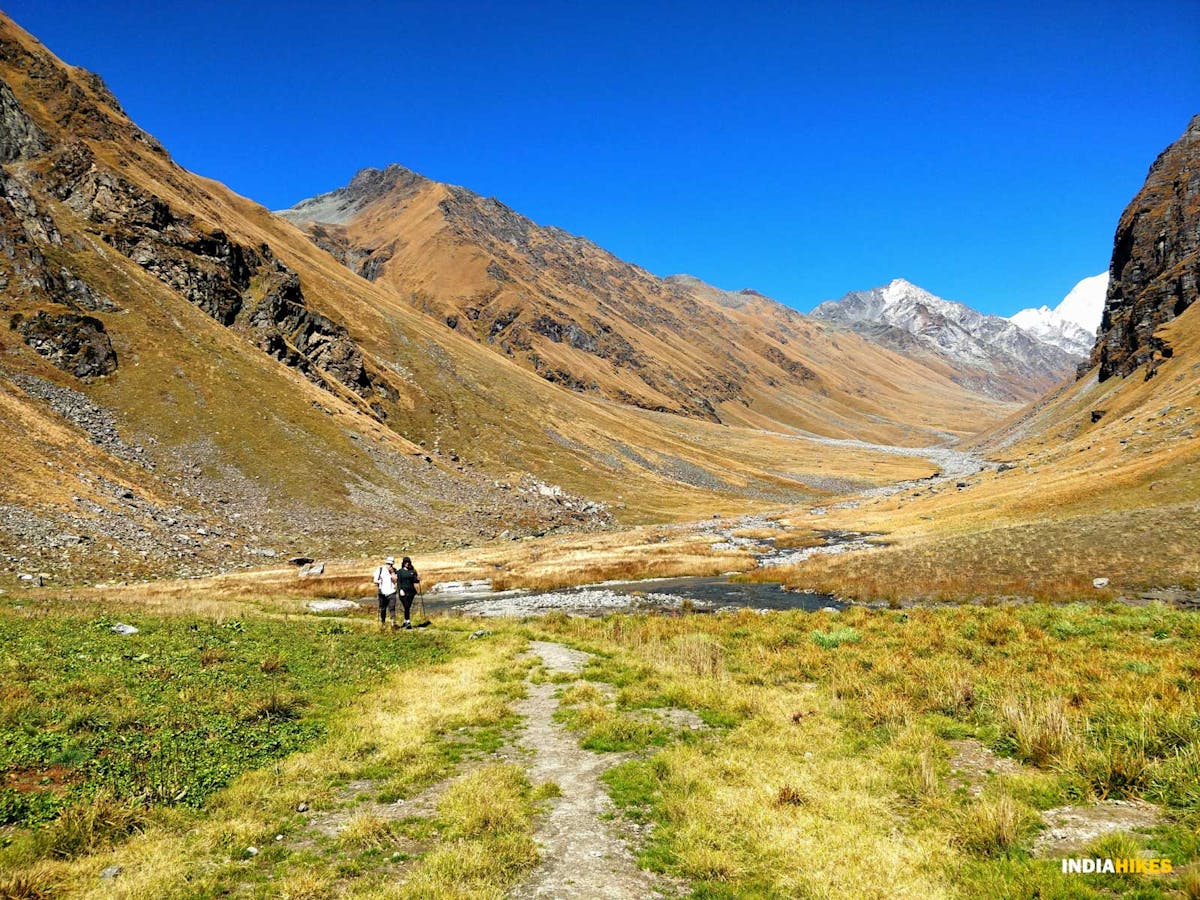 Trek alongside the Thamsa river on Har ki Dun valley. Picture by Vishal Sinha
The cultural favourite — in the early part of the trek you pass through ancient wooden villages that still stand the same despite being many centuries old. The stories and legends of these villages date back to the mythologies. Later, the astounding scenery changes every day can leave anyone breathless.
And then Ruinsara Tal pulls all possible expectations from under our feet. Such places exist in our country?
Explore Har Ki Dun – Ruinsara Tal
6. Gidara Bugyal
Difficulty: Moderate – Difficult
Duration: 8 days
Best Months: June, September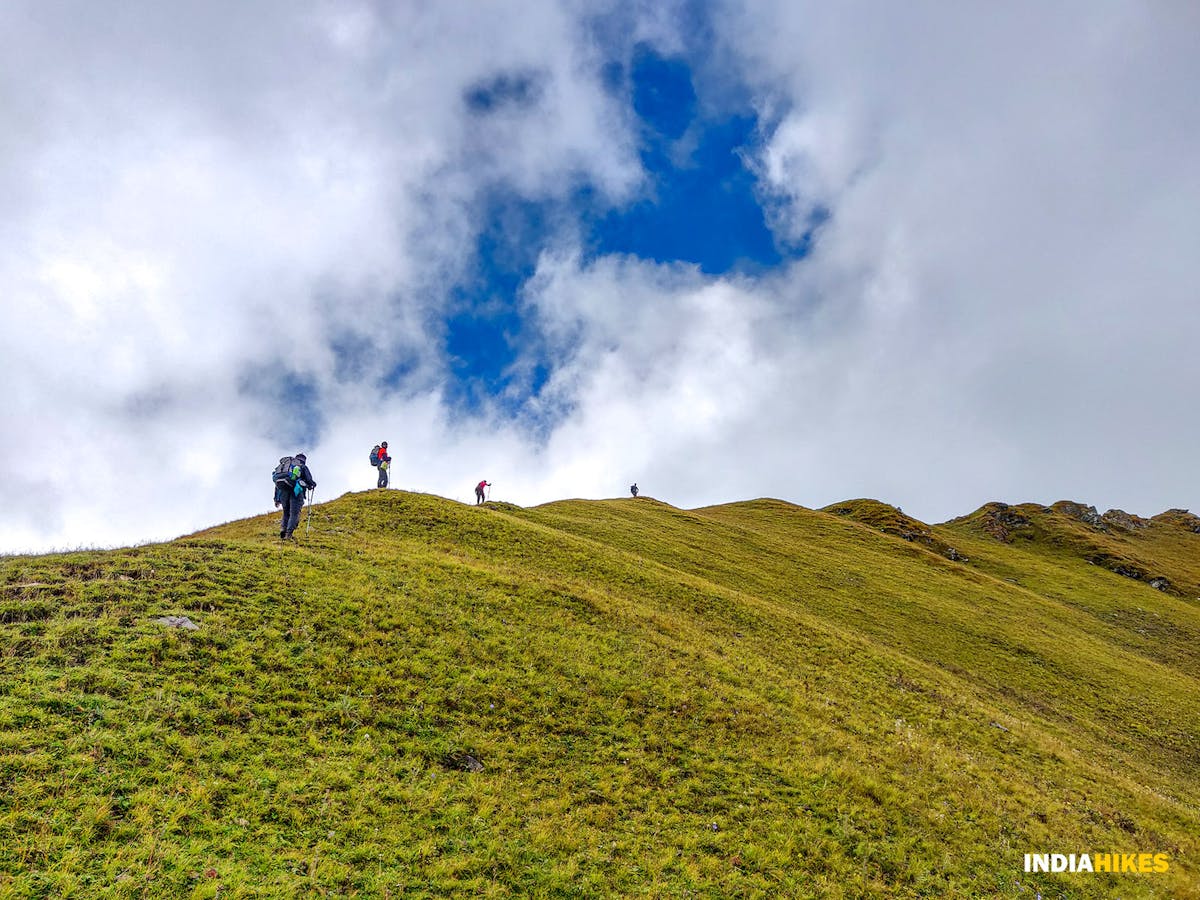 The beautiful ridge walk on the Gidara Bugyal trek. Picture by Nitesh Kumar
Gidara Bugyal is an ancient, pristine meadow that is known in the trekking circles. It is one of the largest high altitude meadows you will set foot on. It is larger than its twin Dayara Bugyal. Possibly larger than the twin meadows of Ali and Bedni Bugyal as well. It takes at least two days to traverse!
Even though it is known in the trekking circles, Gidara is extremely secluded. There are very few people that actually trek in these meadows. The only signs of civilisation you are likely to spot are the shepherds and their settlements around your first campsite, Rikoda. You may see a mountain dog or two. But you are likely to be the only group trekking and camping in these meadows!
7. Gaumukh Tapovan
Difficulty: Moderate – Difficult
Duration: 8 days
Best Months: May, June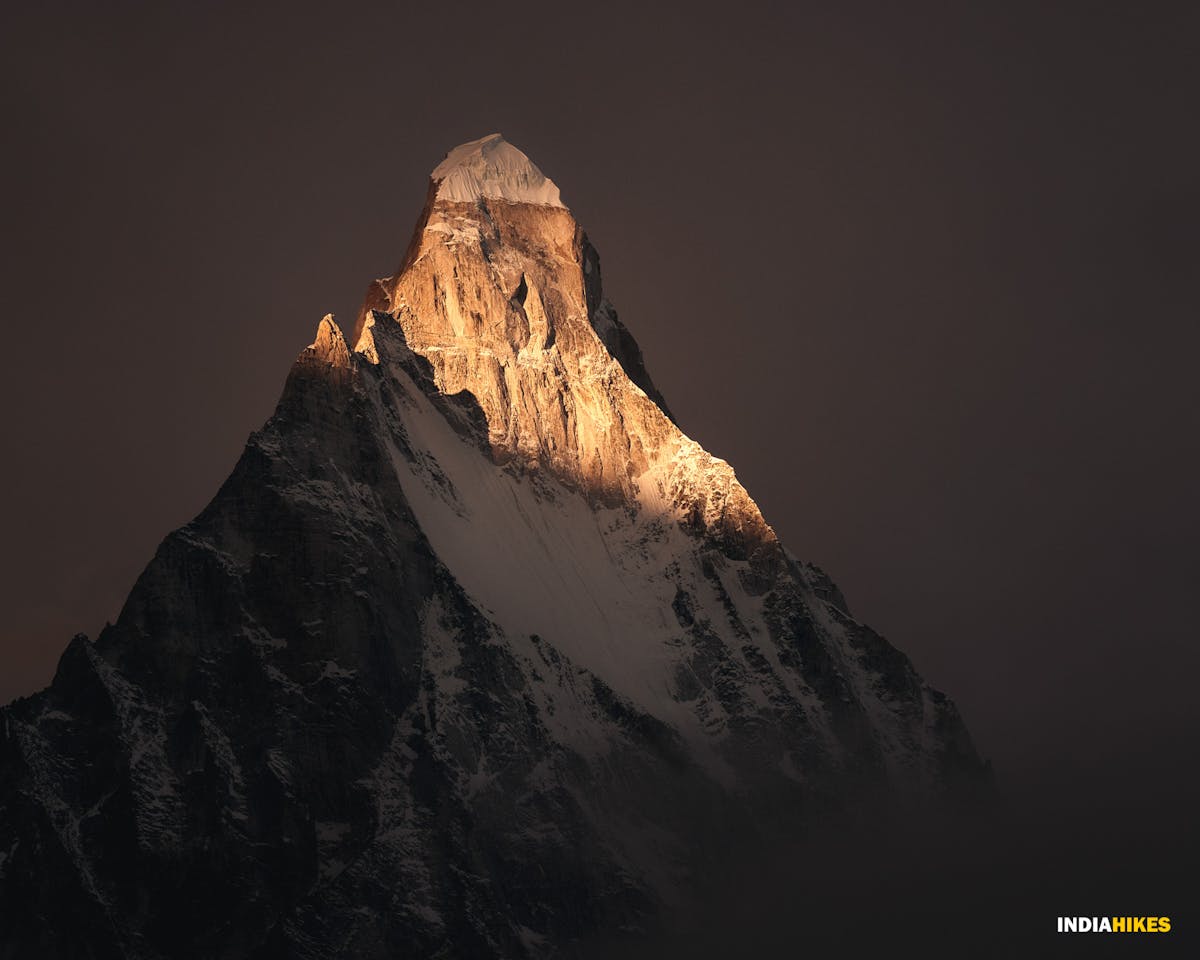 Witnessing first rays of sun falling on Mt Shivling is a sight that makes the whole trek worth it. Picture by Akshay Upadhya
The trek that takes you to the source of river Ganga, the Gaumukh glacier. Not only that, it is the only trek in the country that takes you closer to Mt Shivling where you see it from the base to the summit, in one gigantic frame!
Along with Mt Shivling, Mt Meru and the Bhagirathi sisters keep close company at Tapovan.
8. Rupin Pass
Difficulty: Moderate – Difficult
Duration: 7 days
Best Months: May, June, September, October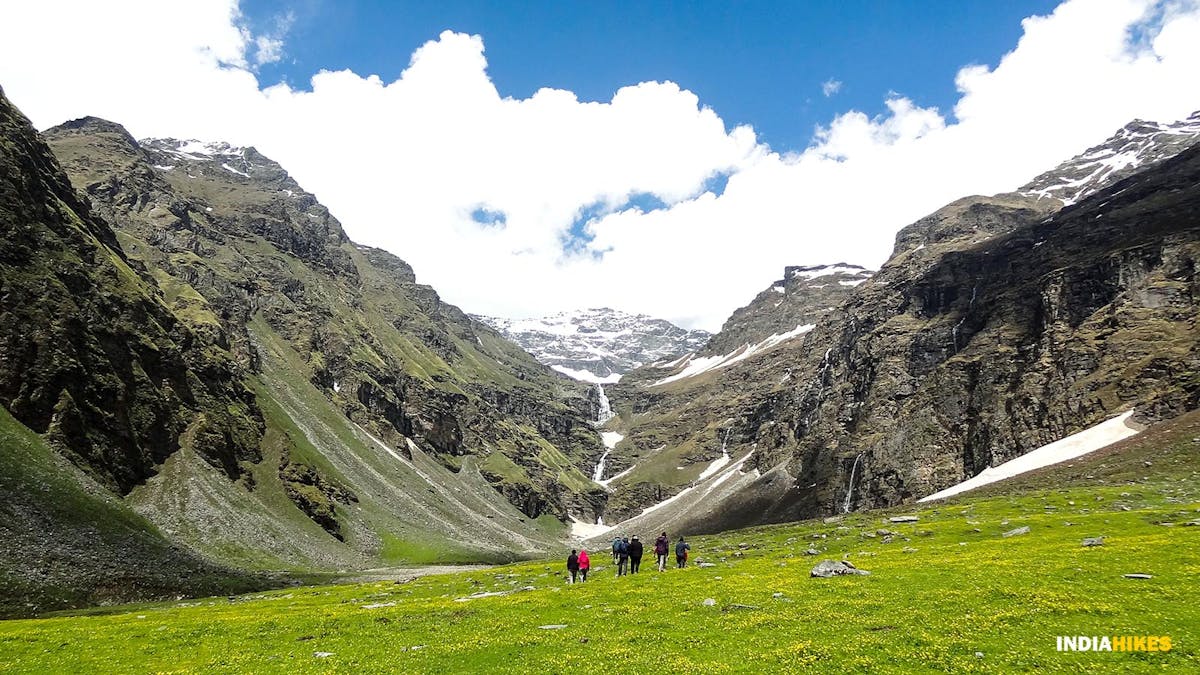 The famous Rupin waterfall. Picture by Antara Naik
If there is a classic trek in India, it has to be the Rupin Pass. This trek is like an orchestra, building up momentum with surprises in scenery every hour or so. With every step, the trek throws up a new vista to see, a new scenery to unfold. Quite suddenly too!
The surprises begin right from your first day of trekking. When, around 20 minutes into the trail,  you see the Rupin River make an appearance, fanning out into a wide bed below you. And it doesn't stop here.
From here, the trail takes you through hanging villages and then quite suddenly, it plunges into a deep pine forest!  That's not all. The trail then meanders through glacial meadows, snow bridges, glacial valleys, snow fields and hundreds of waterfalls!
9. Buran Ghati
Difficulty: Moderate – Difficult
Duration: 8 days
Best Months: May, June, September, October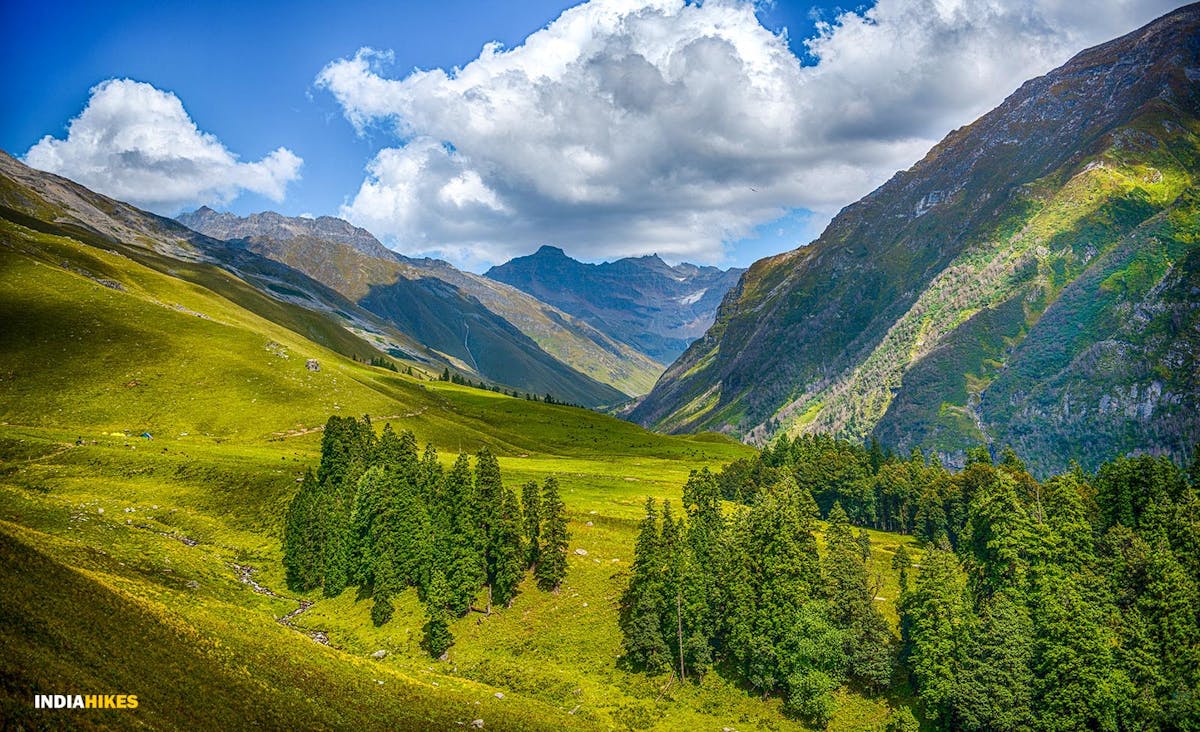 The landscapes on Buran Ghati are unimaginable. Picture by BG Raghavendra Galagali
Any nature lover will go weak at the knees on this trek. This is by far the most perfect trek we have seen — it has the best parts of India's greatest treks stitched together in one trek. I had sent you a brilliant video on it last week. Watch it here if you missed it.
This trek has the prettiest forest sections, unimaginably beautiful meadows of Dayara, and perhaps the best campsite out of all our treks, nestled in the meadows. To add to that is the thrilling pass crossing at 15,000 ft. where you rappel down a snow wall. It's an incredible trek and I hate to say it, but I think everyone at Indiahikes is biased towards this trek!
For the first time, we are running this trek in May. (We usually start in June.) If you want to see a low of snow, choose May. If you want to see a good mix of greenery and snow, choose June! The rappelling down at 15,000 ft will be there in both the months. 🙂
10. Goechala
Difficulty: Difficult
Duration: 10 days
Best Months: April, May, September, October
Goechala is a trek for the big mountain views. Picture by Abhijit Pan
The biggest reason to do the Goechala trek is the grand views of big mountains that you see. You don't just see one summit — the Kanchenjunga — but 14 other big summits. That's a lot for any trek — especially as close to the eyes as on the Goechala trek. It is no wonder that trekkers consider Goechala to be the closest to the big mountain treks of Nepal.
The trail to Goechala is blessed with rhododendron forests. And come spring-summer months of April and May, they burst to life with pink and red flowers! It's an enormously pleasing walk through the wooden-log trails of these jungles!
The Samiti Lake is another big attraction on the Goechala trek. The view of the still waters, and the reflection of Mt Pandim in the lake, especially in the early hours, is a visual treat.
11. Kedartal
Difficulty: Difficult
Duration: 7 days
Best Months: May, June, September, October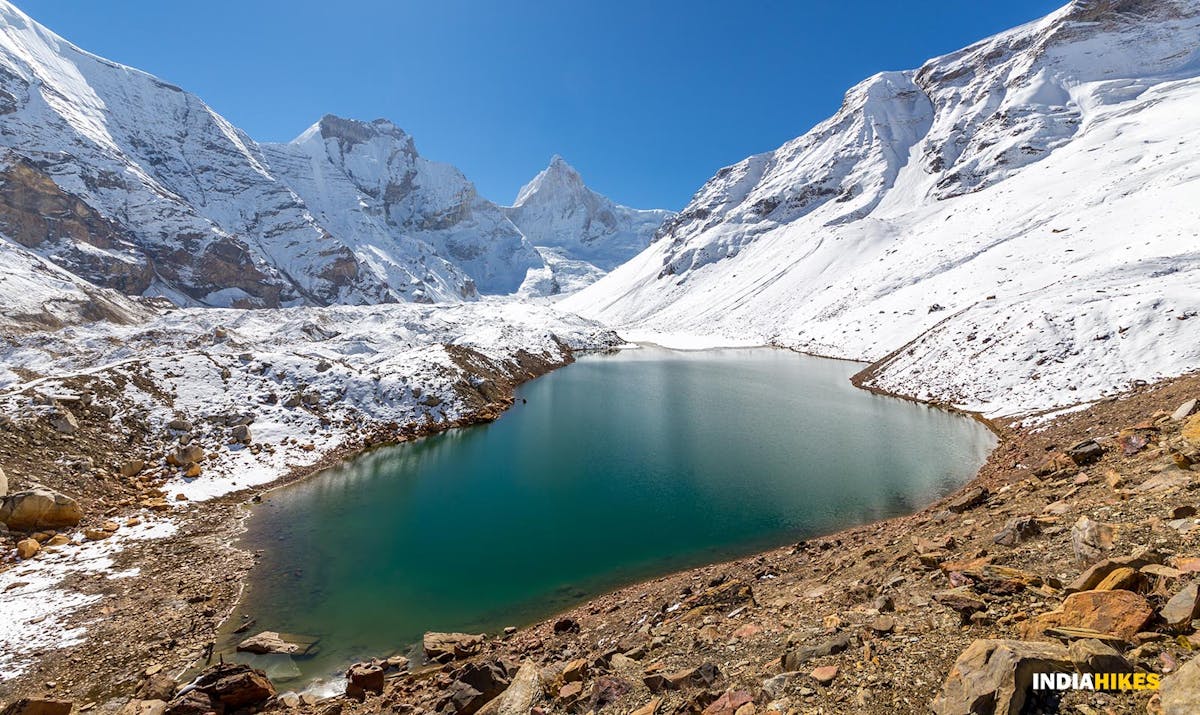 Mt Thalaysagar and Mt Bhrigupanth are seen up close from Kedartal. Picture by Ashwin Srinivasa
One of our tougher treks, definitely not for beginners. It climbs up to 16,000 ft to the Kedartal Lake. You get up close to big mountains Mt Thalaysagar and Mt Bhrigupanth.
This trek rates high on adventure. It is also an endurance test of sorts, since it has long days, tough terrain and climbs to a very high altitude. If you want to avoid treks like Rupin Pass and Gaumukh Tapovan, and yet experience the same adventure, then choose this trek.
Choose this trek only if you are very fit and have some prior high altitude trek experience.
12. Bali Pass – Ruinsara Tal
Difficulty: Difficult
Duration: 8 days
Best Months: June, September
The climb to Bali Pass is thrilling. The descent on the other side is tricky. Picture by Vivek Sahu
There aren't many treks that let one experience the raw grandeur of a Himalayan pass crossing. Connecting Har Ki Dun valley with Yamunotri, the Bali Pass is an exhilarating trail. It traverses the confluence of Tons and Ruinsara rivers, the undisturbed serenity of the Ruinsara Valley and the lush meadows of Devsu Thach.
Soon, greenery paves way for an alpine zone. At 16,207 ft, the Bali Pass trek offers a 360 degree panoramic view of the Bandarpoonch, Kalanag and Swargarohini peaks. This reward doesn't come easy, as this trek is a difficult one, not suitable for beginners.
Explore Bali Pass – Ruinsara Tal
| Also Look out for Exclusive Treks for Families in Summer
In the same season, we also have exclusive family treks to Ali Bedni Bugyal, Kedarkantha and Dayara Bugyal. We organise the trek specially for families with children, to enhance their learning from the outdoors.
Find dates and details of exclusive family treks here.
Most of the groups already have registrations going up, though not full yet. It's best to sign up now if you want the luxury of choosing dates that suit you. 
If you have any thoughts or questions, drop in a comment below. One of us from Indiahikes will get back to you.
Latest Videos
Bali Pass Trek - A Challenging Pass Crossing for Experienced Trekkers
Kedartal - A Rare Adventure Among Big Mountains
How Difficult is the Buran Ghati trek
What makes Rupin Pass such a grand adventure for trekkers?
Sign up for our much loved Weekly Mailer
We have terrific trekking tips, trek updates and trek talks to look forward to