The Ultimate Guide To Dog Friendly Hiking Trails In India
Share this story
Aren't all trails dog friendly hiking trails? I had seen Himalayan shepherd dogs climbing high mountain passes. That gave me the impression that dogs can trek anywhere. How wrong I was!
A discussion with pet-owners at Indiahikes revealed the real story behind trekking with pets. It's riddled with good questions and challenges that any dog-owner faces if they want to take their dogs on a trek. So, it's no surprise that we receive regular messages, mails, and phone calls inquiring if we have suggestions for trails that are dog friendly.
In this blog, I want to lay out everything I learnt about this topic. Do give it a read and feel free to add your points in the comment section below. Let's make it easier for pet owners to trek in our country.
Is your dog prepared to hike?
How do you find out? Definitely not by observing your dog in the house. 
Running wild in the house or being overly active and energetic in the house is not a clear indication of preparedness for a hike. To be sure, do the following three things to assess how comfortable your dog is with the wild:
Go for long walks, climb a hillock 
If you are contemplating the first hike with your dog, then begin with a small 1-2 hours trek around your house. Look for small hills, or a long walk by the beach, or even a hike that ends with a swim in a pond. 
Spend the weekend away from the city
Once you gauge the preliminary fitness of your dog, venture out for a weekend in the wild. Check for homestays and Airbnbs open to pets. To make the most of this weekend, find a place in the countryside. This will help your dog warm up to the wilderness.
Pay attention to how your dog is responding to various surroundings
While in such a space, pay close attention to how your dog is responding to the surroundings. Is he comfortable venturing out, exploring on his own? Is there any nervousness? How does he respond to other dogs on the trail? 
Once you get a fair idea of your dog's preparedness, it's time to start working on his strengths and weaknesses.
How to prepare your dog for an outdoor hike
Hiking is an adventurous mix of uncertainties. In the wild, you have no control over the weather, temperature or who you meet on the trail. 
In such a scenario, start by observing how your dog deals with uncertainties. Do they enjoy stepping out and exploring?
"A lot of it depends on the breed. Indie pets love and enjoy hiking and trekking. But they are in danger of most other local dog packs. 
Other than that, dogs like Labrador and other big breeds need to slowly adapt to hiking as they get tired too soon and need help when trail gets bouldery and rocky," says Digvijay Singh, a photographer settled in Almora who keeps ging on short hikes with his dogs Snowy and Laku.  
The key here is to ease your dog into the outdoors. For this, following are some of the steps you can take towards
Sign up for dog friendly meet-ups. 
A great way to introduce your dog to the wild is by doing it through a community. Walk with other dog-owners, spend time in spaces that are specially designed for this purpose, like The Farm, Semmancherry.
Spend time in the outdoors
Pups who have been raised in a domestic household take some time to get used to the outdoors. If you are planning to take them on a hike, start spending time with them. Be sensitive to how they are responding to the surroundings
Getting comfortable with a loose, long leash
On an unknown trail, you need a keep a tight watch on your dog. Understand that the dog may not follow you every where, or may get so excited that he/she won't come running back at your beck and call. 
It's necessary to keep your dog on a loose, long leash to manage this. But even doing that needs a lot of practice.
There are three things you must keep in mind while training your dog to walk on a long leash:
The dog's pace becomes your pace. Know that the dog won't obediently follow you on the trail. Instead, the dog may run ahead and keep pulling on the leash when not trained. This could get annoying for you and the dog after a while.
Be prepared to pause or follow your dog on a leash when he/she goes exploring. 
On trails in the jungle, with trees and bushes, be mindful of the leash getting tangled as your dog zig-zags through the way. At such times, the best way is to call your dog back or follow his crooked trail to straighten the leash.

Encourage your dog to explore
The idea of taking your dog to the outdoors is to encourage a spirit of exploration. But your dog will love it only when he/she is not in physical discomfort. For this, you may need to look for accessories that make the hike comfortable. 
If your dog is city-bred, exposing them to wild, the outdoor trail takes time. Usually, paws of city-bred dogs are accustomed to smooth and even surfaces. They find it difficult to navigate terrains that have many pebbles and stones which get stuck between their toes. 
It also happens that their paws get scalded when the sun is too strong. In such situations, they become inactive after the outing. Rub paw butter or soothing creams to soothe their pain.
Like humans, even dogs are prone to dehydration. Especially when they are out in the sun for long. So, keep them hydrated by offering them water every once in a while on the hike. This will prevent heat stroke. 
5 Great Dog Friendly Hikes In India
"Best is day hikes with dogs are the ones where you don't have the pressure of completing a certain distance. Carry ample water, food take breaks, and choose a balanced shady sunny trail for rest that your furry friend needs," says Digvijay.
Taking a cue from there, I have listed five hikes you can do with your dog and why they're great to begin with: 
Sari to Deoriatal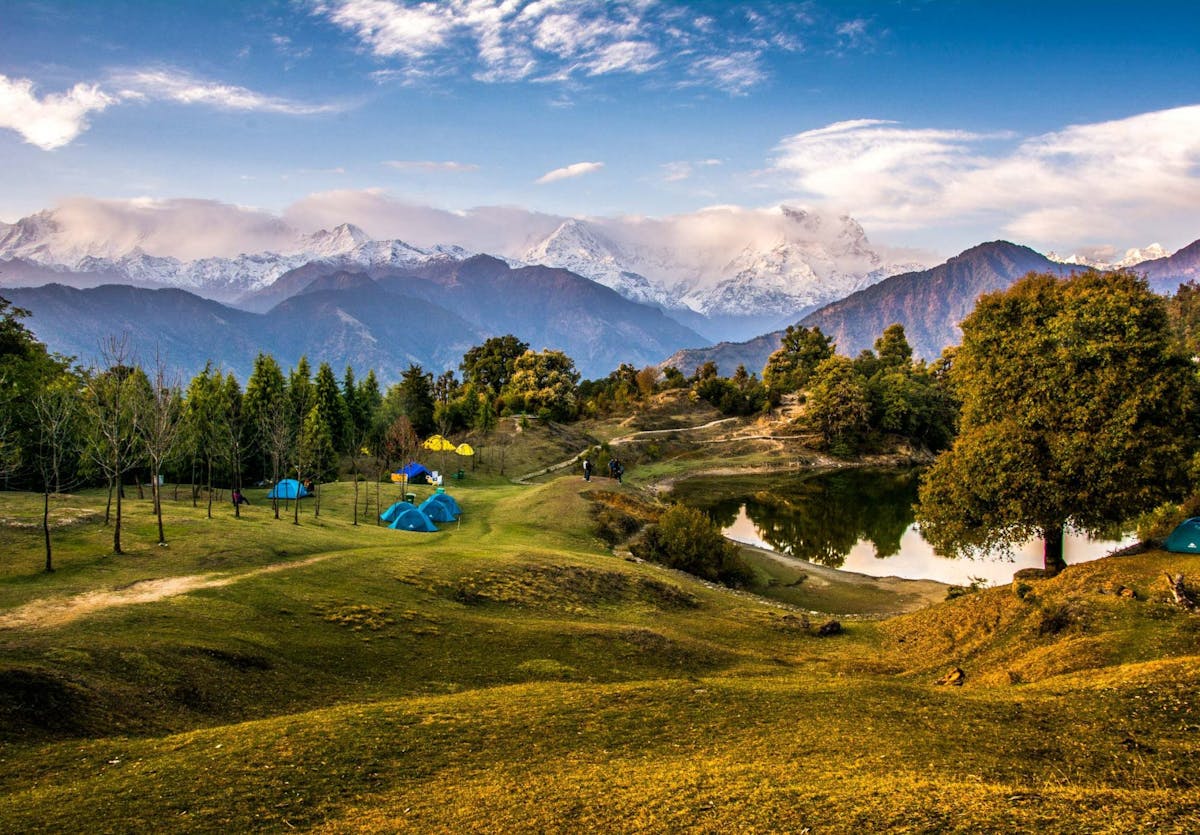 The Deoriatal Campsite. Picture by Sudipto
This is a great option for pet-owners open to initiating their dogs to trekking in the Himalayas. This is a popular trai which begins from a tight Himalayan Village of Sari. Although reaching Sari is a long journey, the trek from Sari to Deoriatal is short, picturesque, and safe to begin with as a first Himalayan trek with your dog.
Here's why I say this:
The long drive to Sari prepares your pet for journeys that lead to such Himalayan trek. 
The trail is well laid so chances of getting lost are minimal. Even though it's advisable to keep your dog on a long leash.
Antargange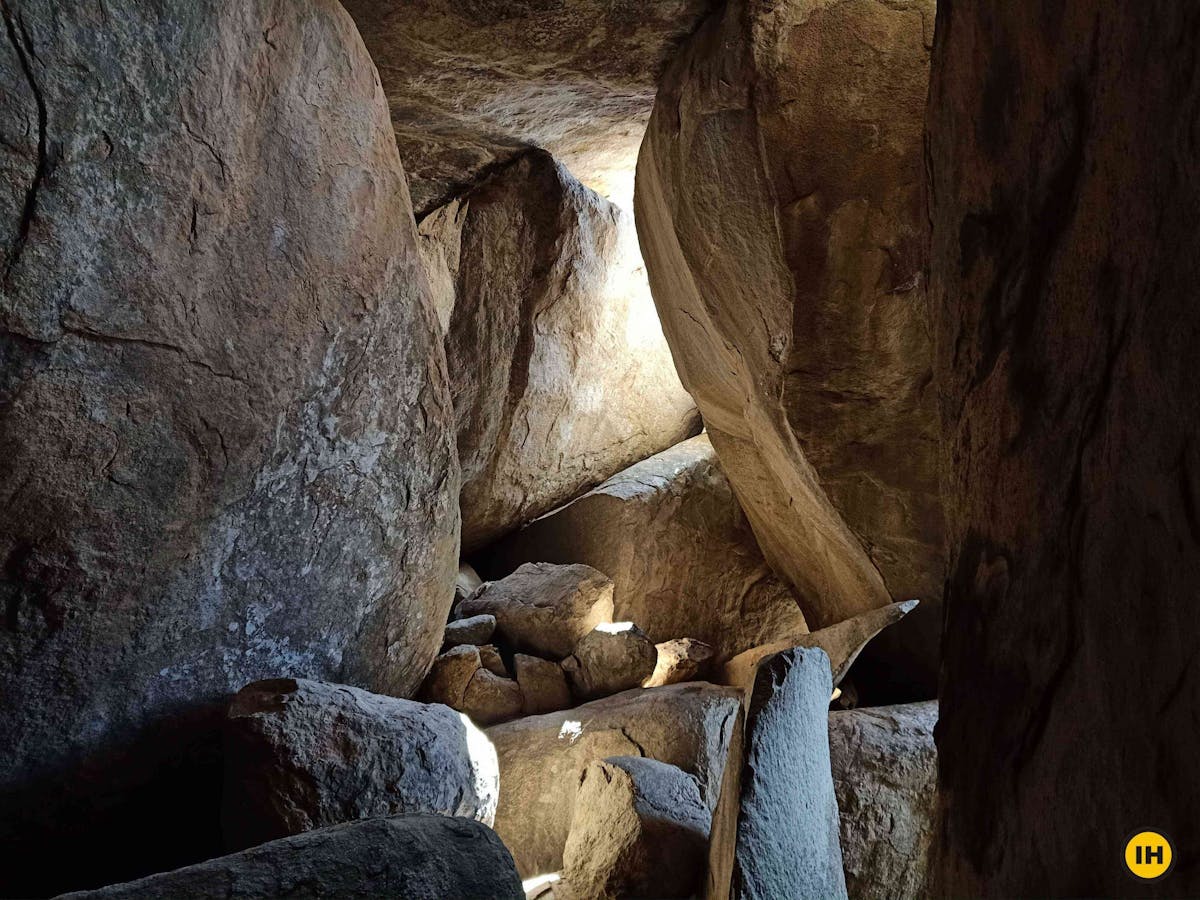 The caves of Antargange. Picture by Soumya Krishnamurthy
This one is a pleasant long drive of 70 km from Bengaluru. It is a collection of huge rocks and boulders with cave-like formations. 
If you are looking to introduce your dog to explore the outdoors, then this is a great trek to begin with for two reasons:
It is an easy trek
It has an interesting landscape that will nudge your dog to explore and play around.
Shivanasamudra
Situated in the Mandya district of Karnataka, this adorable hike is great to get your dog used to outside water bodies. 
The Shivasamudra trek takes you to a delightful waterfall (2nd highest in India) situated along river Kaveri. 
Here too there are two strong reasons why this trek works well if your dog has just started to explore the outdoors. They are:
It is an easy hike, barely 100 steps to the fall.
It has many monkeys around. This will help you gauge how your dog responds to the wildlife.
Naneghat trek
This trek is around 150 km from Mumbai. It is an interesting trail that takes you to an ancient toll-pass between Konkan coast and Hunnar region in Deccan plateau. It is a great trek to explore in the monsoon when water cascades does the stairs that lead to the top of this pass.
While it's a favourite in the trekking community, here's why this is a great option for trekking with your dog too:
It gets challenging after a gradual climb through the forest.
Doing it in the monsoon will expose your pet to the rains and prepare him/her for unexpected weather on longer treks.
The pass is also connected by road, so if your dog gets exhausted by the end of the trek, you may rent a ride back to the starting point.
Prashar Lake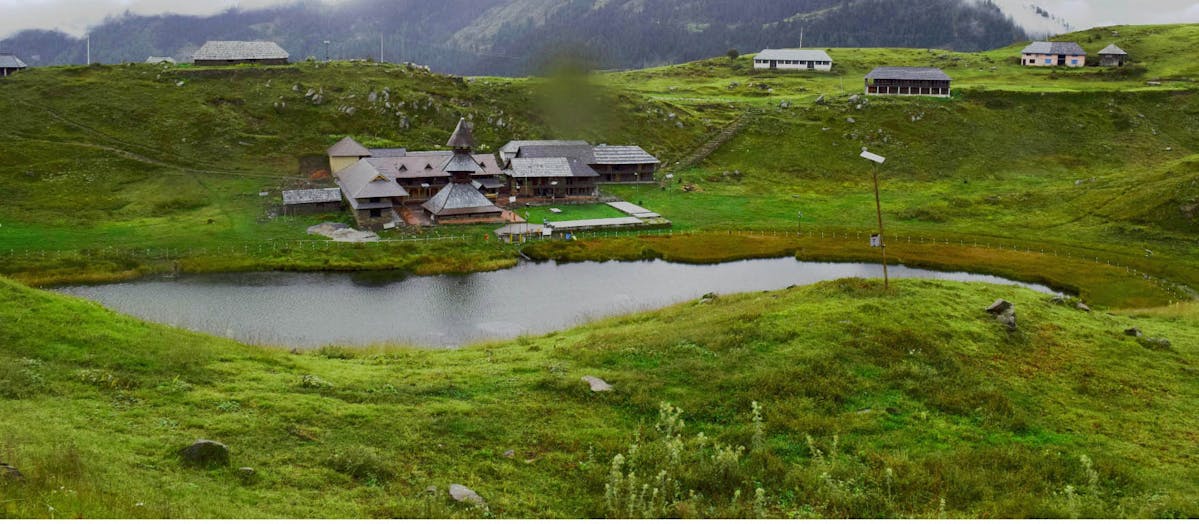 The picturesque Prashar Lake. Picture by Tishya Ray
Situated in the Mandi district of Himachal Pradesh, this trek takes you to an ancient temple facing a floating island in a pond. For Prashar Lake trek, you climb to 8,900 feet from the basecamp Kantlu which is a 2 hours drive away from Mandi.
There are two strong reasons why this is a great trek for pets who are accustomed to the outdoors:
It is an easy-moderate trek that goes through lovely rhododendron forest that has a steep incline. This exposes your dog to a slightly challenging trail.
You also get to see how your dog responds to the weather and high altitude of the Himalayas.
What to Pack While Hiking With Your Dog
Food: Ensure that you feed your dog every 45 minutes on the trail. This is necessary to keep their energy levels up as they are physically exerting themselves on the hike.
Water: It is important to keep your dog hydrated on the trail. Like food, keep offering them water. You may even mix water with glucose to help keep their energy levels up.
Warm jacket: As per the fur of your dog, carry warm clothes for treks that climb high or are situated in colder regions. Your dog can fall ill if not protected from cold. 
Raincoat: For monsoon treks like Naneghat, your dog will need a raincoat if he/she is venturing out in the rains for the first time. Dogs that are more experienced can sometimes manage without a raincoat too
Dog backpack: Carrying food, water, accessories for your dog will increase the weight of your backpack. In such a situation, you may get a backpack for your dog and offload some weight on him/her.
But as you do this, be mindful of not overloading your dog. Ideally, a dog can carry 10-30% of his/her weight. That too not at first go. Depending on the strength of your dog, slowly start adding weight on his/her back. Start with just the backpack first.
With this, we come to the end of this blog. But everything's not said yet. There are many things you need to keep in mind when you travel with your dog and I will talk about them in my next blog. 
Till then, tell me if you found this blog useful. Did I miss touching upon any crucial point regarding hiking with your dog? Do share your thoughts in the comment section below.
Happy trekking!
Related Videos
10 One Day Treks To Do Around Bengaluru
3 Reasons Why You Must Do The Kudremukha trek
Takmak Fort Trek | The Hidden Gems Of The Sahyadris
Sign up for our much loved Weekly Mailer
We have terrific trekking tips, trek updates and trek talks to look forward to