7 Best Day Treks & Hikes near Bengaluru
Share this story
7 Best Day Treks & Hikes near Bengaluru
Category Region-wise Guides
By Venkat Ganesh Gudipaty
2019-05-10
As much as all of us at Indiahikes office in Bengaluru love trekking, we are unable to spend extended periods in the hills. So what do we do?  We spend our weekends hunting for a one day trekking places near Bengaluru.
Of course, there are the mighty and the famous ones like Kudremukha, Kodachadri, Kumara Parvatha or Tadiyandamol. But if you include the travel time and back they take up the whole weekend.
On the other had these trekking places near Bangalore includes just the ones that are a couple of hours drive from Bangalore or even lesser.
So here's a list of treks near Bangalore that can be completed in a single day
An easy, offbeat trek just over an hour outside Bangalore, Halu Chilume Ganga Temple trek offers a dose of adventure with its thorny trails and unexplored nooks.
'Thorn trek' as we call it at Indiahikes,  because of the the thorny bushes along the trail is an adventurous trail  that has rocky patches, boulder sections and forest trails, all packed into a short 5 km.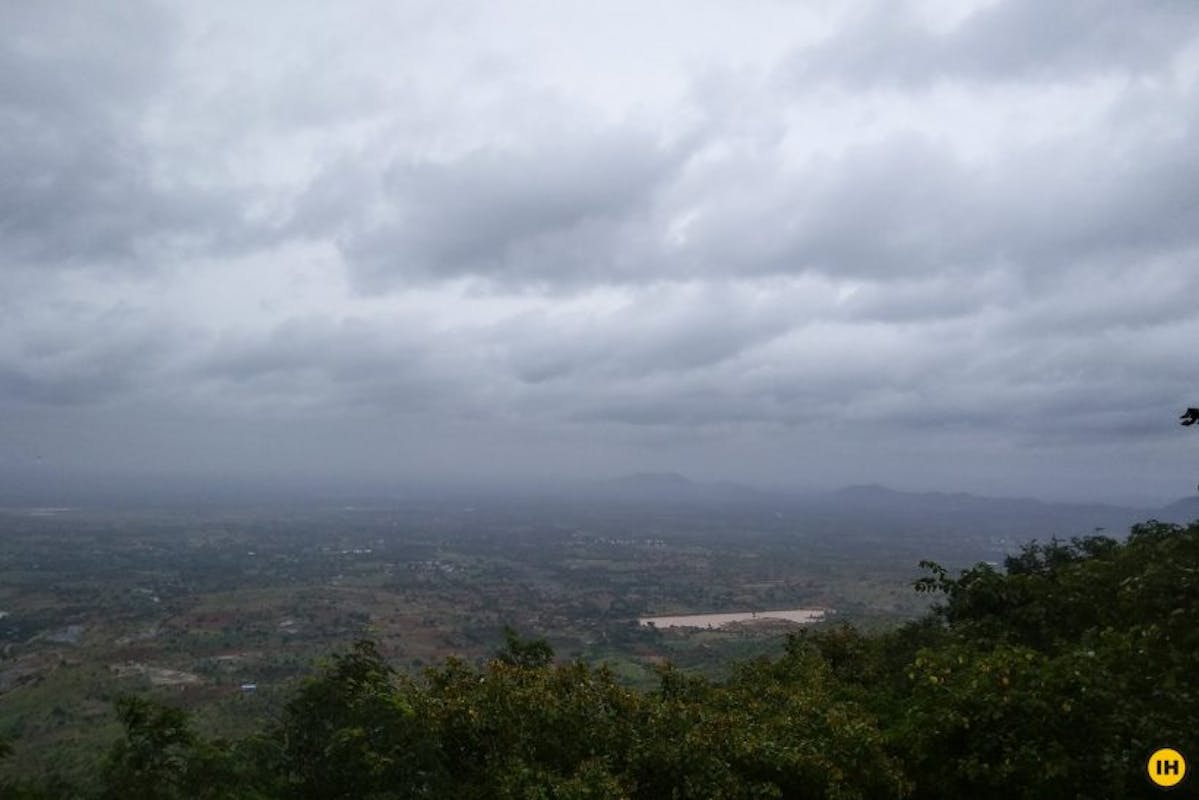 The view from the top with Gundamagere Lake in the distance. Picture by Suhas Saya
There's also an interesting temple at the top, with bells on a rock. For the more adventurous trekker, there is an option to explore around on unmarked trails or the caves on the hill.
The trail is pretty easy. You get stony steps and a nice trek through the jungle. A stone ruin can be used as shelter in case of heavy rains.
Altitude: 2,700 ft to 3,310 ft
Time taken: 5 hours
Trek gradient: Continuous ascent till you reach the top. Descent on the way back
Trail type: Ascent and descent on stone steps, boulders and a forest trail
Channagiri, towards the north west of the Nandi Hills chain, is a less-frequented trail in Chikkaballapura. Locally, it is better known as Channakeshava Betta. It is the source of the North Pinakini River and has an Omkareshwara Temple at the top. But there is more to this hill than its famous landmarks. It's a great day trek.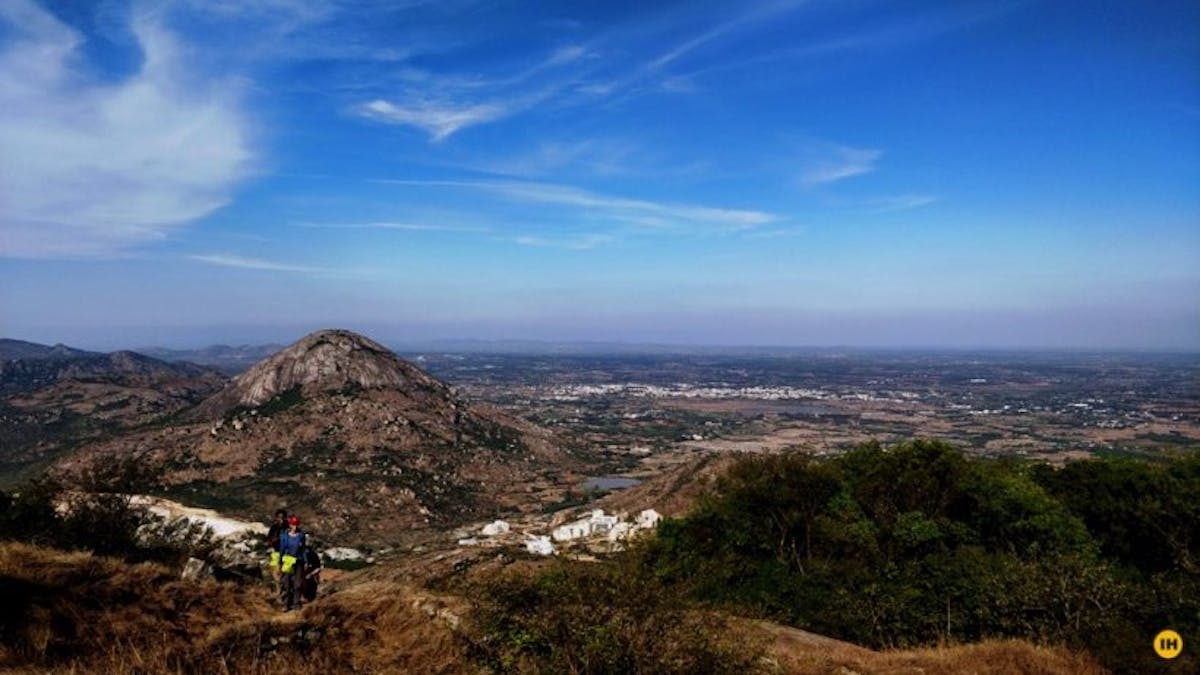 The view from the summit
The trail takes you through a surprising variety over two quick hours. What starts off through wild shrubbery and occasional eucalyptus and tamarind trees, enters dense deciduous forests, big boulder sections and reaches a pinnacle with a stunning 360 degree view of the plains and hills around.
Altitude: 4,478 ft.
Time taken: 2-3 hours
Trek gradient: Easy
Trail type: Trail majorly in the form of stone steps, hidden in dense undergrowth. Small sections of boulders. Gradual ascent all the way to the top.
The Makalidurga Trek is the perfect plan to quench your weekly thirst for adventure. It is one of the best places to visit near Bangalore, only 60 km away from the city. It is well connected by road and rail. The railway option is ideal when doing the Makalidurga night trek.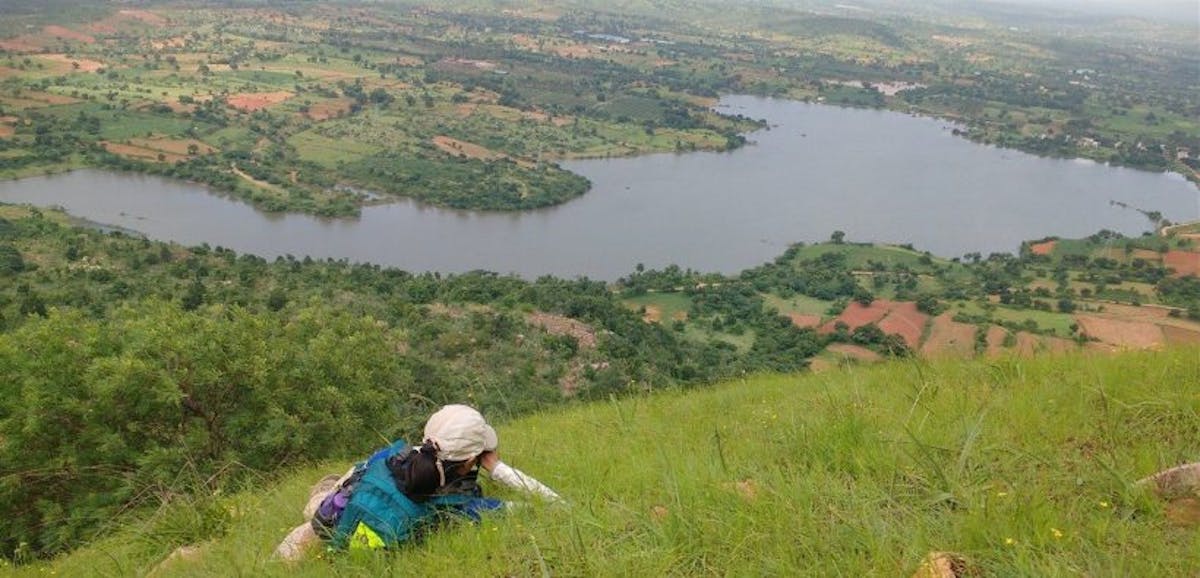 View from the top
The Makalidurga hill stands tall at 4,430ft and has an iconic hump that helps you spot it from a distance. The trail is not well defined. You can choose to take a path that matches the challenge you seek. All paths take you up to the fort, with occasional arrows painted on rocks to reassure you of your path.
Altitude: 4,430ft.
Time taken: 2-3 hours
Trek gradient: Easy
Trail type: No defined trail. Small and large granite rocks, with a few thorny bushes
Nandi Hills comprises of 5 peaks; Nandi Giri, Brahmagiri, Skandagiri, Chandragiri & Govardanagiri. Brahmagiri Hill is popularly known as Nandi One. It is the twin peak of Nandi Hill View Point.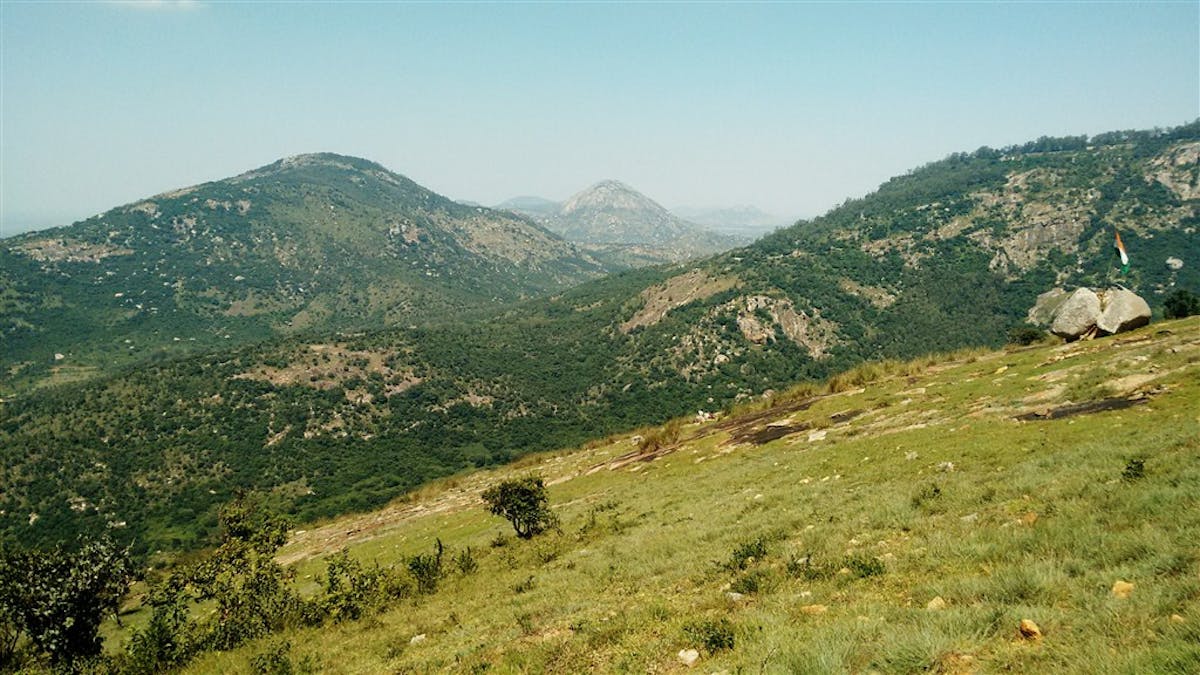 View of Skandagiri from the trail
Nandi One is a trail that will bring out the inner child in you. The lush green vegetation and patches that require boulder hopping are a treat to the senses. The viewpoints offer a bird's eye view of roads cutting through farmlands below. The eucalyptus groves at the start of the trail will de-stress you right away. Also, the region is replete with amusing stories, both real and mythological. So the next time work gets on your nerves, pack a picnic and head with your family to Nandi One!
Altitude: 4,841 ft.
Time taken:
Trek gradient: Easy
Trail type: Trail covers thick vegetation and man-made steps
Bilikal Betta or Ranganathaswamy Betta as it also called, at 1,552 m, is located 60 km from Bangalore on Kanakapura road. The hill derives its name from the Ranganathaswamy temple atop the hill. "Bili" in Kannada means white, and "Kallu" means stone. As the name indicates, there are interesting white rocks atop the hill. The trekking route is well-paved as it is regularly used by pilgrims visiting the temple.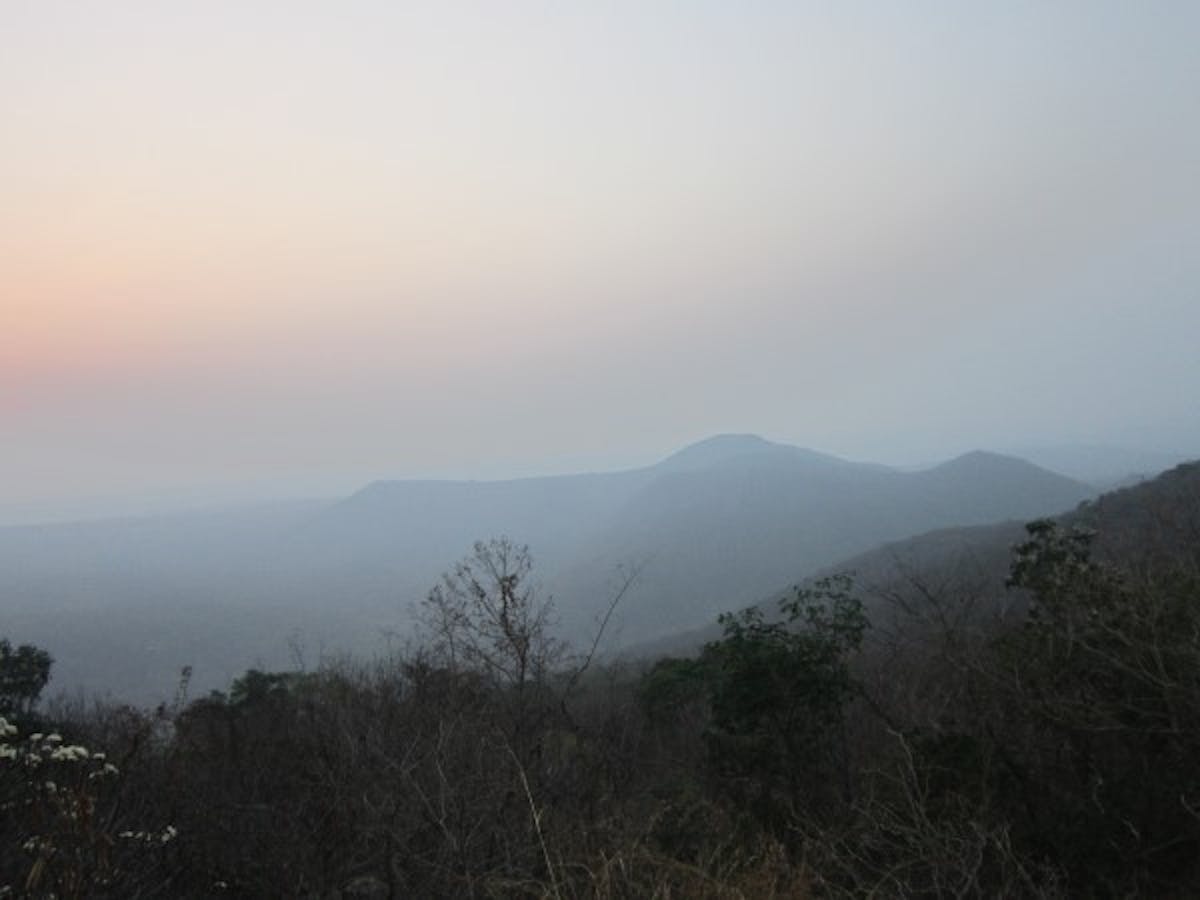 Views at sunset from Ranganatha Swamy Betta
Narrow winding trails, creaking bamboos, daring stretches, chance encounters with wild animals; a trek to Bilikal Betta is all this and more. The hill is filled with silence, which comes as a surprise as it's a mere two hour's drive away from Bangalore.
Altitude: 5091 ft
Time taken:
Trek gradient: Moderate
Trail type: The narrow path is lined with bushes and trees. After a level path of 500 m, the path becomes steeper and the forest, denser.
On all counts, Handi Gundi is the perfect trek for beginners. The trail is easy yet exciting; providing the right dose of challenge and adventure while dishing out stunning views from the top. If you are looking to introduce children to trekking, Handi Gunti is an obvious choice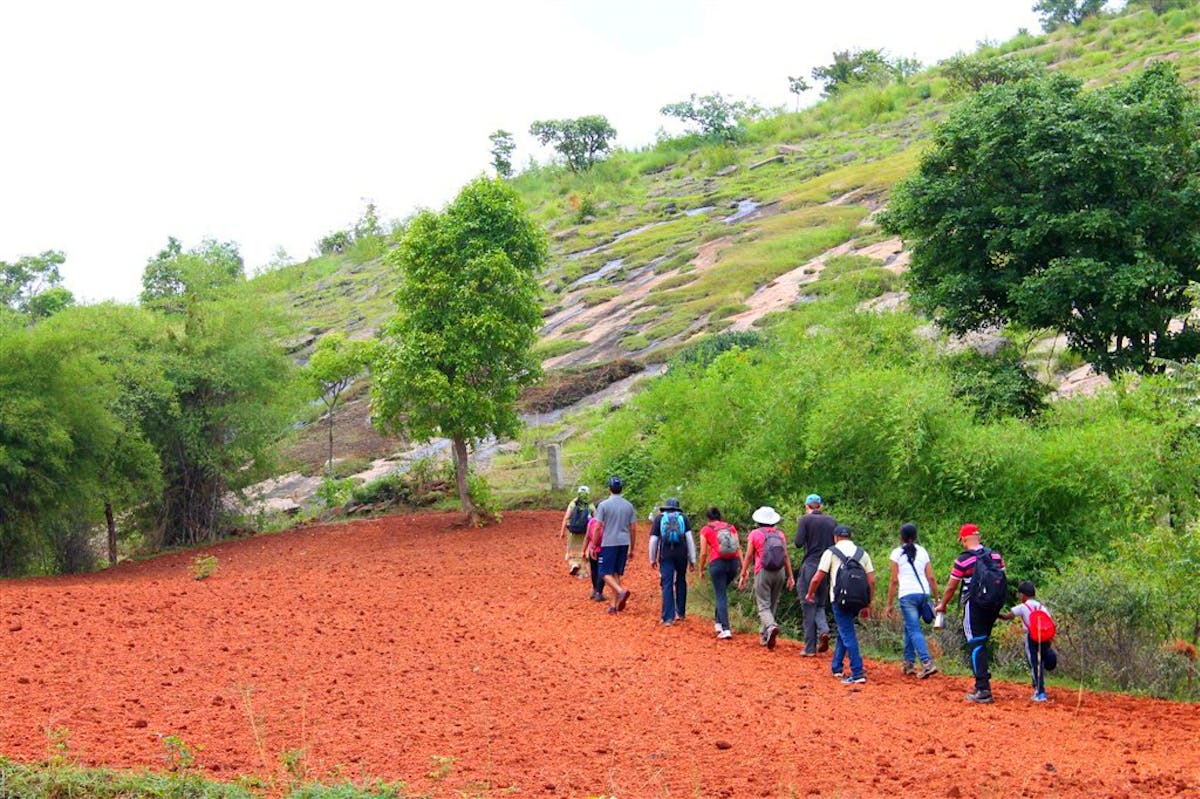 Trekkers in action at Handi Gundi. Picture by Swathi Chatrapathy
The trail climbs through the grass and each time the grass changes colour. Sometimes it glows golden in the setting light, at other times it turns a shade of purple. Black streaks through the grass in some places and when you least expect it turns a magical brown.
Altitude: 3100 ft
Time taken: 2 hours
Trek gradient: Easy
Trail type: Trail winds through scrubs, ridges and slopes
The hill gets its name from its shape; it resembles an ox's shoulder/hump. "Yettu," means ox and "bhuja," means shoulder in Kannada. The trails run through forests, grasslands, waterfalls and streams. The final ascent is challenging and makes this trek a popular one. The trails can be confusing as thick vegetation covers these unfrequented trails. It is easy to get lost in these trails.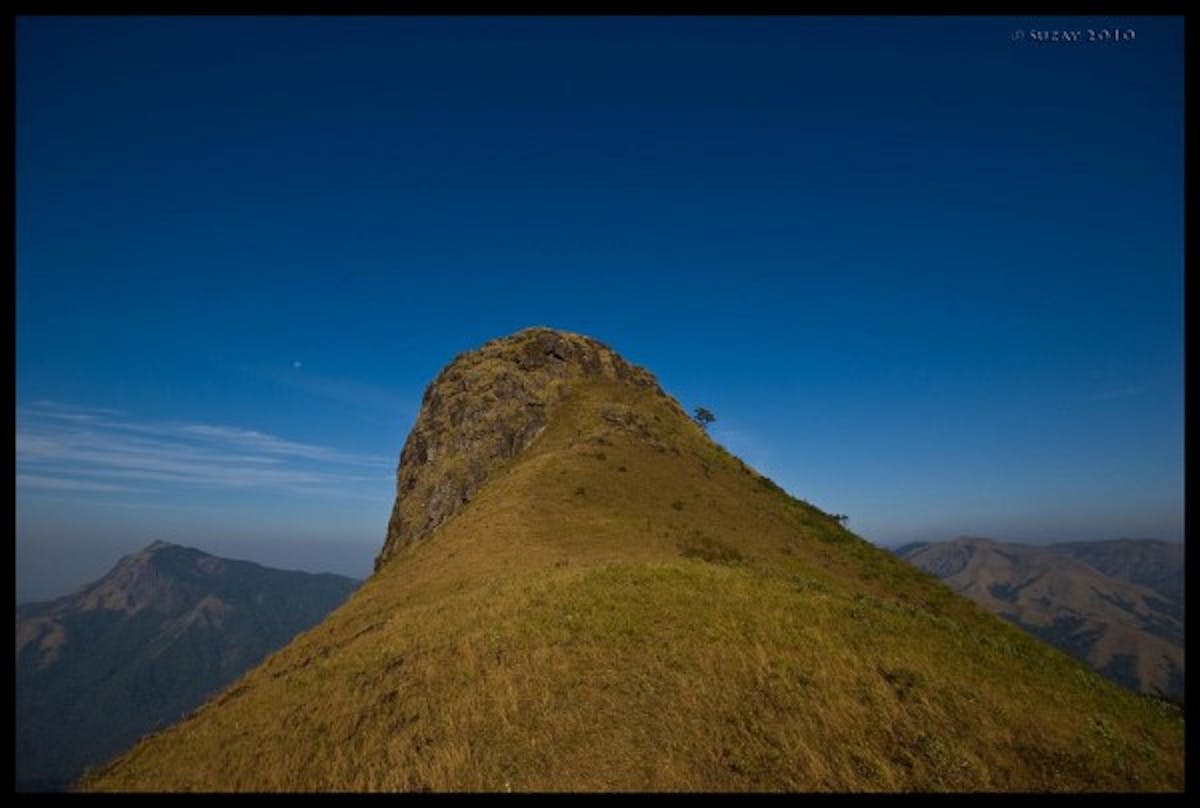 A glimpse of Yettina Bhuja
It's an easy short trek in Karnataka apt for weekends. In fact, this trek is easier than the strenuous trek to its counterpart, Amedikkal, which is sought-after by seasoned trekkers. The peak stands at a modest height of 1,300 metres, making it a lovely trek for beginners.
Altitude: 3546 ft
Time taken: 3-4 hours
Trek gradient: Easy-Moderate
Trail type: Trail to forests, grasslands, waterfalls and streams
Now you know how we keep our trek cravings at bay when we're away from the Himalayas. Do keep in mind that we don't organize these treks. We want you to give you all the information so that you can organize them on your own
At the same time, we have more treks in our Karnataka section of Do-It-Yourself treks.
If you want to trek with Indiahikes in the Himalayas check out our upcoming treks section.
What to do next
1. If you have any other treks you'd like to suggest, or if you have questions, drop in a comment below.
2. If you're looking for off beat summer treks for 2019, you'll find a list here.
3. If you would like to help us with updating trek information, photos, maps or sketches of our Do-It-Yourself Treks, fill this form
4. If you'd like to see the 13 best treks of India, get a downloadable guide here.
LEAVE A REPLY
Your email address will not be published. Required fields are marked
Sign up for our much loved Weekly Mailer
We have terrific trekking tips, trek updates and trek talks to look forward to