How We Introduced Lightweight Gear for DIY Trekkers
Share this story
How We Introduced Lightweight Gear for DIY Trekkers
Category Gear-related
By Gautam Singh
2022-03-07
Right from the time we started Indiahikes, we have wanted trekkers to trek independently. But there has always been a problem — the weight that comes with tents, sleeping bags and cooking gear.
If you want to go on a multi-day Himalayan trek on your own, you will need a tent that is sturdy enough to withstand the weather and terrain, a sleeping bag that can keep you warm at freezing temperatures, and a stove and fuel to cook your food.
With just these three items, you've already added 15 kg to your backpack.
We must admit, ultra lightweight gear has always been available in the market, but at exorbitant prices.
So how do you trek DIY without burning a whole in your pocket and without breaking your back? Or without having to hire mules or porters every time you do a DIY trek. This is a problem we had earmarked to solve for a long time.
Our team sparked into action in 2021, when we opened up DIY Trekking for trekkers.   
Our experiment with 10 DIY groups in 2021 and its outcome
In August 2021, when we ran our very first DIY trek to Tarsar Marsar we stocked up with our existing gear -- Hillman tents and sleeping bags, toilet tents, kerosene stoves and containers. A few trekkers who were in a larger group carried everything by themselves. The rest were accompanied by a mule to carry their gear.
Trekkers were worn out by the time they ended their trek. Even though they had an amazing experience on the trek, the weight played spoilsport.
Based on the feedback, our Research and Development team immediately started their work to cut down the weight of trekking gear. Their biggest challenge was to retain all the critical features of equipment -- safety, durability, weather protection and overall quality.
How we reduced the weight of our expedition tents
The Hillman tents that we used on our treks were 3-man tents, weight 5.1 kg each.
Our R&D Team, headed by Manish Pasad, spent almost four and a half months trying to reduce the weight of the tent. We worked extensively with Gipfel Climbing Equipment, our partner who manufactures our iconic, dome-shaped yellow Hillman tents.
Both the teams spent days pinpointing the exact parts and materials that required changing. "We thought reducing from a 3-man tent to a 2-man tent with the same materials would reduce the weight. But it didn't make much of a difference," shares Manish.
They finally concluded that it was the material of the tent fabric and the aluminium poles that contributed maximum weight to the tent.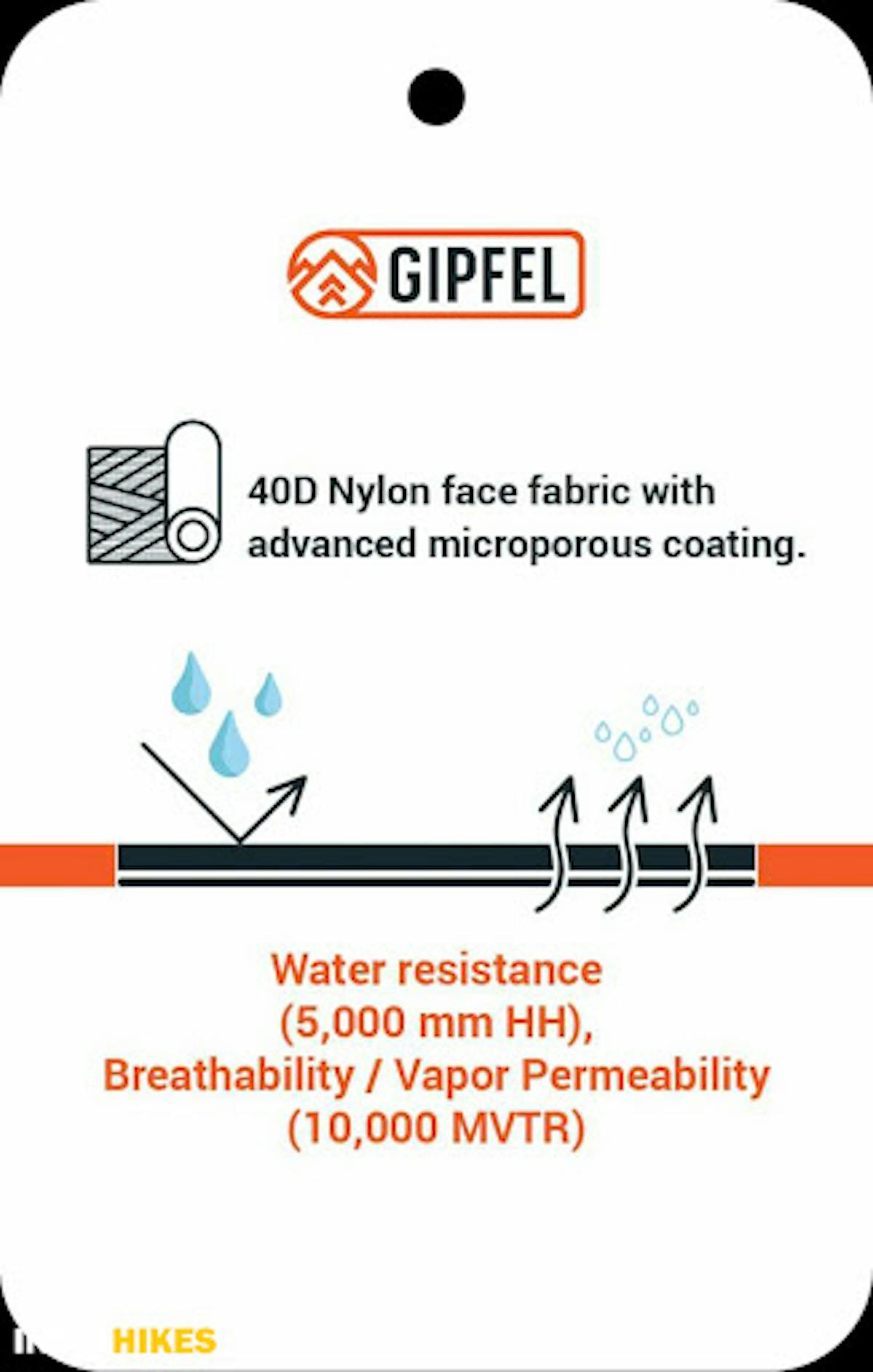 The fabric used in the material of DIY tents. Picture by Apaar Mahajan
Next, we brought in tent poles available from manufacturers in South Korea. These poles are made from the lightest of aluminium alloys. Called Featherlite, they would fit our lightweight tents perfectly, without compromising on the sturdiness or flexibility that our regular poles gave us.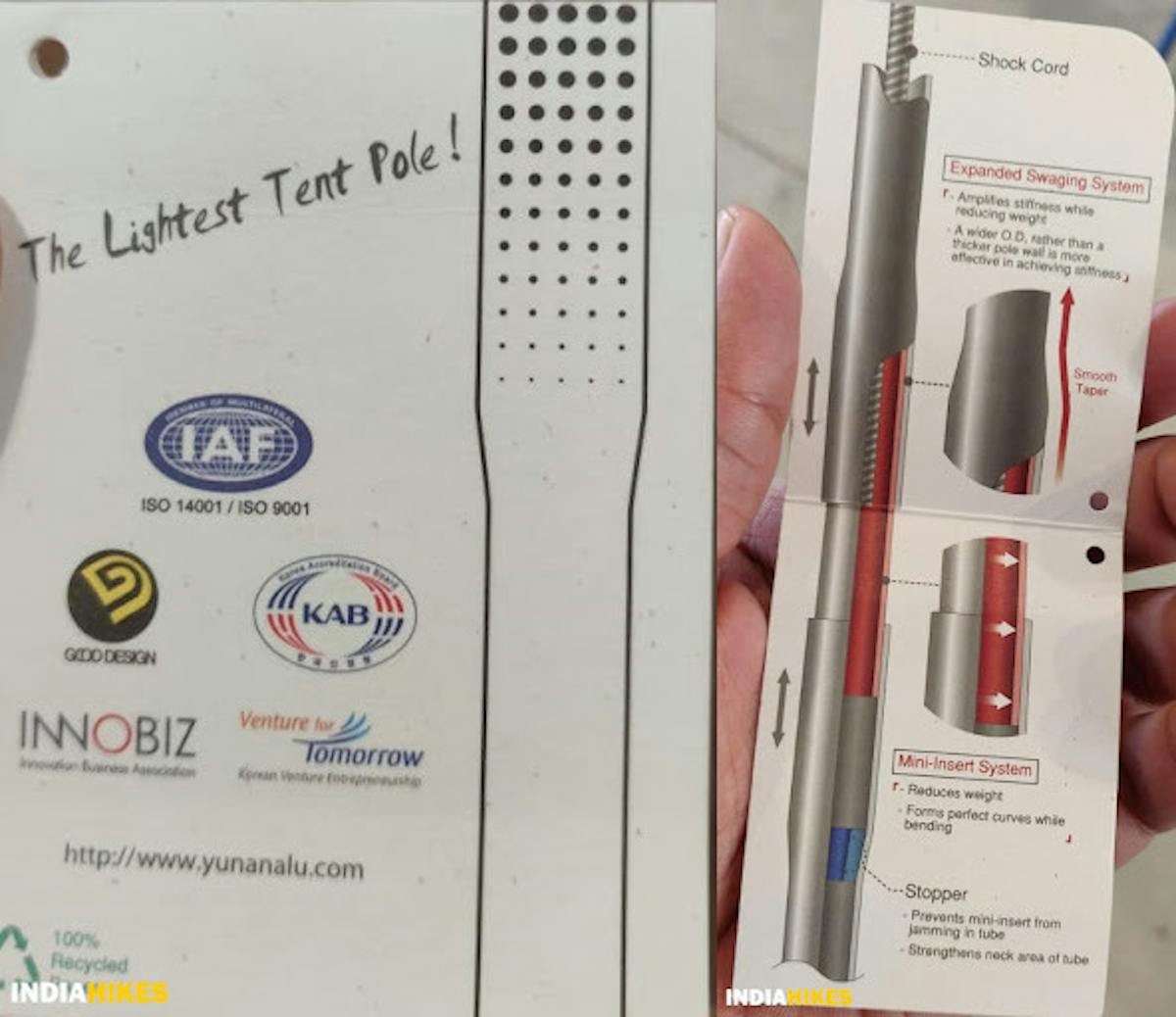 The labels show the quality of tent poles used in our DIY tents. Picture by Manish Pasad
After six months of continuous efforts, what came out was a brand new dome-shaped tent that was spacious for two people plus their backpacks.
The redesigned tent was sturdy enough to withstand the rough Himalayan weather, and at the same time lightweight. The total weight of the tent including its cover was just 2.5 kilograms -- a straight 50% reduction in the weight of our standard Hillman tents.
After live testing in -10 weather, these tents came out with flying colours. It is now being used by all our DIY trekkers.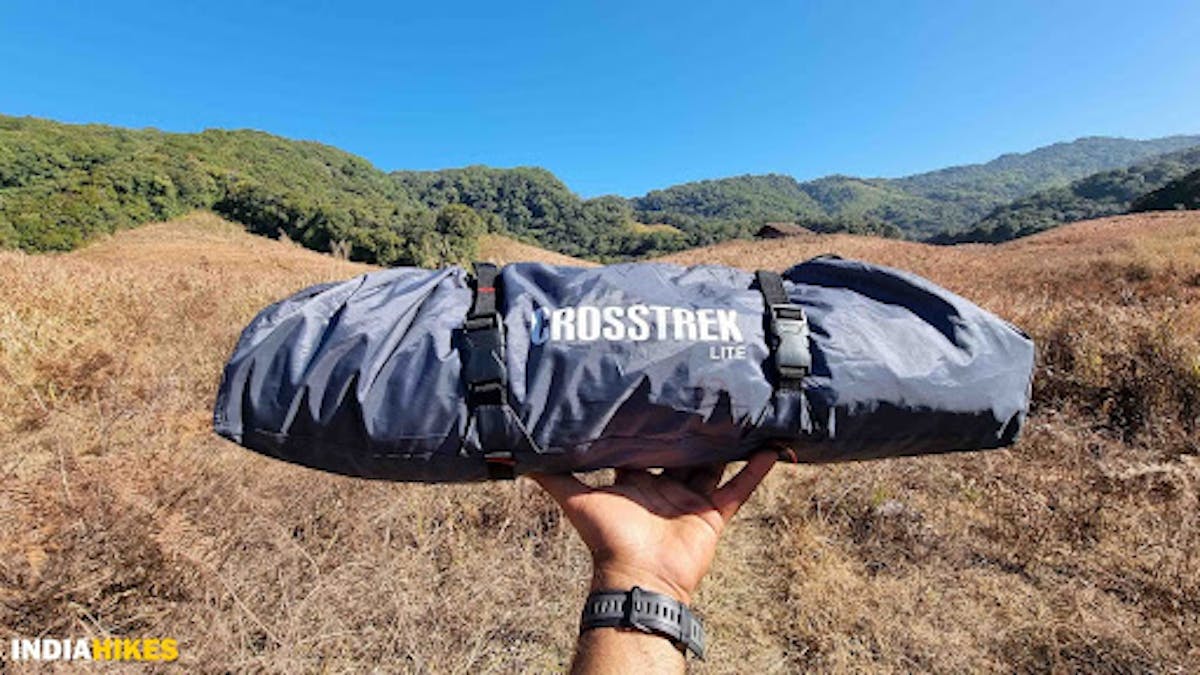 A packed Crosstrek Lite tent used on the exploration to Manipur. Picture by Dhaval Jajal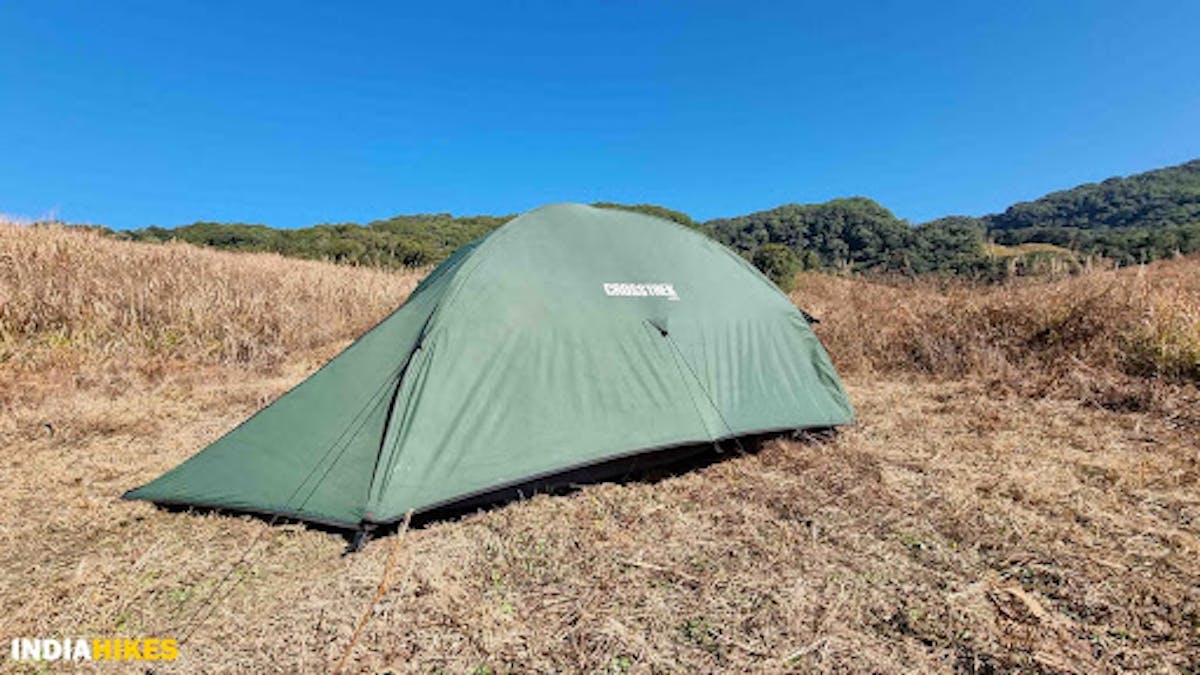 A pitched Crosstrek Lite tent at Buning Meadows in Manipur. Picture by Dhaval Jajal
How we reduced the weight and volume of our -10 °C Sleeping Bags
Sleeping bags were a whole new ball game. The outer material – the Polyester CIRE coated fabric, and the 100 GSM poly wadding used inside them were what kept us warm and insulated even in -10 °C.
The same material was causing the sleeping bags to become bulky.
Making our existing sleeping bags lighter meant using completely different outer and inner materials. Additionally, the velcro, the zippers, including the poly wadding material that forms the insulation layers inside needed to change.
Mr. Raju HK, the founding partner at Adventure Worx, began changing the design right from the raw materials used. He turned the entire fabric, wadding and zipping around by 360 degrees!
Not just that, he did something that was even more clever. He changed the shape of the whole sleeping bag, from a U-shape to a mummy shape for better heat retainment.
The final product had high insulation properties. It retained more warmth due to the mummy-shaped construction and hood closure. It was a product that was built to perform.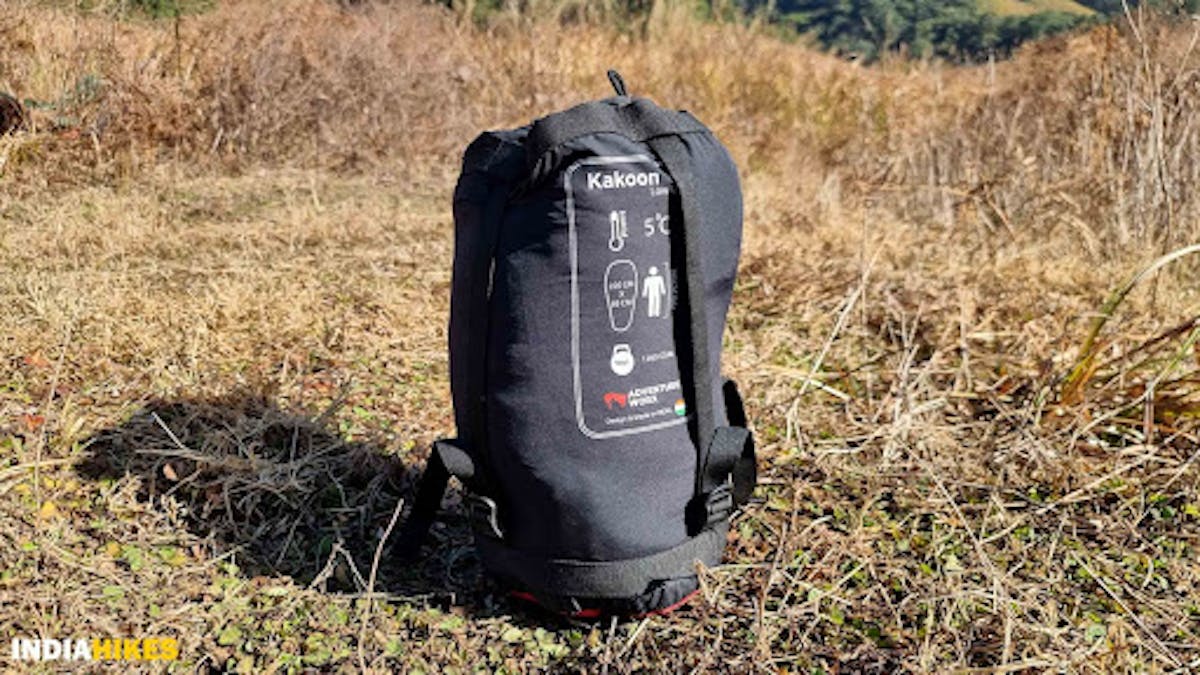 Lightweight sleeping bag photographed on the Tamenglong Forest Trek in Manipur. Picture by Dhaval Jajal
We sent the sleeping bags up on our high altitude treks like Gaumukh Tapovan, Gidara Bugyal and even on the Tamenglong Forest trek in Manipur.
After compiling the responses from all these tests, we concluded that this is the warmest and lightest sleeping bag available in the country, weighing just 1.5 kilograms.
How we made our Cooking Gear light
The cooking equipment we had was bulky and occupied the most space. Along with that, there was a requirement of kerosene, which was prone to spillage on treks. This combination was not efficient in terms of weight, volume and cooking.
During our research we got to know about Sree LPG Private Limited and their products — a portable Butane gas canister and a camping stove — that piqued the interest of the R&D Team.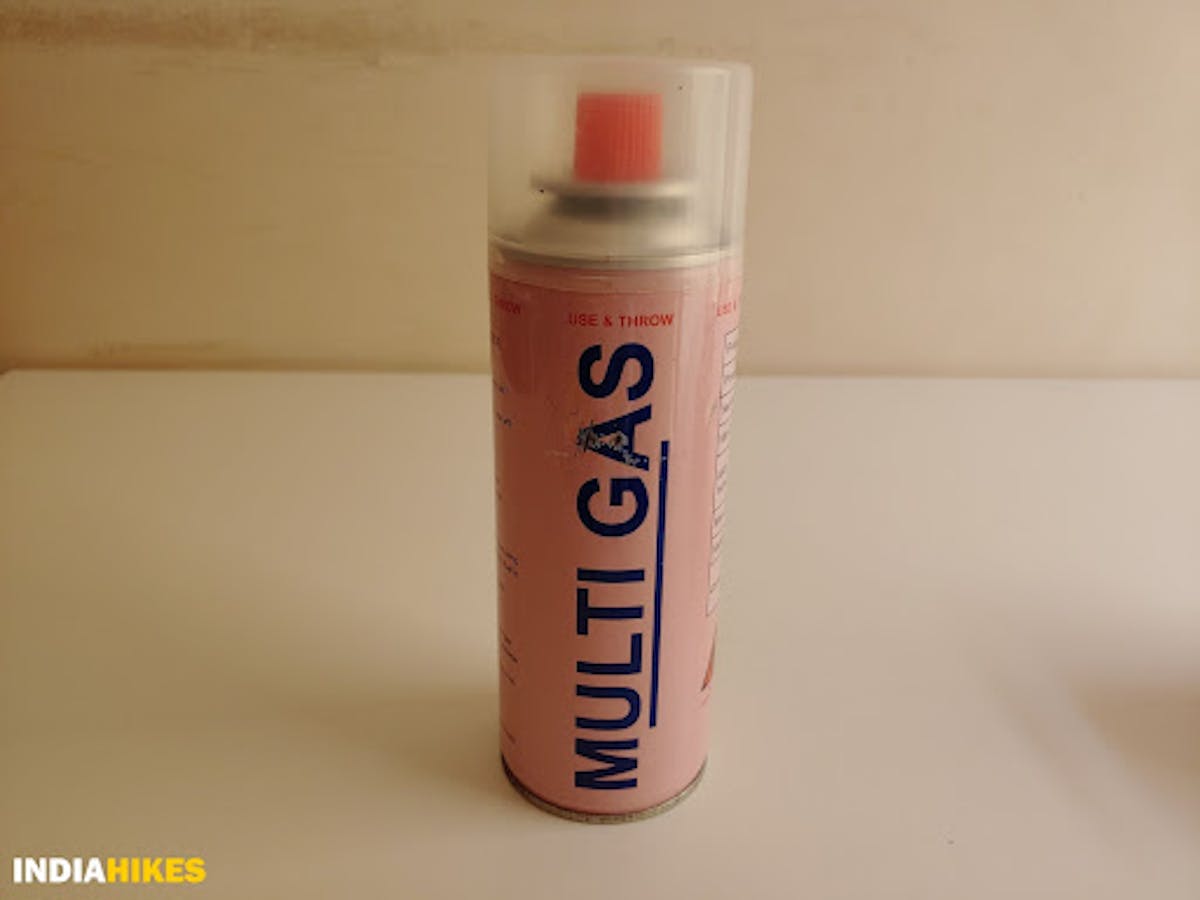 Butane gas canister which is made up of recyclable aluminium casing. Picture by Gautam Singh
The canister is made of recyclable aluminium that houses Butane gas as the main source of fuel as it is more energy efficient and produces 12% more heat for the same amount of gas burnt, as compared to Propane.

Portable camping stove with its portable vessel supports and legs. Picture by Gautam Singh
Coming to the camping stove, it is a stainless steel single-burner which is just 9 square centimeters in size. It has foldable pan supports and legs that adds to its compactness. Together, the cooking kit weighed just 500 grams!
So when our founders and team members went on an exploration to Gidara Bugyal, we asked them to cook all the meals using the new cooking kit.
What they experienced about the cooking gear is recorded by our founder and CEO, Arjun Majumdar in this video.
We were impressed by the gear's performance even at 14,000 ft! All the dehydrated and premixed meals were ready in less than 10 minutes on average. And with that, we had three solutions to the three major problems that held DIY trekking back in our country.
Conclusion
To conclude, I want to tell you what the future looks like for DIY trekking in India. We, at Indiahikes, believe that the right spirit of trekking is finally catching the eye of the trekking community. More and more trekkers are signing up to do DIY treks with Indiahikes as we speak.
Whether the introduction of lightweight trekking equipment has solved all the problems of DIY trekking? Perhaps not. At Indiahikes, we are constantly solving problems. We will continue to do so for the next set of them, as and when they come.
Do you want to trek DIY-style with Indiahikes? Or have you always trekked DIY-style and want to share your experience? Feel free to let us know by dropping a comment below.
Latest Videos
"Review of Multi Gas Canister Including Burner"
Sign up for our much loved Weekly Mailer
We have terrific trekking tips, trek updates and trek talks to look forward to