How to Prepare For a Himalayan Winter Trek - All You Need To Know
Share this story
Yesterday, while chatting with our Experience Coordinators, I learnt something surprising. Out of 150-200 trekkers who call us everyday, the most common question asked is: how to prepare for a winter trek. 
Right from physical preparation, to gathering warm layers, to buying/renting trekking shoes, to walking in snow, trekkers have several doubts. 
I realised that even though there is enough and more content about this on our website, trekkers need a one-stop page helping them prepare for a winter trek. 
With our winter treks around the corner, I'm making a comprehensive guide for you on how to prepare for a Himalayan winter trek. These are the topics I'm going to cover:
How difficult is trekking in winter going to be
What gear you need to keep yourself warm
How to get fit for a winter trek
Some hard realities of trekking in winter
Biggest misconceptions about trekking in winter
9 bonus tips about trekking gear in winter
Bookmark this page right away, so that you can use it and share it further any time. 
How Difficult Is Trekking In Winter Going To Be
Let's address the biggest worry first. 
How difficult is it to trek in winter in the Himalayas? "Is it too difficult for beginners?" is something we get asked almost everyday.  
The simple answer is no, it is not too difficult for beginners. But it is more difficult than non-winter seasons. 
Trekking becomes at least one grade more difficult in winter because of two added difficulties — (1) The negative temperatures (2) The presence of snow. 
The good news is that it is easy to tackle these two problems, even for beginners.
How to tackle negative temperatures:
Layers. Layers. Layers. 
The mantra is to carry enough layers. With layers, whether you're from a sweltering Chennai or a humid Mumbai, you'll be able to tackle a Himalayan winter. 
Here's the trick. Carry five warm layers — a pair of thermals for the night, two sweaters, one fleece jacket and one padded jacket. Along with these you need warm accessories — a woollen cap, gloves, woollen socks (for the night) and a neck warmer.
With these, you can deal with the coldest night with no worries. (I'm going to address all of these layers in detail further down.)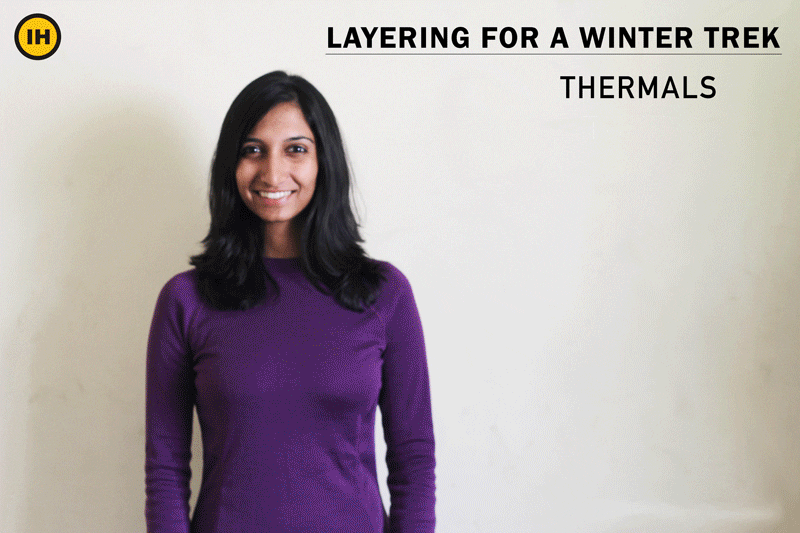 How to tackle the presence of snow: 
In most other seasons, when you trek, you walk on bare land, footstep after footstep with no worries. 
In winter though, once you reach a certain altitude (usually above 9,000 ft), there's no more bare land. All your footsteps are in snow. 
This becomes challenging when the snow is above ankle-deep. Your foot sinks in and it takes effort to pick it up and put your next step forward. There are a few ways to tackle this presence of snow.
Tips to trek in snow: 
1. Start your trek before the sun rises. This is an age-old trick that all mountaineers and trekkers follow. Any walking in snow should be done as early in the day as possible, much before the sun rises. This is because during the night, in the negative temperatures, snow becomes hard and packed. It's easy to walk on hard, packed snow. Your feet don't sink.
Note: You do need equipment like microspikes attached to your shoes that help you grip the hard snow. On your Indiahikes trek, these equipment will be issued at the camp.
But as the sun comes out, the snow begins to soften and melt. This is when your foot sinks into the snow.
So ideally, start your summit climb (where the snow is highest) by 5 am. Aim at wrapping up your day before noon.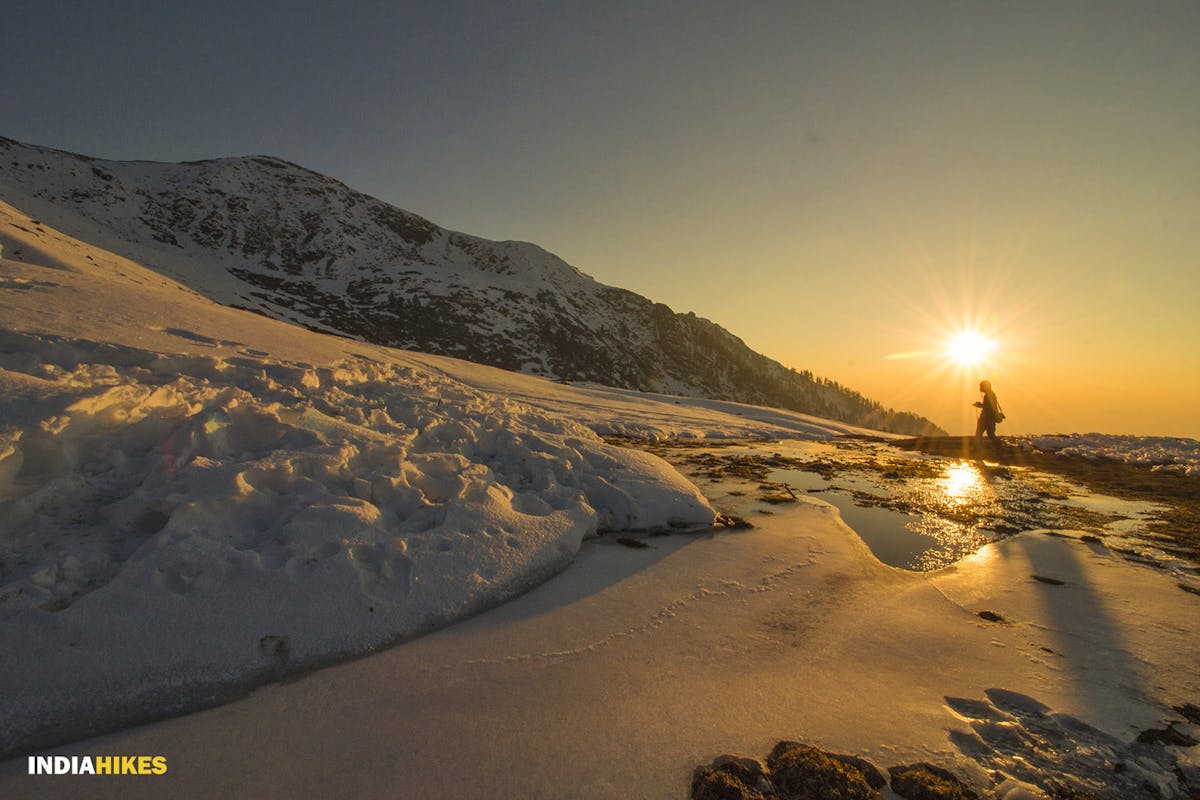 Early morning, when the snow is hard and packed, is the best time to trek on snow. Always try and wrap up a winter trek by noon, by when the snow becomes soft and hard to walk in.
2. Walk on a trail left behind by previous trekkers: One of the biggest dangers of walking on snow is not knowing how deep the snow is. It's what makes more trekkers unstable and afraid of walking in snow.
But here's a tip. Almost always, when you're trekking in winter, there will be a discernible path ahead of you. This is where trekkers have previously walked on the trail and made a path. It's easiest to walk on this trail.
Even when you're trekking in a file, it's best to step into the footsteps of the previous trekker. Every footstep creates a small niche in the snow, which you can step into knowing the depth and gradient of the slope. This ensures you never lose balance or stability while walking in snow.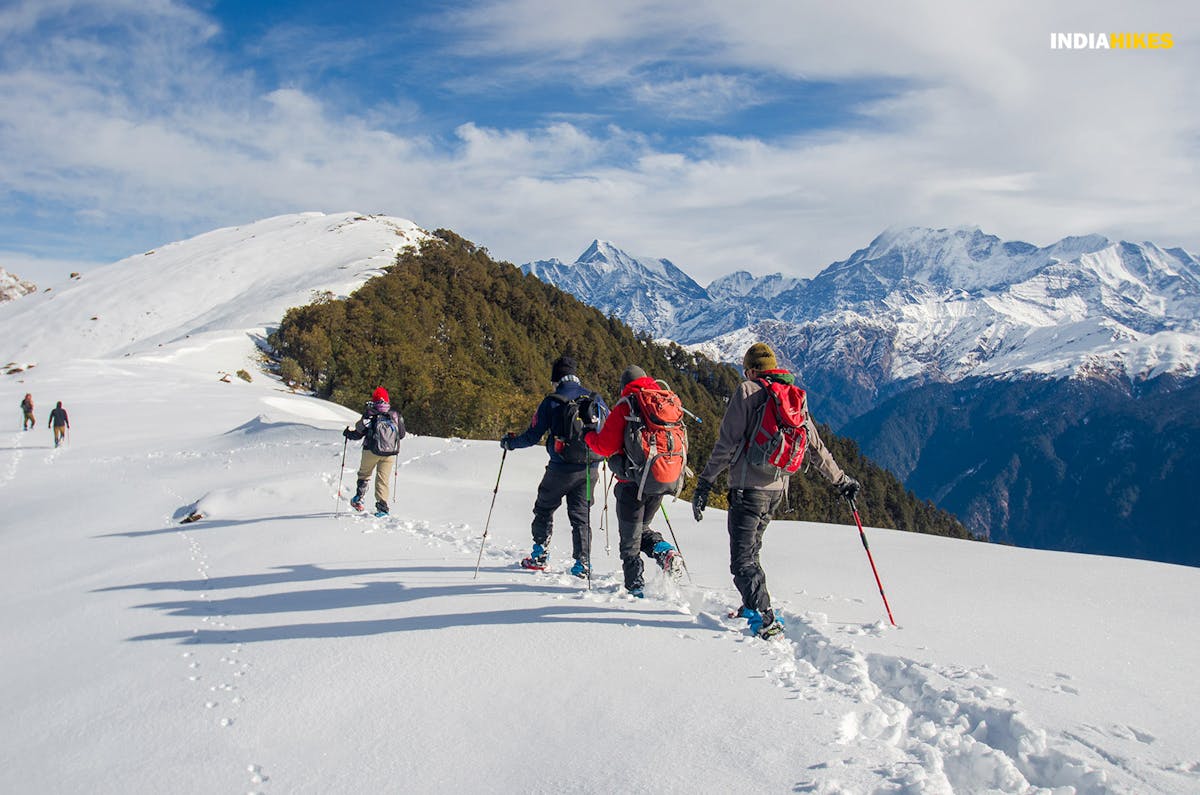 Always put your foot in the previous trekker's footstep. This way, you walk on an already laid-out path, without losing balance or stability. Picture by Vishwas Krishnamurthy
3. Use microspikes and gaiters. If you're trekking with Indiahikes, we will be providing you with microspikes and gaiters to attach to your shoes. You will get these just before you step into snow. Microspikes give you Spiderman-like grip on snow. Gaiters cover up the opening of your shoes, not allowing snow to enter your shoes. This keeps your feet dry and comfortable.

4. Work extra hard on your fitness. It's no secret that trekking in snow is going to be more tiring than trekking without snow. Which is why you cannot underestimate your fitness preparation. We'll address this further down.
How Cold Does It Get On A Winter Trek?
On any of Himalayan winter treks, be it Kedarkantha, Brahmatal, Deoriatal – Chandrashila, Dayara Bugyal, the temperatures drop to negative numbers.
They can drop as low as -10 °C after sundown. Just after a rain / snowfall, it's coldest (although, interestingly, it isn't as cold during a snowfall). 
But on an average, on a winter trek expect day time temperatures to be roughly between 8 °C and 15 °C. This means during the day, you can usually trek wearing just one, or a maximum of two layers. 
The night time temperatures are likely to be between 3°C to -5°C. Any time after sundown, you need all your layers on. That is at least five warm layers.
What gear you need to keep yourself warm
Here is a list of all the gear you need on a winter trek. As a thumb rule, wear a minimum of 5 layers on winter treks. What we've mentioned below are the layers we recommend. You could mix and match; you could also carry another extra layer if you're more prone to feeling cold.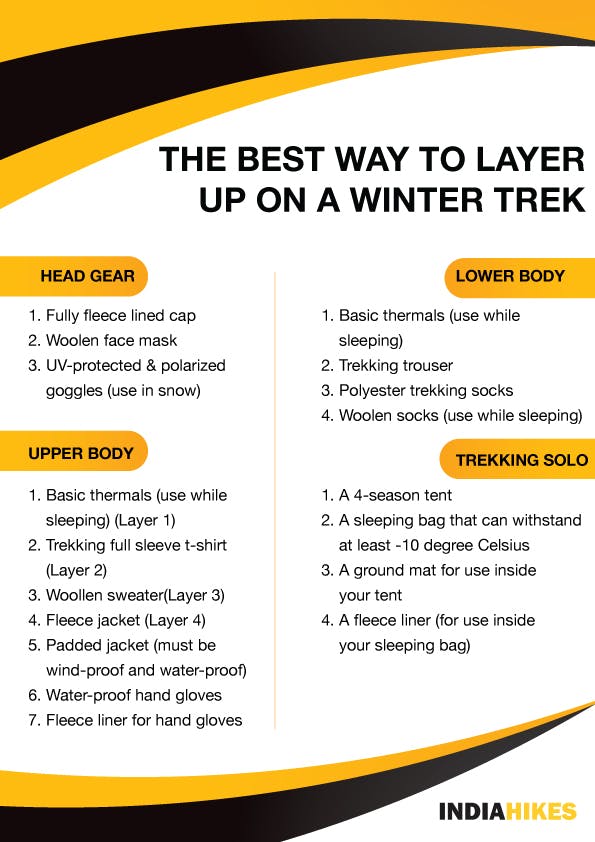 How to get fit for a winter trek
One thing to keep in mind is that trekking in winter is one grade tougher than trekking in non-winter. 
For example, a Kedarkantha trek, which is "easy-moderate" in all other seasons, becomes "moderate" in winter. 
You must start your preparation at least 1.5 – 2 months before your trek. ou must start your preparation at least 1.5 – 2 months before your trek. Target running a distance of 5 km within 40 minutes. 
Having spoken to many trekkers about this, I notice they are worried about achieving this level of fitness. The worry is usually among beginners, or elderly trekkers or even those trekking with children. 
So I'm going to give you a very simple fitness routine that works. 
Start small. 
Start by running just 1 or 2 km everyday. Concentrate purely on the distance, trying to increase it bit by bit everyday. Do this until you hit the 5 km mark. 
Once you are able to run 5 km, start paying attention to the timing. Try to reduce it just by a few seconds everyday until you can bring it down to 40 minutes. 
This kind of preparation takes time, which is why you must plan your trek at least 2 months in advance. 

A question you must not ask: What will Indiahikes do if I cannot meet this target? 
Frankly speaking, it doesn't matter what Indiahikes says about your fitness. It matters how YOU fare on the trek. This is the level of fitness the trek demands. If you're not able to meet this mark, you'll struggle through your trek. That will suck out all the fun of a winter trek in snow. 
There are a few other reasons why winter treks demand more fitness compared to other seasons. The section below will show you.
Some hard realities of trekking in winter 
There are two hard realities of trekking in winter that take trekkers by surprise. But these are realities you need to be prepared for and take in your stride. 
Be ready for changes in routes / campsites:
Many a time, we have to change routes and campsites on winter treks. There are quite a few reasons for this — sudden snowfall may make a campsite inaccessible, forcing us to move to another campsite; water sources may freeze up at certain campsites; some sections of trails may get buried under chest-deep snow; Under such circumstances, it is normal to change routes and campsites, moving to a more compatible route.
Possibility of bad weather is part of the sport:
Although bad weather occurs just once or twice a month, it is highly unpredictable. In case of heavy snowfall or rainfall, your Trek Leader may take the decision to stay put at a certain camp as a safety protocol. In such cases, you may skip a certain camp, or cover the extra distance the next day. These are tweaks in your itinerary that you must be prepared for.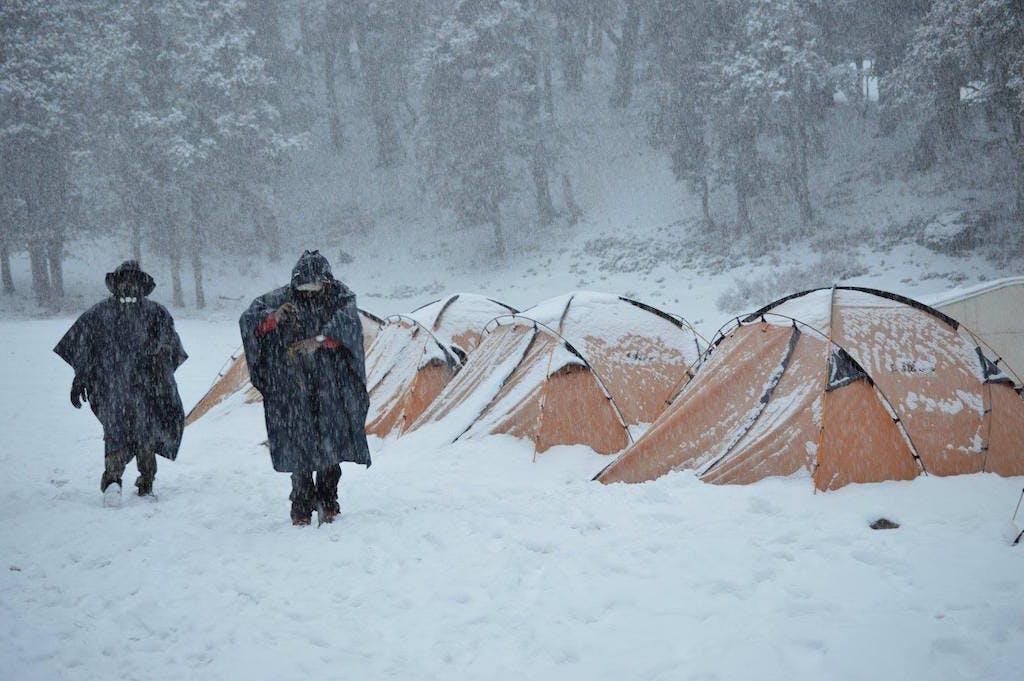 Biggest misconceptions about trekking in winter
Given that we have been running winter treks for over ten years, we have heard so many myths that we can fill a book! 
Some of these myths will take you by surprise. Some others, you may empathise with, and some could be dangerous if they are truly believed. If you believe in any of these myths, it's time to bust them. 

9 Bonus tips about trekking gear in winter
1. What kind of shoes to wear in winter?
You'll need a good pair of trekking shoes with ankle support and good grip. Our recommendation is to rent a good pair of trekking shoes from the Indiahikes Rental store. If you wish to buy a trekking shoe, then a regular trekking shoe like the MH100 will do. Note: Sports shoes will not work on a winter trek. They neither offer the ankle support nor the grip.

2. What about sunglasses if you wear Spectacles?
You can get oversized sunglasses that you wear over your regular glasses (available at Decathlon). If that is cumbersome, photochromic lenses work equally well. Here's a quick guide on managing sunglasses with spectacles.
Read more about using sunglasses with spectacles
3. Tip for contact lens users
If you use contact lenses, you can use them on the trek too. The lens solution will not freeze. You will also not face any problems in changing your lens in your tent. Just carry enough cleaning solution with you to clean your fingers well. Wear your sunglasses over your contact lens.
Read more about contact lenses vs spectacles
4. Cotton or Synthetic T-shirts?
As Indians, we love cotton. Down in the plains when the heat is a blistering 40°C it makes sense to wear cotton. But it takes a long time to dry when it gets wet. In the mountains, where it is cold, wear synthetic clothes. They wick sweat rapidly when you're trekking and keep you dry. (But they do tend to smell sometimes, so carry a roll-on deodorant with you.)
5. Down Jacket or Polyfill Padded Jacket?
We would recommend going for a polyfill padded jacket. It's more durable, it's less trouble maintaining it, and it usually comes with a water-resistant layer with a hood. Down jackets rarely come with hoods, and are high-maintenance jackets. Watch this video for more input on these two layers.

6. Buying Tip for Pants
Go for pants with zippered pockets. They come in handy to keep your phone, handkerchief or pocket snacks, making sure none of these slip out of your pockets while climbing.
Get the ultimate guide on how to choose the right trekking pants
7. Track Pants or Trek Pants?
Stretchable track pants make a good backup and can double up as your thermal bottoms. But track pants are not trek pants — so don't use them as your main outerwear. Keep them only as a backup.
8. Synthetic or Cotton Pants?
Here, again, avoid cotton pants in winter. You're going to be trekking in snow and perhaps sliding in snow. If your pants get wet, they need to dry quickly. So synthetic materials work best.
9. Additional Useful Accessories in Winter
A thermos flask (To keep your water warm) 
Steel and not plastic cutlery (steel is easier to wash)
A raincover for your backpack
Petroleum jelly to tackle dry skin and lips

In conclusion 
That brings us to the end of this post on how to prepare for a winter trek. At the end of it all, it boils down to two basic things — your fitness and your gear. 
Follow the tips we have shared. Work on your fitness for a minimum of 45 days before your trek. On another note, carry a minimum of 5 warm layers. 
If you can take care of these two areas, you will have a good winter trek without fail.  
If you have any questions, drop in a comment below. 
LEAVE A REPLY
Your email address will not be published. Required fields are marked
Sign up for our much loved Weekly Mailer
We have terrific trekking tips, trek updates and trek talks to look forward to