Trekking Alone? Here Are Tips From An Expert Solo Trekker
Share this story
As a Trek Leader, there's one question that I get very often. "Karthik, I have completed Kanamo Peak, Goechala and Pin Parvati Pass treks. Can you recommend the next trek for me?"
What trekkers expect in response is a recommendation for a more challenging trek. Something that climbs to a higher altitude, something that makes them trek longer hours, something that simply pushes their physical limitations beyond their previous trek.
What they fail to realize is that how you do a trek often determines the level of challenge more than what trek you do.
To explain this, I'll start with a question for you.
What do you look for the most in a trek?
Whatever it is that you are looking for would fall under one of these two broad categories –
Good views, peace of mind, snow etc.
The physical and mental challenge with a dose of adventure
If your answer falls in the first category, you are not essentially looking for a "tougher" trek. Depending on what you prefer – valleys, summit views, water bodies, flora and fauna – you can choose a trek that offers these things. For example, if you love summit views, Kuari Pass would be the ideal option. Or if you enjoy birds, Sandakphu and Deoriatal are great options. If you have something in mind, just speak to anyone at Indiahikes, they'll suggest your best option.
But in this post, I want to focus on the second category.
If the greater physical or mental challenge is what you are looking for, I recommend that you try solo trekking.
What makes solo trekking challenging
Trekking on your own, without the support of an organisation such as Indiahikes, is a completely different ball game. You not only have to manage your own logistics, you also have to carry your gear, pitch campsites and cook for yourself. In the process, you learn that how you do a trek is as exciting as what trek you do.  This is a truly challenging and adventurous way to do a trek.
I learnt this many years ago when I'd just started my trekking journey.
In 2014, my friends and I attempted the Indrahar Pass trek (14,245 ft). We went on our own, without a guide. It took us 4 days to reach the Pass and return to McLeodganj – we did not cross over to the other side.
After the Indrahar Pass trek, I have done several longer treks climbing to higher altitudes, including the 9-day-long Goechala trek and 19,553 ft high Kanamo Peak. Despite this, I found Indrahar Pass to be more challenging.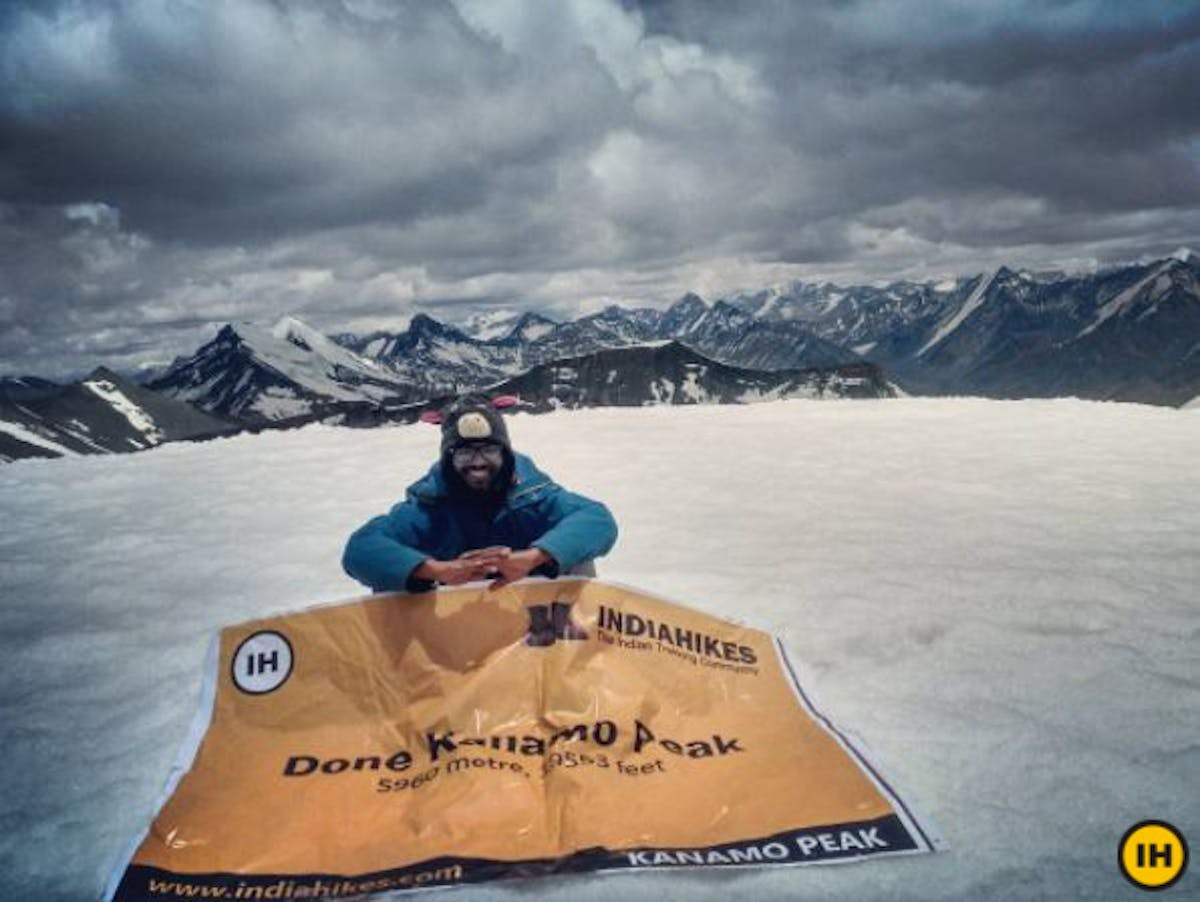 Picture taken from Indiahikes Archive
It was tougher because I was completely dependent on my own preparation and had nobody to fall back on. The excitement of reaching such a high altitude on a tough trail on my own was incomparable.
Because I would like you to at least consider solo trekking, I'm going to give you a quick top-down on how to go about it.
How to prepare for a solo trek
Taking the plunge to go on a solo trek can be daunting. A lot of questions may have already started popping into your mind.
How do I select a trek?
How do I ensure nothing goes wrong?
Am I even capable of trekking on my own?
The five points that I will explain here will help you to get started.
1. Start with short treks
For your first solo trek, choose something small, like a 2-day trek. The Indiahikes DIY section has several options. These guides give you a fair idea of the itinerary. Once you gain some experience, gradually increase the duration to 3 days and so on.
The more you trek on your own, the more efficient you will become. In fact, you will realize over time that your gear is lighter on your longer treks than it was on your first two-day trek.
2. Work on your fitness
Every trek you go on requires a certain level of fitness. You walk long distances on unfamiliar terrain. There could be inclines, rocky or uneven trails, river crossings and even snow!
On a solo trek, being fit is even more important. Not only do you have to trek long distances, you also have to set up your own camp, carry water from sources, dig a cat hole for yourself, cook and clean up once you are done. You have only yourself to rely on to do all this.
Negotiating all of this successfully requires you to be physically and mentally strong. You can develop this strength and endurance through a sustained fitness routine. Read about the fitness level required for a trek well in advance and work towards it.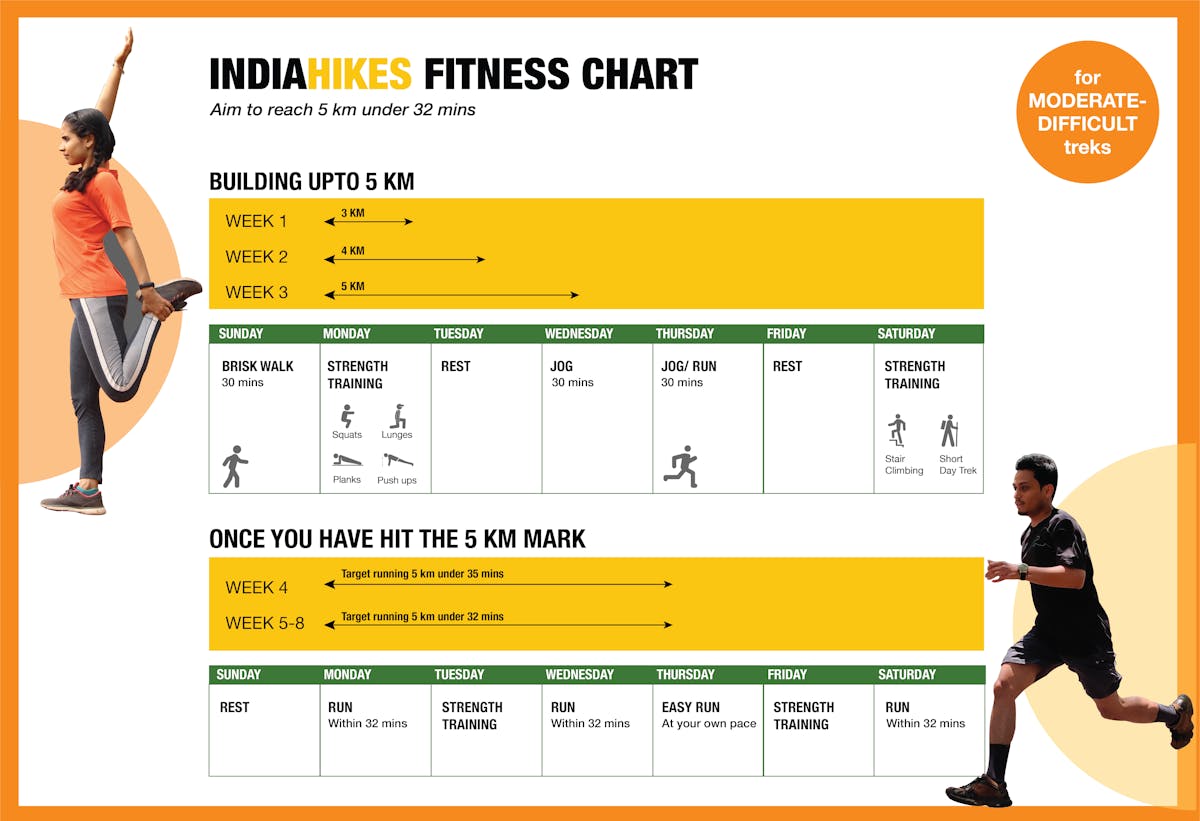 Here's a guide to make you trek fit
3. Learn the basics of health and first aid
If possible, attend a course in Basic Life Saving and Basic First Aid (BLS & BFA). This is a short course (usually 2-3 days) that most hospitals offer.
Pack basic medicines and first aid material that you will require. Take a doctor's help if you are not sure of which medicines to carry. You can also find a basic list of things to carry on the Indiahikes website.
If you're going on a high altitude trek, it's imperative that you know about altitude sickness, its many forms, and its treatment. There's Acute Mountain Sickness, HAPE, HACE. Lack of this knowledge at high altitudes can be fatal. So educate yourself about this before stepping into high altitude.
4. Procure the right DIY Kit
On a solo trek, not only do you require the usual backpack and shoes. You also need a tent, a sleeping bag and a stove, which comes as a part of your DIY Kit, when you go on a DIY trek. If you do not have a backpack or a pair of shoes, consider renting gear with us.
You'll also get dehydrated food prepared in-house for your trek, along with a list of food items and instructions on how to cook your meals.
Whether you decide to rent gear, make sure you learn how to use it from our team at Dehradun. There are quite a few videos on our YouTube Channel, here.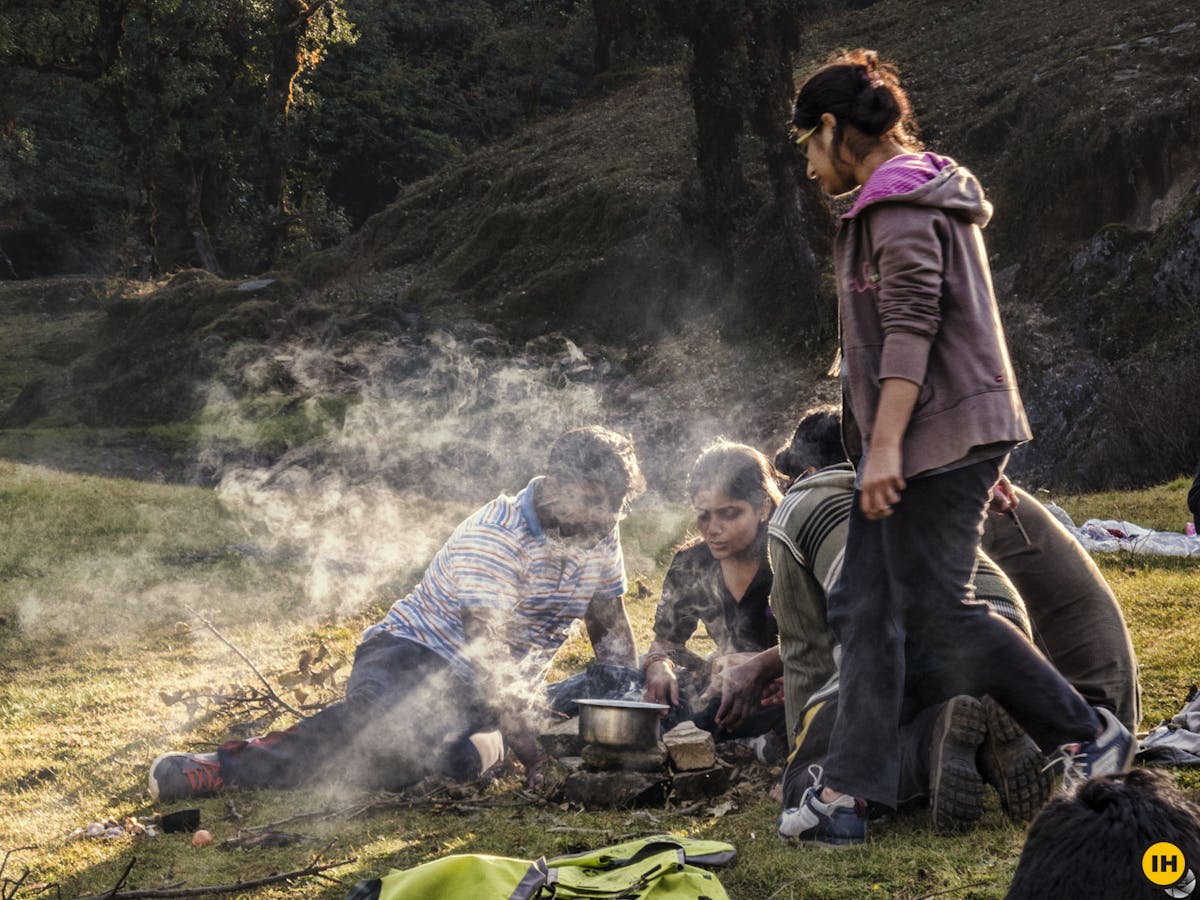 Don't experiment on a trek, says Karthik. The food kit available with Indiahikes has the right mix of nutrition and flavours. Picture by Milind Tambe
How to be a responsible solo trekker
A solo trek can be very exciting and challenging. It also comes with its share of responsibilities towards the place you are trekking in. In fact, on a solo trek, you have to be even more conscious about this than on an organised trek. You have to make decisions about a lot of things that you would otherwise take for granted – right from selecting a campsite to disposing of waste.
Make a note of these points to ensure that you leave no trace on your trek –
Carry as little plastic as possible. Bring back whatever waste you create, including eggshells.
Look for existing campsites. Do not alter a site to create a new one.
Avoid campfires. Try to minimise the use of uncontrolled fire.
Do not wash clothes, utensils or yourself directly inside a water body. Carry water at least 100 – 200 ft away from the sources.
For human waste, dig a cat hole at least 6 inches deep and 100 ft away from water sources, trails or campsites. Once you finish using it, cover it up completely with mud. Disguise it by placing leaves or twigs as a mark to prevent other trekkers from stepping on it.
Leave behind anything you find on the trail. Do not carry things away from their natural habitat as souvenirs.
Be as quiet as possible. Try not to disturb wildlife or other trekkers in the vicinity.
If you follow these tips, you'll be reasonably prepared to do a solo trek. Like I said, start small and then climb higher and longer. If you have doubts, drop in a comment.
What you should do now
1. If you want more such trekking tips: Head over to this page. We have many such tips to make your trek easier and enjoyable.
2. If you want to work with us: Head over to our careers page. We have lots of positions open. So the sooner you apply, the better.
3. If you ended up here by chance and were actually looking for treks to do: Then head over to our upcoming treks page. You'll find all our Himalayan treks there.
Latest Videos
Introducing Do It Yourself Treks by Indiahikes
3 Tips To Make Your Do-It-Yourself Trek Better
What To Carry On Your Do-It-Yourself Trek
How To Do Sandakphu Trek On Your Own
How 2 Women Did The Kedarkantha Trek Do-It-Yourself Style
Sign up for our much loved Weekly Mailer
We have terrific trekking tips, trek updates and trek talks to look forward to