5 Unique Experiences On A Winter Trek
Share this story
Winter is one of the most unique seasons for trekking. There are so many sights and sounds unique only to this season, especially in the Big Snow Season of January, February, and March, that you'll not see them at any other time of the year. 
Yet, 75% of trekkers don't know about these experiences. 
They walk right past it without realising the uniqueness or rarity of the experience. I don't want you to make the same mistake. 
Which is why I'm penning down some rare experiences to expect this winter. These are more likely in Jan, Feb and March (compared to December), when true winter has set in. A lot of them are made possible only by the expertise of our Trek Leaders and technical team, so it is also subject to whether you're trekking with Indiahikes or not. 
Without further ado, let me share the 5 unique winter experiences with you. 
1. Sliding in snow
Sliding is one of the most fun experiences of trekking in snow. It can turn even the most seasoned trekker into a gleeful 5-year-old! 
But what most trekkers don't realise is that to experience snow slides outside of winter, you have to climb up to altitudes above 14,000 - 15,000 ft. So you see snow slides on challenging treks like Rupin Pass, Buran Ghati and Hampta Pass. These are tough treks, not ideal for beginners.  
Here's where winter works its magic. Winter is the only time when beginners have a chance to experience snow slides at lower altitudes. You'll find slides on all treks like Dayara Bugyal, Deoriatal-Chandrashila, Kedarkantha and Brahmatal. 
"From Brahmatal top, we slide almost all the way back down to the campsite in January and February. It's the most amazing fun," says Mrinal, a Trek Leader and Trainer at Indiahikes, who spent the previous winter season at Brahmatal. 
Just for this sliding experience, winter trekking is worth it.
2. Winterlines at dusk 
Here's a rare visual experience that is reserved only for winters — winterlines at dusk. You may have seen these winterlines in photographs, where the horizon turns into a fiery shade of red, almost like it is on fire.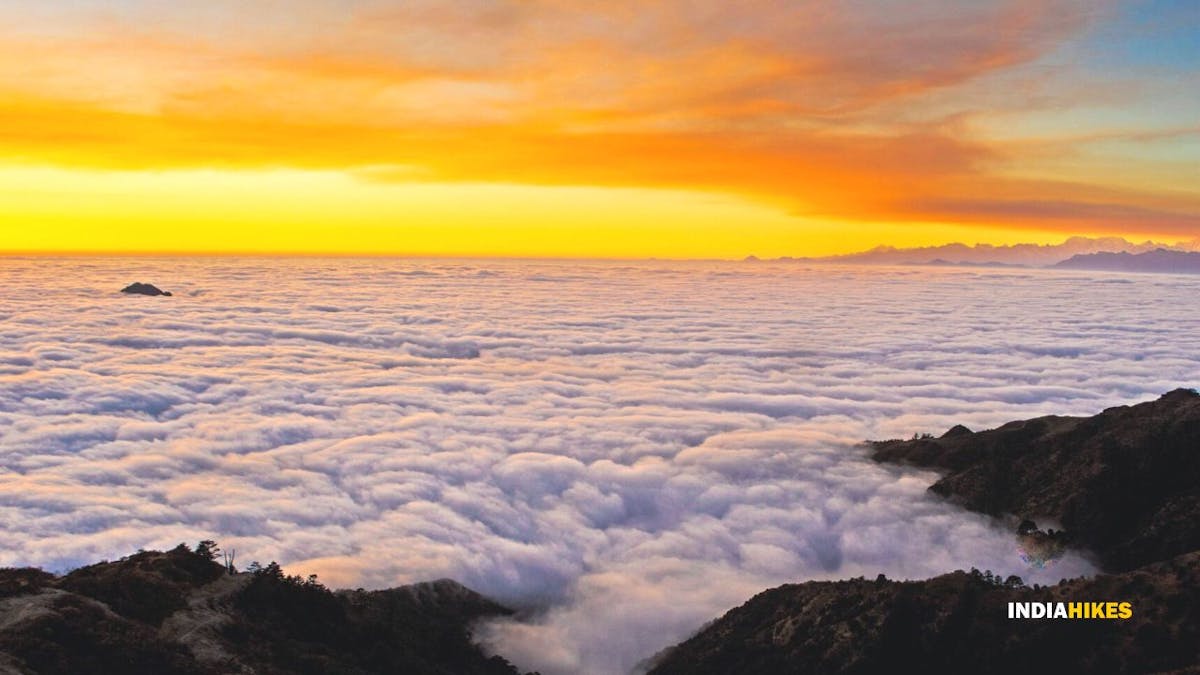 A winterline above a sea of clouds at Sandakphu. Picture by Geet Tryambake
What's even more rare is that winterlines occur only in the mountains, and have been observed mostly in the Himalayas and the Swiss alps. These winterlines are false horizons created during sunset. It is believed that it "occurs due to refraction of light when the dust particles, moisture, and smog, rising from the plains below, meet the cooler mountain air." 
"On treks like Sandakphu, where you're above a sea of clouds, the winterline makes for spectacular visuals. It's a once-in-a-lifetime visual experience," says Dhaval Jajal, senior Trek Leader and Filmmaker at Indiahikes.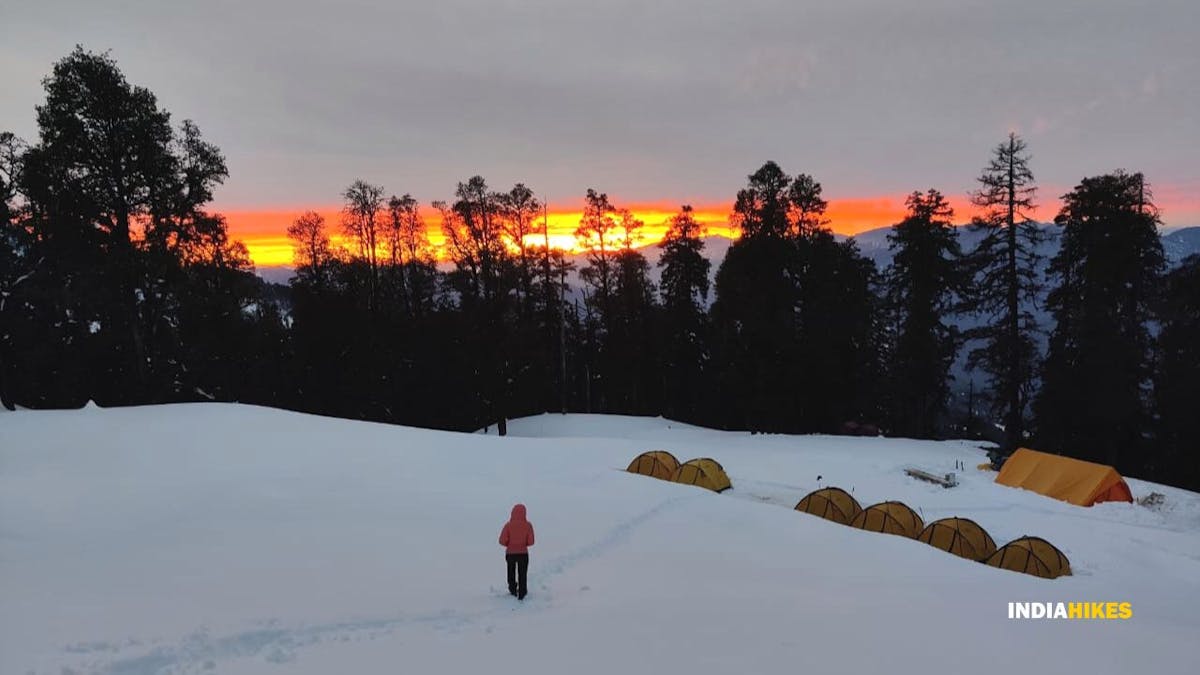 A winterline at the Pukhrola campsite on the Kedarkantha trek. Picture by Nitesh Kumar
3. Frozen forest walks 
Walking in the forest in winter is one of the most unique experiences, especially immediately after a snowfall. "In winter, the forests are so quiet that when you stop to rest, all you'll hear is the gentle thumping of your heart," says Nitesh Kumar, Senior Trek Leader at Indiahikes. 
There's a reason behind the silence. Most of the birds and animals either migrate to lowlands or go into hibernation in winter. This leaves the forests extremely silent. All you hear every now and then is the soft rustle of snow drifting to the ground from trees. 
"I love to make trekkers have a silent walk in these forests. All it takes is 10 minutes of silent walking. It changes the whole mood of the group. It brings in a kind of calm that trekkers have never experienced elsewhere," he says.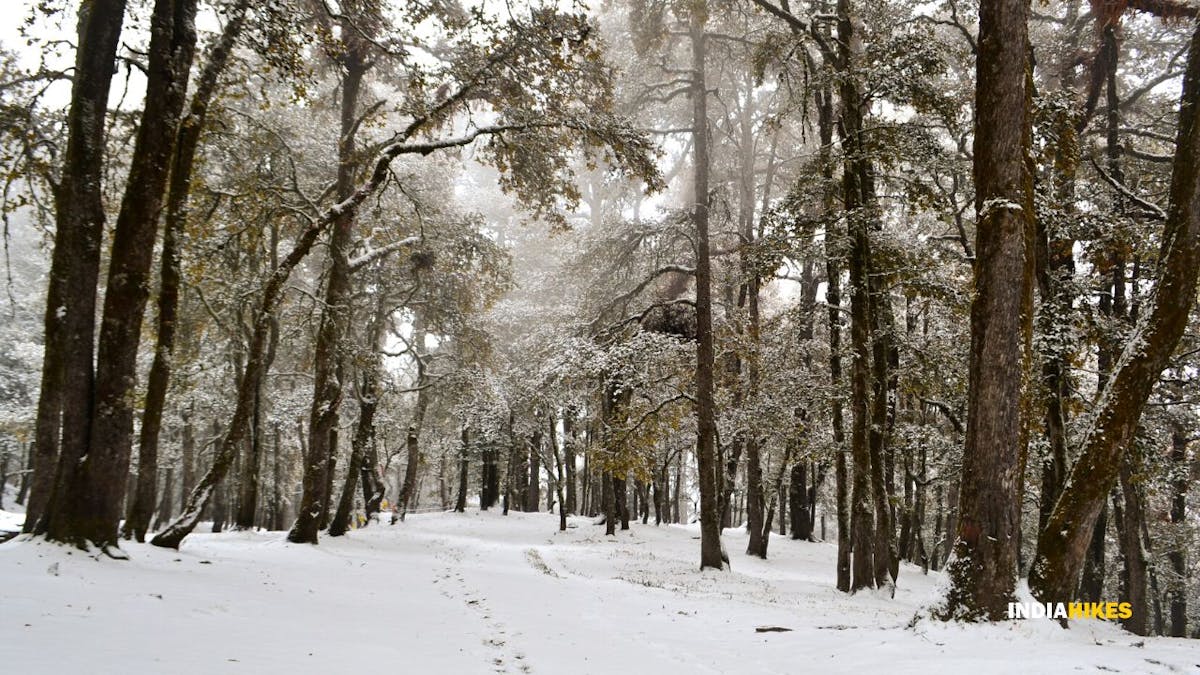 A frozen forest walk at Kuari Pass. Picture by Sandhya UC
4. Snow shelters 
Here's a winter experience that requires some skill and technique, but our teams have been able to pull it off in the past — snow shelters.  
"Trekkers find it hard to believe that you can be warm sitting in the heart of snow, without a tent," says Dushyant Sharma, Senior Trek Leader at Indiahikes and the face of Youtube show Chalein Trekking Dushyant Sharma Ke Saath. 
A snow shelter is a waist-deep pit that you dig into freshly fallen snow. The packed snow around you traps heat and keeps the cove warm. Additionally, since you're underground, you don't feel any cold surface winds. "With a foam mat and a sleeping bag, you can actually feel warm and cosy in the shelter," says Dushyant.
However, you need the right settings to make snow shelters — the right amount of snow and the right hardness. It is possible only in peak winter months of Jan, Feb and March, when there's a deep deposit of snow at the campsite.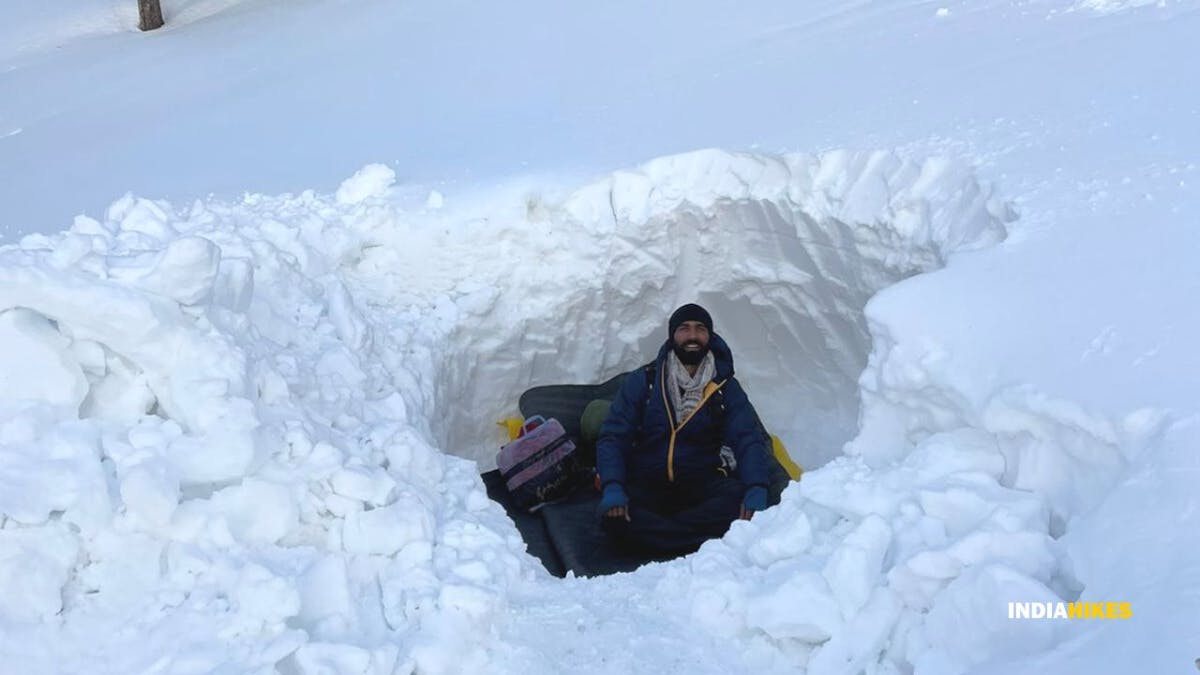 Senior Trek Leader Dushyant Sharma settles into the cozy snow shelter at Pukhrola on the Kedarkantha trek.
5. Learning DIY Trekking in snow
At Indiahikes, we have always aimed at helping trekkers become independent. We strongly believe that DIY is the future of trekking. So this winter, we are introducing a Winter DIY Masterclass, where you pick up winter trekking skills on your trek. 
We'll have sessions like (a) How to arrest yourself if you're slipping in snow (b) How to create a campsite in fresh snow (c) How to make walking on verglas safe (d) How to cut steps in snow on a summit climb. 
These are just some of the learnings you can expect on a winter trek with Indiahikes this year. Even as we speak, all our Trek Leaders are undergoing training to be able to facilitate these learnings to trekkers.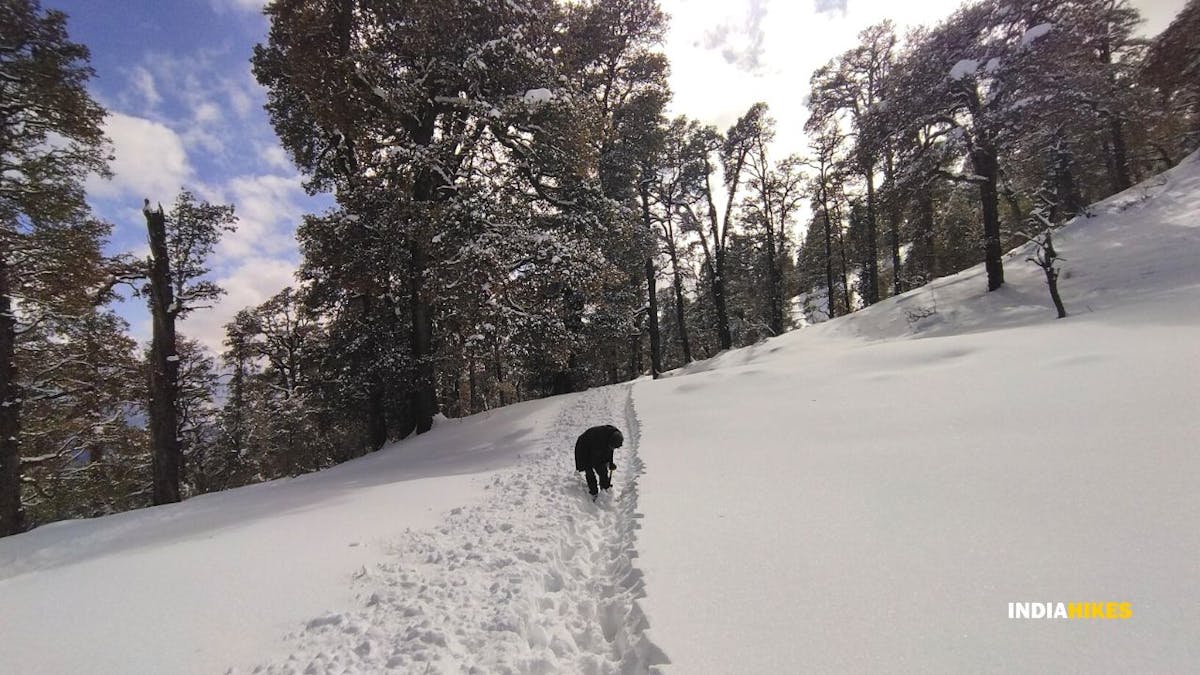 Indiahikes technical team member clearing out a trail in deep snow, one of the skills trekkers can expect to learn this winter. Picture by Manoj Singh Bisht
In conclusion: 
These are just some of the unique experiences to expect in winter. There are so many more, like a high-adventure summit climb in snow, or how the meadows turn into vast snow fields. 
Within the Indiahikes team, the excitement is palpable, now that winter is coming. It is one of the most adventurous seasons of the year. "Everyday is action-packed in winter. Not a single day goes by without some thrill," shares Dushyant. 
It also comes with its challenges — for us as well as trekkers. Expect every trek to become one grade more difficult. You'll have to work on your fitness well in advance to enjoy all of these experiences. 
So if you haven't started planning your winter trek yet, it's already getting late. Plan immediately. You'll find all our winter treks here. 
To give you quick access, here are links to the top winter treks in our country:
2. Brahmatal
3. Kedarkantha
5. Kuari Pass
7. Sandakphu
If you need any help, head over to this page for some helpful information. You'll also be able to contact us from there.
Sign up for our much loved Weekly Mailer
We have terrific trekking tips, trek updates and trek talks to look forward to