12 Great Weekend Treks from Delhi
Share this story
You know, sometimes I'm envious of people who live in Delhi and around. The Himalayas are just an overnight journey away from the cities. In fact, with a little planning, you could go on weekend treks in Himalayas almost every month, if not every weekend.
And the best part is, that you can do the treks by yourself. As long as you take all the necessary precautions.
If you want to go on some Indiahikes' trek, we have some at the end of this article. But most of these treks are  Do-It Yourself Treks
We've come up with 12 weekend treks in the Himalaya that are just an overnight (or a few hours') journey away from Delhi.
At an altitude of 9,423 ft, Shali Tibba is a hard to miss peak near Shimla. And despite its 360 degree views and being so close to Shimla, surprisingly it has very few visitors.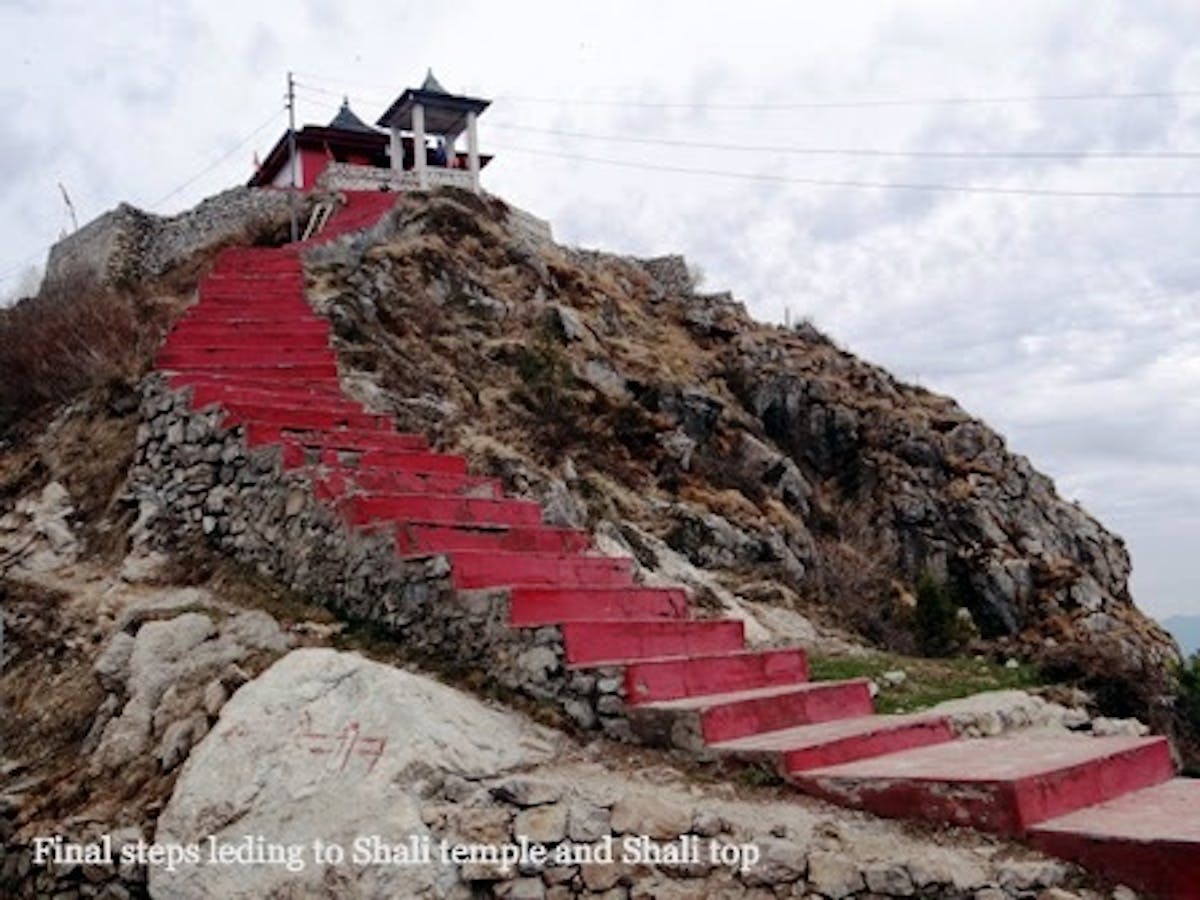 Bhima Kali Temple on Shali Tibba top. Image taken from Indiahikes Archive
The top houses a temple dedicated to Bhimakali, a goddess highly revered by the locals. Possibly why the Raja for Faridkot built a trail to the temple in the 1936. The trail exists even today and is good shape.
Altitude: 9423 ft
Duration: 1 Day
Difficulty: Easy-Moderate
Basecamp: Khatnol – 44 kms from Shimla
Kuppar Bugyal Trek is one of the least explored regions in Shimla is the forest land. Endless expanses of moist deodar trees, mixed coniferous forests and rhododendron forests sit breathing quietly over a large part of this popular hill station. These forests reside in what is known as Pabbar Valley, where Kuppar Bughyal lies.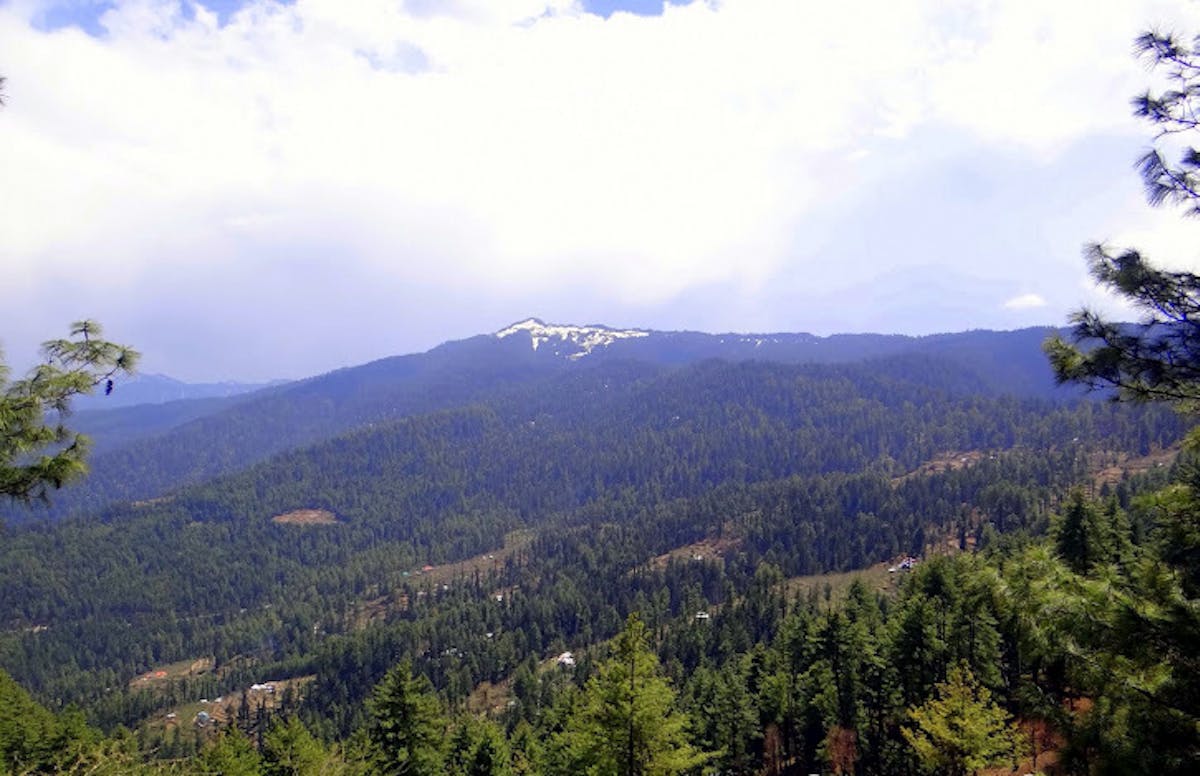 View on the Kuppar Bugyal Trek. Picture taken from Indiahikes Archive
The main wildlife species found here are brown ghoral, black bear, Himalayan brown bear and a wide variety of monal pheasant species. However, it is strange that with so much abundance of flora and fauna, there is no established national park in this area.
Altitude: 10498 ft
Duration: 2 Days
Difficulty: Moderate
Basecamp: KharaPatthar – 75 kms from Shimla
Pandava Cave is a religious cave atop Mount Karol and is considered one of the oldest and longest cave in Himalayas. The mountain is nestled in the mightly Shivalik ranges and is shrouded in mystery and mythology and is hidden in a dense forests.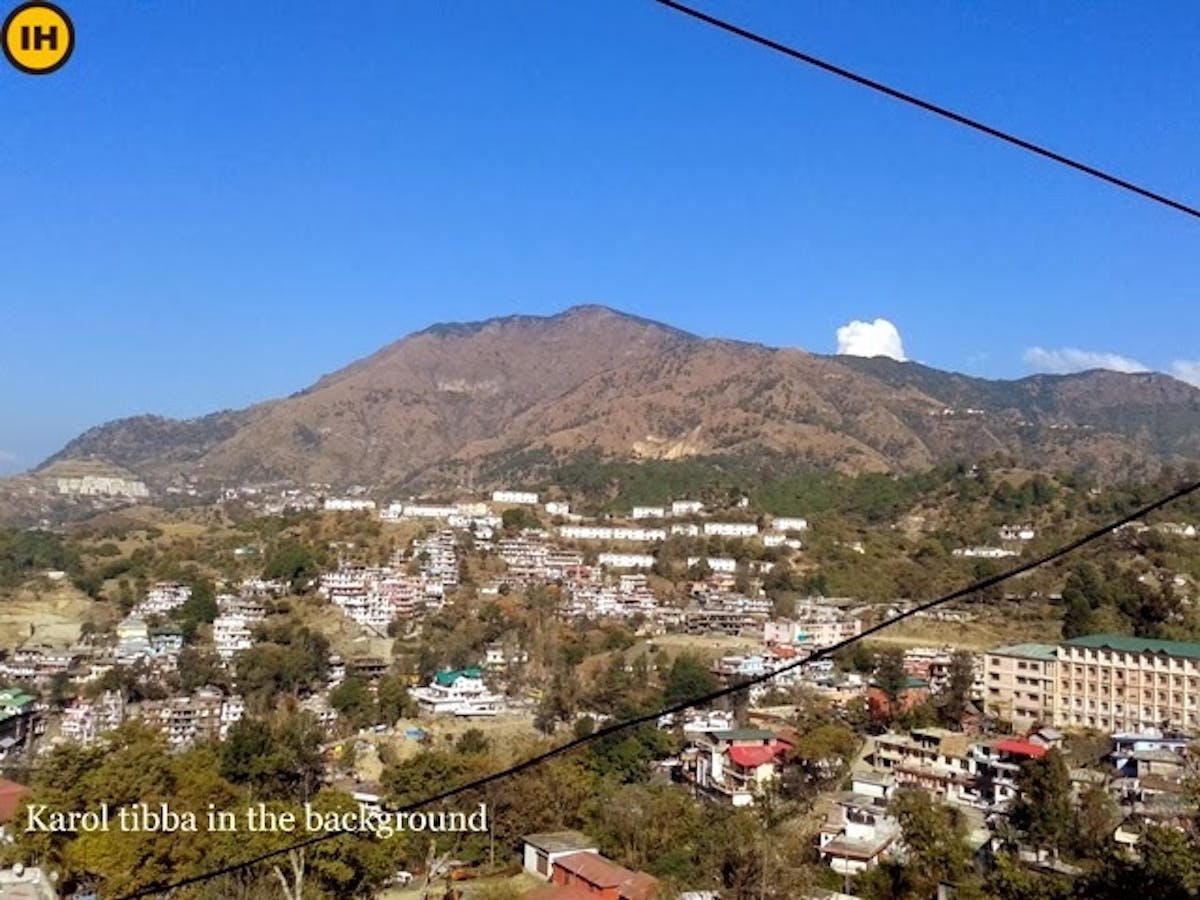 Karol Tibba in the background. Picture taken from Indiahikes Archive
The short 7 km trek to this cave provides a breath taking view of the town of Solan – the mushroom capital of India. The trek can be easily completed in a day without having to camp up there.
Altitude: 7175 ft
Duration: 2 Days
Difficulty: Easy-Moderate
Basecamp: Solan- 46 kms from Shimla
The Bhubhu Pass (2,900 metres) is an ancient trail connecting the Chuhar Valley (Mandi) to the Lagh Valley (Kullu) in the state of Himachal Pradesh. The trek is a rejuvenating one, through a thick forest on one side and rocky terrain on the other. And if you happen to be one of those adventurous wanderers, you can always continue your walk across the Himri Pass from lagh Valley over to the Manali town.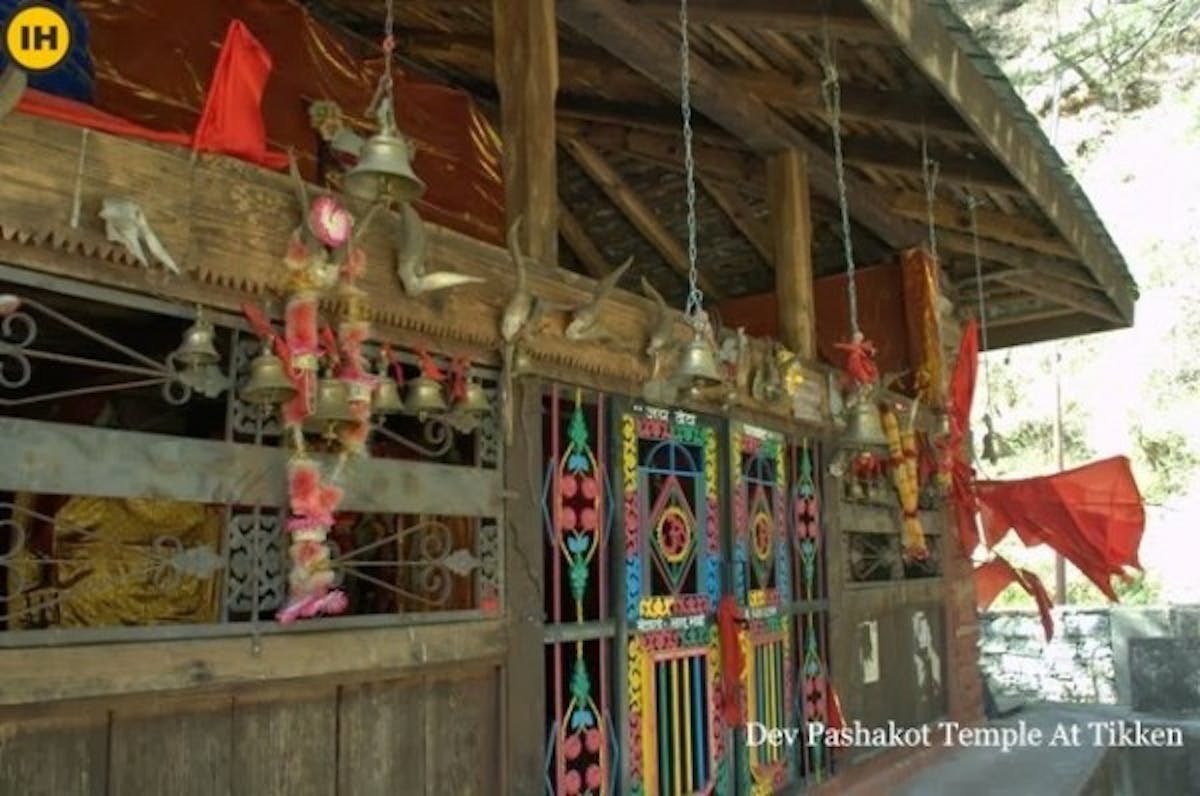 The Dev Pashakot temple on the trail. Picture taken from Indiahikes Archive
One of the things you can do on trek to is to visit the temple of Dev Pashakot – the theocratic King of Chuhar valley Although these pass is not on the principal axis of the Dhauladhars, it gives all the feel and thrill of the Dhauladhars.
Altitude: 9514 ft
Duration: 2 Days
Difficulty: Moderate
Basecamp: Tikken Bridge near the tourist town of Barot
Located 18 km from Dharmshala, Triund makes for an attractive trekking destination, with well-defined forest trails and breath-taking views of the entire Kangra valley. This is a small and an easy trek, which can be done either from McLeodganj or Dharamkot, which is 2 km ahead of McLeodganj.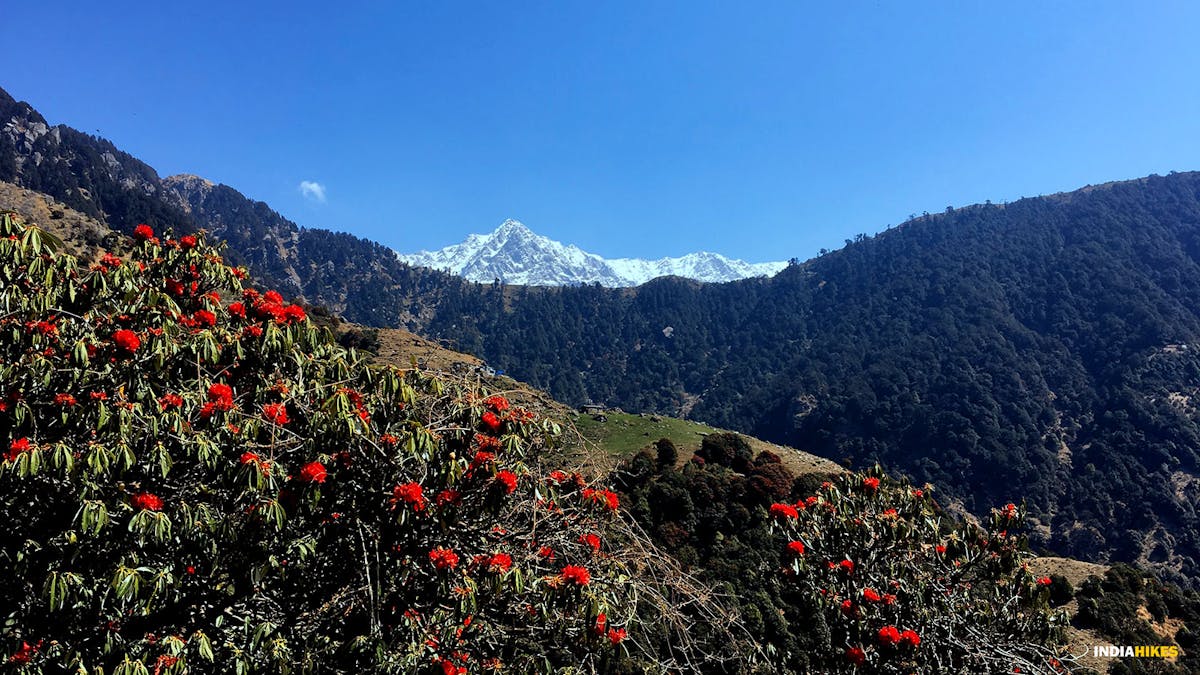 View of Triund from the trail. Picture by Ragja Palakkadavath
Although the trek from McLeodganj to Triund is a steep ascent of over 1,100 metres, it is well-compensated by refreshing walks amongst rhododendron and oak trees. The view of the evening sky from Triund is a good enough reason to pitch a tent here for the night. The length of the trek makes it apt for a weekend.
Altitude: 9366 ft
Duration: 2 Days
Difficulty: Easy
Basecamp: Dharamkot/Mcleodganj near Dharamshala
The legendary Bijli Mahadev temple is located on top of Mattan hills near the picturesque town of Kullu. the real charm of the trek lies in the interior of Kais Wildlife Sanctuary, if you take the trail from Bijli Mahadev to Naggar.  This 15 km approach by foot from Kullu town to the top of this hill is an experience in itself.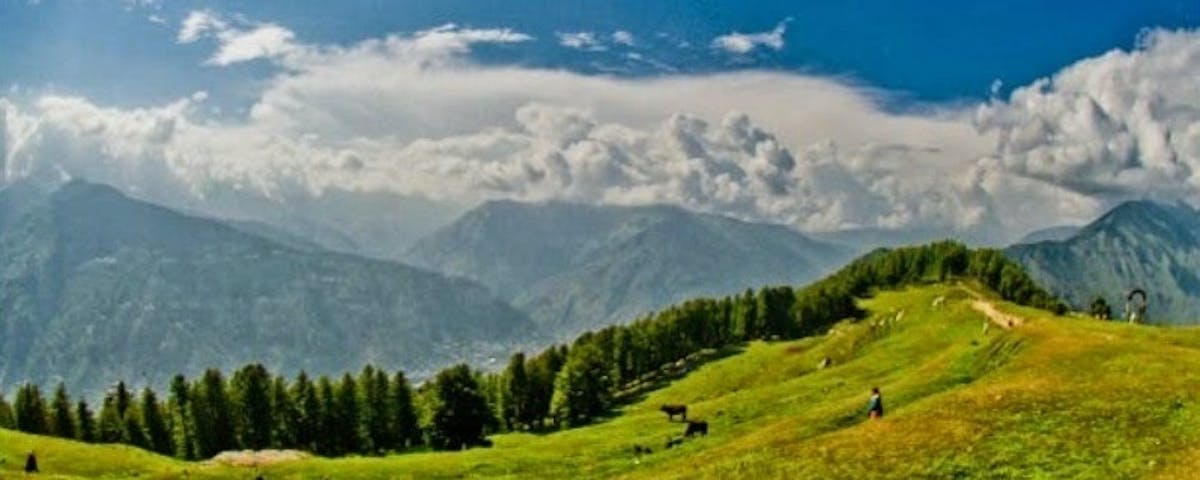 Views on the trail to Bijli Mahadev. Picture taken from Indiahikes Archive
The sylvan surroundings of the quiet valley are mesmerizing, with a wide array of deodar and pine forests. This is complimented by the beautiful apple, pomegranate and pear orchards of Jana Village. The trek becomes more interesting with overnight camping inside a forested ridge at Matikochar. As you exit the valley and reach Naggar, you'll learn that it's a wonderfully satisfying weekend trek.
Altitude: 8,028 ft
Duration: 2 Days
Difficulty: Moderate
Basecamp: Kullu
The Kareri Lake trek takes you through lush sub-tropical pine forests. The forests are filled with chir and chilgoza pines, interspersed with broad-leaf species. They are also host to a high density of bird life which is easily spotted (given the low canopies).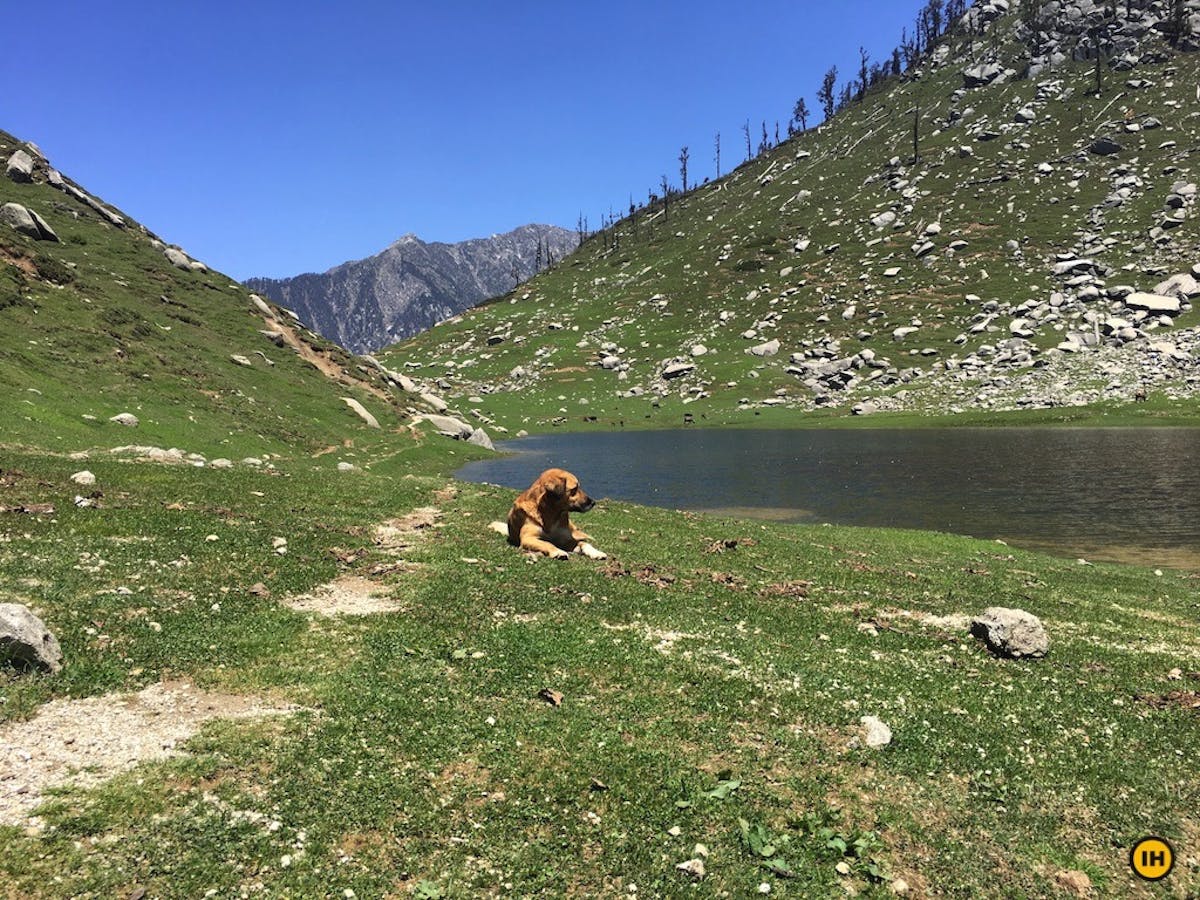 Meadows on the banks of Kareri Lake. Picture by Raghav Srivastava
Kareri Lake is a lovely weekend trek for people looking for options away from the more beaten Himachal trails like Kheerganga, Prashar lake, Triund, etc. Several campsites along the trail, along with convenient options for food, make this an ideal beginner-level DIY trail for trekkers
Altitude: 9,685 ft
Duration: 2 Days
Difficulty: Moderate
Basecamp: Kareri Village, Dharamshala
Benog Tibba trek is not merely a weekend trek but a trek which can give a complete sense of adventure and exploration. Traversing through steep mountains and forests, this trek will lead you in the lap of mountains, making it a perfect place for an overnight camping.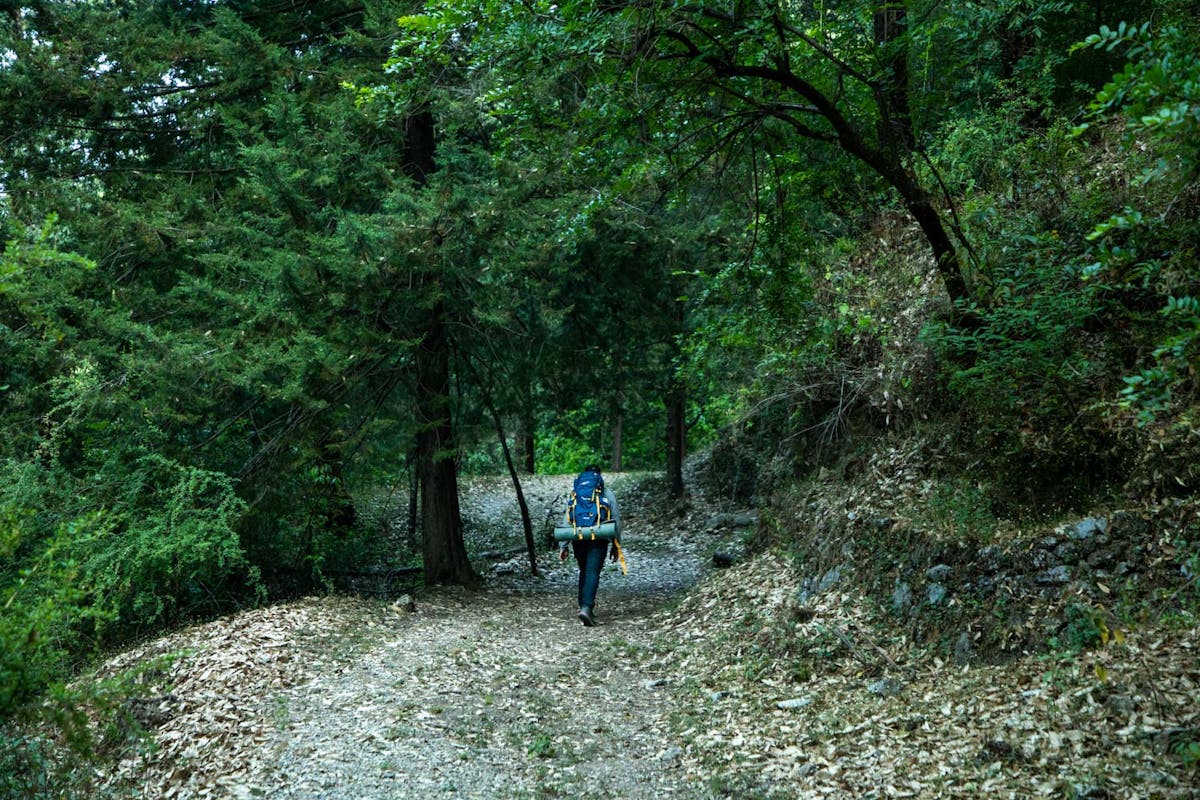 Benog Tibba is a great weekend trek from Mussoorie. Picture by Jothiranjan
With many camping spots en-route it's a perfect trek for beginners. This trek can be done from Mussoorie, ending at Kempty fall via a colourful village known as "Bungalow Ki Kandi". Over-all this is an off-beat route that one can embark and makes for a very satisfying weekend trek.
Altitude: 7,355 ft
Duration: 2 Days
Difficulty: Easy-Moderate
Basecamp: Mussoorie
Bhadraj Hill Trek is a modest, well-balanced trek for beginners. One of the best weekend treks in Mussoorie, it can be completed in one or two days. The trail to Dudhli Village is called Milkman's Trail, as it helps supply milk to Mussoorie town every day. You're likely to be envious of the "milkman" considering he gets to start his day on such a lovely note. All along the ridge, Gangetic plains slope down on either side, while Himalayan ranges sit snug in the distance.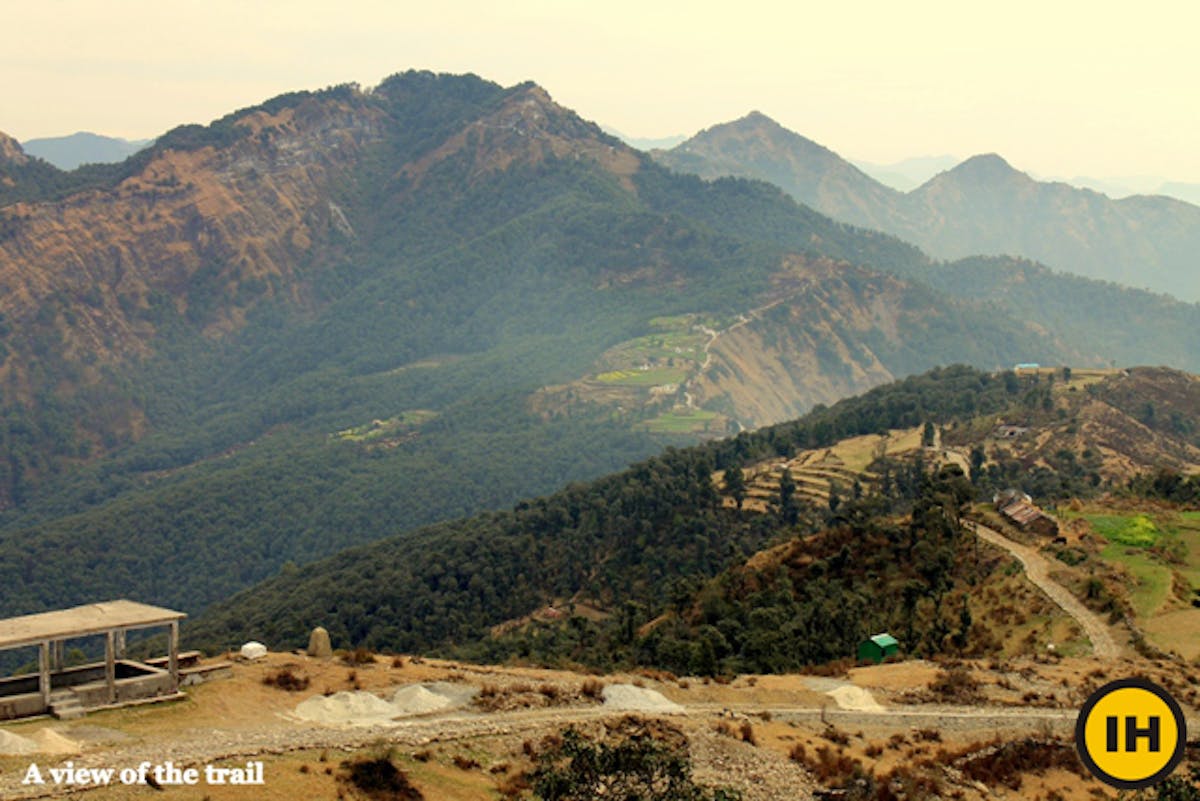 A view of the trail. Picture taken from Indiahikes Archive
Nothing can match that wonderful feeling of trekking in a hill-station. More so, at the foothills of the Himalayas.Trekking on the outskirts of Mussoorie through luscious oak forests, with mild sunshine and pleasant breeze is every bit as romantic as it sounds. Throughout the trail, mountain ranges lie calmly around you – prominent in the forefront and fading into a blue-grey haze towards the horizon.
Altitude: 6,154 ft
Duration: 2 Days
Difficulty: Easy-Moderate
Basecamp: Mussoorie
Nag Tibba is a trekkers' delight. Though it is a relatively unknown trail near Mussoorie it can easily be considered one of the best weekend treks for someone around Delhi. It is the highest peak (9,915 ft) in the Nag Tibba range of the Garhwal Himalayas. The trek takes you through dense forests rich in flora and fauna and presents stunning views of Bandarpoonch peak, the Gangotri group of peaks, Kedarnath peak in the north, Doon valley and the snow peaks of Changabang.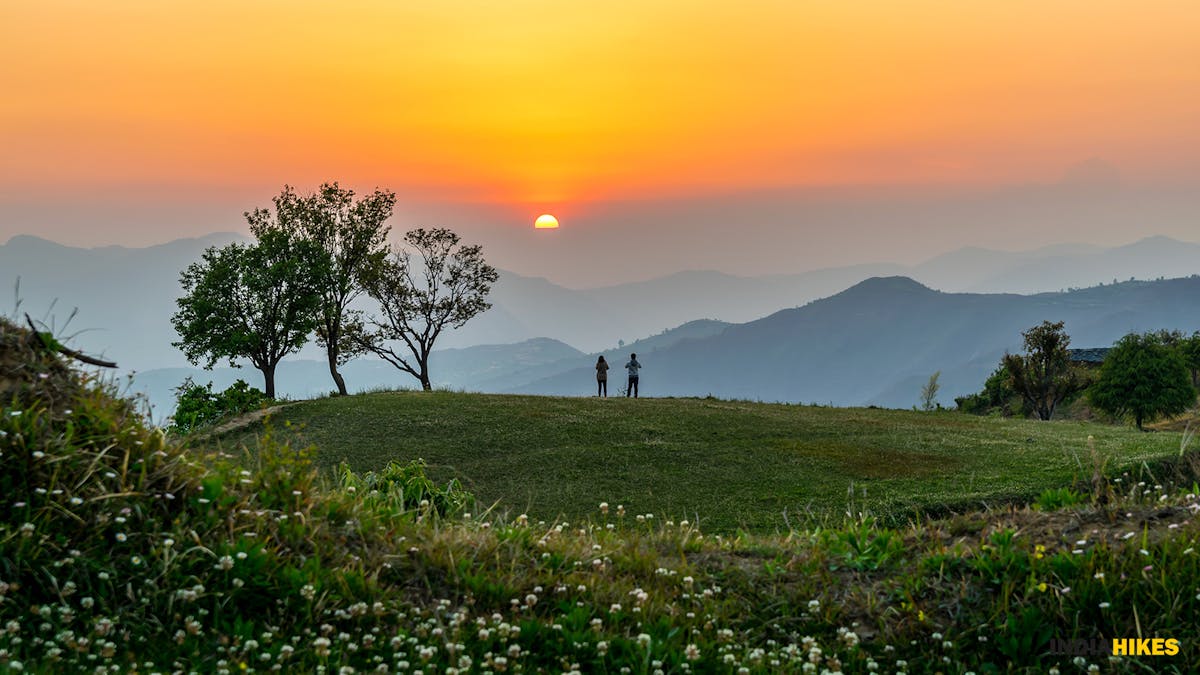 Stunning sunset hues as seen from the campsite of Nag Tibba. Picture by Kumar Amrit
The advantage of this trek is that you can reach the base of the Nag Tibba range by jeep. This makes it possible to do it over a weekend. You go up on one side of the mountain and come down from another side, getting to experience a variety of landscapes.
Altitude: 9,914 ft
Duration: 2 Days
Difficulty: Easy-Moderate
Basecamp: Panthwari, 2-3 hours drive from Dehradun
11. Pundrik Lake Trek
Surrounded by giant pine and fir trees, Pundrik lake is a hidden treasure in Himachal Pradesh. The thick forests through which the trail winds are a bird watcher's paradise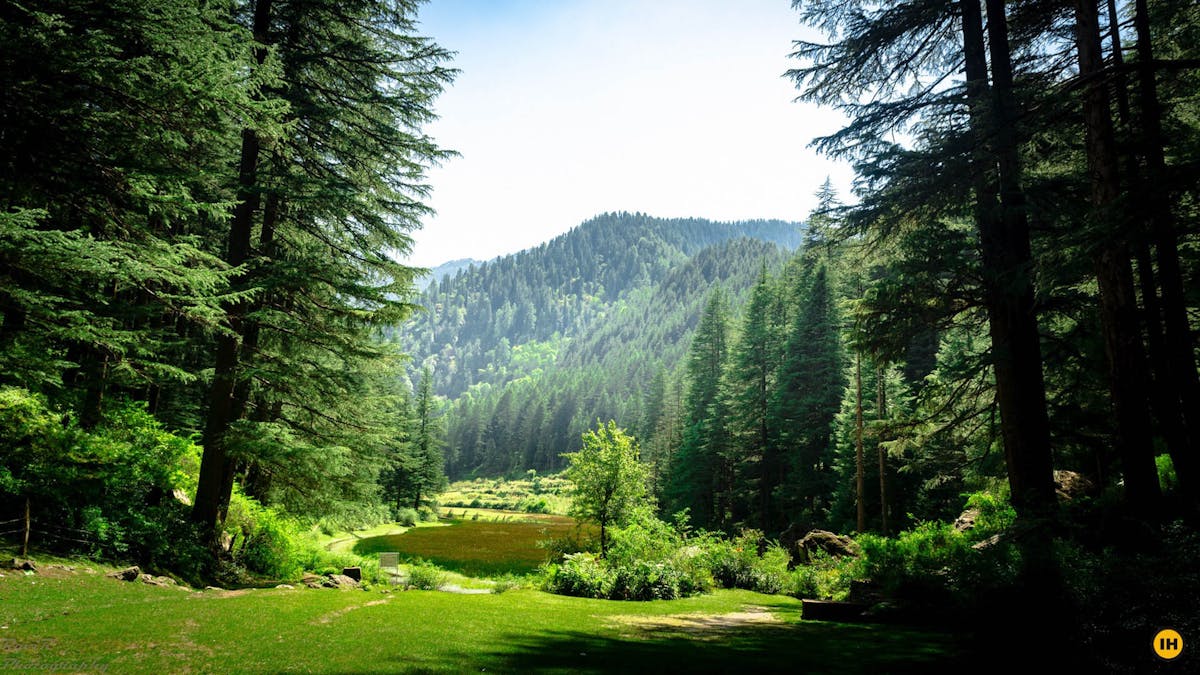 Views on the Pundrik Lake Trek. Picture by Ravi Ranjan
The dense forests on this trek are filled with pine, fir, spruce and a variety of other trees. Pundrik lake, covered by tall grasses runs for 400 metres and is surrounded by forests on three sides
Altitude: 6,890 ft
Duration: 2 Days
Difficulty: Easy-Moderate
Basecamp: Shangarh, 30 km from Aut on the highway to Manali
The Deoban trek near Dehradun is one of the few treks in Uttarakhand that is accessible so quickly and offers grand views of 55 Himalayan summits!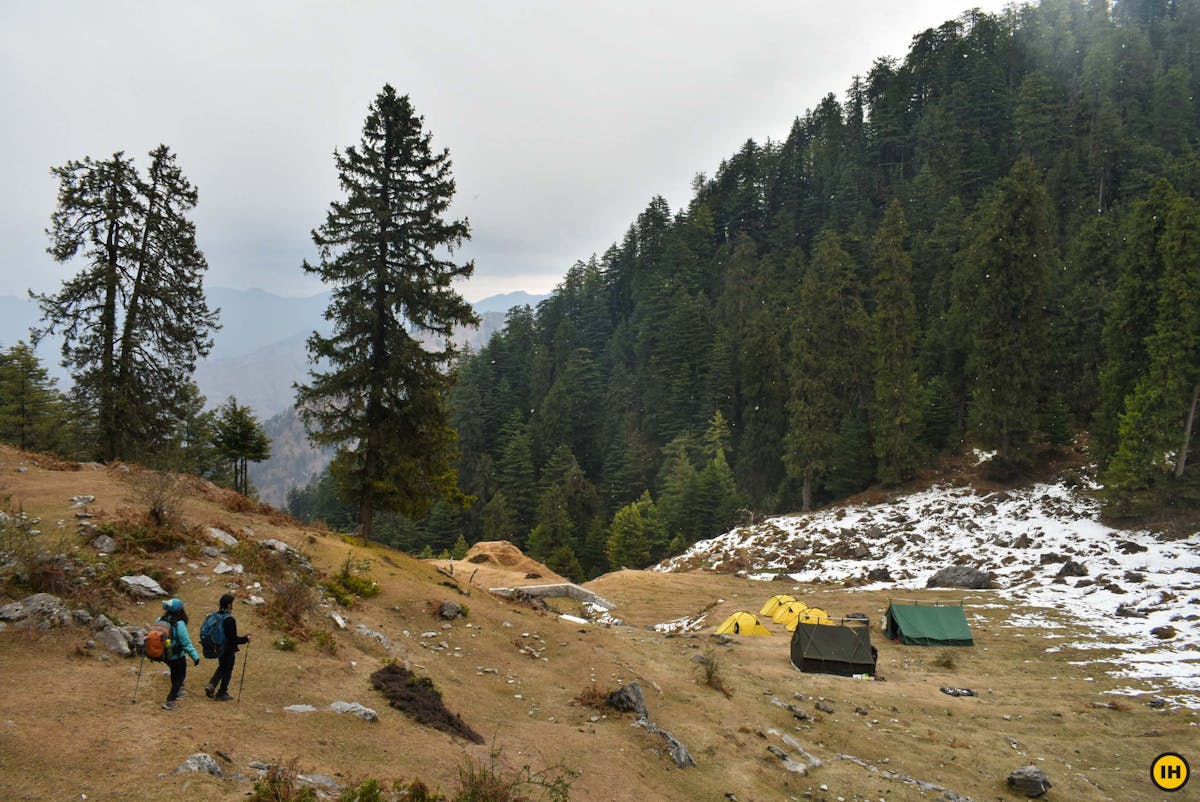 Trekkers approaching their camp for the night, a lovely clearing amongst coniferous forests. Picture by Krunal Patel
The name Deoban comes from "Deo", which refers to Deodar trees and "ban", which means forests. True to it's name,  the trek has one of the few Uttarakhand trails that is dominated by Deodar trees.It is no wonder that trees were named "devdaru" – which comes from Sanskrit word that means "divine wood"/ "timber of Gods".
Altitude: 8,193 ft
Duration: 2 Days
Difficulty: Easy
Basecamp: Lokhandi,  Approximately 10o kms from Dehradun
If you would like to help us with updating trek information, photos, maps or sketches of our Do-It-Yourself Treks, fill this form
Sign up for our much loved Weekly Mailer
We have terrific trekking tips, trek updates and trek talks to look forward to