How Difficult Is Kashmir Great Lakes Trek
Share this story
The Kashmir Great Lakes Trek is a high-altitude trek in Jammu and Kashmir. It's commercially popular as the Sonamarg-Vishansar-Naranag trek. Trekkers usually take six to seven days to complete this most picturesque trek in the Kashmir Valley.
The moderate-difficult trek offers majestic views of new alpine lakes, glaciers, meadows, peaks, and passes. If you see the Kashmir Great Lakes trek photos, I bet they will surprise you.
Preeti, an avid trekker, was allured by the idea of high-altitude lakes. She decided to do the Kashmir Great Lakes Trek with Indiahikes. Despite heavy rain on Day 3, one of the most difficult days of the trek, she completed it and enjoyed every bit of it. 
Here below is our conversation with Preeti, who recalled her memories and shared experiences from the majestic trek.
Q. Why did you choose the Kashmir Great Lakes Trek?
I do a Himalayan trek once a year, and while selecting this year's trek, I saw pictures and read about the Kashmir Great Lakes trek. The beauty of high-altitude lakes was inviting.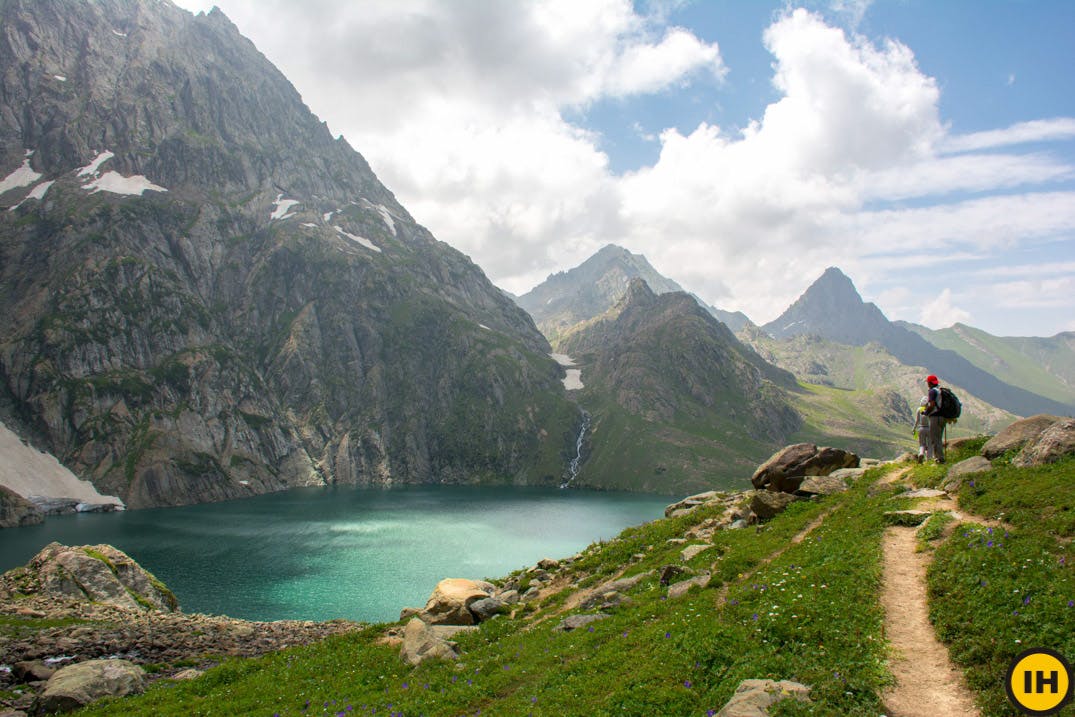 Q. How did you prepare for the trek?
As part of my physical training, I worked out regularly at the gym, focusing on exercises like running, walking on an incline, cycling, cross-training and stretching. 
Mental preparation, as the name suggests, is a state of mind. One knows that he/she is going into cold weather at a high altitude with less oxygen, limited food supplies and will be walking for hours disconnected from the rest of the world. But sitting in the comfort of our homes in the city and just knowing the facts is sometimes not enough. You have to constantly remind yourself to be consciously aware of what you are about to get into.
If you are not sure about your fitness for this trek, doing a short trek (1-3 days) can help you get a reality check on both your physical and mental preparation.
Q. What kind of equipment do you think is necessary for this trek?
Things like trekking poles are totally person-specific. Some people rely on walking sticks, and some just can't walk with them. It is up to every trekker to understand what their body wants and not just mimic others. On the other hand, there are some things that you cannot compromise on, like trekking shoes, a raincoat, a waterproof cover for your rucksack, a rucksack with good back support, and a headlamp if possible. Plan what you need in advance, as sudden shopping could increase your Kashmir Great Lakes trek cost.
Q. What were the major highlights of the trek for you?
Day 3 was a major highlight because it was the most difficult yet most rewarding day of the trek. Apart from the sheer beauty of the trek, I would say, my guide Altaaf stood apart from the crowd for his ability to manage and look after the whole team of trekkers and cooks.
Also Read: 8 Surprising Eye-Openers About Day 4 Of Kashmir Great Lakes Trek
Q. What made Day 3 the most difficult day?
It started raining the moment we left the campsite and didn't stop until we reached the next camp eight hours later. The trail became slippery and slushy and was not fit for walking in some places, which slowed our pace. We had to figure out alternate trails most of the time by either walking on the slope where there was grass, on the rocks, or finding a less traveled trail wherever possible. 
At one point, we were monkey-climbing on all fours, grabbing bushes, and running uphill. I wonder if we would all have landed in the lake below if those bushes were not there. All this makes it difficult to do the Kashmir Great Lakes trek solo.
Q. What were your most memorable moments?
Sitting by Lake Vishansar in the evening and looking at the reflections of the mountains above it.
Being served hot paranthas at Gadsar Pass during heavy rain on Day 3.
Sitting on top of a ridge at almost 13,000 feet, with no visibility below because it was all filled with clouds. Slowly, when the clouds parted, we could see the twin Gangabal lakes. One of them is reflecting the clouds above, and the other is shimmering because of sunlight.
Also Read: Kashmir Great Lakes - Trek Accounts From The Exploratory Team
Q. Do you have any suggestions for future trekkers?
Prepare well, both physically and mentally, and listen to what your body tells you.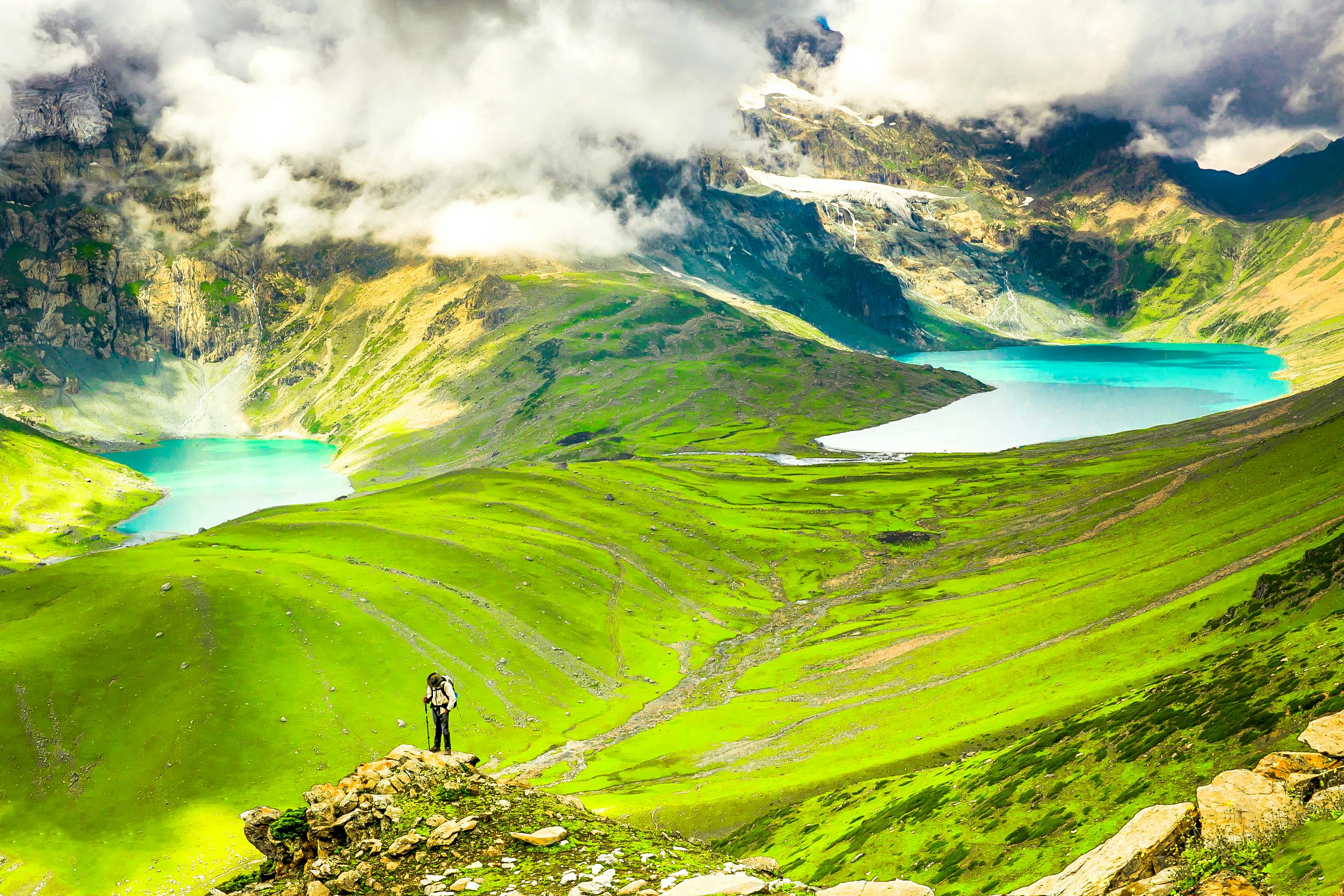 Kashmir Great Lakes trek best time and other details
The best time to do this gorgeous alpine lake trek is from July to mid-September. Indiahikes offers a seven-day trek to the Kashmir Great Lakes. This trek starts from Shitkadi in Jammu & Kashmir and takes you to the highest altitude of 13,715 ft.  Check out our Kashmir Great Lakes Trek package for more details and visit our upcoming treks page to seal the best deal.
FAQs
1. Is Kashmir Great Lakes trek safe? 
The Kashmir Great Lakes Trek is safe for both domestic and international tourists. Indiahikes has been running safe and successful treks in Kashmir for over a decade. Indiahikes' green trails co-coordinator Izzat Yaganagi, who was part of the Kashmir Great Lakes exploratory team, shared her experience, "Kashmir is magical. Once on the trek, it's complete wilderness. We felt protected by four army camps. There was no feeling of trouble or fear."
"The army folk were very warm and welcoming. They made us chai, played music, and were very happy to meet people from different places. We felt very safe among them.  If there is any hint of trouble near the army camp, we wait at the camp. Only once the army gives us a green signal, do we move ahead. The army officers are strict about rules. They ask for proof of identification for all trekkers to ensure there are no infiltrators," she added.
2. How long is the trek to the Great Lakes of Kashmir? 
Located in the central Kashmir valley, this trek is approximately 42 miles (68 km) long. If you see the Kashmir Great Lakes Trek map, it's easy to spot the lakes surrounded by the mighty snow-clad mountains. Treks like these are a testament to the fact that Kashmir is the true paradise on earth.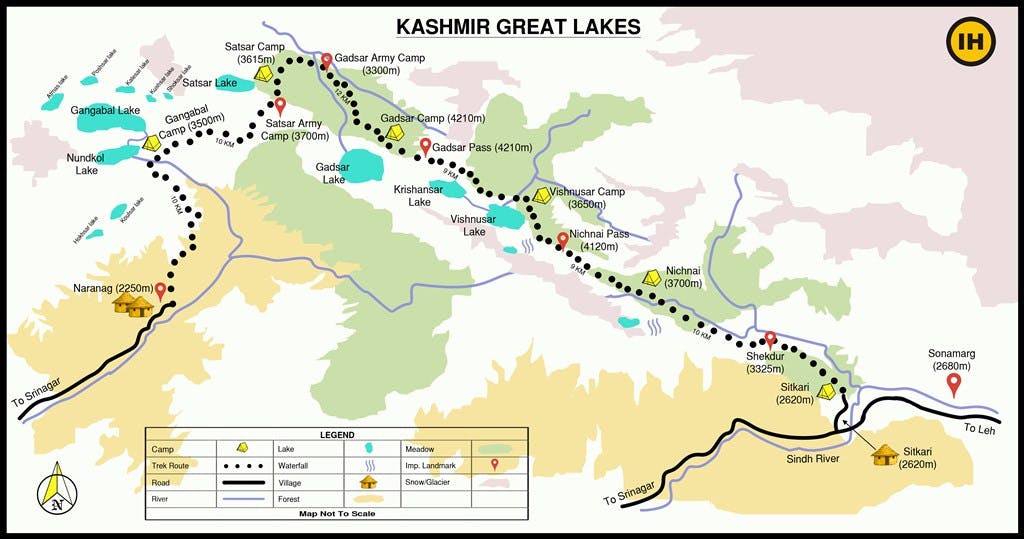 Related Videos
Why Kashmir Great Lakes Is The Prettiest Trek in India
How We Explored The Kashmir Great Lakes Trek
What Is The Best Time To Do The Kashmir Great Lakes Trek?
Sign up for our much loved Weekly Mailer
We have terrific trekking tips, trek updates and trek talks to look forward to