Which Trekking Shoes To Buy (And Not To Buy) From Decathlon?
Share this story
Today we're sharing with you some of the best trekking shoes to buy from Decathlon. We've put this post together because we get several emails asking for shoe recommendations. 
Lots of trekkers ask us at Indiahikes for a "buying guide" of trekking gear. Despite having a lot of resources on how to choose the right trekking shoes, they want to know exactly which shoe models to buy so that they don't end up making wrong decisions. 
Within Indiahikes, we have used several shoes and come to trust them. Yet, there are several trekking shoes out there these days. 
So we thought we'd ask trekkers which trekking shoes they have used and loved.   
Upon conducting a survey with trekkers, we noticed an unsurprising trend. Most of the trekkers' picks turned out to be from Decathlon. Trekking shoes from Decathlon seem to be the most popular among trekkers, especially for their quality and relatively reasonable prices.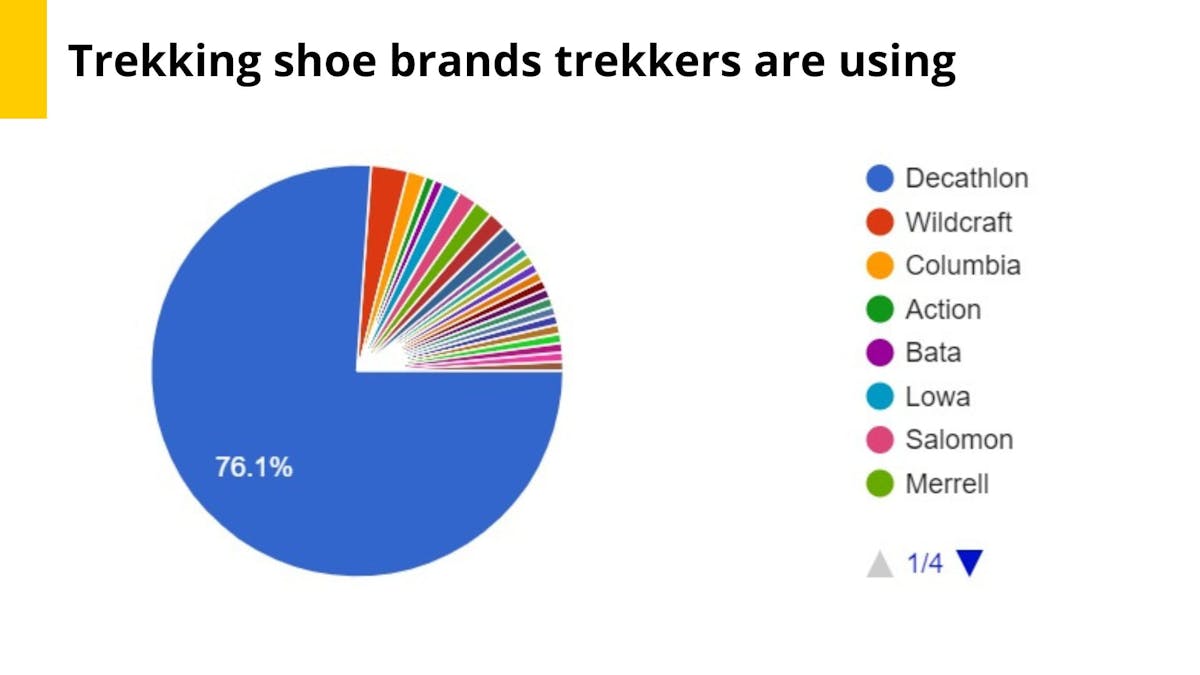 The rest of the shoes mentioned were either costing above Rs 10,000 or had to be imported from another country. Unless you are an avid trekker trekking 4-5 times a year, we wouldn't recommend spending such enormous amounts on trekking gear. 
In fact, despite this list of trekking shoes to buy, we would still recommend renting gear. You'll get high quality shoes at 1/20th of the cost. 
Yet, if you're trekking regular and would like to buy trekking shoes, here are the best trekking shoes from Decathlon.
Please keep in mind that:
These are shoes that have been recommended by trekkers who have used them. This is not a sponsored post.
All these shoes are good options for both men and women. We have included buying links to all the shoes.
We evaluated these shoes purely for Himalayan Treks. Which means they are suitable for trekking in snow, slippery surfaces, wet trails and bouldery trails.
Most of these shoes are suited for easy-moderate Himalayan treks like Kedarkantha and even long difficult Himalayan treks like Goechala. 
Let's get started. 
Which trekking shoes to buy from Decathlon?
1. Quechua Trek 100 Trekking Shoes
Trek 100 is among the most popular and recommended shoes among our trekkers, both men and women. For good reason as well. 
The shoe is comfortable inside out, yet tough and durable on the outside. The shoe is lightweight at about half a kilogram making it less heavy on the feet, which is a blessing on any high altitude trek. They are waterproof making them perfect for winter and monsoon.  
At Rs 7,000, the Trek100 shoes are slightly on the expensive side. But if you are going to trek extensively, it is a good investment to make. If you are an Indiahikes trekker, you will not have to invest in them, because we rent out the same pair of shoes to our trekkers at Rs 150 a day.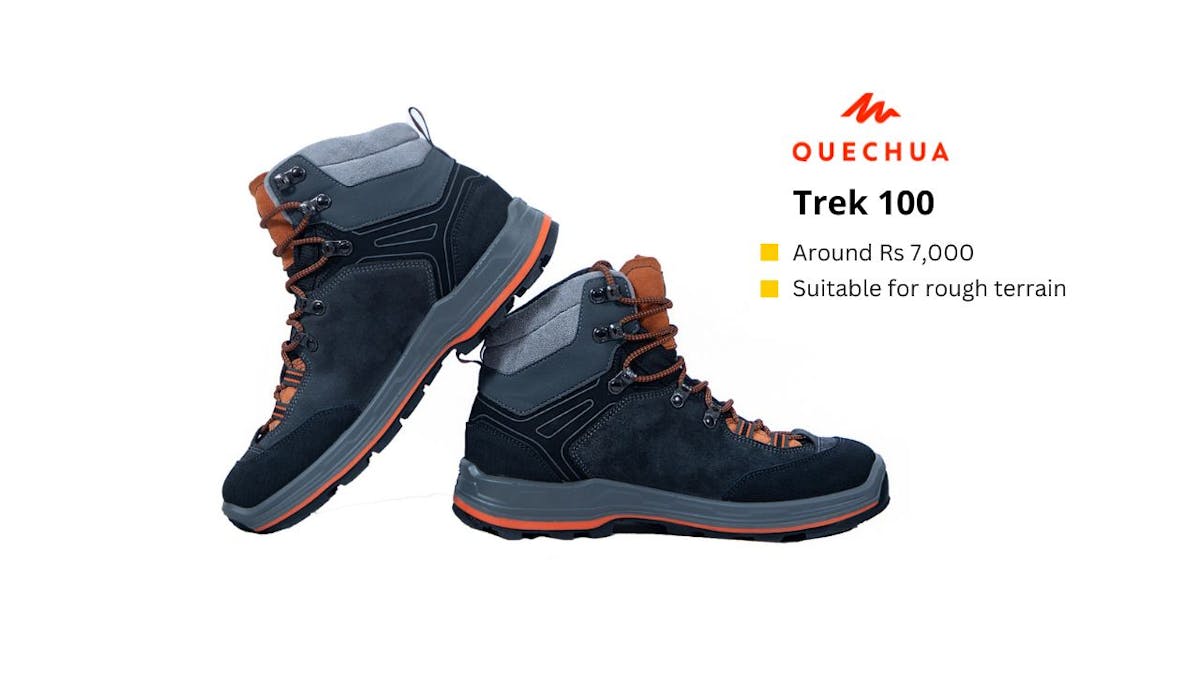 Trekker Review of Trek100 Shoes by Decathlon: Pros: (1) Good grip even on slippery trails (2) Excellent ankle support (3) Good water resistance (4) Looks good — Vinayak 
2. Quechua MH500 Trekking Shoes
Another popular trekking shoe among trekkers is the MH500. They are tough and durable with good grip. The waterproofing makes these shoes suitable even for monsoon and snow treks. They also have a tough outer layer protecting your toes on tricky descents and bouldery sections. 
The MH500 Trekking shoes cost around Rs 5,000 which might exceed your budget. But if you are going to trek often, these shoes will last you for a long time.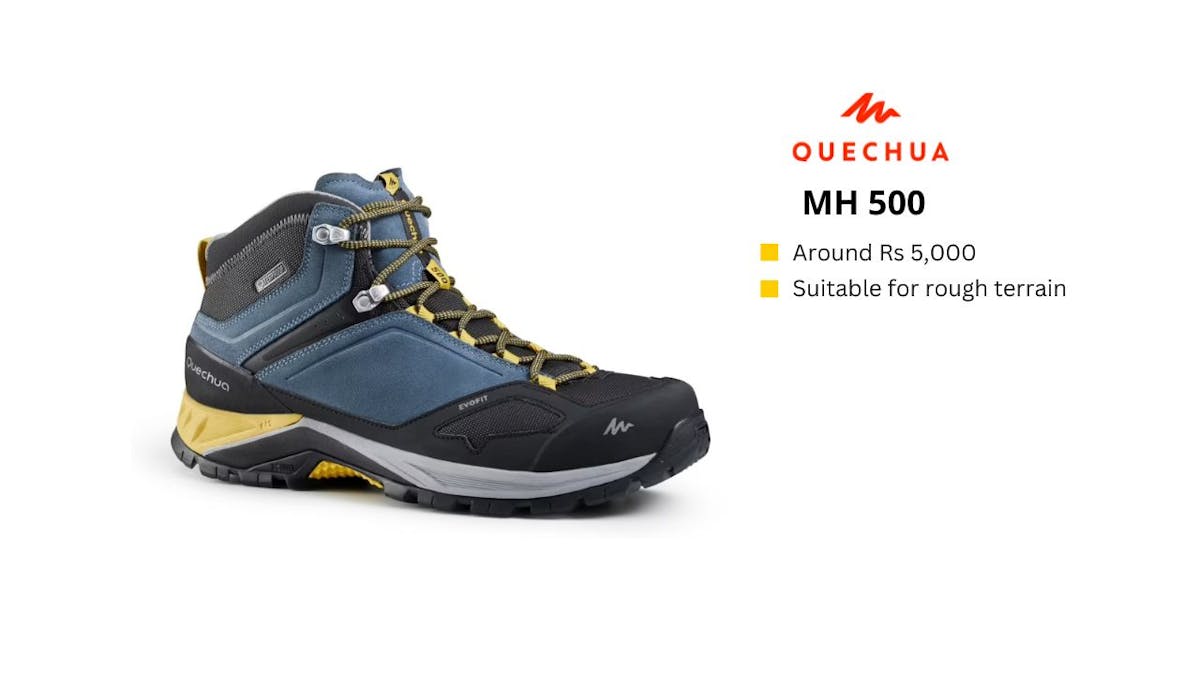 Trekker Review oh MH500 Trekking shoes by Decathlon: (1) Good grip even on slippery trails (2) Good water resistance (3) Works well on Himalayan treks (4) Good looks (5) Good options for men and women - Aakash
3. Quechua MH100 Trekking Shoes
MH100 is another shoe that is popular among trekkers. It falls within a good budget and ticks all the right boxes — the sole has good grip, it has ankle support, a flexible sole and waterproofing.
For most of our easy-moderate like Kedarkantha and even moderate-difficult Himalayan treks like Gaumukh Tapovan, these shoes will work. At Rs 4,000, MH100 is a great pair of trekking shoes to get your hands on. 
Trekker Review: (1) Good grip even on slippery trails (2) Excellent ankle support (3) Good water resistance (4) Works well on Himalayan and local treks - Prateek
4. Quechua NH150 Trekking Shoes
The NH150 are great budget-friendly costing about Rs 2500. Don't let the cost influence your opinion on the quality of these shoes. It is durable and can last up to 2 hours in water as it has a water-resistant coating and a water-proof membrane.
It has a good Cross Contact sole with mid-ankle support. This one is suitable for all Himalayan treks, but not for very difficult terrain like Pin Bhaba Pass or Kedartal.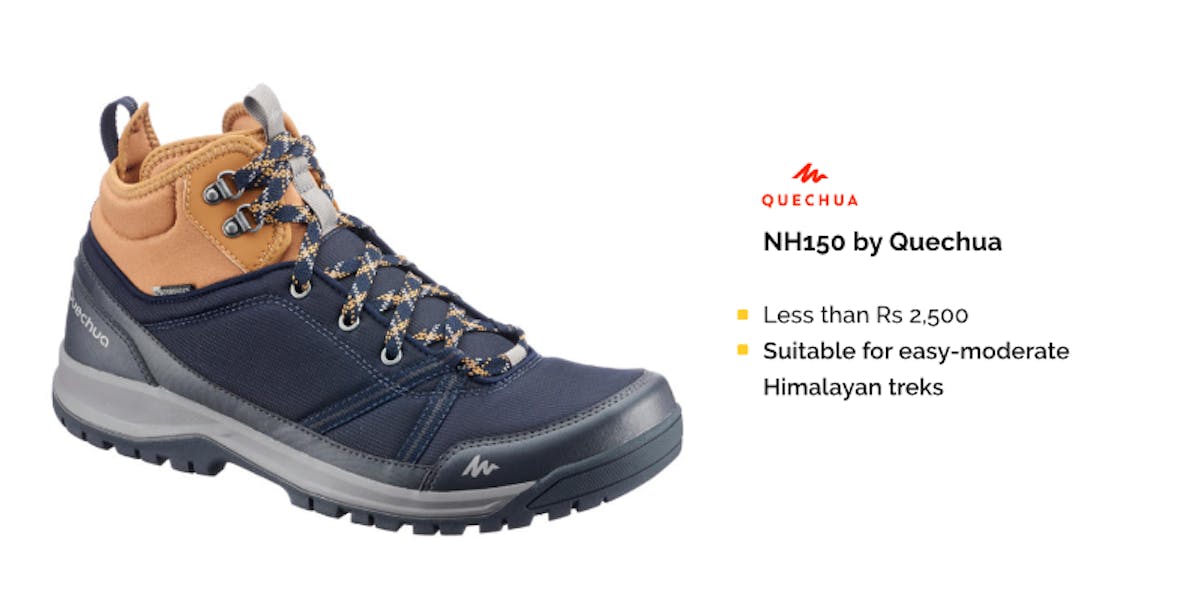 Trekker Review: (1) Good grip even on slippery trails (2) Good ankle support (3) Good water resistance (4) Works well on Himalayan and local treks - Parth
Which trekking shoes not to buy from Decathlon
Here's something not many people will tell you. Having used several trekking shoes from Decathlon, we have found that some of them are not worth the investment. In fact, many of our Trek Leaders have regretted picking up these shoes from the shelves. 
1. Quechua Trek 100 Leather
Although the Trek 100 leather variant is an upgrade to the popular Trek 100 shoes, it hasn't lived up to its expectation.
We do not recommend these shoes as at Rs 8,000, not only are they more expensive but also less durable. 
"When our trek leaders bought this shoe, they had waterproofing and sole lining issues after only 2 treks! There are cheaper alternatives that perform better," says Vivek Saini, Trek Leader and Mentor at Indiahikes.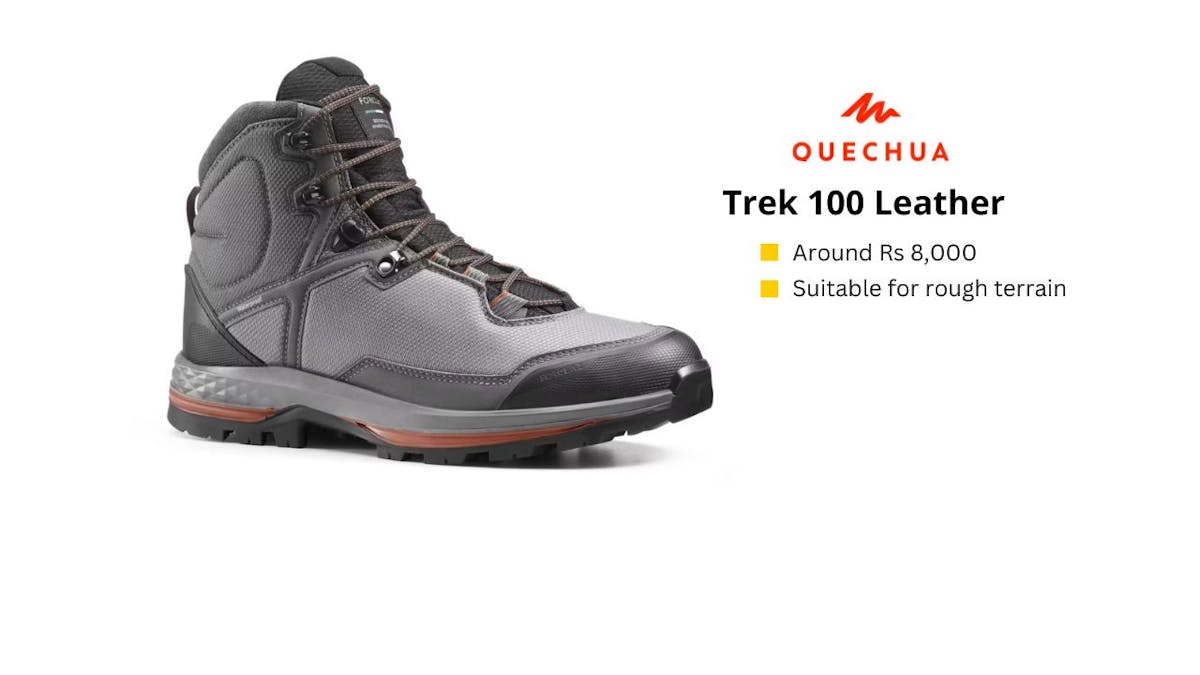 2. Quechua NH100 Hiking Shoes
The NH100 hiking shoes are simply not suited for Himalayan Treks. They do not provide the right grip making one prone to slip, water resistance or durability to perform even on an Easy-Moderate trek like Kedarkantha.
They're perfectly fine for trekking in the Western Ghats though. They have ankle support and are pretty sturdy. But they don't have any water resistance. So you cannot use them for trekking in snow or rain. They are good shoes for light and mostly dry hikes.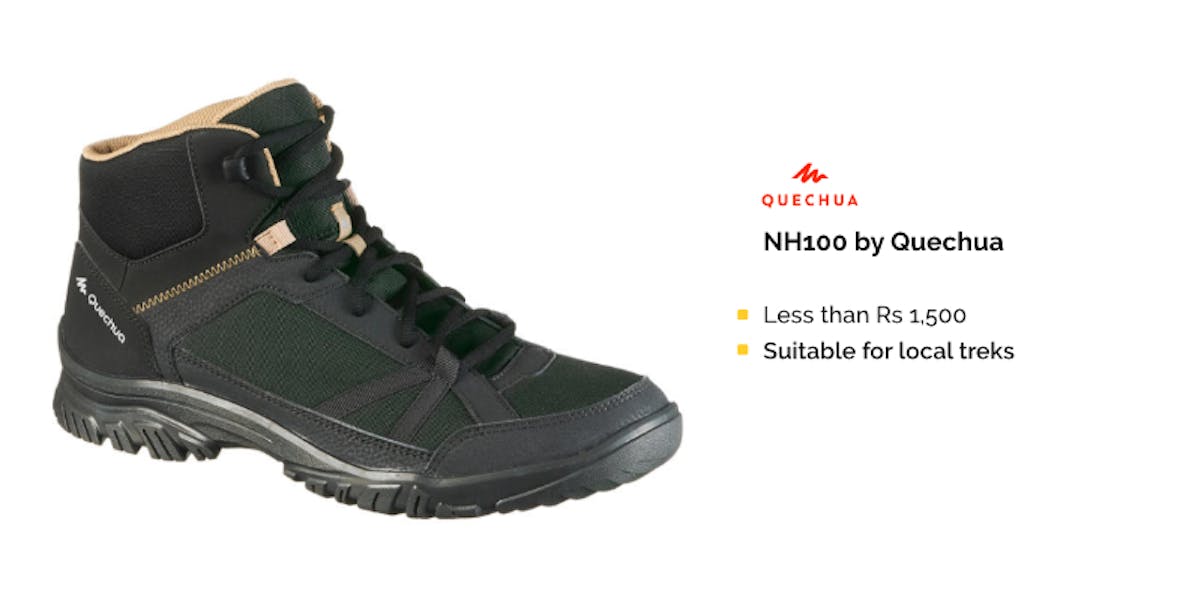 This brings us to the end of this buying guide on which trekking shoes to buy in India.
As you saw, all of the shoes were from Decathlon. But we would love to hear about more brands and models that you have used. If you have used any trekking shoes and loved using them, please share your experience in the form below.
Sign up for our much loved Weekly Mailer
We have terrific trekking tips, trek updates and trek talks to look forward to