13 Best Treks to do this Spring in the Himalayas in 2023
Share this story
Across India, from mid March until April (Spring season), people are not really going on treks. Parents are overwrought with kids' exams. Deadlines in offices somehow hang in the air.
Meanwhile, quietly on the side, a splendid season of trekking between Mid March and April slips by. 
This worries me. I'll tell you why.
But first, here is the Table of Contents to help you navigate to any of our 13 Best Spring treks of your choice:
Mid-March marks the Beginning of Spring
In mid March, when winter starts to recede, snow is still around. A carpet of fresh grass sprouts around these snow patches. It makes meadows and clearings above 9,000 feet a delight. The lush grass with ankle-length flowers against the backdrop of snow is a visual treat.
Shaking off the harshness of winter, new leaves start sprouting on trees. Flowers bloom. The landscape is a riot of colours. Spring is in the air. 
Birds wake up from their winter slumber. Their voices spring through the forests. For those who love bird photography, Spring is the time of the year to do treks.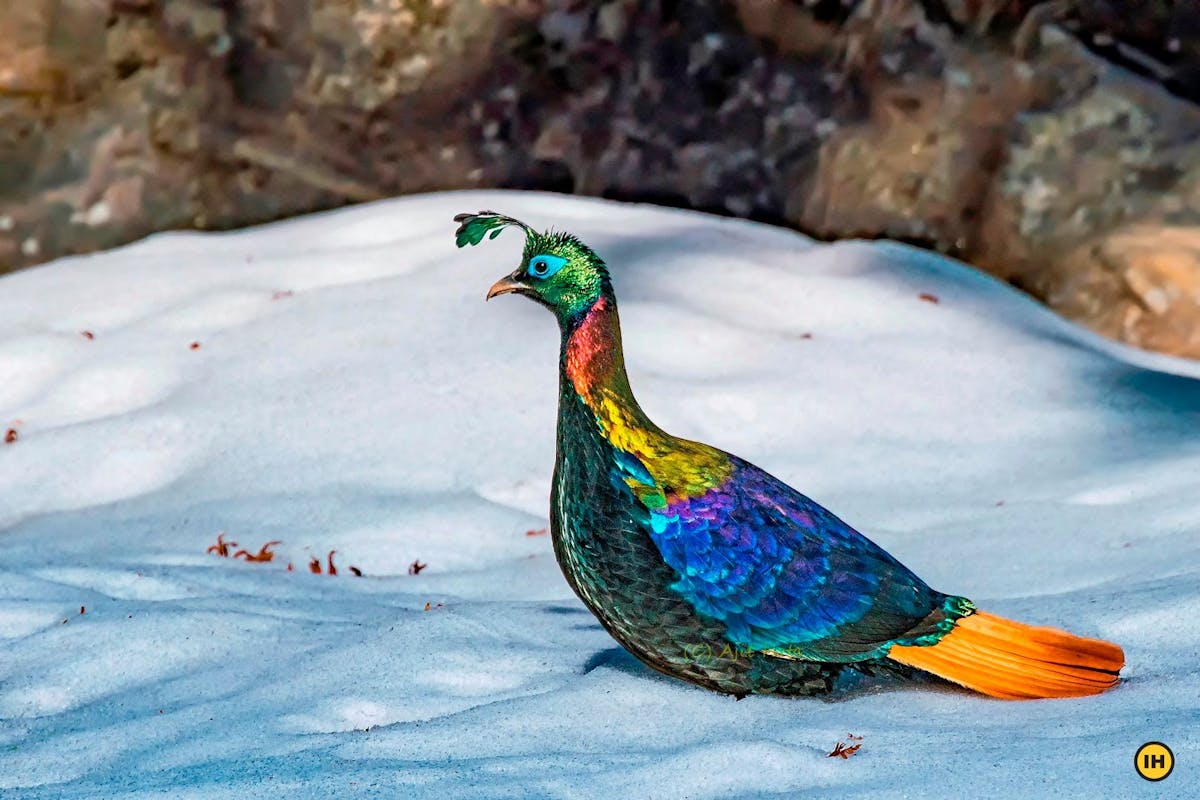 Himalayan Monal - the state bird of Uttarakhand spotted on the Deoriatal Chandrashila trek. Picture by Ajit Hota
If these were not Enough, there is the Magic of Rhododendrons
For me, the rhodos is a big reason to go trekking. What a sight they make! In spring, rhododendrons with their scarlet and pink flowers burst into bloom. It is as if the hills are on fire! When rhodos bloom they envelop trees. Sometimes it is difficult to spot leaves through the flowers!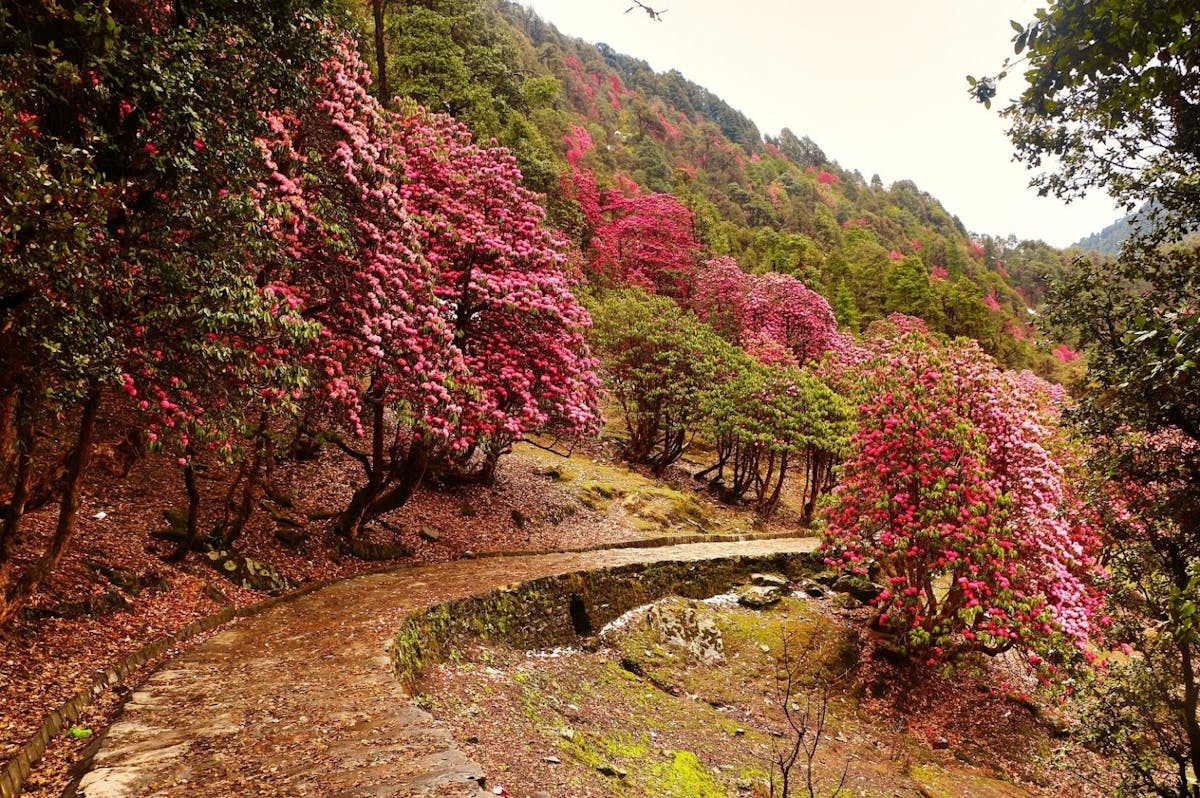 The blazing trail of rhododendrons on the spring trek. Picture by Jothiranjan B
My favourite rhodos are, of course, the scarlet ones. They are not very common, so it is terrific to see if there is a scarlet playing hide and seek around a bend! Some slopes have the yellows and whites in between the pinks. Sunlight flirting through these blooms make trekking a joy!
Trekking in Spring is Great for the Crackling Summit Views
Let me explain. Two months later, in summer, when it is peak trekking season there is a smoky haze over the mountains. Forest fires, smog, heat and dust  contributes to this. Mountain views are disappointing. 
Worse, in summer when the sun heats up the earth, the forests transpire, releasing a lot of water vapour in the air. the cool air of the mountains quickly gather up these water vapour and turn them into clouds.
It is not uncommon to see a bright clear day patched with lots of clouds by 11 in the morning. The big mountains that you have been planning to see are now almost hidden. 
On the other hand in spring mountain views are worth dying for. You get clear blue skies that stretch from horizon to horizon. The air is crisp — the views crackling.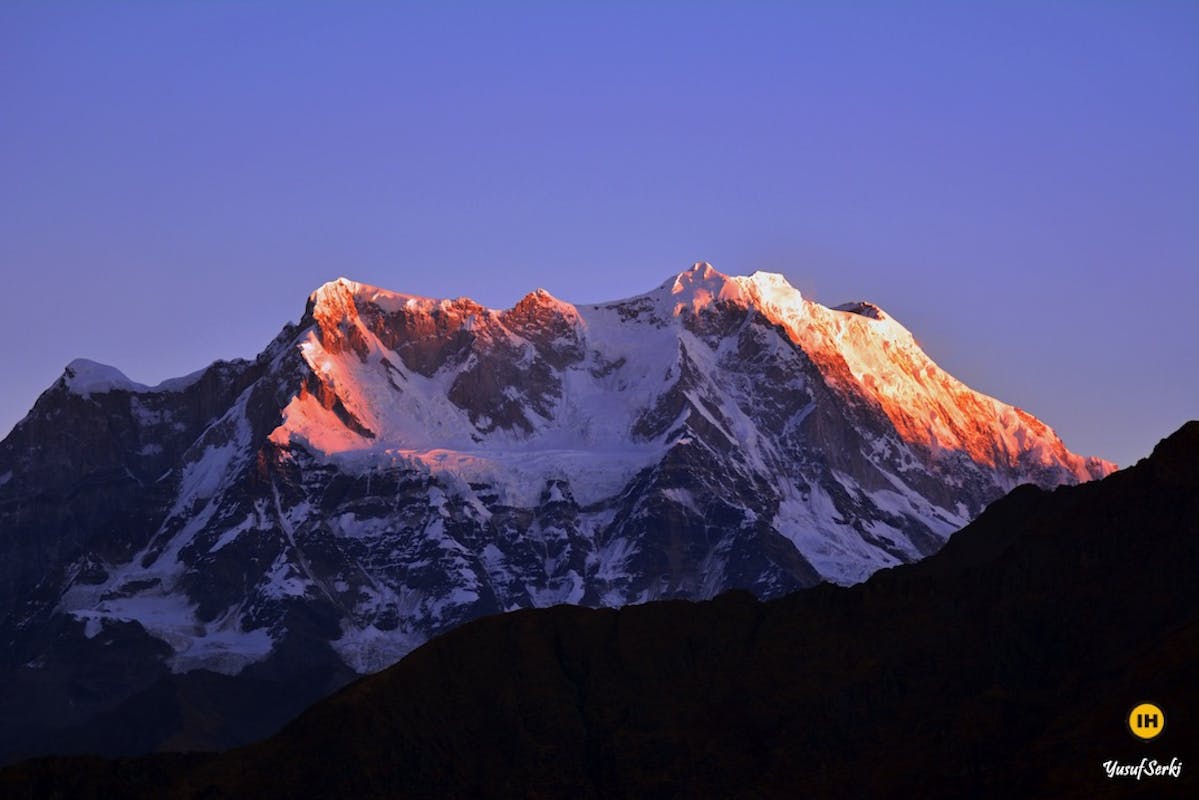 The Chaukhamba massif as seen from the Chandrashila summit. Picture by Yusuf Serki
I remember last year when I was trekking to the top of Chandrashila summit, I stood for a moment to take in what I was seeing around me. There they were, right in front of me, like a fan of playing cards, the entire range of eastern and western Gharwal mountains of India. I was seeing the greatest mountain ranges in India at their sharpest best. 
Another time, I took a short walk to the summit of Hatu Peak near Shimla. It was the second week of March. There too the sprawling summit views took my breath away. This time I was gazing at summits of eastern Himachal. So sharp they were that I could tick off almost thirty or forty summits in the horizon.  
When you walk into a tourist office and see a big landscape picture of mountain ranges — the photographs are almost always taken in early winter or in March/April. 
I share with you a list of the best treks to do in between Mid-March and April end. I have left out a few that I feel don't make this list.
13 Best Himalayan Treks in Spring
Here are the 13 best Himalayan treks to do in Spring:
1. Deoriatal – Chandrashila
Difficulty: Easy – Moderate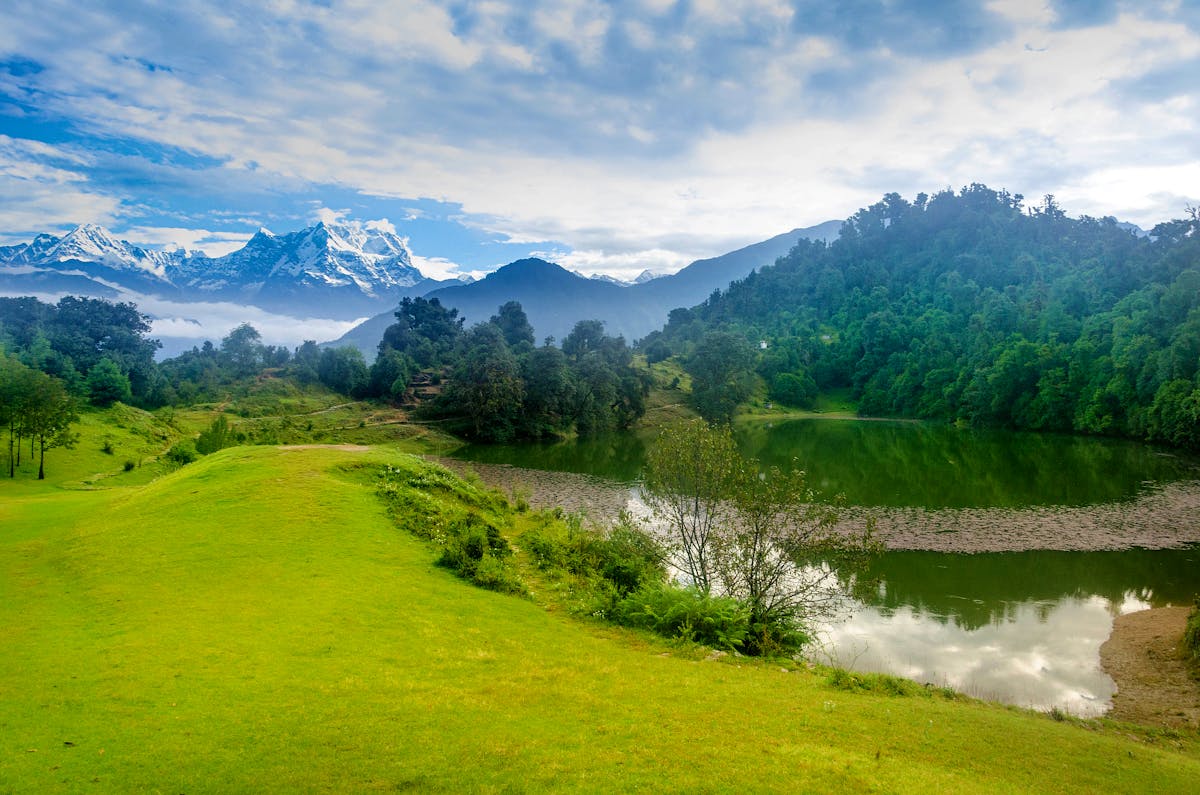 You don't see such greener meadows in any other season than spring and summer. Notice Mt Chaukhamba looming in the background. Picture by Rupendra Yadav
The best rhododendron trek of our country. And the best trek to do in Spring. And to damn everything, it also has the best mountain views from the summit.
Set in the Kedarnath Wildlife Sanctuary in Uttarakhand, the Deoriatal Chandrashila trek is a treat for wildlife lovers. And it is also a great summit climb (12,083 ft)  for those who are beginning to start trekking in the Himalayas.
You see, summit climbs are rewarding, and trudge up a mountain for hours during the wee hours. You reach its highest point like the rays of the sun lighten the sky. Everything is below you — the clouds, the hills, the tiny specks of civilization. On a Himalayan trek, you usually see mountain ranges in the distance.
This is where Deoriatal Chandrashila is special. It is not a section of Himalayan ranges that you see. You see all the major summits of Western and Eastern Uttarakhand from the summit. By all, we mean all.
2. Brahmatal
Difficulty: Moderate
View of Mt Trishul from Tilandi campsite. Picture by Guhanesan Sivalingam
A close second in the list of the best treks to do in Spring, we have the Brahmatal trek.
On the Brahmatal trek, you walk on a high-point with the mountain dropping on either side. This is called a ridgeline. A ridgeline often gives the feeling of an extended summit.
What's delightful is that you also get to camp on the ridge – at Tilandi. From here, you get to see the Himalayan landscape rolling out on both sides.
As you are on a high point at Tilandi, you get to witness the sunset and sunrise from the same campsite. And being at the high-point also makes it the windiest campsite of the trek.
To top it all, you get to see Mt Trishul and Mt Nanda Ghunti up close from Brahmatal Top!
3. Sandakphu – Phalut
Difficulty: Moderate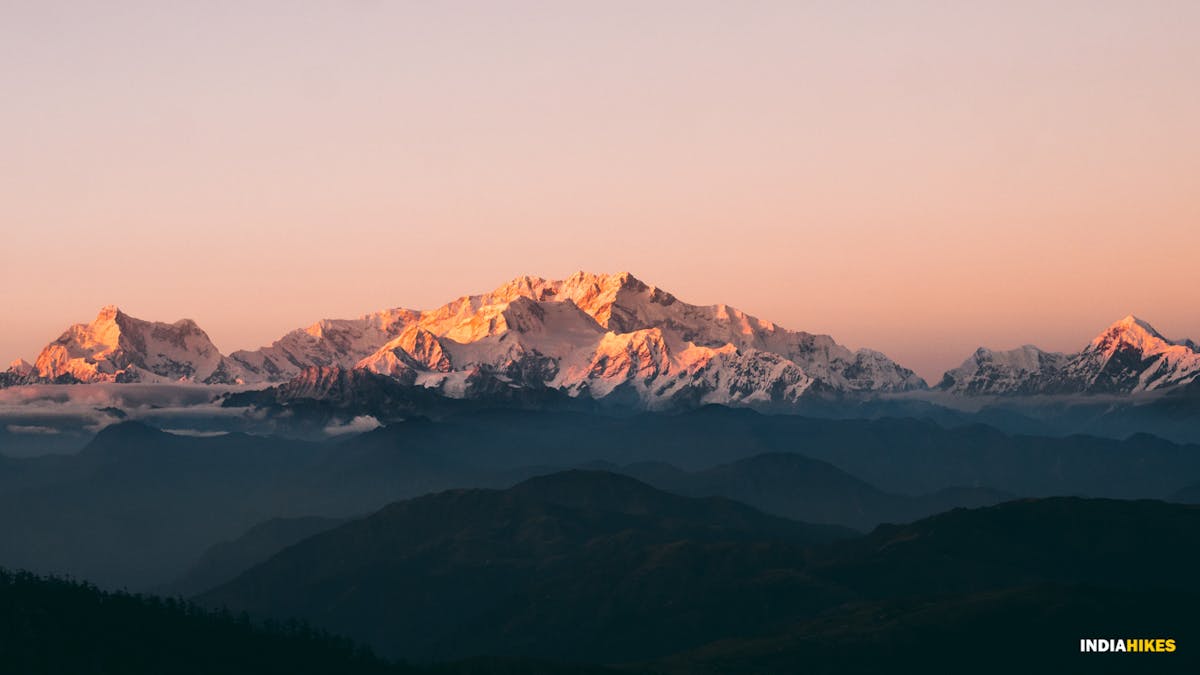 Alpen glow on sleeping buddha during sunset as seen from Sandakphu campsite. Picture by Kartik Vasan
Putting the Sandakphu – Phalut trek at the end tells you that there's no particular order in this list. With views of four of the tallest mountains in the world – Mt Everest, Mt Lhotse, Mt Makalu and Mt Kanchenjunga, this is one trek to keep a tab on if you're going in spring.
Not only do you get crisp views, but you also trek through wonderful forests of the Singalila National Park. The colours in these rhododendron, bamboo and pine forests are stunning!
Being up in the mountains in such clear, clean air is a blessing. Everything seems more enhanced – the colours, the smells, the scale… They say an uncluttered home can bring clarity to the mind; an uncluttered trek in the Himalayas can do just that a 1000 times over.
4. Goechala
Difficulty: Difficult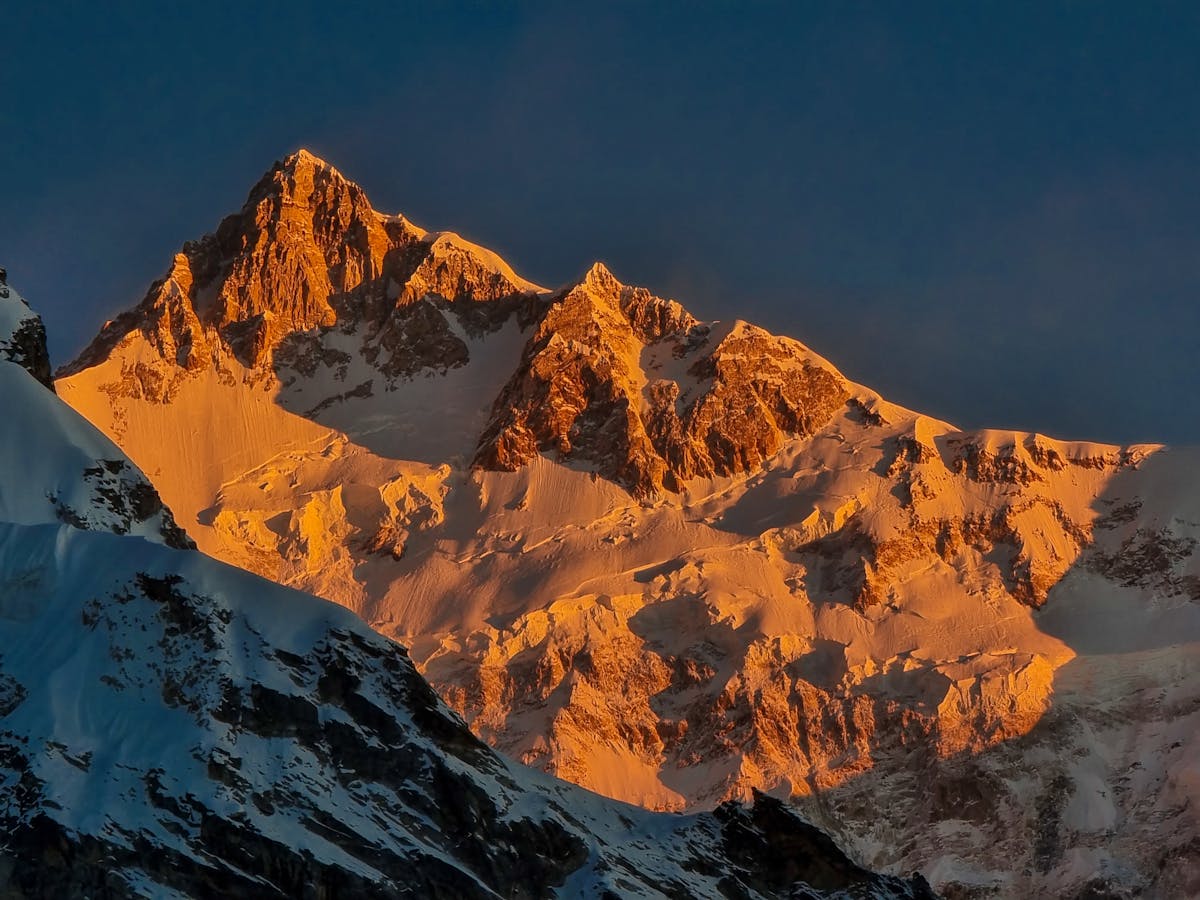 Mt Kanchenjunga as seen from viewpoint 1. Picture by Suraj Cjepyala
The biggest reason to do the Goechala trek is the grand views of big mountains that you see. You don't just see one summit — the Kanchenjunga — but 14 other big summits. That's a lot for any trek — especially as close to the eyes as on the Goechala trek. It is no wonder that trekkers consider Goechala to be the closest to the big mountain treks of Nepal.
The trail to Goechala is blessed with rhododendron forests. And come spring-summer months of April and May, they burst to life with pink and red flowers! It's an enormously pleasing walk through the wooden-log trails of these jungles!
The Samiti Lake is another big attraction on the Goechala trek. The view of the still waters, and the reflection of Mt Pandim in the lake, especially in the early hours, is a visual treat.
5. Kuari Pass
Difficulty: Easy – Moderate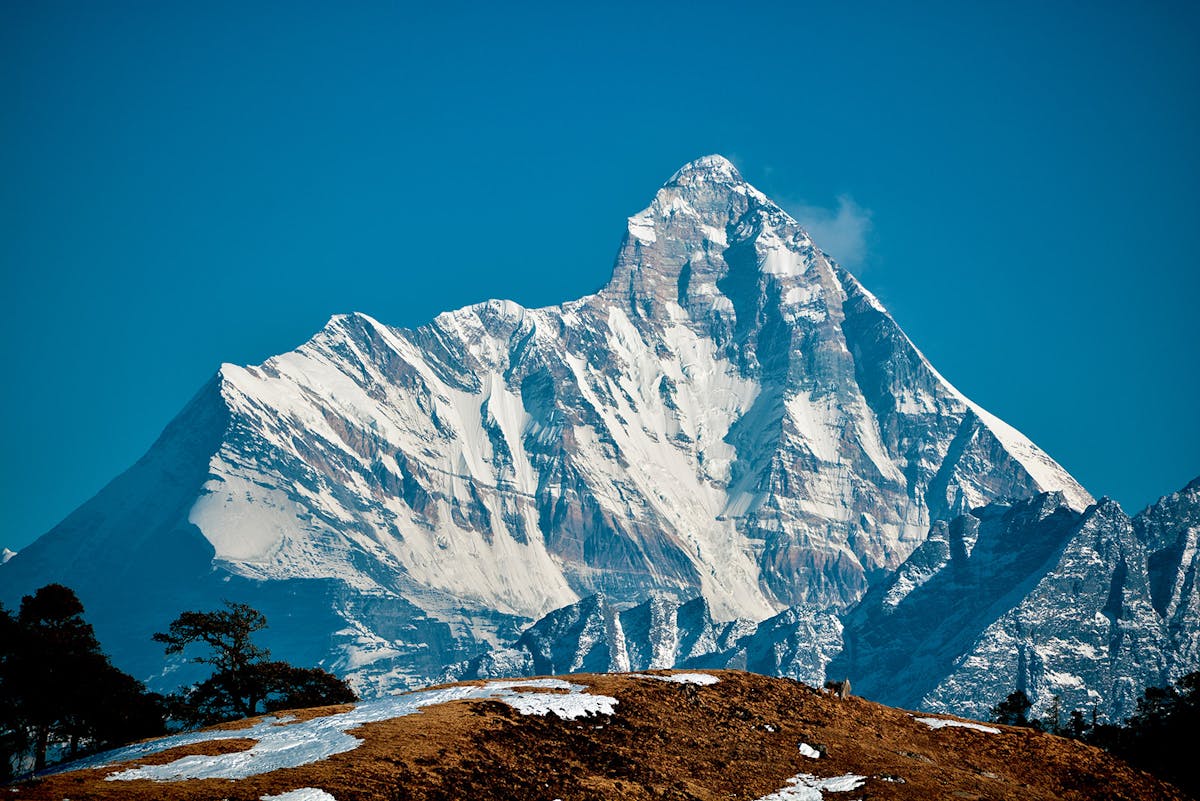 Mt Nanda Devi, India's highest mountain as seen from Kuari Pass trek. Picture by Avijit Jamloki
This is a trek that blows everyone's brains out with its terrific views of the India's highest mountain. It is one of our most "complete" treks with few of the best forests, campsites, ridge walks and mountain views.
Irrespective of you being a seasoned trekker or a beginner the Kuari Pass is a trek you need to do. It is a must-do for the views of some of India's most celebrated mountains – Mt Nanda Devi (25,673 feet) and Mt Dronagiri (23,182 feet) – in any season.
6. Ali Bedni Bugyal
Difficulty: Moderate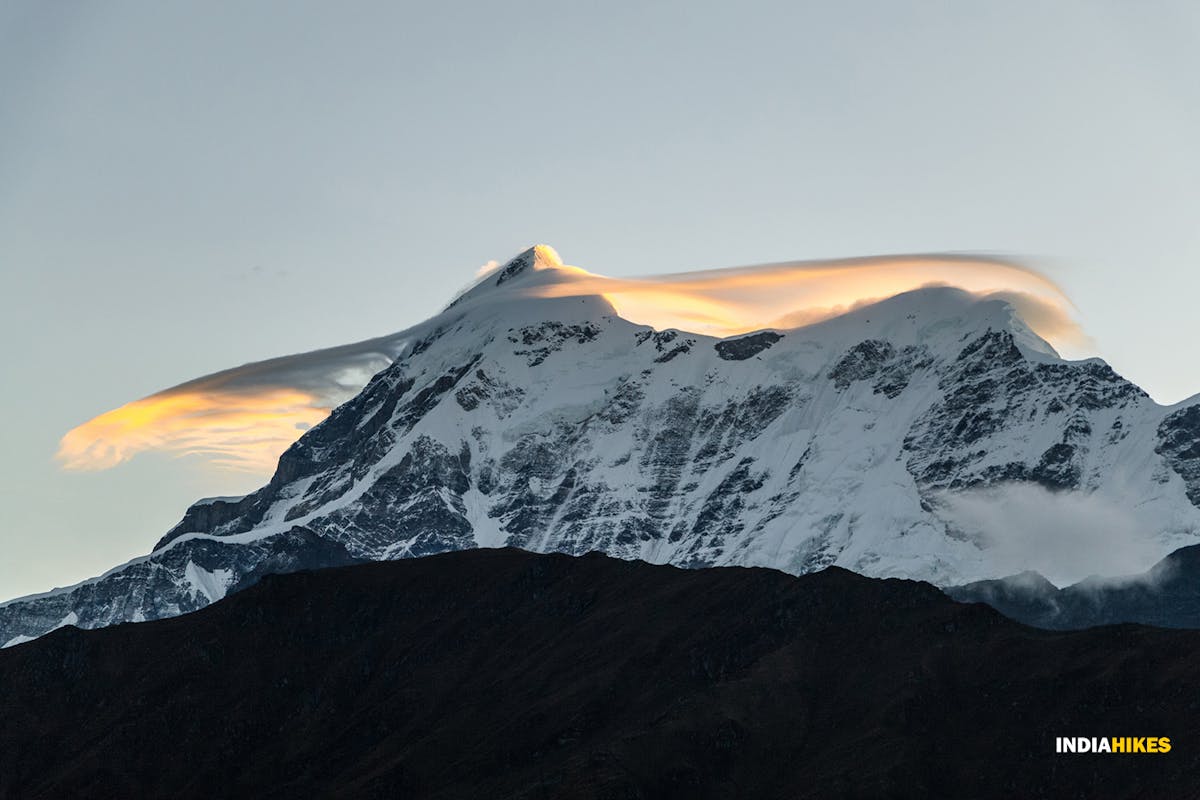 Mt Trishul during golden hour on the Ali Bedni Bugyal trek. Picture by Raghavendra S N
Out of all the meadow treks in our country, Ali Bedni Bugyal has the grandest mountain views. Mt Trishul and Mt Nanda Ghunti are an arm's distance away from Bedni Bugyal.
The Ali and Bedni meadows are themselves an attraction, as they span as far and wide as your eyes can see. They are one of the largest high altitude meadows of our country!
Not just that, the unforgettable sunrises and sunsets while camping at Abin Kharak and a unique experience of trekking through ancient and dense forests makes this trek a treasure in itself.
7. Kedarkantha
Difficulty: Easy – Moderate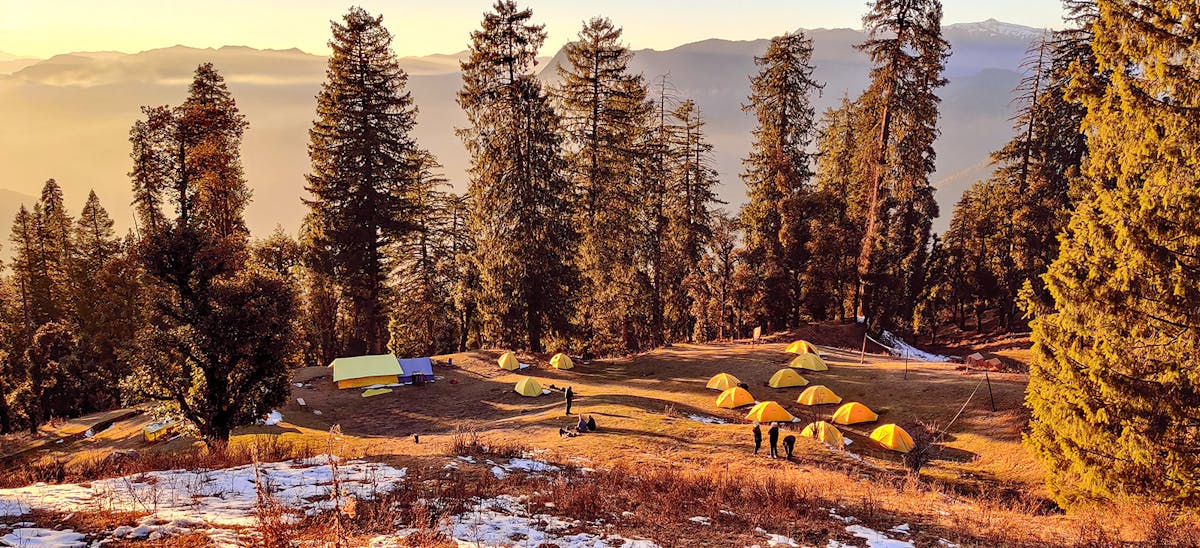 You can find patches of snow at the beginning of the spring. Picture by Vasudev Sharma
There are many reasons why it is a very popular trek to do in the Indian Himalayas.  The most important of them is this — the summit climb.
The summit climb of Kedarkantha is a very rewarding one.  Right from the base camp of the trek, the summit looms large.  As you start your trek in the early hours of the morning and steadily climb up the steep slope, the world opens up around you.
The climb is not easy.  The entire stretch is steadily steep.  As you get closer to the summit, it gets tricky as well.  But the big mountains of the upper Himalayas keep you company until you finally reach the summit.
As you stretch yourself and take in the views of the Himalayas from the summit, you feel a strong sense of satisfaction and accomplishment. This is an unparalleled feeling.
Very few treks offer the same adventure, making it popular among beginners for its finest summit climb.
8. Dayara Bugyal
Difficulty: Easy-Moderate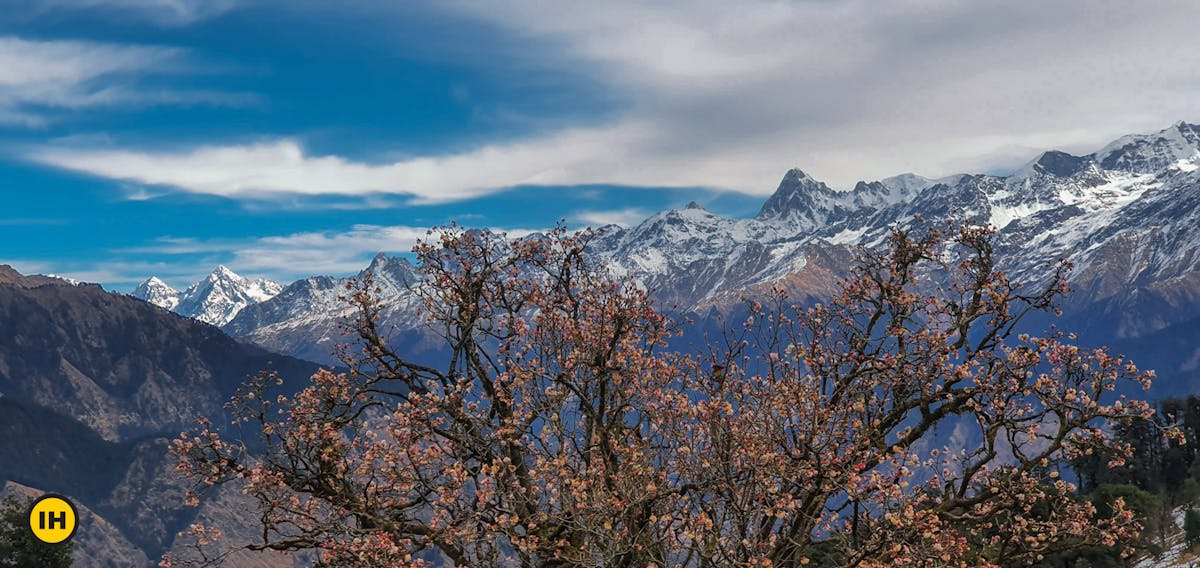 The entire forest section takes new form during spring. They become so colorful. Picture by Deep Thakkar
One of the best meadow treks of our country, with powdery snow still on them. The views of Mt Bandarpoonch from the meadows can flatten anyone.
Very few trekkers have set foot on the Dayara Bugyal trek, even though it lies very close to the Gangotri region.
Dayara Bugyal is one of those off-beat treks which takes your breath away! It is so rewarding for very little effort.
The vast meadows, beautiful campsites and stunning mountain views make Dayara Bugyal an ideal summer trek. Especially if there are kids aged 7 years and above, because it makes for a perfect family trek.
9. Pangarchulla Peak
Difficulty: Difficult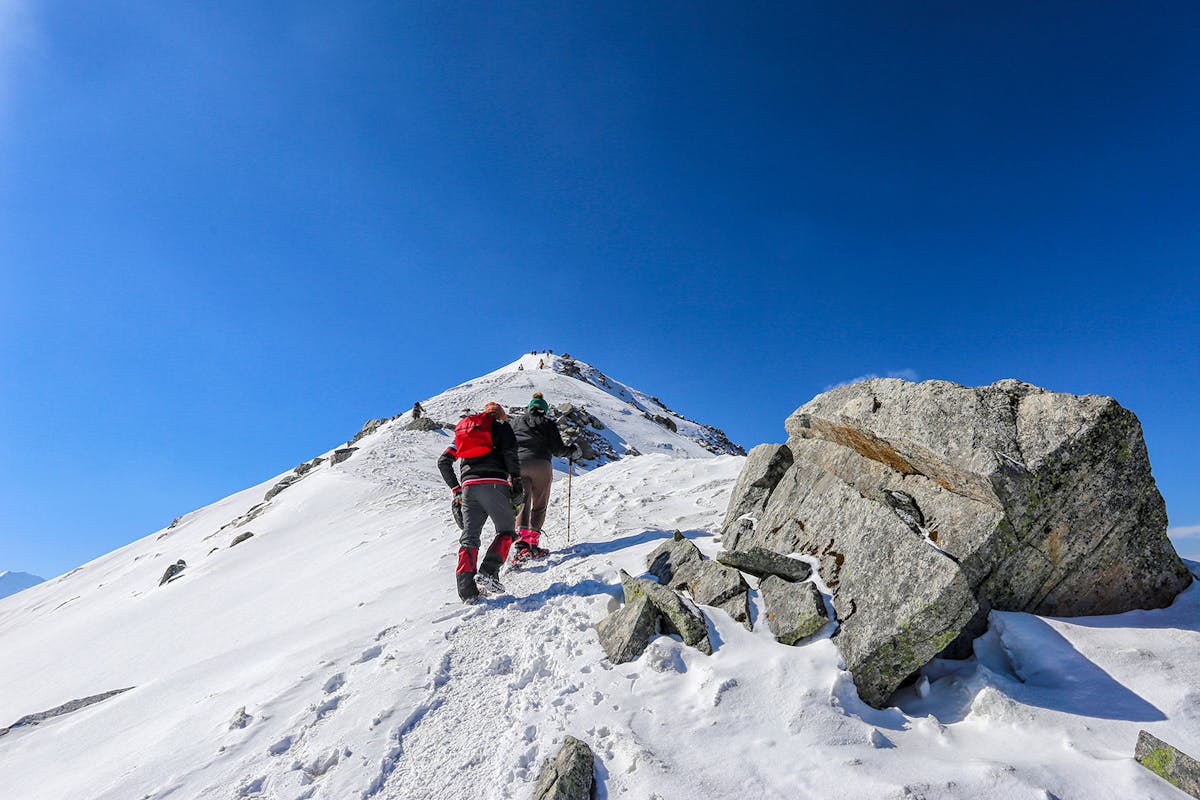 The thrilling summit climb to Pangarchulla peak. Picture by Satyen Dasgupta
If you are looking for a power packed thrilling summit climb, climbing all the way till 15,069 ft, then Pangarchulla Peak trek offers it in spades. It's a difficult trek with a small window when it is accessible to trekkers, that's only in April. If you are fit, and are looking for an adrenaline rush, go for it.
While the summit climb in itself leaves you with a strong adrenaline rush, what adds to this experience is the mountain views you get from the top. All along the trek you are accompanied along with grand views of a big part of the Greater Himalayan Range. And at the summit, you are surrounded by them and they all stand so close to you.
10. Har Ki Dun – Ruinsara Tal
Difficulty: Moderate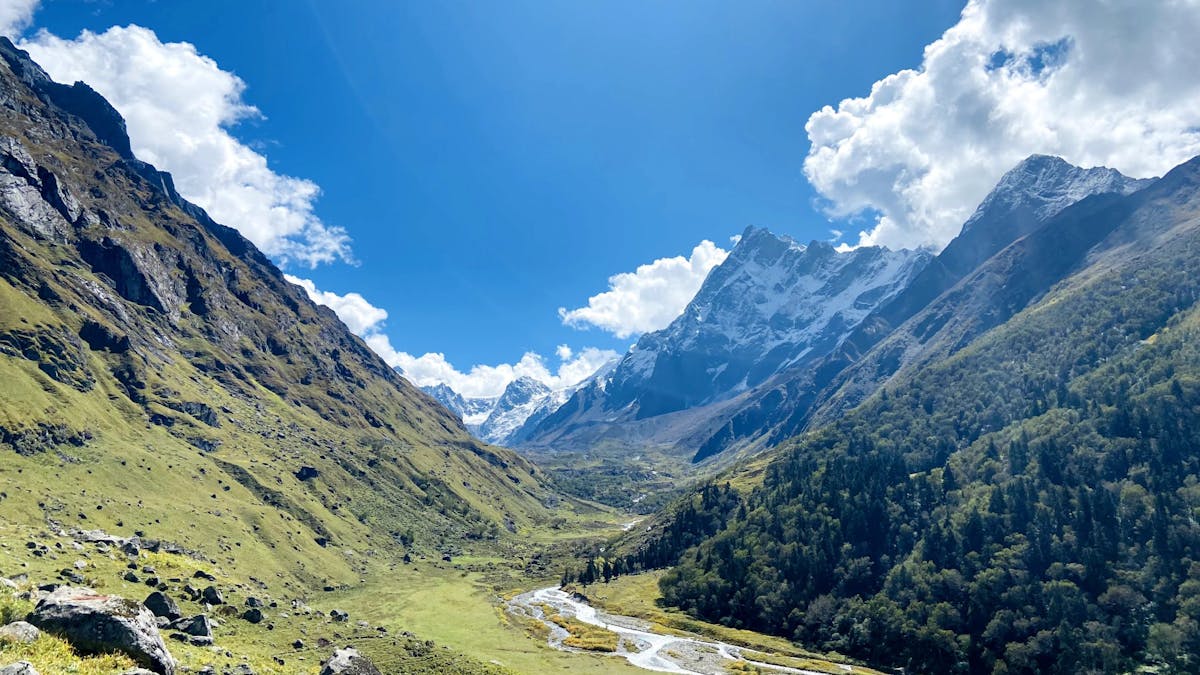 Mt Swargarohini seen from Ruinsara valley. Picture by Subhash
The cultural favourite — in the early part of the trek you pass through ancient wooden villages that still stand the same despite being many centuries old. The stories and legends of these villages date back to the mythologies. Later, the astounding scenery changes every day can leave anyone breathless.
And then Ruinsara Tal pulls all possible expectations from under our feet. Such places exist in our country?
11. Khopra Ridge
Difficulty: Moderate – Difficult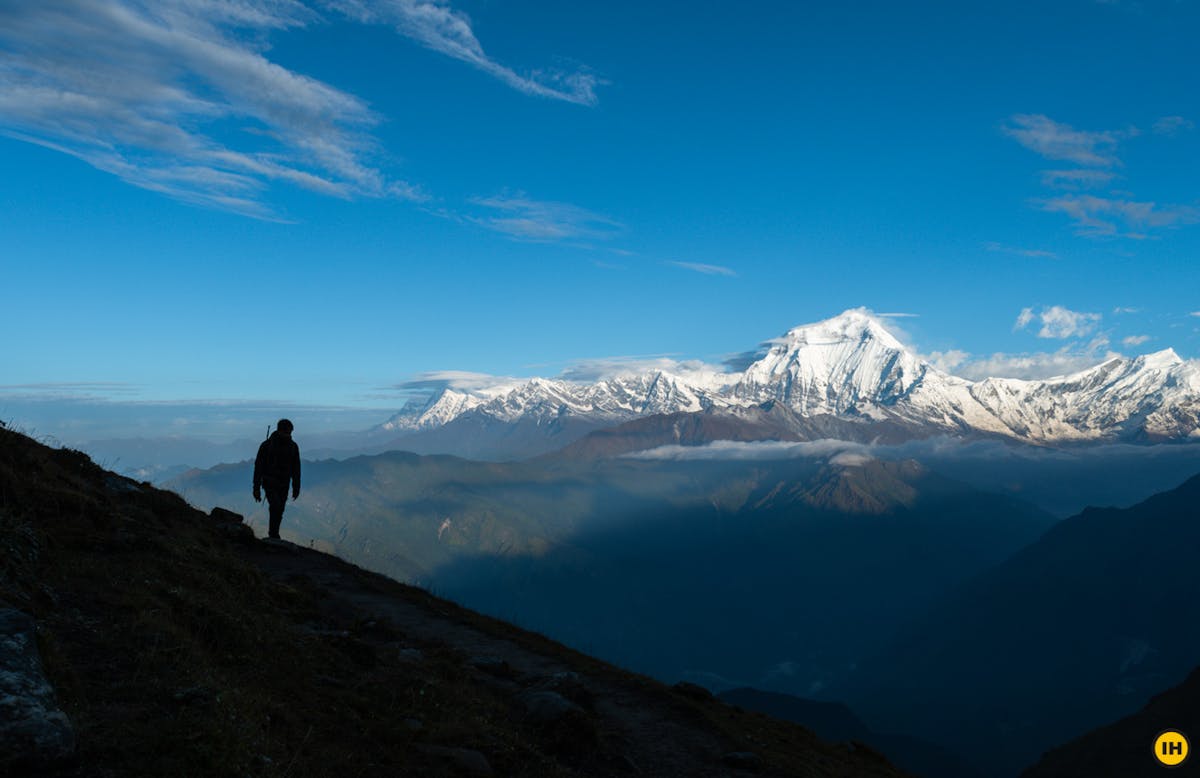 The stunning mountain views as seen from the Khopra ridge. Picture by Krunal Patel.
12. Nag Tibba Weekend Trek
Difficulty: Easy – Moderate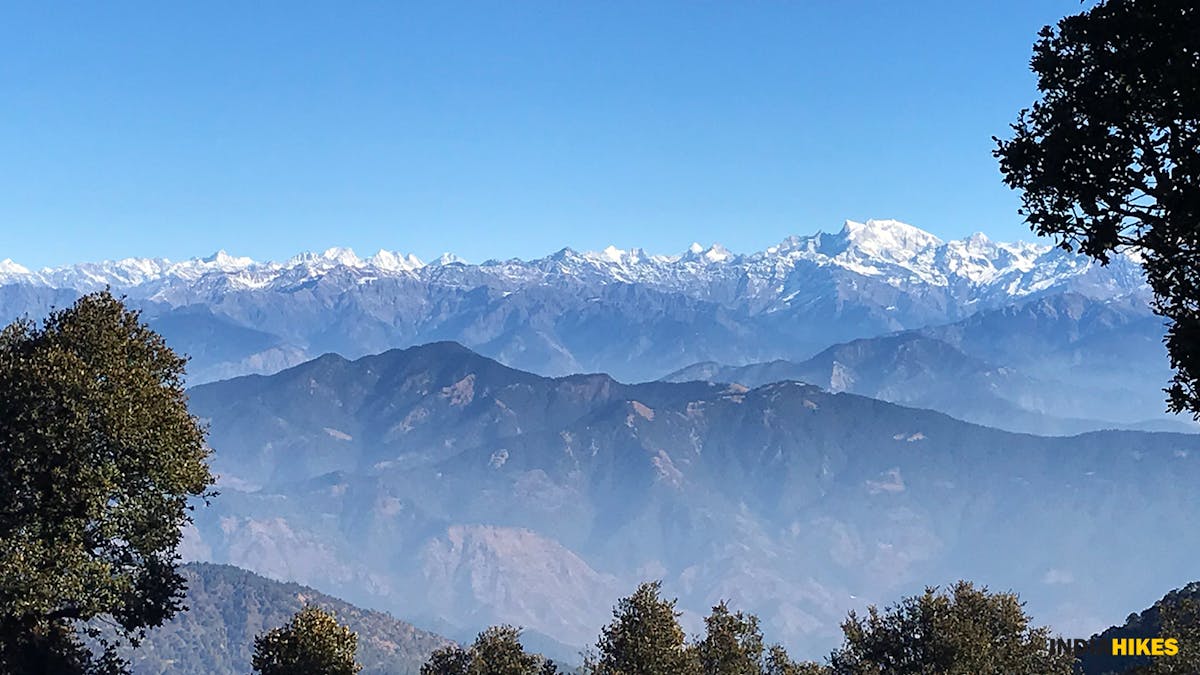 The panaroma of snow capped mountains as you see from Nag Tibba summit. Picture by Bharat Monga
We all know summit climbs are incredibly rewarding in a trek. This is why we have trekkers flocking to treks like Kedarkantha or Deoriatal – Chandrashila. In a trail like Nag Tibba, you get to experience the thrill of a summit climb in just a weekend! And it is one of the best short treks to do in Spring.
Resting at 9,915 ft, the summit of this trek is the highest in the Nag Tibba range of Garhwal Himalayas. From here, you see a 100-degree view of snow-capped Himalayan ranges such as Swargrohini, Bandarpoonch, Kala Nag, Srikantha, and Gangotri.
You also see Kedarnath peak in the north, Doon valley and the snow peaks of Changabang. With views like this and a climb to make you earn them, this weekend trek may be one of the best.
13. Chirbatiya Weekend Trek
Difficulty: Easy – Moderate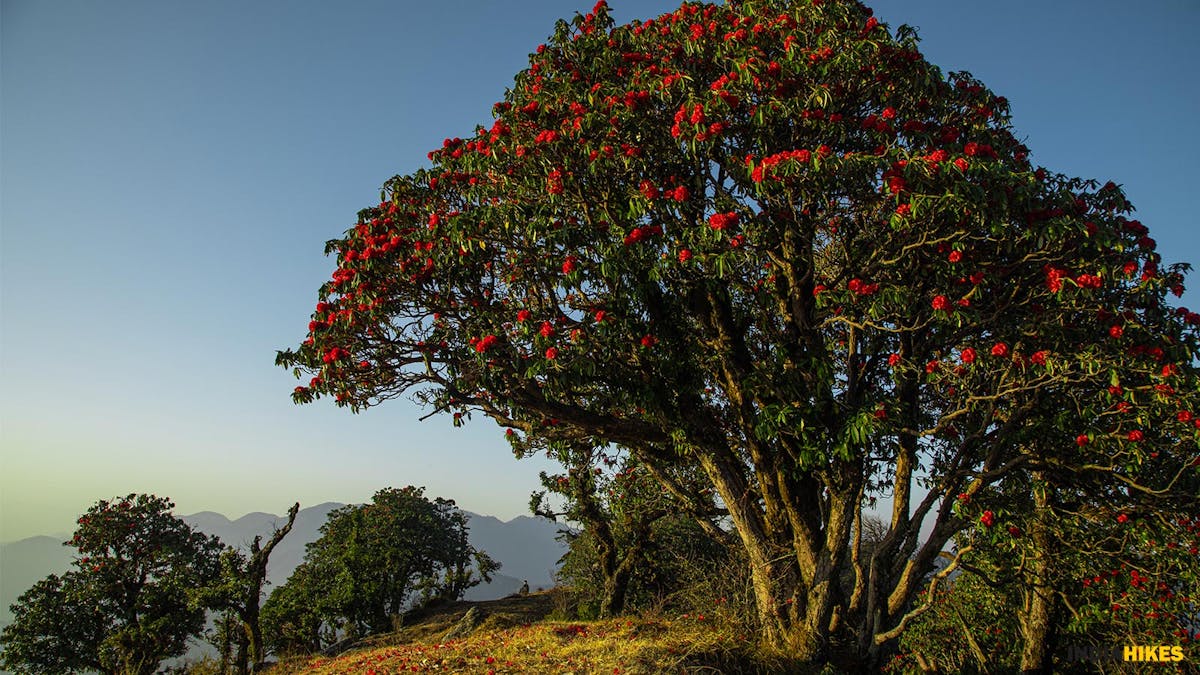 A lone rhododendron tree in the full bloom. Picture by Jothiranjan
A new addition to our trek roster, this weekend trek's highlight is its campsites. It offers a 270 degree view of the greatest mountains of the Greater Himalayas — Mrigthuni, Trishul, Nanda Devi, Chang-Bang, Dronagiri, Neelkanth, Chaukhamba, Kedarnath — just to name a few.
Even though this is a short trek, it has the charm of certain longer Himalayan treks. For example, a break-point you cross enroute the Patangnia meadows will remind you of Bekaltal from Brahmatal trek.
Explore Chirbatiya Weekend Trek
| Also Look out for Exclusive Treks for Families in Spring
In the same season, we also have exclusive family treks to Kedarkantha and Dayara Bugyal. We organise the trek specially for families with children, to enhance their learning from the outdoors.
Find dates and details of exclusive family treks here.
Most of the groups already have registrations going up, though not full yet. It's best to sign up now if you want the luxury of choosing dates that suit you. 
If you have any thoughts or questions, drop in a comment below. One of us from Indiahikes will get back to you.
Sign up for our much loved Weekly Mailer
We have terrific trekking tips, trek updates and trek talks to look forward to