Kashmir Great Lakes Vs Tarsar Marsar - Which Kashmir Trek To Choose?
Share this story
Every year, I see a rush of trekkers looking for Kashmir Treks. The top question on everyone's mind is whether they must do the Kashmir Great Lakes Trek (KGL) or the Tarsar Marsar trek. I want to address this question. I'll throw in a few suggestions that may help you make your choice easier.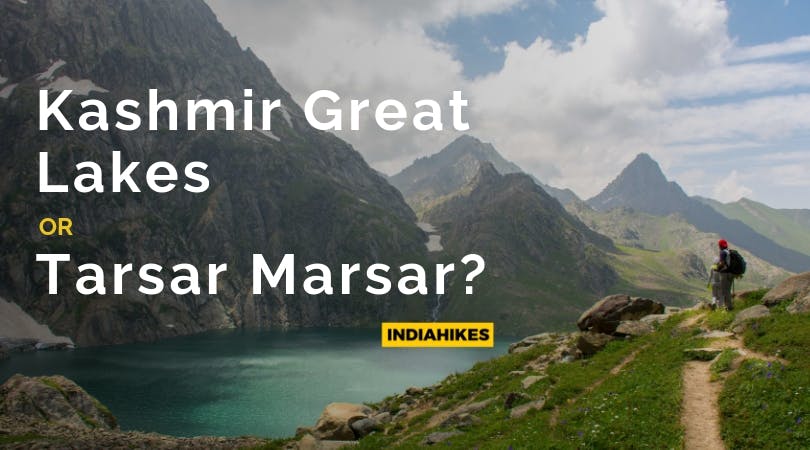 First, let me start with the brief highlights of both treks and then compare the two.
Highlights of Kashmir Great Lakes
We rediscovered this trek back in 2011. Until then it was perhaps only a few Israeli trekkers who had ventured on this trail. It did not even have its current name Kashmir Great Lakes. Before exploring it, we called it the Greatest Alpine Lakes exploration. It was during the exploration that we re-christened it Kashmir Great Lakes. We also reworked the campsites. We added a camp at Nichnai and another at Gadsar.
In those days, most would do the trek in parts — some would trek to Vishnusar/Kishansar from Sonamarg and return. Some others would trek to Gangabal/Nandkhol from Naranag and return. The Gangabal/Nandkhol route was more popular (as it involved only a day's climb).
Once we explored and documented this trek, Kashmir Great Lakes became a rage. Suddenly, the entire Indian trekking community woke up to the possibility of trekking in Kashmir. It became a sensation. Within a few years, it became one of the most popular treks in India, even overtaking treks like Roopkund.
And it's not without reason. KGL is the most beautiful trek in India. It is set in a canvas that's larger than life. You have more than seven alpine lakes to trek through. You climb 3 high passes. You traverse 5 very different breathtaking valleys. By the time you finish this trek, you feel you have been through heaven and back.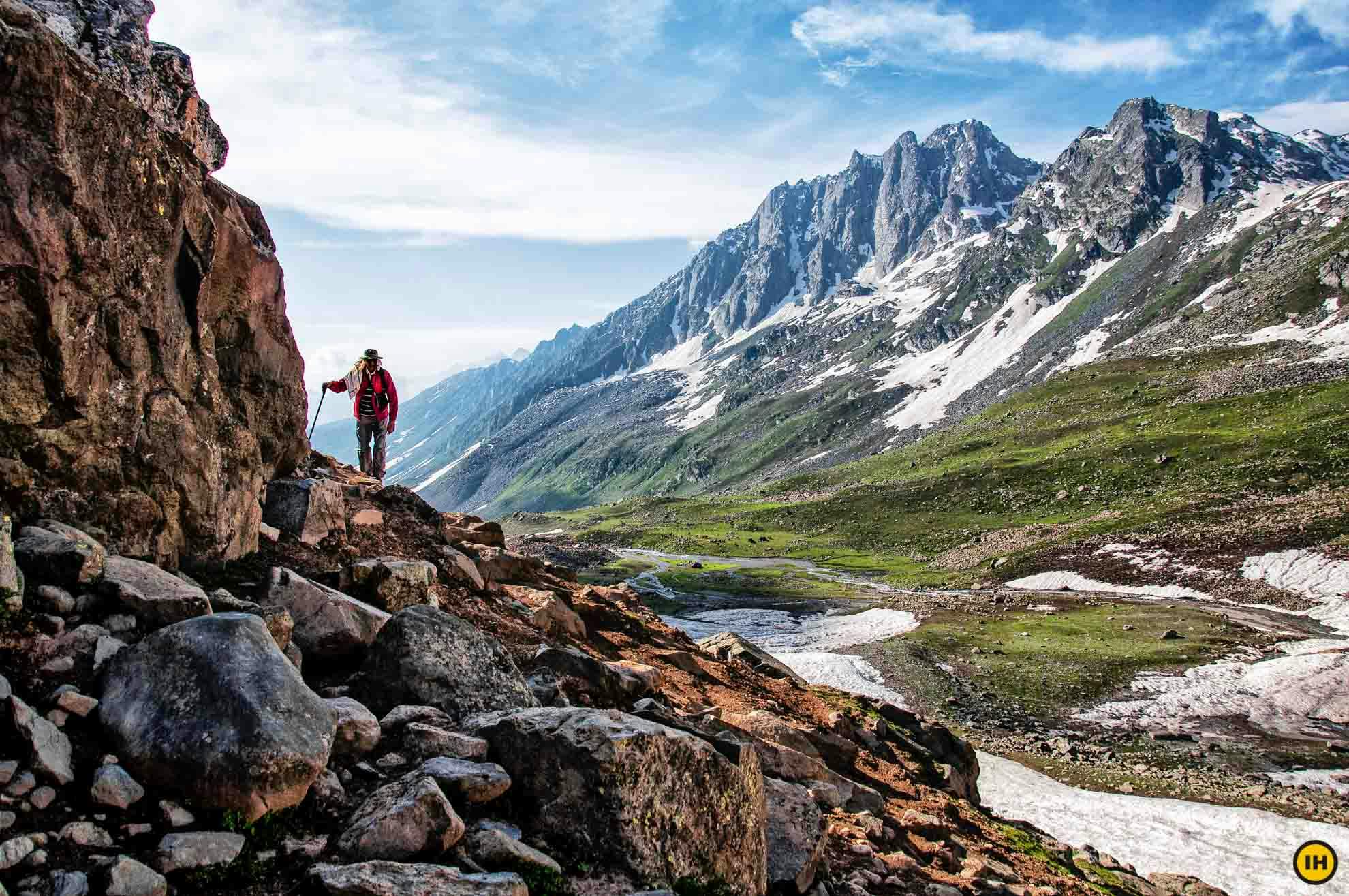 Highlights of the Tarsar Marsar Trek
After being on a KGL high for almost two years, we wanted more of Kashmir. We decided to explore the Tarsar Marsar trek, which lay deep inside the mountains of Pahalgam. Our Kashmiri staff told us that the trek beats KGL in beauty. We were a little sceptical, but we scheduled an exploration. And in September 2015, we discovered another spectacle in Kashmir.
The Tarsar Marsar trek shows a different side of Kashmir. From Aru, the idyllic village where you start, to the glades of Lidderwat. From the rolling green mountains of Shekhawas to the massive Tarsar lake. From the flower-laden amphitheatre-like meadows Jagmargi to the elusive Marsar lake. The trek takes you away from civilization but brings you intimately close to the heart of Kashmir.
If my highlights make it tough to choose between the two treks, let me get into some contrasts that the treks offer.
Differences in the two Kashmir Treks
Popular trek vs true wilderness experience
I hate to say this, but like most other popular trekking trails of our country, KGL is crowded. On any day when you trek on KGL, you have 2-3 trekking groups going along with you. While the trekkers are spread out on the trail, the campsites are the same for all groups. You will see many sets of tents at every campsite.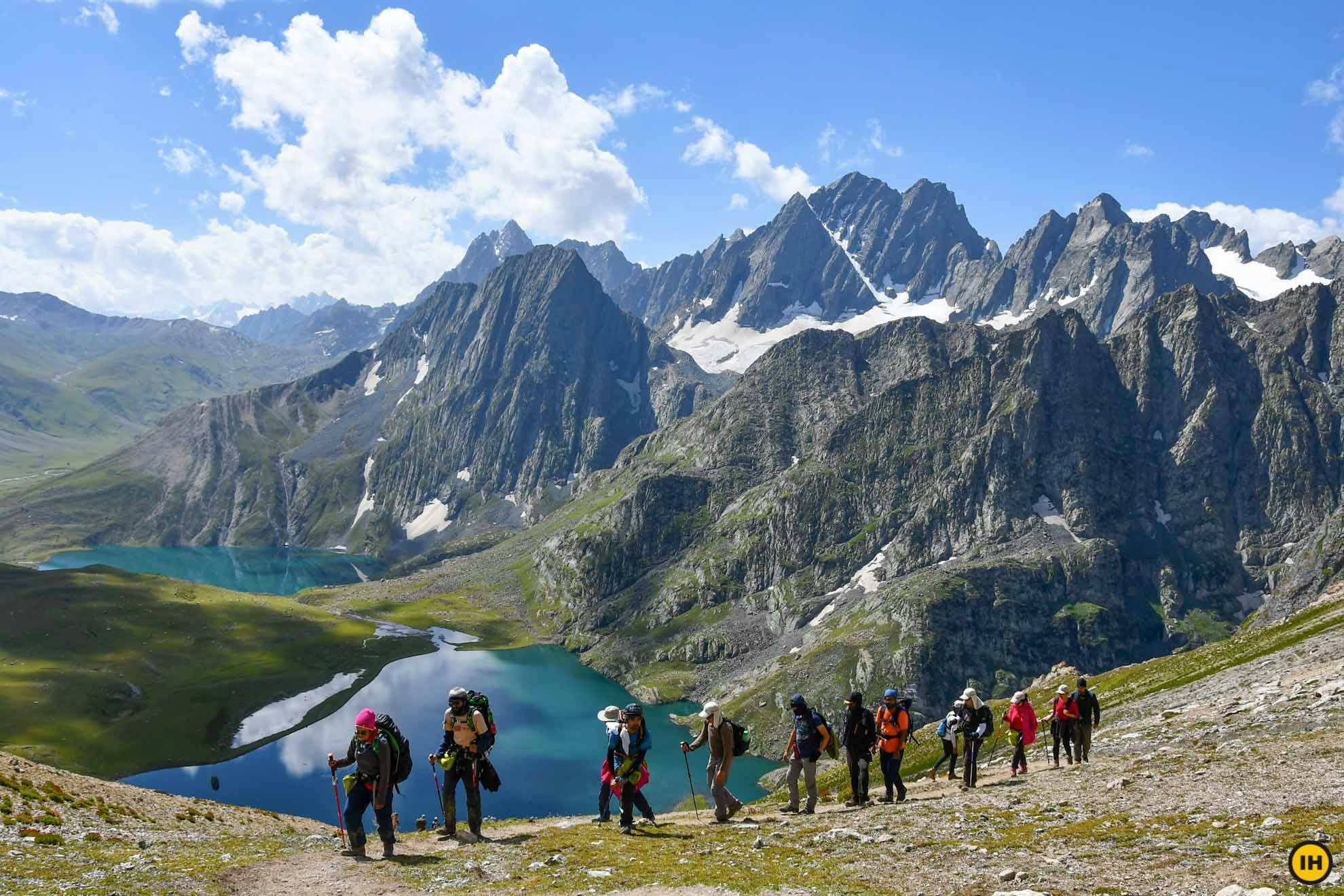 Tarsar Marsar has retained its wilderness. Thanks to its relative unpopularity. On most days, you are likely to be the only group on the trek. Some local groups trek on this trail. But they all go till Tarsar and return. They don't go further to Sundersar or Marsar as we do.
If you are trekking with Indiahikes, 3 of the five campsites on the trail are very private to us. Nobody else camps there but Indiahikes. They are private to us because logistically, they are not the easiest of campsites. Logistically easier campsites exist nearby. Most organizers choose them. But these campsites make for a better, more secluded experience. For a trekker, a secluded campsite is a godsend. Being the only one at your campsite is precious in today's trekking rush.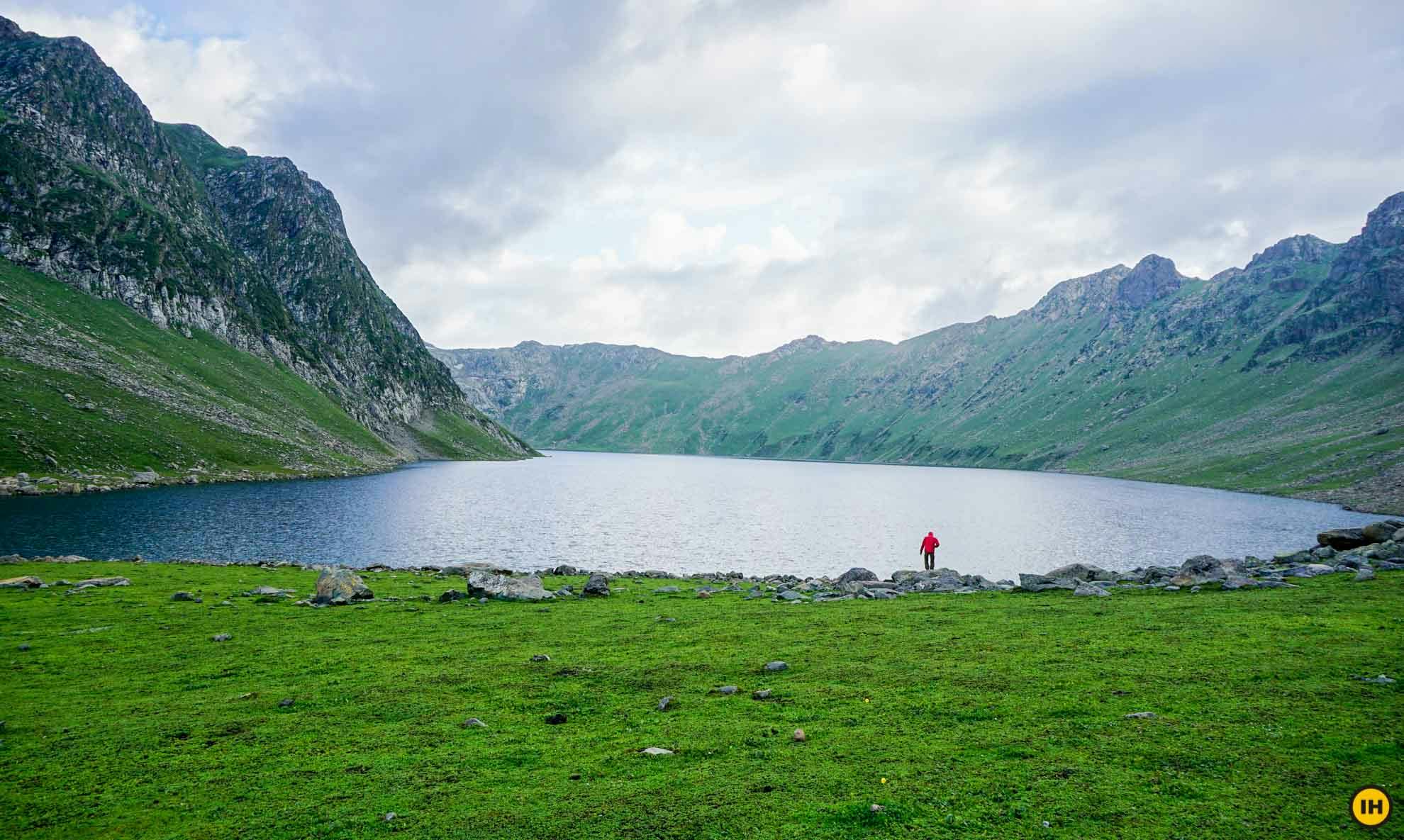 Beautiful sights vs ethereal experiences
The KGL gets its name from the seven turquoise lakes. We trek through most of the lakes but get to camp only next to one lake — the Nandkhol lake on the last day. Unfortunately, Nandkhol also happens to be a destination for camping and fishing with weekend trippers. This invariably leads to a lot of remnants of human activities all around the lake. It leaves the lake littered. Everytime I have been there, the place has been breathtakingly beautiful from a distance. But when I went close, my feelings changed to angst and helplessness at seeing the extensively littered lake.
On the Tarsar trek, we have 3 big lakes and we camp right beside two of them. Your tents are bang on the grassy banks of the lake. Your tent flaps actually open up to the view of glittering blue water.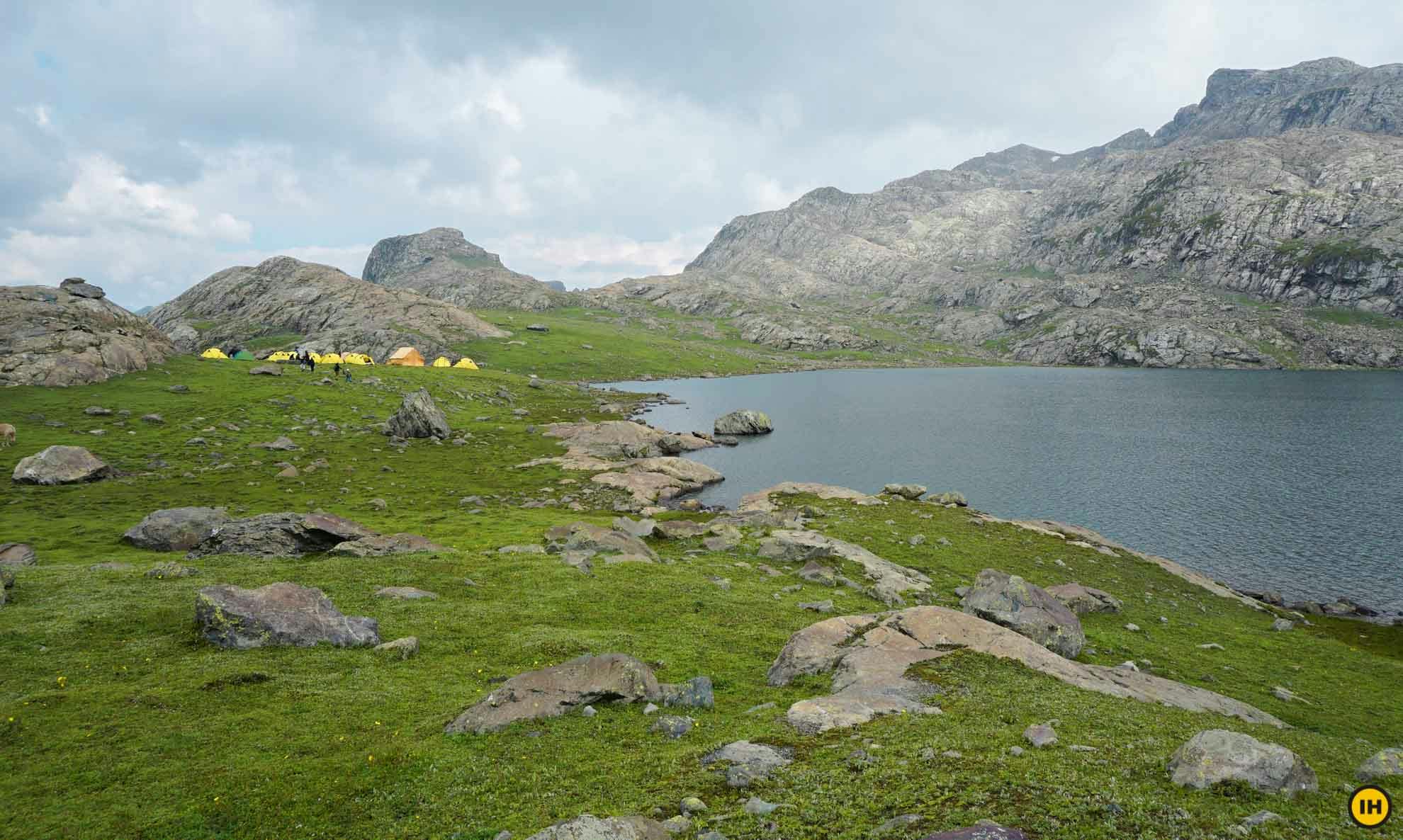 The added bonus is that both these lakes are deep in the middle of the trek. It takes effort to get to them — a bit too much effort for day-trippers and casual campers. So Tarsar as a trail is far less frequented by groups.
I did not realize this earlier but felt it after trekking to Tarsar Marsar the second time. It is one thing to visit an alpine lake and look at it for some time. It is something else to actually spend the whole day next to one. To experience sunsets and sunrises happening over the lake. To see the snow-fed lake change colours with every change in the angle of the sun. To sit beside the lake in silence and see this whole ethereal experience unfold — you don't get this anywhere else.
Moderate-difficult vs moderate trek
Kashmir Great Lakes is not a walk in the park. It is far from it. The trek is 65 km long. Each day has a gruelling 1500 ft ascent and an equal descent. There is a high pass to cross every day of the trek. Add to this the 10-12 km distance every day. This makes each trekking day stretch to almost 8-9 hours. You need a fit pair of legs and highly efficient lungs to appreciate the beauty of the KGL trek.
At Tarsar Marsar, the good news is that the distances are not too long. Each day involves a trek of just around 6-8 km. The day's trek usually ends within 5-6 hours. You don't gain and lose as much altitude every day. The trek gains height stays there and then descends on the last day.
Between the two Kashmir Treks, Tarsar Marsar is a grade easier which makes it ideal for prepared first-timers and fit children too.
Final thoughts on the Kashmir Treks
If you take the road from Srinagar to Sonamarg, to your left lies the Kashmir Great Lakes trek and to your right lies Tarsar Marsar. Even from the road, the scenery to your left is very different from the scenery on your right. There are tall rugged cliffs on the left, whereas you see pine-laden mountains to your right. This difference in scenery is an indicator of how different the treks that lie behind them are.
KGL is higher in altitude, rockier and more colourful. Tarsar is greener and more secluded. KGL has bigger grasslands and vast campsites. Campsites at Tarsar are in front of lakes or below folds of mountains. People think KGL is prettier. It is not so. Tarsar is equally pretty, with additional sections that are uniquely more beautiful than KGL.
I would put both Tarsar and KGL as the top two most beautiful treks in India. Which is more beautiful, I cannot tell.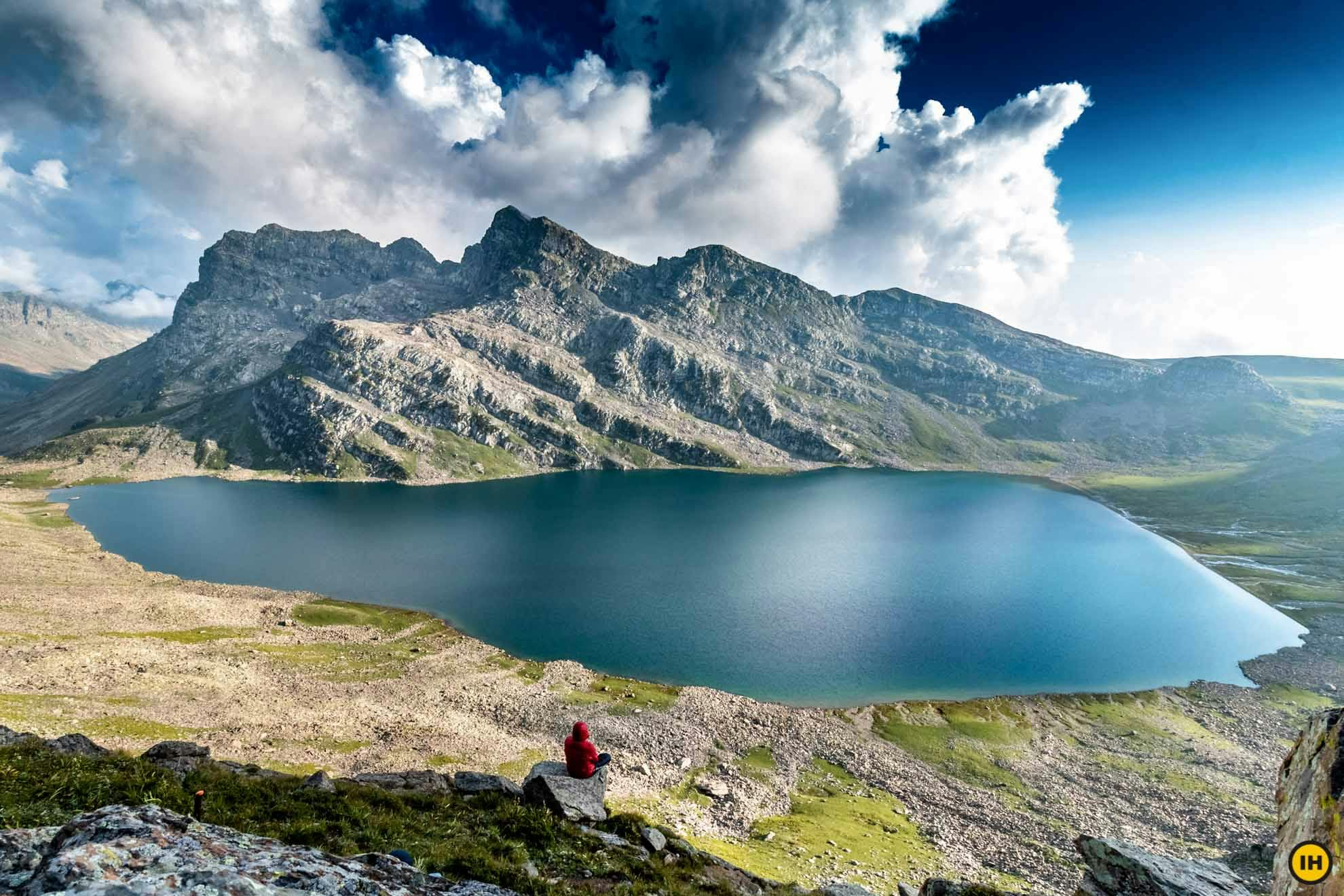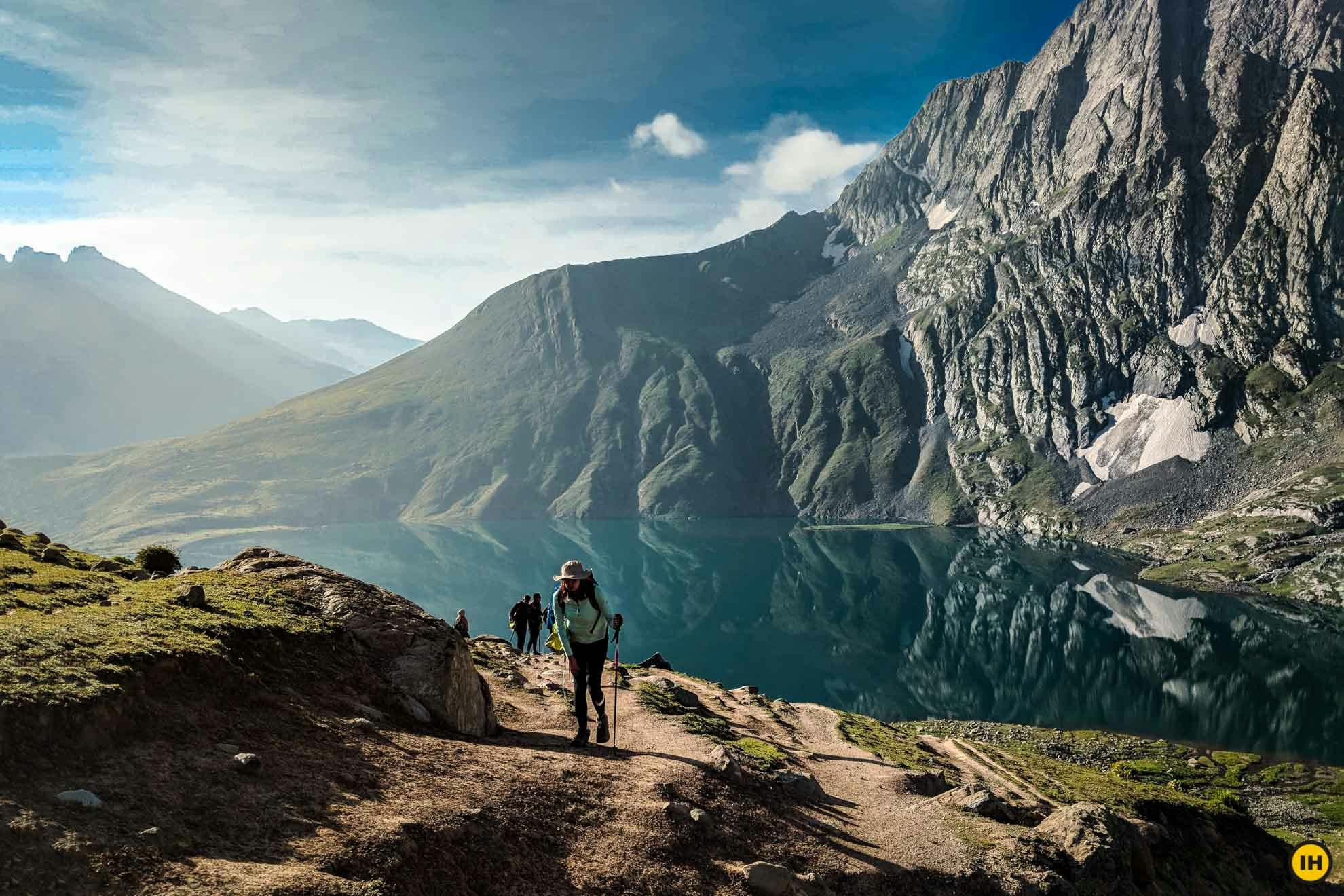 Why is it difficult to compare these Kashmir Treks
Though we are comparing KGL and Tarsar, the two Kashmir treks are very different. They show two distinct sides of the mountains of Kashmir. Like how Deoriatal and Brahmatal are very different yet in Uttarakhand. KGL and Tarsar lie on either side of the Kashmir valley. If you have loved trekking in Kashmir, you need to do both the treks. You have not seen the true beauty of Kashmir until you have seen both these gems.
What should you do next?
1. To see more details about the Tarsar Marsar trek, head over here.
2. To see details about the Kashmir Great Lakes trek, click here.
3. If you ended up here by chance and are looking for treks to do, see our upcoming treks here.
4. To check the 29 best treks of India, click here.
Sign up for our much loved Weekly Mailer
We have terrific trekking tips, trek updates and trek talks to look forward to