Latest Trek News from the Mountains
Share this story
Latest Trek News from the Mountains
Category News
By Latika Payak
2023-01-17
Feb 1 | Advanced Safety Skills Training for Trek Leaders: Success!
We recently conducted a Trek Leader's Training Program at our Raithal Campus - the base camp of the Dayara Bugyal trek.
The training was conducted by Chetan 'Dawa' Mathur, a Senior Trek Leader & Trainer at Indiahikes.
Four of our trek leaders were a part of it.
The main objectives of the training were to refresh their knowledge of patient assessment, splinting, casualty coil, and stretcher making. Shweta shares, "The training involved a mock drill of patient assessment and evacuation processes. During these sessions, we learned and practiced upper-body splinting. This method is used to protect and support the injured part of the body.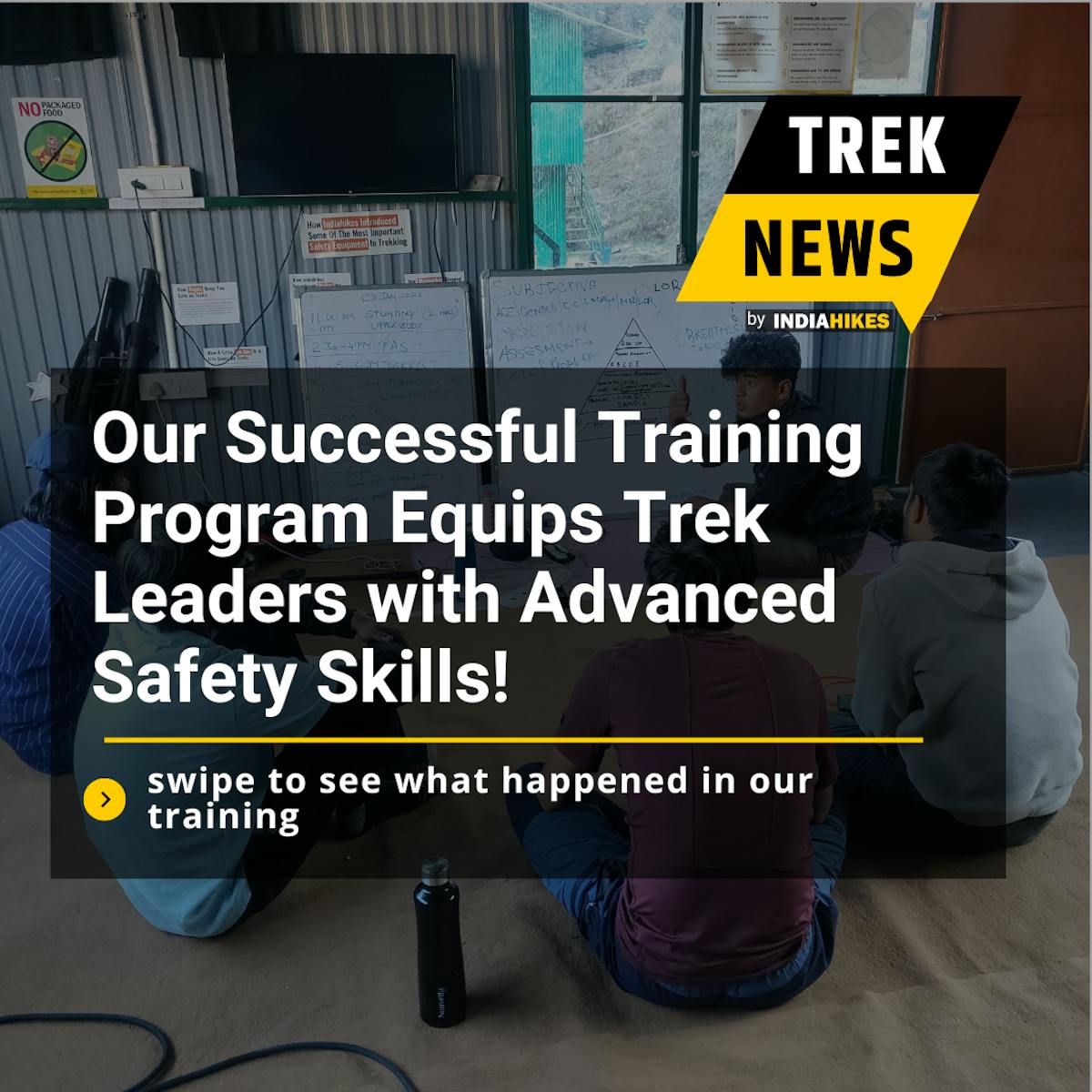 Our Office Collected 12.4 kg of E-Waste During an E-Waste Drive
We recently launched an E-waste drive at the office, which is headed by Sharwari Brahme (@sharwarrior), head of the Green Tails Initiative.

Our motive is to leave the mountains better than we find them. However, Sharwari also recognized the importance of promoting sustainable practices within the office.

The drive was started to bring back discussions and group activities about sustainability, and to create a sense of community within the office as they work towards being more environmentally conscious.

Sharwari, trainer & mentor at Indiahikes, says, "I researched organisations that accept E-waste in Bangalore and ultimately partnered with Wasted 360 Solutions. (@indiawasted).
Jan 24 | Nepal Earthquake: Tremors felt, but all trekkers are safe
Today afternoon we heard the news about tremors in the northern part of the country. The epicentre for this earthquake lay in Nepal.
Our teams immediately got into action to ensure all trekkers are safe. Updates started pouring in from the mountains confirming that trekkers are safe.
To get an insight, watch this video where Indiahikes Team Members from the mountains are relaying the latest updates.

Stay cued to this space for more updates from the mountains.
Jan 19 | Cold Wave Alert: Prepare for Train/Flight Delays Due to Extreme Fog
Northern India is currently experiencing signs of cold waves across the region. Cold waves lead to extreme fog and drop in temperature. This is due to the western disturbance acting as a trough in the middle tropospheric westerlies. 
Simply put, Tropospheric westerlies are winds that blow across the earth and western disturbance is a weather system that can affect these winds and cause change in temperature and precipitation in a region.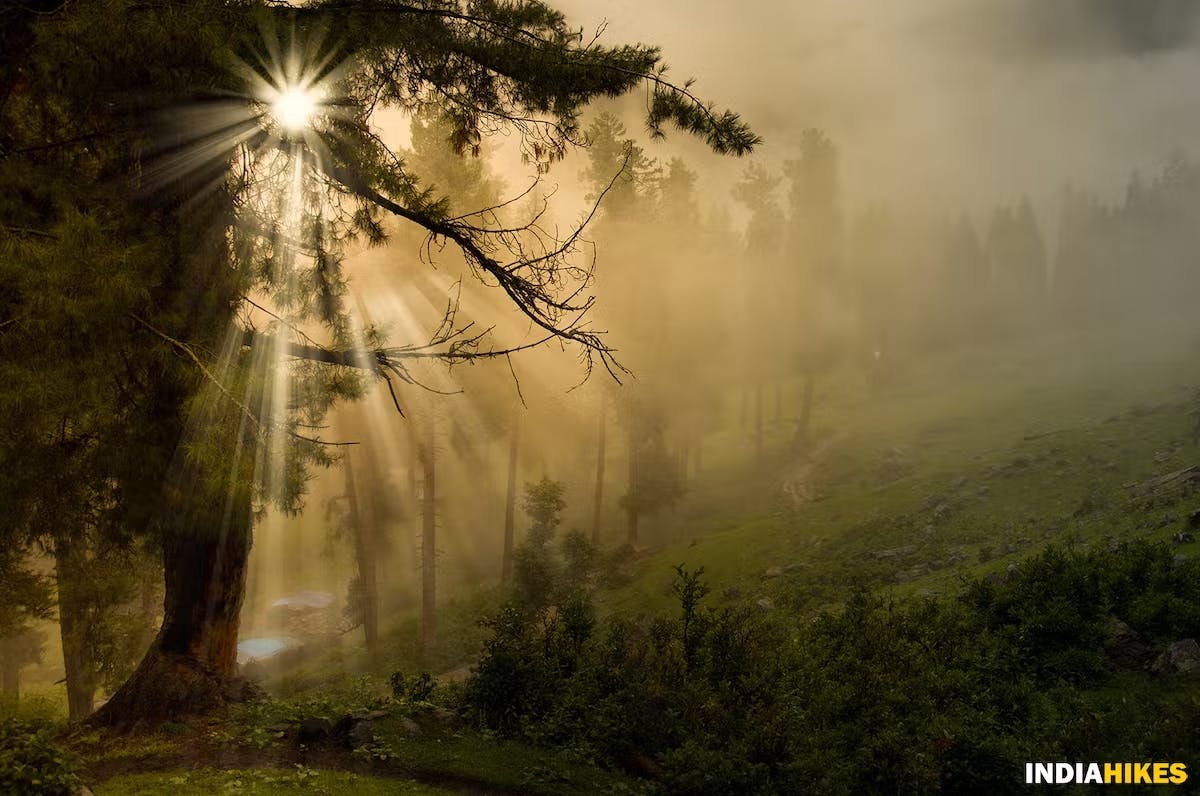 Extreme fog in the northern regions due to the cold waves. Photo by Shreenath Ramachandramurthy.
Jan 19 | DPS Bangalore - North Students Take the Lead & Cleaned Up 18.16 kg of waste from the Harihara Betta Trek! 
A group of school students from Delhi Public School (Bangalore, North), recently came together on their trek to clean up a mountain as part of the "Green Trails" initiative started by Indiahikes. 
The initiative aims to leave the mountains in better condition than they were found.
The students were inspired to take action after watching the Green Trails skit which was performed by our team. They were made to think deeply about the problem that was presented in the skit and come up with solutions. 
Jan 16 | DPS Bangalore - North students are back to hiking around Bangalore!
We're excited to announce that our trek program for the students of Delhi Public School, Bangalore - North, is back in full swing this week!
Our experienced team will take the 6th and 7th standard students on the Harihara Betta trek! The team, comprising of our office and mountain staff along with some interns, has undergone extensive training to help the students get the best out of the trek experience!
Jan 10 | Dayara Bugyal Covered in Snow, Temperatures Drop to -10°C
Dayara Bugyal was covered in a few centimetres of snow after the first snowfall of the season on 29th and 30th December.
"Most of the snow at Dayara Bugyal will remain due to low temperatures", says Trek Leader Diptarka Gupta, noting that it is currently very cold with temperatures dropping to -10°C.
Trekkers must be ready for anything: Proper planning is crucial for winter treks, especially in the face of extreme conditions.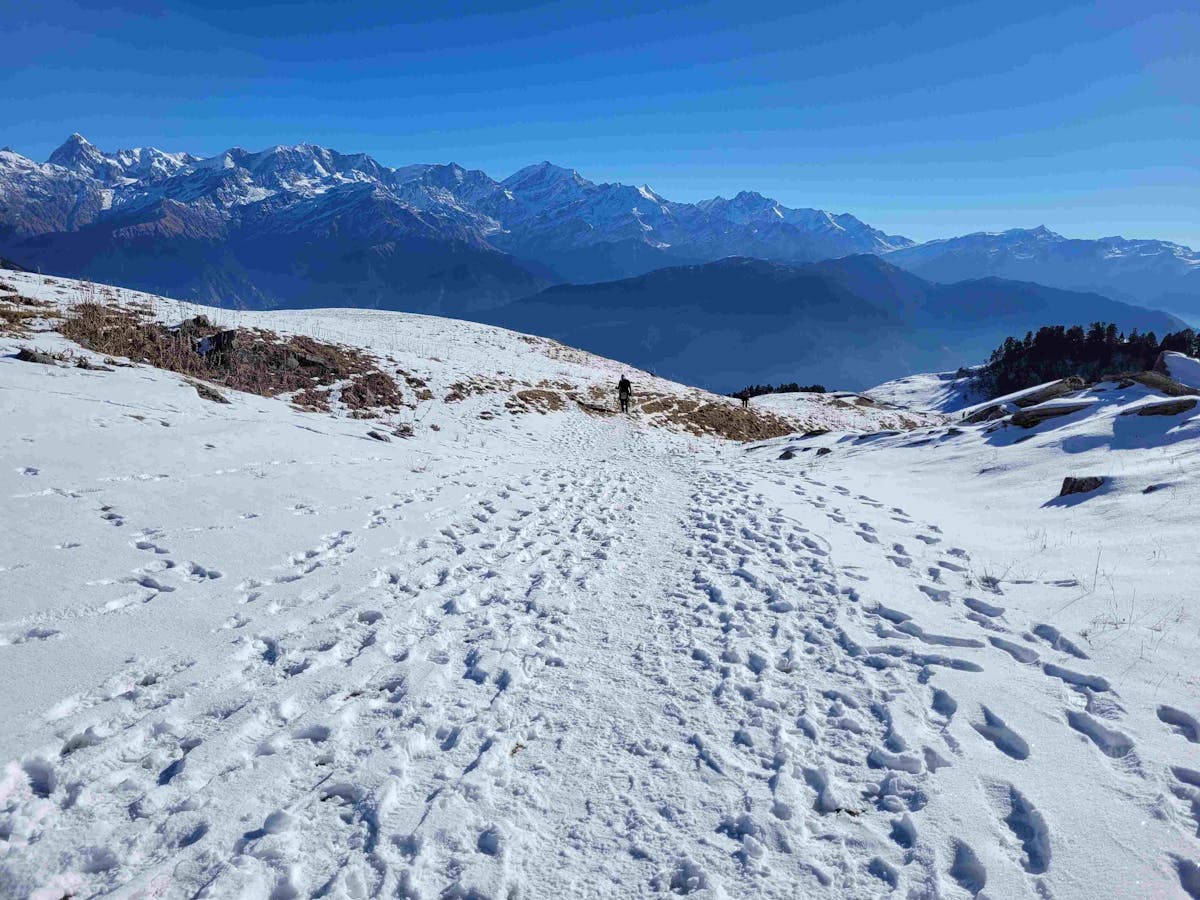 The tranquility of Dayara Bugyal during winter, where the snow-covered landscapes, the footprints and the Himalayan peak views create an unforgettable experience!
Jan 10 | Trekkers Clear 29.88 kgs of Polluting Waste from Brahmatal Trek in Just 20 Minutes!
Our team of trekkers on the Brahmatal Trek in December collected an alarming 29.88 kgs of waste in just 20 minutes. Trek Leader Amit, who was leading the group, was shocked to find such a large amount of waste in a place known for its natural beauty.
Amit says, "During the briefing, I suggested to my team members that since we had successfully completed the trek and had a smooth experience, with no safety or climate issues, the least we could do was clean up as much waste as possible. We need to give back to the mountains that gave us such a wonderful experience."
 Jan 9 | Trekkers Bond Over An Innovative 'Rope Course' at Raithal!
On December 1, 2022, Indiahikes put up a rope course at Raithal – the base camp of the Dayara Bugyal trek. What's inspiring is that this process has delivered astounding outcomes!
A rope course is an outdoor activity where you have to overcome different obstacles. These obstacles are usually mounted on a series of ropes, cables, and other elements that are suspended above the ground.
Completing a rope course requires team spirit. Everyone must work together and use each person's strengths. There are also rules that everyone must follow.'
Jan 9 | The First Big Snow Arrives at Kedarkantha!
Winter wonderland alert! For all the trekking enthusiasts out there, the wait is finally over!
Kedarkantha, one of the most sought-after trekking destinations in India, has finally received its second snowfall of the season. This means that the trails are now covered in a blanket of snow, making it the perfect time to trek!
The clouds began to gather yesterday evening, and by 10 pm, the snowfall had begun. The peak amount of snowfall occurred between 1 am and 4 am, transforming the campsite of Julota where our team was camping.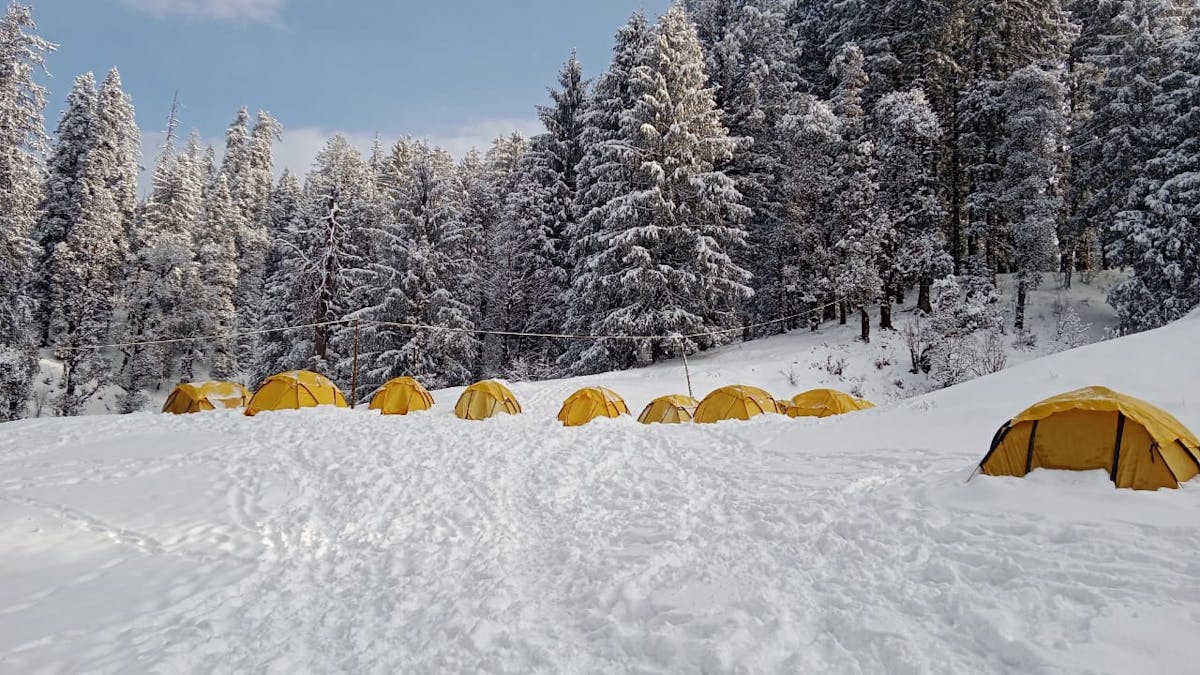 The snowfall of the season adds a magical touch to Kedarkantha trek!
Sign up for our much loved Weekly Mailer
We have terrific trekking tips, trek updates and trek talks to look forward to