When To Find Snow On Himalayan Treks
Share this story
Getting to see snow on Himalayan treks is all about timing. If you're on the right trail during the right month, you will get to see snow.
In this article, we explain when and where you will find snow on Himalayan treks (even in summer). We will talk about the altitude and latitude separately. This will help you plan your trek accordingly, to experience snow on Himalayan treks.
First, at what altitude will you find snow on a Himalan trek?
As a general rule, the higher the altitude, the longer the duration the snow stays. If a place is above the permanent snow line (around 14,000 ft in the Indian Himalayas), it will have snow all year long.san
Let's split the altitudes into smaller segments for easier understanding.
│Before 14,000 ft
These treks take you above the permanent snow line. This doesn't mean that it snows here all year long. It just means that the winter snow never completely melts away.
However, the amount of snow that you see varies with every month. At these altitudes, early summer is the best time with just the right amount of snow (Mid May to Mid June). After that, there are just patches of snow until the end of monsoons (mid September). In the first week of October, the first bout of winter snow comes in, giving the mountains a good coating of snow. At around the last week of October you get another bout of snowfall, which usually shuts trails at this altitude.
At any time of the year, the window for trekking at this altitude is quite small. This is not only because snow makes the trails inaccessible for a larger part of the year, the temperatures too start dropping rapidly. Known water sources generally dry up or freeze.
Indiahikes treks above 14,000 ft: Buran Ghati, Goechala, Rupin Pass, Pin Bhaba Pass, Kedartal, Kanamo Peak
Best time to see snow above 14,000 feet: April-May for treks in Sikkim (Goechala), May-June for treks (Rupin Pass, Kedartal, Buran Ghati), June-early July for treks, mostly in Himachal Pradesh Pin Bhaba Pass). Late September–October for all treks at this altitude.
Pro tip: Go on treks above 14,000 ft in the second week of June. The lower reaches at around 11,000 ft are a riot of colours with lush greenery and wild flowers. Higher up you experience lovely summer snow!
The picture below is from Rupin Pass, where trekkers are walking in fresh snow. Our trekker Sanjay Lokesh clicked this picture early in May 2018.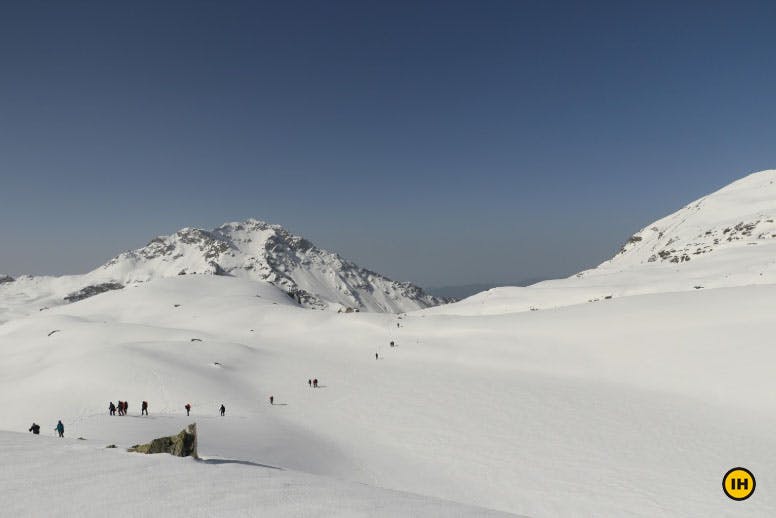 │13,000 ft to 14,000 ft
It snows for over five months in a year at these altitudes. Snowfall typically starts in early December, heaviest in January but carries on intermittently till late April. This is why treks that go this high have a limited window when they are accessible. There is just too much snow in other months to trek here safely.
Indiahikes treks at 13,000 – 14,000 ft: Bhrigu Lake, Gaumukh Tapovan, Hampta Pass, Beas Kund, Kashmir Great Lakes.
Best time to see snow: April-May for treks in Uttarakhand (Gaumukh Tapovan), June-July for treks in Himachal Pradesh and Kashmir (Kashmir Great Lakes, Hampta Pass, Bhrigu Lake, Beas Kund)
In the below picture you see Bhrigu Lake frozen in the month of June. This picture was shot by our trekker Nikita Bhatia.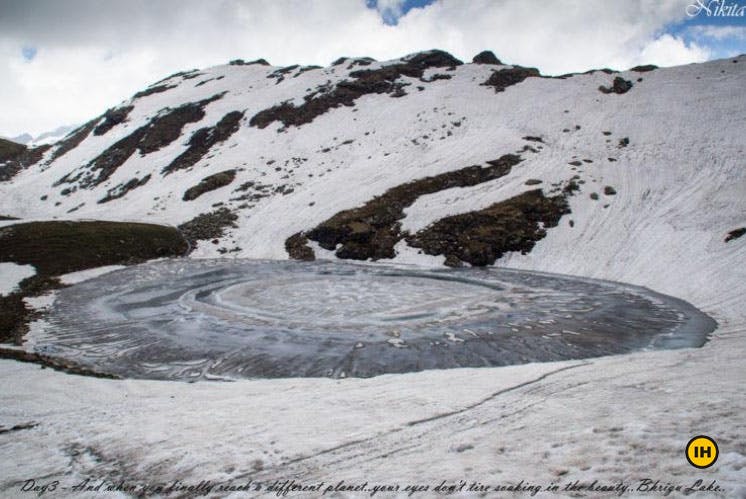 │10,500 ft – 13,000 ft (Most of our winter treks)
Treks at these altitudes get good dollops of snow in winter. Unfortunately, because of the lower altitude they lose their snow cover sooner as well. 
It begins snowing at these altitudes in December and goes on till April. You are likely to find snow till mid April on treks at this altitude.
These are great treks to do if you want to experience fresh snow. This is the kind of snow that is soft and powdery that you can hear it crunch with every step you take.
Indiahikes treks at 10,500 – 13,500 ft: Kedarkantha, Dayara Bugyal, Brahmatal, Deoriatal Chandrashila, Har Ki Dun, Sandakphu Phalut, Tarsar Marsar, Annapurna Base Camp, Khopra Ridge, Brighu Lake, Beas Kund
Best time to see snow: January-February for treks in West Bengal (Sandakphu), December to April for treks in Uttarakhand (Kedarkantha, Dayara Bugyal, Brahmatal, Deoriatal Chandrashila), April-May for Himachal Pradesh (Brighu Lake, Beas Kund), April-May for Nepal (Annapurna Base Camp, Khopra Ridge), Late June for Kashmir (Tarsar Marsar).
In the picture below, you see the Brahmatal trail covered in winter snow. The picture was taken in January 2017 by our trekker Raghavendra SN.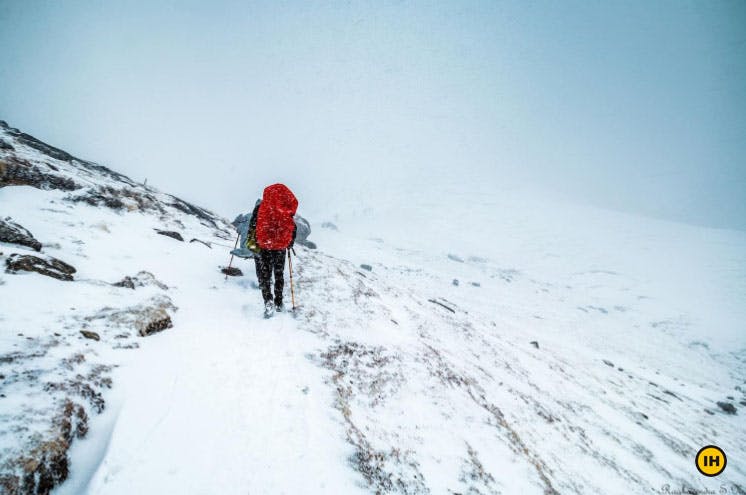 │9,000 ft to 10,000 ft (Our weekend treks)
It snows only in the winter months at this altitude. That is for about 2 months in the year, from end of December to end of February. However, intermittent snowfall continues all the way till early April.
If the snowfall is substantial, the snow stays on the trails for around 2 weeks. So, you can find patches of snow on these trails till late March.
On parts of the trek exposed directly to the sun, you might not find any snow at all. Forest trails, which are generally shaded, will have snow longer.
Indiahikes treks at 9,000-10,000 ft: Nag Tibba, Deoban.
Best time to see snow: January – Early March.
In the below picture you see the forest trails of Nag Tibba covered in a blanket of snow. This picture was shot in January 2018 by Mahabaleshwar N.
How does the latitude affect snow?
You may have noticed that I've mentioned different months to find snow in different states even though they are at the same altitude. This is where latitude comes into play.
Simply put, latitude is the position of a place with respect to the earth's equator. The higher the latitude of a place, further away it is from the equator. And the farther away it is from the sun.
Get a hold of a map or a globe. Look at how far Kashmir, Himachal, Uttarakhand, West Bengal, Sikkim and Arunachal Pradesh are from the equator. These are the states through which the Himalayas run in India.
Kashmir is the farthest away from the equator, followed by Himachal Pradesh and Uttarakhand. The states in the East are closest to the equator.
Remember, the temperature falls as the distance of a place from the equator increases.
So, Srinagar at 5,000 ft receives a substantial amount of snowfall in winter compared to Gangtok (5,500 ft), which receives barely any snow at the same time. By substantial, I mean 10-12 ft of snow under which entire houses get buried! This is very high compared to even the snow at similar places in Uttarakhand or Himachal Pradesh.
At the same time, snow stays accumulated for longer at places lying at higher latitudes.
This is why if you try and cross the Tarsar Pass at 13,200 ft in May or June, the snow is still very high. You will not be able to cross over. 
On the other hand, in the same month if you go to Kedarkantha, which is just 800 ft lower, at 12,500 ft, you'll see greenery and flowers. The snow is long gone a good month ago.
So latitude makes a big difference.
Good snow or a bad snow year
It might so happen that it hasn't snowed enough one winter. Or snowfall gets delayed and peak winter passes away completely dry. However, these are rare occurrences.
By and large, if you time your trek well, you will not be disappointed.
Also, there are a lot of other geographical factors that play a role in the presence of snow. Like the El Nino and La Nina winds. But we've simplified it as much as possible, simply to make your trek planning easier.
LEAVE A REPLY
Your email address will not be published. Required fields are marked
Sign up for our much loved Weekly Mailer
We have terrific trekking tips, trek updates and trek talks to look forward to